Throwing a party can be a lot of fun, but it can also be stressful, especially if you're in charge of the cooking. But if you choose the right recipes and do a little advance planning, everyone will be amazed at how relaxed you are while they are enjoying your delicious food!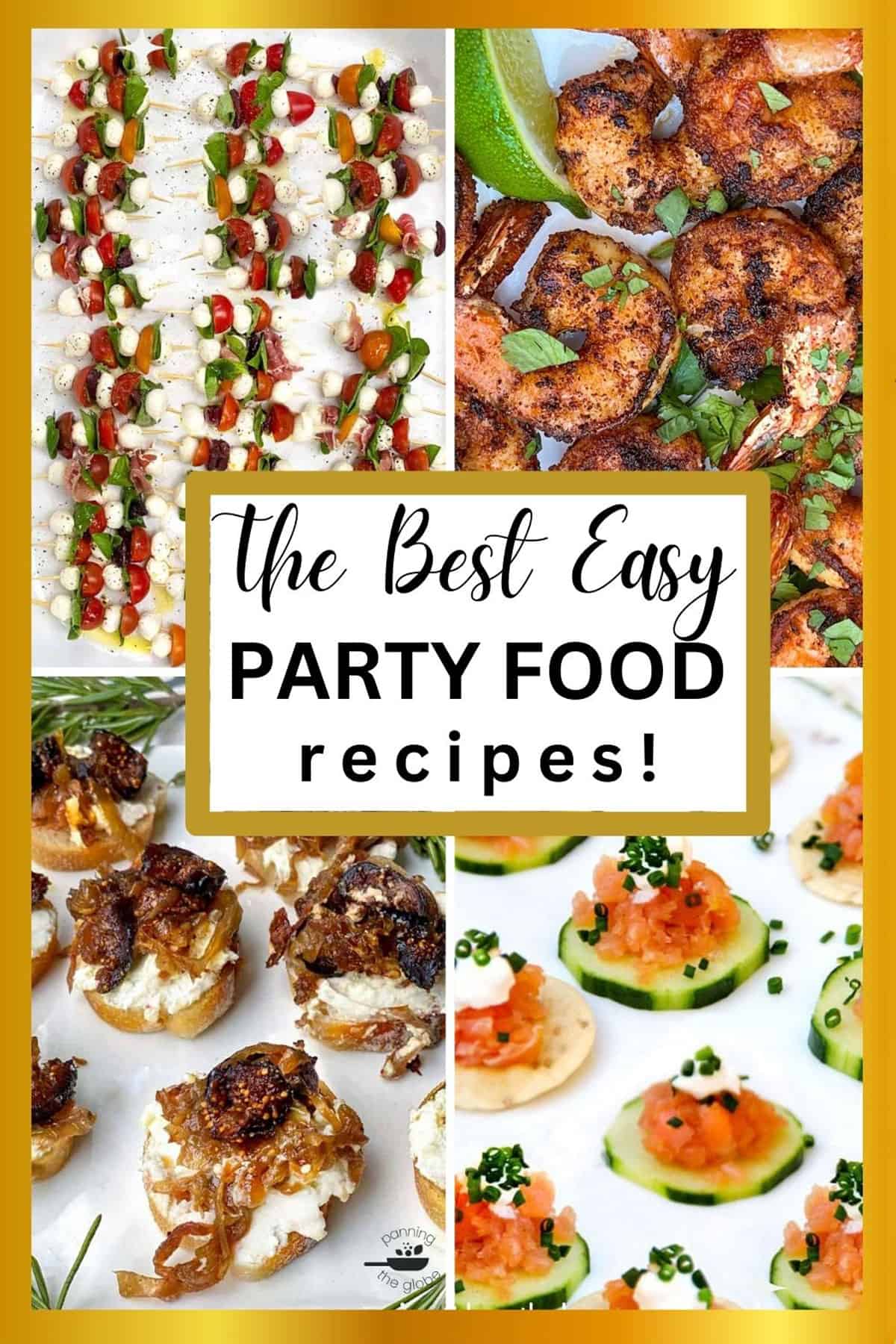 I've culled through hundreds of Panning The Globe's most delicious recipes for entertaining to bring you the best of the best easy and make-ahead party food - dishes that will totally wow the crowd! Plus some pro tips to make your next party a stress-free success.
Let's start with the starters - small bites with big flavors. These little nibbles will light up the party with excitement and whet people's appetites without filling them up too much, so they will be ready to enjoy the next course.
The Best Easy and Make-Ahead Appetizers
Here are the most delicious party appetizer recipes that you can make quickly, easily and ahead of time.
First up - an elegant salmon appetizer in 15 minutes
SMOKED SALMON TARTARE
Chop the smoked salmon, toss it with lemon zest, minced shallots and white pepper, and serve it with thinly sliced cucumber rounds or sesame rice crackers. Finish with a garnish of sour cream and chopped chives. This elegant smoked salmon appetizer is gourmet finger food with wonderful delicate flavors - a fantastic crowd-pleasing party appetizer that you can make in 15 minutes.
Next up - my favorite goat cheese appetizer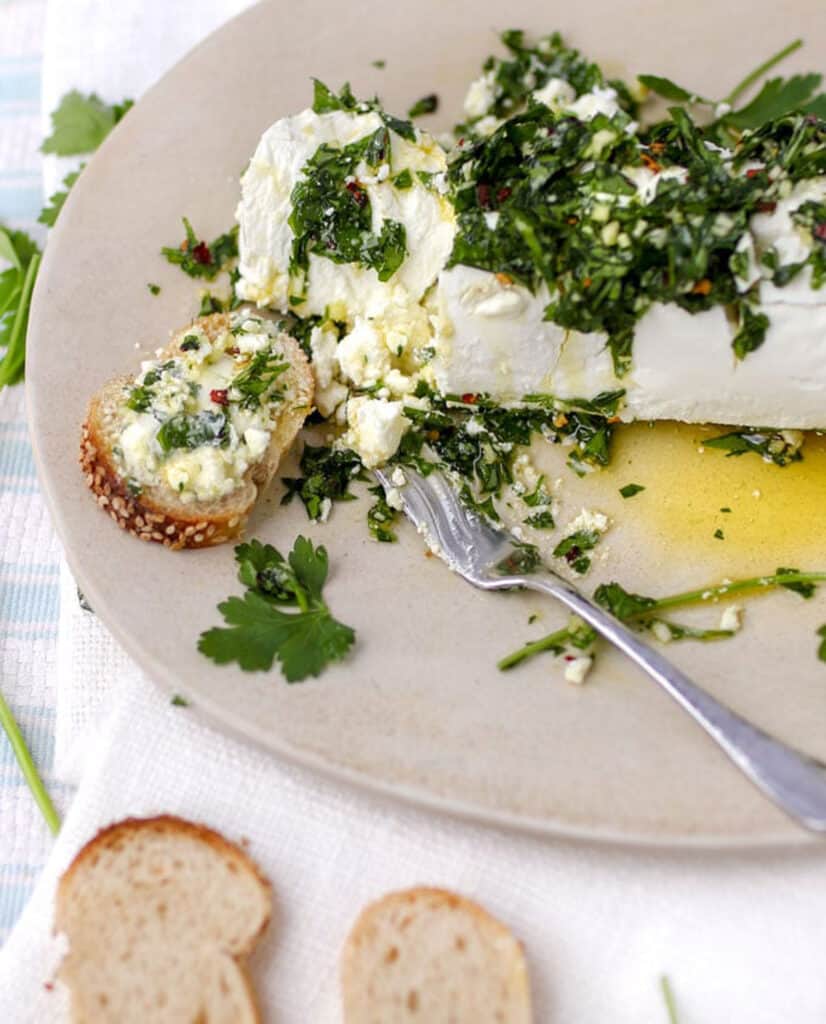 GOAT CHEESE DRESSED FOR A PARTY
I make this goat cheese appetizer for all occasions. It takes 10 minutes to prepare and everyone goes crazy for it. Take a log of goat cheese, make some slits along the top, whisk up the garlicky parsley dressing and spoon it over the cheese. Serve with a basket of crackers or a thin-sliced baguette or both and watch it disappear fast. If you like to entertain, you need this recipe!
Next up - my favorite curried chicken salad, served as an appetizer....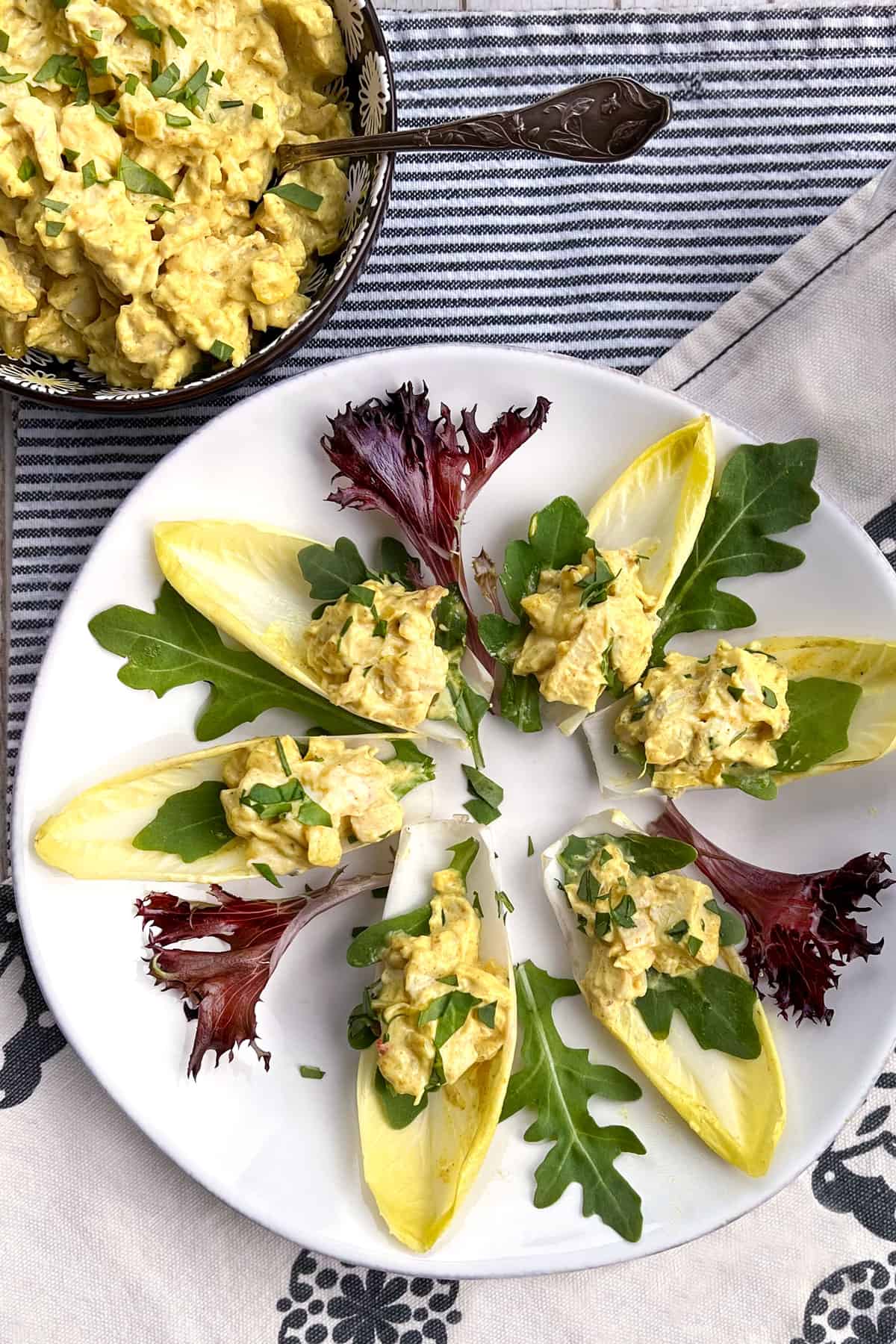 CURRIED CHICKEN SALAD
This is my all time favorite curried chicken salad recipe - definitely worthy of a special occasion. It's easy to prepare, it can be made the day before your party, and it makes a great hors d'oeuvre. Serve it on endive spears or crackers or, even easier, set a bowl of curried chicken salad out next to a basket of crackers, sliced baguette or endive spears, and let everyone help themselves.
Next recipe - an easy shrimp and dip dish that's way more exciting than shrimp cocktail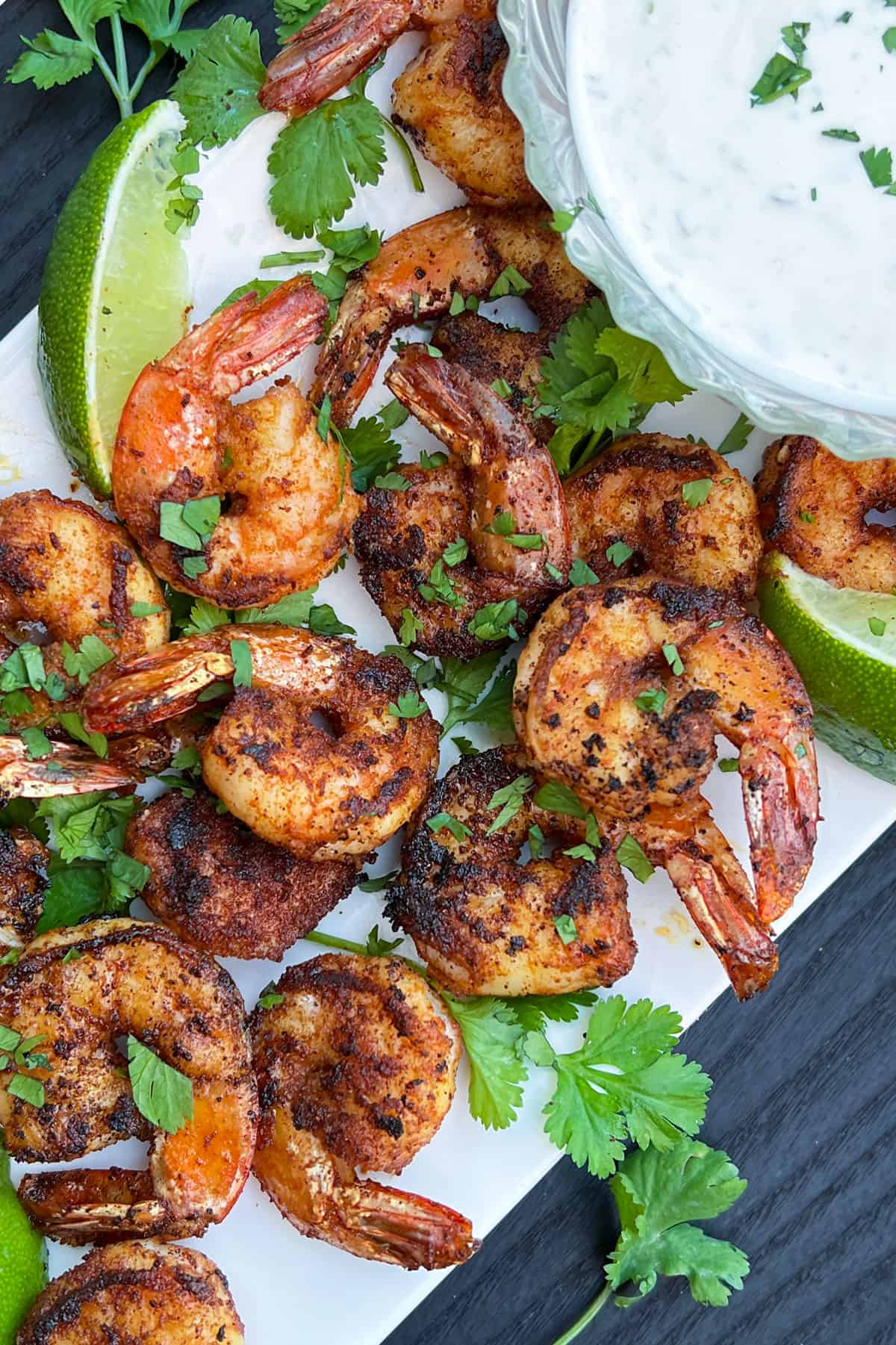 SAUTEED SHRIMP WITH REMOULADE SAUCE
Tender, juicy shrimp encrusted with flavorful spices, and a tangy lime remoulade sauce for dipping or drizzling. This dish takes 20 minutes to prepare start to finish (including the sauce) and it's delicious warm or at room temperature - perfect party food.
next up, another shrimp crowd-pleaser - the most delicious Spanish tapas
GAMBAS AL AJILLO: SPICY GARLIC SHRIMP
Easy to make and incredibly satisfying, this slightly spicy shrimp tapas dish will be a hit at your party. All you need to make this recipe is shrimp, garlic, olive oil, crushed red pepper flakes and 15 minutes. It has to be served hot, right from the pan, and you'll need bread to soak up the insanely delicious garlicky oil. Let everyone gather around and dig in. I use this pan to make a big batch.
Next recipe - a show-stopping appetizer from the UK
DEVILS ON HORSEBACK
When you really want to make something irresistible for a party, Devils on Horseback will do the trick. An historic British appetizer of pitted prunes stuffed with goat cheese, wrapped in bacon, and served warm. These are perfect for a party. Everyone loves them and they can be assembled ahead of time and popped in oven in the oven at the last minute.
Next up - a unique and insanely delicious bruschetta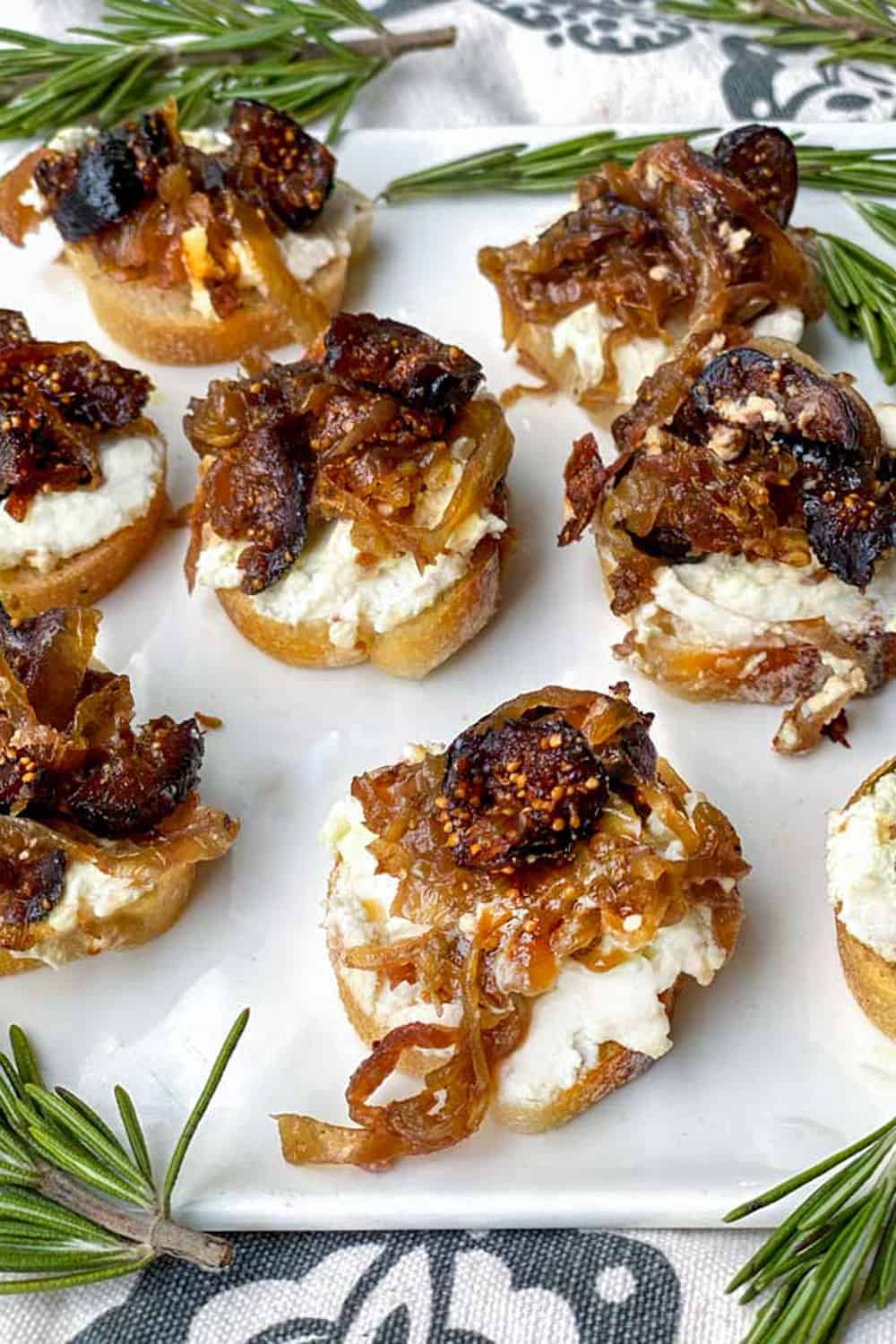 CARAMELIZED ONION, GOAT CHEESE AND FIG BRUSCHETTA
Serve this fig and goat cheese appetizer at your next gathering and watch it disappear! The intensely flavorful combo of tangy goat cheese, caramelized onions and sherry-steeped figs is served warm, spread onto baguette slices or crackers. This easy recipe can be completely assembled a day in advance - the best kind of party food!
next recipe - the finger food version of Italy's beloved caprese salad
MINI CAPRESE SKEWERS
These caprese kebabs are the best party finger food and they can be made ahead of time and are customizable to whatever ingredients you like. Keep to the classic caprese recipe of mozzarella, tomatoes and basil or create delicious variations using olives, pepperoncinis, salami or prosciutto. Set the kebabs on a platter and, just before serving, season them with a drizzle of olive oil and some salt and fresh cracked pepper.
The Best Easy Elegant Main Dishes
If you want to host a sit-down dinner and serve extraordinary food that your guests will utterly adore, but you don't want to be exhausted and scrambling around in the kitchen after your guests arrive, I can help!
Here are the most delicious, elegant and easy party food recipes that will make your guests extremely happy without stressing out the cook - so you can enjoy the party too.
First up - a shrimp dish to write home about
GREEK-STYLE GARLICKY SHRIMP WITH FETA
This shrimp dish is phenomenal and easy to prepare - a steaming pot of shrimp in a spicy, lemony, buttery garlic sauce with melted feta that's ready in 35 minutes. Serve this luscious shrimp with crusty bread to sop up every delicious drop of amazing sauce or serve it over linguini or orzo, with a leafy green salad alongside. Any way you serve this, you'll have an outstanding meal that you can make with ease.
Next up - the easy way to make beef bourguignon
THE BEST EASY BEEF BOURGUIGNON
This no-fuss recipe will take you just 20 minutes of hands-on kitchen work to make a big pot of fabulous French beef bourguignon with meltingly tender beef and mushrooms in a rich savory red wine sauce. Your guests will be in heaven and you will be in disbelief at how easy this beef bourguignon recipe is!
Next recipe - my boneless version of the famous Chicken Marbella
CHICKEN MARBELLA (made with boneless chicken thighs)
Chicken Marbella is a famous, favorite dinner party recipe from The Silver Palate Cookbook. Chicken is marinated overnight with prunes, olives, capers, olive oil, vinegar and loads of garlic and oregano, and is baked just before serving. It's an easy dish to cook for a crowd and the flavors are extraordinary. I developed this elegant boneless version of Chicken Marbella to serve to a large crowd at my annual New Year's Eve Party - it's a cinch to make and always a big hit at the party.
Next recipe - a fabulous, festive roast chicken recipe from Chef Ottolenghi
OTTOLENGHI'S ROAST CHICKEN WITH ZA'ATAR AND SUMAC
Here's an amazing roast chicken recipe from chef Yotam Ottolenghi. Chicken thighs are spiced with za'atar and sumac, tossed with onions, lemons and garlic, and roasted. This is a great dinner party recipe because you can do all the prep ahead. The chicken is tender and juicy and the flavors are fantastically delicious!
Next recipe - the easiest and most delicious salmon dish
BROILED SALMON WITH APRICOT GLAZE
I make this salmon dish all the time and for every occasion. The recipe couldn't be easier. Coat the salmon with a 4-ingredient marinade/glaze of apricot preserves, soy sauce, lemon juice and garlic, and then follow my special cooking technique that yields tender, juicy salmon every time. The sweet, tangy, garlicky glaze is utterly irresistible. I love serving this salmon with baked or mashed potatoes and a leafy salad - a great dish for dinner parties and for the weekly dinner rotation, too.
Next up - a crowd-pleasing pasta recipe that's perfect for parties
ORECCHIETTE PASTA WITH SAUSAGE AND BROCCOLI RABE
Italian sausages are chopped, simmered with garlic and crushed red pepper and are then tossed with orecchiette pasta, broccoli rabe and pecorino cheese. This is a fantastic dinner party recipe because it's easy, you can do all the prep ahead, and the flavors are outstanding.
Next Recipe - an irresistible one-pan chicken dish...
BRAISED CHICKEN WITH SHALLOTS AND MUSTARD WINE SAUCE
This braised chicken with shallots is one of my favorite chicken dishes to cook for a dinner party. It takes minimal time to prep, cooks in one pot, and you get beautifully browned, fork-tender chicken thighs and sweet caramelized shallots bathed in mustard wine sauce, enlivened by minty tarragon and fresh cherry tomatoes. Serve this dish with mashed potatoes bread or rice - something to soak up the luscious pan sauce.
Beautiful Simple Salads That Go With Everything!
When you host a party, it's great to strike a balance between serving rich dishes and lighter options, so everyone can enjoy the food and feel great. Choose one or two of these healthy, delicious salads to round out the meal.
Italy's famous Insalata Tricolore represents the colors of the Italian flag. This beautiful salad uses a trio of lettuces, a vibrant lemon vinaigrette and is finished with parmesan cheese. A great salad for any occasion and a "must" with any Italian meal.
Next - a super healthy salad that you'll want to make again and again
I named this "The Best Green Salad" because I brought it to a potluck and that's what everyone kept saying about it. This simple healthy salad with two lettuces and kale has a bright lemony Dijon vinaigrette and a robust sprinkling of parmesan cheese. It will delight and satisfy on any occasion, whether a holiday feast or a weeknight dinner.
Next - a salad recipe from Weight Watchers and you won't believe how delicious it is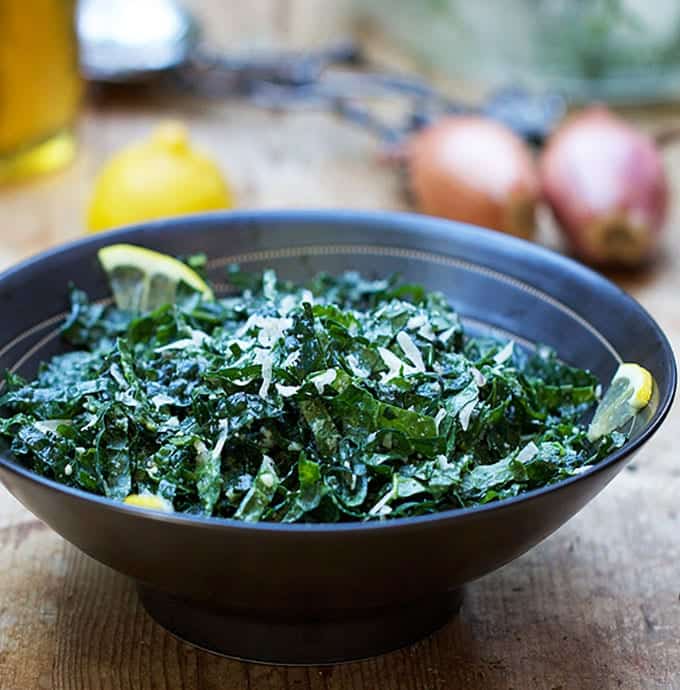 This salad couldn't be simpler or more delicious. Shredded Tuscan kale is tossed with a dressing of honey, lemon, shallots, olive oil and parmesan cheese. Everyone who tries this salad this is bowled over - it's truly spectacular – one of my all time favorites.
Next - a superb salad from Brazil
This Brazilian hearts of palm salad is irresistibly good, and ridiculously easy to make. What I love about this dish is how a couple of cans of artichoke hearts and hearts of palm can transform a simple salad into an exotic tropical side dish. The creamy lemon-mustard-garlic dressing brings it all together for a colorful, substantial salad that goes with everything and is easily doubled or tripled to feed a crowd.
Next up - Broccoli never tasted so good
Vibrant Argentinean chimichurri dressing transforms fresh broccoli into a fabulous side dish. The bright fresh flavors of vinegar, garlic and herbs are front and center in this crave-worthy broccoli salad. And it takes only 20 minutes to prepare.
Next recipe - a shredded carrot salad for any and every occasion
MOROCCAN SHREDDED CARROT SALAD
Sometimes you don't have to work that hard to make something great. This Moroccan raw carrot salad is an easy recipe that can be thrown together in 10 minutes. It's a healthy dish that goes with everything, it's absolutely delicious and it looks beautiful on the buffet table and on the plate.
The Best Easy Side Dishes
These side dishes are easy to prepare and will bring exciting colors, textures and flavors to the plate to complement the main dish and balance out the meal.
Easy, healthy mashed potatoes that everyone loves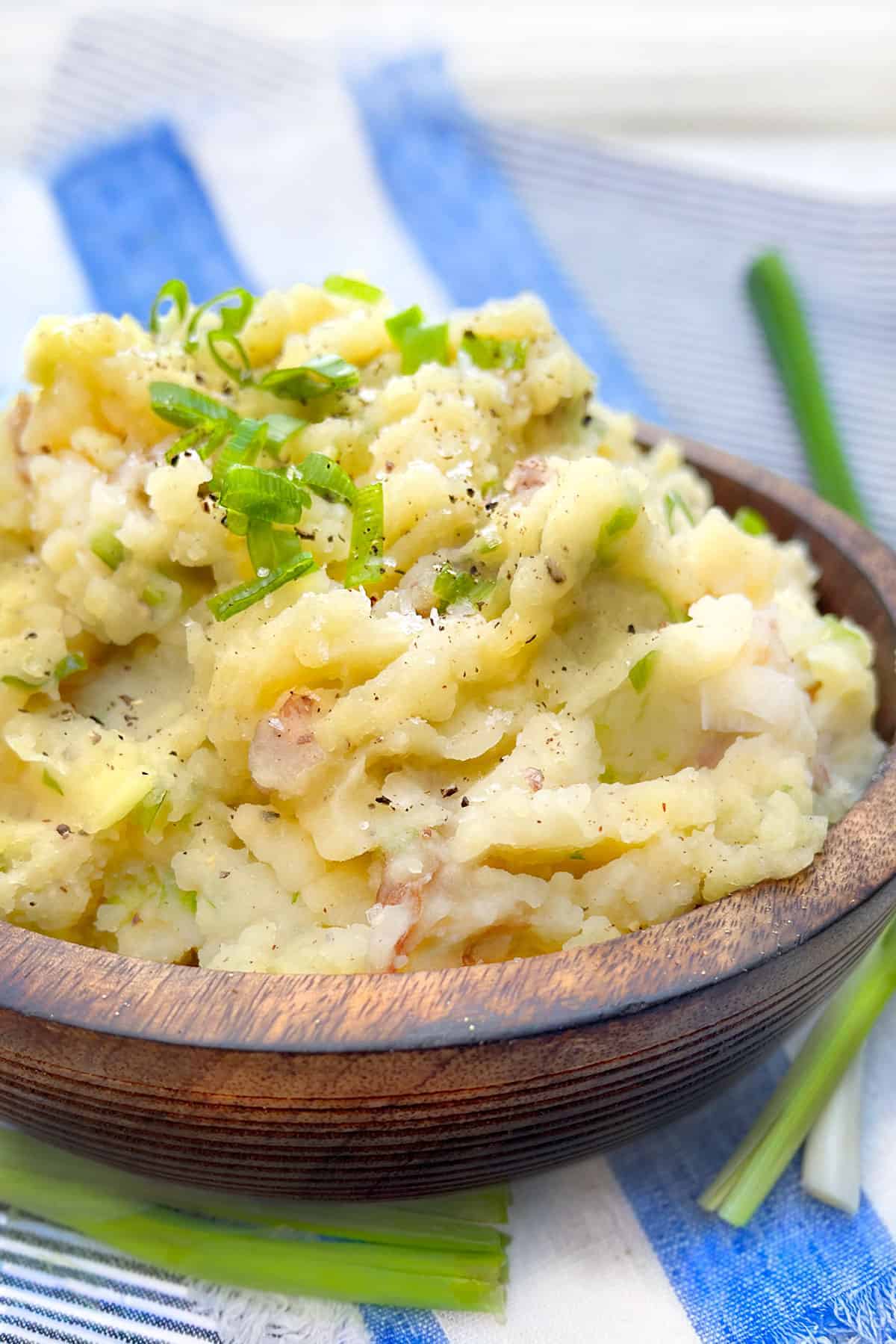 RED SKIN MASHED POTATOES WITH OLIVE OIL AND SCALLIONS
I love serving these mashed potatoes at a dinner party because they are as delicious and comforting as mashed potatoes can and should be, but they are also remarkably light and healthy. The recipe is quick and easy and perfect for any occasion, from a weeknight meal to fancy dinner party.
Next Recipe - a sensational potato side dish that you can prep ahead
Everyone goes crazy for these potatoes. Why wouldn't they?! Potatoes are boiled, then smashed (flattened a bit), then topped with olive oil and spices, then heated in the oven until they get hot and crisp on the outside, creamy inside. You can do all of the boiling, smashing and spicing ahead of time so you just pop them in the oven at the last minute. These irresistible potatoes go well with anything.
Next up - the easy way to make fabulous French ratatouille
THE BEST EASY RATATOUILLE RECIPE
I love ratatouille: a rainbow of healthy vegetables simmered in garlicky tomato sauce and herbs; a fantastic vegetarian side dish that's both comforting and low in calories. Here's an easy ratatouille recipe that's as good as any I've ever tasted. This ratatouille makes a fantastic side dish with simple roast chicken, broiled salmon, or any kind of roasted, baked or grilled meat, chicken or fish.
Next recipe - the most delicious spinach
This is my favorite way to cook spinach - in a skillet with olive oil and garlic. I share a few tips to ensure that the garlic melts slowly and gets soft, sweet and mellow, with the spinach resting on top, absorbing the delicious garlicky flavors as it cooks. This is a easy, crowd-pleasing, healthy side dish that amps up any meal it accompanies.
TIME FOR DESSERT
I generally have a casual approach to dessert. For example, I will often buy assorted dark chocolate bars and break them into pieces and put them on a plate in the middle of the table next to a bowl of husked strawberries - not at all hard to do and everyone loves dark chocolate and strawberries.
There is, however, one outstanding dessert that I keep coming back to when I want to serve something elegant at the table. It's not hard to prepare though you do have to make it a day ahead - vanilla panna cotta with balsamic strawberries.
VANILLA PANNA COTTA WITH BALSAMIC STRAWBERRIES
This is my favorite dessert to make for a dinner party. It's beautiful, exciting, you can do all of the cooking ahead of time, and it is absolutely delicious - creamy intensely vanilla flavored panna cotta with tangy balsamic strawberries plus a secret ingredient that is surprising and amazing - the perfect finale for a great meal. Your guests will adore this!
Drinks & Cocktails
Be sure to have plenty of sparkling water or pitchers of ice water for your party - people get very thirsty. I'm always amazed by the number of seltzer bottles in our recycling bin after our parties.
In addition to having wine or beer available at our parties, we often choose a signature cocktail as well. Our favorites of late are Paper Planes and Negronis, but please browse through our collection of Cocktail Recipes and see what appeals to you - they're all great.
Tips for How To Throw a Fabulous Stress-Free Party and Cook Amazing Food For Your Guests
Many people, even those who are experienced party throwers, find it daunting to host a big event. The recipes in this collection will make it easy to wow the crowd with delicious food. And here are my best tips and strategies to help you get all the menu planning, shopping and cooking done with ease so you can enjoy your own party.
Plan your menu several days or even a week ahead - think about what your guests will like and make sure to ask if they have any food allergies, intolerances or dislikes, so you can select recipes they will enjoy. If you're serving multiple dishes, make sure some of them can be prepped ahead of time to minimize last minute chaos and angst.
To plan the menu for a sit down dinner - choose an appetizer or two, a main dish, a salad, a side dish or two, and a dessert to create the menu for your party. If the main dish has sauce or gravy, be sure to have potatoes, bread or rice on the side to soak up the sauce. Balance rich dishes with lighter ones. Think about taste, color and texture and how the different dishes will harmonize on the plate.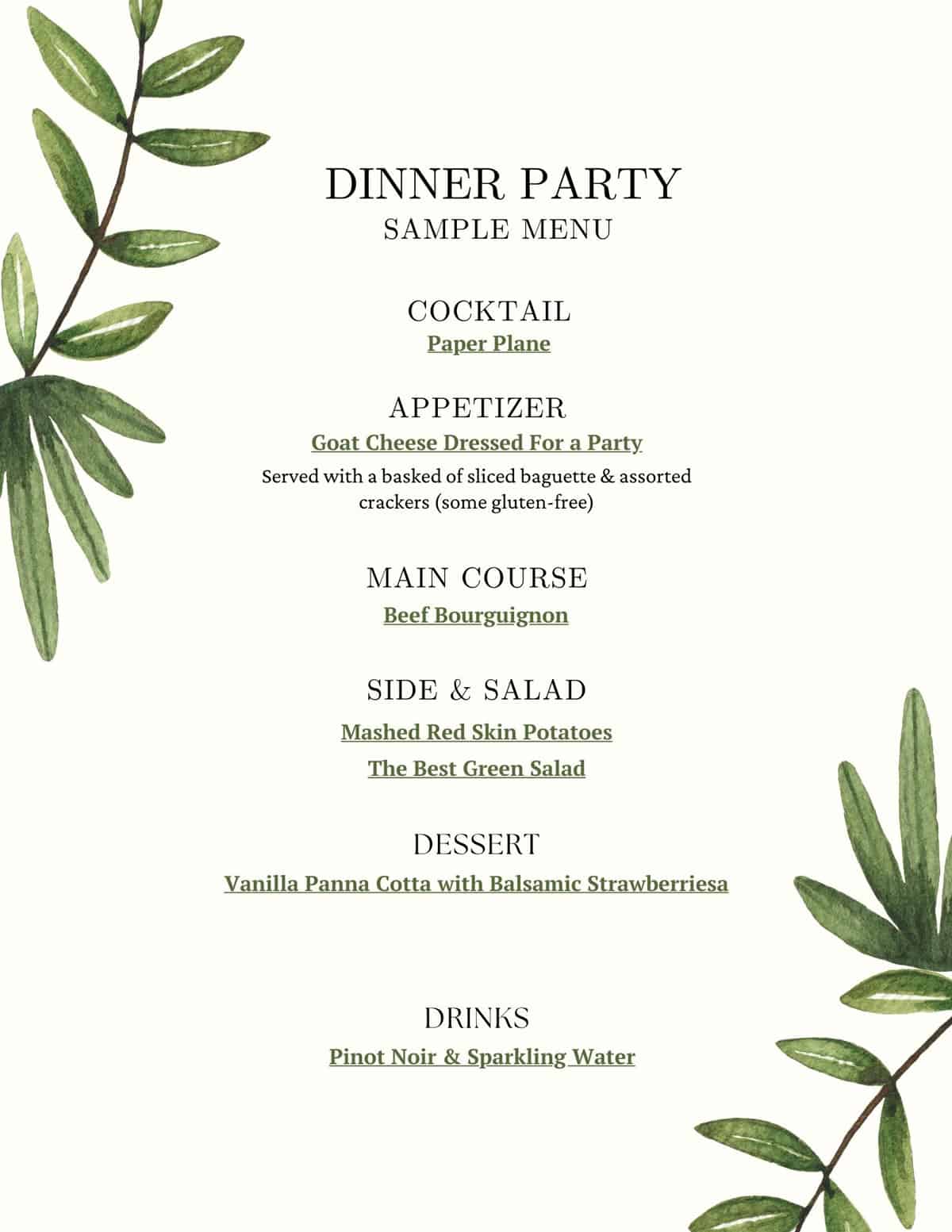 To plan the menu for an appetizer party - emphasize variety. It's great to have a fish or seafood appetizer, a vegetarian dish and something with meat or chicken, a dish with cheese, some finger foods and some dishes that will have everyone gathering around. Diversity of dishes and even cuisines creates balance, excitement and ensures there's something to please everyone.
Get familiar with the recipes - a couple of days before your party, print out all the recipes on the menu and read through each recipe once or even twice. As you read, visualize yourself going through the steps of making the dish. This way, you'll know exactly what will be required and how to plan your time and guarantees that you won't find out on the day of the party that your main dish was supposed to have marinated overnight (been there - not fun).
Make a master shopping list - I love to use this Anylist App on my phone, to create my shopping lists and to organize my parties. The app allows you to share a particular list with others who are helping you shop or plan. It also lets you cross off items as you shop. I often make one list of "things to do" and another of "things to buy." Sometimes, if the party has a lot of dishes and I'm prepping some ahead, I'll create a "things to do Friday" list and a "Things to do Saturday" list. When throwing a party, it really helps to be well organized. (Don't forget to buy cocktail napkins like I often do).
Two days before the party, shop for as much as possible - some items like fish or baguettes are better if bought fresh on the day or the day before, but most ingredients, including vegetables, meats, canned goods, seltzer, paper napkins.... can be bought a couple of days ahead of time. The more you can get done early, the better. Keep crossing items off your list - it feels really good to see the list get smaller as the party approaches.
Do as much prep as possible the day before your party - arrange flowers, pick the music, set the table, make any sauces, salad dressings or marinades that can be prepared ahead.
Here's one of my favorite pro tips: Wash all the lettuces for your salad the day before the party. Spin them dry, layer them on damp paper towels, roll them loosely, stuff the rolls into large plastic bags and then into the fridge. The next day, when you're ready to make the salad, your lettuces will be clean, crisp and ready to toss in a bowl. If you're using fresh herbs, you can prep them the same way.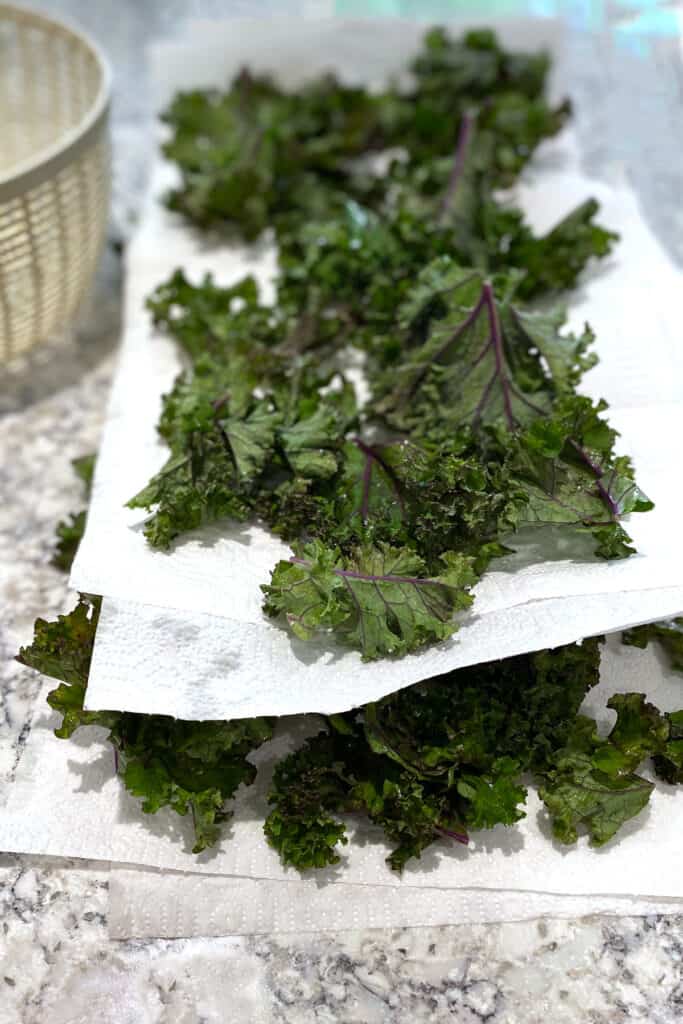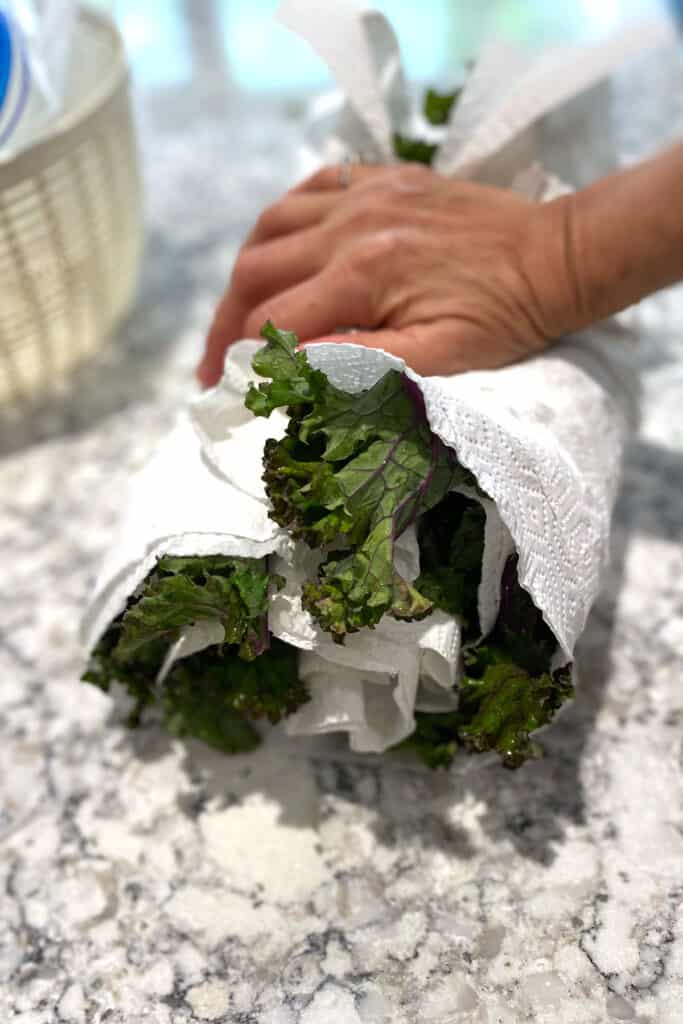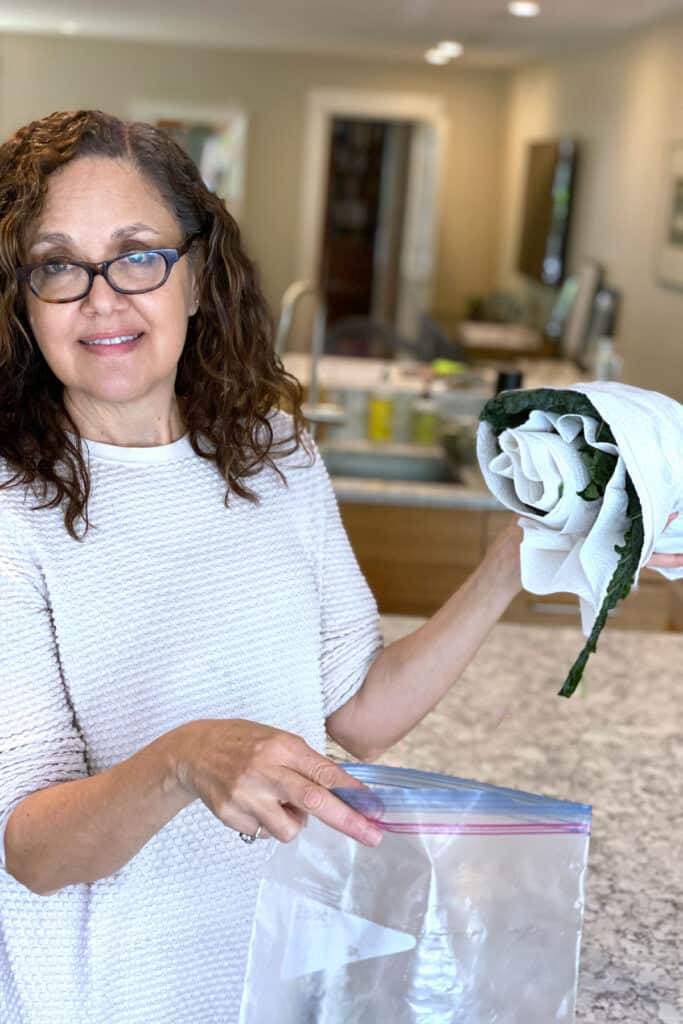 On the morning of your party make a new list - list out everything you need to do, with times specified for when you will perform each task. If you have a partner who can help chop, cook or do dishes, assign tasks to them. Make sure your schedule allows you enough time to clean up the kitchen, take a shower and get dressed before your guests arrive. Even if you still have last minute chopping or assembling to do after people arrive, as long as the kitchen is clean and you're dressed, you can relax and enjoy the party with a glass of wine in hand while you finish up.
Have a great time!
And please let me know how the party turns out - I can't wait to hear!