Vanilla Panna Cotta with Balsamic Strawberries is one of my favorite desserts for a dinner party – delicious, beautiful, and you can do most of the cooking a day or two ahead.
Some friends recently invited me to a "Foodie/Tasting Night" at their photography gallery.  One of the featured tastings was Cavedoni Balsamic Vinegar imported from Italy.  I sipped a half dozen different vinegars from tiny tasting cups, including one that was infused with truffles and another that had been aged for 100 years. The vinegars were dark and syrupy and each had its own interesting and complex flavors.
We got to talking about food (of course) and one thing led to another and the folks at Cavedoni gave me some vinegars to experiment with. I found that Il Caratello, one of their most popular vinegars, was exceptionally good with my favorite dinner party dessert – vanilla panna cotta with balsamic strawberries.  It's also great on salads, roasted veggies, or for dipping bread. Cavedoni generously offered to provide 6 bottles of Il Caratello balsamic vinegar for a Panning The Globe giveaway. It's easy to enter by filling out the Rafflecoptor form after the recipe.  Happy Holidays!
Panna Cotta is a delicious, quick and easy classic Italian dessert.  This version is flavored with pure vanilla extract plus freshly scraped vanilla seeds from a vanilla bean.
Vanilla beans are an expensive indulgence.  If you want to get a little extra mileage from your vanilla bean after you've scraped out the seeds, you can soak it in a mini bottle of bourbon or vodka for a month or more to make homemade vanilla extract or you can bury it in sugar to make vanilla sugar.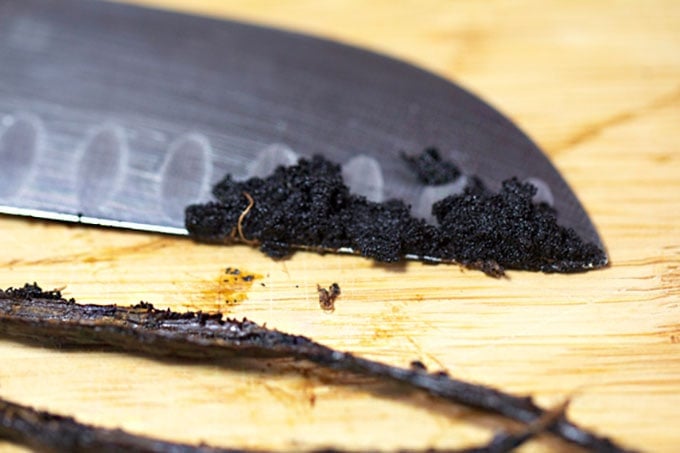 This recipe is a minimally-tweaked adaptation of Ina Garten's Panna Cotta with Balsamic Strawberries recipe.  I've seen many similar recipes for panna cotta and balsamic strawberries by other chefs, but I particularly love Ina Garten's version because she adds black pepper to the berries and it's surprisingly good!
One of the many great things about this recipe is that much of the prep work can be done well in advance of your dinner. The panna cotta is mixed and poured into ramekins and chilled over night or for up to two days.
You can cut up the strawberries a few hours ahead.  Then a half hour before serving, mix them with balsamic, sugar and pepper.  Transfer the panna cottas to dessert plates and just before serving, top the them with macerated strawberries and garnish with a sprig of mint.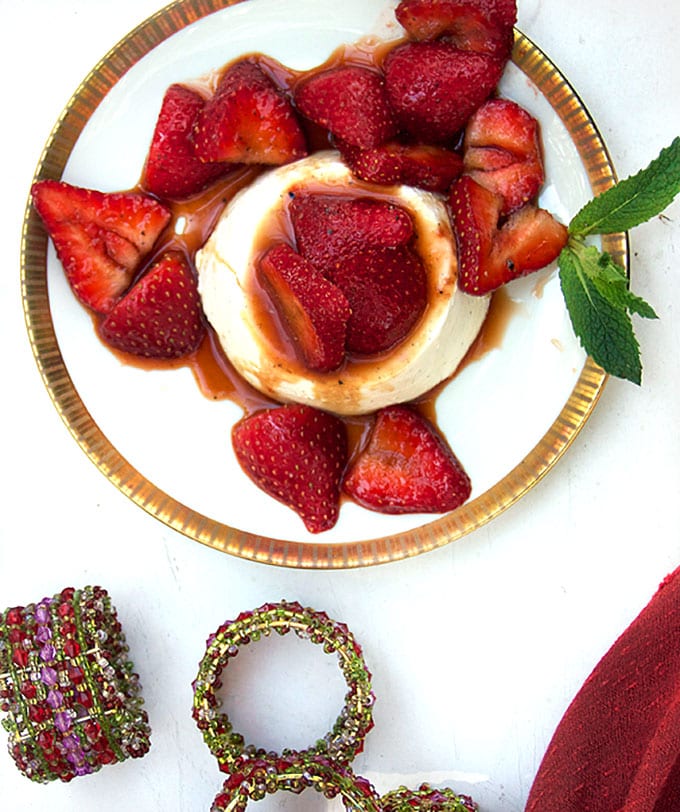 The sweet and sour tanginess of the balsamic strawberries is a wonderful compliment to the creamy vanilla panna cotta.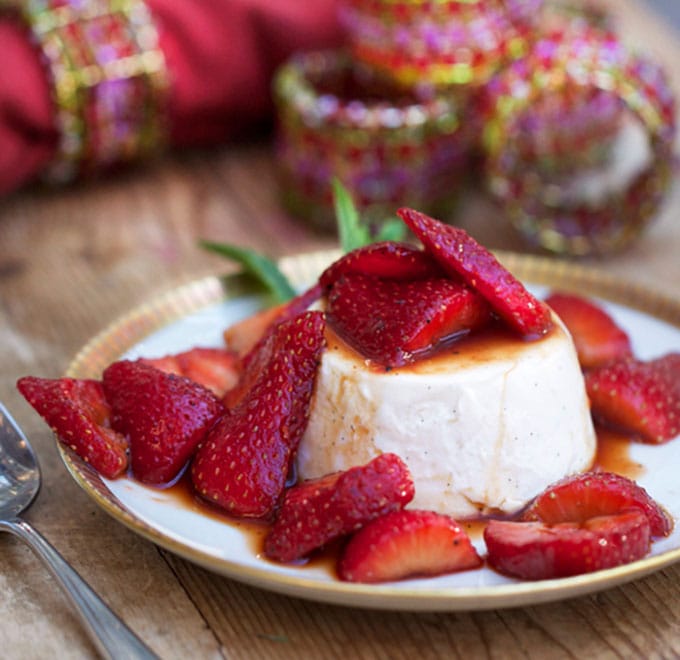 The credit for this recipe goes to Ina Garten. I adapted it from her cookbook Barefoot Contessa At Home.
The gorgeous presentation and winning combination of sweet, tangy, peppery and creamy make for a deliciously exciting finale for a great meal.
Here's the recipe for Vanilla Panna Cotta with Balsamic Strawberries. If you try this recipe I hope you'll come back to leave a
Print
Vanilla Panna Cotta with Balsamic Strawberries
The perfect make-ahead dessert for a special dinner. Creamy vanilla panna cotta with tangy balsamic strawberries
Author:
Prep Time:

24 hours

Cook Time:

2 mins

Total Time:

24 hours 2 mins

Yield:

8-10

Category:

Dessert

Cuisine:

Italian
Ingredients
Panna Cotta
1 tablespoon unflavored gelatin powder (1 packet plus 1 teaspoon)
3 cups heavy Cream
2 cup plain whole milk yogurt
1½ teaspoons pure vanilla extract
1 vanilla Bean, sliced down the middle
3/4 cup sugar
Balsamic Strawberries
4 pints fresh strawberries (8 cups) washed, stemmed and sliced
5 tablespoons balsamic Vinegar
2 tablespoons sugar
1/2 teaspoon fresh ground black pepper
Optional Garnish
Fresh mint or basil sprigs
Instructions
Note: You'll need 8-10 (6-8-ounce) ramekins for molding the panna cottas (or if you prefer, you can use large glasses for molding and serving the panna cottas)
Put 4 tablespoons cold water into a small bowl. Sprinkle gelatin on top and stir to combine. Set aside.
In a large bowl whisk together 1 1/2 cups of the cream with the yogurt and vanilla extract. With a small knife, scrape the seeds from the two halves of the vanilla bean and add them to the mixture.
In a small pot, heat the other 1 1/2 cups of cream with 3/4 cup sugar, over medium heat, stirring, until it just starts to simmer and the sugar melts. Remove from the heat. add the gelatin and stir to dissolve. Pour the hot cream-gelatin mixture into the cold mixture and whisk to combine. Ladle about 4 ounces into each ramekin or glass. Put in the fridge, uncovered, until fully cooled. Cover with plastic wrap and refrigerate overnight or for up to two days.
A half hour or so before serving, mix sliced strawberries with balsamic vinegar, 2 tablespoons sugar, and black pepper. Set aside at room temperature for at least 30 minutes and up to an hour. Unmold the panna cottas by running a small knife around the inside of each ramekin a few times to loosen them. Tilt them onto dessert plates. Just before serving, cover them with strawberries and balsamic sauce. Add mint or basil sprigs, if you like. If using glasses just add the macerated strawberries and garnish just before serving. Enjoy!
If you're interested in purchasing imported Cavedoni vinegars, you can find them on the Cavedoni website.
THIS GIVEAWAY HAS ENDED
Fill out the Rafflecoptor form below for a chance to win a bottle of this delicious gourmet balsamic vinegar, handmade in Modena, Italy by one of the worlds oldest producers of balsamic vinegar.  Cavedoni is generously giving away 6 bottles of Il Caratello.  Once the giveaway has ended, 6 winners will be chosen at random.  If you win, I'll contact you via email to get your mailing addresses and the folks at Cavedoni will ship your prize right away. Good Luck!