This Korean Chicken Stew with Gochujang comes together easily, all in one pot, with only 15 minutes of prep. Boneless chicken thighs and spinach are simmered in sweet, spicy, garlicky chili sauce that's to die for. The key to this easy flavorful recipe is store-bought Gochujang (Korean chili sauce). When you see how easy this amazing sauce is, you'll want to cook everything with it.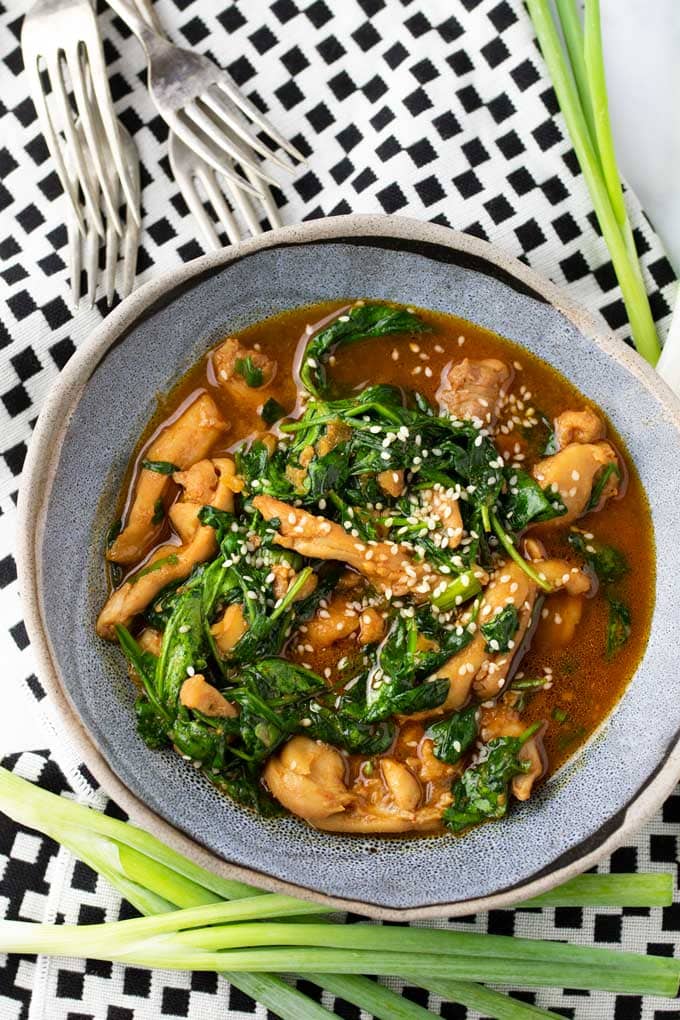 Gochujang is Korea's favorite chili sauce and an essential cooking ingredient in Korean cuisine. Gochujang is made from fermented soybeans and chilies. It has a wonderful range of sweet, spicy and umami flavors. You can purchase Gochujang at Asian markets, online and in the Asian section of many grocery stores.
The sauce for this Korean chicken stew has a good amount of Gochujang, mixed with sesame oil, soy sauce, garlic, ginger and brown sugar. This mixture of ingredients is pure heaven. I have become totally enamored with it. In addition to making this Korean chicken stew once a week, I've been trying out a variety of different recipes using this sauce. Last night I marinated salmon in it – wonderful! Stay tuned for more recipes with gochujang.
…