Here's a Chopped Salad that's perfect for a special lunch, brunch or summer supper. Tasty, elegant and easy to prep ahead, this is a great dish for a festive occasion. Arrange everything in rows for a beautiful rainbow presentation. Just before serving, toss with creamy herb buttermilk dressing.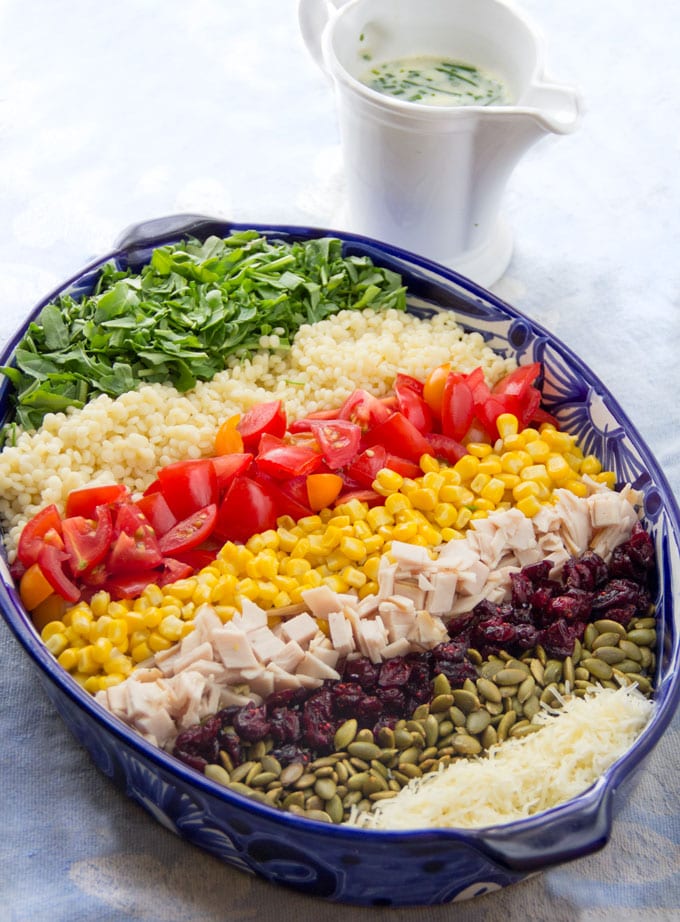 Each component of this salad is scrumptious on its own. Put them all together with bright tangy buttermilk dressing and you've got heaven in a bowl!
Here's what I have in the mix: arugula, pearled Israeli couscous, smoked turkey, shredded asiago cheese, cherry tomatoes, fresh corn, sweetened dried cranberries and toasted pumpkin seeds. But this is a very adaptable dish. Feel free to add, subtract or sub in your favorite ingredients or whatever you have on hand.
COMPOSED SALAD
Now let's talk about presentation. You can pile a bunch of delicious chopped salad ingredients into a big bowl or you can arrange them artfully in a platter. It's all the same stuff and it ends up in the same place, so why make the effort to organize everything? I was pondering this as I carefully arranged lines of turkey, corn and cranberries, considering which colors and textures look best side by side.
I came to the conclusion that food tastes better if it's presented in an attractive way. I've always believed that. There's an article from Scientific American about all the things that can influence taste: "…Potato chips taste crisper if you hear a crunch over headphones. White wine with a drop of red food coloring tastes like red wine—even to experienced wine tasters….A block of cheese with sharp edges tastes sharper than one with round corners…"
The bottom line is deliciousness is not just about what hits our tastebuds. All of our senses come into play when our brain tells us how delicious something is.
…