Chicken enchiladas verdes are a favorite in my house. Shredded chicken and vibrant green salsa, smothered in melted cheese, pretty much defines irresistible.
The thing that makes this enchilada recipe extra special is the roasted tomatillo salsa. Flavor-packed salsa verde is a puree of tomatillos, onions, garlic, jalapeños and cilantro. When you roast all those veggies before pureeing them, you get the most incredible salsa verde and the absolute BEST chicken enchiladas verdes.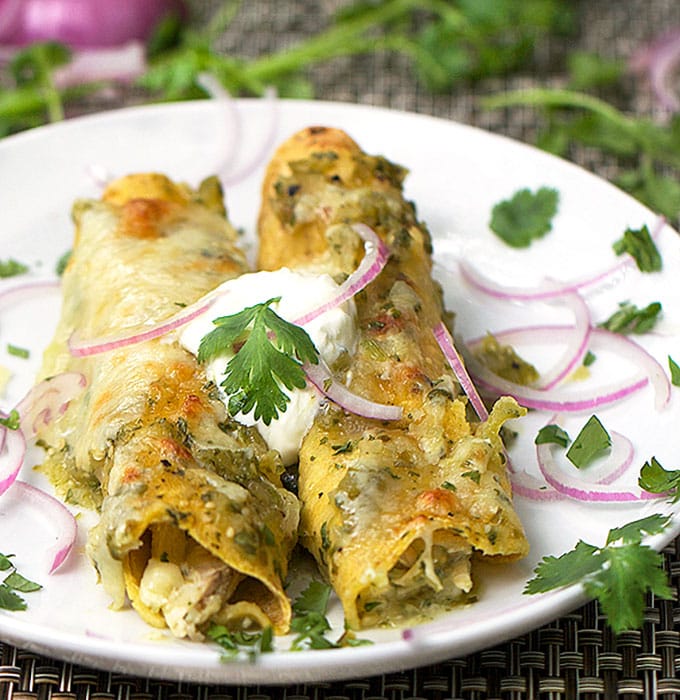 I'm bracing myself for the back-to-school appetite explosion! Chicken enchiladas verdes are my first line of defense. During the summer, there aren't a lot of structured meals in our house, other than dinner. We do a lot of grazing – a handful of almonds, a yogurt, some hummus with crackers. Our appetites are lazy and relaxed, just like we are. That will soon change.
In my experience, the combination of cool weather, long school days and after-school sports sends teenage appetites skyrocketing. When their stomachs start rumbling halfway through the day and they text me from school, asking  "what's for dinner?" 'Chicken enchiladas verdes' is exactly the response they're hoping for….