These Oatmeal Peanut Butter Energy Bites are heart-healthy, protein-packed, high in fiber and they taste GREAT.
They are the perfect afternoon healthy snack or grab-and-go breakfast that will give you a big energy boost, keep you feeling full AND delight you with crunchy, nutty, sweet and salty satisfaction.
Plus they're easy to make.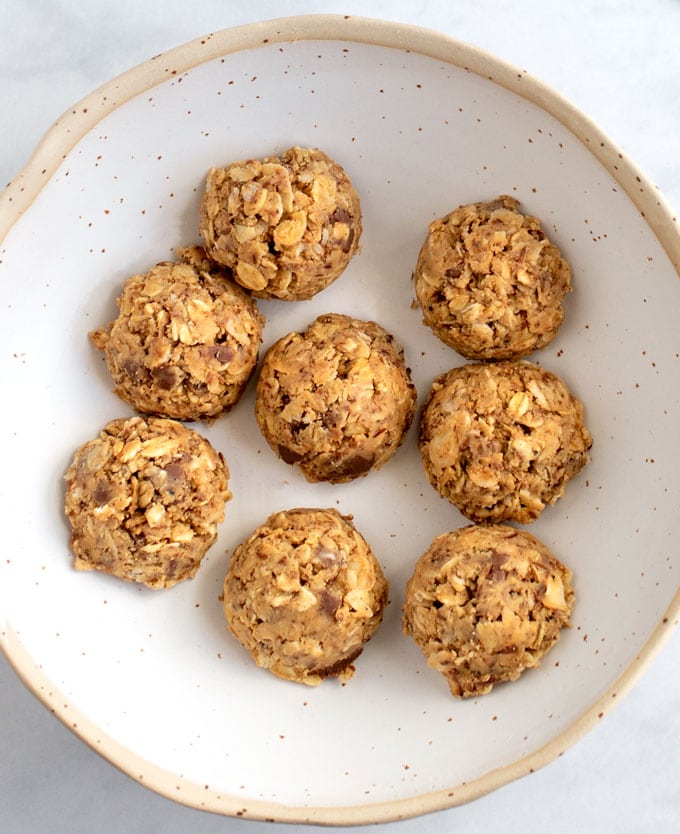 Before we get into more about these peanut butter energy bites, I want to tell you about a course I've enrolled in that inspired this recipe.
I'm in the midst of taking a professional nutrition course at Leith's School of Food and Wine in London. Part of my homework is to develop healthy recipes. I've decided that if they turn out great, like these Peanut Butter Energy Bites, I'll share them on the blog.
If you follow Panning The Globe, you know that sharing healthy recipes is not something new around here. "Healthy and delicious" is my mantra. I use only wholesome ingredients in my cooking and I minimize unhealthy fats and sugars. For example, check out this recipe for non-dairy olive oil roasted garlic mashed potatoes or this popular no-mayo avocado chicken salad recipe. Why use saturated fats in a recipe when a dish can taste fantastic without it?
I'm excited to learn lots more about the science of healthy eating so I can bring even more delicious and nutritious recipes to the table. …