Tachin Joojeh is a Persian chicken and rice casserole with caramelized onions. The casserole is cooked upside down. When it's flipped over, the bottom layer, with its beautiful golden crust, becomes the top.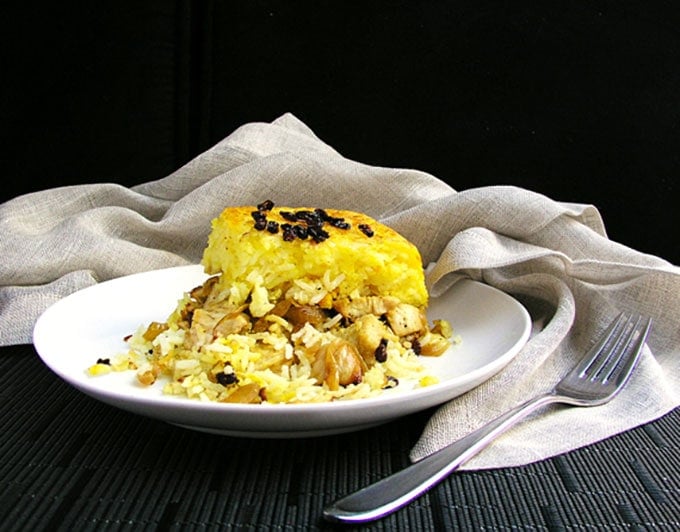 Soon after I got married – more than 20 years ago – a friend gave me a cookbook about Sephardic cooking.  I remember thinking the recipes were strange and intriguing.  I hadn't thought about that book in years – maybe even decades. It suddenly popped into my mind a few days ago, when I was researching recipe ideas for "Panning the Globe".
I was pretty sure I'd never find it in my house, but I did. It still had yellow post-it notes marking the recipes that had interested me way back when: "Sfongo": Turkish baked spinach and potato casserole, 'Khoresht Zardaloo": Veal and Apricot Stew from Iran, "Kadoo Bichak": Baked Pumpkin and Onion Dumplings from Uzbekistan,"Cous Cous Judgja" from Morocco, and Tachin Joojeh from Iran. It made me smile to be reminded that this journey I'm on with my blog, to explore the exciting food and flavors of unknown countries, started a long time ago….