This recipe shows you how to make the most tender, melt-in-your-mouth broiled salmon. Stuff or top the salmon with horseradish mustard sauce for an easy, elegant salmon dinner that's worthy of any occasion. This recipe is easily adaptable for salmon steaks or fillets, if you prefer those to roulades.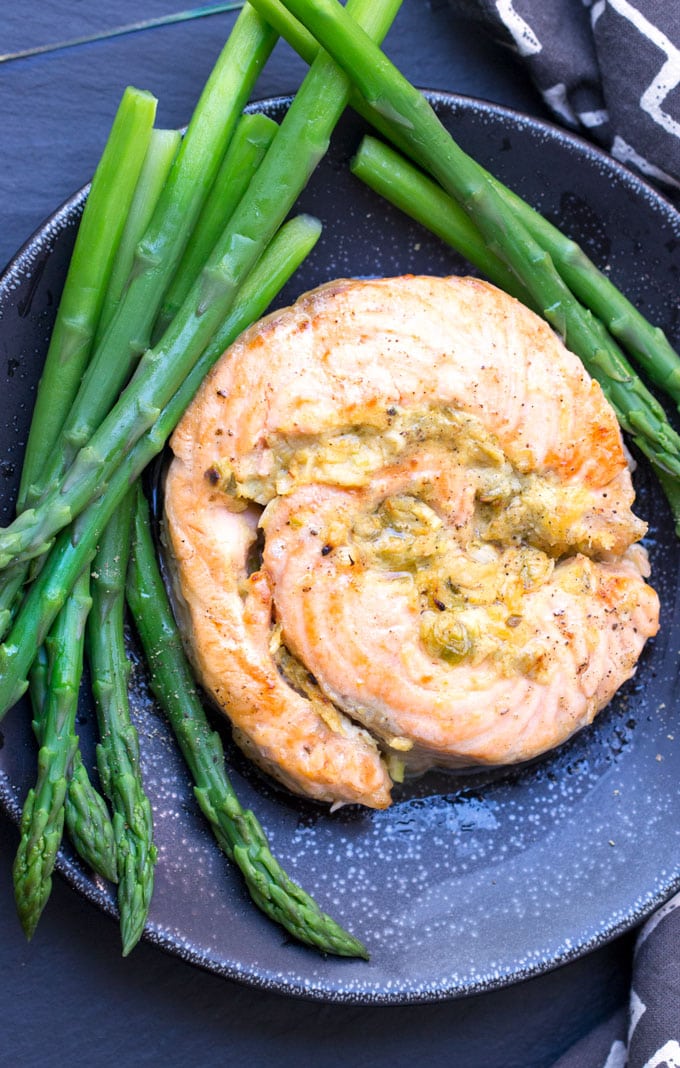 This simple three ingredient horseradish-mustard-scallion stuffing is spectacular with broiled salmon. The dijon mustard is creamy with bold flavors of mustard seed, fine wine and spices. The prepared horseradish is vinegary and hot. The chopped scallions add a final layer of mild oniony flavor that makes this stuffing taste out-of-this-world delicious.
This zesty stuffing is a perfect companion to the rich savory flavors of broiled salmon.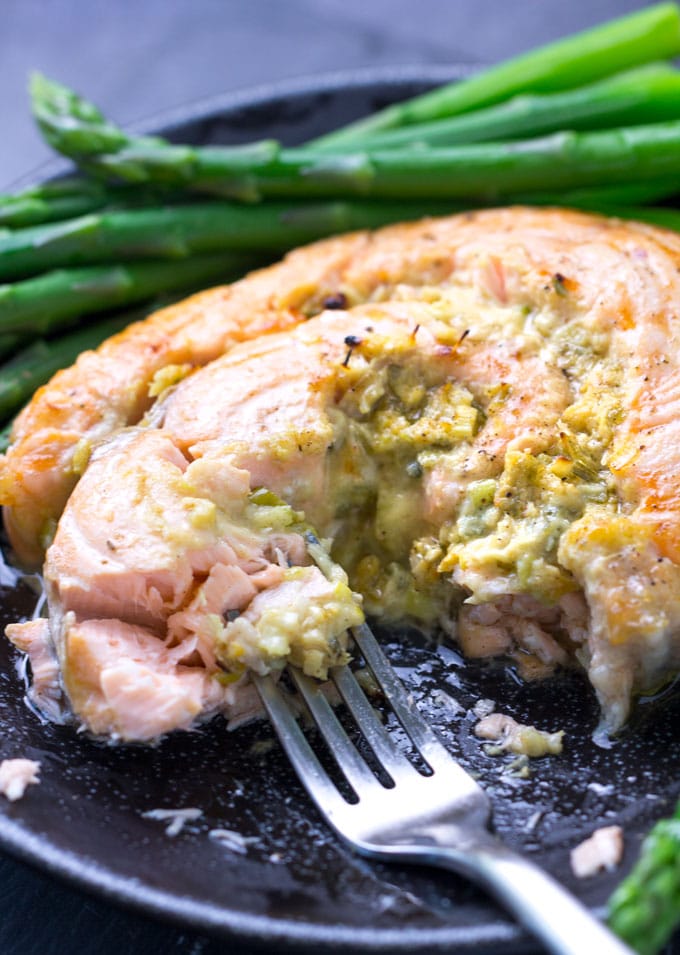 Now let's talk about roulades for a minute. You may be wondering why I chose roulades for this recipe? Why not simple steaks or fillets? Firstly, I like the way they look. They're different from the norm, something special. But also, salmon roulades have a special place in my heart.
When I was first married I used to make roulades of salmon often. I can't remember where I got the idea. All I recall is that I loved to serve those elegant circles of salmon for dinner parties. The presentation was fun and fancy. Back then I wrapped raw, unstuffed, salmon roulades in saran wrap and steamed them. The saran wrap was tight and the steam fused the rolled salmon into perfect disks.
I served them with a simple shallot butter sauce spooned on top. I want to resurrect that old recipe one of these days. But for now, I'm obsessed with this more rustic and flavorful broiled salmon roulade recipe.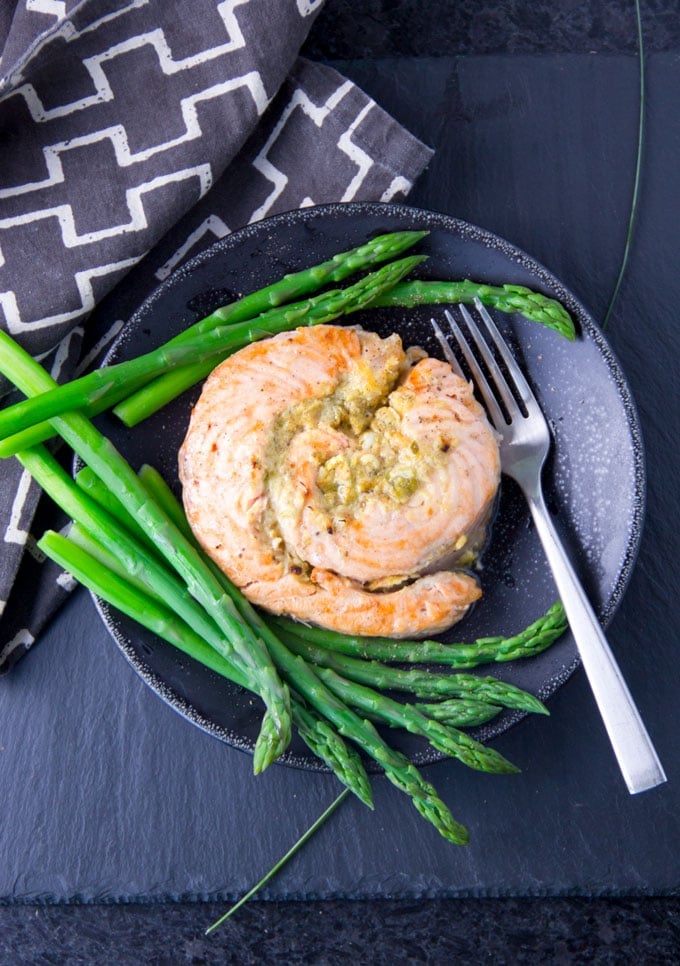 Deboning and rolling the salmon into roulades makes an elegant presentation but it takes a bit of finessing. For a quicker, equally delicious preparation, simply coat salmon fillets with horseradish mustard mixture and broil them. (see recipe for instructions and timing)
HERE'S HOW TO MAKE BROILED SALMON ROULADES STUFFED WITH HORSERADISH MUSTARD:
Skin the salmon steaks or ask your fishmonger to skin them for you.
I enjoy skinning salmon. Once you get the hang of it, it's easy – as long as you have a sharp knife. Hold the salmon skin side down and insert the knife at one end, between the skin that's touching the cutting board, and the flesh. Slide the knife along one long edge and rotate the salmon so you can slide the knife around the curved part. Then flip the steak onto the other side and keep sliding your knife until the entire piece of skin is separated from the flesh.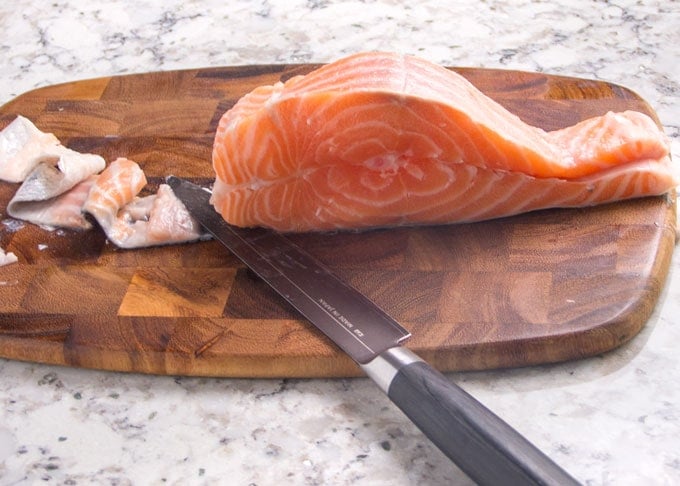 Deboning the salmon steaks takes a few simple cuts. There's a strip of thin white bones that run along the inside edge of the steaks. Use a sharp knife to slice off the thin layer of bones. Be sure to leave the cartilage at the top, that holds the two halves of the steak together.
Now you have a long strip of skinless boneless salmon that can be curled into a roll.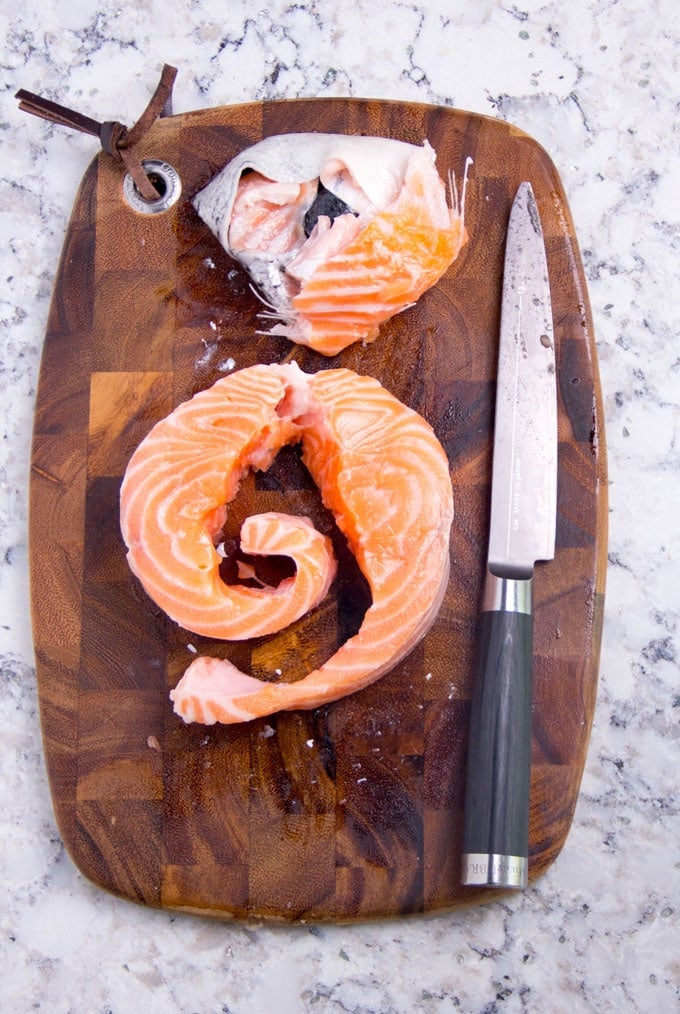 Lay it out flat and coat it generously with the horseradish-mustard-scallion mixture.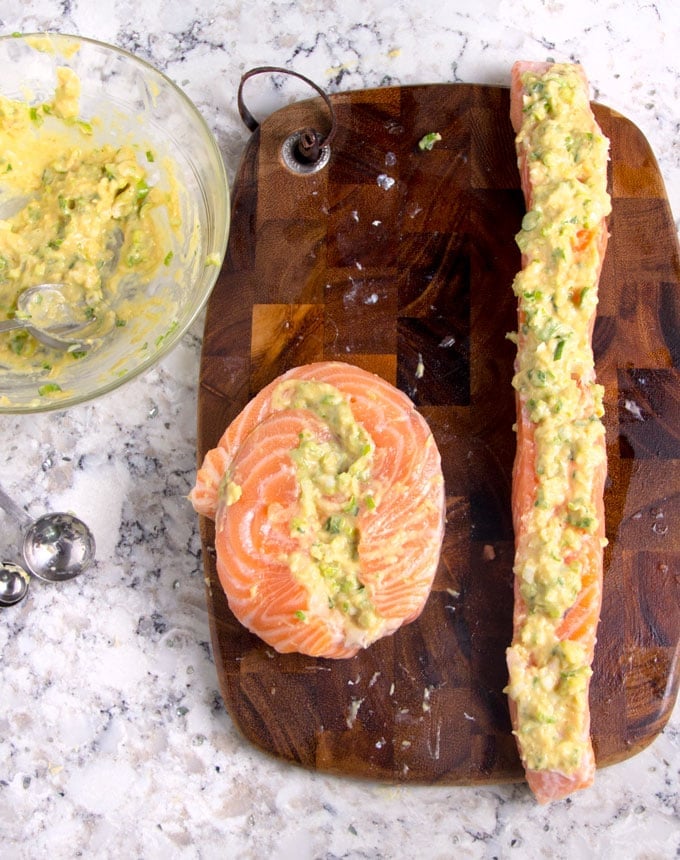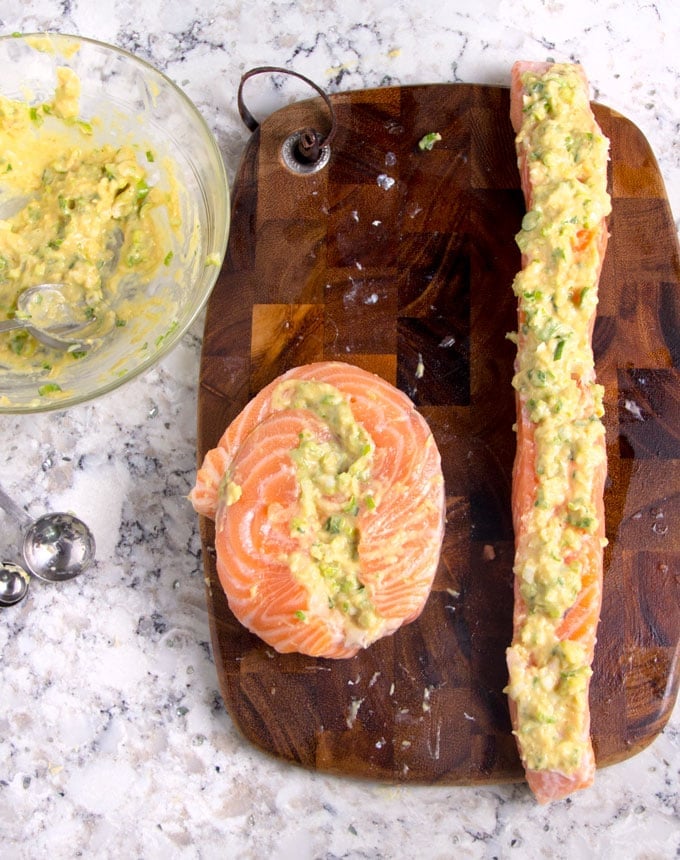 Roll up each piece; place the rolls in an oiled baking pan; and broil for 7 minutes.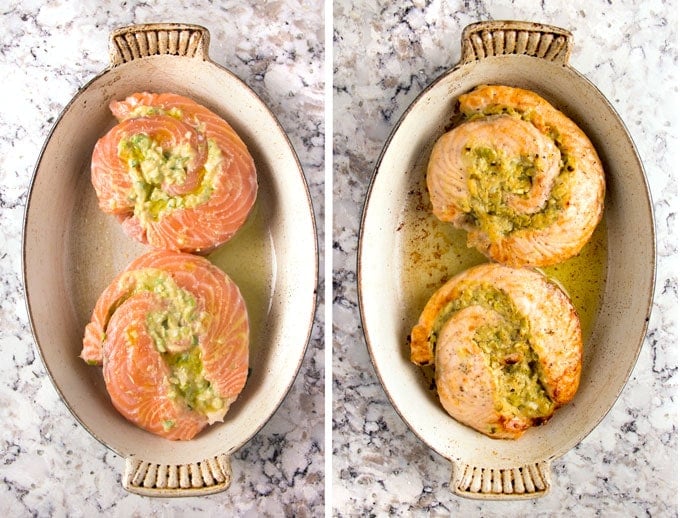 Voila!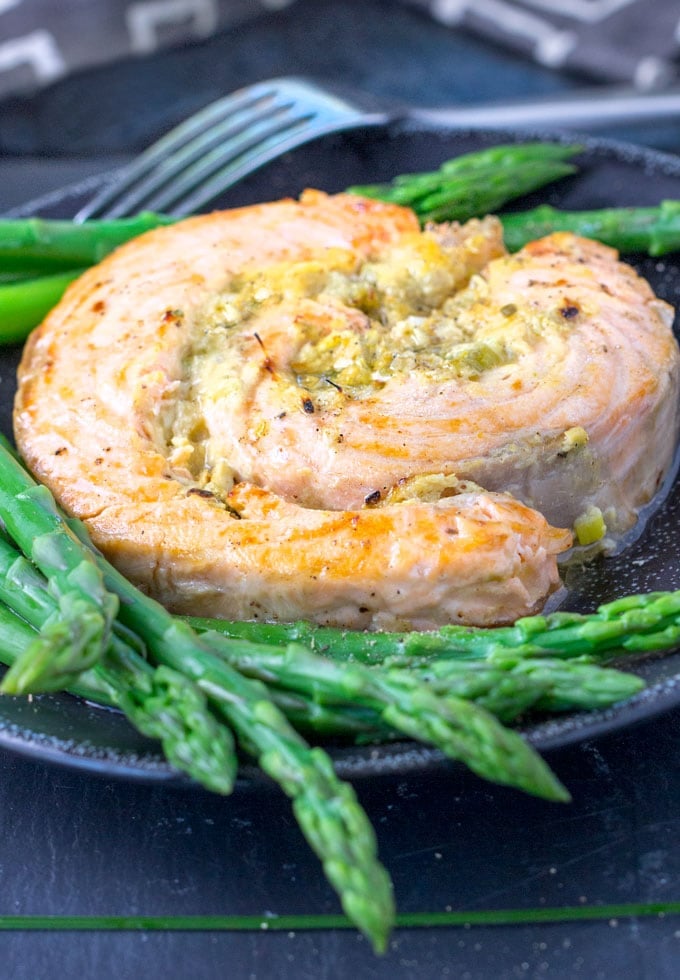 Suggested Accompaniments with Broiled Salmon Roulades:
This dish goes well with a variety of sides. Here are a few of my favorites: simple steamed asparagus, these delicious shredded brussels sprouts with fried shallots , sautéed spinach with garlic, this light butter lettuce salad with citrus honey vinaigrette or this Raw Kale Salad with Honey Parmesan Dressing, these olive oil and roasted garlic mashed potatoes.
Here's the recipe for Broiled Salmon Roulades Stuffed with Horseradish Mustard. I can't wait for you to try this recipe! If you do, please come back to leave a review and let me know how how it turned out.
Print
Broiled Salmon RouladeS Stuffed with Horseradish Mustard
A quick and simple salmon dish with amazing flavors. Easy enough for weeknights. Delicious and elegant enough for a special occasion.
Author:
Prep Time:

20 mins

Cook Time:

7 mins

Total Time:

27 mins

Yield:

4

Category:

Main Dish

Cuisine:

Out Of This World
Ingredients
4 6-8-ounce salmon steaks (or for an easier, more casual presentation substitute 4 salmon fillets)
5 tablespoons prepared dijon mustard, such as grey poupon
2 tablespoons plus 2 teaspoons prepared horseradish
6-7 scallions, trimmed and finely chopped (7-8 tablespoons)
1 tablespoon or so of extra virgin olive oil (to drizzle over the salmon)
Kosher salt, to taste
Freshly ground black pepper, to taste
Equipment: A lightly oiled glass or ceramic baking dish with low sides, just large enough to hold all the salmon without crowding.
Instructions
Make The Horseradish Mustard Sauce: Mix mustard, horseradish and scallions. Set aside.
Skin the Salmon Steaks if making roulades: Preheat the broiler. Place an oven rack near the top of the oven, 5-6 inches from the heating element. Lay a salmon steak on one side – skin side down – on a cutting board. Starting at one thin end, slide the blade of your knife in between the skin that's against the cutting board and the flesh. Keep sliding your knife until you've removed the skin on one side of the steak. Rotate the steak, keeping the skin against the cutting board, and keep sliding the knife to separate the skin around the curve and on the other side of the steak. Repeat with remaining steaks. (see photos in post)
Debone The Salmon Steaks: Lay your steak out flat on a cutting board. With a sharp knife, cut out the thin layer of bones that run along the inner edge of each steak. Make sure to leave the cartilage at the top, that holds the two sides of the steak together. (see photos in post) Here's a great video to show you how to debone a salmon steak.
Stuff And Roll The Salmon: Lay all the steaks out in long strips with the inside (where the bones were) facing up. Divide the horseradish mustard mixture evenly among the four strips, coating the tops of each strip from one end to the other. Carefully roll up each salmon strip and place it in the prepared baking dish. Drizzle a little olive oil over the rolls and sprinkle them with a pinch or two of salt and a few grinds of pepper. If using salmon fillets, coat the tops of the fillets with the horseradish mixture, set them in the prepared pan, drizzle with olive oil and sprinkle with salt and pepper, to taste.
Broil the salmon roulades for 6-7 minutes, until almost cooked through (they'll continue cooking when you take them out of the oven and tent them with foil) If using salmon fillets, broil for 4-5 minutes. Remove the pan of salmon from the oven and tent with foil for 2 minutes. Season, to taste, with salt and pepper. Serve immediately.