These dairy free olive oil and roasted garlic mashed potatoes are creamy and absolutely delicious. Roasted garlic and fruity olive oil give these vegan mashed potatoes their great flavor and texture, so there is no need for butter or cream.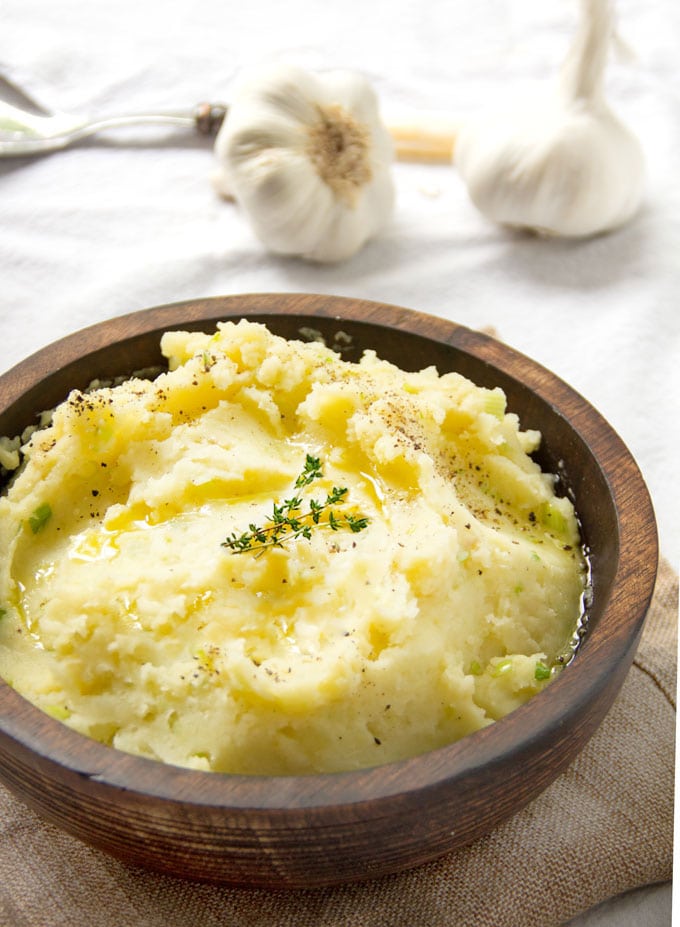 This may surprise you, but I've always made mashed potatoes without butter or cream. I use potatoes, olive oil, potato cooking water or broth, salt, and pepper. Sometimes I add finely chopped scallions, sometimes parsley or chives.
I love them this way. It's easy to make creamy, delicious dairy free mashed potatoes using olive oil. They have great flavor and they're healthier than traditional mashed potatoes which are loaded with cream and butter. I even make my Shepherd's Pie with dairy free mashed potatoes.
I recently discovered that roasted garlic is a great addition to dairy free mashed potatoes.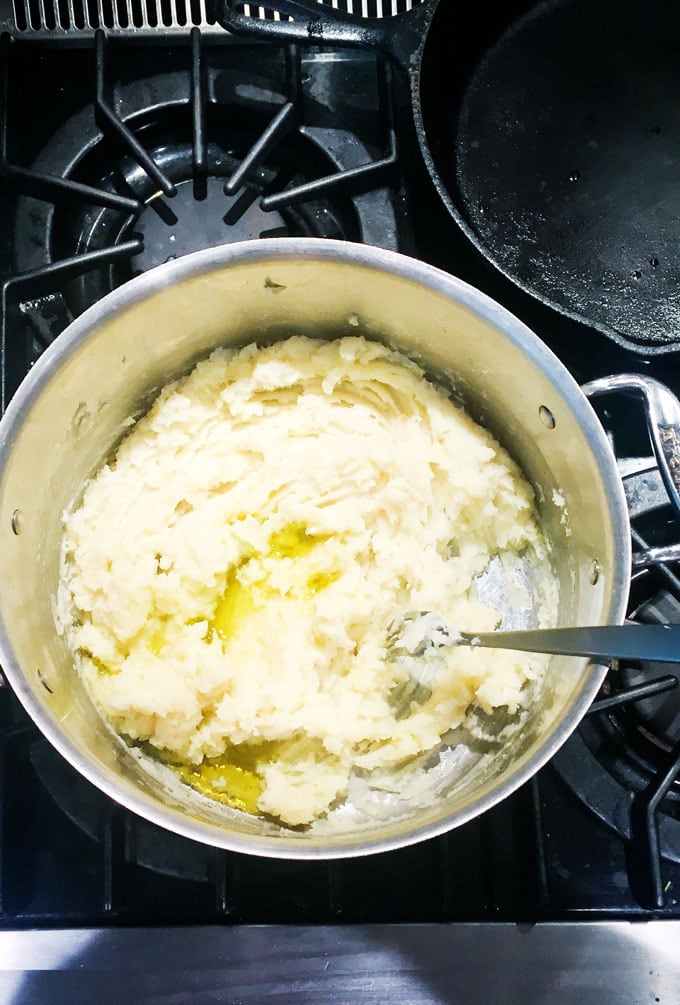 Making mashed potatoes is so simple, yet it's not. There are hundreds (maybe thousands) of treatises out on the web explaining how to make the perfect mashed potatoes. And with good reason. Potatoes look tough and rugged but they're actually very sensitive. If you don't treat them well, they will turn out bad. Have you ever made a batch of mashed potatoes that turned out watery, lumpy or gluey? Not fun. And there's no way to undo the damage once it's done. The good news is, there are some easy steps you can take to ensure a great outcome for your mashed potatoes every time. I've done loads of research on this topic and here are my best recommendations:
5 Tips: How To Make Perfect Mashed Potatoes:
For even cooking, start the potatoes in a pot of cold water. If you add potatoes to boiling water, the outside will cook faster than the interior and you'll either have parts that are overcooked or parts that are undercooked.
For full flavor, add salt to the potato cooking water
For the Fluffiest Mashed Potatoes: To prevent the potatoes from being waterlogged, dry them before mashing: After cooking, drain them, return them to the cooking pot, and toss them over medium heat for a minute or two, until they're fluffed up and dry.
For Great texture: Add the olive oil (or butter, if using) to the the hot, dry potatoes before adding liquid. The potatoes will absorb the fat and will have a silkier texture.
To keep them light: Most importantly, don't over mash! Over mashing breaks down the potato's starch molecules. The less you mess with cooked potatoes, the better. Never use a food processor or you'll end up with glue. Best practice is to use a potato ricer, if you have one. If not, an old fashioned hand masher works well. Mash as few strokes as possible to keep the potatoes light and fluffy.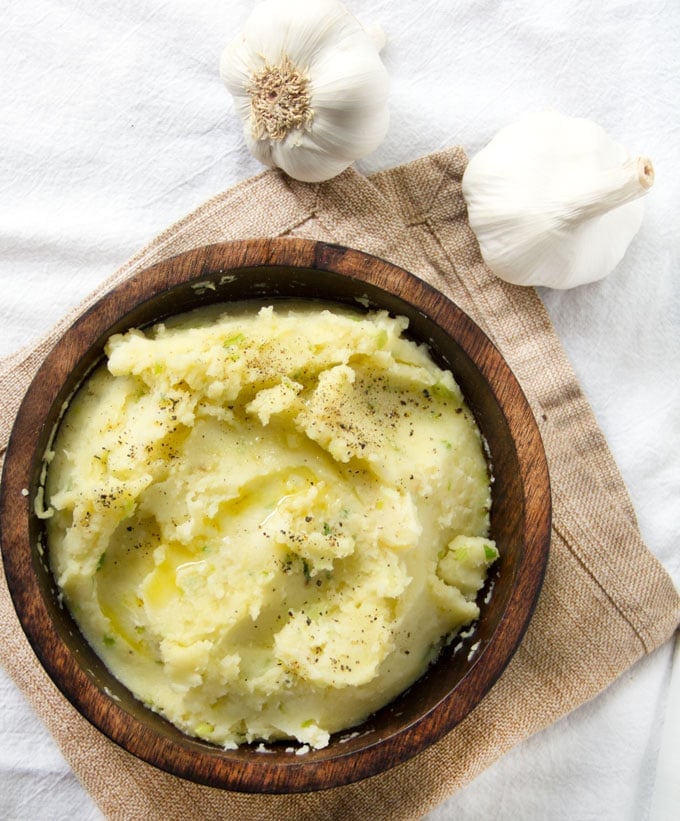 How to make excellent dairy free mashed potatoes
Follow my 5 tips: how to make perfect mashed potatoes (above).
Use good quality olive oil and the potato cooking water, in place of cream and butter.
Dairy free mashed potatoes are seasoned the same way you would season traditional mashed potatoes, with plenty of salt and pepper.
For added layers of flavor, mix in chopped scallions, chives, herbs or roasted garlic.
How to roast garlic
Cut about a half inch off the top of a head of garlic.
Place the head on a square of foil.
Drizzle olive oil over the exposed garlic cloves.
Seal up the foil and bake at 400ºF for 35 minutes.
Once the garlic cools you can easily peel away the skin from the cloves or you can just squeeze out the roasted garlic cloves.
Roasting garlic mellows and sweetens the flavor, and makes it rich and creamy.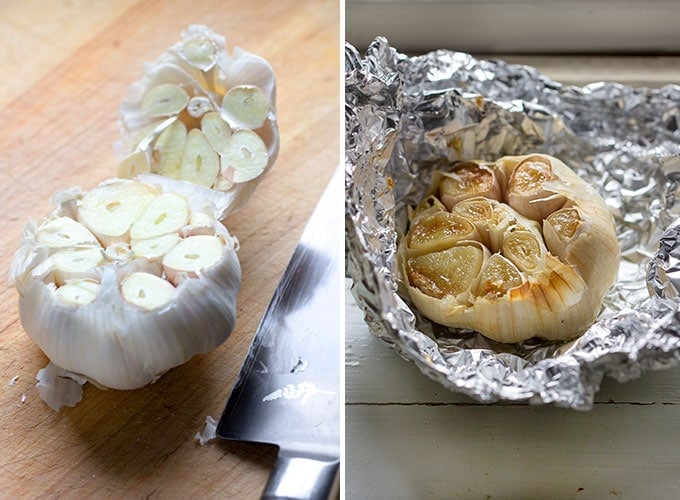 If you're open to trying something new, give these dairy free olive oil and roasted garlic mashed potatoes at try.
They're great with turkey and gravy, roasts, turkey meatloaf, classic meatloaf, or anything that calls for delicious mashed potatoes on the side.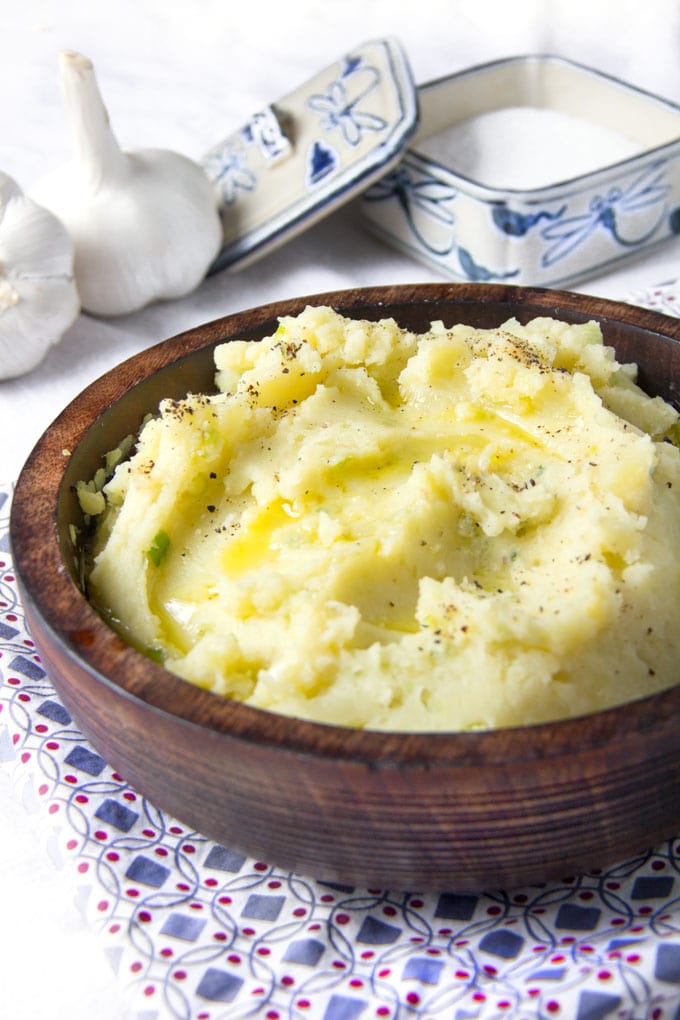 If you have anyone at your table who's vegan, kosher, or dairy intolerant, you're all set with these dairy free mashed potatoes. You may also like our Vegan Red Skin Mashed Potatoes.
Here's the dairy free Olive Oil and Roasted Garlic Mashed Potatoes Recipe. If you cook this, I hope you'll come back to leave a star rating and a comment. I'd love to know what you think!
Print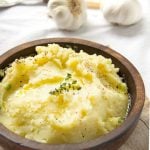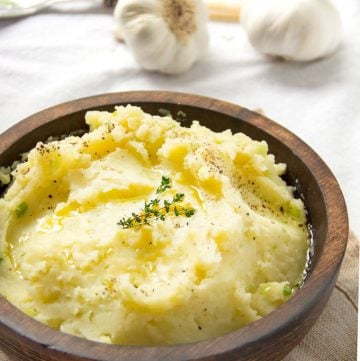 Olive Oil and Roasted Garlic Mashed Potatoes
---
Description
Delicious creamy olive oil and roasted garlic mashed potatoes are made with no cream or butter. They're dairy-free and vegan.
---
1

head of garlic

½

cup

good quality extra virgin olive oil, divided

3

pounds

yellow flesh potatoes, peeled and cut into 2-inch pieces

1

cup

of potato cooking water - don't forget to save it before you drain the potatoes!

2 teaspoons

kosher salt plus more, to taste
Freshly ground pepper, to taste
Optional Add-ins and Toppings:

12

scallions, ends trimmed, finely chopped

2 tablespoons

chopped fresh parsley and a few parsley sprigs
A drizzle of olive oil
---
Instructions
Roast The Garlic: Preheat oven to 400ºF. Slice off the top ½ inch off the garlic head to expose a cross-section of all the cloves. (see photo in post) Drizzle a teaspoon of oil over the exposed garlic. Wrap tightly with foil. Bake for 35 minutes. When cool enough to handle, squeeze the roasted garlic out of the skins and mash them with a fork.
Cook and Mash The Potatoes: Place potatoes in a large pot and cover with cold water by a couple of inches. Add two teaspoons of salt to the water. Bring to a boil and cook for 12-15 minutes, or until potatoes are tender enough for a knife to easily slide in and out.
Save a cup of the cooking water before draining. Drain potatoes. Return them to the cooking pot over medium heat, tossing them for a minute or so, until they're dry. Add the garlic. Mash the potatoes and garlic roughly, to combine. (I recommend using a potato masher) Add 6 tablespoons of olive oil and stir through with a fork or with the masher. Thin with potato water, a little at a time, until you're happy with the texture. Season, to taste, with salt and pepper.
Optional Additions: Stir chopped scallions and/or parsley into the potatoes, if using.
To Serve: Serve hot. Transfer to a serving bowl. Drizzle with olive oil, if you like. (it looks nice) and garnish with some chopped parsley or parsley sprigs.
Prep Time:

15 mins

Cook Time:

35 mins

Category:

Side Dish

Method:

boil

Cuisine:

American
Keywords: dairy-free mashed potatoes, mashed potatoes with roasted garlic and olive oil