This kale salad recipe couldn't be simpler or more delicious. Kale leaves are thinly sliced and dressed with a tangy lemon, honey, parmesan vinaigrette. You will be amazed by the way this salad dressing transforms a plain bowl of shredded raw kale into the absolute best kale salad.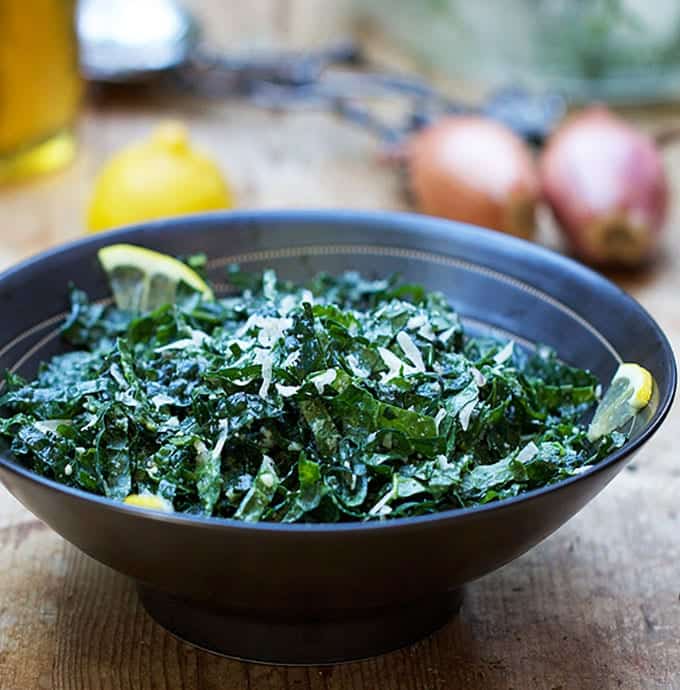 Kale salad
Let's get this out of the way - for some of you, the thought of kale salad may not make your mouth water with anticipation. I hear you, but I'm telling you, this kale salad recipe will change all that. The ribbons of kale are tender and lemony with a hint of honey sweetness and a dusting of rich nutty parmesan - so surprisingly and delightfully delicious!
I discovered this kale salad at a potluck. I remember reaching for the salad tongs because I wanted something healthy and green on my plate, not expecting much in the way of flavor from a bowl of plain-looking kale. I was stunned by how good it was.
I tracked down the person who brought the salad to the party and she shared the recipe with me. Now I get the same stunned reaction whenever I serve this salad to friends.
The benefits of eating kale
There is practically no food as nutritious as raw kale. Kale is a nutrient-dense leafy green that's an excellent source of vitamin C, A and K, and a great source of dietary fiber and calcium.
I love making this superfood a part my regular diet. This delicious kale salad is a great way to do that.
The Best Simple Kale Salad
I've tried lots of kale salad recipes but this one has become my favorite go-to because it has everything going for it:
Pure and simple - just shredded raw kale and lemon dressing
Highly nutritious - kale is one of the healthiest foods on earth
Delicious - makes you want to eat copious amounts of healthy raw kale
Simple - limited ingredients and subtle enough flavor so it can be used as a side dish with practically anything
Prep-ahead - Kale and dressing can be prepared a day ahead
Excellent for gatherings – it's easy to double or trip the recipe and it stays delicious for hours after dressing it.
Tuscan kale vs curly kale vs red kale
Kale comes in many varieties. All are super healthy and great in salads as long as you remove the tough stems, tenderize the leaves, and dress them with something that balances out their bitterness.
For this simple kale salad, I like using Tuscan kale because it's is more tender and less bitter than other varieties of kale. If you thinly slice Tuscan kale (or any kale for that matter) it gets even more tender.
If you can't find Tuscan kale. Curly kale or red kale will also work well too.
Curly kale is silvery green with thick ruffly leaves attached to a fibrous stem. It is the toughest and most bitter of the bunch.
Red kale (also called Russian kale) looks similar to curly kale only the leaves and stems are tinted red and the leaves are flatter and curl only around the edges. Red kale is slightly more tender and sweet than curly kale.
Tuscan kale (also called lacinato or dinosaur kale or cavolo nero) has long slender dark green leaves with a bumpy texture. It is the most tender of the three.
4 steps to making kale salad
De-stem the kale
Wash and dry the leaves
Finely slice, finely chop, or massage the leaves
Dress with vinaigrette
How to remove kale stems
To separate kale leave from their stems you can simply rip the leaves off the stems by hand, strip them off with a kale stripper, or slice them off with a knife.
To de-stem kale by hand grip the stem with one hand and use the other hand to strip the leaf off, working your way from the bottom of the stem to the top.
To use a kale stripper, insert the bottom of the stem into the smallest hole you can fit it into, and slide the stripper up the stem to strip the leaves off. You can purchase a kale stripper on Amazon for under $10.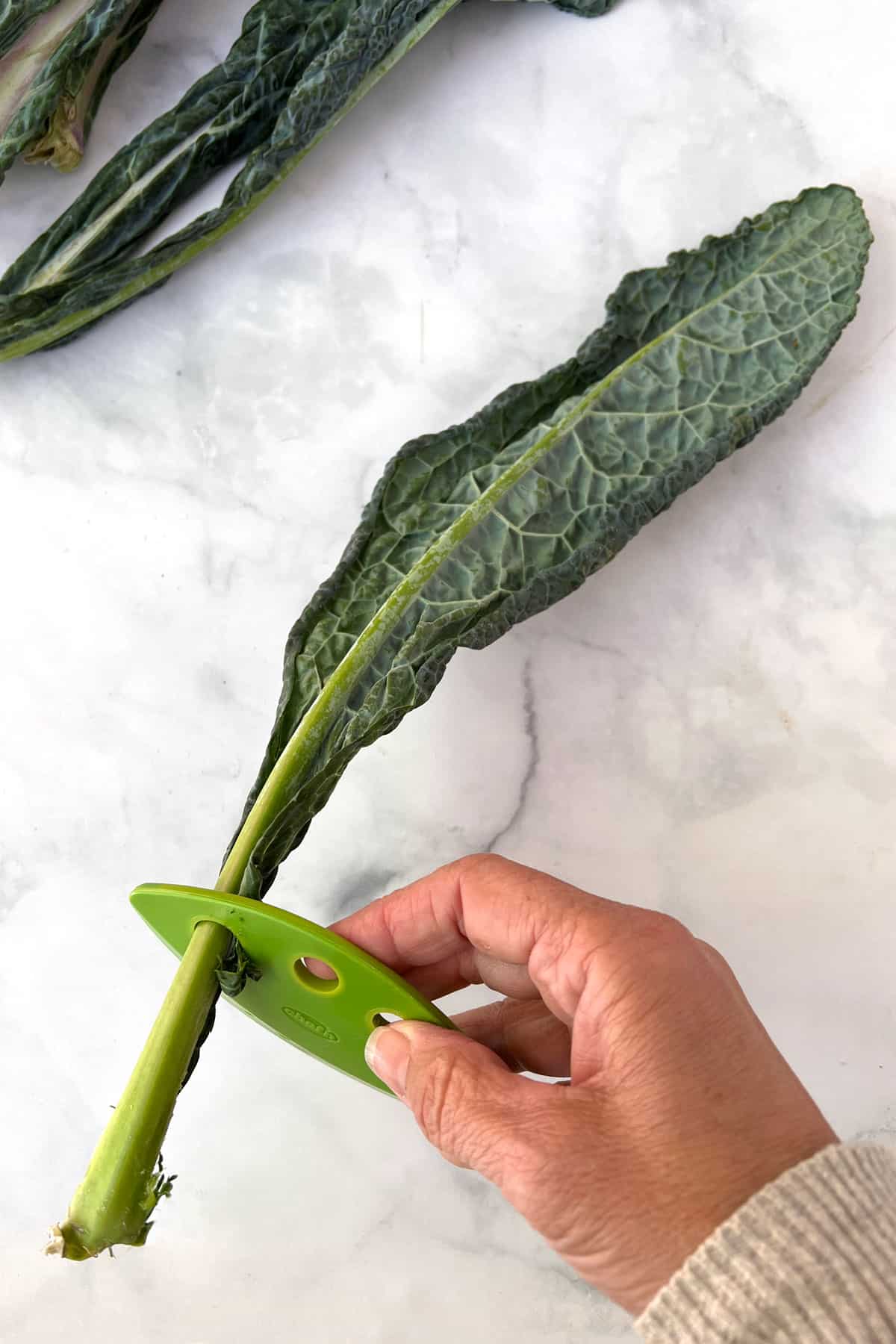 How to wash kale
After you remove the kale stems, wash the leaves in a salad spinner or by swishing them in a big bowl of cold water. Dry the leaves in the spinner or by shaking them off and blotting them with a clean dish towel.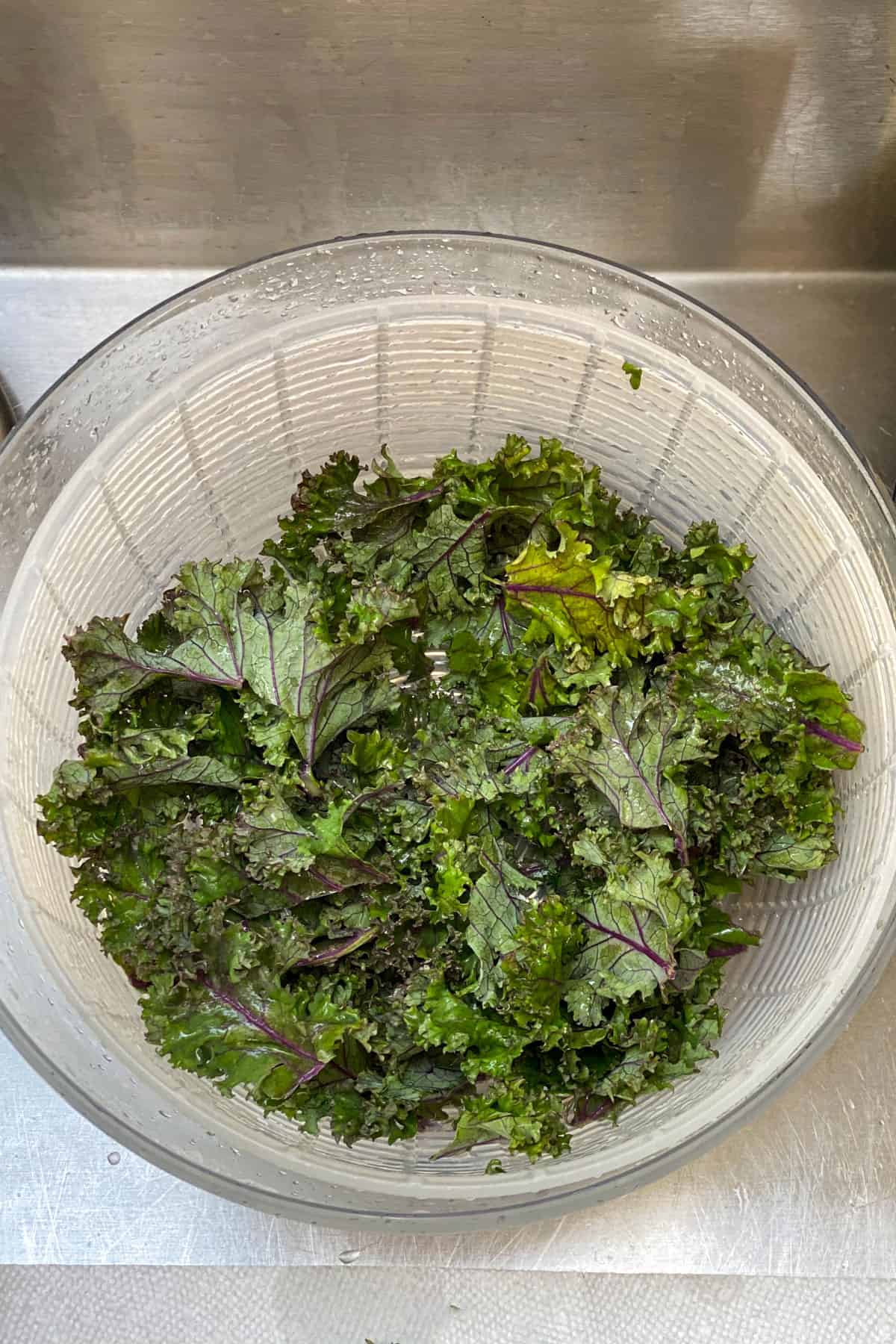 How to tenderize kale
All that healthy fiber in kale also makes it chewy and dense. It's important to tenderize kale to make it perfect for the salad bowl. There are a couple of different ways to do that.
1. Massage
Massage tough kale leaves with a little olive oil to tenderize them. (lemon or vinegar work well too).
Start by putting the kale leaves into a bowl. Drizzle a teaspoon or two of olive oil over them. Then, with clean hands, grab handfuls of kale and keep moving around the bowl squeezing and rubbing the kale through your fingers, for 1-3 minutes until the fibers relax.
Tougher types of kale, such as curly kale, will need a longer massage than Tuscan kale, which is softer.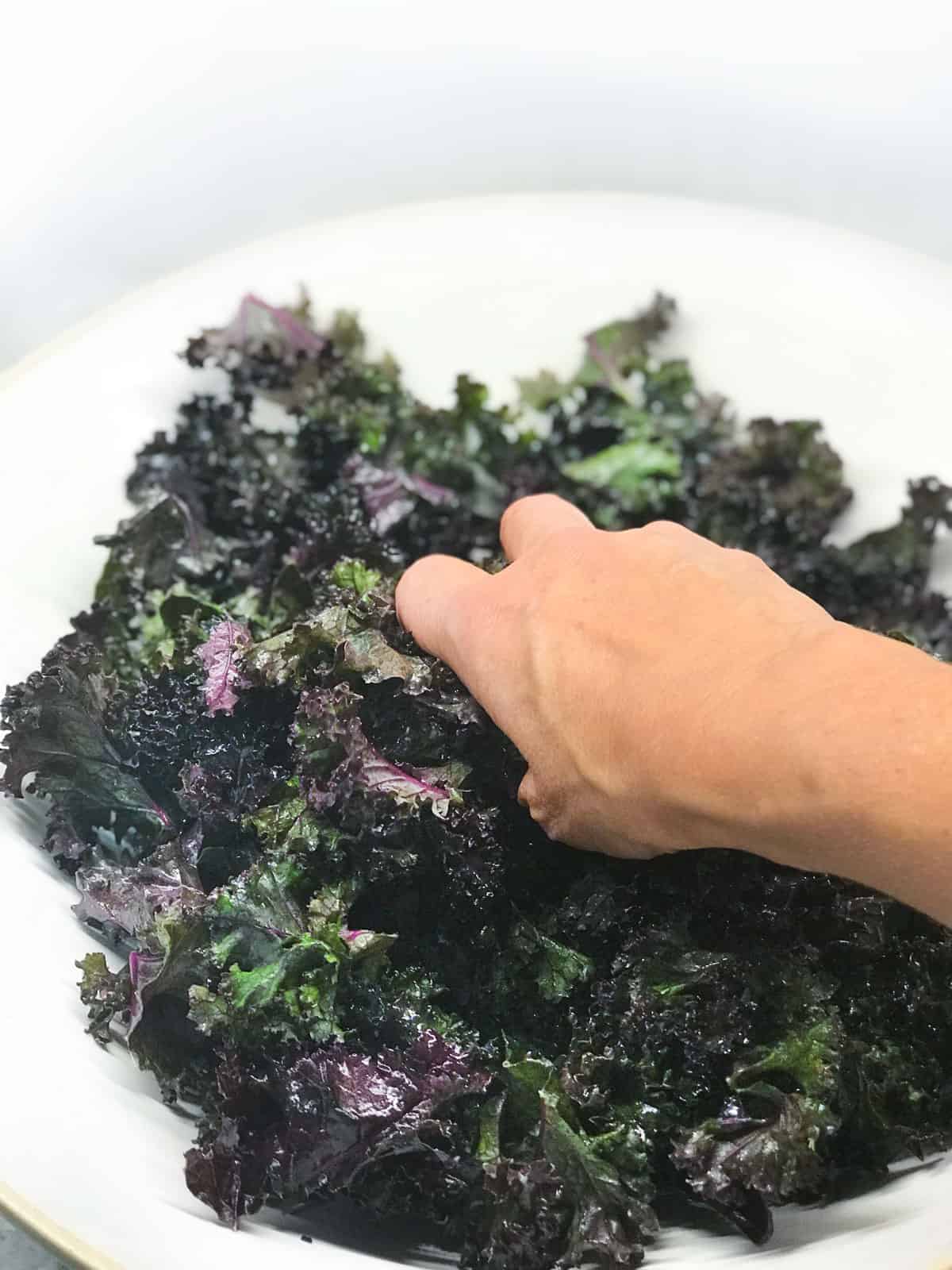 2. Finely chop or thinly slice (shred)
If you finely slice or finely chop kale, you don't have to massage it. Whether you opt for curly kale, red kale or Tuscan kale for your salad, finely chopping or shredding the leaves will sufficiently tenderize the kale and enhance its ability to soak up the dressing.
If using Tuscan kale (shown below), stack flat the leaves and slice them. If using curly kale, roll or bunch the leaves and thinly slice them.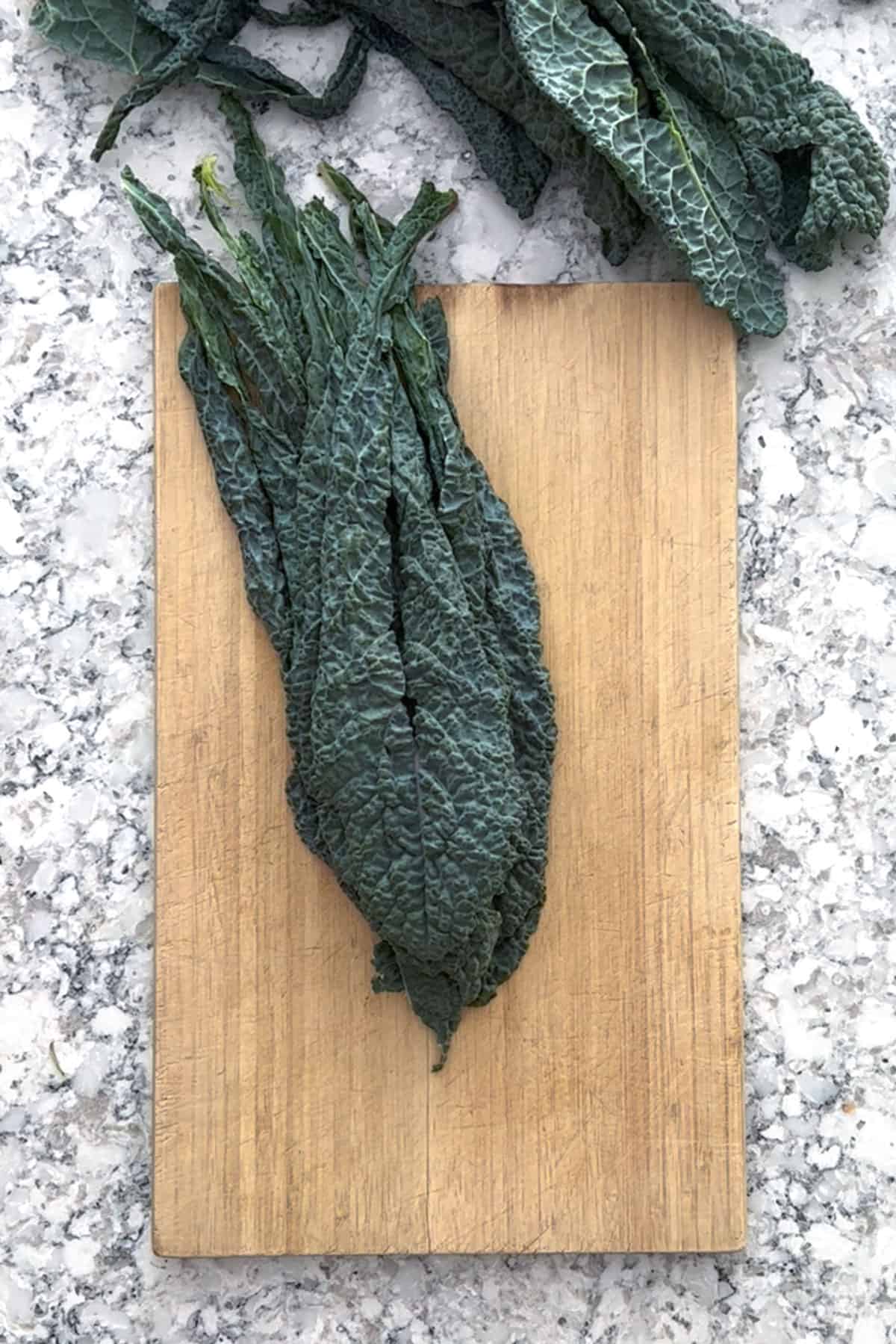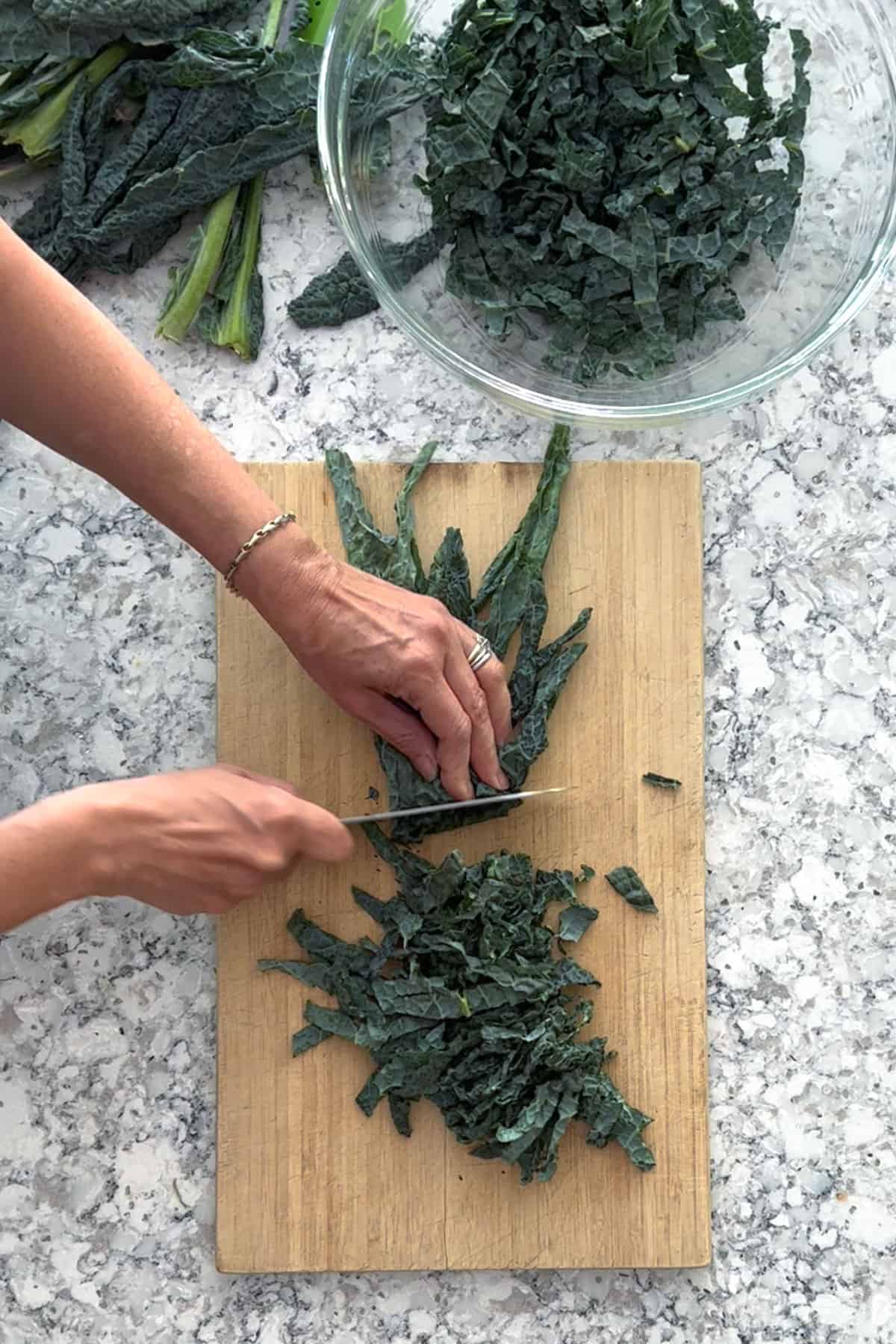 How to store kale to keep it fresh for days
We have kale salad once a week at my house so (not to brag but) I've become a bit of an aficionado at prepping kale for salad, and here's my favorite tip: De-stem and wash your kale as soon as you get it home from the store and use the storage technique that I'm about to share with you below - I know you're going to love this!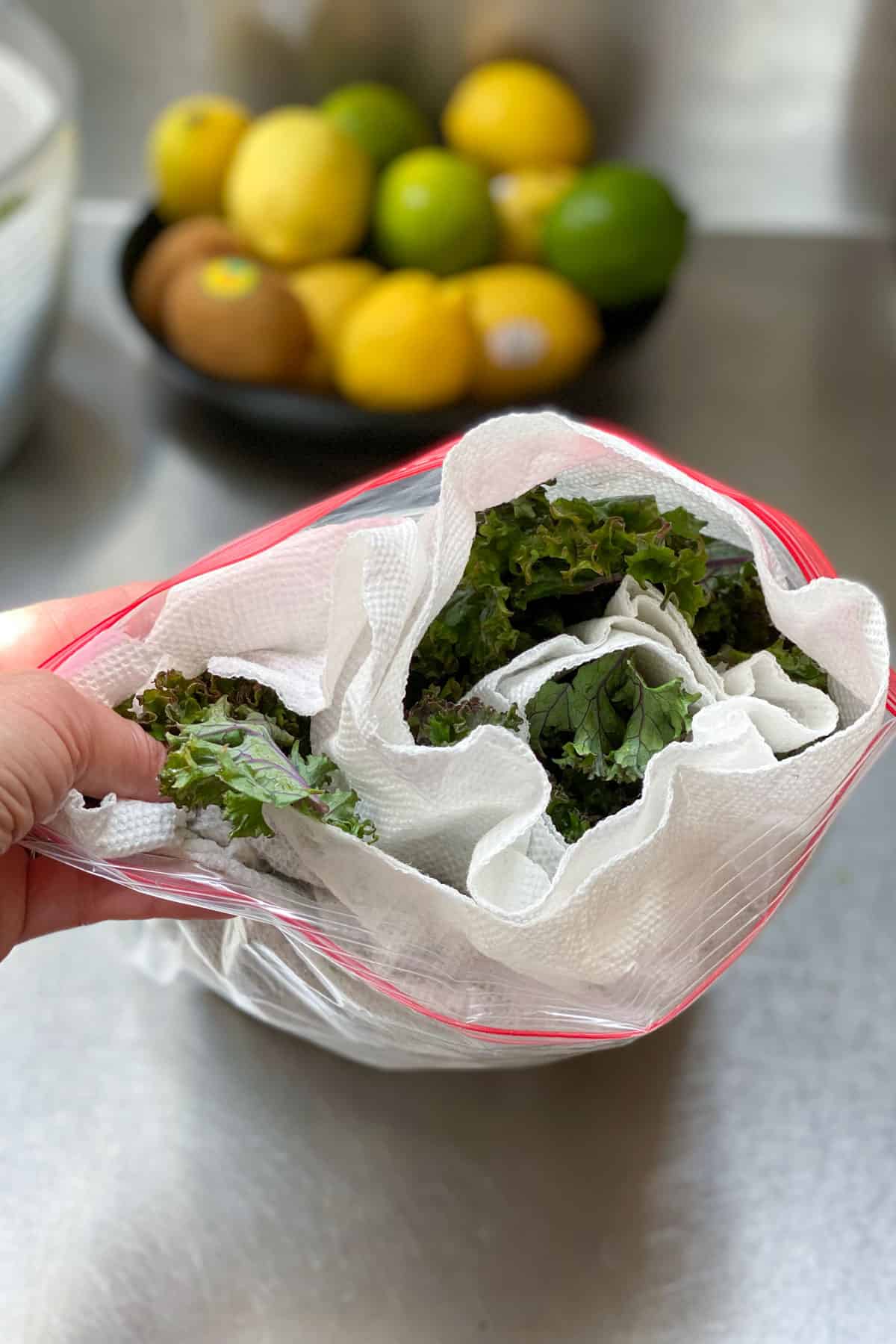 My best tip for prepping and storing kale
De-stem the kale
Wash and dry the kale but don't dry it completely - leave a bit of moisture on the leaves.
Place a long sheet of paper towels out on the counter and arrange the damp kale leaves on top in a single layer. Place another long sheet of paper towels over the kale and another layer of kale leaves on top.
Roll the double layer of leaves up loosely, from one end to the other.
Stuff the roll into a large ziplock baggie, squeeze the air out, zip it up, and pop it into the fridge.
When you're ready to make kale salad, you will be so happy to have all the prep work behind you, and in the fridge you'll have a big bag of clean, fresh, perky kale, ready to make into a delicious kale salad.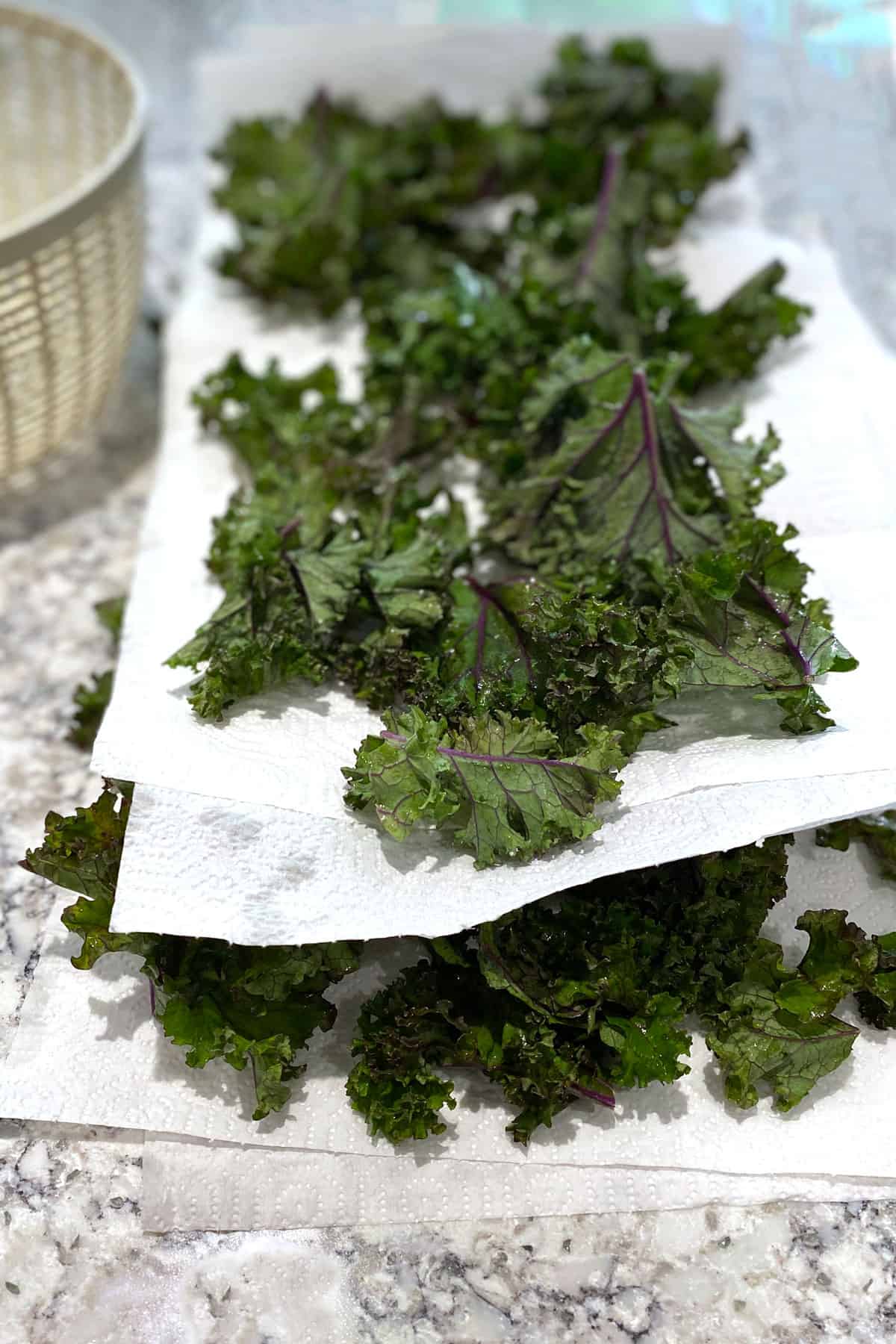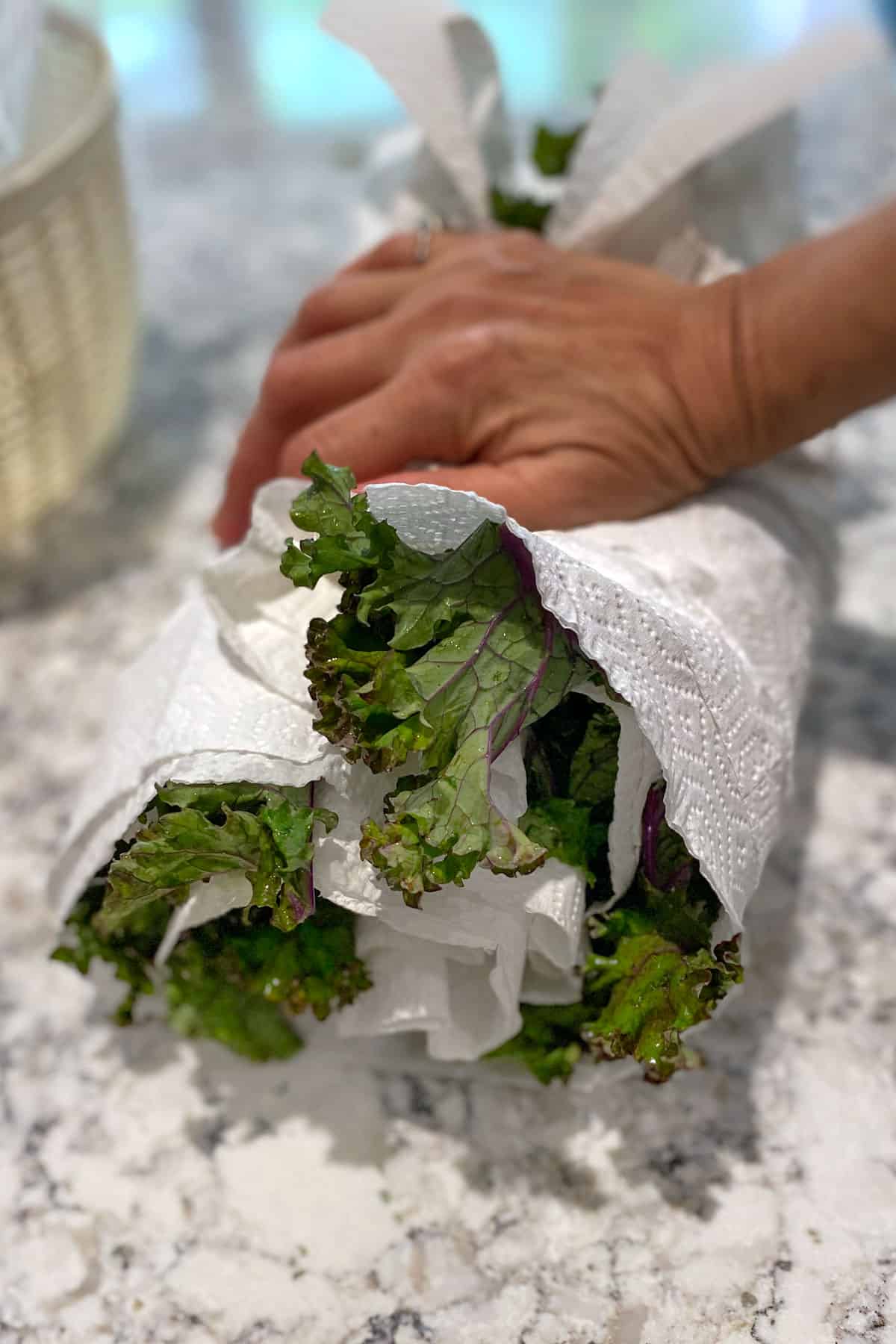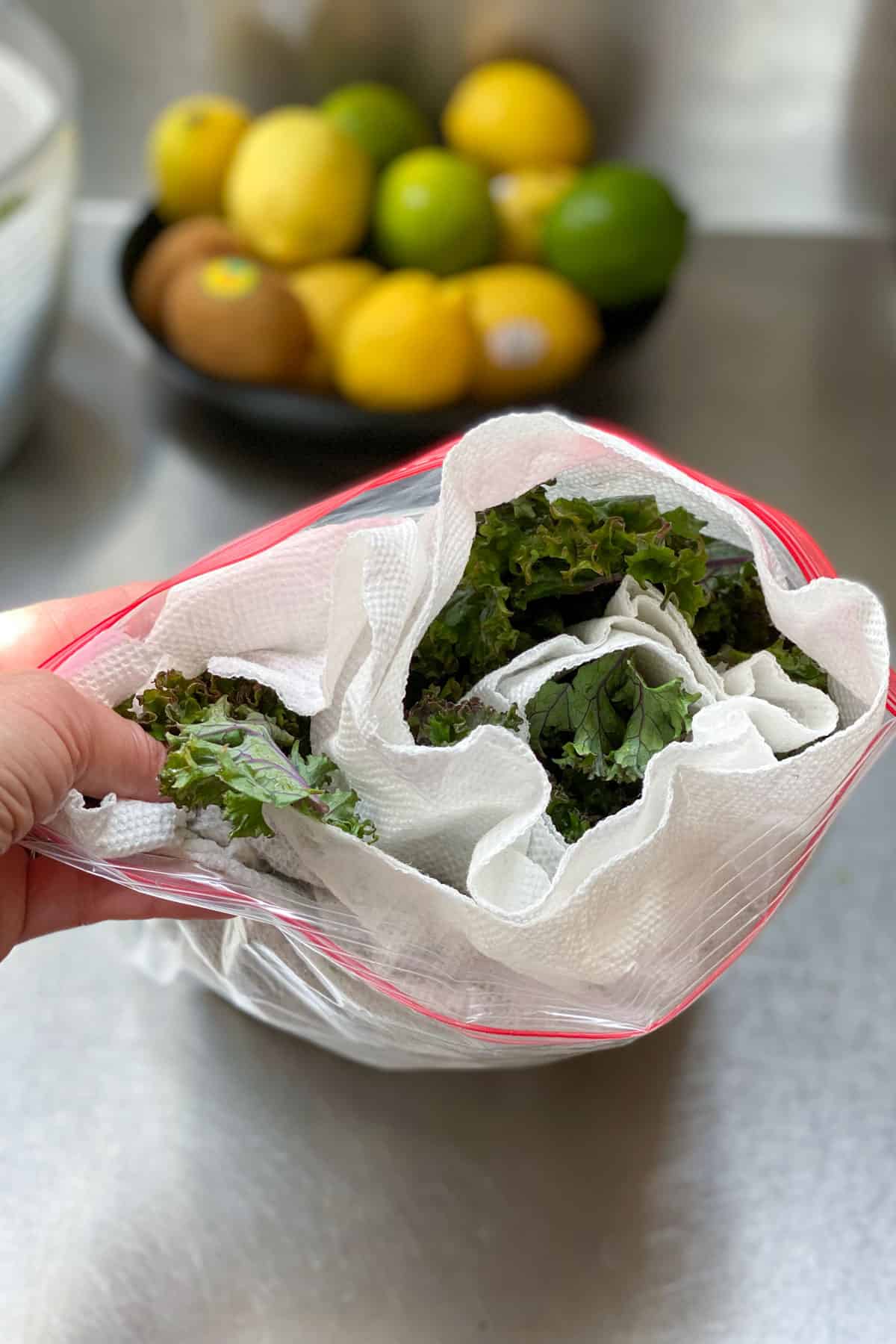 The perfect kale salad dressing
Kale salad needs the right dressing, something that holds up to its hearty texture and complements its bitter flavor. This simple tangy lemon vinaigrette with shallots, a touch of honey sweetness, and parmesan cheese, could not be more a perfect dressing for kale.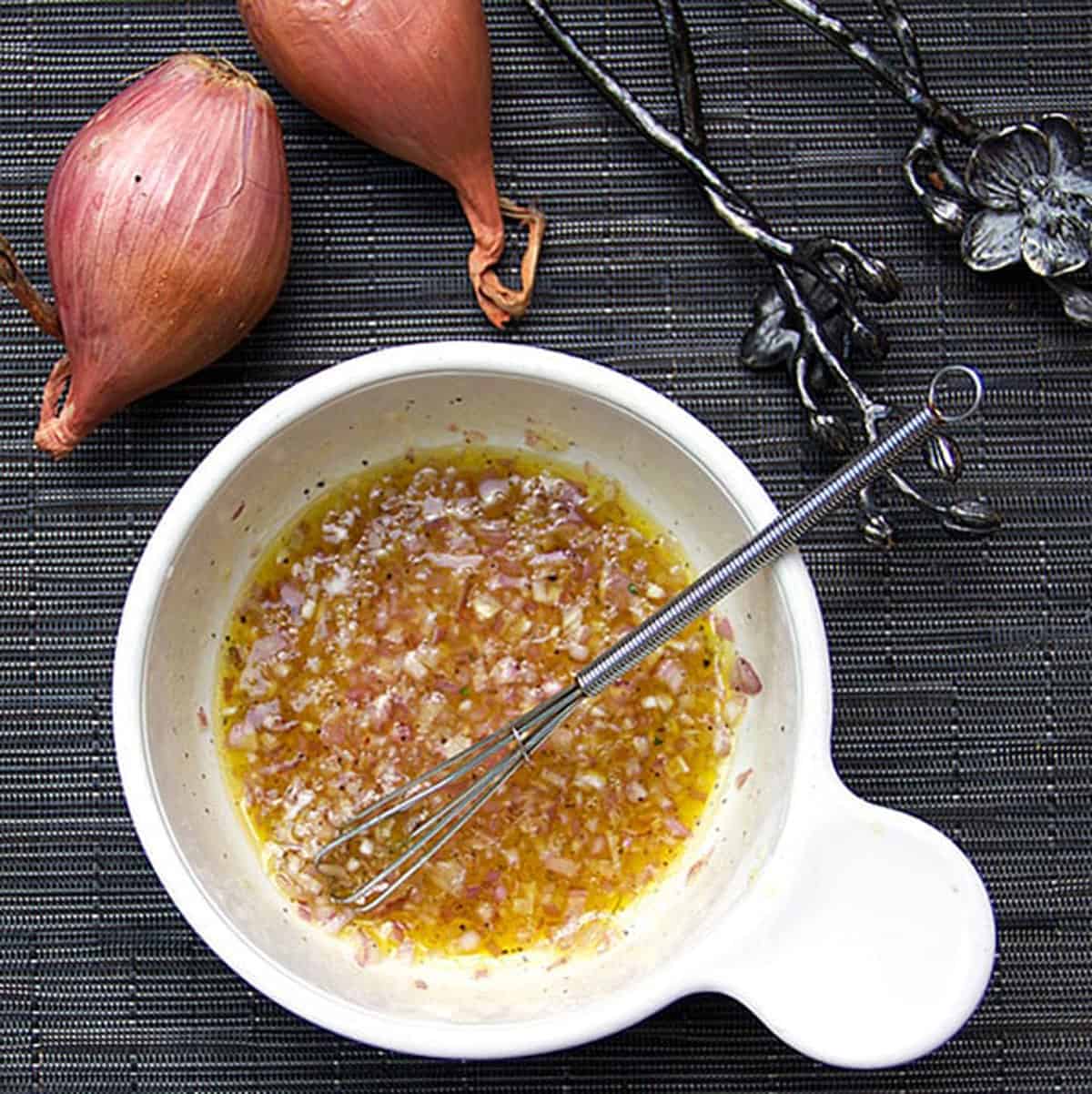 How To Make This Simple Kale Salad
Stack and thinly slice the Tuscan kale leaves
Whisk up the vinaigrette: lemon juice, honey, minced shallots, olive oil, salt and pepper.
Toss the kale with dressing, add the parmesan cheese and toss again.
Let the salad stand for 5-10 minutes, to soak up the dressing.
Enjoy!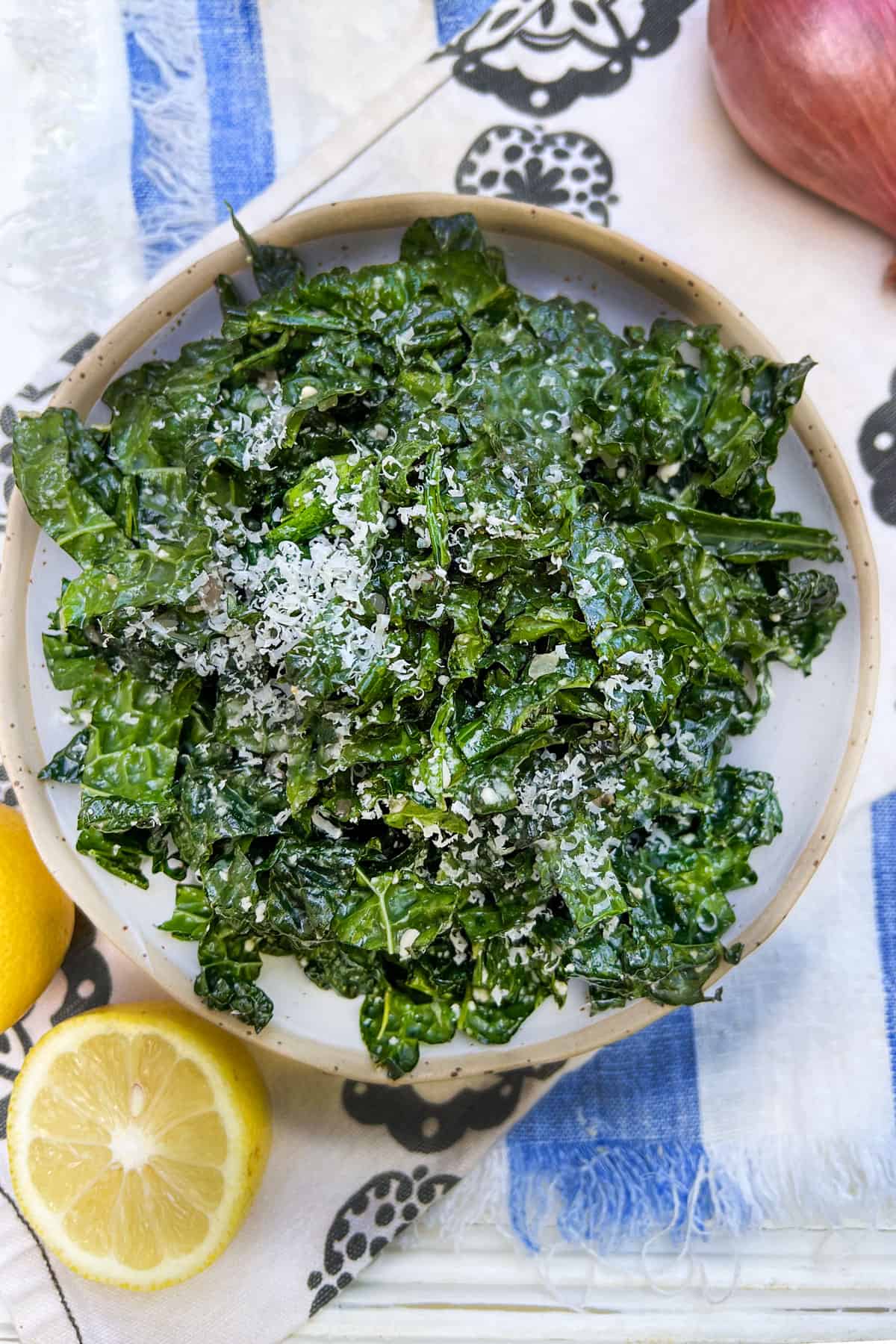 If you're looking for more healthy recipes with kale, try this Green Salad, this Roasted Vegetable Salad with Kale, and this Cauliflower Casserole with Kale and Quinoa.
If you make this simple kale salad with lemon honey parmesan dressing, I hope you'll come back and leave a star rating and a comment. I'd love to know what you think!
Print
Perfect Simple Kale Salad Recipe
---
Description
A very simple, exceptionally delicious, super healthy kale salad.
This recipe is adapted from Weight Watchers
---
1

large bunch Tuscan kale (about a pound) thick stems removed, leaves washed and dried

3 tablespoons

minced shallots

2 tablespoons

fresh lemon juice

2 tablespoons

extra virgin olive oil

1 tablespoon

honey

¾ teaspoon

kosher salt

¼ teaspoon

freshly ground black pepper

¼

cup

good quality finely grated parmesan cheese such as Parmigiano Reggiano
---
Instructions
Stack about ⅓ of the kale leaves at a time into a pile and slice thinly into ¼-inch shreds. Repeat with the rest of the kale. Transfer to a serving bowl.
In a small bowl, combine shallots, lemon juice, olive oil, honey, salt and pepper. Whisk the dressing, pour it over the kale, and toss well. Sprinkle on parmesan and toss again. Let the salad sit for 5-10 minutes to soak up the dressing before serving.
Notes
Nutrition Information: The information shown is an estimate provided by an online nutrition calculator and is not a substitute for the advice of a professional nutritionist.
Tuscan kale is also called dinaosaur or lacinato kale or cavolo nero. 
Three ways to de-stem kale - use a knife to slice the leaves off the stems; pull the leaves from the stems by hand; use a kale stripper to strip them off. For more details on how to de-stem kale, refer to the photos in the post.
How to wash kale - once the kale is de-stemmed, wash the kale leaves in a salad spinner or by swishing them in a bowl of cold water and pouring off the dirty water. Repeat until the water remains clean even after you swish the kale. Dry the kale in the spinner or by shaking the leaves off and blotting them with a clean dish towel.
How to store kale so it stays fresh for up to a week: After the kale is de-stemmed and washed, dry it partially - the leaves should be slightly damp. Lay a long strip of paper towels out on the counter and arrange as many kale leaves as you can on top, in a single layer. Add another long strip of paper towels over the leaves and another layer of leaves on top of that. Roll the double layer of leaves loosely, from one end to the other. Place the roll into a large ziplock bag. You may have to scrunch it in. Seal the bag and store it in your fridge. 
Prep Time:

15 mins

Category:

Salad

Method:

no cook

Cuisine:

Out of this World
Keywords: simple kale salad with lemon honey parmesan dressing
This post was first published on Sept 4, 2014. It was updated on June 6, 2023 with added information and directions for how to prep and store kale, and with new photos, including process shots to demonstrate how to prepare and store kale. We are always reviewing and updating our posts and recipes to make them as helpful and as delicious as they can be.