Devils on Horseback is an historic British appetizer that's popular during the Christmas holidays. Pitted prunes are stuffed with goat cheese (or other goodies), wrapped in bacon, and served warm. These are perfect for a party. Everyone loves them and they can be assembled ahead of time and popped in oven in the oven at the last minute. Warm sweet prunes and crisp salty bacon are an irresistible pair!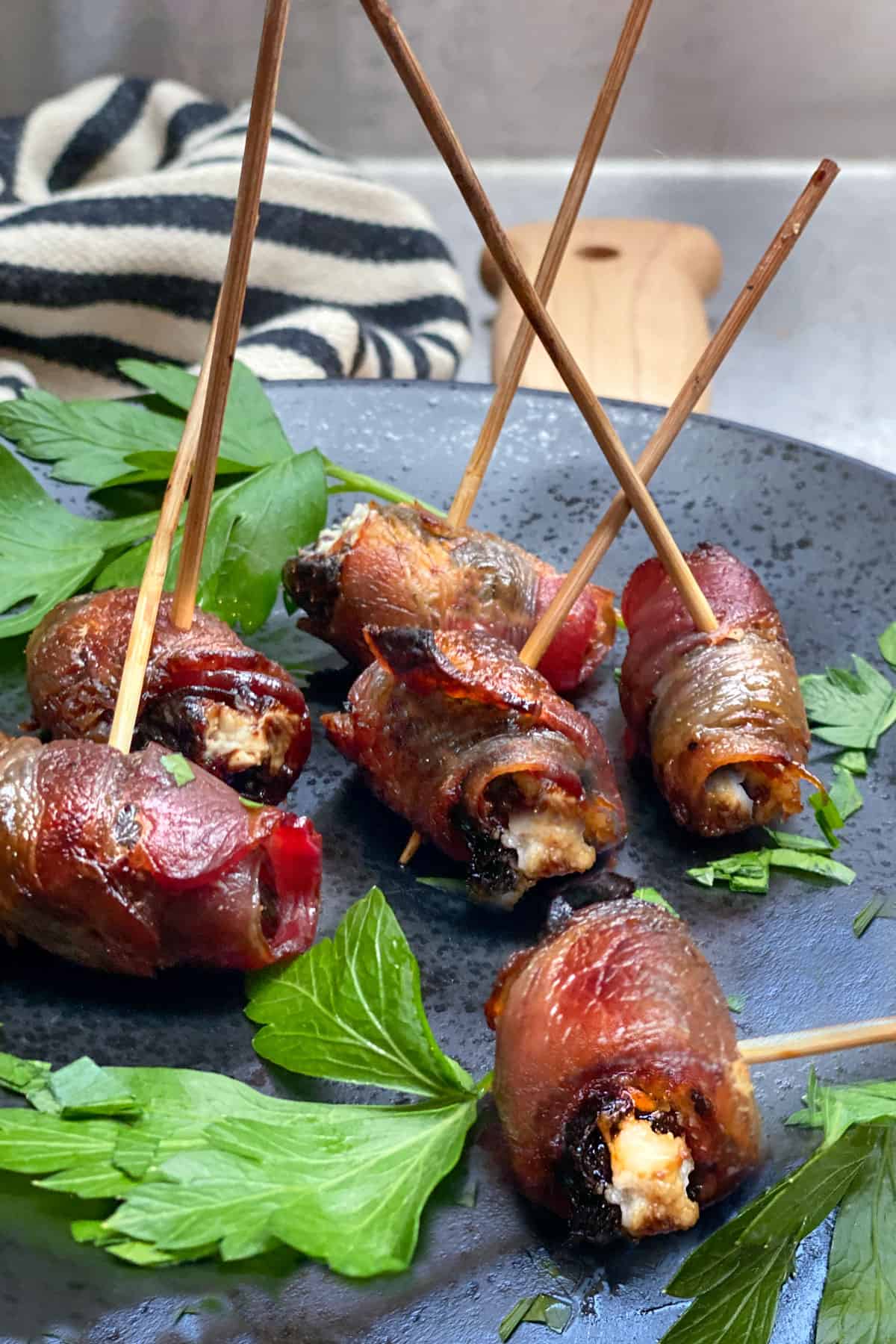 What's the purpose of an appetizer if not to pack maximum excitement into a tiny bite-sized package? Devils on Horseback are just what you want to bite into when you're at your hungriest, as rich and bursting with exciting flavors as anything can be.
Why are they called Devils on Horseback?
Devils on Horseback date back to at least the early 1800's. The exact reason for their name is an unsolved mystery but here are the three top theories:
They were named for their devilish black and red coloring.
The name devils on horseback was chosen as a counterpart to angels on horseback (bacon wrapped oysters), which preceded them on the culinary scene.
A substantial amount of cayenne pepper was called for in the original Devils on Horseback recipe, which made them devilishly hot. Hence the name.
My own theory is that they were called devils on horseback because of how hellishly good they are and because I can't stop them from galloping into my mouth.
How to make Devils on Horseback
Set the three main ingredients out on your work surface: a pack of bacon, sliced in half, 20 pitted prunes, and a 2-ounce hunk of creamy goat cheese.
Start by making a small slit in the outer edge of each prune. Pull the prunes apart gently to create a small pocket for the cheese.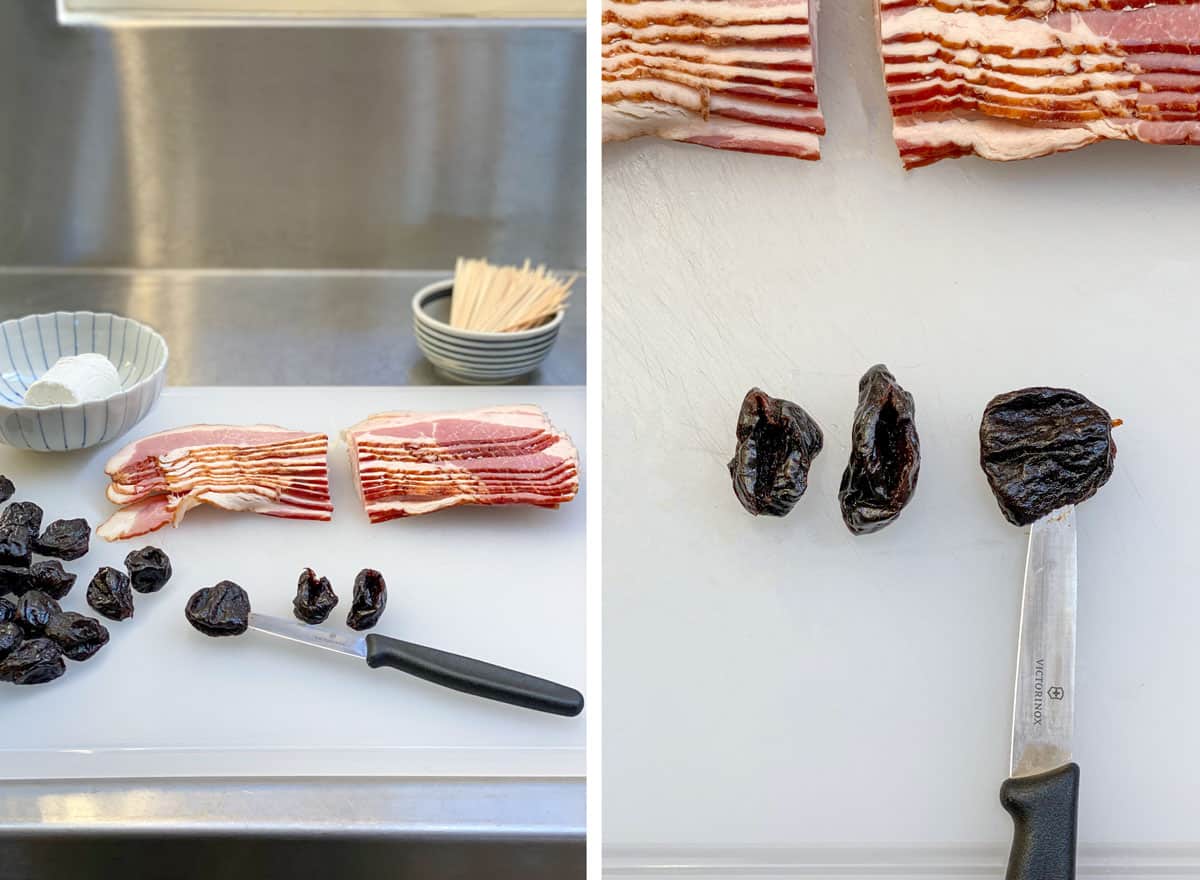 Next, use a tiny spoon or cheese knife to insert about ¼ teaspoon of cheese into each prune.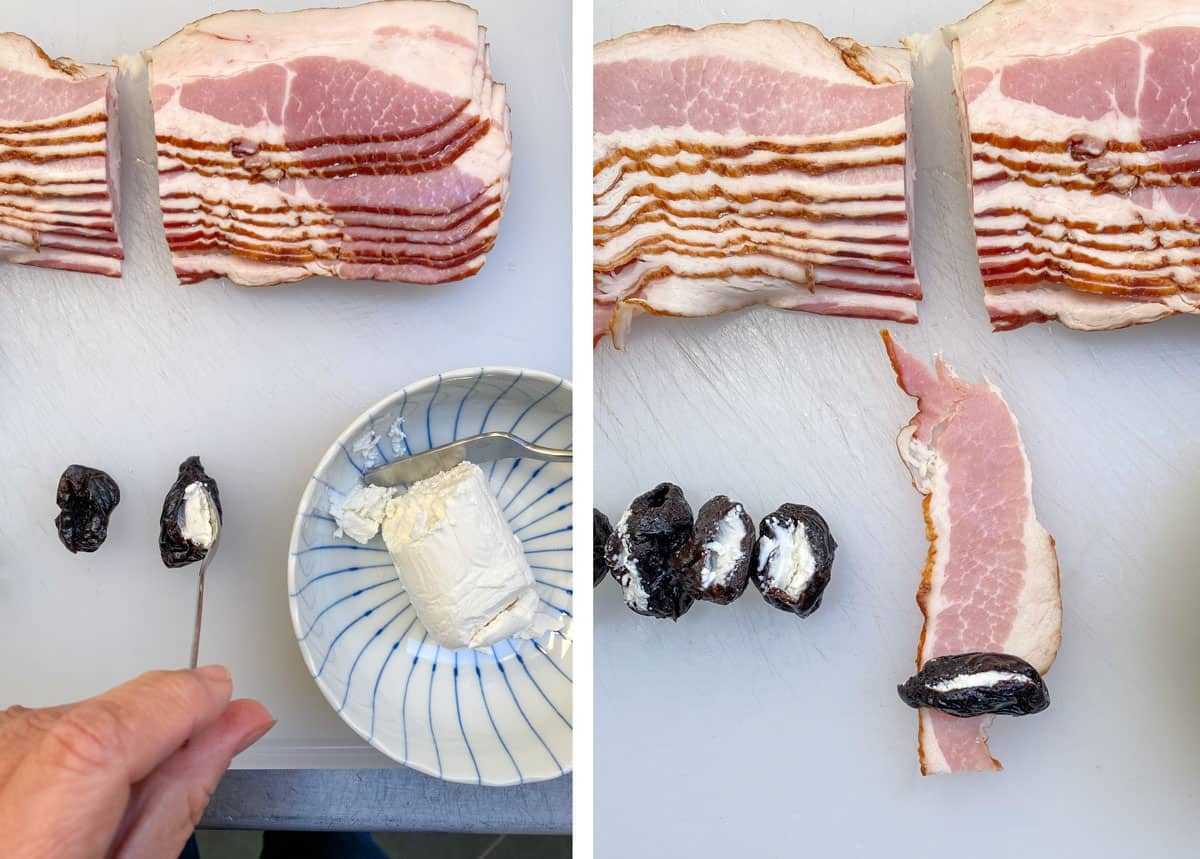 Place a stuffed prune on one end of a halved bacon slice and roll it up. Repeat with the rest of the prunes and bacon.
As you work, place the rolls, seam-side-down, on a greased foil-lined baking pan or a foil pan.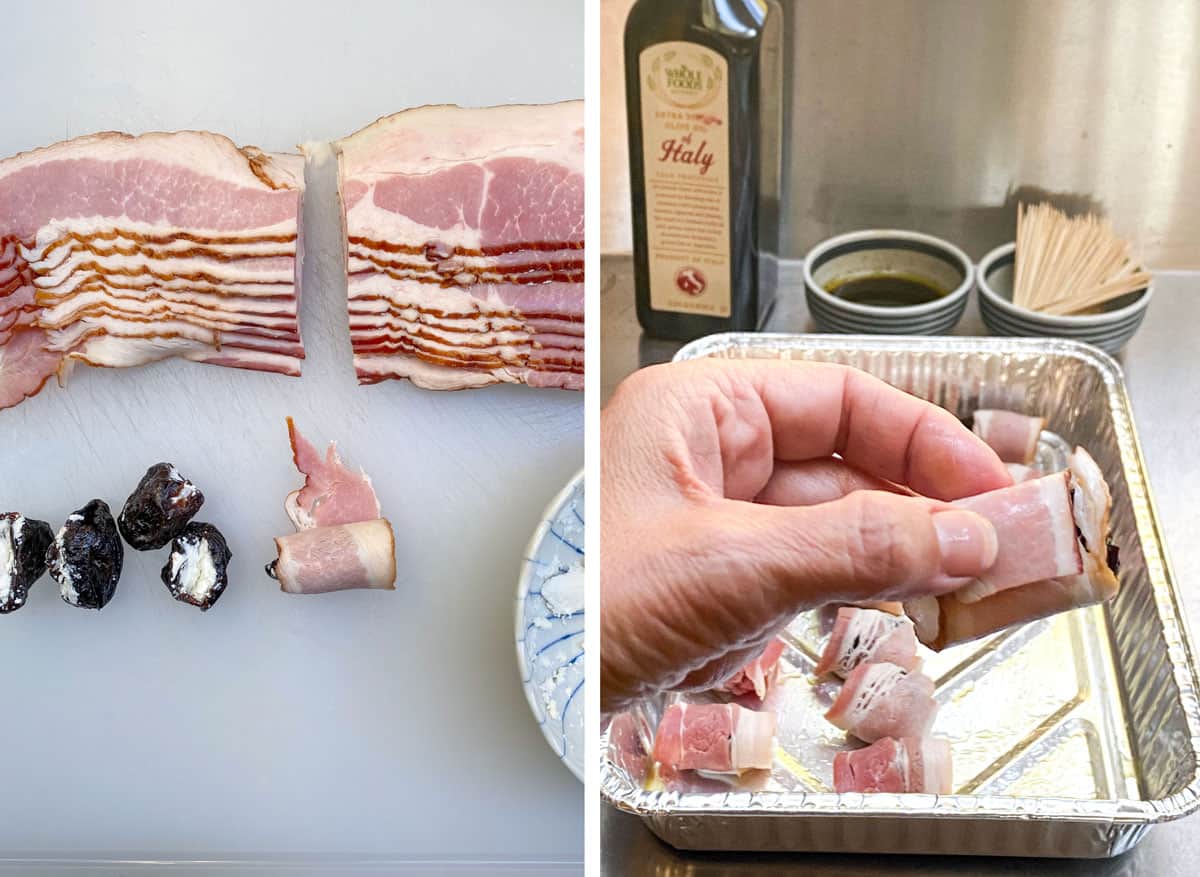 Brush the tops of the rolls with balsamic vinegar and pop the baking pan into a 500ºF oven.
Cook the Devils on Horseback for about 8 minutes, just until the bacon is crisp.
Use tongs to transfer them to a paper-towel-lined plate to drain.
Insert toothpicks into the top of the devils on horseback, and place them onto a serving platter. I think they look great with a little greenery around them - some sprigs of parsley or arugula leaves.
Tips and FAQ
What are Devils on Horseback traditionally made of?
The original Devils on Horseback recipe from Victorian times had just two ingredients, prunes and bacon.
Can I make these with dates?
Yes, dates are often used to make this dish. Here's a Devils on Horseback recipe with dates and blue cheese.
How can I make these non-dairy?
Devils on horseback can made non-dairy if you stuff the prunes with chutney, stuff them with almonds or make them with no stuffing at all. The combination of sweet prunes and salty bacon is delicious by itself.
Should I skewer Devils on Horseback before cooking them?
There's no need to skewer them before you cook them. As long as you place them on the baking pan seam side down they will stay in tight little rolls when they cook and the seam will fuse together. However if you do choose to skewer them before cooking them, be sure to soak the toothpicks in water for a good hour beforehand, to prevent them from burning in the hot oven.
Let's talk about prunes for a minute
First let me just say that absolutely I love prunes. With their dense and chewy texture and concentrated caramelized fruity flavor, they bring the perfect sweet complement to savory dishes like Chicken Marbella, where they melt into the salty garlicky sauce.
But I didn't always love prunes and I'm not the only one. Prunes have had some serious PR challenges over the years, mostly because back in the 60's their marketing campaign focused on their beneficial laxative qualities, and that reputation wasn't great for sales among younger consumers. So in 2000, in an attempt to change that perception, the national prune board got approval from the FDA to officially change the name of prunes to "dried plums." The new branding worked and dried plums saw an uptick in sales.
But then in 2019, the National Dried Plum Board had the name changed back to prunes, with the tag line "for life." But this time, the health benefits are focused largely on bone density health.
Clearly it's a complicated business to market prunes, but I promise you, prunes are delicious and healthy, and they're particular great wrapped in bacon!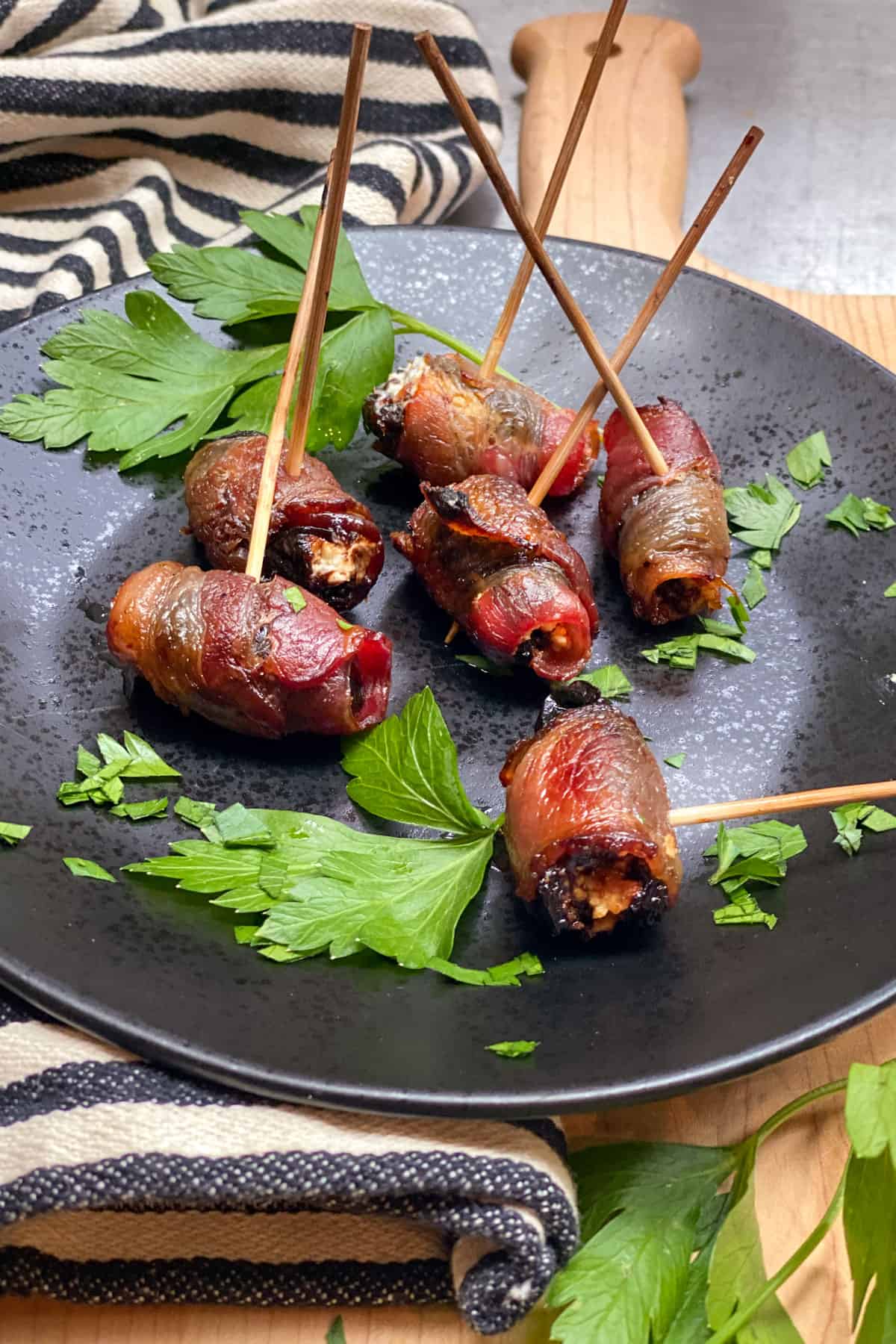 Here's the devils on horseback recipe. If you make this, I hope you'll come back to leave a star rating and a comment. I'd love to know what you think!
Print
Devils on horseback
---
Author:

Lisa

Total Time:

30 minutes

Yield:

20

pieces

1

x
Description
Devils on Horseback is an irresistible party appetizer of pitted prunes stuffed with goat cheese; wrapped in bacon; and served warm from the oven. Delicious finger food that can be assembled ahead of time and cooked at the last minute.
---
Equipment: A foil-lined rimmed baking sheet or foil pan, 20 toothpicks or bamboo skewers
Vegetable oil or cooking spray for greasing the foil (Don't use extra virgin olive oil because it will burn in the oven)

20

pitted prunes

2

ounces

of soft fresh goat cheese, chilled (I like to use a log of goat cheese but crumbles will work well, too)

10

slices of smoked bacon

2 tablespoons

of balsamic vinegar
A handful of parsley sprigs or arugula leaves to line the serving platter, optional
---
Instructions
Preheat the oven to 500ºF
Lightly oil the foil lined pan with a basting brush or with cooking spray. Line a plate with a double layer of paper towels.
Slice the bacon in half crosswise
Make a small half-inch slit along one edge of a prune and use your fingers to pull the prune open, just enough so you can slip some goat cheese in. Repeat with the rest of the prunes.
Use a small spoon or cheese knife to insert about ¼ teaspoon of goat cheese into each prune and then gently press the prunes back together.
Place a half slice of bacon on your work surface. Set a stuffed prune at one edge and roll it up. Set it seam-side-down on the oiled baking pan. Repeat with the rest of the prunes and bacon. Brush the rolls with balsamic vinegar. At this point you can refrigerate the bacon rolls until you're ready to cook them. (see notes below)
Just before serving, cook the devils on horseback for 7-8 minutes. Turn on your stove fan or a kithcen fan before you open the oven, as there will be some smoking oil when you open the oven door. Use tongs to transfer the bacon rolls to the paper towel lined plate, to drain.
Scatter arugula leaves or parsley sprigs on a serving platter, if you like. Insert a toothpick through the tops of the devils, and set them on the platter. Serve warm.
Notes
Want to assemble these ahead of time?
Devils on horseback can be assembled up to 12 hours ahead of time. Cover them with foil or plastic wrap and refrigerate them until you're ready to cook them. Pop them in a 500º preheated oven and follow the instructions starting at step #6. You may need to cook them for an additional minute if they're going directly from the fridge to the oven.
Prep Time:

20 minutes

Cook Time:

10 minutes

Category:

Appetizer

Method:

Broil

Cuisine:

British
Keywords: Bacon wrapped prunes, Goat cheese stuffed prunes wrapped in bacon