These smashed potatoes are so incredibly good. Crisp outside, tender inside, topped with olive oil and spices or anything else you can dream up. The recipe is easy: boil, smash, add toppings, and crisp in the oven. Great for company because you can boil and smash them ahead of time. Top them and pop them in the oven right before dinner.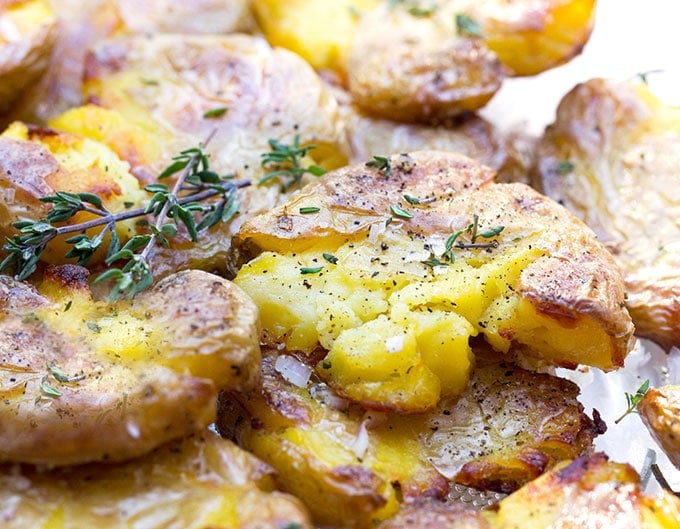 The holidays are here! There's no snow on the ground in Boston yet but Christmas lights are glittering around town and Hanukkah is in full swing. Many of us are braising briskets, frying latkes, giving presents and making plans for holiday entertaining. It's all very exciting! I wanted to be sure to tell you about crispy smashed potatoes in time for holiday menu planning because they're extraordinary! They've got the gestalt of french fries - crisp on the outside and tender inside - but they're not fried. This is a perfect recipe for entertaining because the technique is relatively easy and you can do a lot of it ahead of time.
There are many smashed potato recipes around the web and in each case the essential method is the same: boil, smash, oil, salt and crisp in the oven. I really like the potato-smashing technique that Fine cooking came up with of putting the potatoes between two dish towels. It keeps them from rolling around the protects your hand from the heat.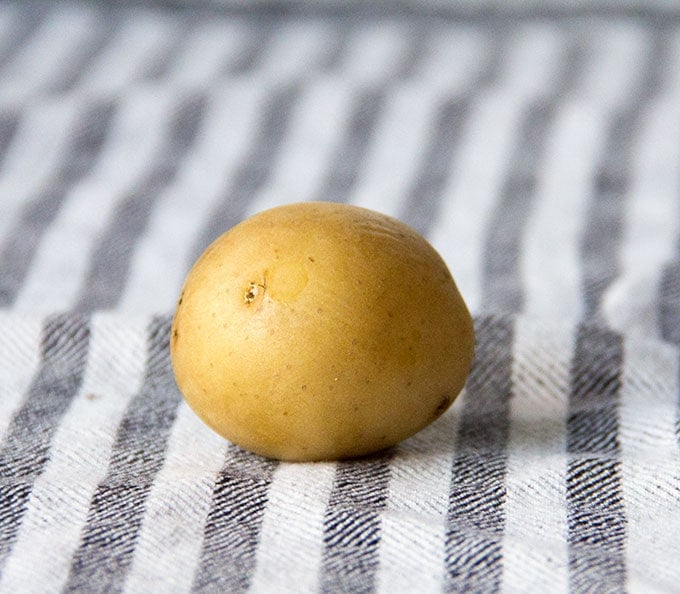 After the potatoes are boiled and drained, you lay them out on a clean dish towel while they're still hot. Then you press each one with the heel of your hand, to flatten.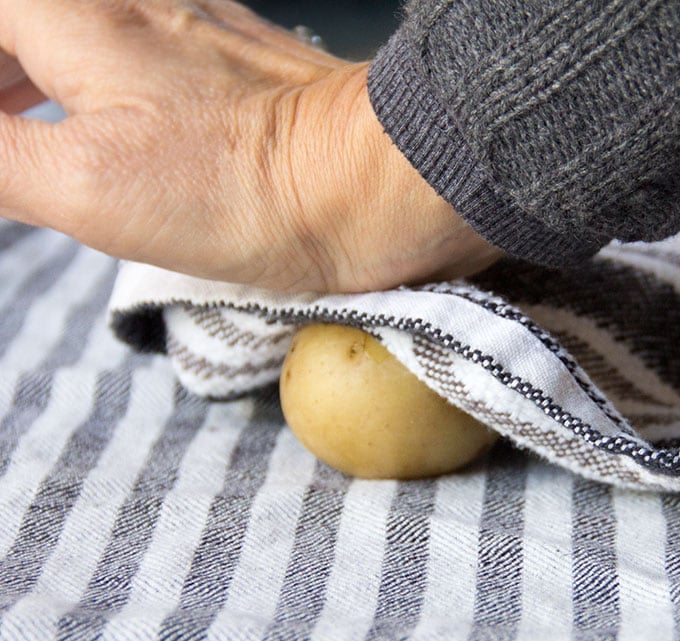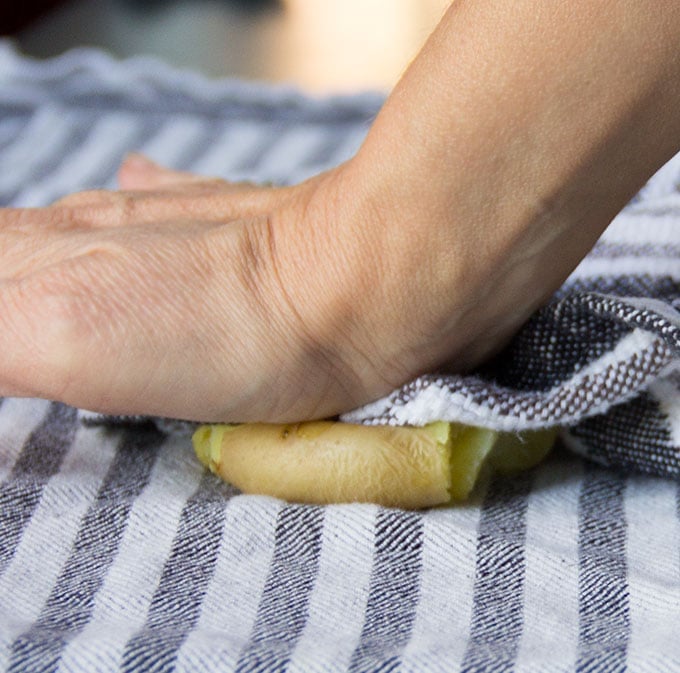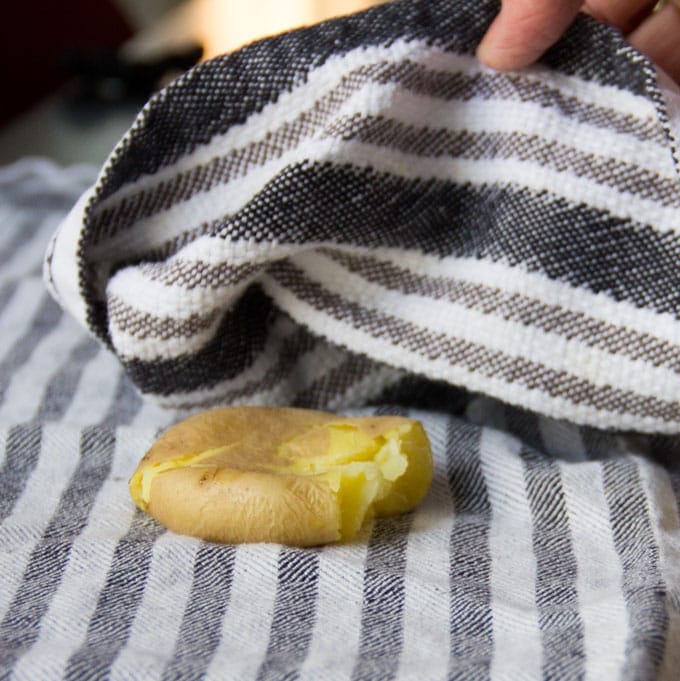 Then you transfer them to a parchment-lined baking pan, oil and salt them, and roast them until they get nice and crisp and brown around the edges.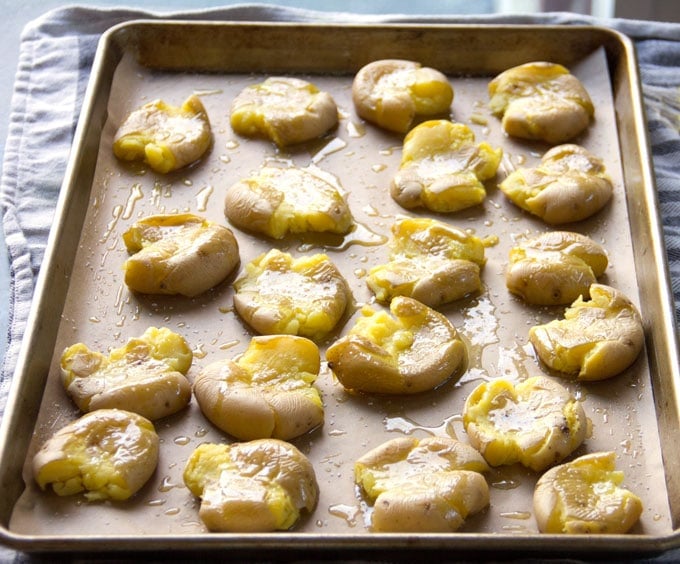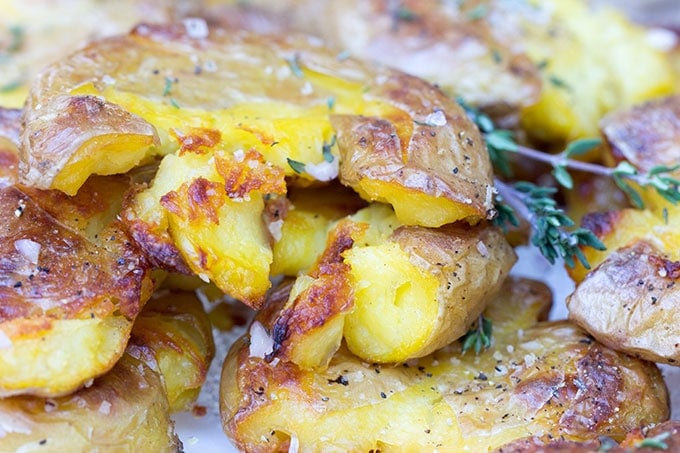 If you're cooking for a dinner party and want a stellar potato dish that has all the messy prep work done ahead, this is a great choice. You can boil and smash them ahead and lay them all out on the baking tray. Keep them overnight in the fridge, covered with plastic wrap or foil. Then just oil, salt and roast right before your party.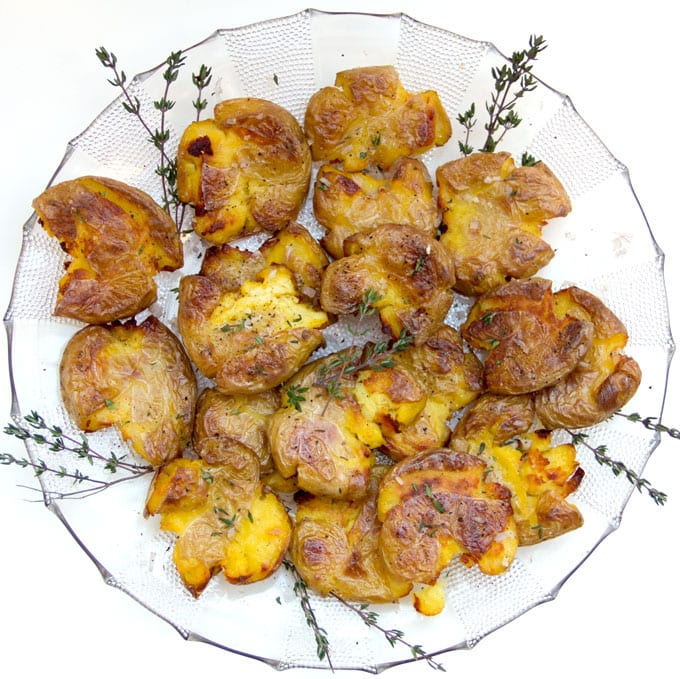 Crispy smashed potatoes are amazing just the way they are, but there are lots of tasty toppings you can add to jazz them up even more or to adapt them to the type of meal you're serving. Here are some of my favorites:
• Sour cream and chives
• Salt, pepper and finely minced herbs like thyme, basil or rosemary
• Grated parmigiana and finely minced parsley
• Finely chopped crisp bacon and black pepper
• A little olive oil (2 tbs) whisked with minced garlic (1 clove) and smoked paprika (1 ½ tsp)
• Za'atar
• Finely chopped scallions, sat and pepper
I'm definitely making these at least once during the holidays. If you decide to make them I hope you'll come back and leave a review and let me know what you think!
Print
CRISPY SMASHED POTATOES
---
Description
Scrumptious potatoes - crisp on the outside, tender inside, boiled then smashed and crisped in the oven.
---
2

dozen small potatoes, red or yellow, all around the same size

½ cup

olive oil

1 ½ teaspoons

kosher salt
Freshly ground black pepper
Optional topping suggestions:
Sour cream and chopped chives
Minced fresh herbs such as thyme, basil or rosemary
Finely grated parmigiana cheese and finely minced parsley
Chopped crisp bacon
Olive oil, minced garlic and smoked paprika
Za'atar
Chopped scallions
Equipment:
A rimmed baking sheet lined with parchment paper
A pastry brush is helpful
---
Instructions
Preheat oven to 450ºF. Line a rimmed baking sheet with parchment paper. You'll need two clean dish towels.
Place potatoes in a large pot and cover with cold water by an inch or two. Bring to a boil over high heat. Lower the heat and cook at a steady simmer for about 10 minutes more or until the potatoes are tender enough to be easily pierced with the tip of a knife. Drain and quickly move to the next step while the potatoes are still hot.
Lay one dish towel across your work surface. Place a few potatoes at a time on the towel. Place a corner of the other dish towel over one potato and press down gently but firmly with the heel of your hand, to flatten the potato to about ½ inch. Move to the next potato. When you've flattened one batch, transfer them carefully to the parchment-lines baking pan, using a spatula. Repeat with the rest of the potatoes. Let the potatoes come to room temperature before continuing. If you want to make this recipe ahead, you can stop here and cover the the baking pan with foil or plastic wrap and set in the fridge over night. Pull them out of the fridge, remove the covering and continue to the next step.
Brush olive oil evenly over the potatoes, lifting each one slightly to brush some oil underneath. Sprinkle potatoes evenly with salt. Cook the potatoes for 15 minutes. Flip them over and cook for another 20-25 minutes, until they're crisp and brown around the edges. Sprinkle with salt and pepper, to taste. Serve as is or with additional toppings.
Prep Time:

10 mins

Cook Time:

45 mins

Category:

Side Dish

Cuisine:

Out of This World