Greek Style Garlicky Shrimp with Feta: easy and elegant. Serve alone, over pasta or with crusty bread to soak up all the delicious sauce!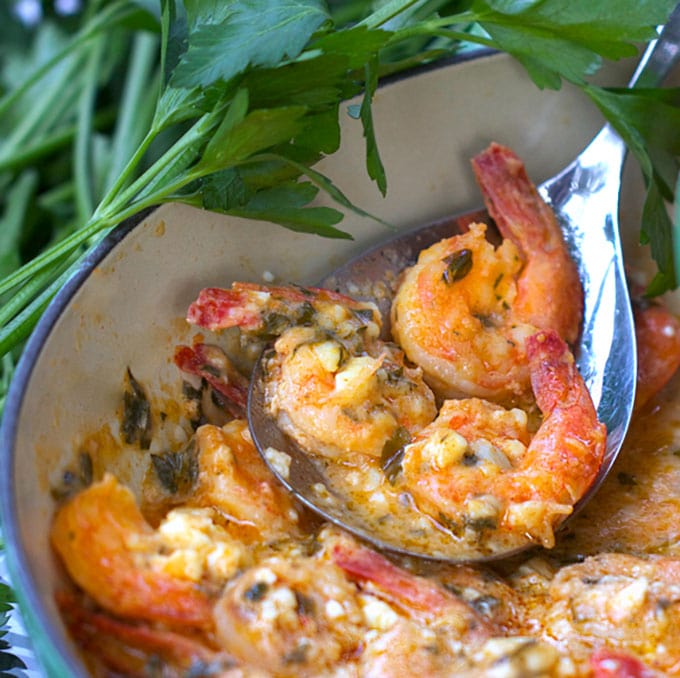 Here's a dish that you can serve as party appetizer or for a weeknight dinner. It's quick, easy, festive and delicious!
It's been a ridiculously busy but wonderful week for me, with my college boys flying home for Thanksgiving and having Hanukkah mixed in. It was so great to have the whole family together again for a few days. If you have kids in college you probably know that it's extra rewarding to cook for them because they're so incredibly grateful for anything homemade. But I have to admit I'm exhausted!
There was lots of cooking and eating going on for days but what knocked me out were the potato latkes. There's really no easy way to make them. You've got to just tie your hair up; turn on the exhaust fan, and get frying. For one night of Hanukkah, determined to make enough latkes for all plus leftovers, I stood over two bubbling frying pans for 2 solid hours. I'm happy to say that everyone ate as many latkes as their heart desired. There was one single latke left at the end of dinner to prove it!
So you will understand why I'm extra appreciative of this shrimp recipe because it practically cooks itself. All you do is scatter a bunch of stuff in a pot, put the cover on, turn on the heat, and the magic happens.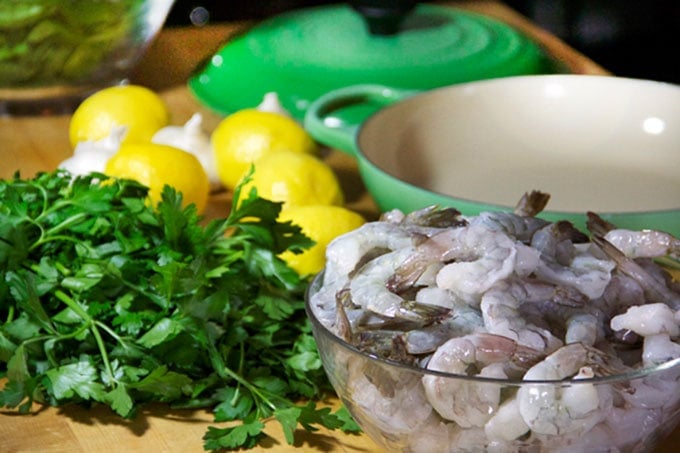 Everything is layered in the pot except the lemon juice and feta, which are added once the shrimp are almost cooked through.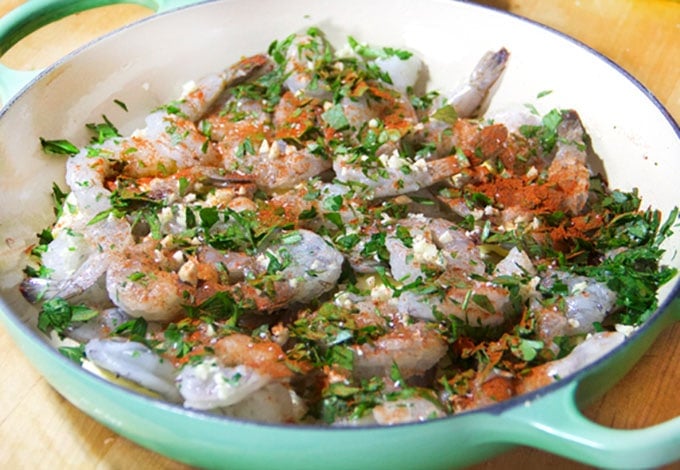 Inside the steamy chamber the flavors meld and everything gets warm and tender.  When you take off the cover an intoxicating aroma is unleashed and the sight of steamy fresh shrimp, floating in a lemony, garlicky sauce with melted feta on top is truly irresistible.
Make sure you have bowls and forks nearby – and napkins too, in case people want to pick up the shrimp by the tails – a nice thing to do. Also have a big basket of cut-up crusty bread, at the ready, for sopping up every last drop of the amazing sauce.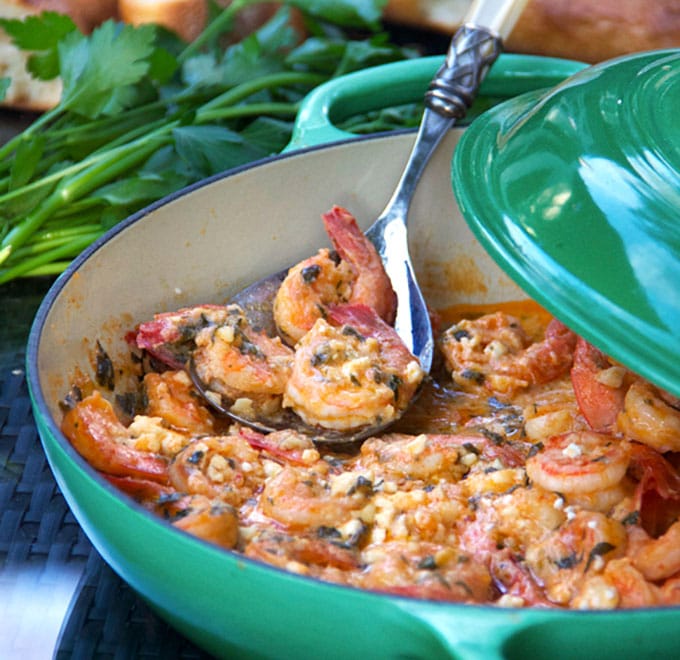 You can serve this for dinner with a green salad and crusty bread or as an appetizer or hors d'oeuvre. Add more chili pepper if you like a lot of heat.  I adapted this recipe from Pure Simple Cooking by Diana Henry
.  She uses a fiery hot South African red chili pepper called peri-peri in her version.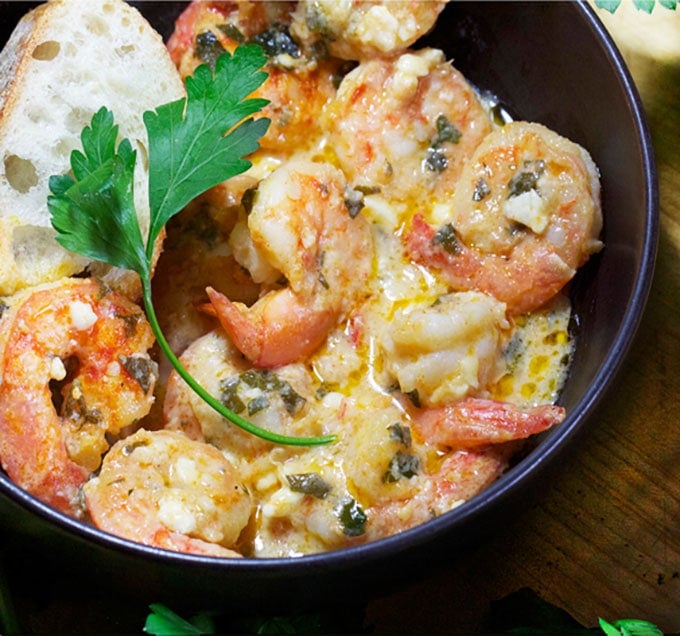 I hope you're enjoying a little relaxation between the holidays. I am. The next wave of excitement is coming soon. As much as I love cooking, sometimes it's nice when you don't have to work too hard and you still get amazing results. This garlicky shrimp is one of those recipes that gives way more than it takes.
PS Here's my brand new easy potato latke recipe!
Here's the recipe for Greek-Style Garlicky Shrimp with Feta. If you try this recipe I hope you'll come back to leave a rating and a comment. I'd love to know what you think!
Print
Greek-style Garlicky Shrimp with Feta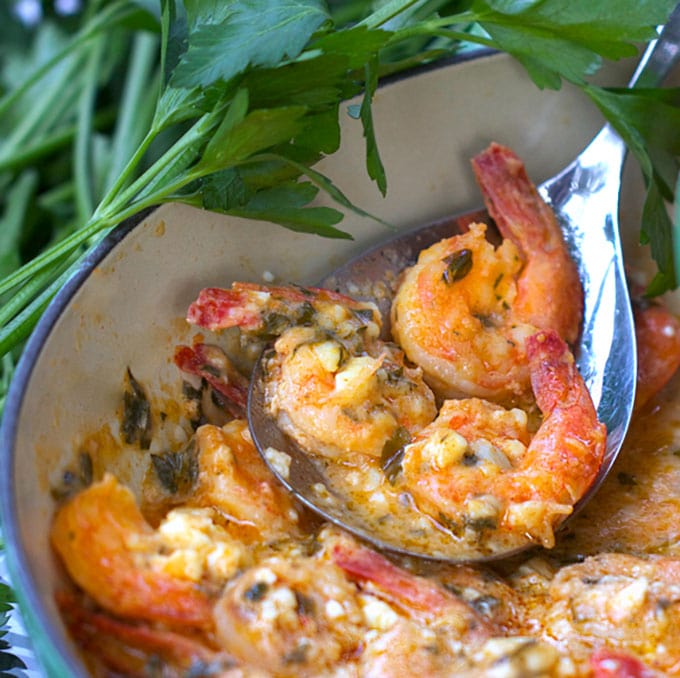 Garlicky shrimp with lemon, parsley and feta – easy to make and great for dipping crusty bread.
Author:
Prep Time:

15 mins

Cook Time:

20 mins

Total Time:

35 mins

Yield:

6

Category:

Main course or Appetizer

Cuisine:

Spanish
Ingredients
3 pounds peeled and deveined shrimp, tails on
4 tablespoons unsalted butter
4 tablespoons olive oil
8 garlic cloves, finely minced
1/2 cup chopped flat leaf parsley
6 tablespoons fresh lemon juice
1 tablespoon chili powder
1 teaspoon kosher salt.
2 cups crumbled feta cheese (about 10 ounces)
For serving Thick slices of crusty bread
Instructions
Chop butter into pieces and scatter around the bottom of a heavy pot or dutch oven with a top. Put half the shrimp over the butter. Scatter half the garlic, half the parsley, half the chili powder and half the salt over the shrimp. Drizzle 2 tablespoons of olive oil. Arrange the rest of the shrimp on top. Scatter the rest of the garlic, parsley, chili powder and salt. Drizzle on 2 more tablespoons of olive oil. Cover the pot and turn the heat to medium high. Cook for 8 minutes or until the shrimp have lost their raw color. Pour in lemon juice and scatter the feta cheese on top. Baste the shrimp with a few spoons of sauce from the bottom of the pot, and gently jiggle the pot to distribute the sauce throughout. Lower the heat to medium-low, cover and cook for another 8 minutes or until the feta is just melted. Serve hot with crusty bread for dipping.
Disclaimer:  On occasion I provide links in my posts to cookbooks or other products, available for purchase on Amazon. If you purchase a product through these links, I receive a small commission with no extra cost to you.