My favorite curried chicken salad recipe: everyone needs a great recipe for curried chicken salad in their repertoire.[Published Oct 15, 2013. Updated June 4, 2018. Same delicious recipe with added nutritional information]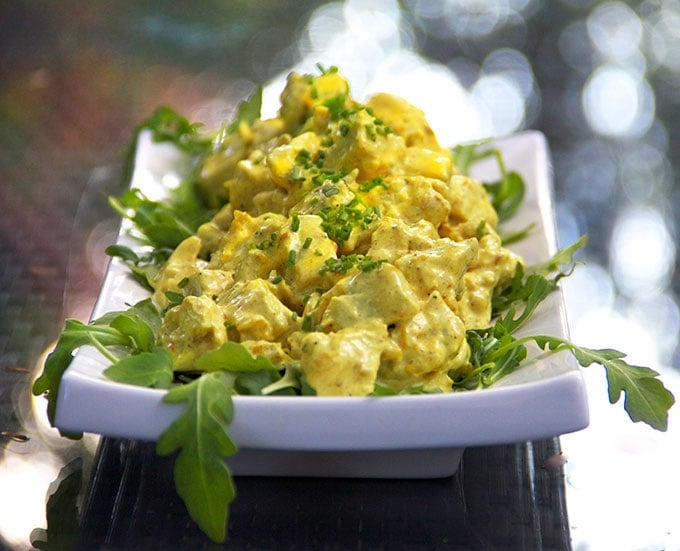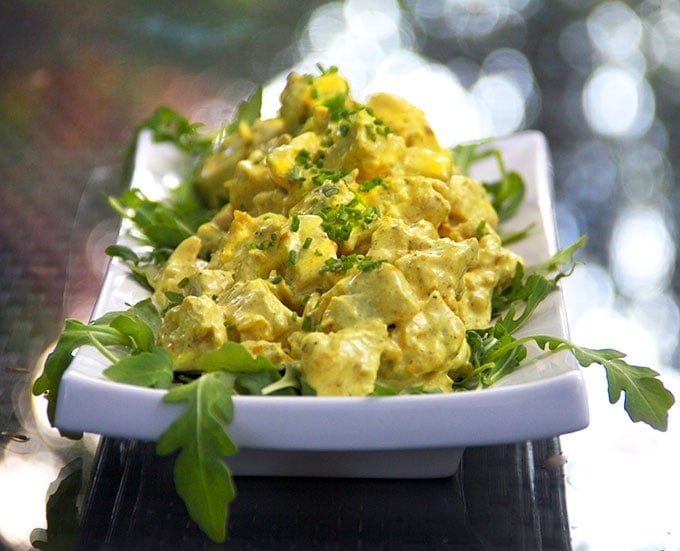 Who invented curried chicken salad? Where in the world did the recipe come from? In all my years of making curried chicken salad, I never asked these questions – until now.
Since starting Panning The Globe I've learned that there is usually way more to a recipe than just the ingredients and cooking technique.  There's often a rich history or, at the very least, an interesting story that explains how a particular dish came to be.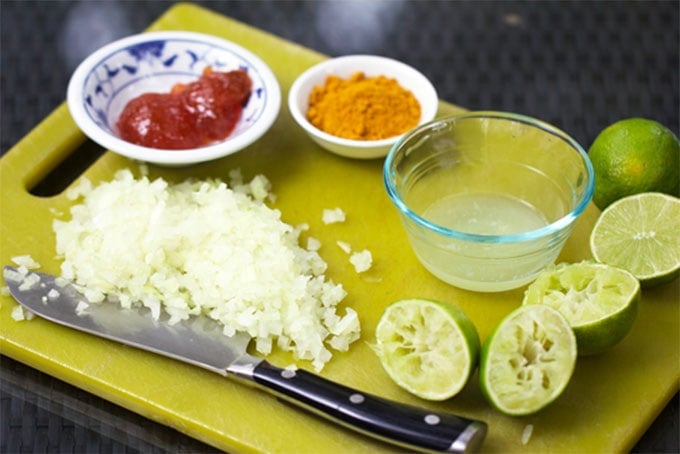 With this recipe, I was fully expecting to find an India connection because of the curry – but I didn't expect the story to be about Queen Elizabeth's Coronation. They call it "Coronation Chicken…a recipe of cold chicken in a curry cream sauce."  It was invented to feed the 350 foreign dignitaries attending Queen Elizabeth II's coronation luncheon on June 2,1953. Here's the original recipe.  It's the perfect make-ahead dish for entertaining, which is one of the reasons it was chosen for the Queen's luncheon.
As for the India connection, when the British were colonial rulers over india in the mid-1800's, it's understandable that delicious Indian curry recipes made their way back to Britain with returning colonialists. But what I didn't know is that curry powder is a British invention.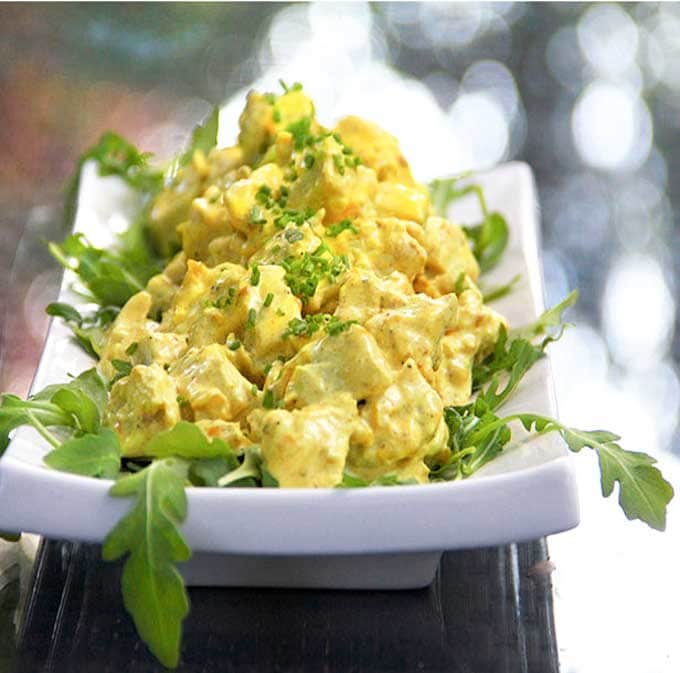 Apparently British colonial cooks weren't too keen on going through the painstaking process of making the complex spice mixes – the curries used in Indian dishes were labor intensive – with upward of twenty different spices, specially selected and freshly toasted and ground, for a single recipe. Another obstacle – the fresh spices were expensive and harder to find in Britain. The solution was curry powder – a British company called C&B manufactured the world's first curry powder and cooking recipes with curry became a lot easier.
Though many experienced cooks would agree that homemade curry powder with freshly toasted and ground spices is superior to the stuff you buy in a jar, I've chosen to use store-bought curry powder for this chicken salad – as was done for Queen Elizabeth's luncheon.
It's amazingly delicious this way – plus it's quick and easy. But if  you do want to make it with fresh, homemade curry powder, here's Madhur Jaffrey's recipe.
This curried chicken salad is tender and creamy. The exciting flavors come from the combination of warm curry spices mixed with tangy lime juice and sweet fruity chutney.
There are so many ways to serve this salad: a simple sandwich with lettuce and tomato, elegant crustless finger sandwiches, on crackers as an hors d'oeuvre, scooped onto a big bed of greens, or – as they did for the Queen – on an oblong plate, accompanied by a salad of rice, peas, diced raw cucumber and finely chopped mixed herbs, with French dressing.
More Delicious Chicken Salad Recipes
• Venezuelan Avocado Chicken Salad (no mayo)
• Brazilian Chicken Salad: Salpicão
• Asian Cabbage Salad with Grilled Chicken and Shiitakes
Here's How To Make Perfect Poached Chicken for Chicken Salad.
More ways to stay stay in touch: follow Panning The Globe on Facebook, Follow me on Pinterest, Sign up for Panning The Globe's free newsletter to get the newest recipes and menu suggestions delivered to your inbox.
Here's the Curried Chicken Salad Recipe. If you make this, I hope you'll come back to leave a comment and a rating and let me know what you think!
Print
CURRIED CHICKEN SALAD
Cold poached chicken in a tangy curried mayonnaise with lime juice and mango chutney.
Author:
Prep Time:

15 mins

Cook Time:

25 mins

Total Time:

40 mins

Yield:

6-8

Category:

Lunch or Brunch

Method:

stove top

Cuisine:

English
Ingredients
Curry Mayonnaise
1 tablespoon vegetable oil
1/2 yellow onion, finely chopped (1/4 cup)
2 tablespoons curry powder (Madras, if you can find it)
1 cup mayonnaise (I recommend Hellman's)
2 tablespoons mango chutney or apricot preserves
1 tablespoon plus 1 teaspoon fresh lime juice
1/2 teaspoon kosher salt
*Chicken
2 whole boneless skinless chicken breasts, cut into 4 halves (about 2 pounds)
1/2 small onion, peeled
5 whole pepper corns
3 whole cloves
1 bay leaf
*For weeknight dinner or when you're in a hurry, skip this step and use leftover chicken or a rotisserie chicken.
Instructions
Poach the chicken Place breasts in a large deep pot. Add cold water to 1 inch above the chicken. Add onion, pepper corns, cloves and bay leaf. Bring to a boil. Lower to a simmer and cook, uncovered, for 10-14 minutes. Check for doneness after ten minutes by slicing into the thickenst piece to make sure there's no pink color). Transfer chicken to a cutting board and cut into bite-size cubes. Cool chicken in the fridge, covered, until you're ready to use it.
Curried Mayonnaise While the chicken is poaching, heat oil in a small skillet over medium-low heat. Add onion and sauté 4-5 minutes, stirring occasionally, until soft (don't let it brown) Add curry powder to the skillet and cook, stirring, for 1 minute, until fragrant. Remove from heat and allow to cool. When curry and onions are cooled, mix with mayonnaise, chutney (or preserves), lime juice and salt in a small bowl. (can be stored, covered, in the fridge for up to 3 days.
Toss chicken with curried mayonnaise. Season with salt, to taste. (can be made a day ahead)
Keywords: chicken salad, chicken breast, chicken