Here's a terrific recipe for orecchiette with sausage and broccoli rabe from Rao's Restaurant in New York City. (the same Rao's that makes the amazing marinara!) Italian sausages are simmered with garlic and crushed red pepper and are then tossed with orecchiette pasta, broccoli rabe and pecorino cheese. This is a great dinner party recipe because it's easy, you can do all the prep ahead, and the flavors are incredible.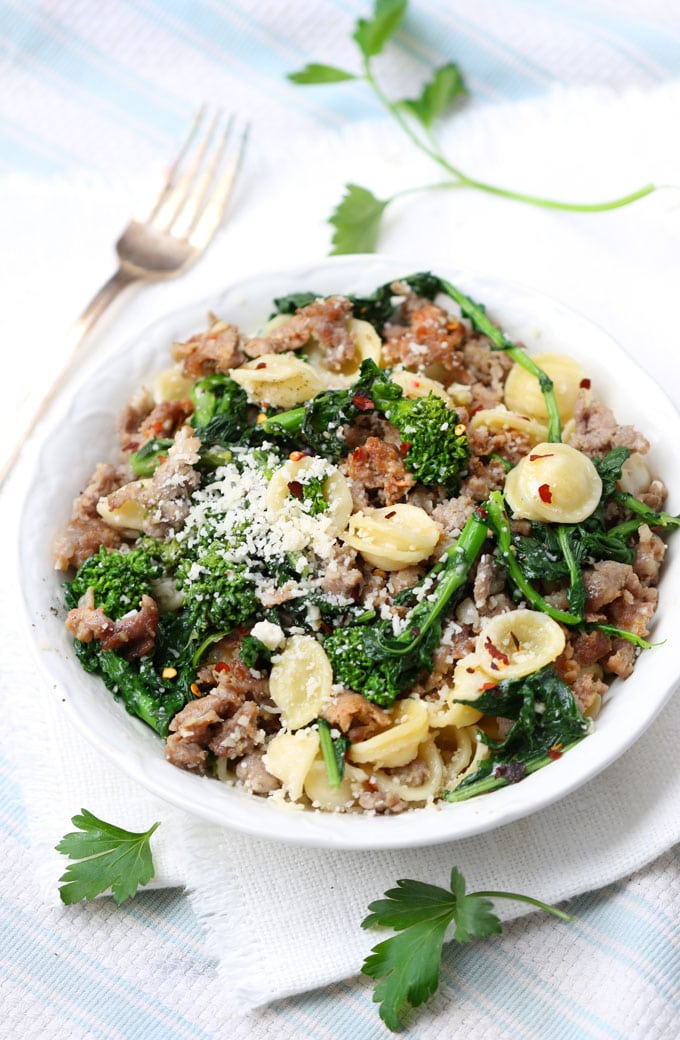 ORECCHIETTE WITH SAUSAGE AND BROCCOLI RABE
This dish is crazy good, starting with the pure deliciousness of Italian sausages, which are removed from their casings and sautéed with plenty of garlic and crushed red pepper. Then all that savory richness and spice is balanced by the bitterness of the broccoli rabe and the sharp kick of pecorino cheese.
Pasta is the centerpiece here, and there is no better pasta than little bowl-shaped orecchiette, for capturing delicious bits of sausage and broccoli rabe and luscious garlicky sauce.
Everything about this dish works beautifully.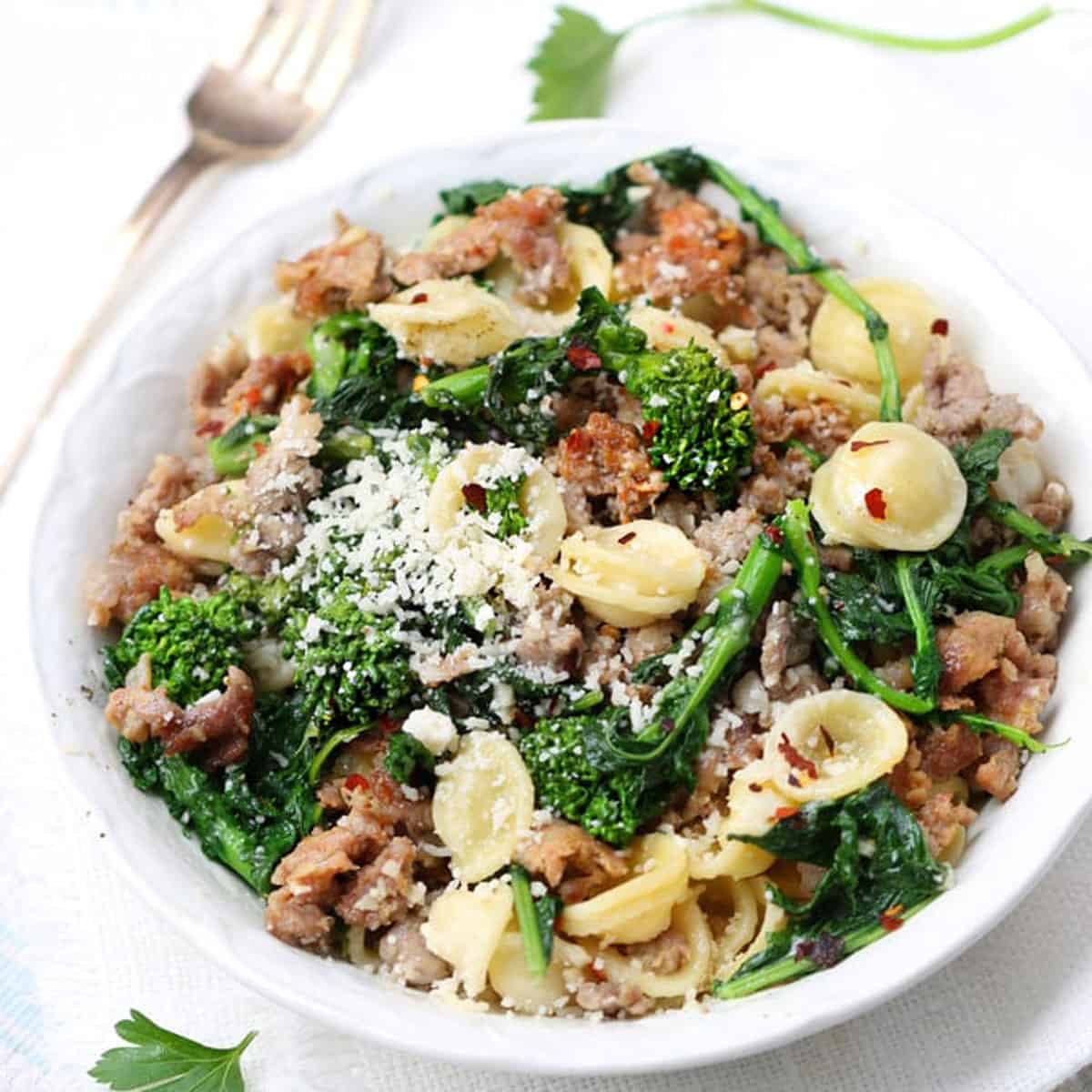 A RECIPE FROM RAO'S RESTAURANT
Luckily Rao's Restaurant has a cookbook. I say that because most of us will never be able to dine at the restaurant. Rao's is a tiny little restaurant in Manhattan that was started by Italian immigrant Charles Rao in 1896 and it is still one of the hottest restaurants in New York City, nearly impossible to get into without connections.
The only way most of us are ever going to enjoy the incredible Italian food served at Rao's is if we cook it ourselves. And I don't ever like to miss out on incredible food! So that's why I got the cookbook and why I have been cooking my way through all of Rao's irresistible home-style Italian dishes. This orecchiette with sausage and broccoli rabe is my favorite.
THE INGREDIENTS
Here's what you need to make this pasta dish. See the recipe card below for exact amounts.
Orecchiette Pasta - I like to describe orecchiette as little pasta bowls or hats but in actuality orecchiette is the Italian word for little ears.
Broccoli Rabe - Also know as rapini, broccoli rabe is a popular vegetable in Italian cooking. Although its buds resemble broccoli, broccoli rabe is actually more closely related to the turnip. It has a nutty, sharp and somewhat bitter flavor, but in a good way. Read more about broccoli rabe here

.

Italian Sausages - This recipe uses a combination of hot and sweet Italian sausages.
Garlic
Crushed Red Pepper Flakes
Grated Pecorino Cheese - The finishing touch.
HOW TO MAKE ORECCHIETTE WITH SAUSAGE AND BROCCOLI RABE
Here's an overview of how to make this dish. Find the full detailed instructions in the recipe card below.
Start by blanching the broccoli rabe - Plunge the broccoli rabe into boiling water and let it simmer for 2-3 minutes. Be sure to save a cup of the blanching water - you will need it for the sauce - Then drain the broccoli rabe and plunge it into a bowl of ice water to keep it from overcooking. Blanching is important because it pre-cooks the broccoli rabe to the point where all it needs is a quick toss in the pan to heat it through and infuse it with all the garlicky spicy flavors of the sauce.
Next make the pan sauce - Sauté garlic, red pepper flakes and chopped sausage meat in olive oil until the sausages start to brown. Add the the broccoli rabe, the broccoli rabe water, salt and pepper. Simmer the sauce until it's hot. You've made the pan sauce!
Boil the Orecchiette - Cook it al dente (just cooked through but still firm), drain it, return it to the pot, add the sauce and toss to combine.
Serve the orecchiette topped with grated pecorino cheese.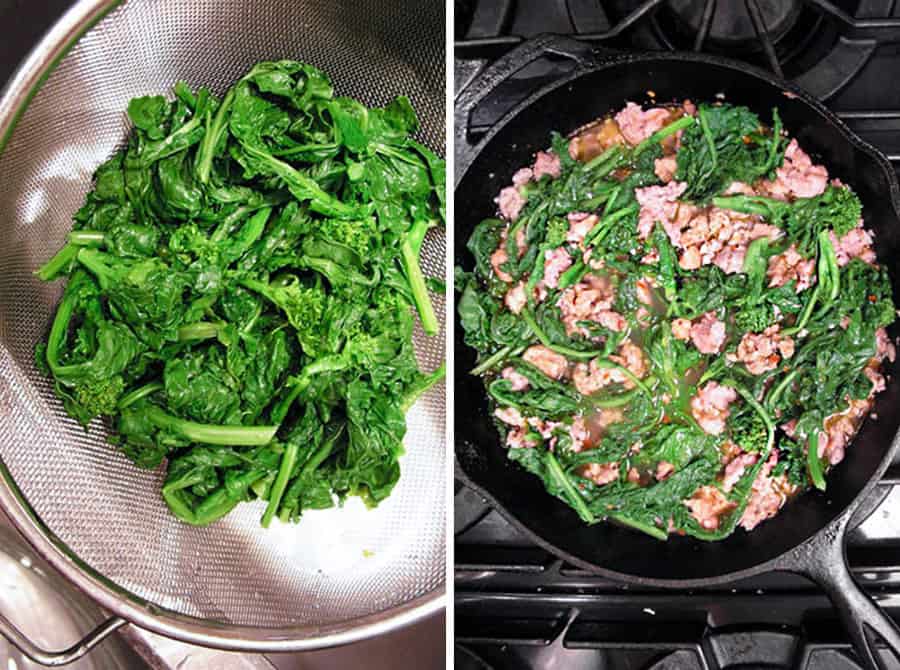 FAQ
ARE ALL THE PARTS OF BROCCOLI RABE EDIBLE?
Technically speaking, all parts of broccoli rabe are edible, from the stems to the leaves to the buds. But it's best to trim off a couple of inches from the ends of the thick stalks because they tend to be tough and woody. If you have a bunch of broccoli rabe with very thick tough stems, you can shave off the tough outer layer using a vegetable peeler.
CAN I MAKE THIS DISH AHEAD OF TIME?
Yes. You can blanch the broccoli rabe up to a day ahead and store it, covered, in the fridge. You can make the pan sauce up to an hour ahead (or several hours ahead if you refrigerate it). But for best results, the pasta should be cooked at the last minute. Reheat the sauce gently while the pasta is boiling. Then drain the pasta, toss it with the sauce, and serve immediately.
CAN I USE PARMESAN CHEESE INSTEAD OF PECORINO?
Yes. Although there are distinct differences between these two hard Italian cheeses and although some experts will tell you that the two are not interchangeable, I've used them both for this orecchiette recipe with excellent results.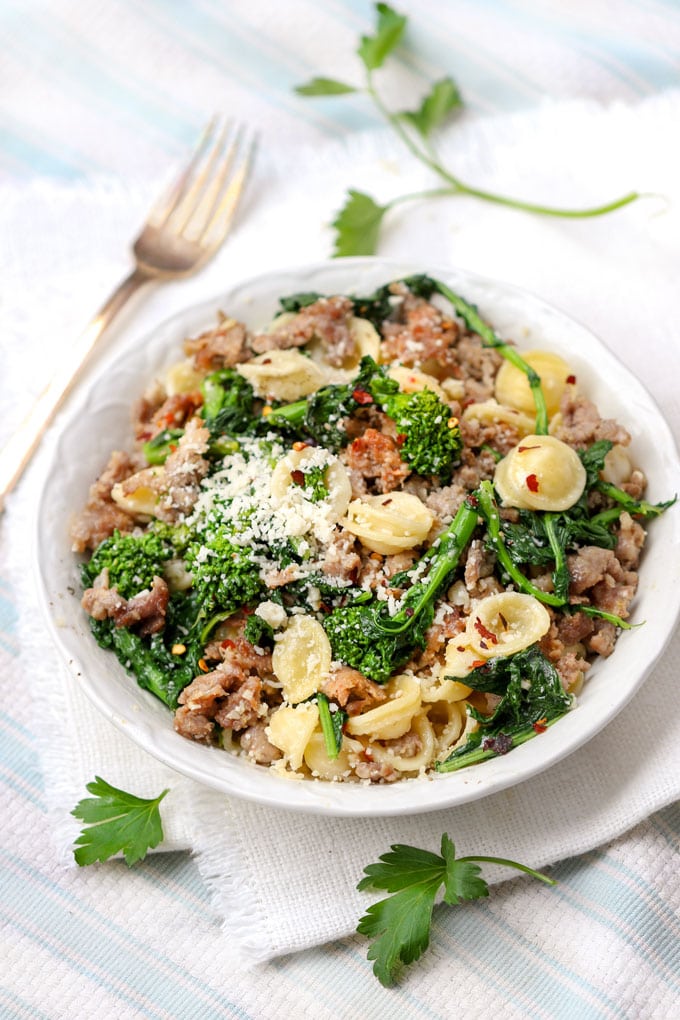 If you're looking for a company-worthy pasta recipe, this one is great. I've made it many times for dinner parties and it's always enjoyed by all. I love to serve it with this Italian tricolore salad and some warm crusty bread on the side. Vanilla panna cotta for dessert. A wonderful meal.
Here's the Orecchiette with Sausage and Broccoli Rabe recipe. If you cook this, I hope you'll come back to leave a star rating and a comment. I'd love to know what you think!
Print
Orecchiette with Sausage and Broccoli Rabe
---
Author:

Lisa

Total Time:

35 mins

Yield:

4

-

6

servings

1

x
Description
A wonderful, flavorful pasta dish from New York's famous Italian restaurant Rao's. Orecchiette pasta with hot and sweet Italian sausages, garlic, broccoli rabe and Pecorino cheese. Easy to throw together and excellent for a special occasion.
---
1

pound

of broccoli rabe (1 bunch)

¼

cup

extra virgin olive oil

5

large garlic cloves, peeled and finely chopped

¼ teaspoon

crushed red pepper flakes (or

½ teaspoon

Aleppo pepper flakes)

1

pound

Italian sausage, (3-4) a mix of sweet and hot, to your taste, casings removed, cut or chopped into bite-size pieces.

1

cup

of broccoli rabe water - reserved from when you blanch the broccoli rabe
Salt and black pepper, to taste
I pound of dried orecchiette pasta
Pecorino Romano cheese, freshly-grated
---
Instructions
To blanch the broccoli rabe, fill a large bowl with ice water and set it aside. Bring a large pot of salted water to a boil. Cut away a couple of inches of the thicker tough stems of the broccoli rabe, leaving the tender stems, buds and leaves. Cut or pull the leaves off the stems and tear the leaves into large pieces. Boil broccoli rabe for 2-3 minutes until it's bright green and the stems are crisp-tender. IMPORTANT: Reserve one cup of the cooking water. Drain broccoli rabe in a colander and quickly plunge it into the ice water to stop the cooking process. When cool, drain and set aside.
To make the pan sauce, heat olive oil in a large heavy skillet over medium high heat. Add garlic, red pepper flakes and sausages and sauté, stirring often, until the sausages are cooked through and browned in spots.
Add the broccoli rabe to the skillet, along with the cup of broccoli rabe water, ½ teaspoon salt and ¼ teaspoon black pepper. Turn heat to high and cook, stirring, until sauce is hot.
Meanwhile, cook the orecchiette per package instructions, until al dente (cooked through but still firm to the bite.)
Drain Orecchiette and return it to its cooking pot. Add ⅓ of the sausage-broccoli rabe sauce and toss over high heat. When combined and hot, remove from heat and mound onto a platter or into individual bowls. Top with remaining sauce and a generous sprinkle of Pecorino cheese.
Notes
How to Prepare This Ahead of time:
Broccoli Rabe can be blanched up to a day ahead of time. Drain, cool and store, covered, in the fridge. Remember to reserve a cup of the blanching water and keep it covered in the fridge, as well.
The pan sauce can be prepared up to an hour ahead (or several hours head, if refrigerated). For best results, cook the pasta at the last minute. Heat the sauce gently while the pasta is cooking. Finish the recipe per the instructions in Step 5.
What to do if you forget to save the broccoli rabe water?
I'm including this tip because, as many times as I've made this recipe, there are still occasions that I forget to save that broccoli rabe water. If this happens to you, don't worry! You can use a cup of the pasta cooking water and the dish will still be absolutely delicious.
Prep Time:

20 mins

Cook Time:

15 mins

Category:

Main Dish

Method:

stovetop

Cuisine:

Italian
Keywords: orecchiette with sausage and broccoli rabe, Rao's sausage pasta recipe,
[This post was first published on September 30, 2012. It was refreshed and updated on March 10, 2022 with a new title (used to be called 'Rao's Pasta with Sausage and Broccoli Rabe'), a rewritten blog post that includes FAQ, and a few new process shot photos. The same delicious recipe!]