This amazing pasta recipe comes from Roa's Italian Restaurant in NYC, orecchiette pasta with Italian sausages and broccoli rabe. A quick and easy recipe that's worthy of a special occasion.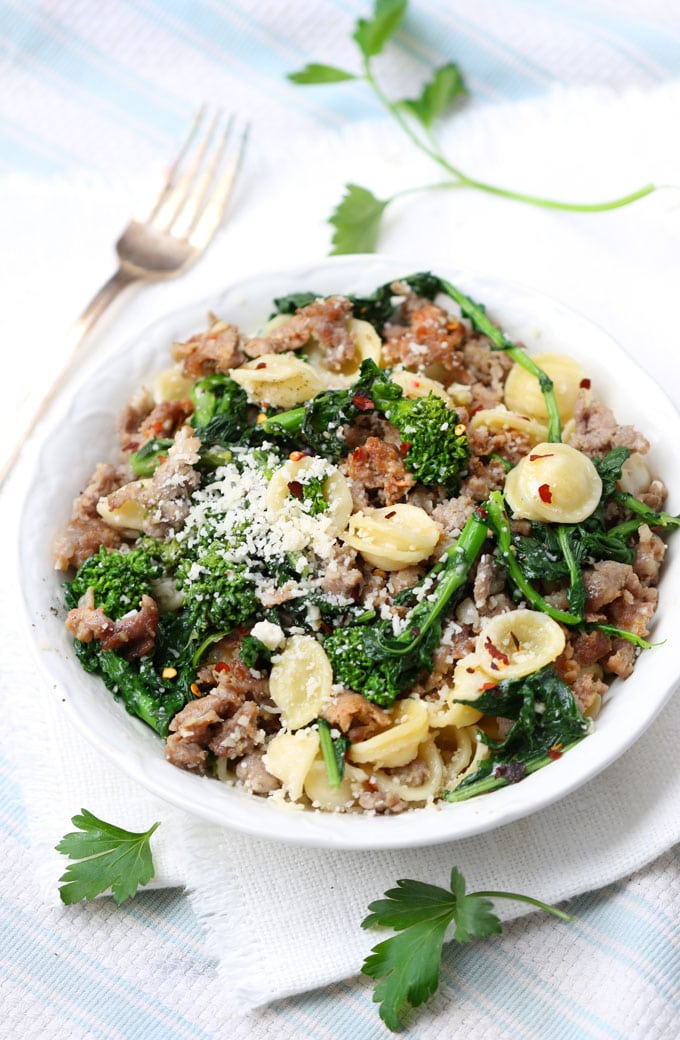 Every time I cook this Pasta with Sausage and Broccoli Rabe I'm reminded that in all my years of living in New York City I never managed to snag a reservation at Rao's Italian restaurant in Harlem. You may not have heard of the restaurant but you've probably come across Rao's marinara sauce at the grocery store? It's pricey but excellent. My favorite store-bought sauce.
Rao's is a tiny little restaurant in Manhattan that was started by Italian immigrant Charles Rao in 1896, and it's still one of the hottest restaurants in New York City, and nearly impossible to get into without connections.
Luckily they have a great cookbook. Rao's Cookbook is filled with recipes from the restaurant, irresistible home-style Italian dishes. This is pasta recipe, with sausages and broccoli rabe, is one of my favorites.
WHAT IS BROCCOLI RABE?
Broccoli rabe, also know as rapini, is a popular vegetable in Italian cooking. Although its buds resemble broccoli, broccoli rabe is actually more closely related to the turnip – weird right?
Broccoli rabe has a nutty, sharp and somewhat bitter flavor, but in a good way. Its sharp flavors pair beautifully with garlic, olive oil, red pepper flakes and Italian sausage – a favorite combo in Italian cuisine.
A quick blanching (plunging in boiling water) softens the broccoli rabe, making it the perfect texture for the sauce.
HOW TO MAKE RAO'S PASTA WITH SAUSAGE AND BROCCOLI RABE
The sauce for this pasta dish has two main ingredients: Italian sausages and broccoli rabe. To prepare the sauce, you'll sauté the sausages and broccoli rabe in olive oil with garlic and crushed red pepper, then mix with pasta and top with cheese. Easy!
But the one thing you have to do before you make the sauce is blanch the broccoli rabe to soften it up so that all it needs is a quick toss in the pan to get tender and to absorb all the wonderful spicy, garlicky flavors.
NOTES ON BLANCHING VEGETABLES
Blanching is an easy and useful technique that every cook should know. Vegetables are briefly boiled and then shocked in ice water.
Boiling softens them and brings out their best and brightest green color. The ice water bath puts an immediate stop to the cooking process, preventing the vegetables from overcooked, mushy and dull-looking.
Blanched vegetables are perfect for crudités, salads, stir-fries, stuffings and sauces. And blanched vegetables freeze well – better than raw vegetables.
For this recipe, you can blanch the broccoli rabe up to a day ahead and keep it in the fridge overnight.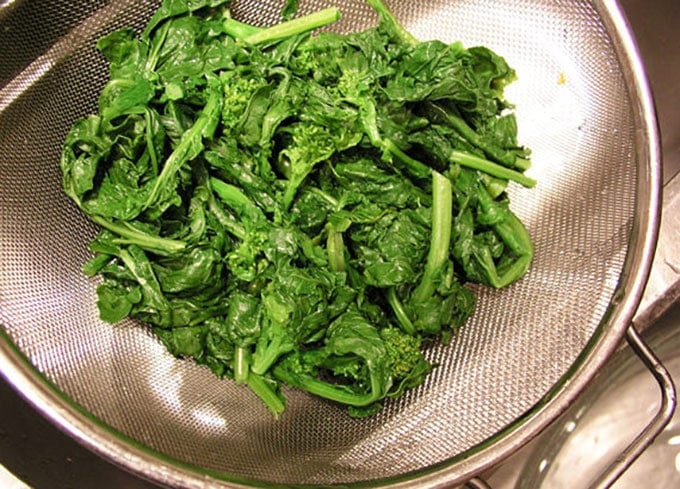 I love the flavors in this pasta! It's rich and garlicky with bitter broccoli rabe and sharp, nutty Pecorino cheese.
If you're looking for a company-worthy pasta recipe, this one is great! I've made it many time for dinner parties. It's always enjoyed by all!
Fun fact about pasta names
Since we're cooking orecchiette, I thought you might like to know that "orecchiette" is the Italian word for "little ears." In fact many pasta names are the Italian word that describes their shape:
Vermicelli means "small worms"
Spaghetti means "thin strings"
Farfalle is "butterflies"
Buccatini" is "little hole"
and so on…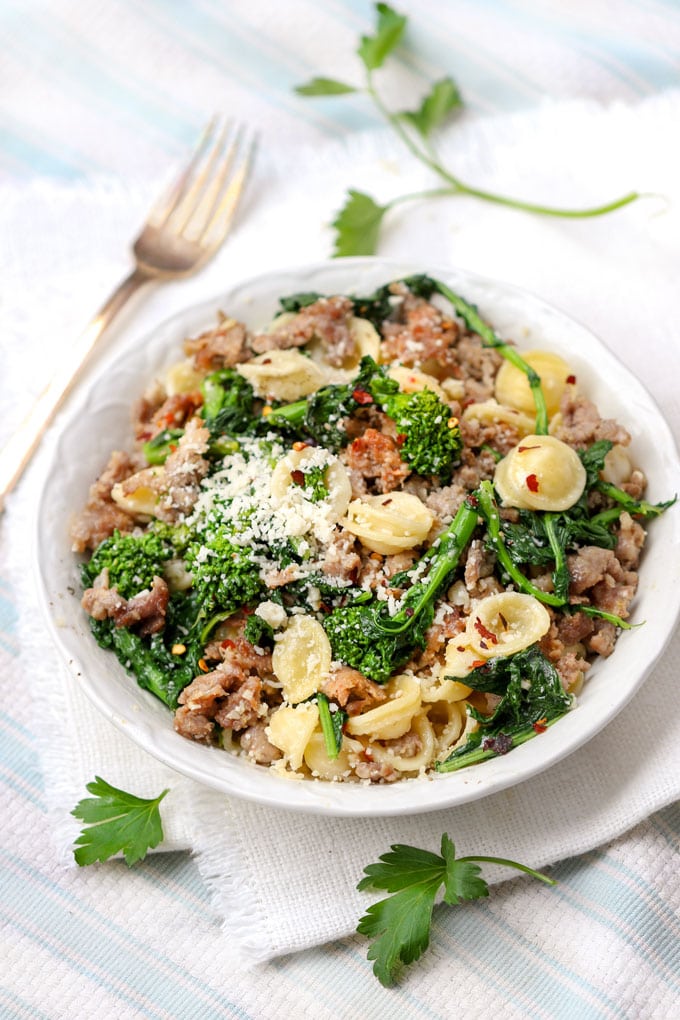 Will I ever get to experience this dish at Rao's Restaurant on East 114th street in New York City? Probably not. Rao's is considered one of most hard-to-get reservations of all New York City restaurants. There are only ten tables in the restaurant and they are so devoted to their local and long-standing customers that they're practically a private club.
I've been told that to get in you need to know somebody who knows somebody who has an in, and even then you might wait a year or two for your seat. In the meantime, I'm glad we can enjoy one of Rao's most delicious pasta dishes at home!
Here's the recipe for Rao's Pasta with Sausage and Broccoli Rabe. If you try this recipe I hope you'll come back to leave a star rating and a comment. I'd love to know what you think!
Print
Rao's Pasta with Sausage and Broccoli Rabe
A wonderful, spicy, flavorful pasta dish from New York's famous Italian restaurant Rao's – Orecchiette with hot and sweet Italian sausages, garlic, broccoli rabe and Pecorino cheese.
Author: Lisa
Prep Time:

20 mins

Cook Time:

15 mins

Total Time:

35 mins

Yield:

4

-

6

servings

1

x
Category:

Pasta Main Dish

Method:

stovetop

Cuisine:

Italian
1

pound of broccoli rabe (

1

bunch)

1/4 cup

extra virgin olive oil

5

garlic cloves, peeled and finely chopped

1/4 teaspoon

crushed red pepper flakes

1

pound Italian sausage, (3-4) a mix of sweet and hot, to your taste, casings removed, cut into bite-size pieces.

1 cup

of broccoli rabe water – reserved from when you pre-cook the broccoli rabe
salt and pepper, to taste
I pound orecchiette pasta
Pecorino Romano cheese, freshly-grated
Instructions
Blanch The Broccoli Rabe: Fill a large bowl with ice water and set aside. Bring a large pot of salted water to a boil. Cut away thicker tough stems of the broccoli rabe, leaving the tender stems, buds and leaves. Tear leaves into large pieces. Boil broccoli rabe for 2-3 minutes until it's bright green and the stems are crisp-tender. Reserve one cup of the cooking water. Drain broccoli rabe in a colander and quickly plunge it into a bowl of ice water to stop the cooking process. When cold, drain and set aside.
Make the Sauce: Heat 1/4 cup olive oil in a large heavy skillet over medium high heat. Add chopped garlic, 1/4 teaspoon crushed red pepper flakes, and sausages. Sauté, stirring often, until the sausages are cooked through and browned in spots.
Add broccoli rabe to the sausage mixture, along with the cup of broccoli rabe water, 1/2 teaspoon salt and 1/4 teaspoon pepper or more, to taste. Turn heat to high and cook, stirring, until sauce is hot.
Meanwhile, cook orecchiette pasta per package instructions, until al dente.
Drain Orecchiette and return it to the pot. Add 1/3 of the sausage-broccoli rabe sauce. Toss over high heat. When combined and hot, remove from heat and mound onto a platter or into individual bowls. Top with remaining sauce and a generous sprinkle of Pecorino cheese.
Notes
WANT TO PREPARE THIS AHEAD? Broccoli Rabe can be blanched up to a day ahead of time. Drain, cool and store, covered, in the fridge. Remember to reserve a cup of the blanching water and keep it covered in the fridge, as well.
Keywords: orecchiette with sausage and broccoli rabe, Rao's sausage pasta recipe,