This chimichurri broccoli salad mixes fresh blanched broccoli with the vibrant flavors of Argentinean chimichurri sauce: olive oil, vinegar, garlic, parsley and oregano. It's a heavenly combination. It takes only 20 minutes to prepare and can be made ahead. This wonderful simple healthy recipe will earn a place in your regular rotation.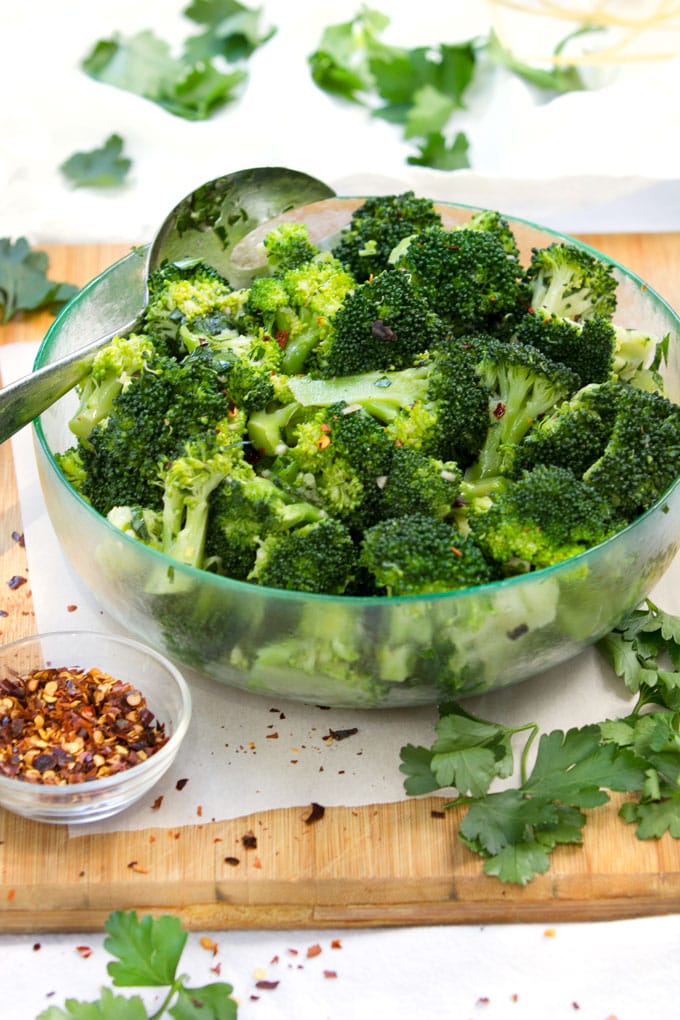 It's not every vegetable dish that has me at the fridge grabbing tastes the way this chimichurri broccoli does. The broccoli soaks up all the delicious garlicky vinegary flavors of the chimichurri dressing. Every bite is tender and full of flavor. This quick easy side dish works wonderfully for entertaining because you can prep it all ahead. Just pull it out of the fridge and it's ready to go. I've been making a big bowl of it once a week, all summer long. It's great for a casual dinner, barbecue or picnic.
Here's how to make Chimichurri Broccoli:
Cut the broccoli into bite-sized florets and blanch them (cook in boiling water for a few minutes). Then plunge them into ice water to stop the cooking process. Blanching transforms broccoli from light green and dry to bright green and crisp tender – the perfect texture for a soaking up all the delicious dressing.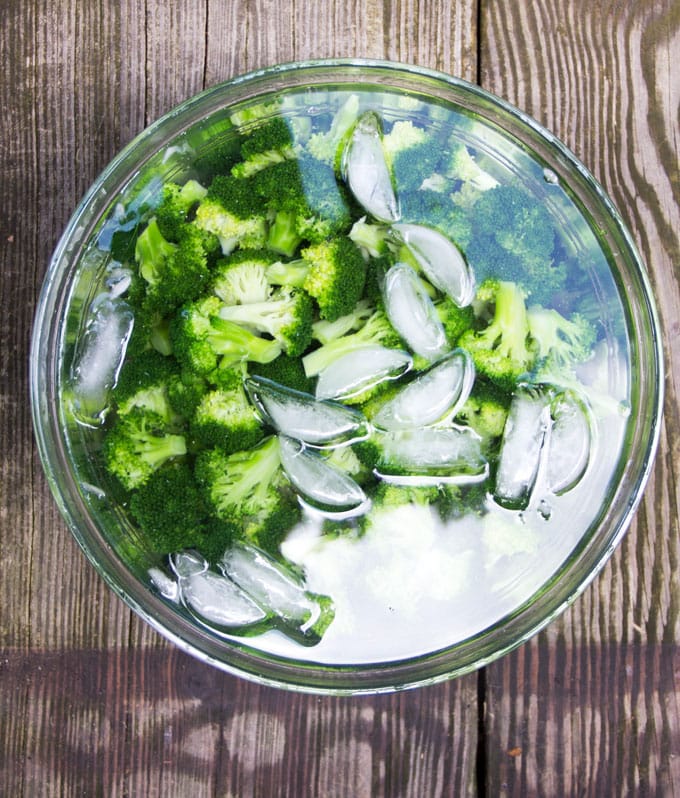 Once the broccoli is cool, drain it well.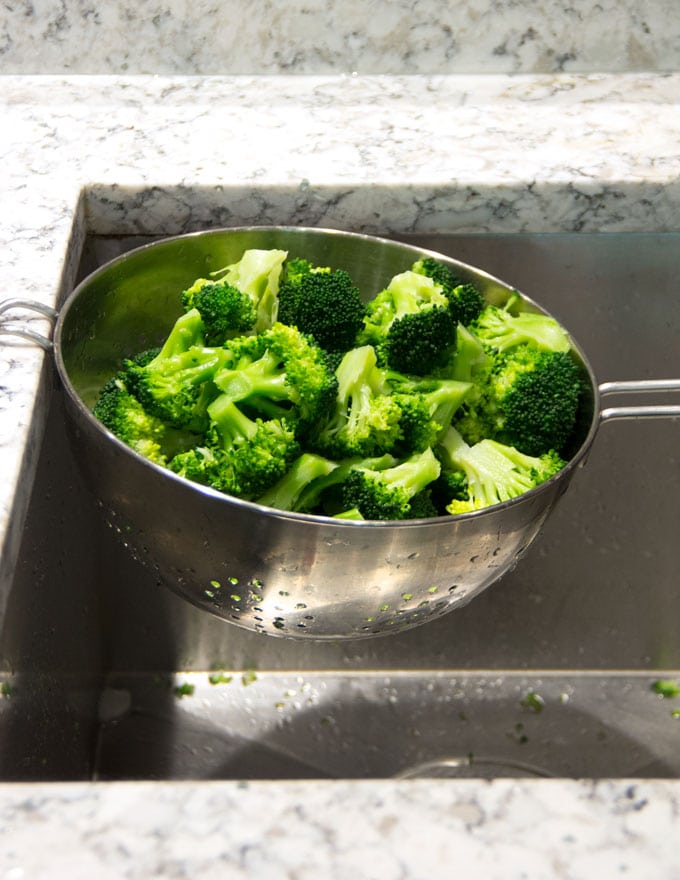 While the broccoli cools and drains, whisk up the dressing – olive oil, red wine vinegar, garlic, parsley, oregano and crushed red pepper.
Toss the broccoli and dressing together and you're ready to eat. Or you can cover the chimichurri broccoli and keep it in the fridge for up to three hours. It's delicious chilled or at room temperature. It's still just as delicious the next day but the vinegar will fade the color a bit so the broccoli won't look quite as beautifully green and vibrant.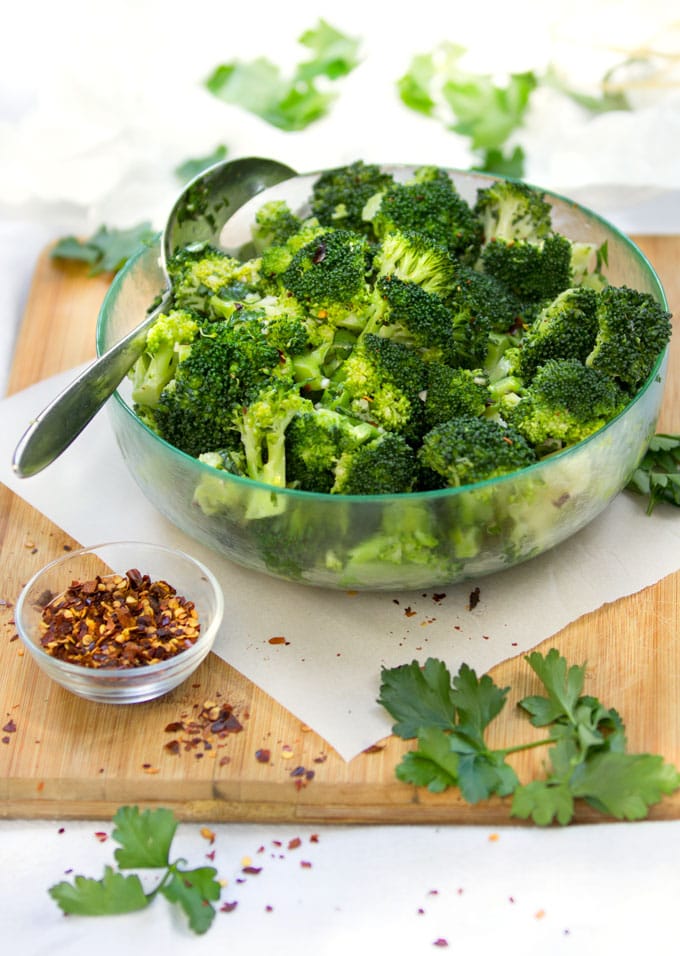 If you're a fan of Argentinean chimichurri sauce you might want to give this delicious recipe a go: Grilled skirt steak with chimichurri sauce.
Here's the recipe for Chimichurri Broccoli. If you try this, I hope you'll come back to let me know what you think.
Print
Chimichurri Broccoli Salad
Crisp-tender broccoli florets are dressed with the delicious bright flavors of Argentinean chimichurri sauce – olive oil, vinegar, garlic, parsley and oregano. A quick, easy, make-ahead side dish.
Author:
Prep Time:

15 mins

Cook Time:

4 mins

Total Time:

19 mins

Yield:

8-10

Category:

Salad, side dish

Cuisine:

Argentinean
Ingredients
For The Broccoli:
2 1/2 pounds broccoli (three heads), cut into bite-sized florets (Save the thick stems for soup or another recipe)
1 teaspoon kosher salt plus more, to taste
For The Chimichurri Dressing:
1/2 cup extra virgin olive oil
3 tablespoons red wine vinegar
1/4 cup chopped parsley leaves
2 garlic cloves, finely minced (2 teaspoons minced garlic)
1/2 teaspoon kosher salt
2 teaspoons chopped fresh oregano leaves or 3/4 teaspoon dried oregano
1/4 teaspoon crushed red pepper flakes
Instructions
Blanch the Broccoli: Fill a large bowl with ice water and set it aside. Bring a large pot of salted water (1 teaspoons of salt) to a boil. Add broccoli florets. Once the water returns to a boil (2 minutes or so), let the broccoli cook for another minute or two, until it's bright green and crisp-tender. Drain and immediately transfer broccoli to the ice water to stop the cooking process. Once it's cold, drain it well.
Make The Chimichurri Dressing: Mix all the ingredients together and whisk or shake to combine. Pour dressing over broccoli and toss well. Season, to taste, with salt.
Serve chimichurri broccoli chilled or at room temperature, as a side dish or salad. You can make it ahead and keep it, covered, in the fridge, for up to three hours.