Thanksgiving is a great time to cook traditional favorites and also an opportunity to delight the family with something exciting and new. Each of these 16 Thanksgiving Recipes has a little something special that will brighten up your feast and make everyone at the table feel extra thankful.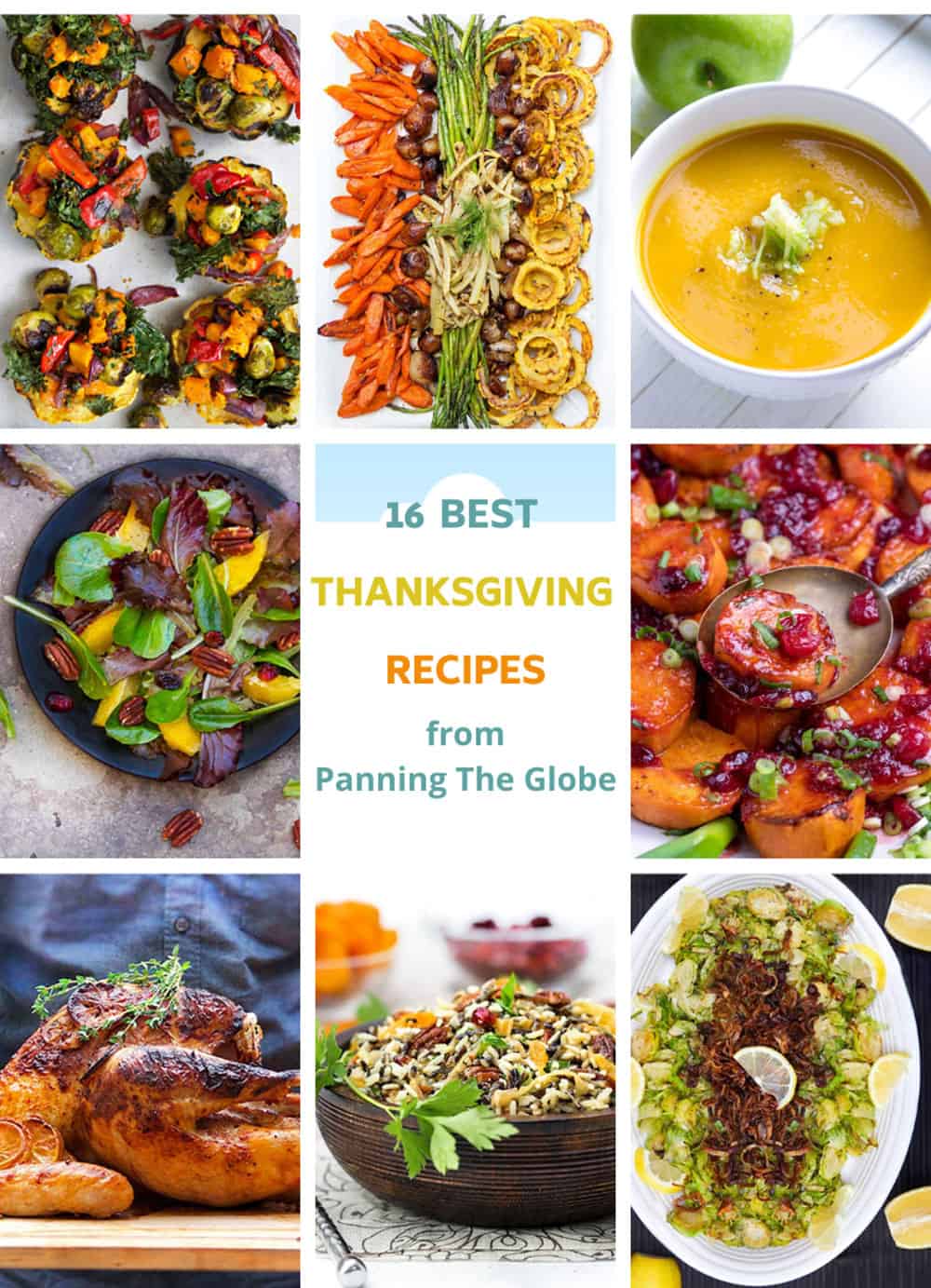 Many people stick to the exact same Thanksgiving menu year after year, traditional dishes that everyone loves and looks forward to. While I have a lot of respect for nostalgia, I have a different approach. If I have a crowd coming over for a meal, whether it's a Friday night dinner party or Thanksgiving, I see it as an opportunity to get some new and exciting dishes on the menu.
This roundup includes some of my favorite Thanksgiving recipes, from appetizer to leftovers. Some are classics with a twist, such as Turkish yogurt-marinated turkey - a tender roast turkey with a spiced-up gravy - and the most scrumptious Italian sausage stuffing with broccoli rabe, parmesan cheese and zingy hot paprika, (yummm!).
If you're looking for some new fabulous festive side dishes that you can make ahead of time, try this wild rice salad with cranberries, apricots and pecans or this dazzling roasted squash stuffed with roasted vegetables.
Packed with flavor, each of these 16 dishes will bring delicious excitement to your Thanksgiving table. Click any of the thumbnail images below to get to the recipe and post, or scroll down for larger photos of each dish and more detailed descriptions. HAPPY FEASTING!
THE 16 BEST THANKSGIVING RECIPES FROM PANNING THE GLOBE
Roasted butternut squash baked with blue cheese (or goat cheese if you prefer) and sage, makes a fabulous festive Thanksgiving appetizer. Serve it with a sliced baguette or crackers.
This curried butternut squash soup gets its deep rich flavor from sweet melted onions and tart green apples cooked with the buttery squash and fragrant Madras curry powder. If you're looking for a great soup to start a holiday meal, this one will do the trick.

Start your Thanksgiving meal with a bowl of intense green goodness."This rich elegant soup is a perfect beginning for an important dinner." That's how the authors of The Silver Palate Cookbook describe this soup. I agree. I've served it as a first course at many dinner parties and at Thanksgiving. It comes together fast and always stirs up excitement at the table.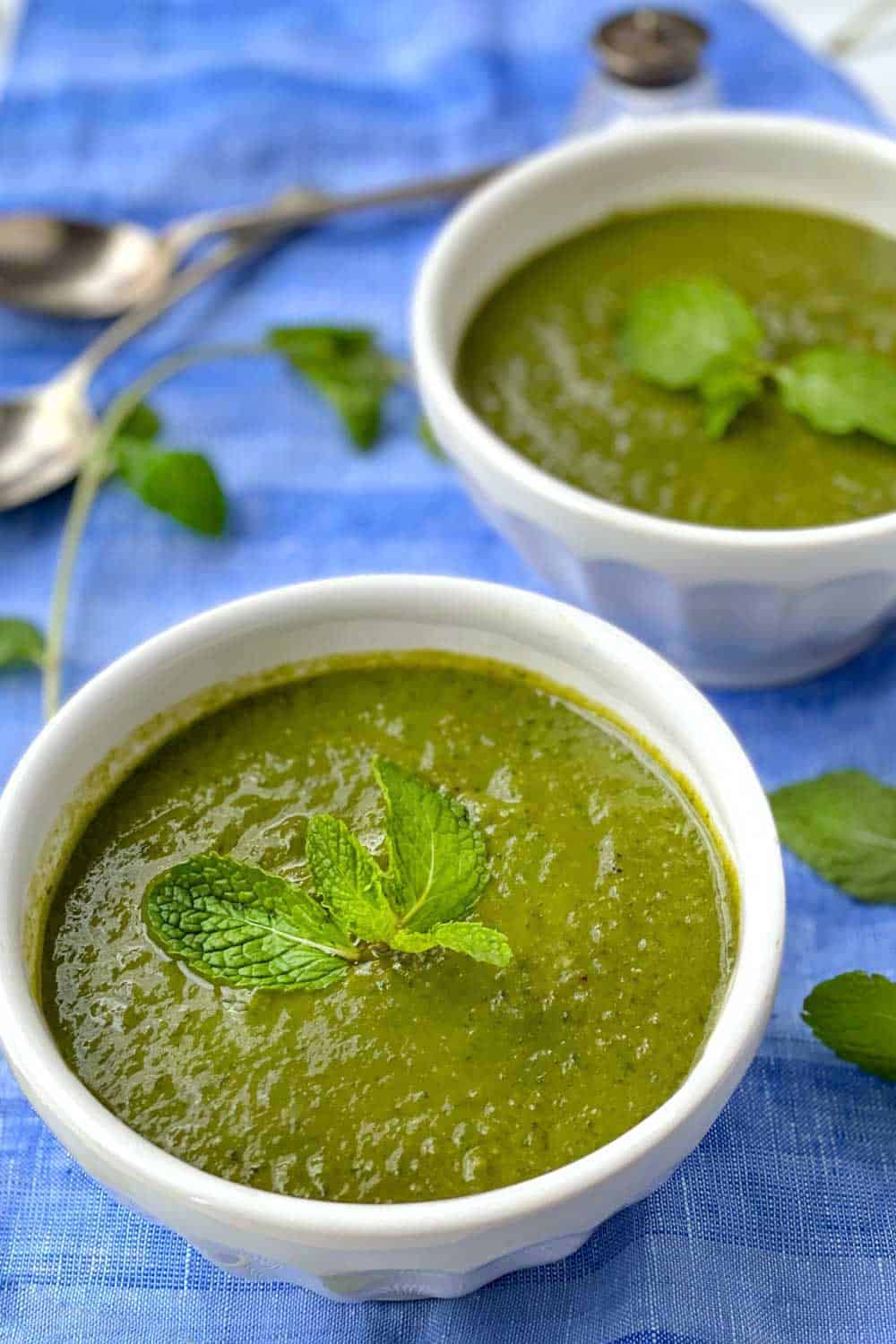 A wonderful, refreshing seasonal salad with mixed baby greens, fresh oranges and toasted pecans tossed with bright cranberry orange vinaigrette. The perfect salad to start a hearty Thanksgiving feast or an elegant winter dinner party.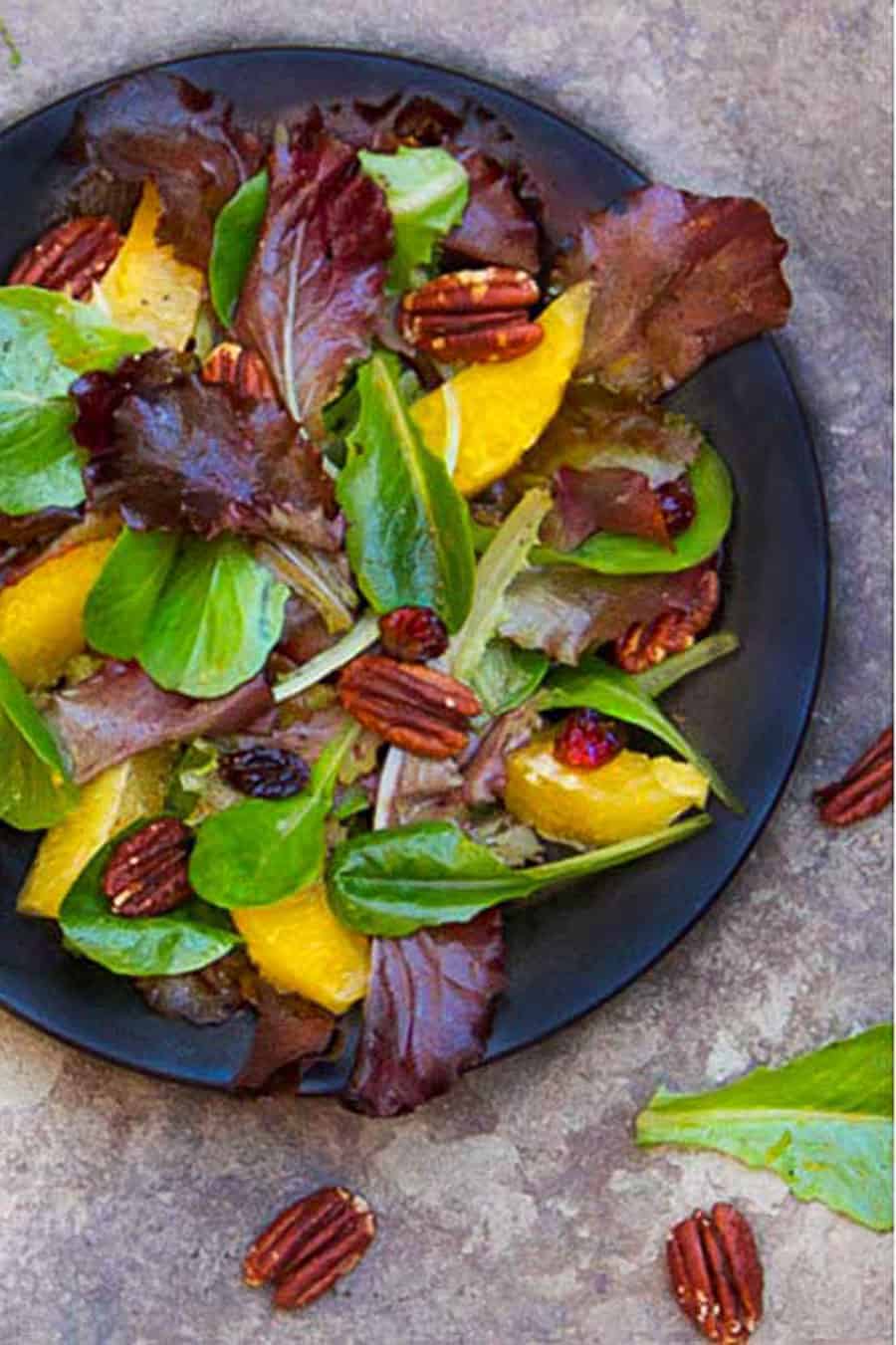 This wild rice salad is bejeweled with cranberries, apricots and pecans and dressed with orange shallot vinaigrette. It's a great side dish for Thanksgiving or any festive meal.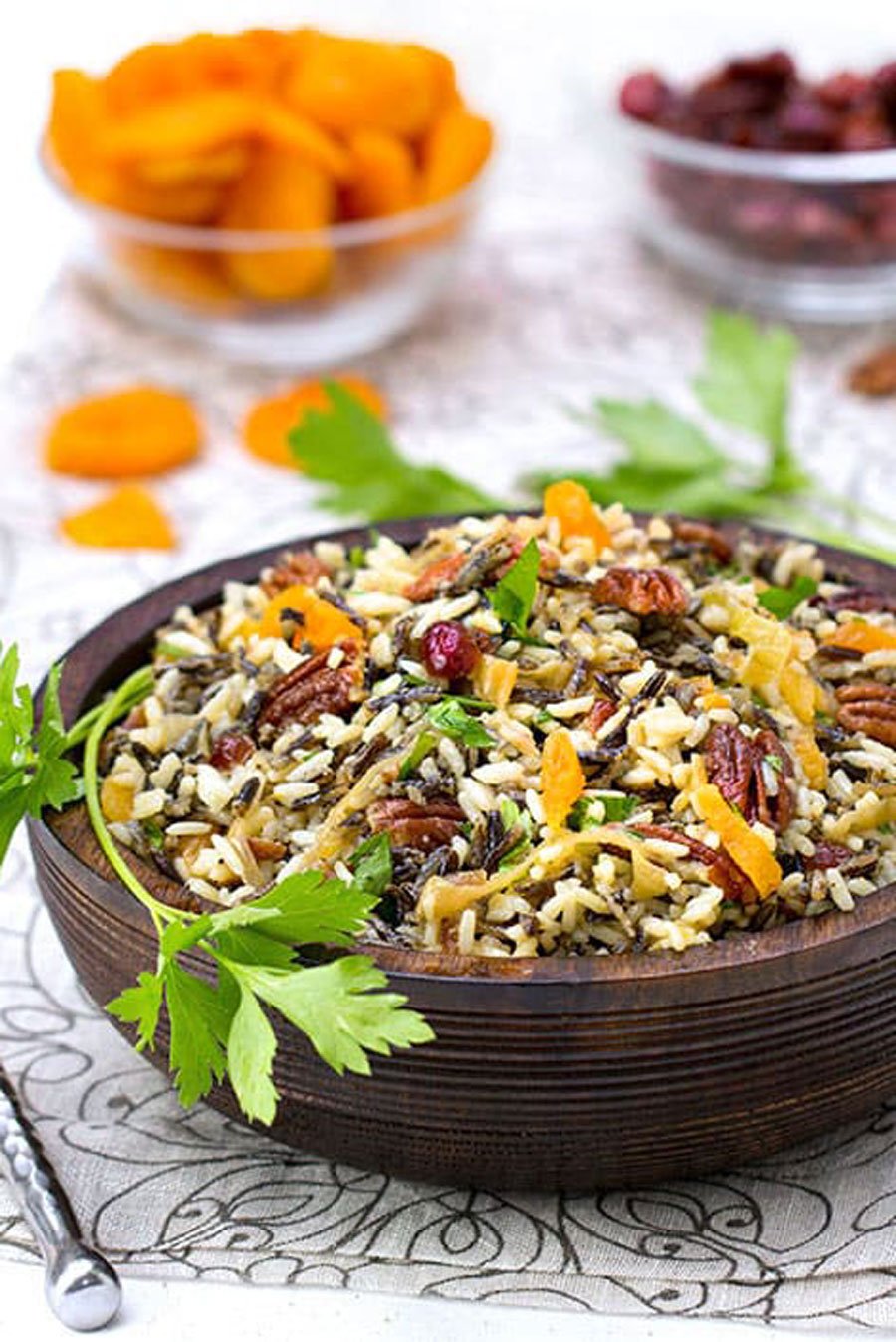 With yogurt's natural tenderizing powers, this bird comes out tasty, tender and juicy with a flavorful, spiced-up gravy.
Roasted garlic and fruity olive oil give these dairy-free vegan mashed potatoes their great flavor and texture, so there is no need for butter or cream. Whether you're vegan or not, these are totally delicious!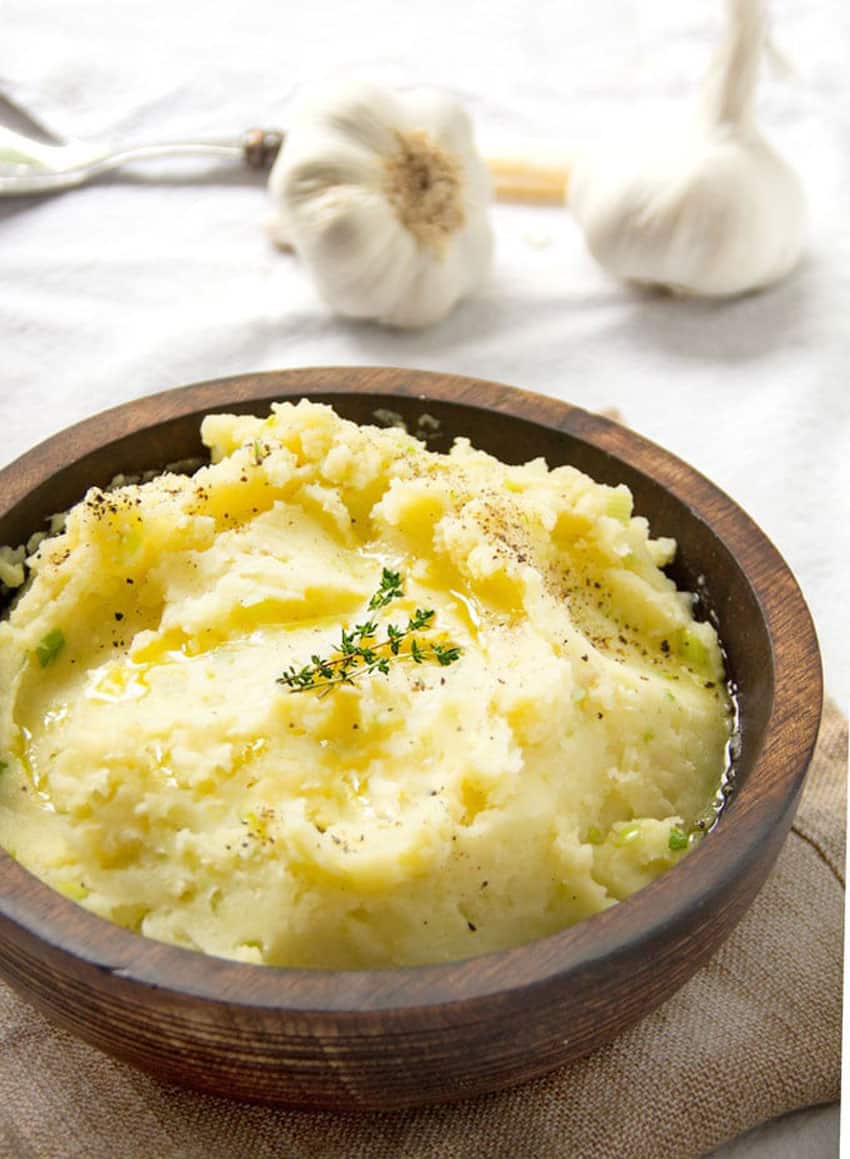 I took all my favorite Italian ingredients and turned them into stuffing. Sweet Italian sausages, broccoli rabe, onions, garlic (lots), parmesan cheese, and hot paprika for a spicy kick. All that incredibly delicious stuff is tossed with toasted bread cubes and broth and baked in or out of the bird or both. It's rich and savory, spicy, garlicky, crispy edged, highly-addictive…a keeper.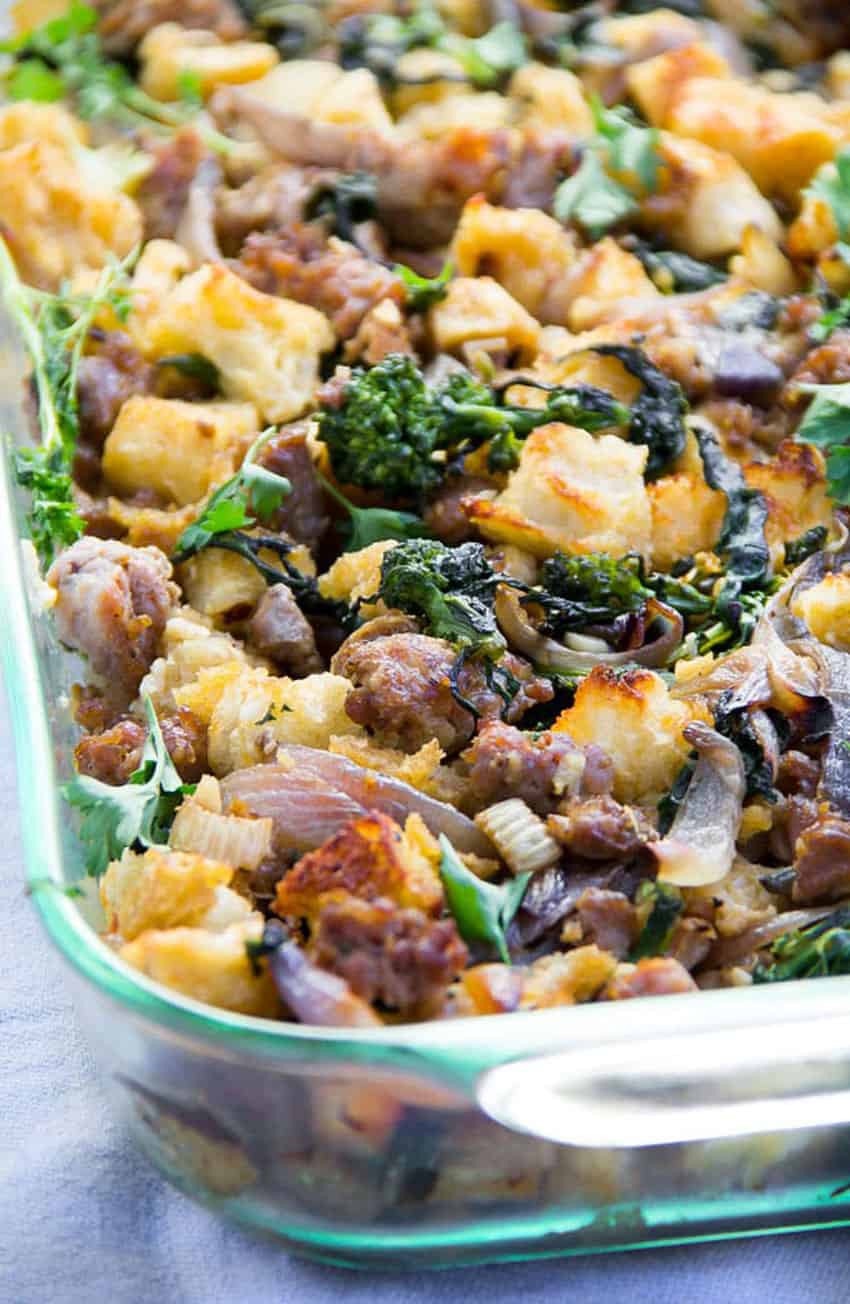 Everything you already love about Roasted Sweet Potatoes just got even more exciting. Sweet potato rounds are dusted with chili powder and brown sugar and roasted in the oven until soft, sweet, spicy and caramelized. Then they're topped with lots of chopped scallions and a warm ruby glaze made from fresh tart cranberries, orange juice, lemon juice, mustard and maple syrup.
Here's one of my all time Favorite Veggie Side Dishes for Thanksgiving or any occasion. Brussels are shredded and pan-browned for maximum caramelization. Then loads of scrumptious crispy fried shallots are piled on top. It's an incredible combo of flavors. I could eat the whole platter by myself, in one sitting!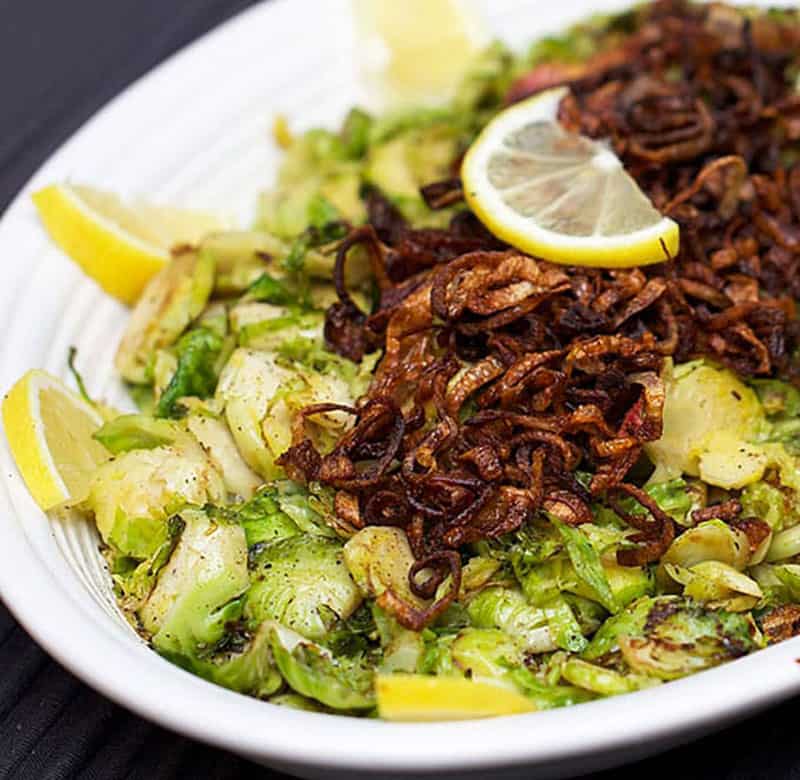 This dish is seriously addictive. Crisp, golden, caramelized roasted Brussels sprouts, smoky sautéed bacon and sweet tangy dried cherries. Cook this for Thanksgiving or anytime you want to make everyone at the table swoon.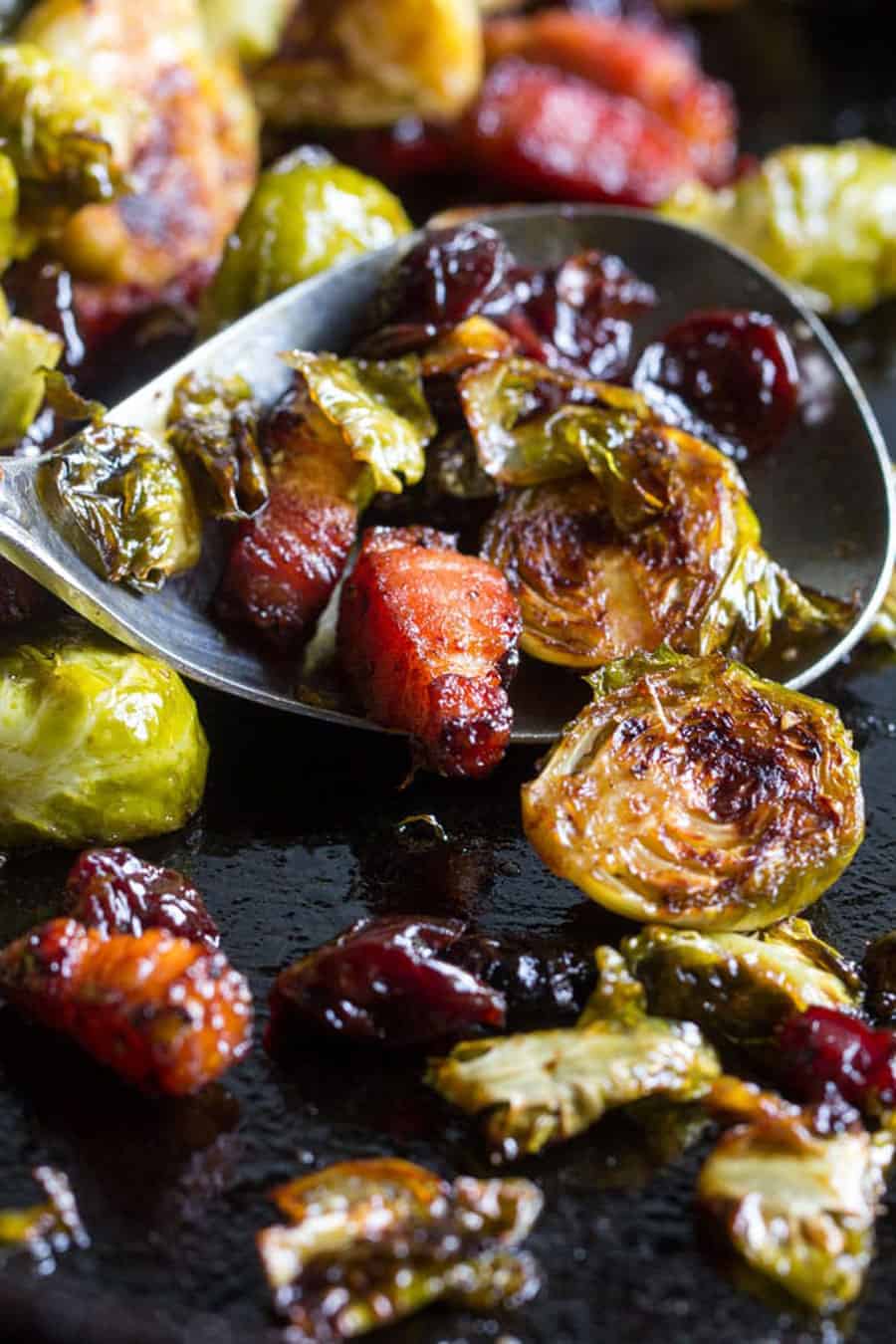 This is one of my all time favorite holiday recipes – a rainbow of delicious healthy veggies piled into roasted squash halves. A beautiful, awe-inspiring vegetable side dish that's perfect for Thanksgiving or any festive meal. And all of the chopping, roasting and stuffing can be done ahead of time!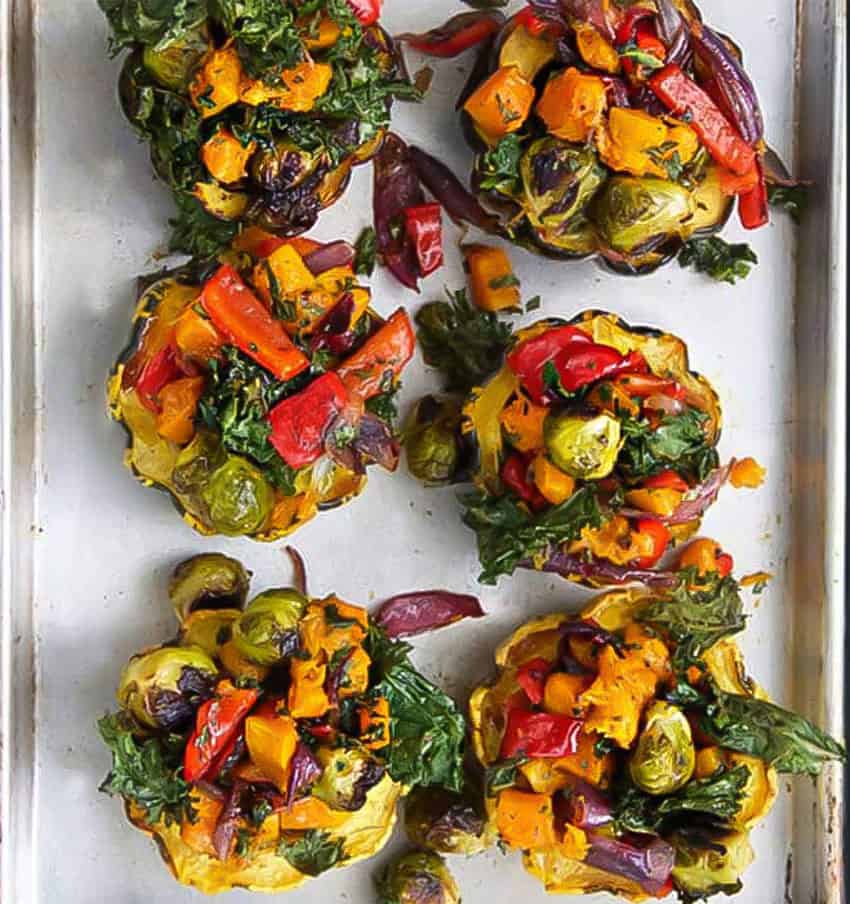 A terrific starter or side dish for a holiday feast or dinner party. An exciting platter of colorful vegetables, cooked to perfection with sweet and sour onions, seared asparagus, and roasted rings of winter squash, carrots and fennel.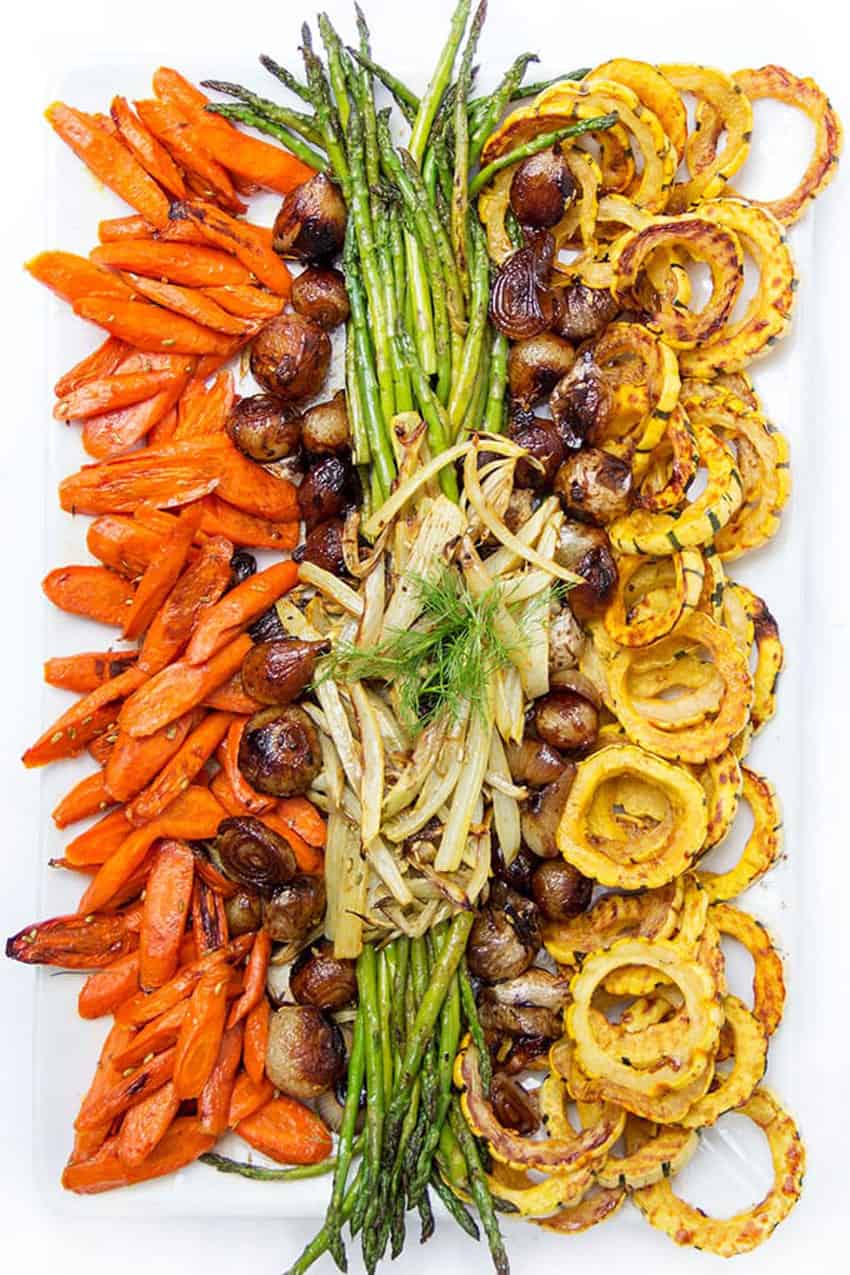 I love having sliced pumpkin bread on the table for Thanksgiving. This Pumpkin Bread is moist and delicious without white flour, sugar, or added oil. Almond flour, made from ground blanched almonds, is the key ingredient that gives this bread its tender crumb, rich flavor and healthy, gluten-free nutritional profile.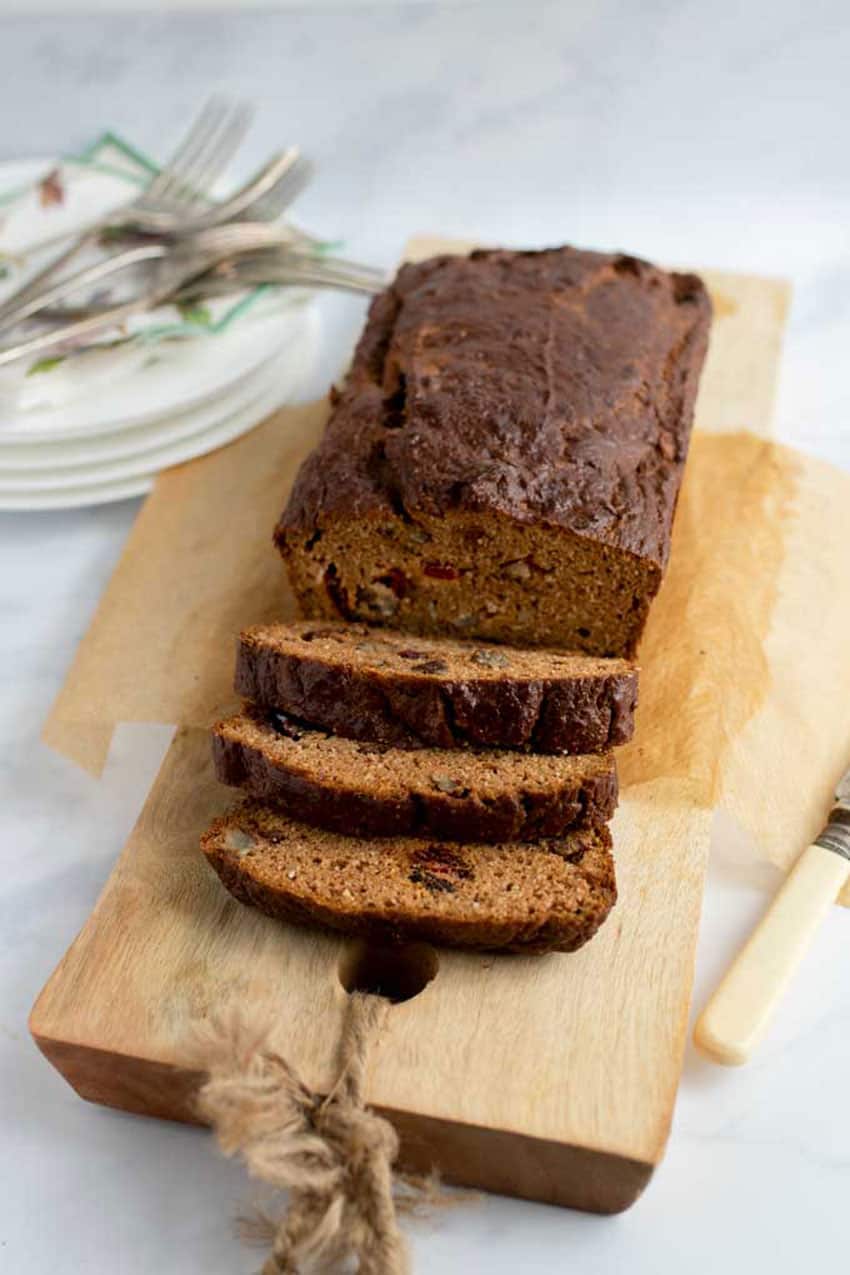 Turn your leftover Thanksgiving turkey into a delectable turkey soup with turkey-stuffed dumplings called kreplach. It's easier than you might think!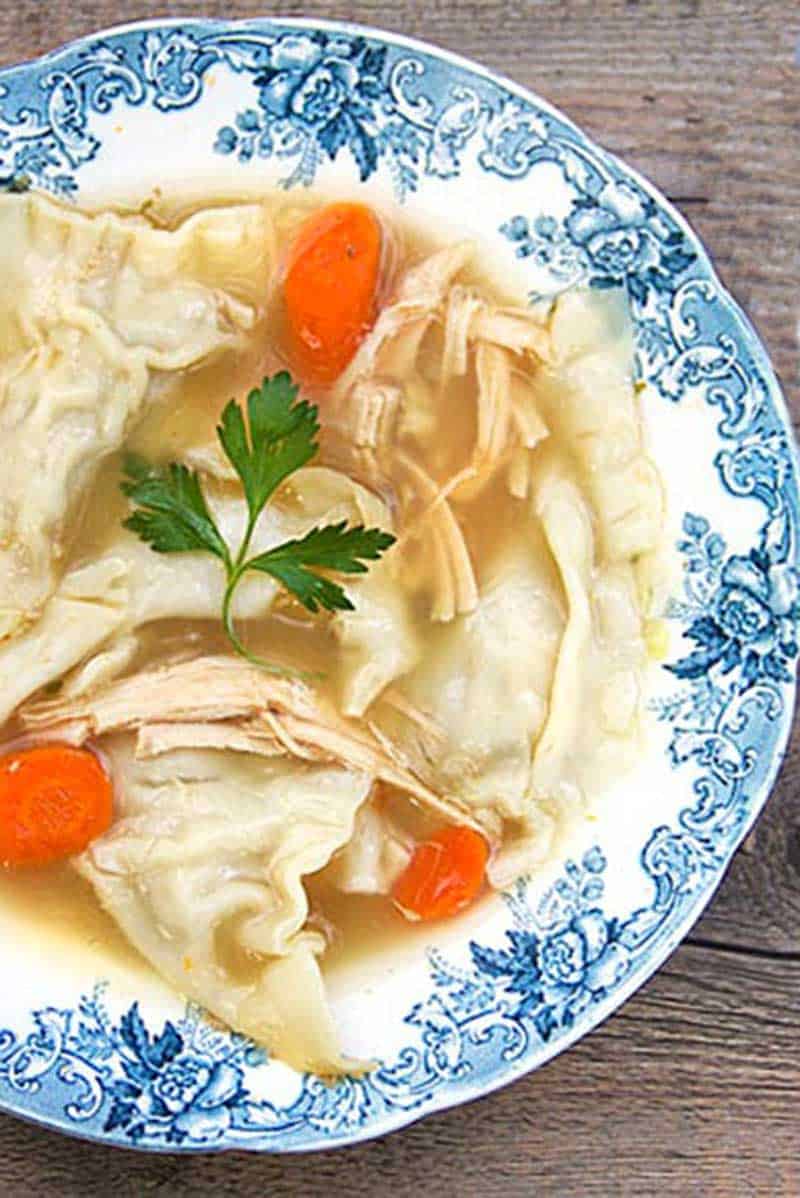 This is my favorite chicken salad recipe - super easy to throw together and it works beautifully with leftover turkey!