Turkey Soup with Turkey Dumplings (Kreplach) is one of the best things to do with your leftover Thanksgiving turkey, and it's easier than you think!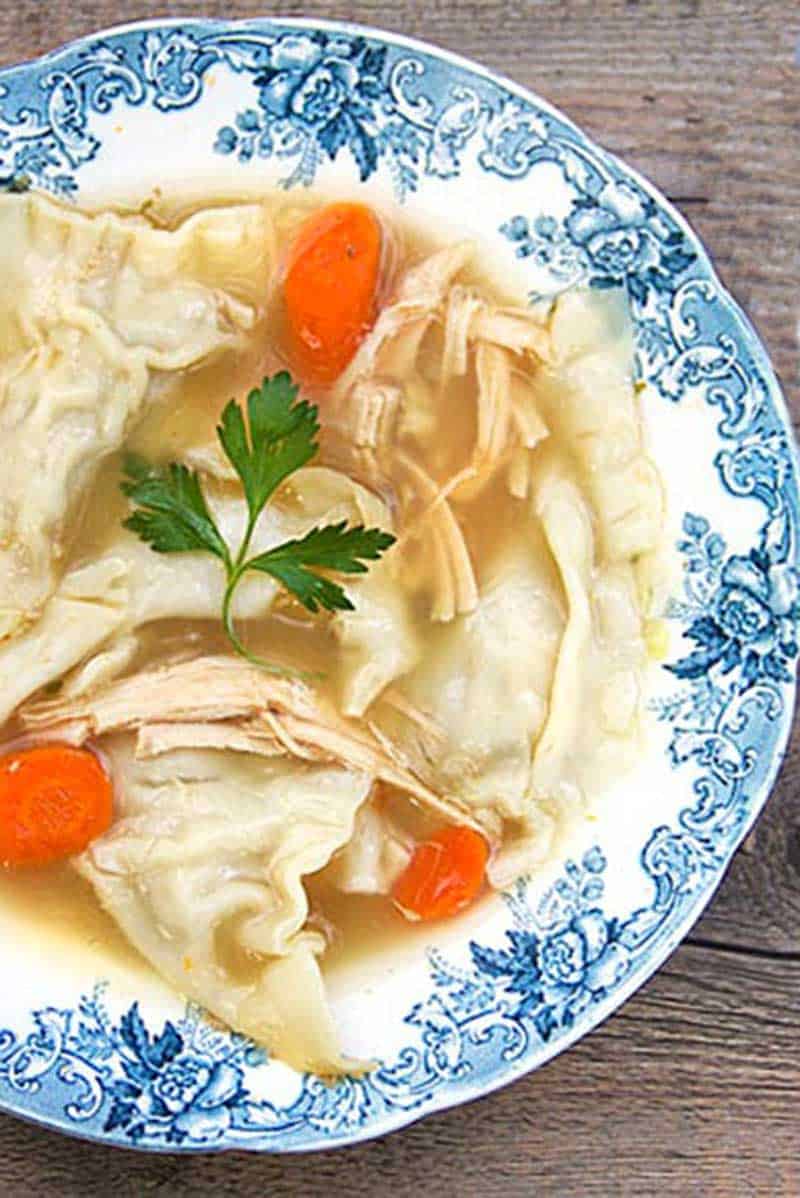 Let's talk about leftovers for a minute. Sometimes they seem like 'yesterday's same old same old.' Sometimes they inspire. But for me, Thanksgiving leftovers always inspire. Leftover turkey, especially, has so much potential to be transformed into something new and more exciting than its original incarnation, whether it's curried chicken turkey salad, squash lentil and chicken turkey stew, or this scrumptious turkey soup with dumplings.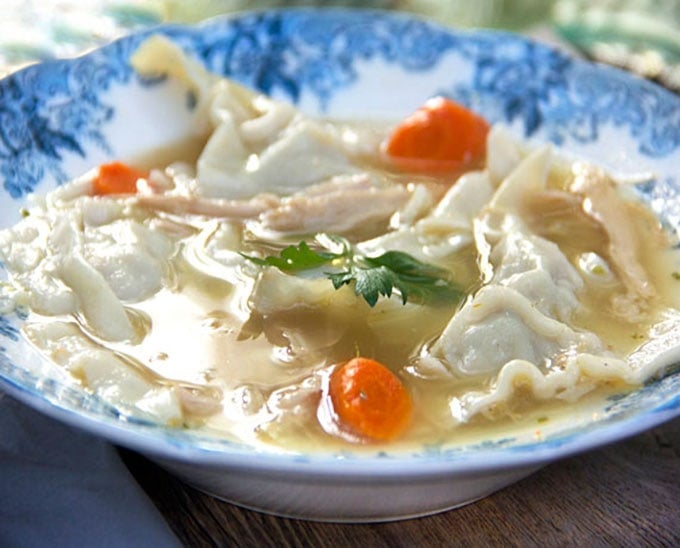 How to make turkey soup from your leftover Thanksgiving turkey
It's a cinch to make a delicious turkey soup with whatever is left of your Thanksgiving turkey. You basically just throw the carcass into a large soup pot. (you may have to break it apart to fit it in). Add some vegetables - a cut up onion, a few chunked carrots and celery spears - some parsley and/or dill. Fill the pot with water and get it boiling.
Cook it for 2-3 hours at a gentle simmer.
The broth will get rich and flavorful and will fill your house with delicious aromas.
While the soup is simmering, you'll have plenty of time to make homemade turkey dumplings, using 2 cups leftover turkey meat and some onions, scallions and parsley. You'll also need a pack of wonton wrappers.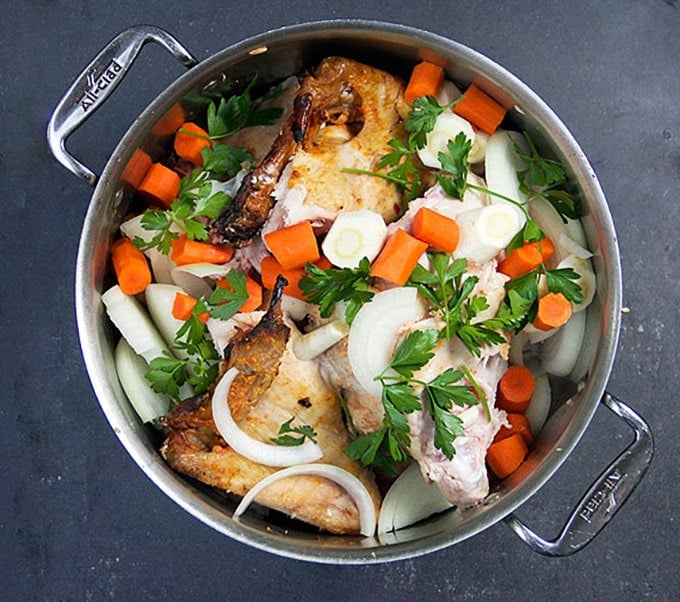 What is kreplach anyway?
Kreplach is a Yiddish word that means dumpling. Kreplach can be filled with chicken, turkey, mashed potatoes, or anything else that inspires you. It's usually served in soup but can also be fried.
My husband and I both have Russian Jewish grandmothers who made us delicious comforting kreplach soup when we were kids. Their kreplach floated in chicken soup and were filled with the soup greens and chicken left over from making the soup.
My updated kreplach recipe combines leftover turkey meat with sautéed onions, scallions, parsley and spices. Everything is ground up in the food processor, enfolded in little wonton wrappers, and simmered until hot and tender.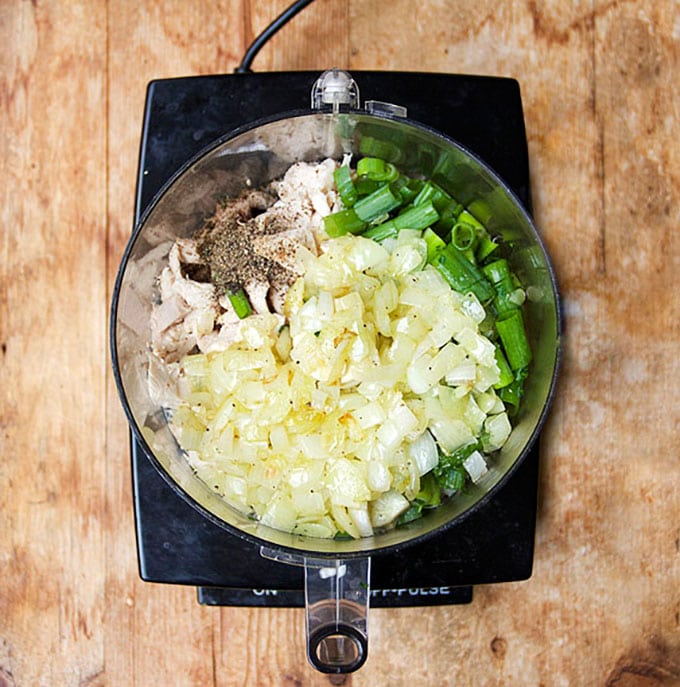 How To Make Soup Dumplings (Kreplach)
Set up a dumpling-making station: you'll need your turkey mixture, a cutting board or other clean work surface, a small bowl of water for moistening the edges of the wonton wrapper, and a parchment lined tray for for holding the kreplach as you make them.
Place a heaping teaspoon of filling in the middle of a wonton wrapper
Use your finger to moisten the edges of the wrapper
Fold the wrapper in half from point to point to form a triangle
Press down along the edges of the triangle with the tines of a fork to seal the seams.
Now all you have to do is cook the kreplach in boiling water or soup.
They're tender and ready in five minutes!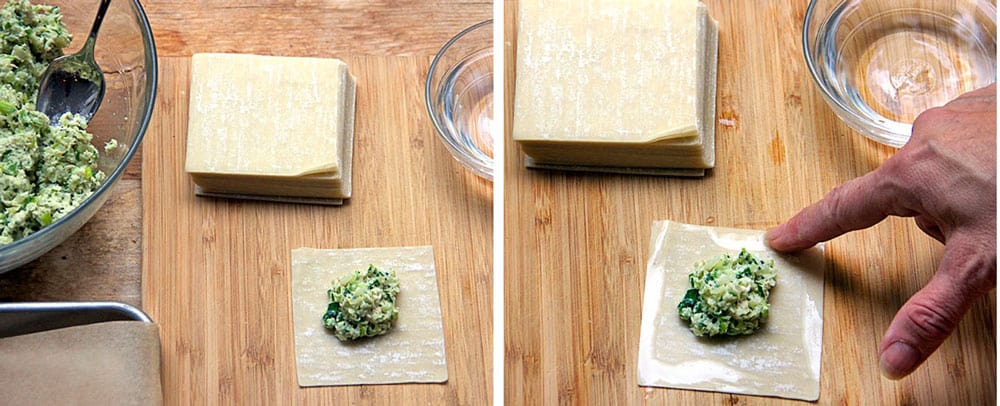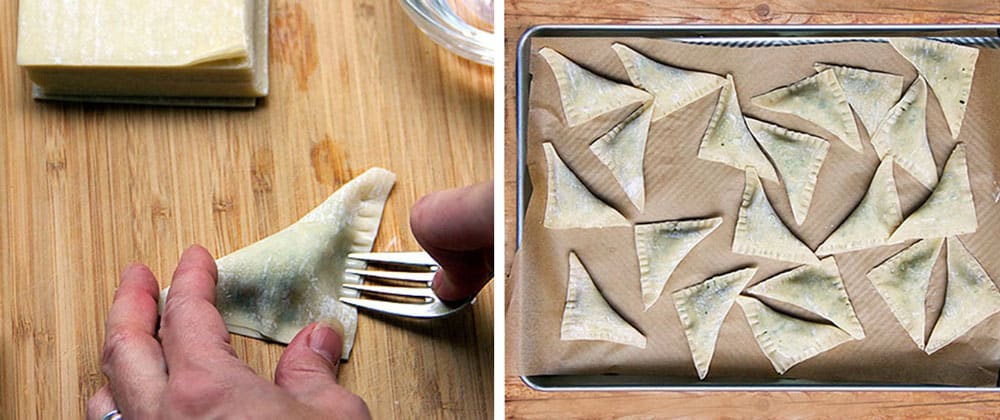 I love leftovers.
Sometimes, without any reinvention, I enjoy eating a dish even more the next day than I did the first time. It's especially nice to wake up the morning after a cooking extravaganza like Thanksgiving... in a peaceful house... with a fully packed refrigerator. The cook has had time to rest. The flavors have had the night to meld. It's then great to reconnect with and enjoy all the delicious foods that you worked so hard to cook.
If you can remix your Thanksgiving leftovers into something new and exciting, that's even better!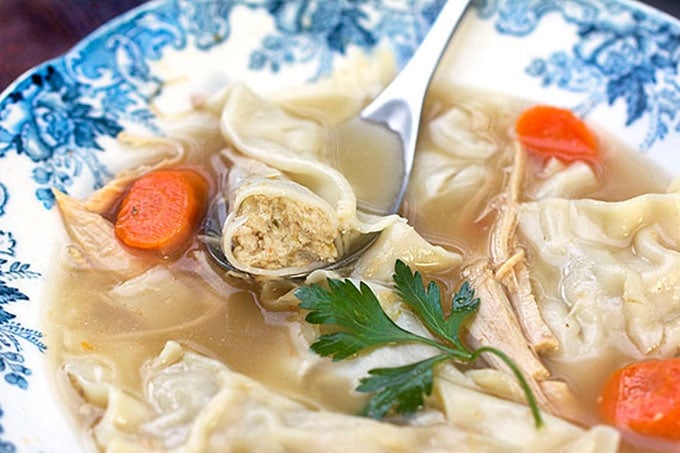 Here's the Turkey Soup with Turkey Dumplings (Kreplach) Recipe. If you cook this, I hope you'll come back to leave a star rating and a comment. I'd love to know what you think!
Print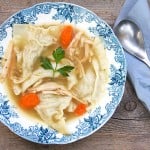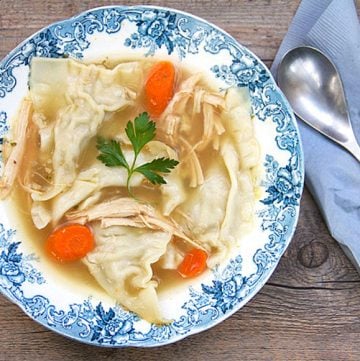 Turkey Soup with Turkey Dumplings (Kreplach)
---
Author:

Lisa

Total Time:

3 hours 15 mins

Yield:

6

-

8

servings

1

x
Description
Turn your Thanksgiving leftovers into a delectable turkey soup with turkey-stuffed dumplings called kreplach.
---
For The Turkey Soup
1

turkey carcass

1

large onion, peeled, halved and thickly sliced

3

carrots, peeled and thickly sliced

2

celery stalks, thickly sliced

1

bunch of parsley, rinsed

1

bunch of dill (optional)

1

bay leaf

5

peppercorns
Kosher Salt
Black pepper or Aleppo pepper
Optional add-ins
2

-

3

carrots, peeled and thinly sliced

1 ½

cups

or so of shredded turkey meat
For the Turkey Dumplings (Kreplach)
Pack of wonton wrappers (They usually come with 40-50 wrappers per pack)

2 tablespoons

olive oil

1

large onion, peeled, halved and roughly chopped

2

cups

of leftover turkey meat, roughly chopped

4

scallions, trimmed and thinly sliced crosswise

2 tablespoons

roughly chopped parsley leaves
Kosher salt
Freshly ground black pepper

3 tablespoons

turkey soup or water
---
Instructions
Put the turkey carcass in a large soup pot. (You may have to break it apart to fit it in.). Add the onion, thickly sliced carrots, celery, parsley, dill (if using), bay leaf, peppercorns and 1 teaspoon salt. Fill pot with enough cold water to cover all the ingredients by an inch or so. Bring to a boil. Reduce heat to a low simmer, and cook for about 2 ½ hours, uncovered, until the broth is rich and flavorful.
Pull out the bones with tongs. Pour the soup through a mesh strainer into a large bowl and then back into the soup pot.
Wait a few minutes for the fat to rise to the surface and skim off excess fat with a spoon, if you like.
At this point you can add a couple of thinly sliced carrots and shredded turkey meat. Simmer them in the soup for about 5 minutes, until the carrots are slightly tender. Season the soup, to taste, with salt and pepper.
Line a large rimmed baking sheet or tray with parchment paper. Heat 2 tablespoons of oil in a small skillet over medium heat. Add the chopped onion and cook, stirring occasionally, until soft (don't let it brown), about 7 minutes.
Set up your food processor with the chopping blade attachment. Add the 2 cups of chopped turkey, the sautéed onion, scallions, chopped parsley, 1 teaspoon salt, ½ teaspoon pepper, and 3 tablespoons of soup or water. Pulse the filling mixture several times until the ingredients are finely chopped but don't over process or they'll get pasty. Transfer mixture to a bowl.
Set up a work station with the bowl of filling, a small bowl of water, a teaspoon, a fork, the wonton wrappers and the parchment-lined tray.
Put one wrapper on your work surface. Add a generous teaspoon of turkey mixture to the middle. Moisten the edges of the wrapper with water, using your finger to dab. Fold the wrapper over, point to point, into a triangle, pressing the edges together. Crimp the edges with the tines of the fork. Set the kreplach on the tray. Repeat until you run out of the turkey mixture. You should be able to make about 24 kreplach.
Keep kreplach in a sealed plastic container or baggie in the fridge until just before you're ready to serve. Cook them in a large pot of salted boiling water for about 5 minutes. Gently transfer them to individual bowls of hot soup, using a slotted spoon. (note: I don't suggest cooking the kreplach in the soup, as they'll absorb a bunch of your soup. Best to cook them separately in salt water.)
Notes
HOW TO ADAPT THIS SOUP WHEN USING A SMOKED TURKEY: When we smoke our turkey, this soup takes a slightly different turn. Here's what works well: Add 2 tablespoons of canned hatch green chilies to the soup and 1 teaspoon to the dumpling mixture. Add 2 teaspoons of cumin to the soup and ½ teaspoon to the dumpling mixture. Add 3 tablespoons of chopped cilantro to the soup. When the soup is ready, stir through a tablespoon or two of lime juice. Garnish the soup bowls with lime wedges, diced avocados and chopped cilantro.
Prep Time:

45 mins

Cook Time:

2 hours 30 mins

Category:

Soup

Method:

Simmer

Cuisine:

Russian
Keywords: Turkey soup with turkey dumplings
[Originally published on November 23, 2014. Updated on November 27, 2021 with added notes on how to adapt this soup when using a smoked turkey. The same delicious recipe!]