Turkey Kreplach Soup: here's one of the best things to do with leftover turkey. Make turkey soup with turkey dumplings. It's easier than you think!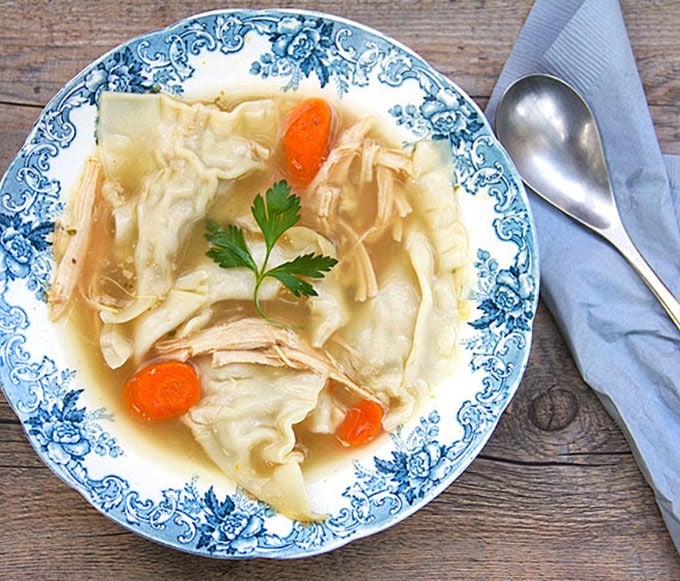 Leftovers. Sometimes they seem like 'yesterday's same old same old.' Sometimes they inspire. I think Thanksgiving leftovers inspire! Leftover turkey, for example, has so much potential to be transformed into something new and even more exciting than its original incarnation.
I could list so many ideas, but I have something even better than ideas: at the end of this post – after the recipe for turkey kreplach soup and a bonus recipe for quick potato knishes, you'll find links to 45 other fabulous Thanksgiving leftovers recipes – brought to you by the talented food bloggers of the Sunday Supper Movement.
I think you'll be covered for all of your Thanksgiving leftovers recipe needs!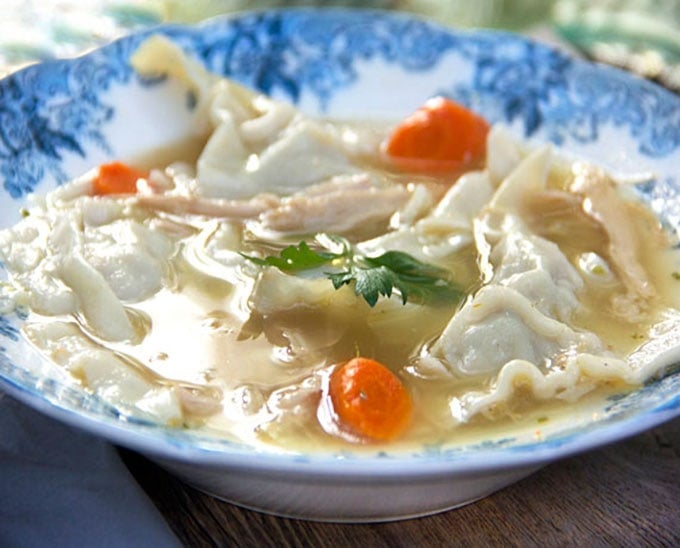 It's so easy to make a scrumptious comforting turkey soup with whatever is left of your Thanksgiving turkey. You basically just throw the carcass into a large soup pot. (you may have to break it apart to fit it in). Add some vegetables – a cut up onion, a few chunked carrots and celery spears – some parsley and/or dill. Fill the pot with water and get it boiling.
Cook it for a few hours at a gentle simmer. The broth will get rich and flavorful and will fill your house with delicious aromas. While the soup is simmering away, take your leftover turkey meat out of the fridge and make kreplach! Be sure to have a pack of wonton wrappers on hand and you'll be all set!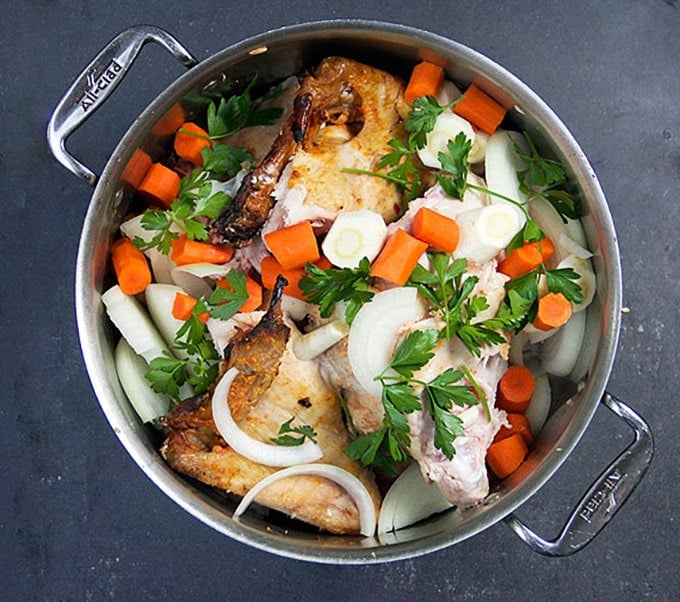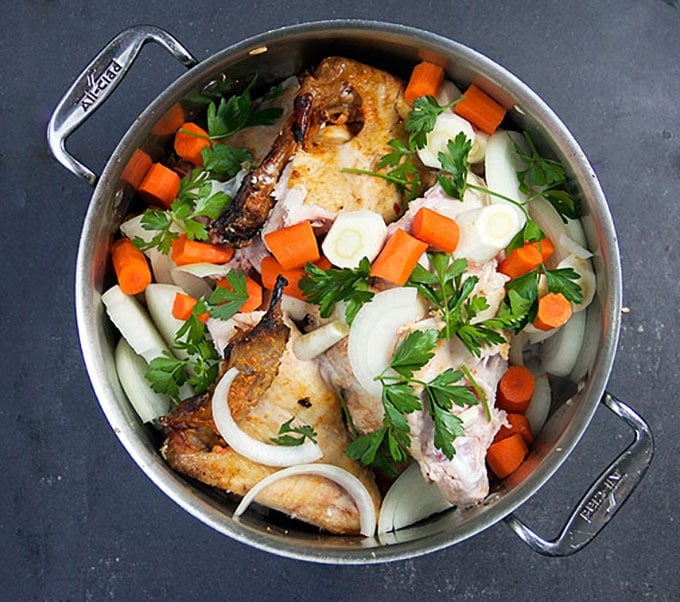 Kreplach is a Yiddish word. A kreplach is a dumpling. It can be filled with chicken, turkey, mashed potatoes, or anything else that inspires you. It's usually served in soup but can also be fried. My husband and I both have Russian Jewish grandmothers who made us delicious comforting kreplach soup when we were kids. Their kreplach floated in chicken soup and were filled with the soup greens and chicken left over from making the soup.
My updated version combines leftover turkey meat with sautéed onions, scallions, parsley and spices. Everything is ground up in the food processor, enfolded in little wonton wrappers, and simmered until hot and tender.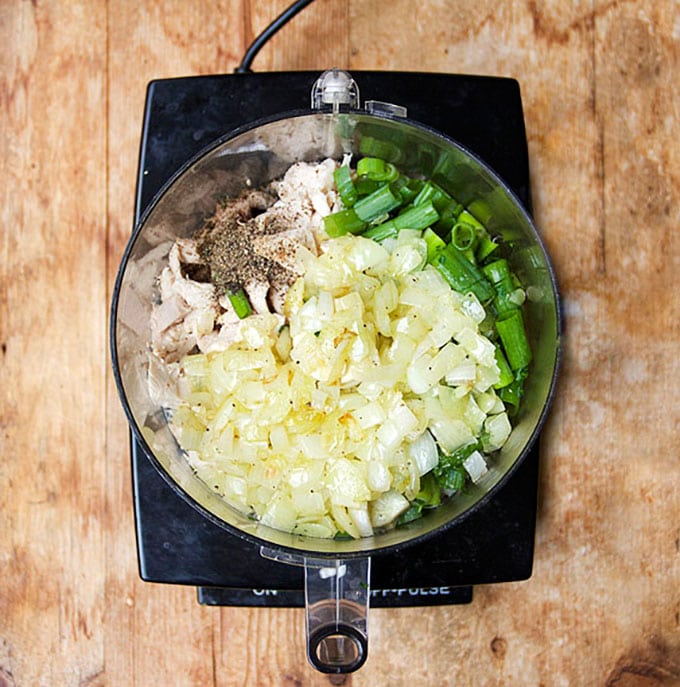 How To Make Kreplach
Set up a kreplach making station: you'll need your turkey mixture, a cutting board or other clean work surface, a small bowl of water for moistening the edges of the wonton wrapper, and a parchment lined tray for for holding the kreplach as you make them.
Use the tines of a fork to seal the seams.
Then all you have to do is cook them in boiling water or soup. They're tender and ready in five minutes!
Now here's a bonus recipe: Quick Potato Knishes
As long as you're in the mode of wrapping leftovers, why not wrap some mashed potatoes?! You'll need larger wrappers – egg roll wrappers. For these giant kreplach that I'm calling "quick knishes" I used leftover mashed potatoes combined with the same turkey mixture I made for the soup kreplach. Knishes are a delicious indulgence! Dip them in mustard or sour cream or even ketchup, if that's your thing!
Make them pretty much the same way you make the kreplach. The only tricky thing about the egg roll wrappers is that they're rectangular, so you can't just fold them point to point. You need to place your filling a bit to the left of center and fold so that the straight edges align. Your fold will leave a little edge exposed to the right. (see below)
Moisten that edge, fold it over, and press down.
Make the same fold on the other side.
Then seal the edges with the tines of a fork and they're ready to be cooked.
I tried pan frying them and I also made a batch in the oven. Both were delicious but the fried ones were the favorites of the recipe testers (my friend Donna and me.) PS: if you're a fan of knishes, check out this mini spinach potato knish appetizer recipe.
Leftovers can be so much more than just something you have to use up so it doesn't go to waste. They are an exciting opportunity.
I also have to admit that sometimes – without any reinvention – I enjoy eating a dish even more the next day than I did the first time. It's especially nice to wake up the morning after a cooking extravaganza like Thanksgiving… in a peaceful house… with a fully packed refrigerator. The cook has had time to rest. The flavors have had the night to meld. It's then great to reconnect with and enjoy all the delicious foods that you worked so hard to cook.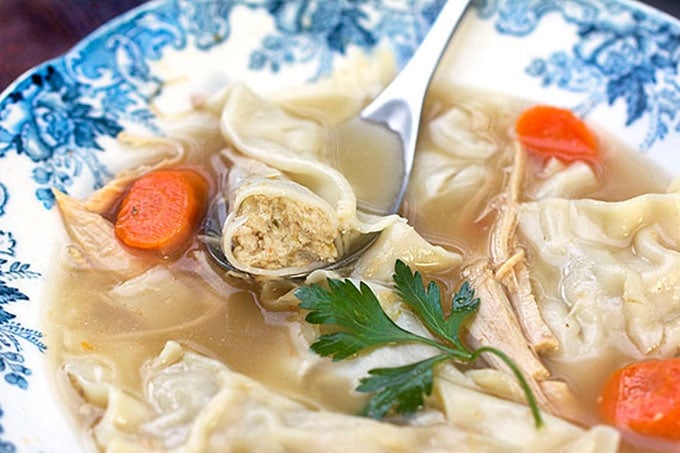 Print
Turkey Kreplach Soup and Quick Potato Knishes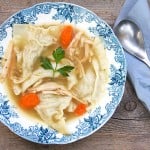 Turn your Thanksgiving leftovers into a delectable turkey soup with turkey stuffed dumplings called kreplach. Also, wrap up leftover mashed potatoes in egg roll wrappers for quick and delicious knishes.
Author: Panning The Globe
Prep Time:

45 mins

Cook Time:

2 hours 30 mins

Total Time:

3 hours 15 mins

Category:

Main Course Soup

Cuisine:

Russian
Scale
Ingredients
Turkey Soup

1

turkey carcass

1

large onion, peeled, halved and thickly sliced

3

carrots, peeled and thickly sliced

2

celery stalks, thickly sliced

1

bunch of parsley, rinsed

1

bunch of dill (optional)

1

bay leaf

5

peppercorns
Kosher Salt
Black pepper or Aleppo pepper
Optional additions:

2

–

3

carrots, peeled and thinly sliced

1 1/2 cup

s or so of shredded turkey meat
Kreplach
Pack of won ton wrappers
Turkey Mixture

2 tablespoon

s olive oil

1

large onion, peeled, halved and roughly chopped

2 cup

s of leftover turkey, shredded or roughly chopped

4

scallions, trimmed and sliced crosswise

2 tablespoon

s roughly chopped parsley leaves
Salt
Pepper

3 tablespoon

s turkey soup or water
Quick Potato Knishes

1

package of Asian egg roll wrappers

4 cup

s leftover mashed potatoes

1/2

of the turkey mixture from above
Canola oil for pan frying
Instructions
Make the Turkey Soup Put the turkey carcass in a large soup pot. (You may have to break it apart to get it to fit.). Add the onion, thickly sliced carrots, celery, fresh herb(s), bay leaf, peppercorns and 1 teaspoon salt. Fill pot with enough cold water to cover all the ingredients by an inch or so. Bring to a boil. Reduce heat to a simmer, and cook for about 2 1/2 hours, uncovered, until the broth is rich and flavorful. Pull out the bones with tongs. Pour the soup through a mesh strainer into a large bowl and then back into the soup pot. Wait a few minutes for the fat to rise to the surface and skim off excess fat with a spoon. At this point you can add a couple of thinly sliced carrots and shredded turkey meat. Simmer them in the soup for about 5 minutes, until the carrots are crisp-tender. Season the soup, to taste, with salt and pepper.
To Make the Kreplach Line a large tray with parchment paper. Heat oil in a small skillet over medium heat. Add the onion and cook, stirring occasional, until soft (don't let it brown), about 7 minutes. Set aside.
Set up your food processor with the chopping blade. Add 2 cups chopped turkey, the sautéed onion, scallions, parsley, 1 teaspoon salt, 1/2 teaspoon pepper, and soup or water. Pulse mixture several times until the ingredients are finely chopped – don't over process or they'll get pasty. Transfer mixture to a bowl. (if you're making potato knishes (below) save half the mixture for the knishes) Set out your bowl, tray, a small bowl of water, a teaspoon, a fork, and the wonton wrappers. Put one wrapper on your work surface. Add a generous teaspoon of turkey mixture to the middle. Moisten the edges of the wrapper with water, using your finger. Fold the wrapper over, point to point, into a triangle, pressing the edges together. Crimp the edges with the tines of the fork. Set kreplach on parchment lined tray. Repeat until you run out of the turkey mixture. You should be able to make about 24 kreplach if you're using the full batch. Keep kreplach in a sealed plastic container or baggie in the fridge until just before you're ready to serve. Cook them in a large pot of salted boiling water for about 5 minutes. Gently transfer them to individual soup bowls, using a slotted spoon. (note: if you cook the kreplach in the soup, they'll absorb a bunch of your soup, so I prefer to cook them separately)
To Make the Knishes In a large bowl stir to combine the mashed potatoes with the turkey mixture. Set out a parchment lined tray, a small bowl of water, and the egg roll wrappers. Place a wrapper on your work surface. Add a scant 1/3 cup of the potato mixture. Moisten the edges of the wrapper with water. Fold, seal and crimp. (as explained in the photos above). Repeat until you've used up all the potatoes. You should have 15-16 knishes.
To Pan Fry the Knishes Pour oil in a large frying pan so it comes up to about 1/8 inch. Heat the oil over medium heat until hot, but not smoking. Cook three or four knishes at a time for 3-4 minutes per side, until golden brown and heated through, adding more oil when needed. You can keep them warm on a tray in a 200F oven. Serve with sour cream, mustard or ketchup.
To Bake the Knishes Preheat the oven to 375F. Place the knishes on two parchment-lined baking trays. Brush them with oil on both sides. Sprinkle them with a little salt and pepper. Bake them for 25-30 minutes or until they're gold brown and heated through.
SUNDAY SUPPER THANKSGIVING LEFTOVERS RECIPES:
Breakfast:
Cranberry Sauce Muffins by The Foodie Army Wife
Leftover Stuffing Breakfast Strata by Ruffles & Truffles
Sweet Potato Casserole Muffins by Magnolia Days
Italian Mashed Potato Pancakes by The Weekend Gourmet
Cranberry Sauce'd Corn Bread Muffins by Rhubarb and Honey
Main Dish:
Leftover Pie by Jane's Adventures in Dinner
Thanksgiving Leftover Waffles by Foxes Love Lemons
Stuffing Hash by The Girl in the Little Red Kitchen
Turkey & Caramelized Onion Risotto by kimchi MOM
Turkey with Creamy Mushroom Marsala Sauce by Casa de Crews
Moroccan Turkey Stew by What Smells So Good
Turkey & Butternut Squash Stew by Cooking Chat
Turkey & Stuffing Crepes by Peaceful Cooking
Cranberry Apple Pecan Chicken Salad by NeighborFood
Herbed Turkey over Cornbread Waffles with Cranberry Sauce by girlichef
Creamy Peanut Gochujang Pasta by Wallflour Girl
Cranberry Sweet Potato Soup by Take A Bite Out of Boca
Turkey Enchilada Pasta Bake by Curious Cuisiniere
Turkey Orzo Risotto by Family Foodie
Turkey Croquettes by Cindy's Recipes and Writings
Side Dishes:
Cheesy Mashed Potato Croquettes by Noshing with the Nolands
Whipped Carrots with Sriracha Butter by Healthy Delicious
Parmesan Mashed Cauliflower and Potatoes by Momma's Meals
Cheesy Jalapeño Potato Cakes by Bobbi's Cozy Kitchen
Sandwiches:
Cranberry & Turkey Sandwich by The Redhead Baker
Monte Cristo Sandwich by Nik Snacks
Hot Brown Turkey Sandwiches by The Life and Loves of Grumpy's Honeybunch
Sprouted Grain Turkey, Cranberry & Brie Panini by Amee's Savory Dish
Turkey Cranberry Flatbread by Peanut Butter and Peppers
Condiments & Sauces:Leftover White Wine Syrup by Food Lust People Love
DIY Yellow Mustard by The Texan New Yorker
Dessert:
Banana Cheesecake with Pecan Graham Cracker Crust by Desserts Required
Cranberry Cream Cheese Bars by That Skinny Chick Can Bake
Gluten-Free Lemon Cake by Hezzi-D's Books and Cooks
Spiced Cranberry Sauce Buckle by The Wimpy Vegetarian

Cocktails & Drinks:
Cranberry Orange Crush by The Messy Baker
Cranberry Bellini by A Kitchen Hoor's Adventures
Join the #SundaySupper conversation on Twitter on Sunday!We tweet throughout the day and share recipes from all over the world. Our weekly chat starts at 7 p.m. ET. Follow the #SundaySupper hashtagand remember to include it in your tweets to join in the chat. To get more great Sunday Supper Recipes, visit our website or check out our Pinterest board.
Would you like to join the Sunday Supper Movement? It's easy. You can sign up by clicking here: Sunday Supper Movement.