Shredded Brussels Sprouts with Crispy Fried Shallots – Adapted from Cooking Light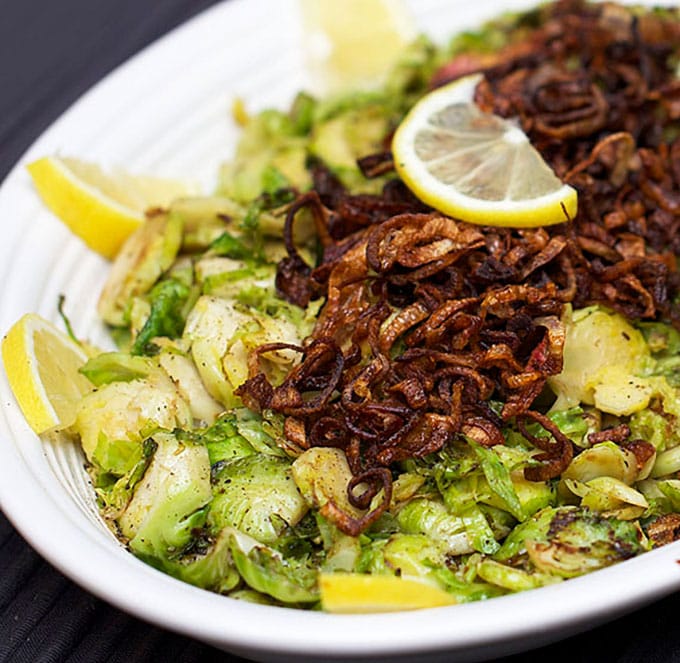 I love when vegetables take center stage.  I'm always on the lookout for great vegetable recipes.  Here's one that I just found in the November Cooking Light Magazine, and I've already made it three times. I plan to make it again for Thanksgiving, if not before: shredded pan-browned brussels sprouts with crispy fried shallots.  
The brussels are sliced thin and seared in a hot skillet – bringing out their natural nuttiness. Then they're tossed with some lemon juice, salt and pepper. The shallots are thinly sliced and slow-fried until they're caramelized and crispy brown.  They sit on top of the brussels, like decadent icing on a healthy cake!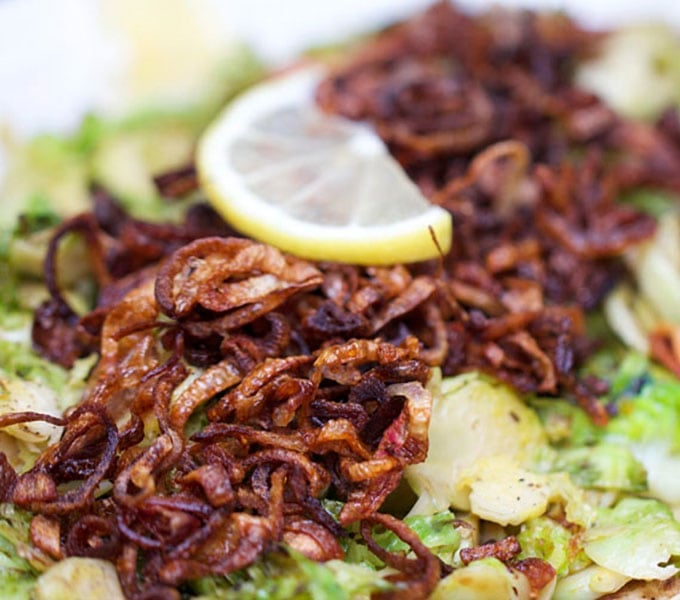 I have a deep love for brussels sprouts and I'm happy to be able to add this delectable dish to my repertoire.  If you love them too, here are two other great brussels recipes to try:  Brussels Sprouts from the UK  and Skillet Brussels Sprouts with Bacon and Sherry .  And if you're a fan of amazing vegetable recipes, follow my Pinterest board – Exceptional Vegetables – where you can enjoy my ever-growing collection of stellar veggie recipes.
Here's the recipe for pan-browned Shredded Brussels Sprouts with Crispy Fried Shallots. If you try this recipe I hope you'll come back to leave a comment. I'd love to know what you think!
Print
Pan-Browned Shredded Brussels Sprouts with Crispy Fried Shallots
An delicious veggie side dish – browned shredded brussels sprouts topped with delectable fried shallots.
Author:
Prep Time:

30 mins

Cook Time:

15 mins

Total Time:

45 mins

Yield:

6-8

Category:

Side Dish
Ingredients
2 1/2 pounds brussels sprouts*, trimmed and thinly sliced (about 8 cups sliced)
3 large shallots, peeled, thinly sliced crosswise, separated into rings (about 2 cups of shallot rings)
1/2 cup canola oil for frying the shallots (don't worry – most of the oil won't make it into the final dish)
2 additional tablespoons canola oil for browning the brussels
2 tablespoons fresh lemon juice
Salt
Pepper
*NOTE: When I suggest starting with 2 1/2 pounds of brussels sprouts, I'm assuming you will trim off the ends of the brussels sprouts and remove some of the damaged, touch outer leaves. After trimming, you should end up with about 8 cups of thinly sliced brussels.
Instructions
Fry the Shallots Set a plate on the counter with a double layer of paper towels on top. In a small skillet heat 1/2 cup oil over medium heat. When it's hot enough to sizzle a shallot ring, add all the shallots. Cook, stirring occasionally, until they are all golden brown, about 10 minutes. Regulate the heat so they fry slowly and don't burn. Use a slotted spoon to transfer them to the prepared plate to drain. Sprinkle them with a pinch of salt.
Cook the Brussels Sprouts Heat 2 tablespoons of oil over medium heat in a large heavy skillet (preferably cast iron), until hot, but not smoking. Add the brussels sprouts and toss to coat them with oil. Cook, tossing occasionally, for 8-10 minutes, until brussels are lightly browned in spots and cooked through, but still crisp. Season them with 1/2 teaspoon salt and 1/2 teaspoon of fresh ground black pepper. Sprinkle lemon juice on top and toss to coat.
To Serve Mound brussels onto a platter. Scatter the shallots on top. Enjoy!