Chicken Yassa is scrumptious West African comfort food that the whole world needs to know about. Delicious tender chicken and lots of caramelized onions in a sweet, spicy, lemony sauce.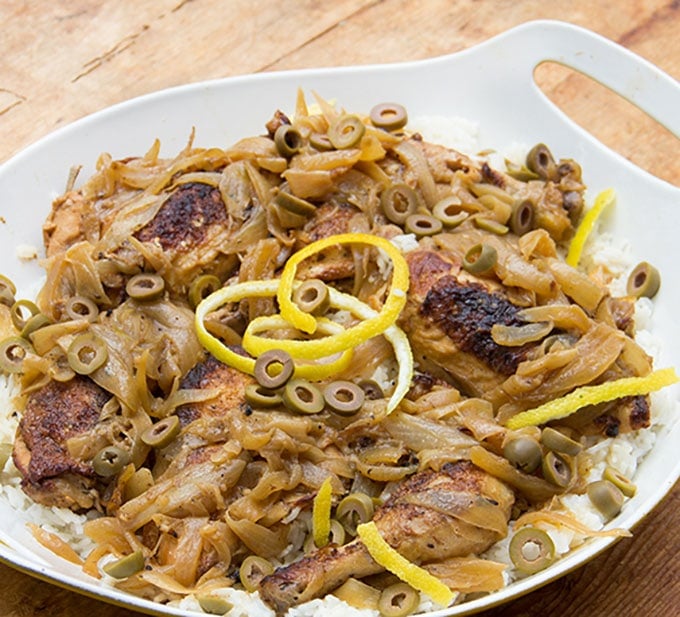 Senegalese Chicken Yassa is a famously popular recipe throughout west Africa. It's one of those simply delicious dishes: just a few ingredients that are transformed, by the magic of cooking, into an exciting and comforting meal: chicken, lots of onions, lemon juice, garlic, dijon and one hot pepper to infuse a perfect amount of kick. After marinating, browning and a slow braise, you get fall-off-the-bone tender chicken and sweet caramelized onions in a captivating sweet-tangy-spicy sauce.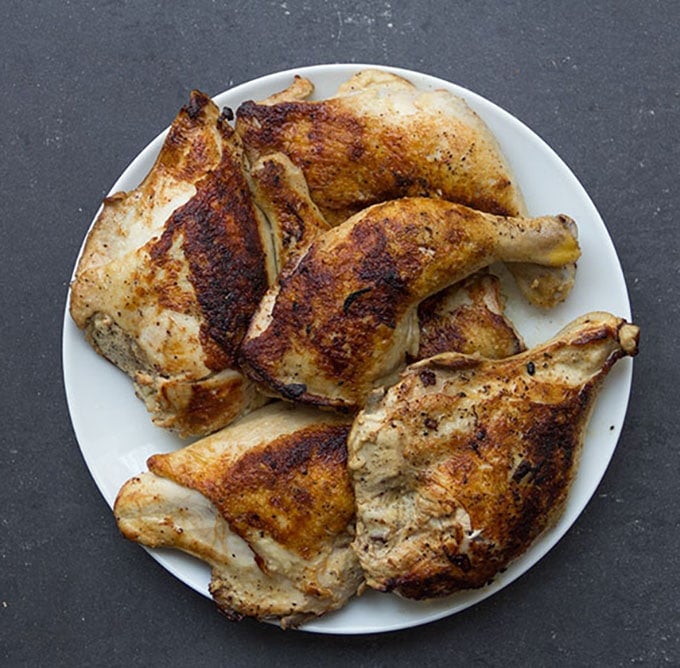 There are several stages to this recipe, each one contributing a delicious layer of flavor to the dish.
First the chicken and onions are marinated with oil, lemon juice, garlic and dijon mustard.  Then the chicken is browned.  This can be done on a grill (the most authentic method), in the broiler, or in a skillet.  I prefer the skillet to the oven for browning chicken.  I would have considered grilling but there's still a mountain of snow between my back door and my grill!
The onions are sautéed in their lemony, garlicky marinade and then mounded on top of the chicken in a heavy pot, along with the hot pepper.  Then into the oven.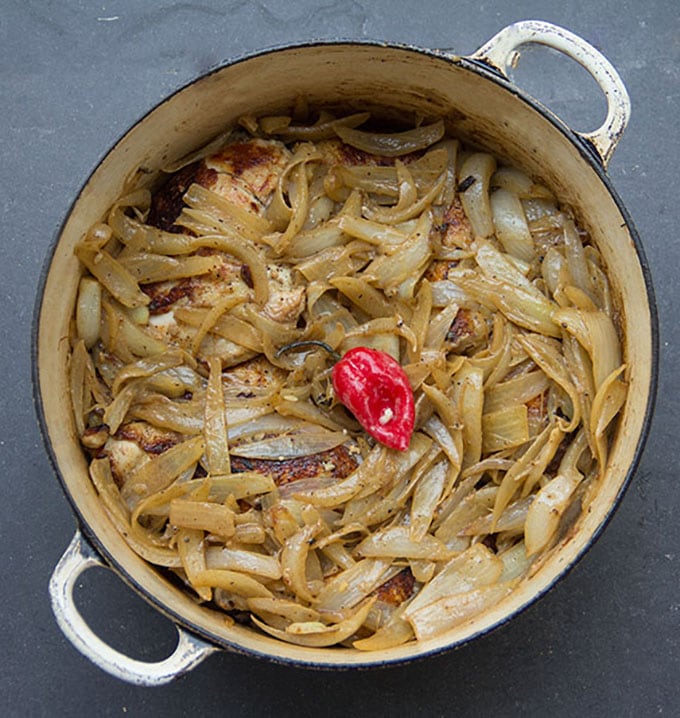 Be careful when you transfer the chicken to a plate or platter because it might fall apart – it's that tender!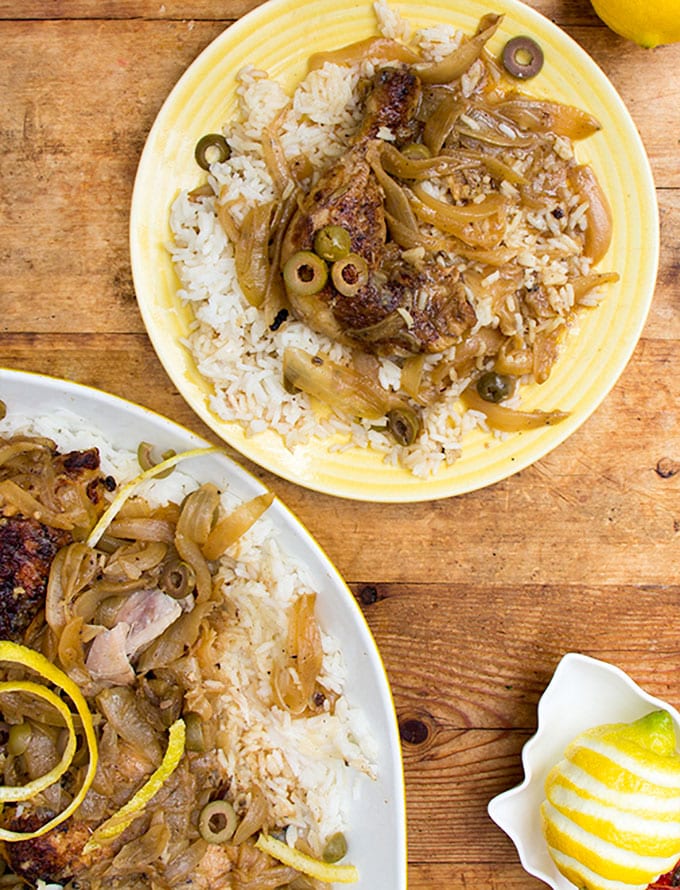 This comforting dish with bright flavors feels just right as the snow here in Boston is starting to melt and the birds are starting to chirp. I hope you enjoy!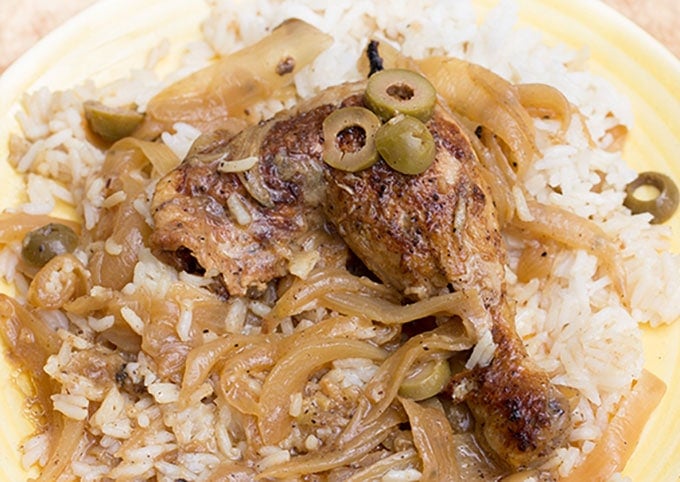 Here's the recipe for Senegalese Chicken Yassa. If you try this recipe, please come back to leave a comment and let me know how you like it.
Print
Senegalese Chicken Yassa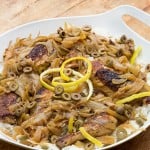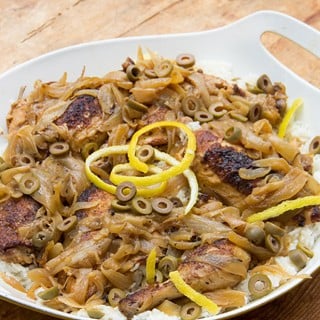 Author:
Prep Time:

30 min + marinating time

Cook Time:

1 hour 30 mins

Total Time:

2 hours

Yield:

6

Category:

Main Course

Method:

Oven

Cuisine:

African
Ingredients
3 chicken leg quarters (leg and thigh)
3 chicken breast halves (bone-in)
5 onions (about 2 pounds) peeled, halved, and thinly sliced
1 habanero or scotch bonnet pepper
Marinade
1/2 cup fresh lemon juice
1/4 cup canola oil or olive oil
2 tablespoons dijon mustard
4 medium garlic cloves, crushed
1/2 teaspoon salt
For Browning and Braising the Chicken
Kosher salt
Freshly ground black pepper
1 tablespoon cooking oil (olive, canola, or grape seed)
1 1/2 cups low-salt chicken broth (I recommend Swanson's)
Garnish 1 cup pitted green olives, sliced
Instructions
Marinate the Chicken: Put the chicken and onions into a large glass bowl. Cut a few slits in the habanero pepper and add it to the bowl. Whisk marinade ingredients in a small bowl and pour on top. Toss to coat. Cover bowl with plastic wrap and marinate in the fridge for at least 3 hours or, preferably, overnight.
Brown the Chicken and Caramelize the Onions: Preheat the oven to 350ºF. Heat 1 tablespoon oil over medium-high heat in a large heavy pot or Dutch oven. Remove the chicken from the marinade and sprinkle pieces with a few pinches of salt and a few grinds of pepper, to taste. Brown chicken on both sides in batches, three pieces at a time, about 5 minutes per batch. Transfer to a plate and set aside. Spoon out some of the chicken fat from the pot, leaving about one tablespoon.
Caramelize the Onions Set the hot pepper aside and scrape the onions and all the marinade into the pot over medium-high heat. Cook, stirring, for about 5 minutes to get the onions hot and cooking. Cover the pot and turn the heat to medium-low. Let the onions cook, stirring occasionally, for about 10 minutes more, until they are soft and starting to caramelize. Regulate the heat so they don't burn.
Use a spatula or wooden spoon to move onions aside, as you lay chicken pieces into the bottom of the pot, and then mound the onions on top of the chicken pieces. Place the hot pepper in the middle of the pot. Pour in chicken broth. Turn the heat to medium high and bring the broth to a simmer. Cover the pot and put it in the oven and cook for 1 hour and 20 minutes.
Serve with fluffy white rice and sliced green olives.
 There are affiliate links in this post