Roasted Brussels Sprouts with Bacon and Dried Cherries. A sumptuous side dish that's worthy of being a main course.
One of my favorite things about our trip to London was our hotel, The Hoxton Holborn. It's not that I didn't love everything else about the trip. Eddie and I had a fantastic time. We packed lots of fun activities into our four days in London: theater, restaurants, museums, long walks… Normally I would come back from a trip and talk mostly about those things. I don't usually (ever) rave about hotels. But this hotel made a strong impression on me. This place has figured out the formula for making people (me) happy. When I thought about why I liked it so much, here's what it boiled down to: comfort, coffee, food, wifi, and water.
I'll start with the food and comfort part. The hotel lobby is fantastic. It's a big inviting lounge with comfy vintage leather couches and rustic wooden tables. It's part of Hubbard and Bell, the hotel's main restaurant. The food is really good. And for those who love a great cup of coffee (me), there's an espresso bar in the lobby grinding and brewing all day long. On the first morning I relaxed on a comfy couch sipping a cappuccino and eating roasted brussels sprouts with bacon and cherries (pictured below). I loved it so much, I had to have it again the next day. When I returned home, I immediately got to work on a copycat recipe for the roasted brussels sprouts dish.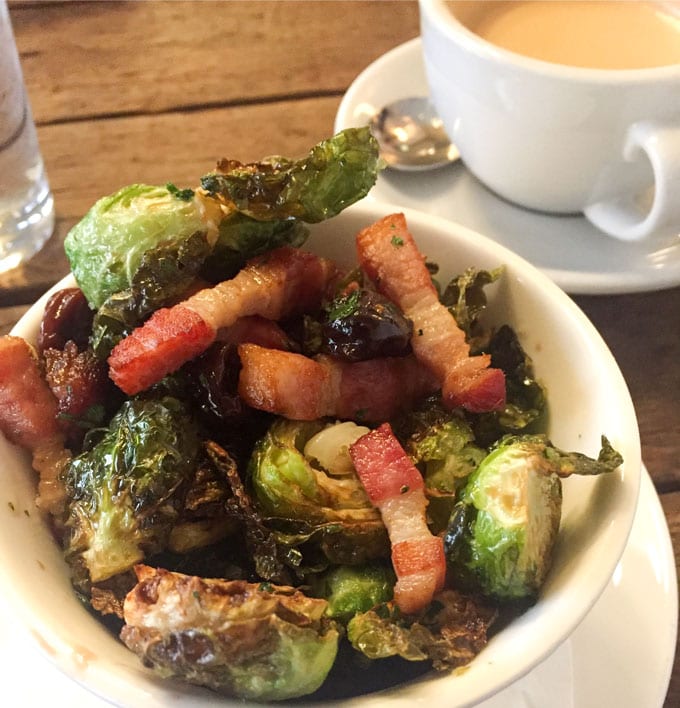 Another incredible dish from Hubbard and Bell was the sourdough toast with avocado, eggs and pistachios. I was dazzled by the sight of those fluffy poached eggs, perched on a bed of creamy avocado with crumbled pistachios and cracked pepper…..by the way, it tastes as good as it looks (photo below)
I'm guessing many of you agree that great food and great coffee are high up on the list of what makes you happy when you travel. The Hoxton has those covered.
But there was more. Free wifi and plugs everywhere. You just walk into the hotel and you're connected to the fasted wifi I've ever experienced – no need to even type in a password. And wherever you're sitting in that big comfortable lounge, an outlet is always at hand, to recharge your phone or do some work on your computer while you sip your latte. (by the way, this is not a sponsored post!)
I can't help but compare the Hoxton to a hotel I recently stayed at in the USA that did not have the "happiness formula." I won't get into a detailed comparison. What stood out the most to me in contrast to the Hoxton was how frustrated I felt when I tried to get onto this other hotel's wifi. First I was instructed to sign into my special club membership or, if not a member, I was told I should join their club to get the wifi. Once I got through the whole joining-the-club process, they gave me a choice between inferior free wifi or better quality wifi that I had to pay extra for. After I made my choice, a screen popped up saying "your wifi will expire in 24 hours." When I finally got my wifi I didn't feel particularly happy. I felt relieved and annoyed.
OK enough ranting. Now back to the raves. So the final thing that won me over about our London hotel was when I went up to the front desk to buy bottled water. They handed it to me and told me bottled water is free. As I said, they figured out the happiness formula: comfort, food, coffee, wifi and water.
Eddie and I were thrilled with our London adventures and we were also happy to return to our hotel for recharging (ourselves and our electronics). And at night the hotel lounge lights went down and the cocktails started flowing – another happy thing 🙂
One more thing I'm very happy about is that I developed a great recipe for roasted brussels sprouts with bacon and dried cherries.
Here's how the recipe goes: slice the brussels in half and toss them with olive oil and salt. Roast them in a hot oven for 20 minutes.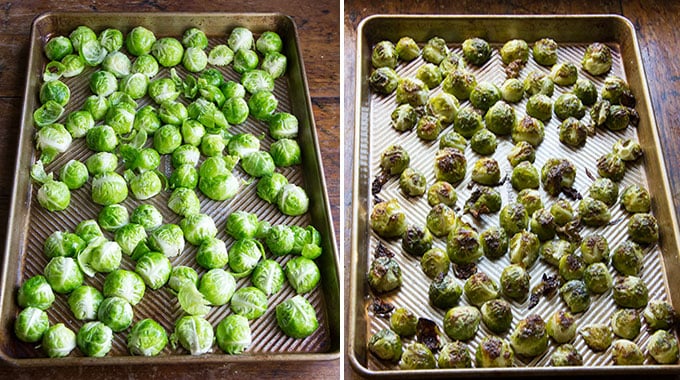 While the brussels are roasting, sauté the bacon in a large skillet. When the bacon is cooked, stir in the cherries and heat them until they're warm and tender. Toss the roasted brussels in the pan with the bacon and cherries. Add olive oil and balsamic and cook for a minute or two to heat everything up and let the flavors meld. Season, serve and enjoy!
By they way, Hubbard and Bell lists this as a side dish. I agree it makes an awesome side dish but it also works as a main. In London I had it for breakfast one morning and for lunch one afternoon.
I hope you'll try this delicious recipe for roasted brussels sprouts with bacon and cherries. And if you do, please come back and leave a comment to let me know what you think.
Print
Roasted Brussels Sprouts with Bacon and Dried Cherries
Scrumptious oven-roasted brussels sprouts, finished in a skillet with dried cherries and thick sliced bacon. A side dish that's worthy of being a main.
Author: Panning The Globe
Prep Time:

15 mins

Cook Time:

30 mins

Total Time:

45 mins

Yield:

5

-

6

1

x
Category:

Side Dish

Cuisine:

United Kingdom
Scale
Ingredients
1 1/2

pounds of brussels sprouts trimmed and sliced in half

3/4

pound of slab bacon or thickly sliced bacon, cut across the grain, into

1/4

-inch thick strips

1 cup

of dried sour cherries (I used the kind that are sweetened with sugar)

4 tablespoon

s olive oil, divided

3 tablespoon

s balsamic vinegar
Sea salt or kosher salt
Freshly ground black pepper
Instructions
Preheat the oven to 425ºF
In a large bowl, toss the brussels sprouts with 2 tablespoons of olive oil and 1 teaspoon of salt. Spread them out into a single layer on a baking pan, cut side down. Cook for 20 minutes. Brussels should be browned in areas. Remove the pan from the oven and set aside.
While the brussels are roasting, cook the bacon in a large skillet (preferably cast iron) over medium heat, until tender and cooked through, about 10 minutes. (regulate the heat so the bacon doesn't get too crisp – you want it to cook slowly so it will be tender). Spoon out all but 2 tablespoons of fat from the skillet. Turn the heat to low. Add the cherries and cook, tossing, for 30 seconds or so, until the cherries soften. Add roasted brussels to the skillet along with the remaining two tablespoons of olive oil and the balsamic vinegar. Cook, tossing, for 2-3 minutes to heat everything up and meld the flavors. Season with salt and pepper, to taste. Serve hot.