Indian Lamb Biryani is a casserole of tender lamb curry and fragrant saffron rice. Two outstanding dishes combined into one company worthy casserole. Serve with cooling cucumber raita on the side.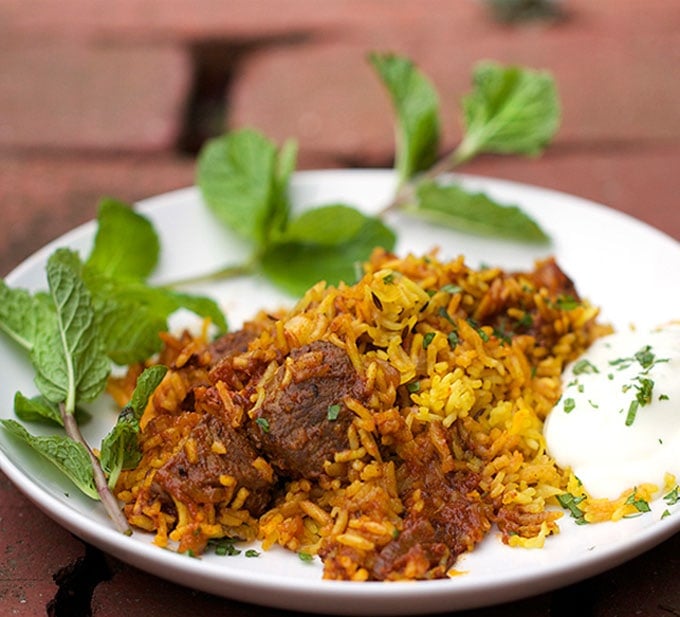 I had a very biryani week. Biryani is an Indian curry and rice casserole that I've been hearing about, thinking about, maybe even dreaming about - for a long time. Finally, this past week, I immersed myself in it. It started when I was invited by a friend to take a cooking class at Whole Foods and I got to choose the dish we cooked. I picked biryani. We learned to make a very tasty, quick biryani with boneless chicken and precooked rice.
After that I came home and pulled every international cookbook and Indian cookbook off my shelves... I scoured the internet....and the cooking began. My (poor? lucky?) family had Biryani for dinner three nights in a row - lamb, chicken, lamb. The lamb biryani was the unanimous winner. This is definitely not of the "quick and easy" genre of recipes, but it's SO worth the effort!
This lamb biryani recipe consists of two distinct dishes - succulent lamb curry and aromatic rice. Each component is delicious in its own right, and then the two are layered together in a casserole and baked.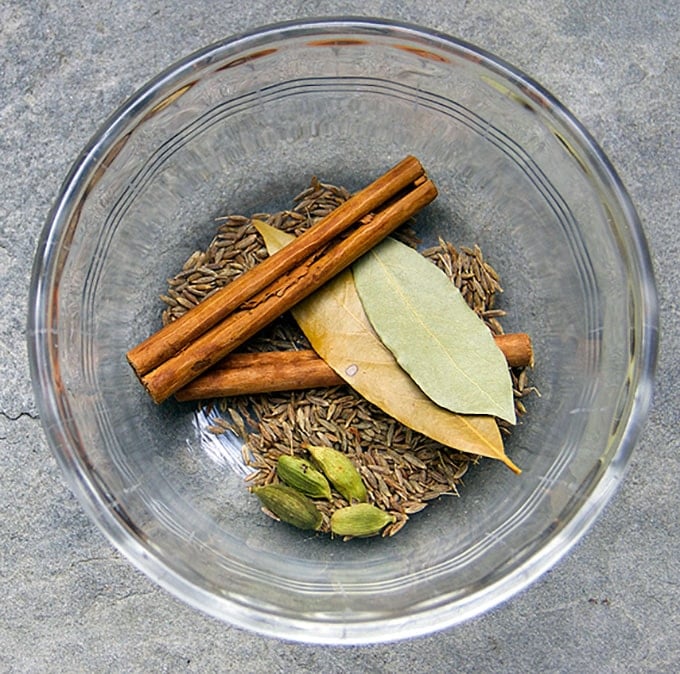 Saffron is one of the key flavors in Indian Lamb Biryani. It's a beautiful, aromatic spice, that consists of the delicate stigmas of a crocus flower. It's a very popular spice in Indian cuisine.
In this dish, saffron is used to infuse the rice with a beautiful yellow-orange color and that unique and exotic saffron flavor that words can't describe. (Some say it tastes like a combination of honey and straw, but I don't think that description does it justice.)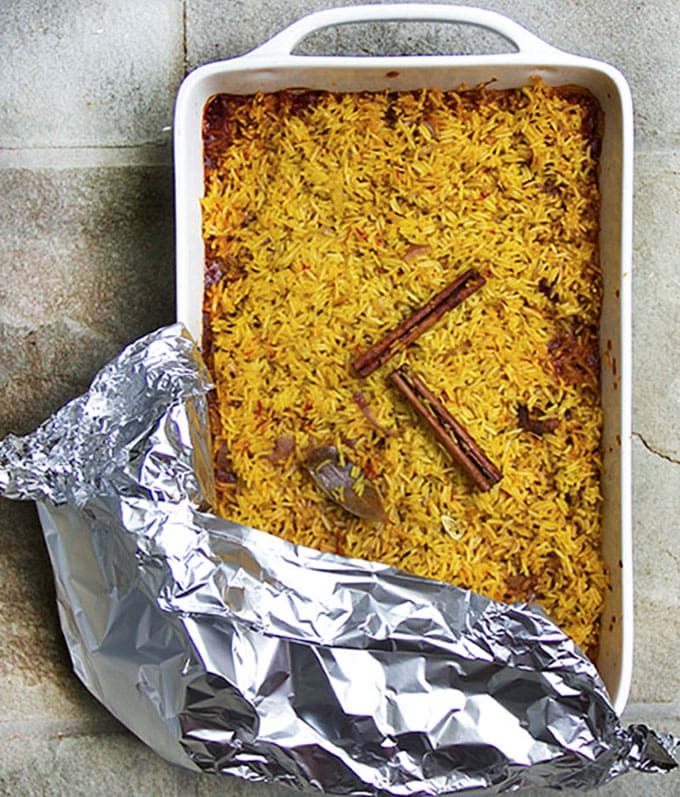 Saffron is one of the world's most expensive spices but luckily it only takes a little bit to flavor the whole lamb biryani casserole.
This Lamb Biryani recipe is packed with deep and exciting flavors and a good amount of heat. It's definitely dinner-party worthy!
I think it's important to serve Lamb Biryani with a cooling, creamy, cucumber-mint raita to complement the heat of the dish. Your palate will thank you!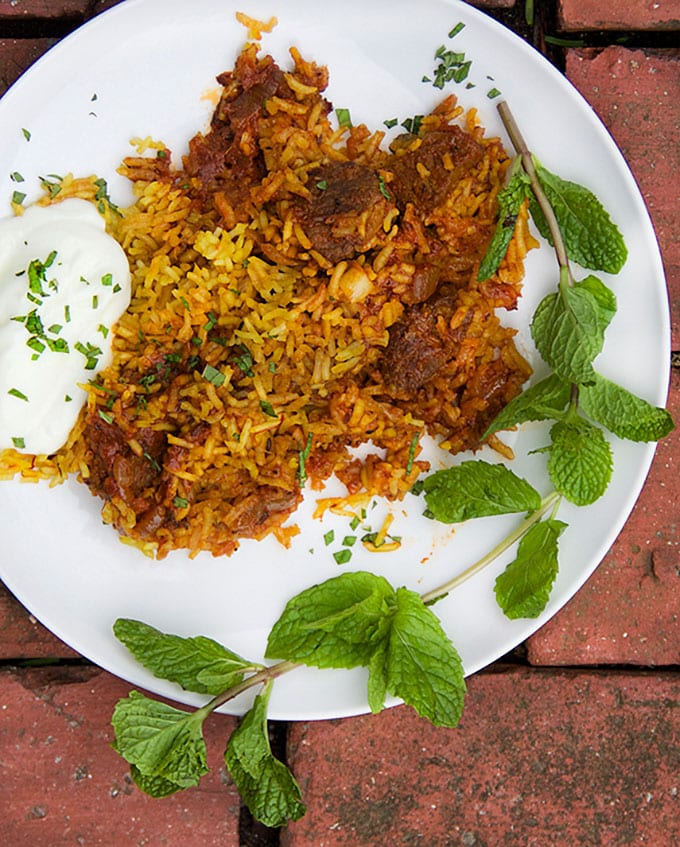 Here are a few more delicious Indian Recipes to try:
Here's the Indian Lamb Biryani Recipe. If you try this recipe, I hope you'll come back to leave a star rating and a comment. I'd love to know what you think.
Print
Indian Lamb Biryani Recipe
---
Author:

Lisa

Total Time:

2 hours 30 mins

Yield:

6

-8

1

x
Description
Adapted from many sources but mostly from 600 Curries by Raghavan Lyer
Sumptuous casserole of tender lamb curry with saffron spiced rice with cucumber-mint raita on the side.
---
2

pounds boneless leg of lamb, fat trimmed off, cut into

1

-inch cubes
MARINADE INGREDIENTS for the lamb:

5 tablespoons

peeled and roughly chopped fresh ginger root (5-inch by

2

inch piece or something comparable.)

6

-

7

large garlic cloves, roughly chopped (about

3 tablespoons

)

½ teaspoon

kosher salt
A few grinds of fresh ground black pepper
SOAKING THE RICE Ingredients:

2 cups

basmati rice (Indian is best)
CURRY SAUCE Ingredients

3 tablespoons

olive oil

2

medium red or yellow onions, peeled, halved and thinly sliced

2

15-ounce cans tomato sauce

¼

to

¾

teaspoon ground cayenne pepper (depending on how hot you like it)

1 tablespoon

paprika (sweet, not hot)

2 teaspoons

kosher salt

1 teaspoon

ground turmeric

1 teaspoon

garam masala
Ingredients for PRE-COOKING THE RICE

2 tablespoons

ghee or butter

2 teaspoons

cumin seeds

4

cardamom pods

2

dried bay leaves

2

cinnamon sticks

1

red onion, peeled, halved and thinly sliced

½ teaspoon

(heaping) of saffron threads (about

1 gram

or .

04 ounces

)

2 teaspoons

kosher salt
CUCUMBER RIATA

2 cups

plain yogurt

1

cucumber, peeled, halved lengthwise, seeds scraped out with a spoon, and grated or finely chopped.

½ cup

chopped mint leaves (plus some for garnish, if you like)

1

garlic clove, pressed or finely minced

1 teaspoon

cumin seeds, toasted in a dry pan over high heat for a few seconds, until fragrant (if you're short on time, you can use

½ teaspoon

ground cumin)

½ teaspoon

kosher salt
---
Instructions
MARINATE THE LAMB: Put the chopped ginger and garlic into the bowl of a food processor and pulse a couple of times. Scrape down the sides. Add 3-4 tablespoons of water. Pulse until you get a paste, scraping down the sides of the bowl as needed. (If you do this in your blender, add the water right away - expect lots of scraping down the sides) In a medium sized bowl mix the lamb with the garlic-ginger paste, salt and pepper. Cover and refrigerate for a half hour or so. (more is fine)
RINSE and SOAK the RICE: Put rice in a large bowl. Fill the bowl halfway with cold water. Swish rice around for a few seconds and pour off the cloudy water. Repeat 3 or 4 times, until the water is fairly clear. Cover rice with cold water by 2 inches and set it aside to soften for an hour. Drain.
START THE SAUCE: While the lamb is marinating and the rice is soaking, start the sauce. In a large heavy pot or a deep skillet with a cover, heat the 3 tablespoons of oil over medium high heat. Add the onions and cook, stirring occasionally, until they are nicely browned and caramelized - about 15 minutes. Regulate the heat so they don't burn. Sprinkle them with a pinch of salt and a few grinds of pepper. Transfer them to a large plate or bowl and set aside. (no need to clean the pot yet - keep it out to brown the lamb)
Mix the sauce ingredients together in a small bowl: tomato sauce, cayenne, paprika, salt, turmeric and garam masala. Set aside while you brown the lamb.
BROWN THE LAMB: In the pot you used for the onions, heat 2 tablespoons of oil over medium high heat. Add half the lamb with its garlic-ginger coating, and cook for about 5 minutes, tossing occasionally, until the pieces are browned on all sides. Transfer to the plate with the onions. Brown the rest of the lamb, adding more oil, if necessary. Once the second batch of lamb is browned, return the other lamb and the onions back to the pot. Pour in the sauce. Stir, scraping the bottom of the pot with a wooden spoon to release the browned bits of lamb into the sauce. Bring to a simmer. Cover and cook for 25-30 minutes, until the lamb is nice and tender. Remove from the heat.
PRECOOK THE RICE: While the lamb is simmering, heat 2 tablespoons of ghee or butter in a medium sized saucepan. Add the spices: cumin seeds, cardamom pods, bay leaves, and cinnamon sticks. Cook until they sizzle a bit and you can smell the cumin toasting - about 30 seconds. Add the onion and cook, stirring frequently, for 3-4 minutes, until it starts to brown. Add the saffron and cook stirring, for about 30 seconds, until the saffron releases its color and aroma. Add the drained rice and toss to coat. Pour in 2 cups cold water and 2 teaspoons salt. Stir to combine. Bring to a boil. Lower to a simmer and cook for 5-6 minutes, uncovered - until all the water has evaporated. Remove from the heat.
ASSEMBLE THE BIRYANI for baking Preheat the oven to 350ºF. Spread half the lamb curry in the bottom of a medium-sized casserole dish. Cover with half the rice. Repeat the layers. Cover the casserole with the lid or with a double layer of foil. Bake for 35-40 minutes. Serve with cucumber raita (see below)
CUCUMBER RAITA: Combine all the ingredients. Cover and refrigerate until needed.
*Note: The bay leaves, cinnamon sticks and cardamom pods are not meant to be eaten. Remove them or tell people to be on the lookout for them.
Prep Time:

1 hour 30 mins

Cook Time:

1 hour

Category:

Main Course - Dinner

Method:

stove top, oven

Cuisine:

Indian
Keywords: Lamb Biryani, Indian Lamb and Rice Casserole