If you don't already love butternut squash, this very simple savory roasted butternut squash recipe will win you over. Butternut squash cubes are oven roasted and then tossed with garlicky olive oil, salt, pepper and fresh parsley. A hearty, perfect-for-Fall side dish, that will complement whatever you're cooking, whether it's a simple weeknight dinner or a fancy holiday feast.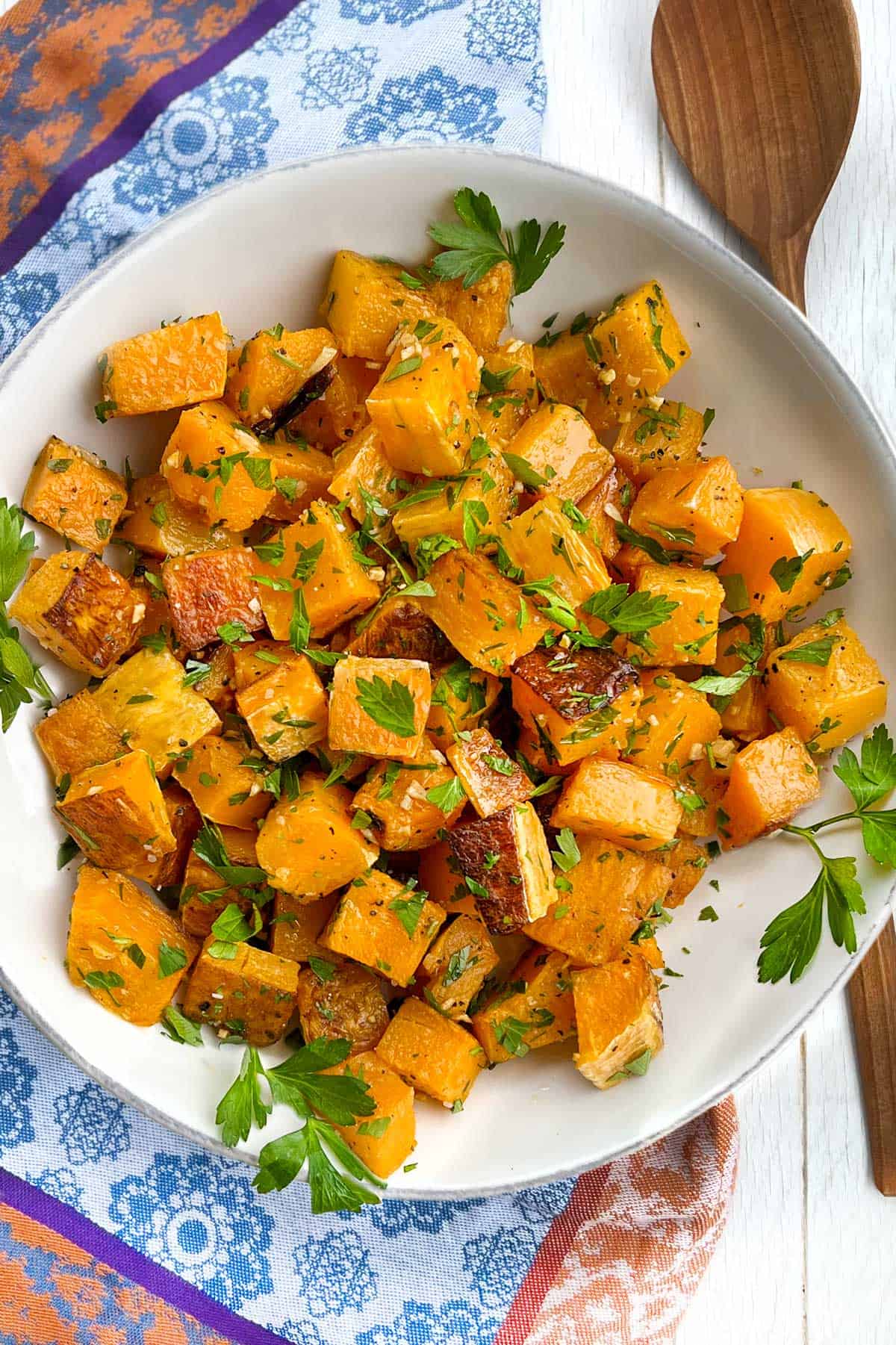 Butternut squash is my favorite winter squash. With its vivid orange flesh, smooth, sweet, nutty flavor and versatility, butternut squash is delicious in a wide variety of seasonal dishes.
I love using it for soup, for this rich beef short ribs stew and this light chicken and lentil stew and this Jamaican curry chicken stew, and I love it roasted and stuffed into acorn squash with other vegetables.
Roasted Butternut Squash
One of the simplest and best things to do with butternut squash is to simply cut it into cubes and roast it. It takes about a half hour at 400ºF/200ºC to roast butternut squash cubes to perfection - sweet, tender and caramelized around the edges - delicious.
Most recipes you will find in cookbooks and on the internet will give you this same oven temperature and timing for roasting butternut squash cubes. What makes this recipe different is what happens after the squash is roasted....
A Great Roasted Butternut Squash Recipe
This recipe has two parts. Step one tells you how to roast butternut squash - an easy technique that's worth mastering. Step two tells you how to make an oil, garlic and parsley topping to toss the squash with after it comes out of the oven - simple and delicious.
This recipe comes from chef Alice Waters, adapted from a recipe in her Chez Panisse Vegetables Cookbook. Waters is a renowned expert on cooking fresh, in-season vegetables. Her recipes are healthy, wholesome and never overly sweet (my kind of cooking). I knew if I wanted to find the best savory roasted butternut squash recipe, she would be a great source.
But before we get into how to cook the squash, let's talk about how to peel it and cut it.
How to prepare butternut squash for roasting
I used to be daunted by the thought of peeling and cutting a butternut squash. I would search the stores for pre-peeled, pre-cut squash. However, once I dove in and tried doing it myself, I realized it's actually pretty easy. I have some good tips to share with you that will make the whole process go smoothly. Here's how to do it:
First, use a large sharp knife to cut off the ends of the squash. You won't need them, plus cutting them off gives the squash a stable base so you can stand it up and cut it in half more easily.
Next, use a standard vegetable peeler to peel off the outer skin. This is surprisingly easy to do considering how hard the skin is.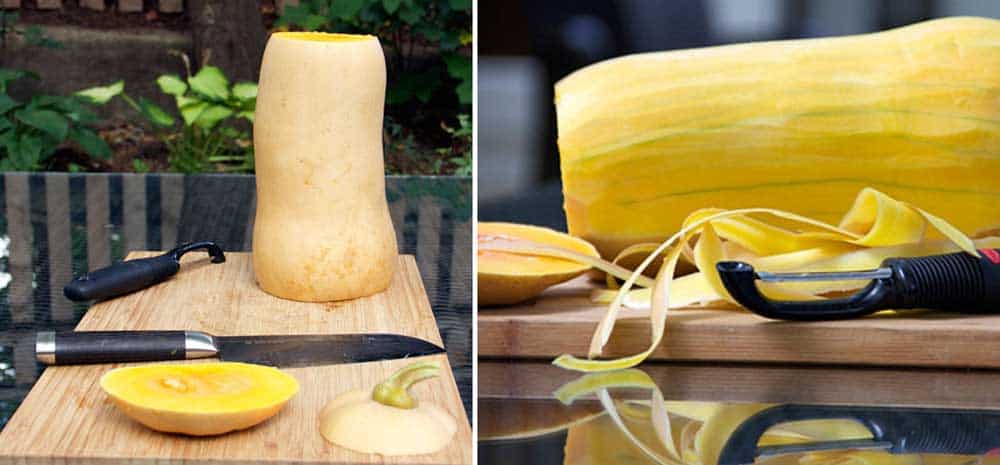 Next, stand the squash up with its wider end down on the cutting board and, starting at the top, cut strait down, see-sawing your knife, to slice the squash in half.
Once it's halved, you'll see a small cavity filled with strings and seeds. Scrape those out using a tablespoon. You won't need them for this recipe.
Finally, cut the squash into cubes for roasting. For this recipe I like large, 1-inch cubes, because the squash roasts up nice and brown in spots, yet it doesn't fall apart or get mushy. To do this, lay a squash half on your cutting board and make 1-inch slices crosswise. Then cut each slice into cubes. (see example below right)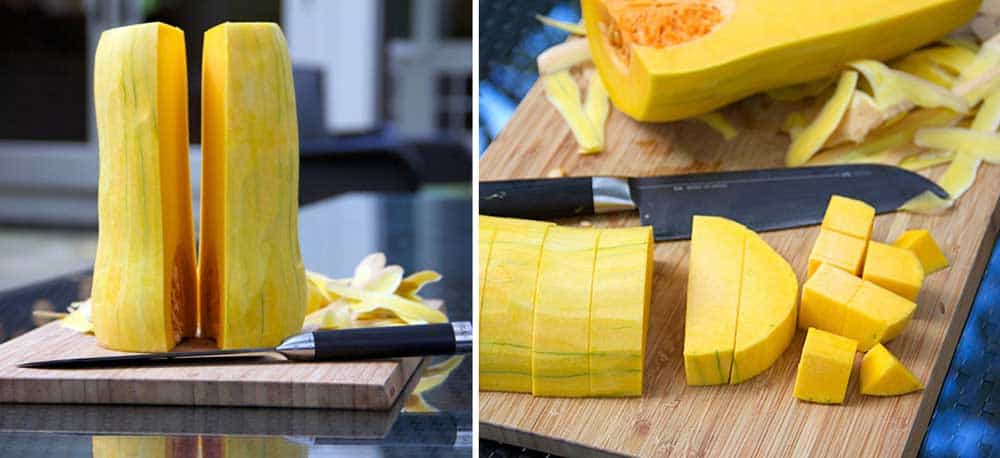 Now let's get roasting
Preheat the oven, toss the squash cubes with olive oil, salt and pepper, spread them out on a rimmed baking sheet, and pop them in the oven. A half hour in the oven and the hard raw squash becomes tender, sweet, nutty and caramelized.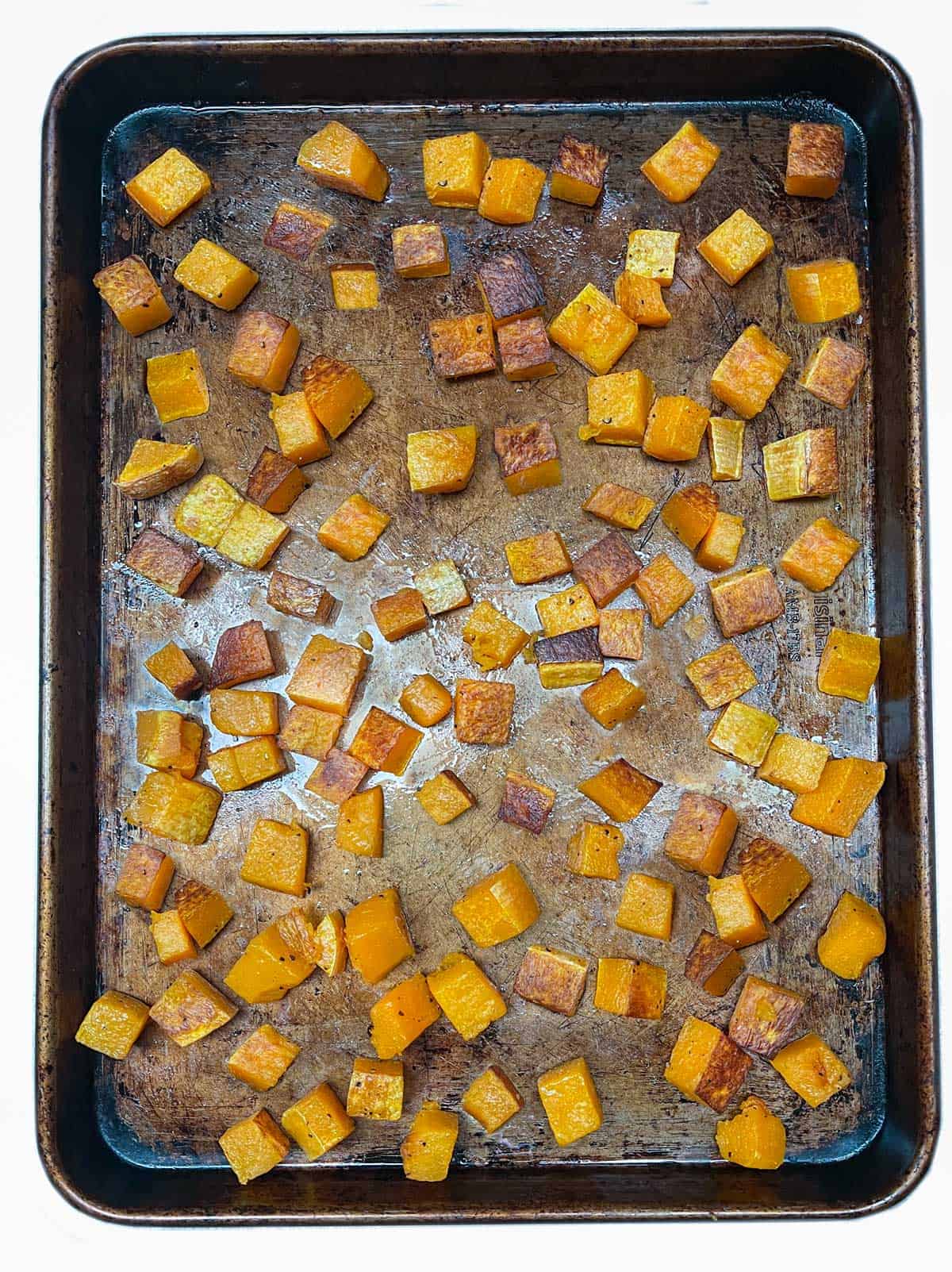 While the squash is in the oven you'll have plenty of time to prepare the garlicky topping.
You'll need some olive oil, a tablespoons of finely chopped garlic, and a couple tablespoons of chopped parsley, plus some salt and pepper. To make the topping, heat the oil and the garlic and simmer gently until the garlic is tender.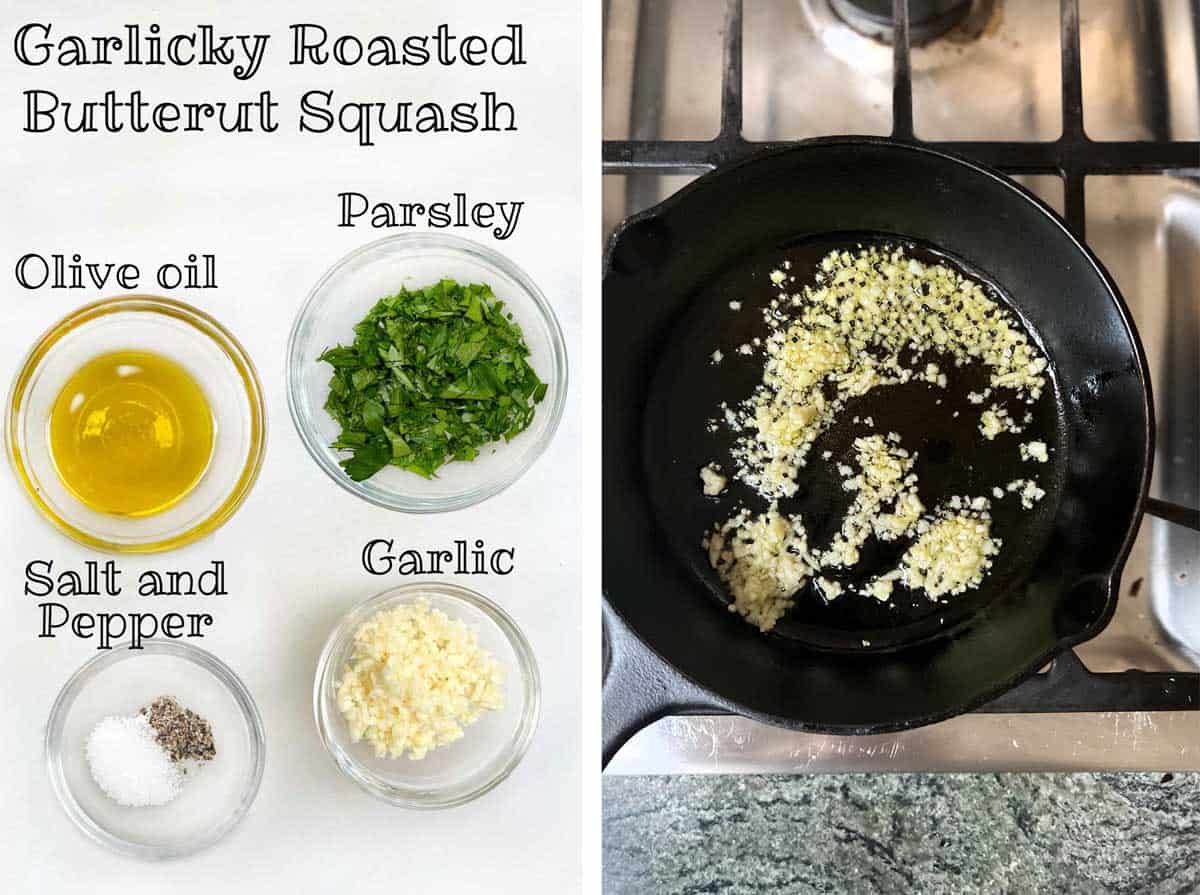 When the squash is roasted, toss it in a bowl with the garlicky oil, parsley, salt and pepper. Serve and enjoy!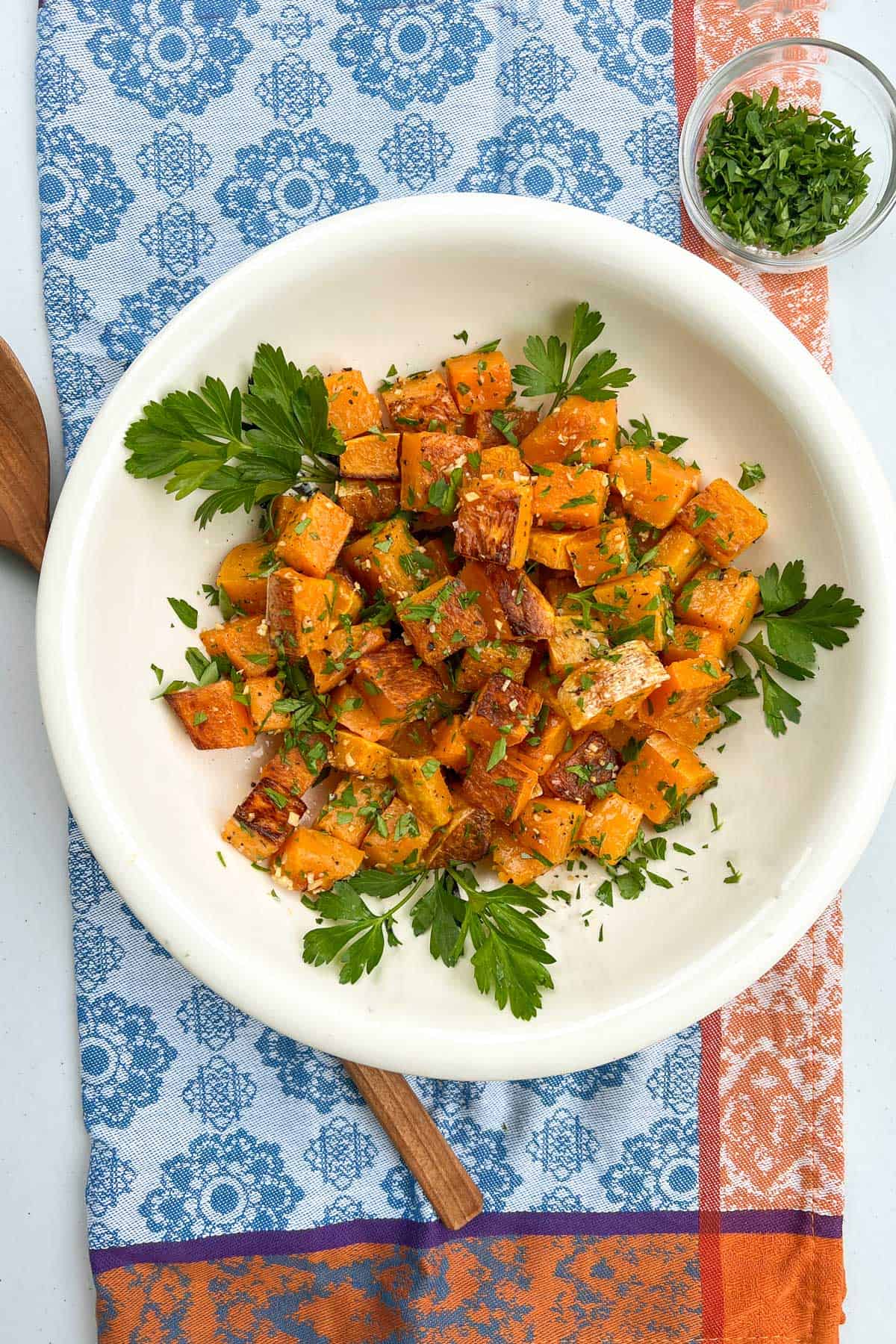 If you make this roasted butternut squash recipe, I hope you'll come back to leave a star rating and a comment. I'd love to know what you think!
Print
Roasted Butternut Squash Recipe
---
Author:

Lisa

Total Time:

45 mins

Yield:

5

-6

1

x
Description
Simple, delicious roasted butternut squash cubes tossed with garlicky olive oil and parsley makes a perfect fall and winter side dish.
Adapted from a recipe in Chez Panisse Vegetables
---
1

large butternut squash (about 3 pounds), peeled, halved, seeded, cut into 1-inch cubes (

8 cups

of squash cubes)

4 tablespoons

olive oil, divided

½ teaspoon

kosher salt plus more, to taste

¼ teaspoon

fresh ground black pepper plus more, to taste

1 tablespoon

finely minced garlic (

3

medium cloves)

3 tablespoons

finely chopped parsley leaves
---
Instructions
Preheat oven to 400ºF/200ºC
In a large bowl, toss squash cubes with 2 tablespoons olive oil, ½ teaspoon salt and several grinds of black pepper. Spread squash out evenly on a baking sheet and roast for 20 minutes. Toss and roast for another 10 minutes or so, until squash is lightly browned in spots and cooked through.
While the squash is roasting, heat remaining 2 tablespoons olive oil in a small non-stick skillet, over low heat. Sauté the garlic for a minute or two, until it's soft and fragrant. Be careful not to let it brown. Put the roasted squash cubes in a large mixing bowl and pour the sautéed garlic and oil over it. Sprinkle parsley on top and toss gently. Season, to taste, with salt and pepper. Serve hot or at room temperature.
Prep Time:

15 mins

Cook Time:

30 mins

Category:

Side Dish

Method:

Roast

Cuisine:

Vegetarian
Keywords: roasted butternut squash cubes with garlic and parsley
This post originally appeared on Panning The Globe on September 21, 2014. It has been refreshed and republished on October 19, 2022 with new photos, more pertinent information, and a new recipe title. The previous title was "Garlicky Roasted Butternut Squash."