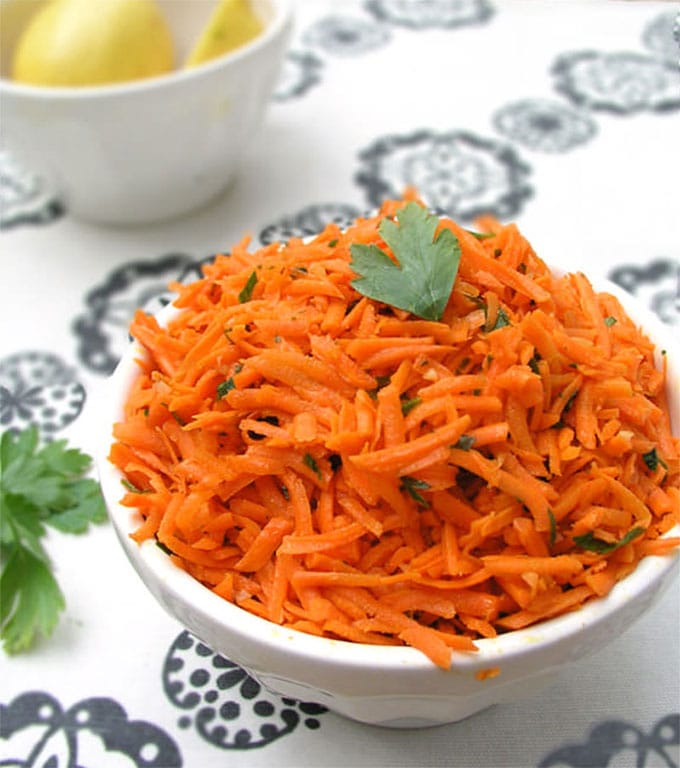 Sometimes you don't have to work that hard to make something great.  This Moroccan raw carrot salad is an extremely simple dish that can be thrown together in minutes and it's healthy, beautiful and delicious.  Serve it as a colorful, piquant side dish with lamb, beef or fish.  Or serve it as a luncheon salad, over lightly-dressed greens with crumbled Feta cheese on top.
I hope you all had an enjoyable Thanksgiving – a break from work, some time with family, and lots of delicious food. The Thanksgiving feast always satisfies my appetite for the rich hearty comfort food of the season.  It probably has to do with the combination of sunlight deprivation and an evolutionary need to bulk up for the cold winter that leads many of us to crave heavy, rich, warm and inviting dishes.  I'm looking forward to many wonderful roasts and stews in the coming months, but I'm also happy to have this healthy festive salad to throw into the mix.
MOROCCAN RAW CARROT SALAD
Bright in color and flavor: a fresh salad of shredded carrots, dressed with olive oil, lemon juice and Moroccan spices
Author:
Panning The Globe
Recipe type:
Salad, Side Dish
Ingredients
Carrots
2 pounds carrots, peeled and shredded in a food processor.
3 tablespoons chopped flat leaf parsley plus a few sprigs for garnishing
Dressing
¼ cup extra virgin olive oil
⅓ cup fresh lemon juice (about 1½ lemons)
2 garlic cloves, finely chopped (1 teaspoon)
1 teaspoon salt
1 teaspoon ground cumin
⅛ teaspoon cayenne pepper
Parsley sprigs to garnish
Instructions
Put shredded carrots and chopped parsley in a large bowl
Make dressing Whisk lemon juice and spices. Keep whisking while slowly adding the olive oil to emulsify the ingredients.
Toss dressing with shredded carrots and parsley. Chill for an hour in the fridge and let flavors merge. Enjoy!
Note: This salad can be stored in an airtight container in the fridge for several days.