This delicious pork roast with sauerkraut apples and onions has just 5 ingredients and takes only 20 minutes of prep. It comes out of the oven tender and flavorful, with with lots of delicious gravy.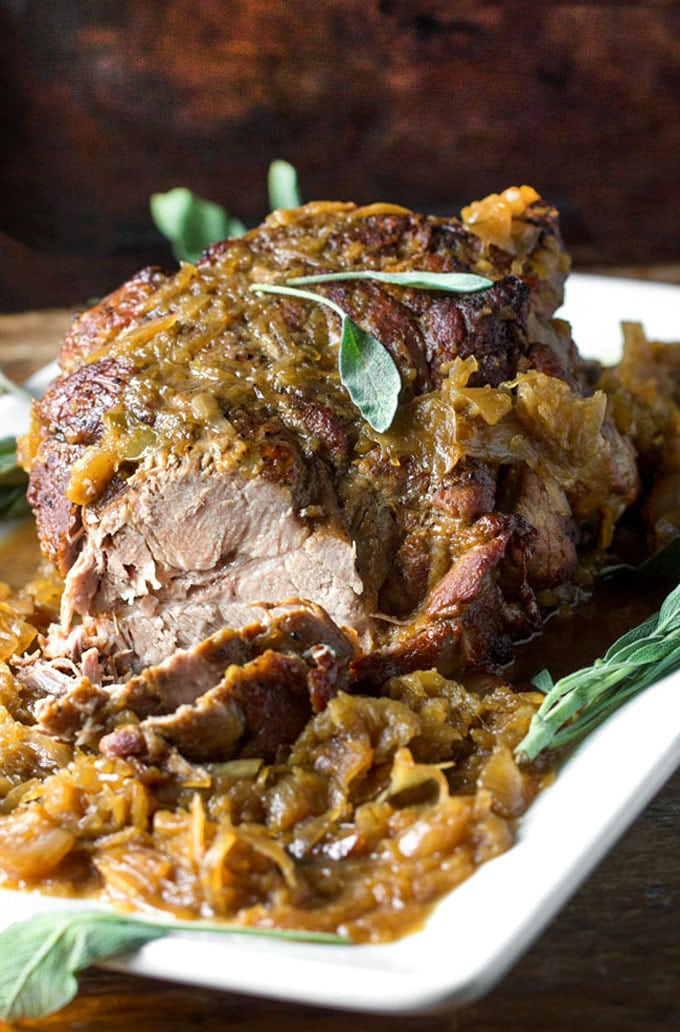 I've rediscovered the magical powers of my oven making this pork roast. In goes a huge hunk of raw meat, with shreds of sauerkraut, sliced onions, wedges of green apple and cider syrup. Two and a half hours later, out comes the most tender delicious roast of pork with an abundance of golden sweet and sour gravy, calling out for mashed potatoes to soak it all up.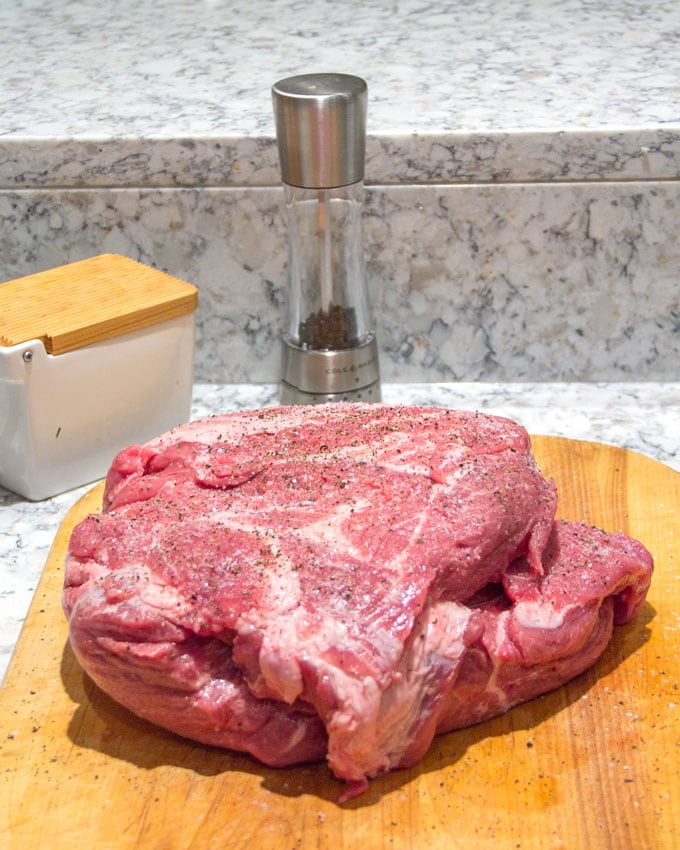 Pork and sauerkraut are meant for each other. They're paired frequently in savory soups, stews and roasts throughout Eastern Europe and in pockets of the USA. There are reasons why pork and sauerkraut are so commonly found in the same pot. It's not just about the taste. Some people believe that eating pork with sauerkraut brings good luck. That's why, for some, it's a ritual to eat pork with sauerkraut to celebrate the new year. It bodes well for good luck and blessings to come in the year ahead.
The 'good luck ahead' theory comes from the fact that pigs root in the dirt with their snouts moving in a forward direction. The concept of moving forward and making progress in the new year, combined with the fact that pigs are robust and get plenty of food, implies a future of wealth and prosperity.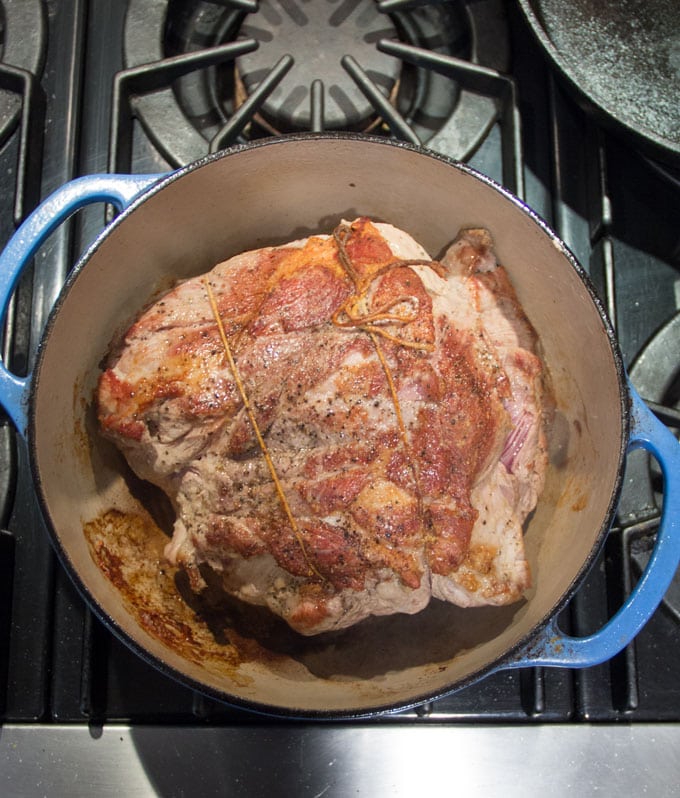 Sauerkraut is also symbolic of good things to come. In Germany people wish each other as much happiness and prosperity as the number of shreds of sauerkraut in the pot.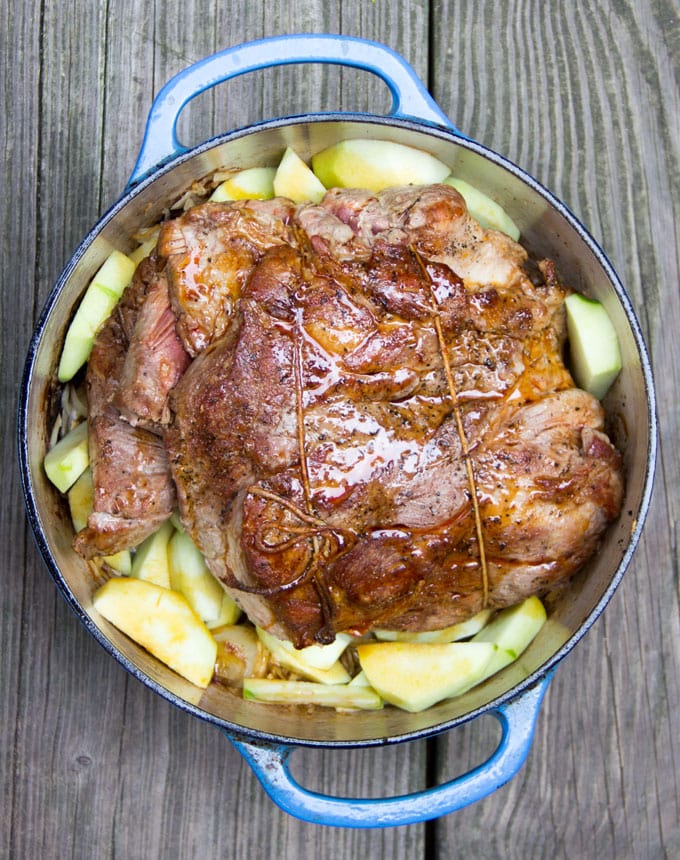 While my family never considered pork and sauerkraut to be good luck, we did have our own tradition around eating it. When I was a kid, my mother was often on a diet and watching her weight. Mom's big, once a year treat, on her birthday, was to eat a hot dog with sauerkraut and mustard from the Sabrett hot dog cart in Central Park (NYC). She considered that the ultimate birthday splurge. We'd walk over to the park together. I'll never forget how excited I was for that dripping wet hot dog nestled into a bun with sauerkraut and a long wiggly line of Gulden's mustard.
My tastes have evolved and expanded over the years but I still love a good hot dog with mustard and sauerkraut.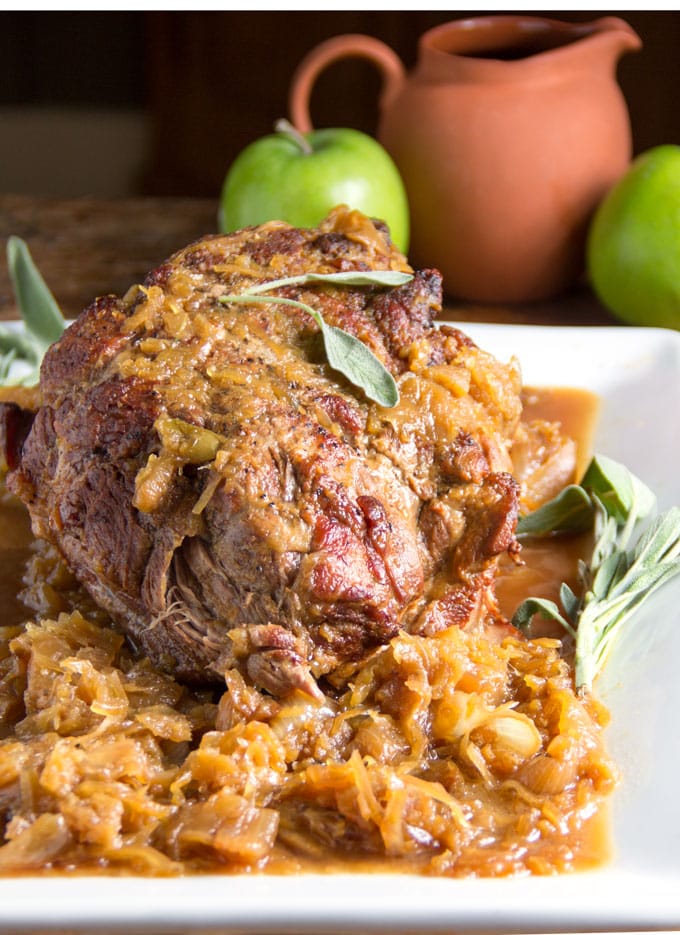 This pork roast is a celebratory dish, but one that can be enjoyed for any occasion, from Sunday dinner to New Year's Eve. It takes minimal effort to prep and it's great for feeding a crowd. Make sure you have mashed potatoes or mashed cauliflower to soak up the sauce. A simple sauté of spinach, kale or collard greens would make a perfect side.
Here's the recipe for pork roast with sauerkraut, apples and onions. I hope if you make this you'll come back and let me know how you liked it.
Print
Pork Roast with Sauerkraut Apples and Onions
A hearty, festive roast pork with lots of delicious sweet and sour gravy. Just 5 ingredients and only 20 minutes of prep time.
Author: Panning The Globe
Prep Time:

20 mins

Cook Time:

2 hours 50 mins

Total Time:

3 hours 10 mins

Yield:

8

-

10

1

x
Category:

Dinner

Cuisine:

German, Polish
Scale
Ingredients
6

pound boneless pork shoulder

2 tablespoon

s olive oil
Kosher salt
Freshly ground black pepper

3

medium onions, peeled halved and thickly sliced

3

Granny Smith apples, peeled, cored and cut into wedges

24 ounce

s of sauerkraut, drained

4 tablespoon

s apple cider syrup (or pomegranate molasses)
Instructions
Preheat oven to 400ºF. Season pork generously with salt and pepper. Tie it up with kitchen twine if there are loose pieces that need to be held in. Heat olive oil in a large Dutch oven over medium high heat until hot but not smoking. Brown pork for about 5 minutes per side until most of it has a nice brown crust. Transfer pork to a plate.
Pour all the fat out of the pot and into a heatproof cup. Add 2 tablespoons of fat back to the pot. Add the onions. Reduce the heat to medium and cook onions for 10-12 minutes, stirring occasionally, until they soften and start to brown. Stir in sauerkraut and half the apple slices. Drizzle with 2 tablespoons cider syrup. Season with a little salt and pepper. Put the pork on top. Scatter the rest of the apple slices around the pork. Drizzle the remaining 2 tablespoons of cider syrup over the pork. Cover and cook in the hot oven for 30 minutes.
Turn the oven temp down to 325ºF and cook, covered, for 2 hours longer, until it's nice and tender and cooked through.
Suggested Accompaniments: Mashed Potatoes and simple sautéed greens such as spinach, kale or collards
Here are some related links you might fine useful:
A great recipe for Roasted Cauliflower Mashed Potatoes from Cooking Light
My recipe for Sautéed Spinach and Garlic
Here's the Cider Syrup that I use
Here's Cider Syrup you can buy on Amazon
Buy my Lodge Dutch Oven on Amazon
Kitchen twine and dispenser from OXO
Disclosure: This post contains affiliate that help support this site. When you click on a link to an Amazon product and make a purchase, a small percentage is payed to Panning The Globe, at no cost to you. Your support is greatly appreciated!