This Fish Tacos recipe is quick, easy and super delicious! And these tasty tacos are healthy and gluten-free – a perfect weeknight dinner. Adapted from Cooking Light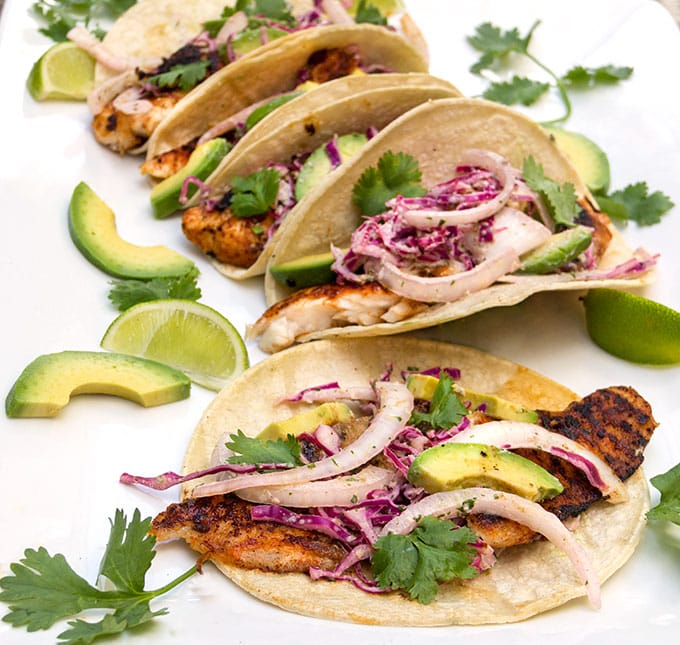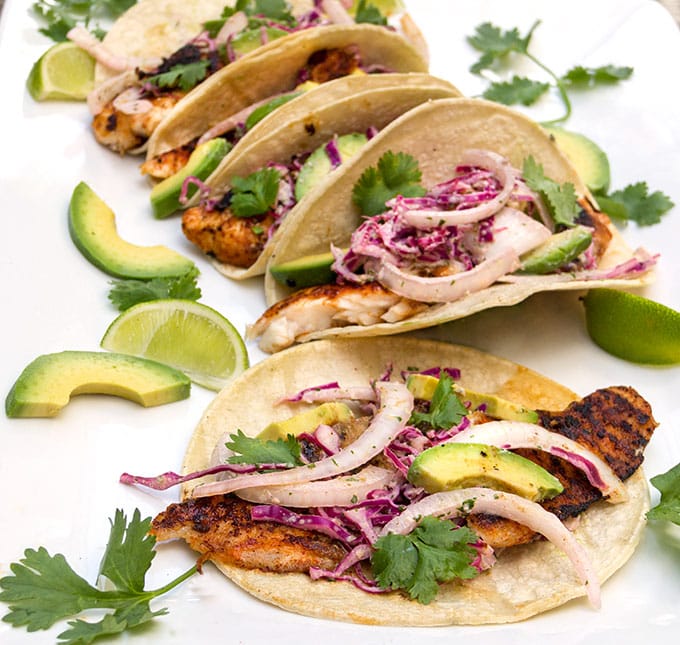 Blackened fish tacos is a happy dish – easy to make, festive, healthy, and scrumptious!
Blackening is an extremely flavorful technique for cooking fish (or chicken or beef). It's also super quick and easy: brush the fish with oil or butter; sprinkle with spices; sear in a very hot Cast Iron Skillet
 or on the grill – that's it!  The high heat of the cooking surface creates a fragrant black spice crust on the fish while keeping the inside tender and juicy.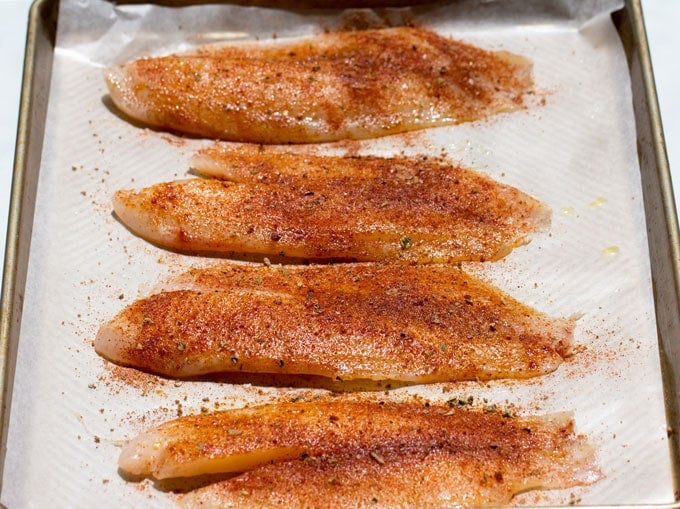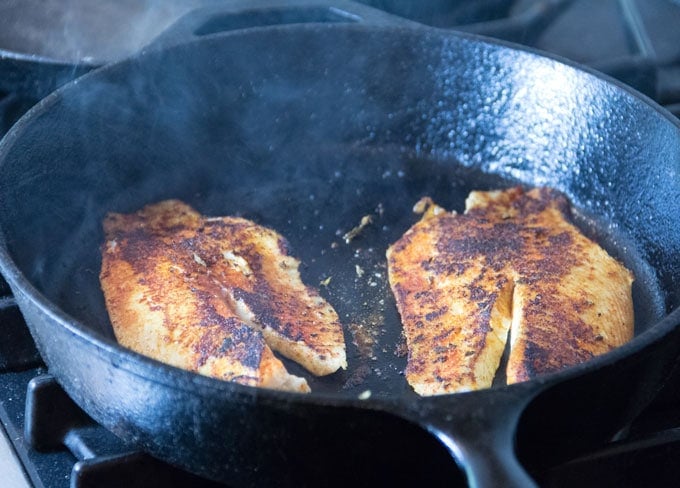 The spiced fish is folded up in a softened corn tortilla, along with buttery avocado slices, shredded onions and cabbage, and a tasty sauce of cilantro, jalapeño, sour cream and lime juice.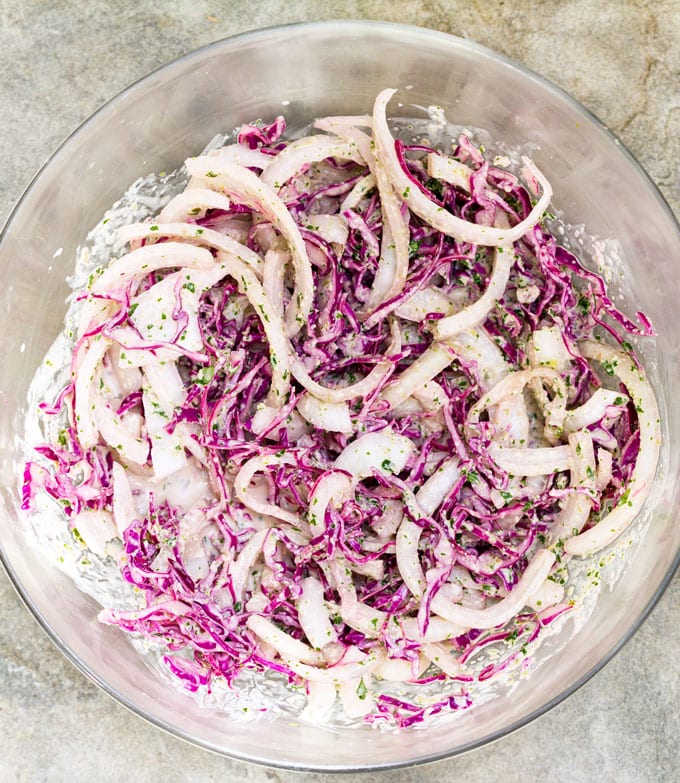 Blackened fish is a Cajun dish invented in late 1970's by New Orleans chef Paul Prudhomme when he was head chef at Commander's Palace. His blackening technique was an instant hit in the South and quickly spread in popularity to the rest of the country. Prudhomme is credited with popularizing Cajun-style cooking in America. In 1979 he launched his own New Orleans restaurant K-Pauls Louisiana Kitchen, where one of his signature dishes was, and still is, blackened locally-sourced drumfish. He serves it with vegetables and mashed potatoes.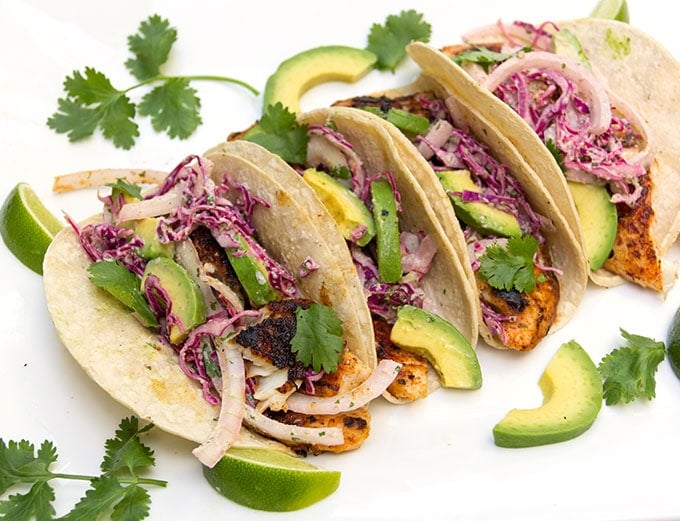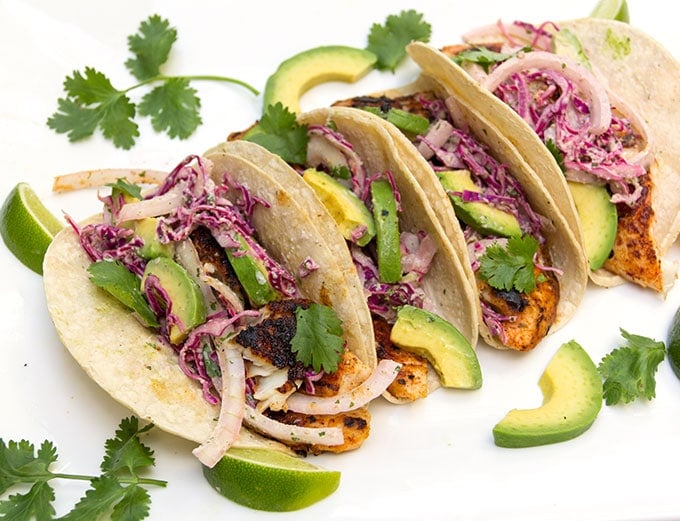 This recipe works well with firm white fish fillets, such as snapper, tilapia, grouper, catfish, halibut or flounder. I bet these tacos would also be delicious with chicken or skirt steak.
Here's the recipe for blackened fish tacos. If you try this recipe I hope you'll come back to leave a rating and a comment. I'd love to know what you think!
Print
BLACKENED FISH TACOS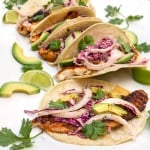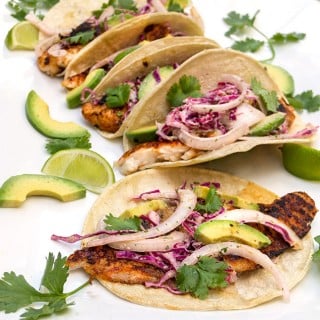 Healthy, scrumptious and festive blackened fish tacos with onions, cabbage, avocado and a tasty jalapeño-cilantro sauce.
Author:
Prep Time:

20 mins

Cook Time:

10 mins

Total Time:

30 mins

Yield:

4

Category:

lunch or dinner

Cuisine:

Cajun
Ingredients
NOTE: You need a cast iron skillet for this recipe. The alternative is to use your grill.
For the Spicy Cabbage and Onions:
1 cup thinly sliced white onion
1 cup shredded or very thinly sliced red cabbage
1/2 cup sour cream (reduced-fat is fine)
4 tablespoons chopped fresh cilantro leaves plus extra leaves for garnish
4 tablespoons fresh lime juice
3 jalapeño peppers, seeded, deveined and roughly chopped
Blackening Spices:
1 1/2 teaspoons paprika
1 1/2 teaspoons brown sugar
1 teaspoon dried oregano
3/4 teaspoon garlic powder
1/2 teaspoon salt
1/2 teaspoon ground cumin
1/4 teaspoon cayenne pepper
Fish and other ingredients:
4 (6-ounce) skinless fillets of firm white fish such as catfish, talapia, halibut, or red snapper
1 tablespoon light cooking oil
8 (6-inch) corn tortillas
1 ripe avocado, peeled and thinly sliced
Garnish:
4 lime wedges
Cilantro leaves, optional
Instructions
Make the Spicy Cabbage and Onions: Combine sour cream, cilantro, lime juice and jalapeños in a food processor or blender; process until smooth. Toss onions and cabbage with the sauce in a bowl. Set aside.
Make The Spice Mix: Combine paprika, sugar, oregano, garlic powder, salt, cumin and cayenne in a small bowl.
For heating tortillas, preheat oven to 350ºF Stack tortillas and wrap in foil. Heat in warm oven for 5-10 minutes.
Blacken the Fish: Turn on your hood vent. Heat a large dry cast iron skillet over medium-high heat until hot. (if you don't have a cast iron skillet, heat your grill) Meanwhile lay fish out on a platter or on waxed paper. Brush a little oil on each side and sprinkle the top of each fillet with 3/4 teaspoon of spice mix. Place 2 fillets, spiced-side down, in the pre-heated skillet. Then sprinkle the top side of each fillet with 3/4 teaspoon of spice mix. Cook for 2 1/2 – 3 minutes per side, or until spices are blackened and fish is cooked through. Transfer fish to a platter and tent with foil to keep warm. Wipe the pan clean to avoid a burnt taste. (blackened is not the same as burnt!) Repeat with the other two fillets.
Assemble the Tacos: Divide fish, onion-cabbage mixture, and avocado evenly among warmed tortillas. Spoon on any remaining sauce from the bottom of the cabbage-onion bowl. Sprinkle some cilantro leaves on top. Serve with lime wedges.
*The recipe assumes 2 tacos per person
Disclosure: This post contains affiliate that help support this site. When you click on a link to an Amazon product and make a purchase, a small percentage is payed to Panning The Globe, at no cost to you. Your support is greatly appreciated!