This elegant Moroccan Chicken Tagine recipe is perfect for the slow cooker. The chicken tenderizes as it absorbs the fragrant North African spices and fills the house with the most delicious aromas. There's plenty of sauce and chickpeas to spoon over the chicken and a bed of rice or couscous.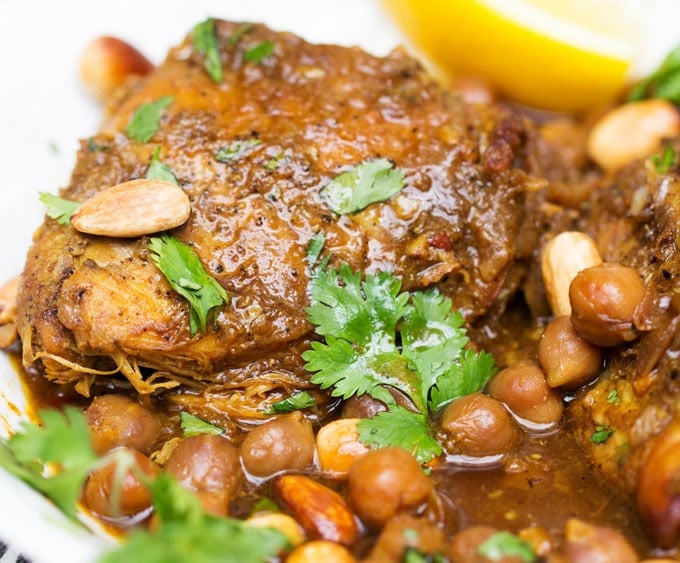 Life is hurtling by at warp speed. My slow cooker is about the only thing that's slow in my life right now. I'm sure I'm not the only one feeling this way, as the school year is comes to a close. There are endings to tie up and beginnings to prepare for, and it all feels even more intense because my youngest son Paul is about to graduate from high school. I haven't wanted to write about it because I'm not quite ready to embrace it. In September, when Paul goes off to college and I have no hungry teenagers in the house to cook for or to nag, I'm not sure what I'll do with myself. For now, I'm going to stay in denial, enjoy all the graduation parties, and make delicious meals that draw the family around the table. I'm turning to my slow cooker a lot lately, and loving it. I spend a half hour or so in the morning, chopping and sautéing, and come dinner time I can rock a beautiful meal like this scrumptious Moroccan chicken tagine.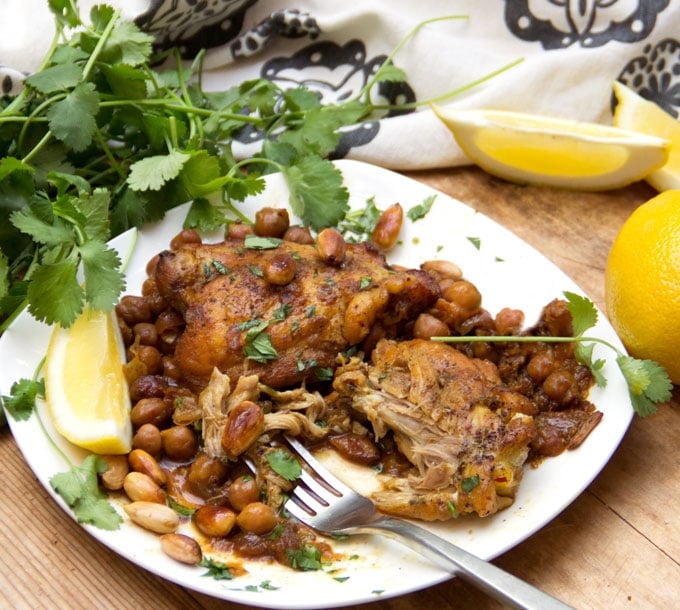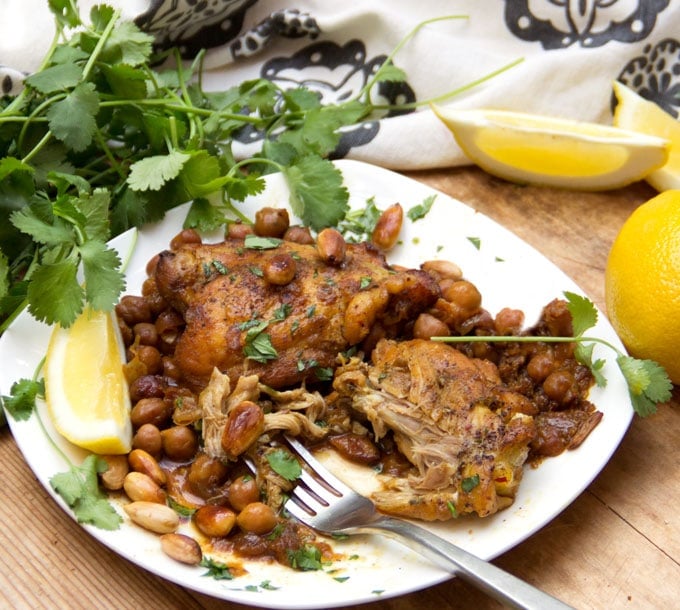 A tagine is a North African stew that's named for the pot it's cooked in – a tagine. It's a conical earthenware pot that works a lot like a slow cooker, using low temperatures and long cooking times for an exceedingly moist and tender outcome.
To create layers of flavor in this dish, there's a bit of sautéing before throwing everything in the slow-cooker. Here's how the recipe goes: season the chicken thighs with salt and pepper and brown them for a few minutes in a skillet. Set the chicken aside and add onions and garlic to the pan. When those are nice and soft, add broth, honey and spices. Stir to loosen any brown bits, and pour the whole mixture into the slow cooker. Stir in the apricots and chickpeas. Place the chicken on top. Cover, and cook on low for 6 hours.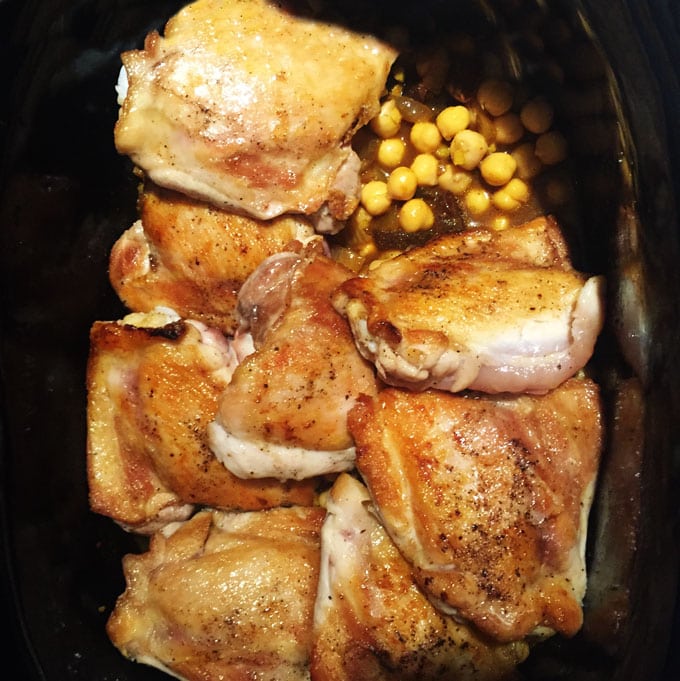 Serve the chicken tagine with couscous or rice and garnish with toasted almonds, chopped cilantro and lemon wedges. The garnishes are an integral part of this dish. The tender, sweet and spicy long-cooked stew is complemented beautifully by lots of fresh bright lemon juice, crunchy almonds, and the unique and exciting flavor notes of cilantro.

By the way, if you're expecting a crowd or you want leftovers, this recipe can be "one and a halfed" (not sure how else to say this?) For one of my test runs, I made it with 12 thighs instead of 8 and increased all the other ingredients accordingly. I arranged the chicken with some pieces overlapping, and it turned out great.
If you're looking for another amazing slow-cooker recipe, this chicken with dried cherries and leeks is my long-time favorite. For this one there's no sautéing – just throw everything in the slow-cooker and 6 hours later you will be in for a big treat.
Here's the recipe for slow cooker chicken tagine with apricots and chickpeas. If you make it I hope you'll come back to leave a comment and let me know what you think!
Print
Slow Cooker Chicken Tagine with Apricots and Chickpeas
Tender chicken and chickpea stew with North African flavors.
Author:
Prep Time:

15 mins

Cook Time:

6 hours 10 mins

Total Time:

6 hours 25 mins

Yield:

Serves 4-8 (1 or 2 pieces of chicken per person)

Category:

Dinner

Cuisine:

Moroccan
Ingredients
The Chicken and aromatic vegetables:
1 1/2 tablespoons canola oil
8 bone-in chicken thighs with the skin removed
1 1/2 teaspoons kosher salt, divided
1/2 teaspoon freshly ground black pepper
2 1/2 cups chopped yellow onion (2 1/2 medium onions)
1/4 cup finely chopped garlic (10-12 med cloves)
The Spices:
1 1/4 teaspoons ground cumin
1 teaspoon ground coriander
1 teaspoon paprika
3/4 teaspoon ground turmeric
1/2 teaspoon ground ginger
1/4 teaspoon crushed red pepper flakes
Remaining Ingredients:
1 1/2 cups low salt chicken broth (I use Swanson)
2 teaspoons honey
2 (3-inch) cinnamon sticks
2/3 cup chopped dried apricots
2 (15-ounce) cans organic chickpeas, drained and rinsed
Garnishes:
3 tablespoons oil (to cook almonds)
3/4 cup whole blanced almonds
1/4 cup cilantro leaves, roughly chopped
2 lemons, cut into wedges
Suggested Accompaniment: Couscous or rice
Instructions
Season the tops of the chicken thighs with 1/2 teaspoon salt and 1/2 teaspoon pepper.
Heat a large skillet over medium-high heat. Add oil to the pan and swirl to coat. Add chicken to pan, top/seasoned side down. Cook for 5 minutes, until nicely browned on the top side only. Transfer to a plate.
Add onion and garlic to pan and sauté 4 minutes, stirring occasionally, until softened. Add spices: cumin, coriander, paprika, turmeric, ginger, red pepper and 1 teaspoon salt. Cook, stirring constantly, for 1 minute. Add broth and honey, scraping pan to loosen browned bits. Bring to a simmer. Carefully pour hot mixture into a 6-quart electric slow cooker. Stir in apricots, chickpeas and cinnamon sticks. Arrange chicken on top, browned side facing up. Cover and cook on LOW for 6 hours. Discard cinnamon sticks.
Brown the Almonds: Heat olive oil in a small skillet over medium heat. Cook the almonds, tossing constantly, until lightly browned. Drain on paper towels.
To Serve: Serve over couscous or rice. Sprinkle generously with almonds and cilantro and place a couple of lemon wedges on each plate.