Some recipes have the magic to amaze and thrill everyone at the table every time. This is one of those recipes. These are the BEST grilled chicken thighs I can imagine, made with a Turkish yogurt marinade that tenderizes and infuses the chicken with flavors of lemon, garlic and amazing spices.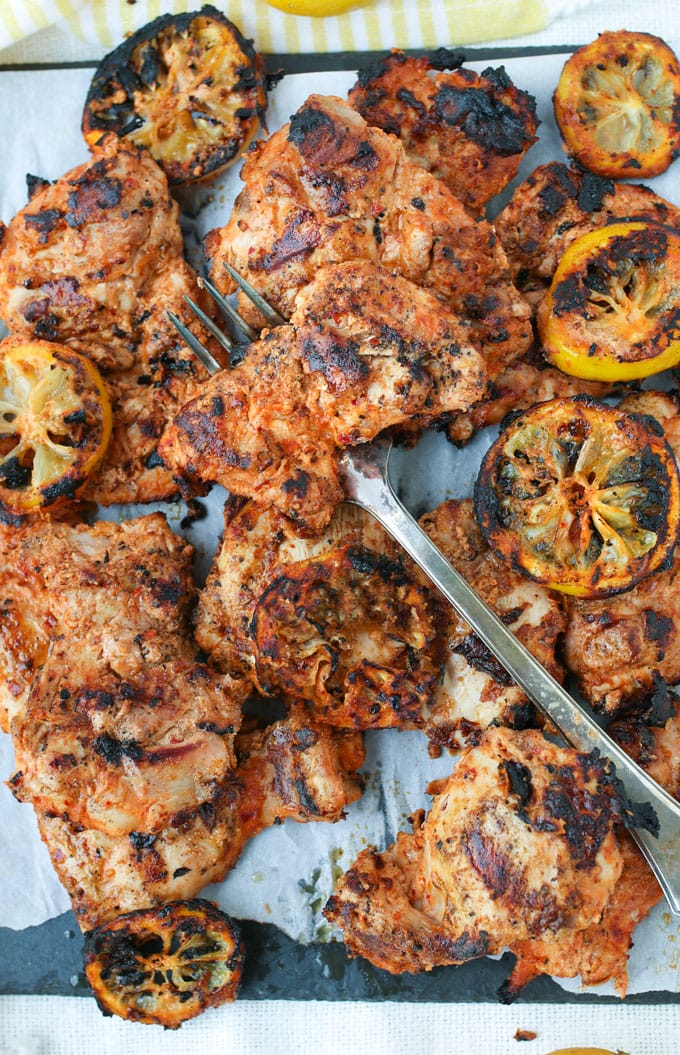 Don't worry if you can't find Aleppo pepper. You can substitute a mixture of crushed red pepper and paprika and it's equally delicious.
I love everything about this dish, including how easy and foolproof it is. Thick Greek yogurt tenderizes the chicken thighs. A smoky pepper and lemon-garlic combination infuses it with intense bright flavor. Aleppo pepper chicken comes off the grill golden brown and irresistibly delicious.
I've been raving about this dish to friends for as long as I can remember. It's one of the best chicken dishes I have ever tasted and a most requested favorite in my house. I make these all summer long. I especially love this recipe for when I'm entertaining or feeding a crowd because the prep is easy and you can do it all ahead of time.
THE BEST MARINADE FOR GRILLED CHICKEN THIGHS
Chicken thighs are are great on the grill. They have so much natural flavor and they're very difficult to overcook. This recipe takes them to the highest heights of deliciousness and it's all about the wonderful Turkish marinade.
The Marinade: Yogurt is an ideal marinade base for beef and poultry. Any dairy - yogurt , milk, buttermilk - is an excellent tenderizer, partly because it is not very acidic. Acidic marinades can actually toughen meat.
According to Fine Cooking contributor Shirley Corriher, dairy products are the only marinades that truly tenderize. She goes on to explain that calcium seems to activate enzymes in the meat, causing the proteins to break down. I have to assume all that "breaking-down" makes way for the delicious flavors of pepper, lemon, and garlic to move in.
The marinade for this grilled Aleppo Pepper Chicken is a mix of yogurt, sliced lemons, smashed garlic cloves, tomato paste, vinegar, olive oil and spices. Mix it all together with the chicken and let it sit in the fridge for at least an hour.
Preheat the barbecue to medium-high heat. Rub oil over the grates. Remove the chicken from the marinade and sprinkle with salt and pepper. Grill for about 6 minutes per side. Serve and enjoy!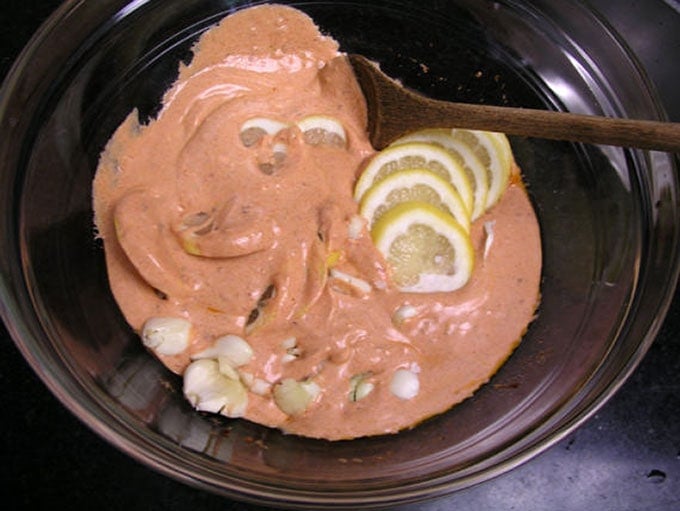 WHAT IS ALEPPO PEPPER?
Aleppo Pepper is a ruby colored spice named after the city of Aleppo in northern Syria, where it is grown. I discovered Aleppo pepper on a trip to Istanbul in early 2013 (just before the war in Syria took hold) and I fell I love with the spice. It's fruity with a moderate level of heat, not as hot as crushed red pepper flakes and way more flavorful. I brought home lots of Aleppo pepper from the spice markets of Istanbul, but not enough.
Authentic Aleppo pepper is hard to come by now. Just as Aleppo pepper was becoming popular among chefs in the United States, the devastating war in Syria destroyed the crops. There has been some effort to produce Aleppo pepper in the United States but many experts say it's not quite the same.
ALEPPO PEPPER SUBSTITUTE
If you can't find Aleppo pepper, the best substitute is to mix up equal amounts of crushed red pepper flakes and sweet paprika. I've done this on several occasion and the result is spectacular. Use this Aleppo pepper substitute in this recipe and you will still enjoy the best grilled chicken thighs ever!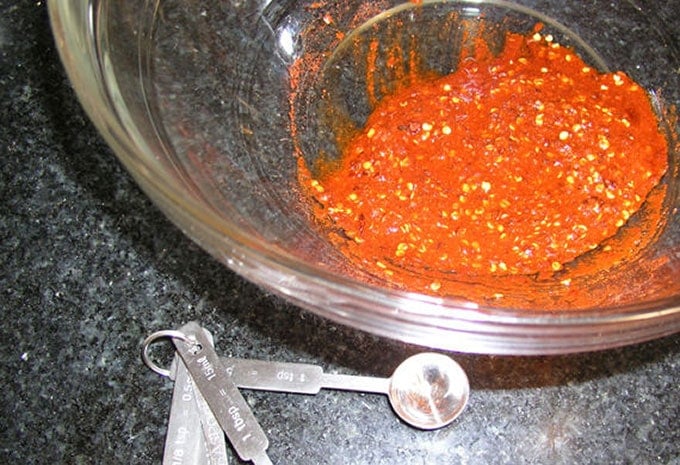 This recipe calls for flattened garlic. Flattening garlic is a really easy way to get the skin off and release the garlic flavors into a marinade without having to chop the garlic.
To flatten a garlic clove, hold the clove down against the cutting board with the flat side of a broad knife. With the heel of your other hand, pound the side of the knife blade (very carefully!), crunching down on the garlic. When you lift the knife the skin on the clove will be loose and you can just pull it off. Toss the flattened garlic clove into the marinade.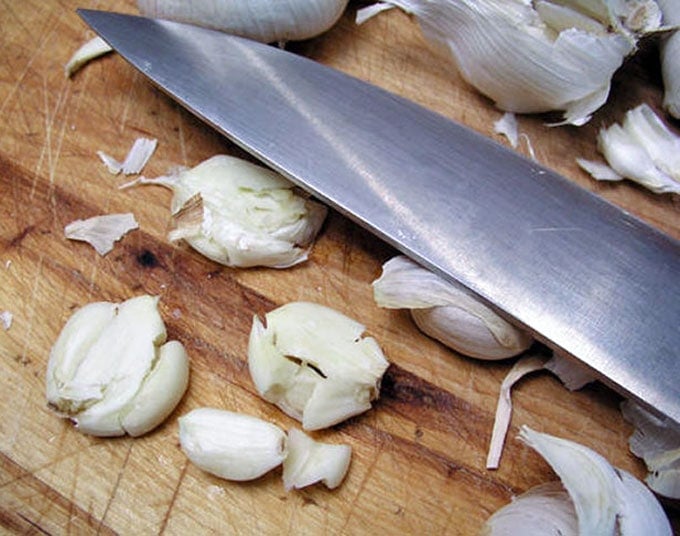 The Turks are credited with bringing yogurt to the world. The word "yogurt" comes from the Turkish word "Yogurt." The invention of yogurt likely came about by chance, many centuries ago, in the process of trying to figure out how to store dairy products. Yogurt has always been an important ingredient in Turkish cuisine.
Here are a few more delicious Panning The Globe recipe with yogurt marinades:
TURKISH BARBECUE
Turkish BBQ often involves threading the meat on a skewer before grilling - the famous Turkish kebab - and serving it with rice. I love shish kebabs but I also love that this grilled chicken recipe is quick and easy and doesn't require the step of skewering.
However if you want a more authentic presentation, cut the chicken into bite-sized pieces after it's marinated and thread it onto skewers before grilling.
Enjoy these amazing grilled chicken thighs and don't forget to serve the grilled lemons and garlic alongside. They are delicious!
GREAT GRILLING SIDE DISHES
Here are a few of my favorite Panning The Globe side dishes for grilling season: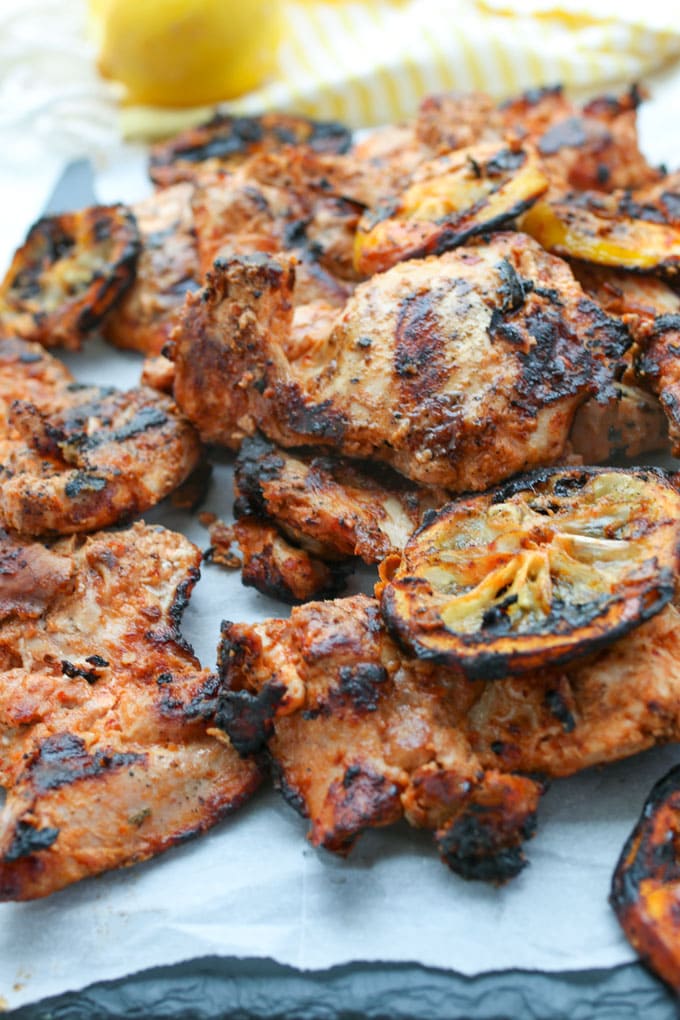 Here's the recipe for Aleppo Pepper Chicken. If you try this recipe I hope you'll come back to leave a star rating and a comment. I'd love to know what you think!
Print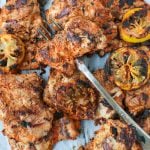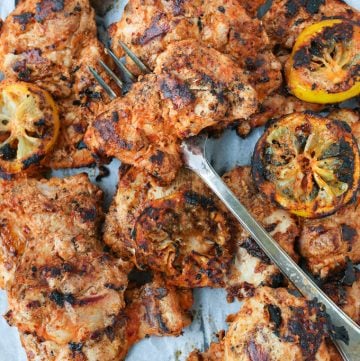 Grilled Aleppo Pepper Chicken Thighs
---
Author:

Lisa

Total Time:

22 mins

Yield:

8

servings

1

x
Description
This recipe is adapted from a recipe in Bon Appetit
The most tender and delicious grilled chicken thighs ever! A very easy recipe and always a huge crowd pleaser.
---
3 tablespoons

Aleppo pepper (crushed or flakes) or substitute Maras Pepper, or substitute 4 teaspoons dried crushed red pepper plus 4 teaspoons Hungarian sweet paprika

2 cups

plain whole-milk Greek-style yogurt (

16 ounces

)

4 tablespoons

extra-virgin olive oil

2 tablespoons

red wine vinegar

4 tablespoons

tomato paste

1 tablespoon

coarse kosher salt

¼ teaspoon

freshly ground black pepper

10

-

12

garlic cloves, flattened and skins removed

2

unpeeled lemons, sliced into thin rounds.

4

pounds skinless boneless chicken thighs
---
Instructions
In a large bowl combine the 3 tablespoons Aleppo pepper with 2 tablespoons warm water. Stir and let sit for 5 minutes for the water to be absorbed. (if using red pepper flakes and paprika, combine 4 teaspoons of each in the bowl with 4 tablespoons warm water)
Add the next six ingredients to the bowl: Yogurt, oil, vinegar, tomato paste, salt, and pepper. Stir thoroughly to combine.
Next mix in the garlic and lemon slices. Add the chicken and stir to fully combine all ingredients.
Cover bowl with plastic wrap and chill for at least an hour (and up to a day)
Preheat the barbecue to medium-high heat. Rub oil over the grates. Sprinkle chicken with salt and pepper. Grill the chicken about 6 minutes per side, or until cooked through.
Serve with grilled lemons and garlic. Enjoy!
Prep Time:

10 mins

Cook Time:

12 mins

Category:

Main Dish

Method:

Grill

Cuisine:

Turkish
Keywords: barbecued chicken thighs, grilled chicken thighs, marinated grilled chicken thighs, grilled boneless chicken thighs
[This post first appeared on Panning The Globe in September 2012. It was updated in July 2018. It's the same delicious recipe with new photos, additional text and added nutritional information.]