Beef Rendang Brisket Recipe. Brisket is braised in fragrant coconut curry in the style of famously delicious Indonesian Beef Rendang.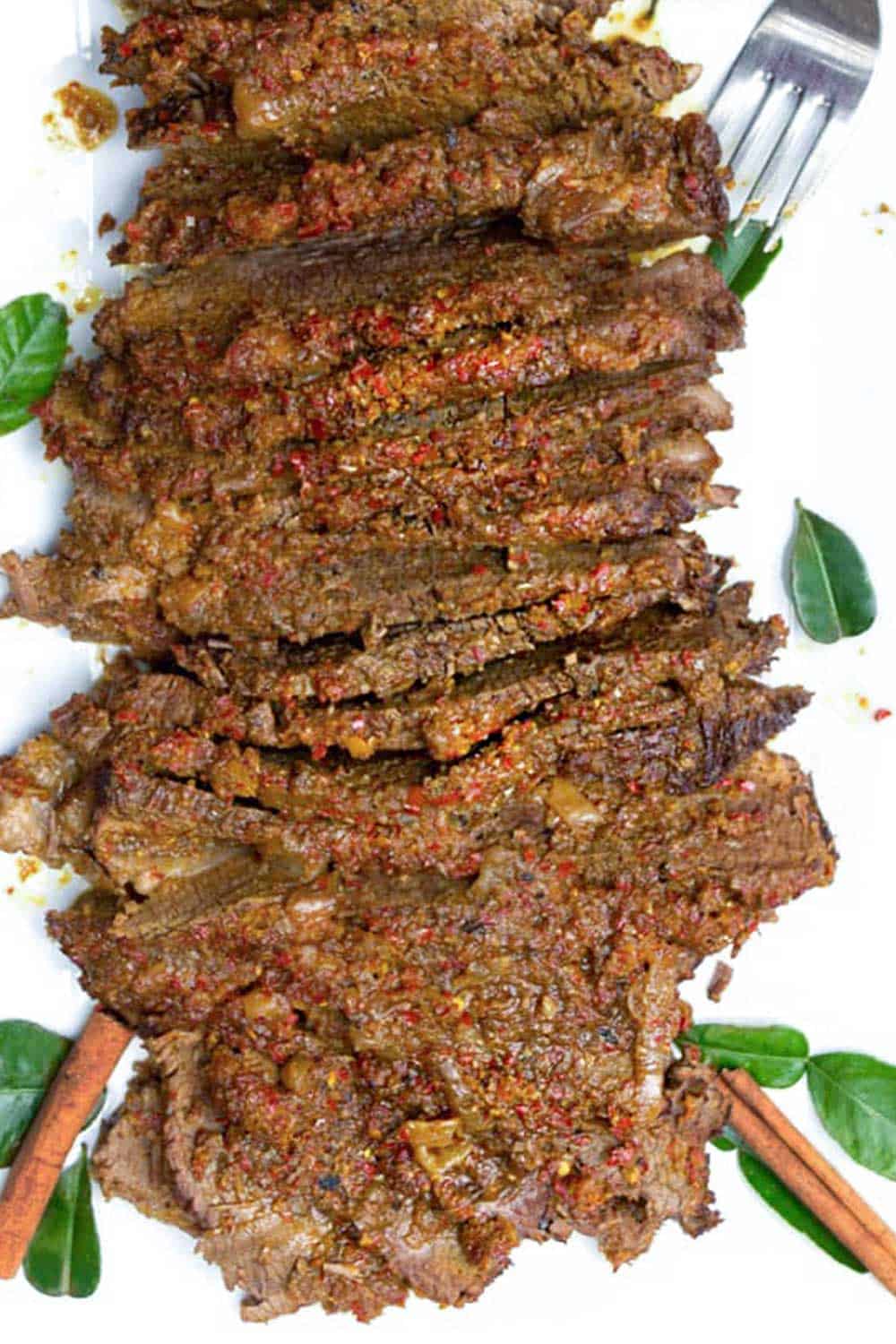 Rendang is a rich coconut-based curry that originated from West Sumatra, Indonesia. It's served there mostly on special occasions. It's incredible!
Cubes of beef are stewed, long and slow, with coconut curry paste. Often the meat is braised until it's completely dry and only the intensely flavorful oils, from the beef and the coconut, are left in the pot. That oil is then used to brown the beef, as a final step in the recipe. Yum!
Why not take inspiration from one of the world's most delicious beef recipes and use it to make brisket?! I asked myself that question as I was thinking about my passover menu, which always includes brisket. Then I got busy developing the recipe.
Holidays are not necessarily the best times to mess with tradition and I knew everyone would be expecting me to make the usual Nach Waxman brisket, which is fabulous. But I chanced it and served beef rendang brisket at our Seder. The result was lots of happiness at the table!
How To Make Beef Rendang Brisket
Make the Spice Paste: Use your food processor to make a paste with chiles, shallots, garlic, ginger, lemongrass, spices and a few tablespoons of the thick coconut cream that rises to the top of the can of coconut milk. The first time I made the curry paste I seeded all 7 chile peppers. The second time I left the seeds in 2 out of the 7 peppers for more heat. I prefer the hotter paste.
Brown The Brisket: Sear it on all sides in a large Dutch oven or heavy cooking pot with a lid.
Toast the Spice Paste and Sauté Aromatics: Remove the brisket from the pot, add the spice paste in and cook it for a few minutes, remove the paste from the pot and throw in the sliced onions. Sauté those a bit, add the rest of the coconut milk, set the brisket on top. Coat the brisket with the spice paste. Scatter the kaffir lime leaves (if you can find them) and cinnamon sticks around.
Braise: Cover the pot and put it in the oven at 350ºF for a long slow braise.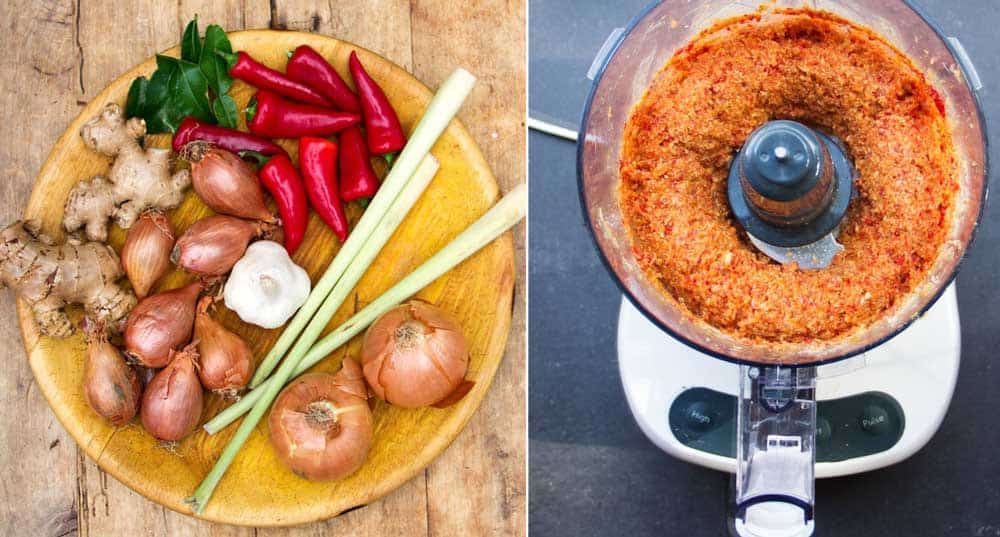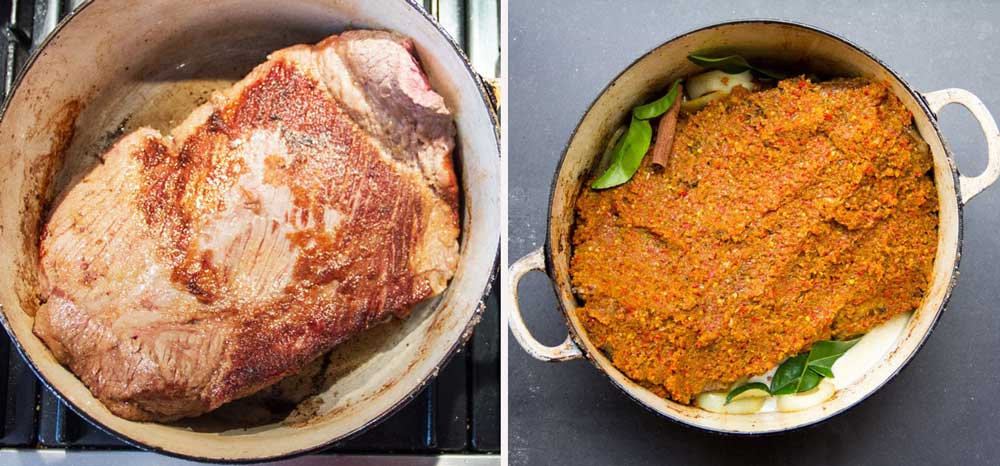 The result is tender beef with some seriously exciting flavors and a nice kick. It made quite an impression at my seder table - lots of "mmmms," "wows," and second helpings.
Some of us are tied to our holiday traditions. I do have certain established recipes for Passover that I'm pretty sure will never change. Chicken soup with matzo balls is one. Also, fresh horseradish with beets. Passover would feel empty without them.
But somehow it felt ok to stray from my customary brisket this year, and it was fun having something exciting and new to tantalize our tastebuds.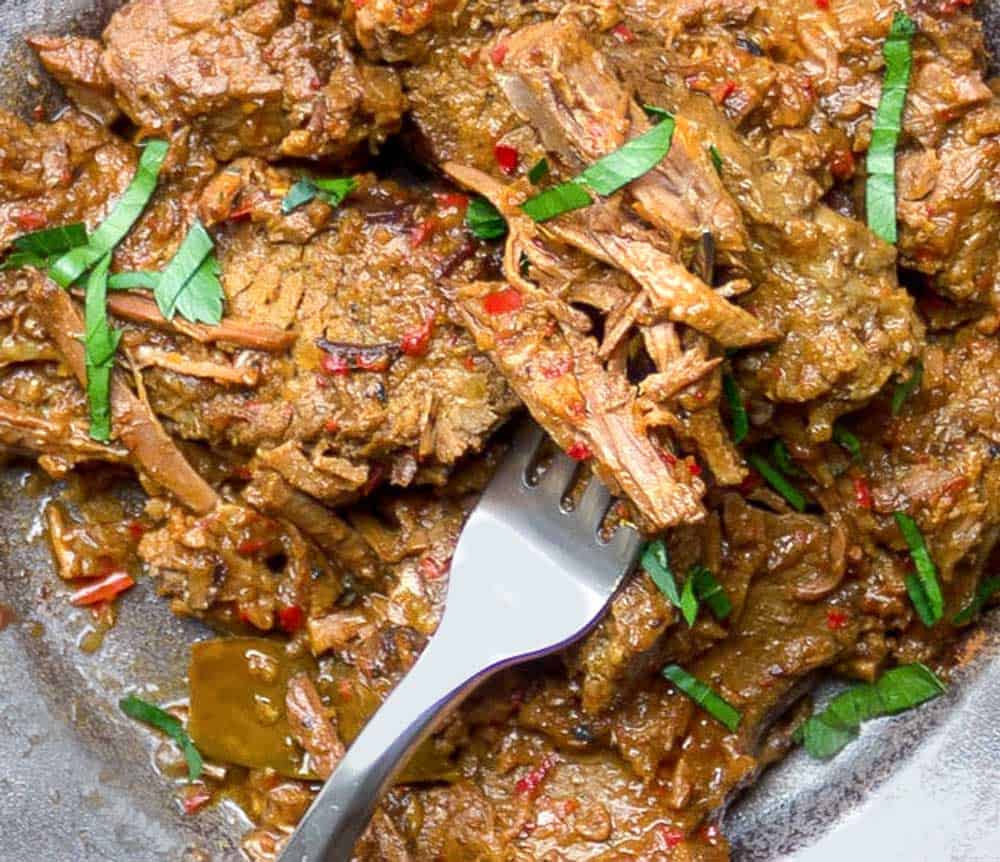 I love eating a dish at Passover that comes from a country where there are practically no Jewish people. Food is universal language that brings us together as a global community. No matter where we live or what we believe, we can all share in the pleasures of great food and appreciate each other's cooking.
Brisket, by the way, is not just for Passover. It's the perfect thing to serve when your hosting any elaborate meal for a large crowd because you can make it way ahead of time. It freezes well and it just gets better and better every time you reheat it.
Here's the recipe for Beef Rendang Brisket. If you make it, I hope you'll come back and leave a star rating and a comment. I'd love to know what you think!
Print
Beef Rendang Brisket
---
Author:

Lisa

Total Time:

4 hours 5 mins

Yield:

8

-

10

servings

1

x
Description
Tender brisket of beef braised in a delicious Rendang curry of coconut milk, shallots, lemongrass, hot chilies, garlic and cinnamon.
---
5

-

6

pound

first cut brisket

3 tablespoons

plus 1 teaspoon cooking oil, divided (olive, canola, or your favorite)

2 tablespoons

of flour or matzo meal, optional
Spice Paste:

7

-

8

red Holland chilies (or substitute red Fresno or Cayenne) stemmed, seeded and roughly chopped. If you want some added heat, leave the seeds in one or two of the chilies.

4

-

5

large shallots, roughly chopped (

1 ½ cups

)

4

-

5

large cloves of garlic, roughly chopped (

4 tablespoons

)

3 tablespoons

roughly chopped ginger, from a 3-inch piece

3

stalks lemongrass, a couple of tough outer layers pulled off, sliced crosswise into ⅓-inch slices (white part only). Here's a post with a helpful photo and explanation of how to prepare lemongrass.

1 teaspoon

ground turmeric

1 ½ teaspoons

salt

¼ teaspoon

ground cloves (optional)

1

can unsweetened coconut milk, divided
Other Ingredients:

2

large yellow onions, peeled and sliced into

⅓

-inch rings

2

4-inch cinnamon sticks

5

-

6

Kaffir lime leaves (optional but recommended - you can find them fresh or frozen at many Asian grocery stores and some mainstream supermarkets.
---
Instructions
Make the Spice Paste: Put the chilis, shallots, garlic, ginger, lemongrass, turmeric, salt and cloves into the bowl of a food processor with the chopping blade attached. Add 4 tablespoons of the thick coconut cream from the top of the can of coconut milk. Pulse everything until you get smooth, thick paste, in which you can still make out the texture of finely minced peppers.
Brown and Prepare the Brisket: Preheat oven to 350ºF. Dust the brisket with flour or matzo meal, if using. (it helps with browning but is not essential) Heat 2 tablespoons of oil over medium high heat, in a large heavy pot or Dutch oven, with a lid. Add the brisket and brown it for about 5 minutes per side. It won't be uniformly brown but there should be some nice brown spots over the surface. Transfer the meat to a plate. Add another tablespoon of oil to the pot and spread it out with a spatula. Add the spice paste and cook it, stirring often, for 4-5 minutes, until it starts to brown. Transfer the paste to a bowl. Add the final teaspoon of oil to the pot with the sliced onions. Cook, stirring often, for about 5 minutes, until the onions have softened a bit. Pour the remaining coconut milk over the onions and stir. Place the brisket on top of the onions. Coat the top and sides of the brisket with the spice paste, using the back of a spoon to smooth it out evenly. Scatter the lime leaves and cinnamon sticks around. Cover the pot and cook it in the center of the oven for 30 minutes.
Braise and Baste: Turn the oven temperature down to 325ºF. Gently baste the brisket with some of the coconut sauce. Return it to the oven for 2 hours, basting every hour.
Remove the pot from the oven but leave the oven on. Gently transfer the brisket to a cutting board and, with a sharp knife, slice it thinly (⅛-inch) across the grain. Transfer the sliced meat back into the pot. If you can, keep it in its original shape. Baste it, separating the slices a bit so the sauce gets in between. Cover the pot and return it to the oven for a final half hour of cooking.
Serve hot. It reheats really well and freezes really well. Defrost and reheat in a 325º oven, covered, for 45 minutes or so.
Prep Time:

45 mins

Cook Time:

3 hours 20 mins

Category:

Main Dish

Method:

Braise

Cuisine:

Indonesian
Keywords: Beef brisket, Brisket braised with Rendang Curry
I did a lot of research for this post but one of the books that was most helpful was Cradle of Flavor by James Oseland - a wonderful book about home cooking from Indonesia, Malaysia, and Singapore.
I also owe a lot of my brisket expertise to what I learned from Nach Waxman and his genius brisket recipe.