Feijoada is a scrumptious Brazilian meat and black bean stew that's perfect for the slow cooker. The long slow simmer gets the meat super tender and melds all the wonderful flavors.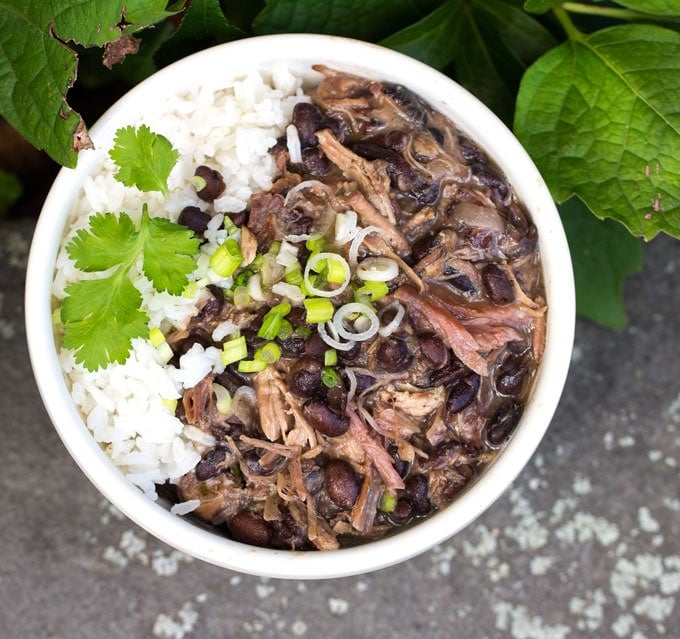 If you like a meaty dish, you might think Brazilian feijoada (pronounced fey-zhoo-ah-dah) is about the most delicious thing on the planet! It's a hearty stew of black beans and a variety of meats, braised with onions, garlic and spices until everything is meltingly tender. It's extremely popular in Brazil. Some consider it the national dish.
This is a lightened up version Brazilian feijoada – a recipe that I adapted from a Cooking Light. If you follow Panning The Globe, you probably know that I'm part of Cooking Light's Blogger Connection. I'm a long time fan of the magazine. I can count on finding recipe gems in every issue and I appreciate their approach to making recipes healthier by eliminating unhealthy fats and reducing salt and sugar.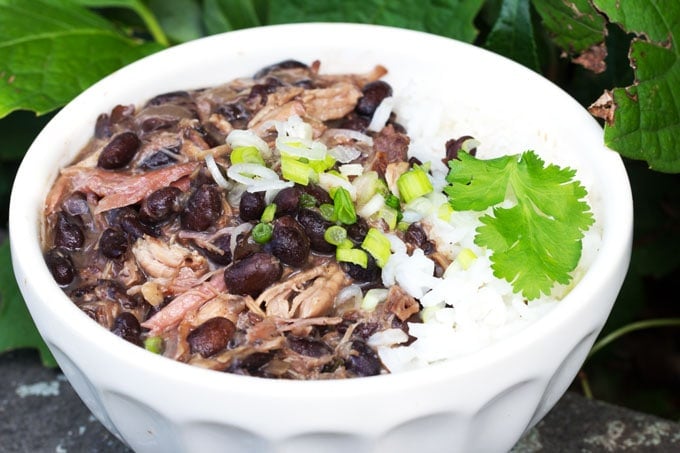 Traditional Brazilian feijoada can include a mix of beef and pork. Salted meats are often used, as well as less commonly used parts of the pig, like the feet and ears. Apparently these parts contribute what some consider an important gelatinous component to the stew. I made mine without and was thrilled with the result, but give it a try if you can source the parts. It might be even better!
If you soak the black beans overnight, which I highly recommend, this dish takes some planning ahead. Also, if you're planning to throw dinner in the slow cooker before your leave for work in the morning, I suggest that you brown all the meats the night before and store them, covered, in the fridge overnight, so you can just throw everything into the slow cooker in the morning and turn it on.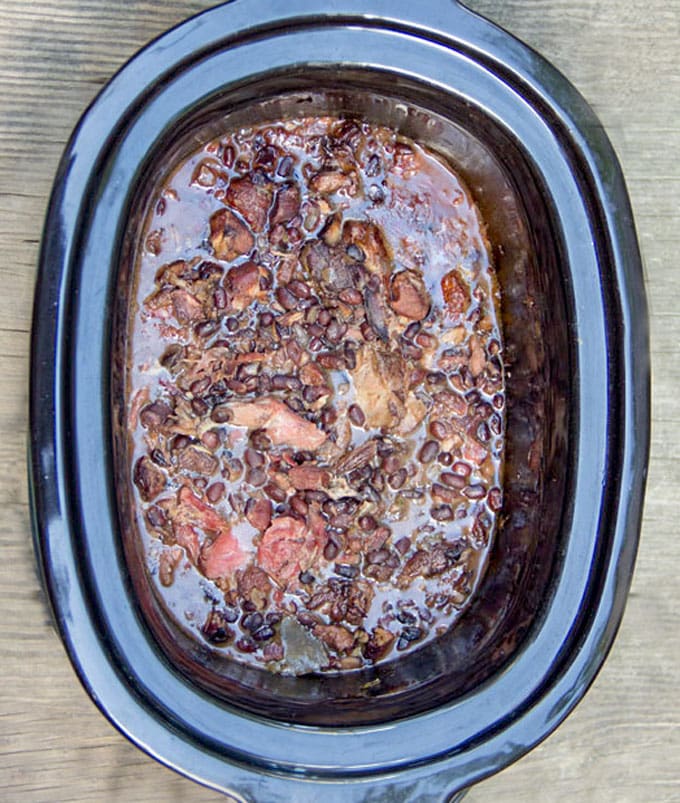 My housekeeper Paula is Brazilian and by coincidence she was at the house when I was cooking the feijoada. She was excited when she saw what I was making, told me how incredibly delicious it is, that it's her father's absolute favorite dish.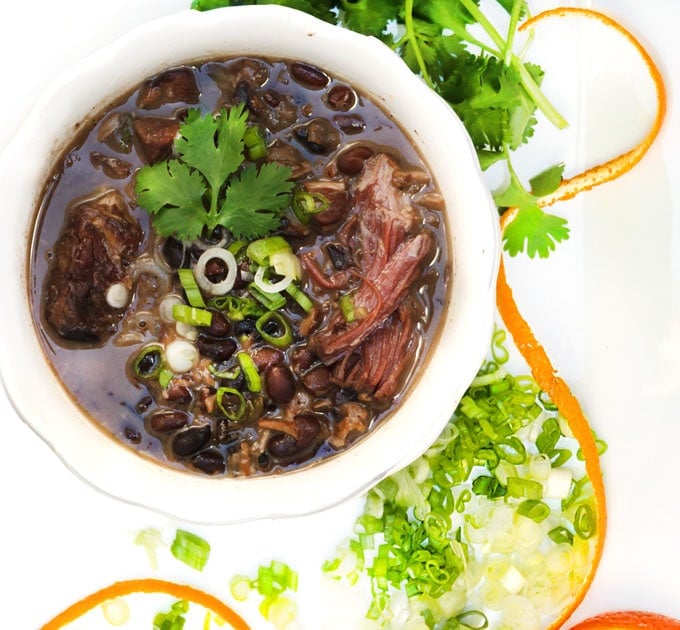 She explained that in different parts of the country there are variations on what kinds of meats and beans are used. She also explained that many people in Brazil like their feijoada very soupy so they can serve it heaped on top of a big platter of rice to soak up the delicious sauce, and that they love to sprinkle crunchy toasted manioc flour on top. We ended up talking for a long time about many other amazing-sounding Brazilian recipes, one or two of which you'll probably be seeing on the blog soon!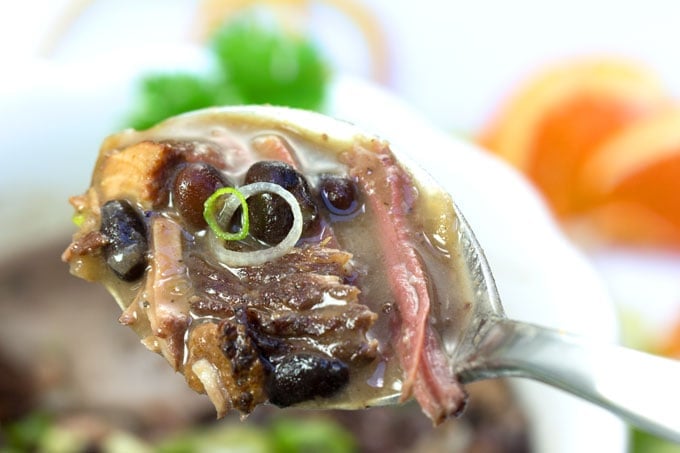 More Delicious Slow Cooker Recipes on Panning The Globe
• Slow cooker chicken tajine with apricots and chickpeas
• Slow Cook Ropa Vieja: Cuban Shredded Beef Stew with Peppers
• Slow Cooker Chicken with Dried Cherries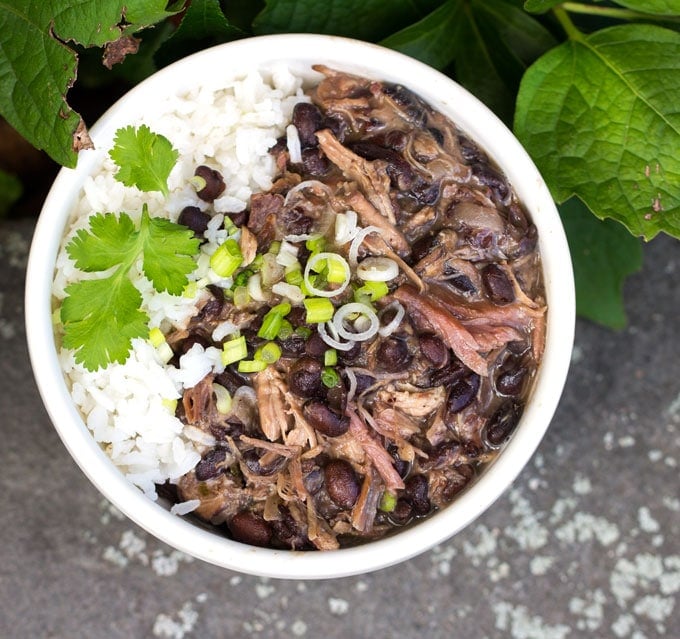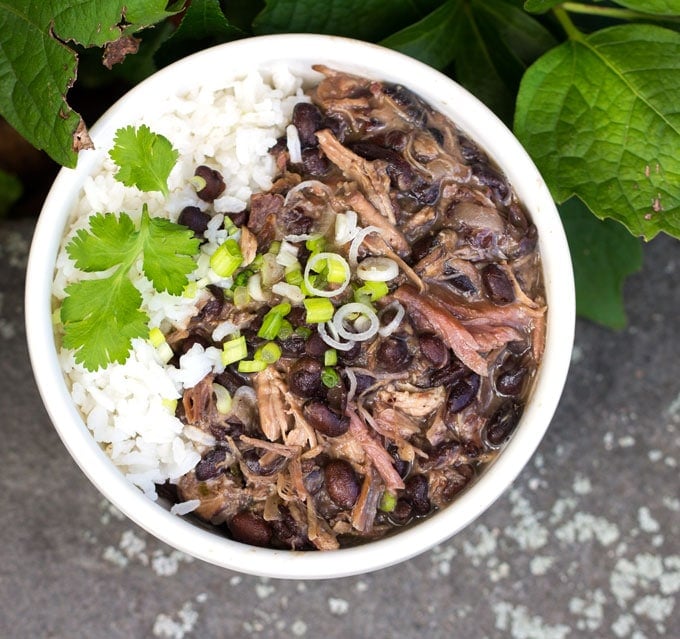 Here's the recipe for Slow Cooker Brazilian Feijoada. If you try this recipe I hope you'll come back to leave a rating and a comment and let me know what you think!
Print
Slow Cooker Brazilian Feijoada
A lightened up, slow-cooker version of Brazil's famous meat and bean stew. ***Note: If you're planning to make this in the morning before work, you'll need to soak the beans the night before and I also suggest browning the meats the night before and keep them in the fridge over night. Then in the morning you can just chop up the onions and garlic, and throw everything into the slow cooker.
Author:
Prep Time:

40 mins

Cook Time:

8 hours

Total Time:

8 hours 40 mins

Yield:

8

Category:

Dinner

Cuisine:

Brazilian
Ingredients
1 pound dried black beans, picked over and soaked over night per package instructions
6 ounces applewood-smoked bacon (I highly recommend healthier uncured, no-nitrite bacon)
1 1/2 pounds boneless pork shoulder (Boston butt), trimmed of fat and cut into 1/2-inch cubes
Kosher salt
Freshly ground black pepper
3 or 4 bone-in beef short ribs or other meaty beef or pork ribs, trimmed of fat
1 (9-ounce) smoked ham hock or 9 ounces smoked pork sausages such as linguica
3 cups finely chopped onion (about 2 medium)
6 large garlic cloves, peeled and minced (about 3 1/2 tablespoons minced)
2-4 cups low-salt chicken broth, as needed (I recommend Swanson's)
1/2 teaspoon ground coriander
2 bay leaves
1 tablespoon white vinegar
Suggested Accompaniments:
2 naval oranges, cut into wedges
Chopped fresh cilantro leaves, from 1 small bunch
1 bunch green onions, trimmed and thinly sliced
Serve with steamed white rice
Instructions
Cook bacon in a large skillet over medium heat until crisp. Remove bacon from pan; crumble and add to a 6-quart electric slow-cooker. (don't wash skillet, you'll use it to brown the meats)
Sprinkle pork evenly with 1/2 teaspoon salt and 1/4 teaspoon pepper. Increase heat to medium-high. Add pork to drippings in skillet; sauté 8 minutes, turning to brown on all sides. (If there's too much liquid accumulating and the meat isn't browning, tilt the skillet and spoon some of the fat out) Transfer pork to slow cooker. Season the ribs evenly with 1/8 teaspoon salt and a few grinds of pepper. Add ribs to skillet; cook for 3 minutes on each side or until browned. Place ribs in slow cooker. Add drained beans, ham hock, onions, garlic, 2 cups chicken broth, 1 teaspoon salt, coriander, bay leaves and vinegar to slow cooker, stirring to combine. Cover and cook on LOW 8-9 hours or until beans and meat are tender.
Pull out ribs and ham hock bones. Remove any remaining meat from the bones and shred it with two forks. Discard bones. Return meat to slow cooker. Add more broth for a soupier consistency.
Serve Feijoida with rice. Sprinkle generously with green onions and cilantro. Serve with orange wedges to squeeze on top. Sautéed collard greens are a perfect traditional side dish or choose another leafy green like spinach or kale.