Eggplant lasagna is what you want when you're craving saucy cheesy comfort food and you also want to load up on healthy veggies.
This incredible eggplant lasagna recipe is made with a homemade primavera lasagna sauce and three melting cheeses layered between golden brown roasted eggplant slices that take the place of noodles. I love recipes like this that turn vegetables into the best comfort food!
What is eggplant lasagna anyway?
Eggplant lasagna is a redesign of classic lasagna, replacing traditional pasta noodles with thin slices of roasted eggplant. It's also very similar to eggplant Parmesan but with eggplant roasted instead of breaded and fried.
What sets this eggplant lasagna apart is its emphasis on veggies and a special homemade sauce that is downright addictive!
With no pasta and no meat and loads of healthy vegetables, this eggplant lasagna is an excellent choice for vegetarians or anyone looking for a healthier, low-carb or plant-based twist on classic lasagna.
Why you will love this eggplant lasagna
It's hard to top an excellent eggplant parmesan made with breaded eggplant or a meaty lasagna oozing with cheese, but this eggplant lasagna is right up there with the best. It's as cheesy and saucy and comforting as can be, but loaded with vegetables and no pasta or breading or frying needed! Here are more reason why you'll love this dish:
Roasted eggplant "noodles" – Golden brown roasted eggplant slices vs boiled noodles? Eggplant wins!
An epic homemade vegetarian lasagna sauce – This tomato sauce uses carrots, mushrooms and broccoli in the most wonderful ways and the veggies make this sauce thick and rich and flavorful.
The classic trio of lasagna cheeses – creamy ricotta, melty mozzarella, and nutty parmesan are just the best in lasagna.
A vegetarian, low-carb, gluten-free lasagna - these attributes come in handy when you're hosting a dinner party and everyone has different dietary needs!
Vegetarian comfort food - whether you're a dedicated vegetarian or simply looking for more vegetables in your comfort food, you're going to love this eggplant lasagna!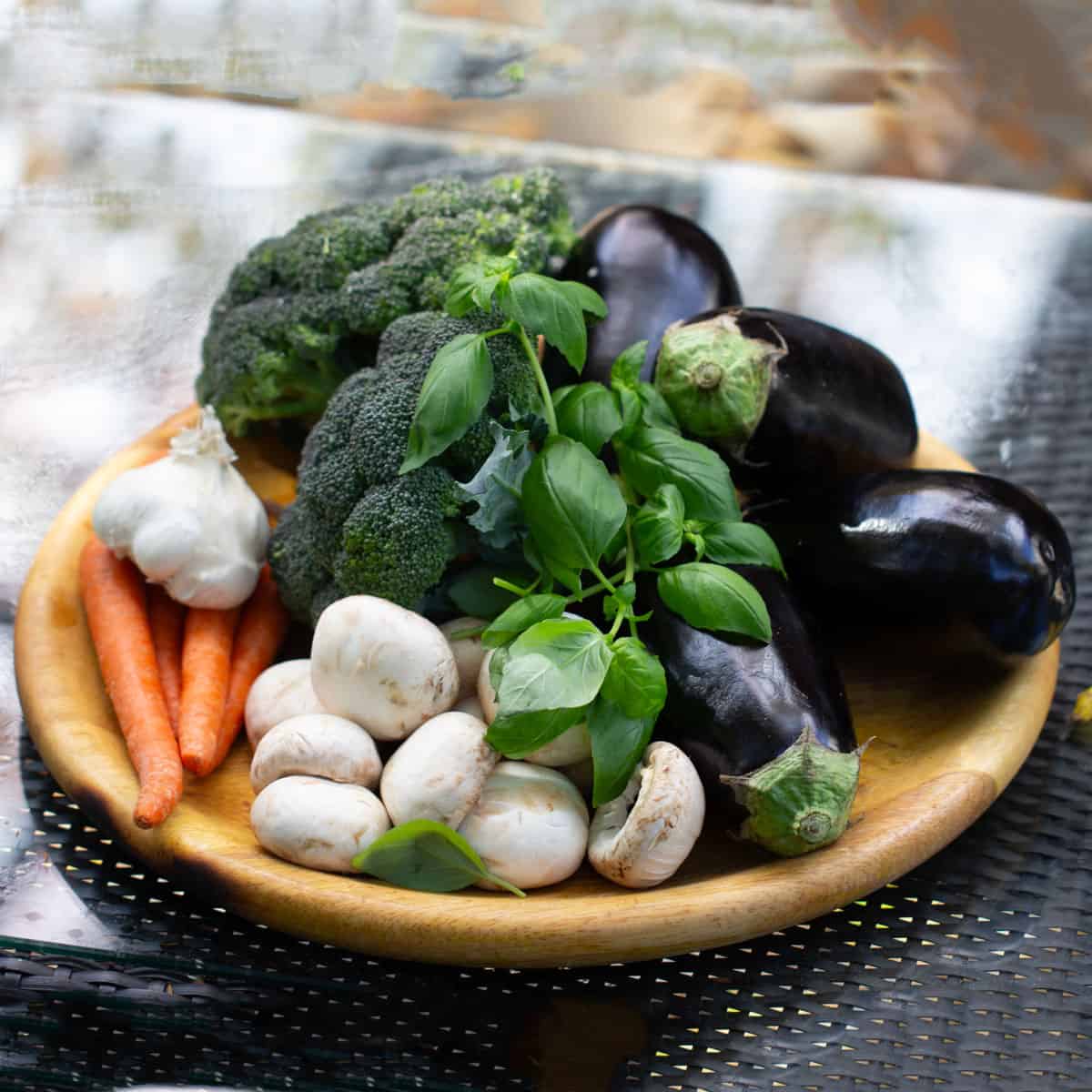 What you need to make eggplant lasagna
Eggplant - globe eggplants or Italian eggplants will work well here. Choose a smooth, firm eggplant with no wrinkles or soft spots.
Salt, crushed red pepper, fresh garlic and dried basil - for flavor.
Canned tomatoes and tomato paste - use the best tomatoes you can find to make the sauce. I recommend D.O.P San Marzano Tomatoes.
Carrots and mushrooms - For the primavera tomato sauce.
Broccoli - Only the crowns of the broccoli are used here.
Mozzarella, ricotta and parmigiana - the classic trio of lasagna cheeses for melty cheesy deliciousness.
Fresh Slivered Basil - for a final layer of fresh flavor.
Don't bother salting the eggplant
Maybe you've found it daunting to sort through all the conflicting advice on whether or not to salt eggplant? I have. So, in addition to doing online research, I conducted a simple experiment. I sliced and roasted an Italian eggplant and a globe eggplant without salting them first. They both came out sweet and delicious without a hint of bitterness.
After my experiment, I stopped salting eggplant and continued to have great results. Here's an article by Bon Appetit that supports my findings and explains how eggplants have become less bitter over time.
How to make eggplant lasagna
Cut the ends off of each eggplant and slice the eggplants lengthwise into ½-inch thin pieces. Brush the slices on both sides with olive oil and roast them in the oven until tender and golden brown.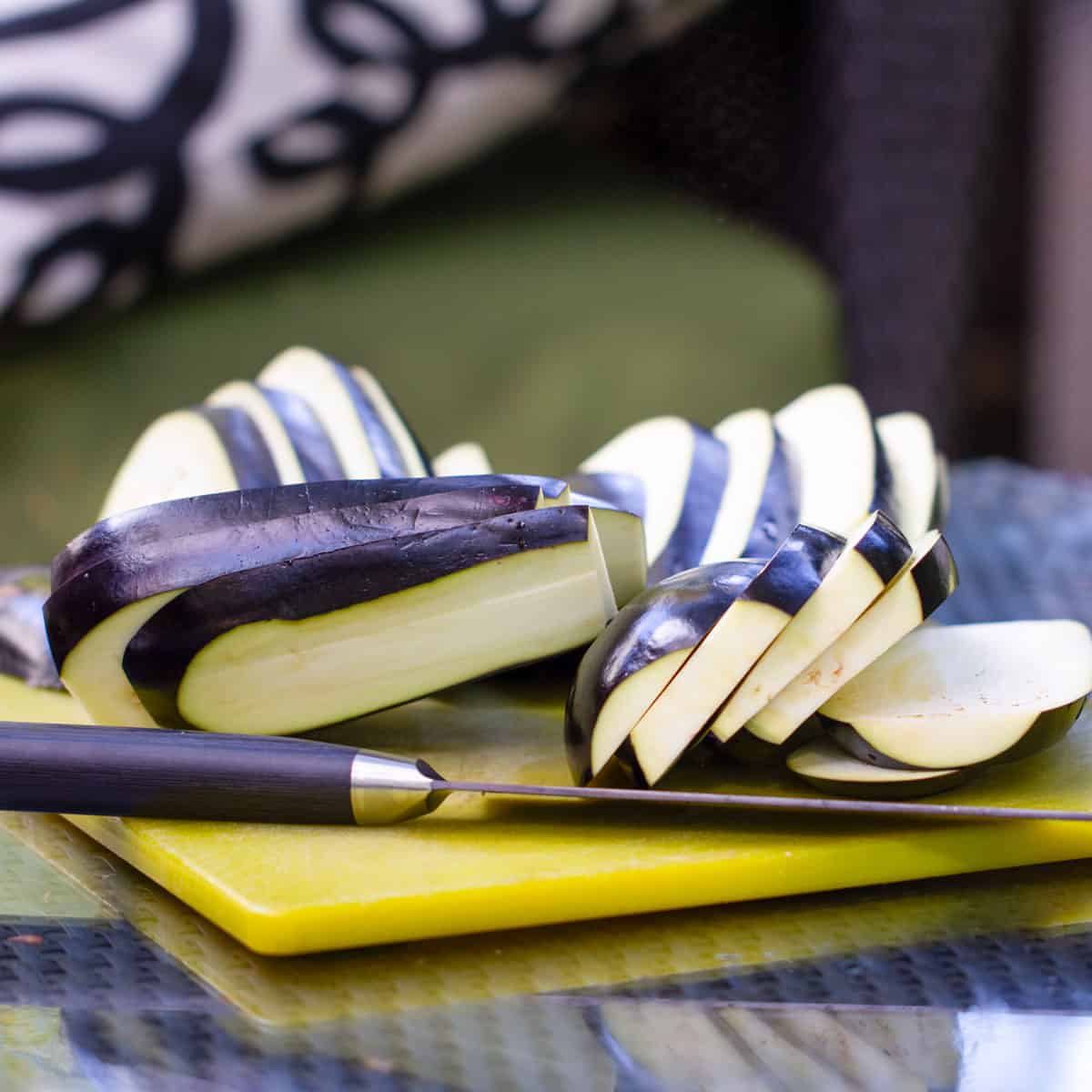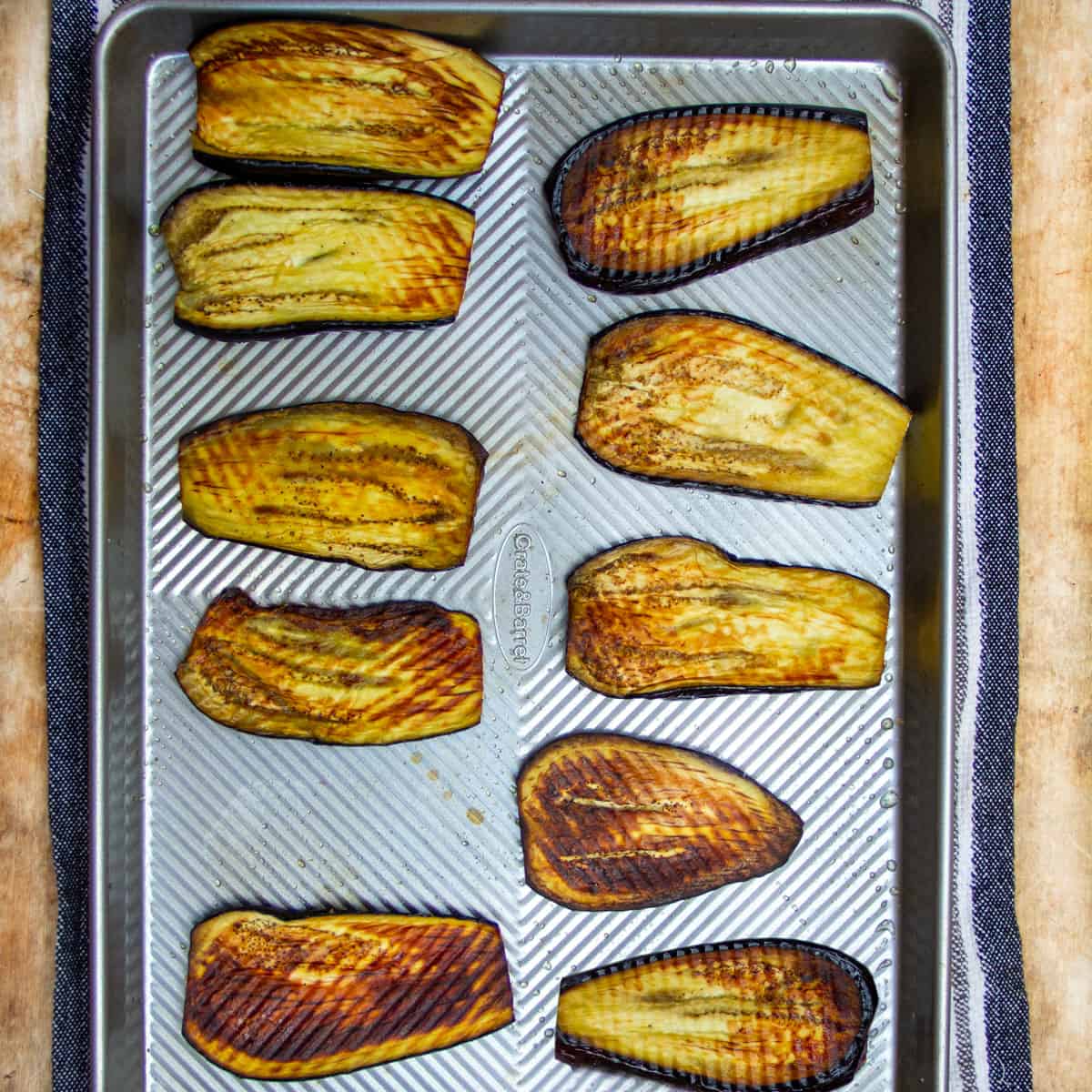 While the eggplant is roasting in the oven, start making the sauce. Finely chop the carrots and mushrooms and sauté them in olive oil until they lose all their moisture and caramelize.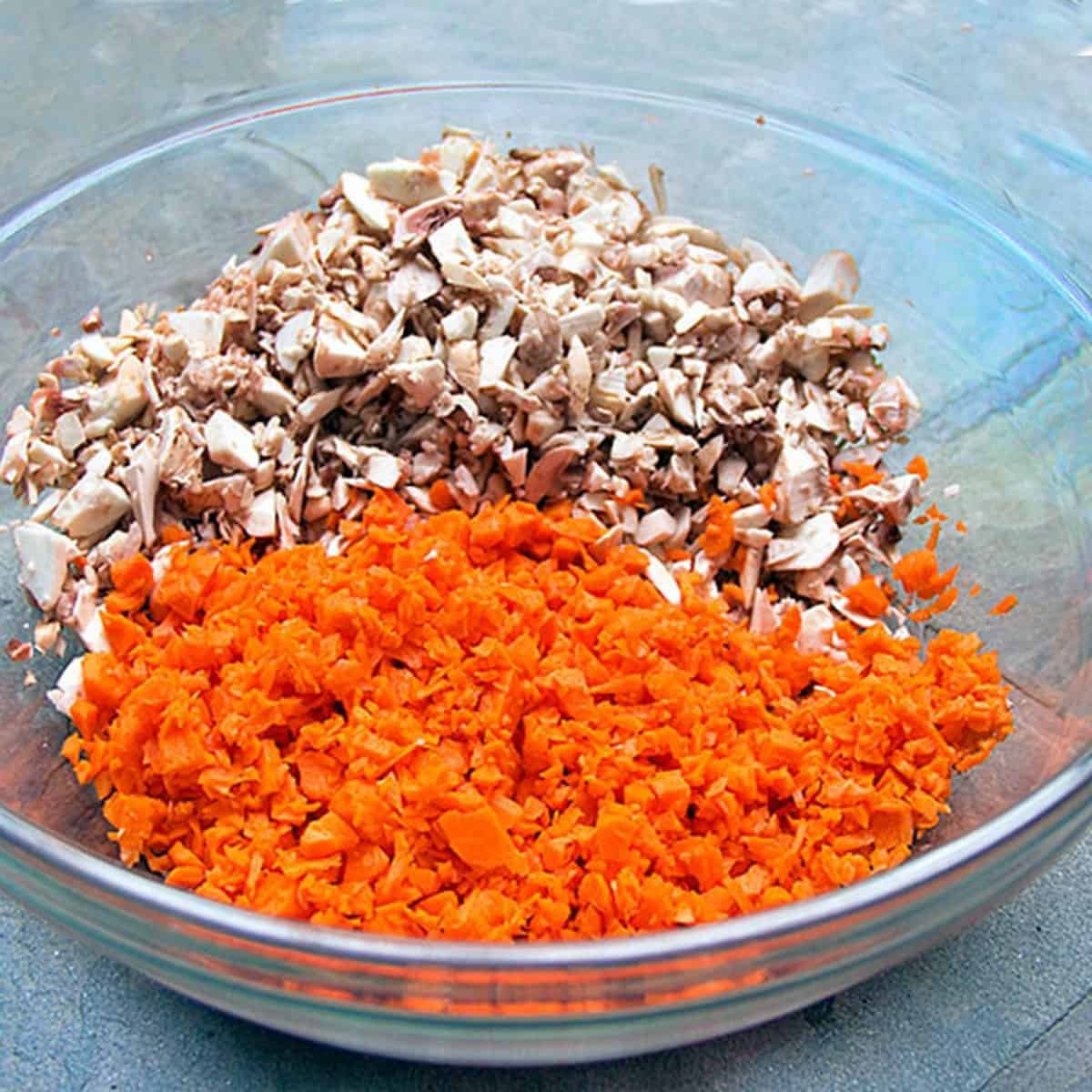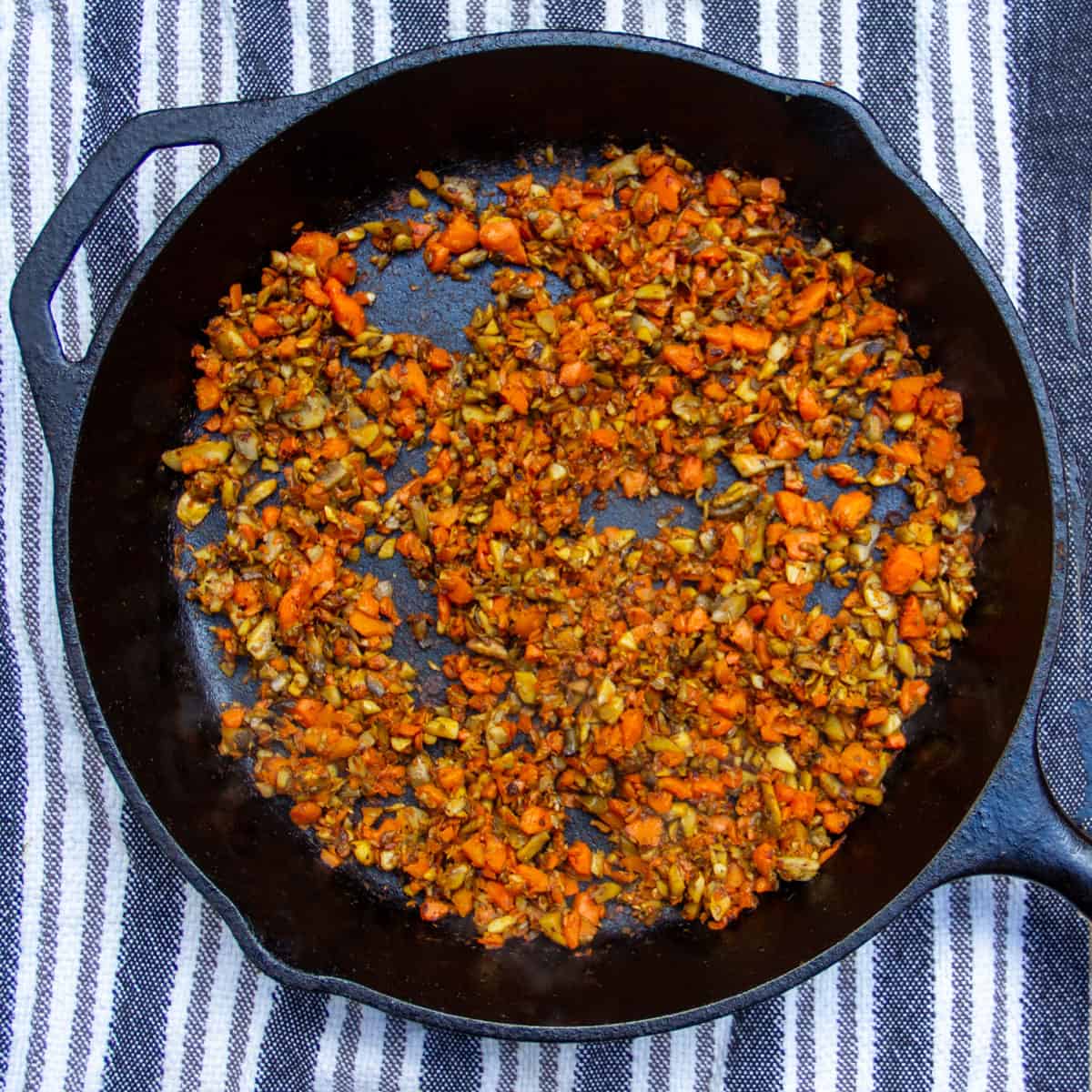 Add olive oil, garlic and red pepper flakes to a large heavy pot or dutch oven and set it over medium heat. When the garlic starts to sizzle, add the canned tomatoes, tomato paste and dried basil. Simmer the sauce for 20 minutes.
While the sauce simmers, prepare the broccoli. I love the part that broccoli plays in this sauce!
Place the broccoli crown on its side and shave off ½-inch thick slices. You'll get a big pile of finely chopped broccoli floret pieces. Those will go into the sauce raw so when you bake the lasagna, they retain lots of fresh green goodness and crunch.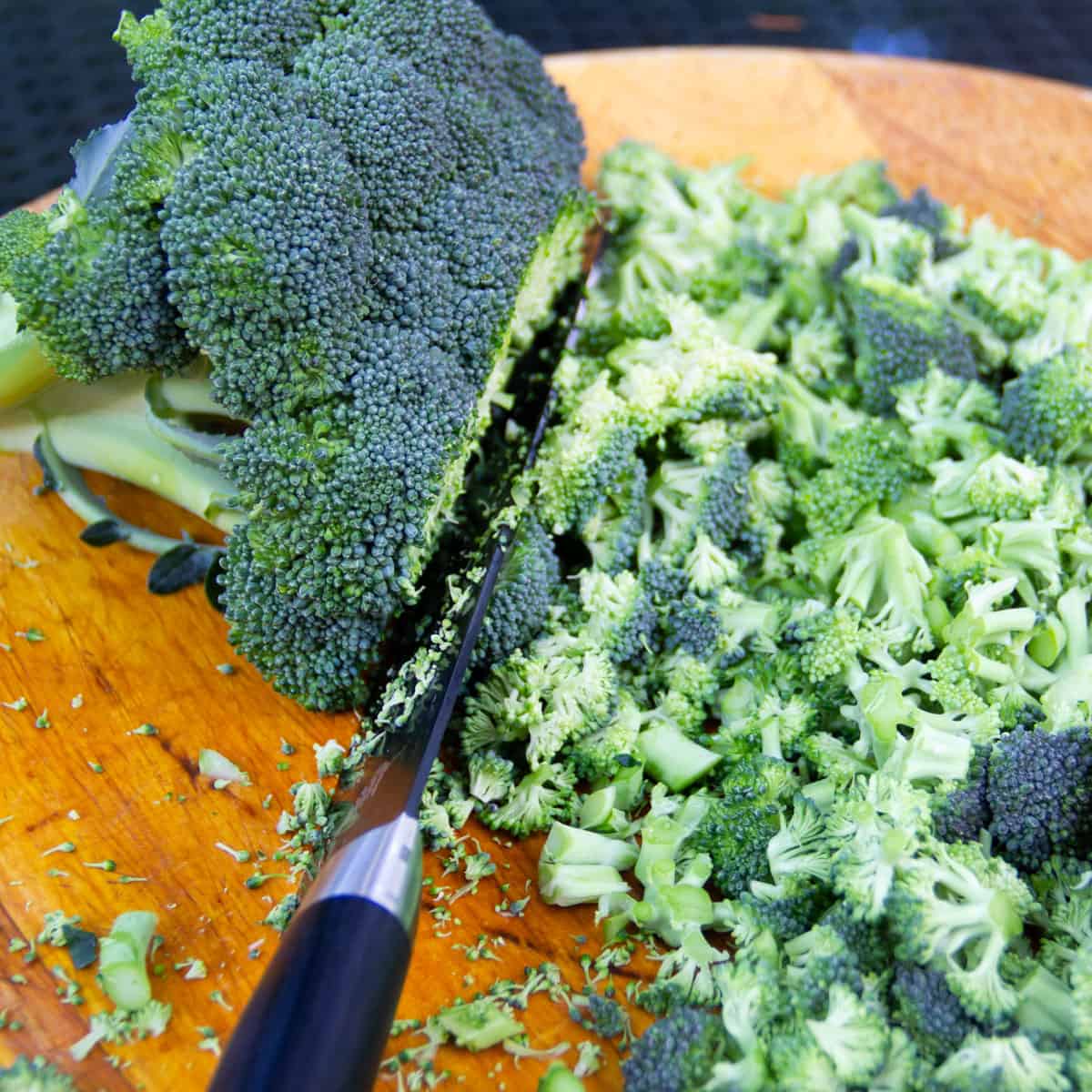 Remove the sauce from the heat and add the caramelized veggies and the shaved broccoli. These veggies will make your vegetarian tomato sauce thick and "meaty" with tons of flavor!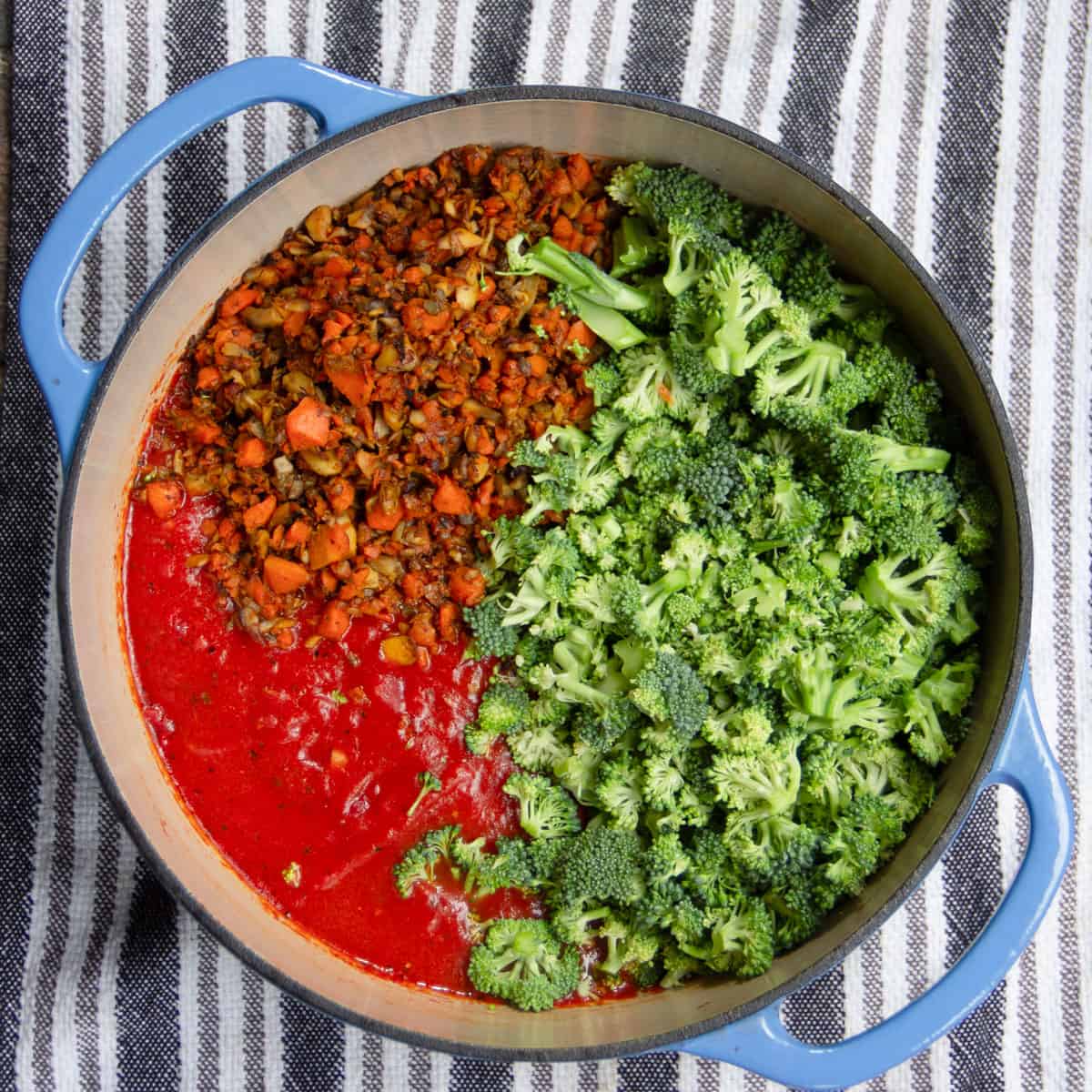 Now it's time to put all the pieces of this dish together.
How to assemble eggplant lasagna
Put this together the same way you approach classic lasagna. The only difference is that you'll have to be a little creative about how you arrange the irregular eggplant "noodles" so they fit well in the casserole.
Spread a thin layer of sauce on the bottom of the casserole and arrange half of the eggplant slices on top.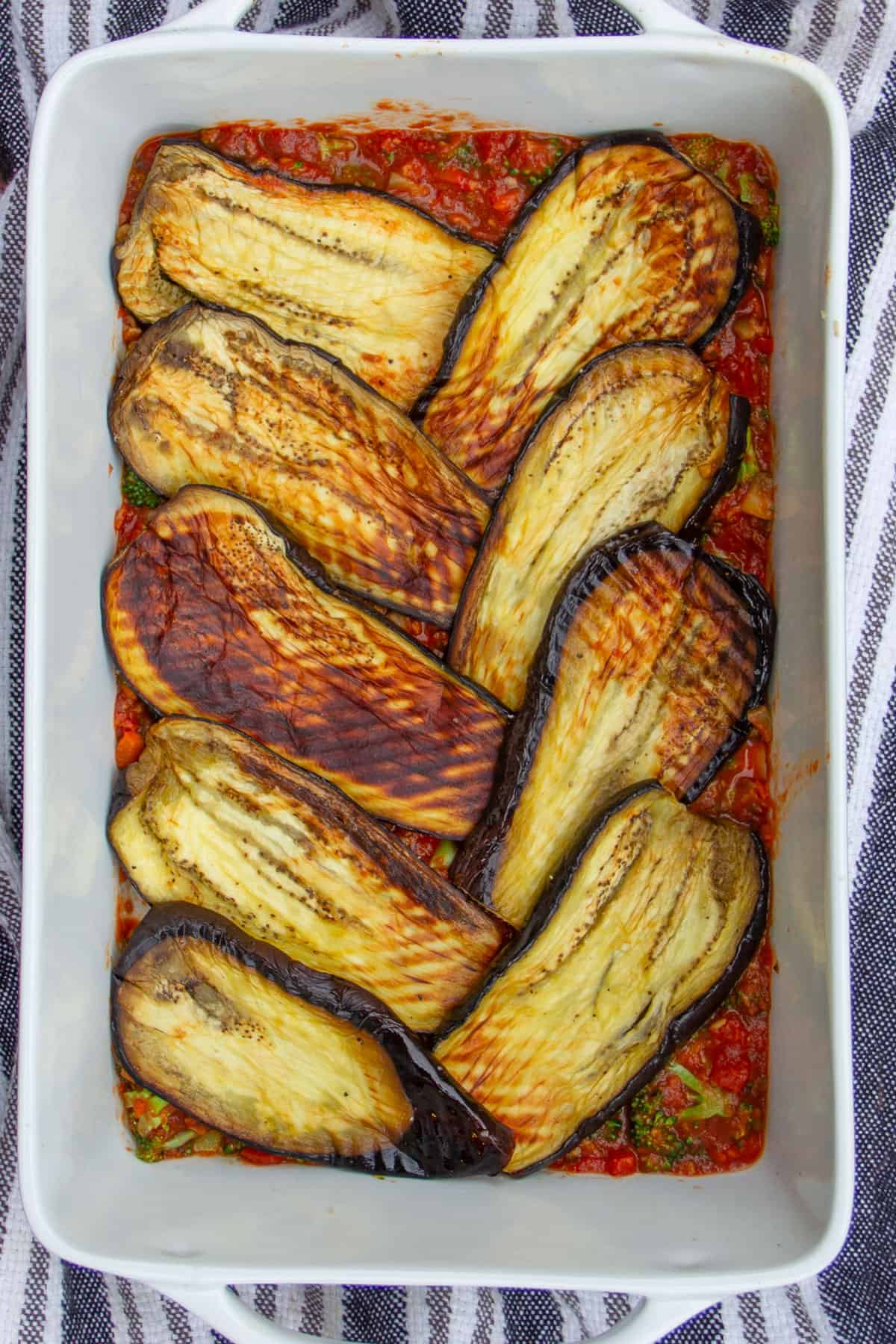 Spread half of the remaining sauce on top of the eggplant layer, followed by half of the cheeses.
Repeat those two layers one more time.
Cover the casserole with foil and bake for 55 minutes.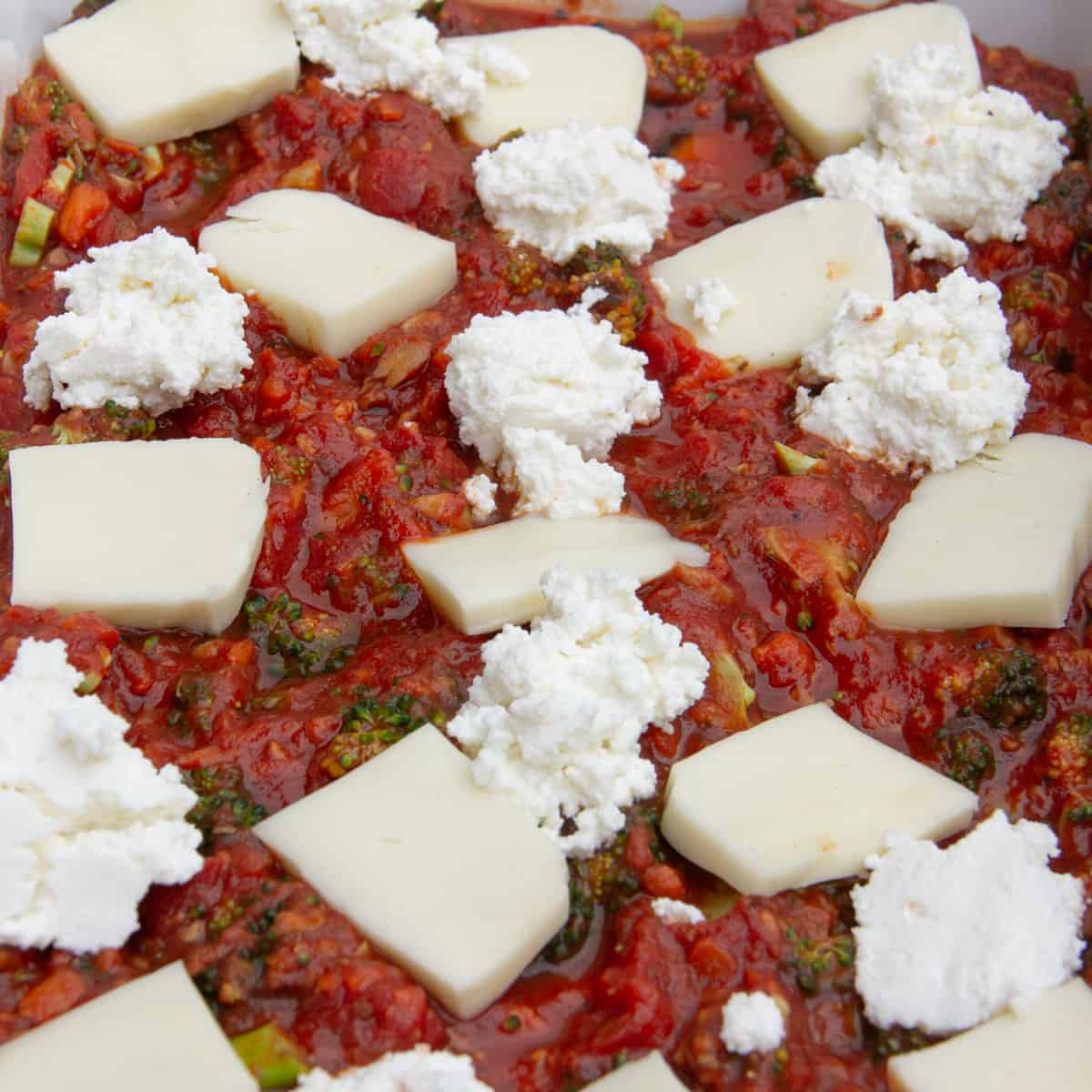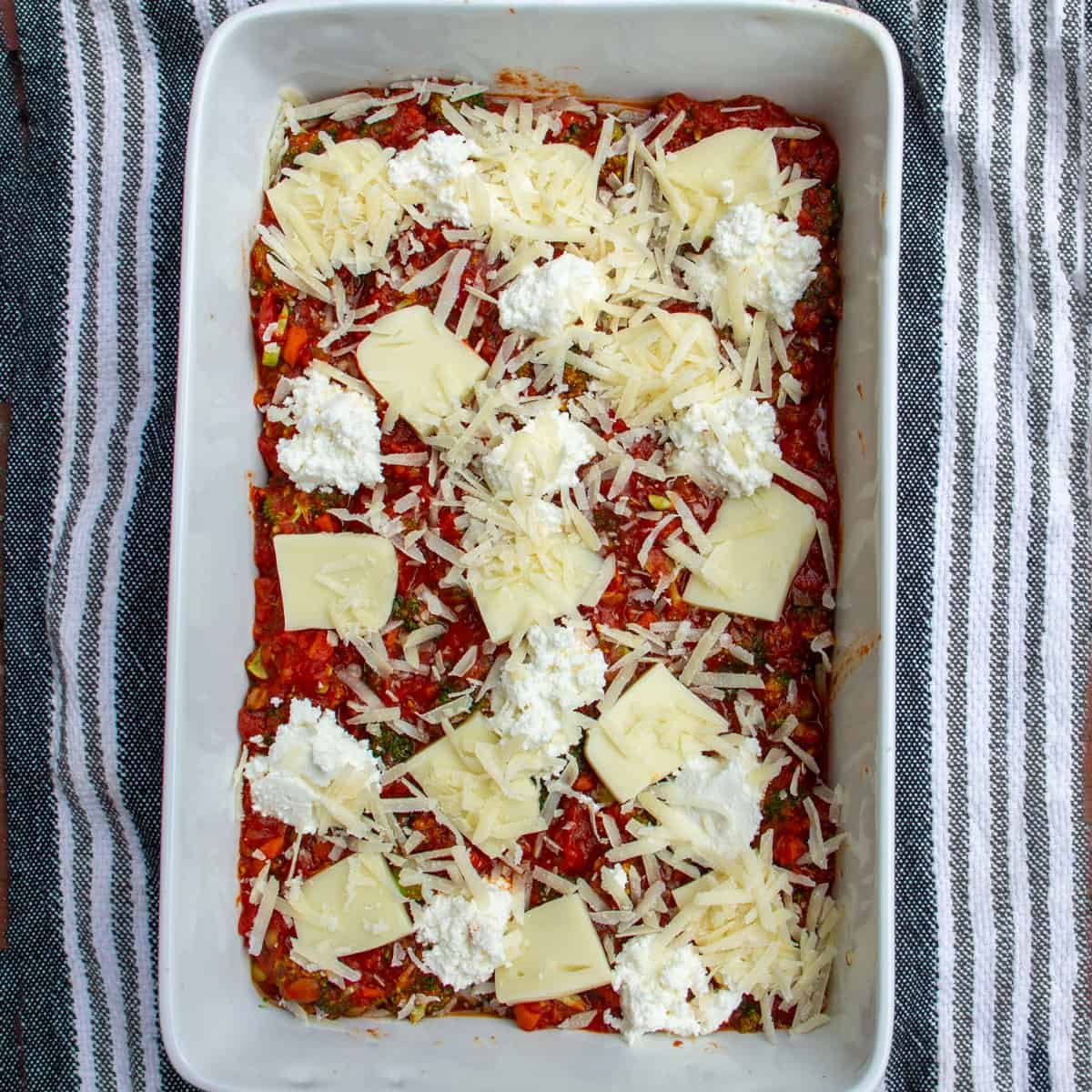 Rest the lasagna for 15 minutes and then slice and serve.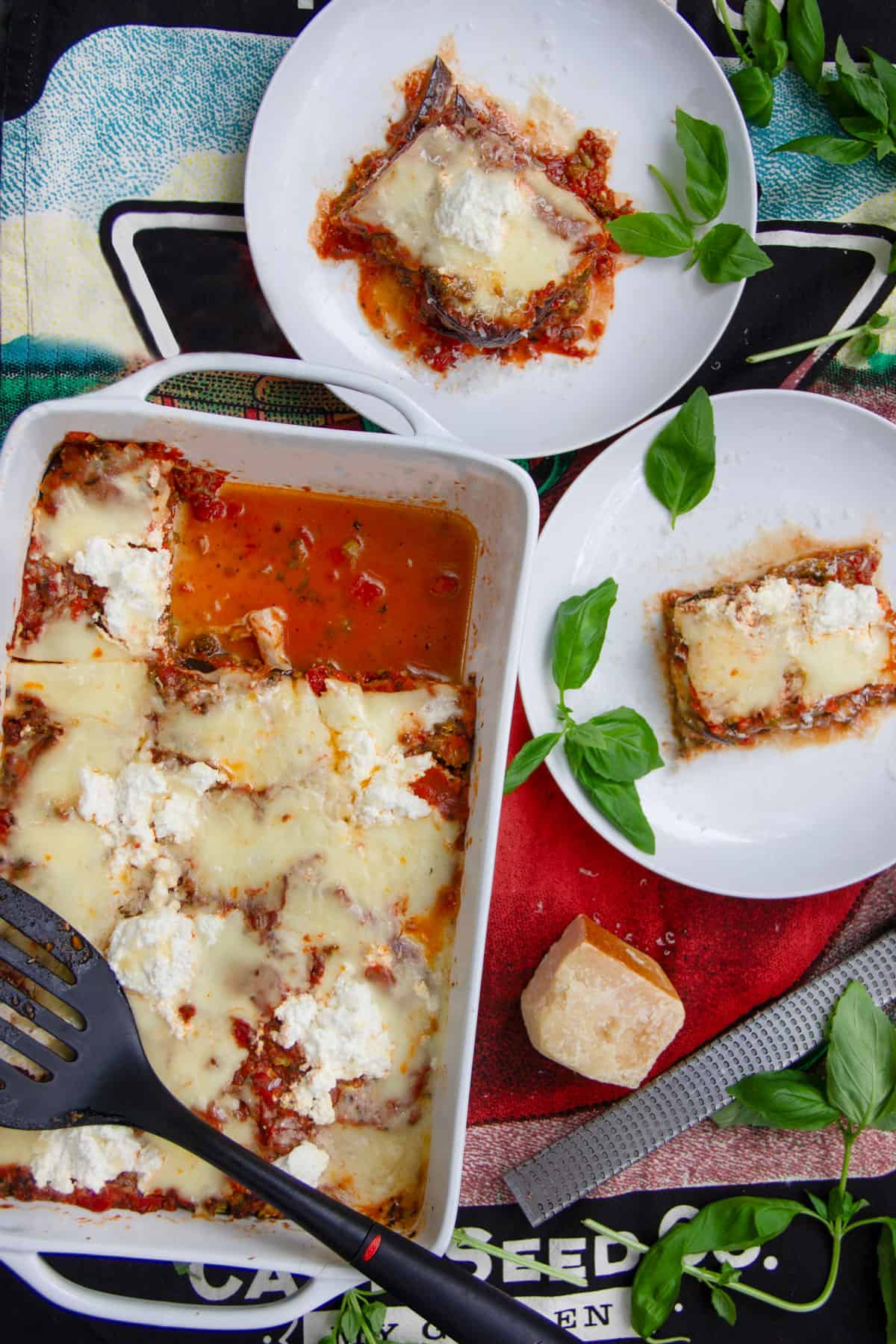 What to serve with eggplant lasagna
A crisp salad is the perfect side dish for this rich cheesy casserole. My favorite is this Tricolore Salad, made with an exciting trio of lettuces, which represent the colors of the Italian flag, and a vibrant lemon vinaigrette.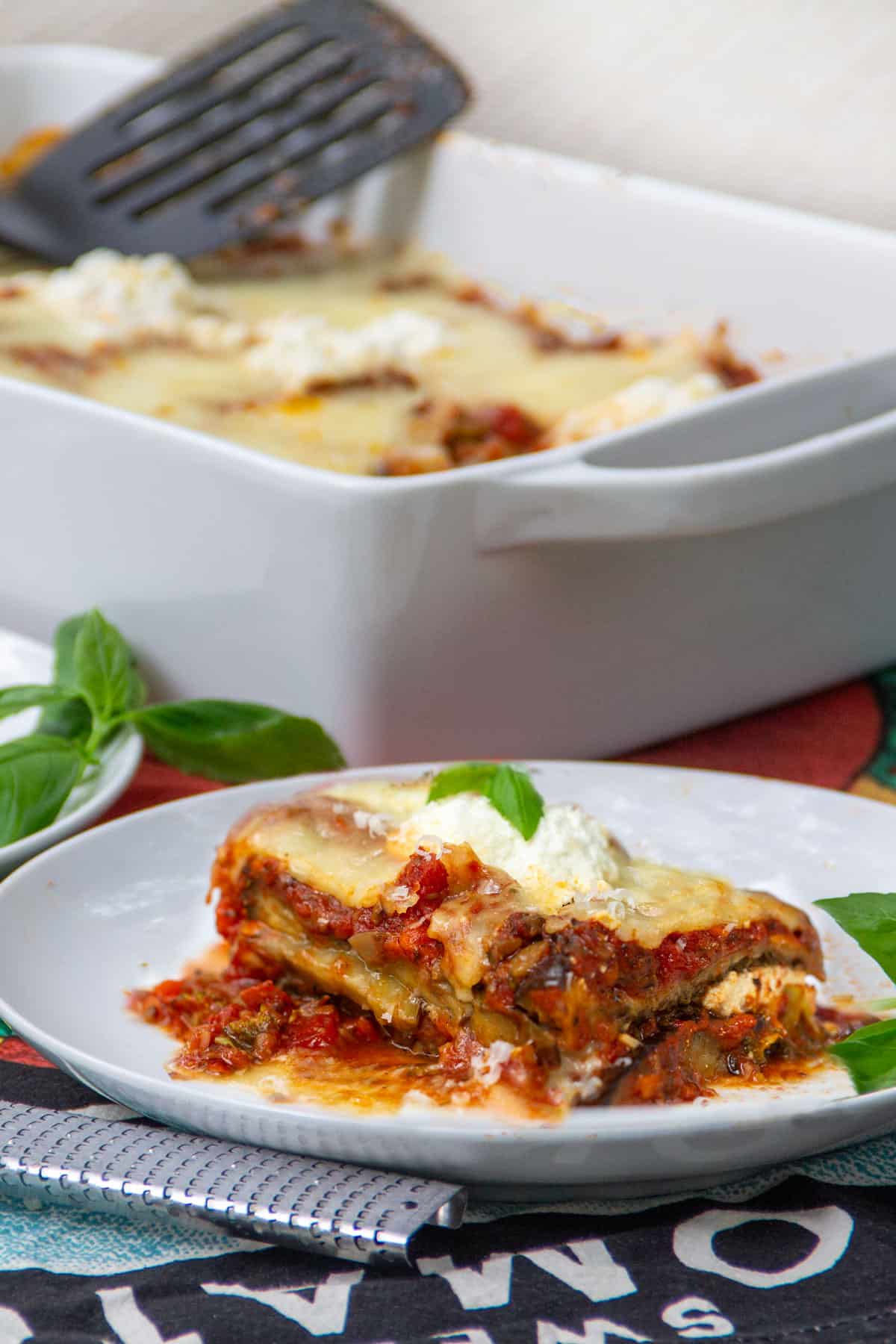 Here's the recipe for Eggplant Lasagna. If you make this, I hope you'll come back to leave a star rating and a comment. I'd love to know what you think.
Print
Eggplant Lasagna
---
Description
This eggplant lasagna is made with tender roasted eggplant layered with delicious homemade tomato sauce, lots of veggies and three cheeses. It's a low-carb, gluten-free, vegetarian lasagna with all of the rich heartiness, fantastic flavors and oozing cheeses that make lasagna so irresistibly good.
---
4

or 5 large firm Italian or globe eggplants (

3

pounds)

¼

cup

olive oil plus more for oiling the baking sheets

4

-

5

large garlic cloves, minced (

2 tablespoons

)

1 teaspoon

crushed red pepper flakes
1

28

-

ounce

can crushed tomatoes

4 tablespoons

tomato paste

1 ½ teaspoons

dried basil

3

large carrots, peeled and finely diced

1

pound

white mushrooms, cleaned, stemmed and finely chopped

2

large broccoli crowns
An

8

-ounce ball of fresh mozzarella, halved and cut into

¼

-inch slices

8

ounces

ricotta cheese (reduced fat is fine)

2

ounces

grated Parmigiana Reggiano, plus more for sprinkling on top

12

-

15

fresh basil leaves, slivered (optional)
---
Instructions
Preheat oven to 400ºF/200ºC. Position oven shelves in the top and bottom positions. 
Trim the ends off the eggplants and cut them lengthwise into ½-inch thick slices. You should have 5 good slices per eggplant plus a few thinner side pieces with skin.
Lightly oil two rimmed baking sheets and add eggplant slices in a single layer. Brush the tops with olive oil (about 3 tablespoons total). Sprinkle with ¼ teaspoon of salt per pan and season with fresh ground pepper, to taste. Bake for 30 minutes, switching the position of the pans halfway through. Remove from the oven and set aside to cool.
While the eggplant roasts, heat two tablespoons olive oil in a large skillet. Add carrots and mushrooms and cook over medium heat for 12-15 minutes, stirring frequently and pressing the veggies down into the pan with the back of a spatula, until lightly browned. Remove from heat and set aside.
Add ¼ cup olive oil, garlic and red pepper flakes to a large heavy pot or dutch oven and set over medium-high heat. As soon as the garlic starts to sizzle, lower the heat to a simmer and cook for 30-40 seconds (don't let it brown), then pour in the crushed tomatoes, followed by the tomato paste, 2 tablespoons of water, and the dried basil. Simmer the sauce, partially covered (to avoid splatter), for 20 minutes.
Whiled the sauce simmers, place a broccoli crown on its side on a cutting board and, using a large sharp knife, cut/shave the crowns into ½-inch slices, which will give you a pile of finely chopped florets. Repeat with the other broccoli crown.  
When the sauce has finished simmering, remove it from the heat, stir in the chopped broccoli and the carrot-mushroom mixture and set the pot aside.
Preheat the oven to 375ºF/190ºC and set an oven rack in the center position. Lightly oil the casserole and spread ¾ cup of sauce into the bottom. Arrange half the roasted eggplant slices on top. (see photos in post). Add half the remaining sauce on top of the eggplant. Arrange half the mozzarella, ricotta and parmesan evenly over the sauce layer. Arrange the remaining eggplant slices on top, then the remaining sauce. Finish with the rest of the cheeses.
Cover the casserole with a double layer of foil and bake for about 55 minutes, until the lasagna is heated through and the cheese is melted, removing the foil for the last 15 minutes of cooking time to let the cheese brown.
Remove the lasagna from the oven and let it rest for 10-15 minutes. Slice into portions using a sharp knife. Serve with parmigiana cheese and fresh basil sprinkled on top.
Notes
Time-saving tip: Use your food processor to chop the carrots and mushrooms. Cut the carrots into chunks and pulse them in the bowl of your food processor using the chopping blade. Remove the carrots and do the same with the mushrooms.
Prep Time:

30 mins

Cook Time:

1 hour 30 mins

Category:

Dinner, Casserole

Method:

bake

Cuisine:

Italian
Keywords: Vegetarian, low-carb, gluten-free, comfort food
This recipe was first published on October 22, 2014. It was updated on September 15, 2023 with new photos, added nutritional information, added helpful details in the written post, and more concise directions in the recipe. The title was changed from "no-noodle eggplant lasagna" to "Eggplant Lasagna."