Lasagna is the best comfort food in the world! There is nothing more tempting and delicious than a casserole of tender noodles enveloped in scrumptious meaty tomato sauce oozing with molten cheeses. No béchamel sauce needed. This is my own special lasagna recipe that I've been perfecting over time and it's the absolute best! A lasagna lover's lasagna.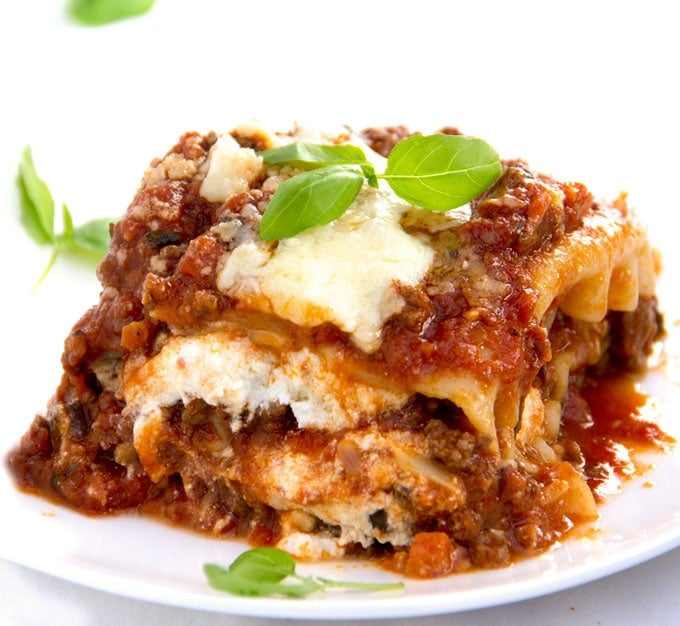 How to make lasagna
First let's talk about noodles. I know it's easier to use instant no-boil noodles. I sometimes do when I'm short on time. But I much prefer the texture of real lasagna noodles, the kind that you boil first. I especially love the ruffly lasagna noodles. They add wonderful texture to the dish. Freshly-made lasagna noodles are also a great choice.
How to cook lasagna noodles so they don't stick together
Lasagna noodles can be challenging to work with. If you're not careful, they can get mushy and fall apart or, even worse, they can stick together in a big clump and good luck trying to pull them apart. Here are a few tricks that make for a happy experience with lasagna noodles.
Slightly undercook the noodles. This will prevent them from falling apart when you handle them. They will soften up more once they're layered into the lasagna and baked in the oven.
Add a little oil to the cooking water. This is added insurance against the lasagna noodles sticking together.
Add one noodle at a time to the boiling water. Once they are all in the pot, stir them gently with a wooden spoon, making sure they are all separated from one another as they boil.
Drain the noodles in a colander. Run a little cold water over them so you can handle them.
As soon as they are cool enough to handle, immediately remove them, one by one, from the colander, and lay them on a rimmed baking sheet, to cool.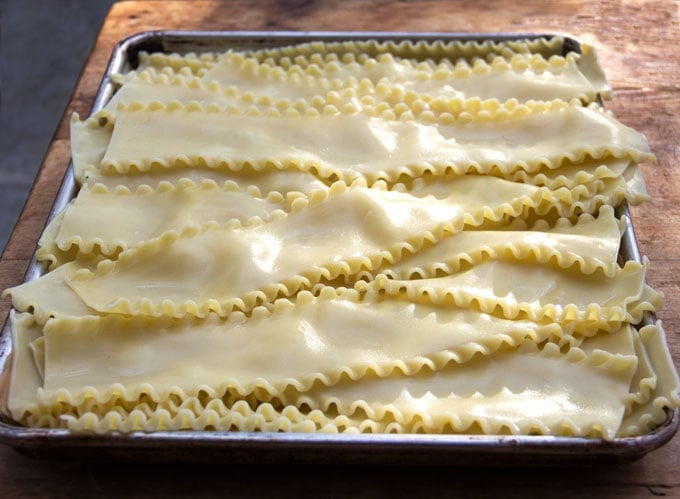 How to make excellent meat sauce for lasagna
The key to a great lasagna is a great tomato sauce. It's not hard to make a delicious meat sauce if you use good quality ingredients. Here are some tips for making a fabulous meat sauce.
Use good quality canned tomatoes. My favorite canned tomatoes are San Marzano Tomatoes. If you can't find them at the store, my next favorite are Muir Glen organic tomatoes or any organic tomatoes. I usually buy canned whole tomatoes even if a recipe calls for crushed or pureed tomatoes (I puree them myself).The quality of whole tomatoes is consistently better than the ones that are chopped or pureed.
A mixture of meats adds a delicious depth of flavor to meat sauce. For this sauce I use ground beef and Italian pork sausages, half hot, half sweet.
To infuse the sauce with extra umami flavor (savory meatiness) I add chopped caramelized carrots and mushrooms. It takes about 15 minutes of sautéing and the flavors are amazing!
Finally, a little dry red wine adds a wonderful richness to a red sauce. Use half a cup of something good. Consider using the same wine you'll serve with the meal.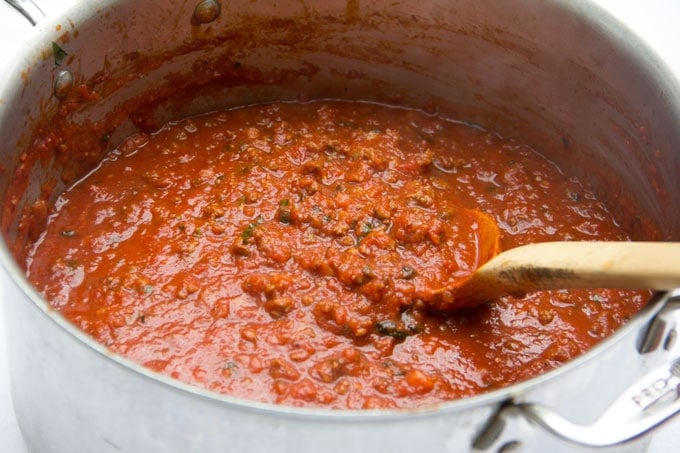 How to layer lasagna
Once you've got the noodles and the sauce cooked, you're ready for the fun part - layering it all together. A typical lasagna has 3 layers of noodles with 3-4 noodles per layer, depending on the size of your casserole. A box of dry lasagna noodles generally contains 16 noodles, so there's room for error if a few noodles stick together or tear.
Start with a thin layer of sauce in the bottom of the casserole to flavor and moisten the noodles and to keep them from sticking to the pan.
Next add a layer of noodles, slightly overlapping.
Next add a layer of sauce, about a third of what's left in the pot.
Sprinkle on a third of the shredded mozzarella and a third of the parmesan. Dollop on half of the ricotta cheese.
Keep building two more layers of noodles, sauce and cheese until you've used up all the ingredients, ending with a top layer of sauce, and the rest of the mozzarella and parmesan cheese.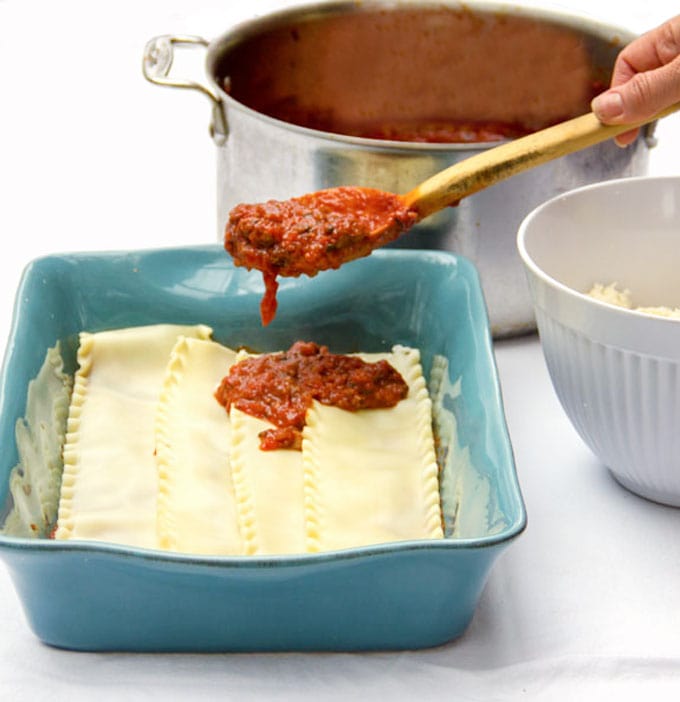 How long to bake lasagna?
Bake lasagna in a 375ºF oven, covered tightly with foil, for 40-50 minutes, until the sauce is bubbly and the cheese is melted.
To brown the cheese on top, remove the foil for the last 5-10 of baking.
It's important to let lasagna rest for 10-15 minutes after it comes out of the oven. Everything will firm up, it will slice more easily without falling apart, and it will be the perfect temperature for eating.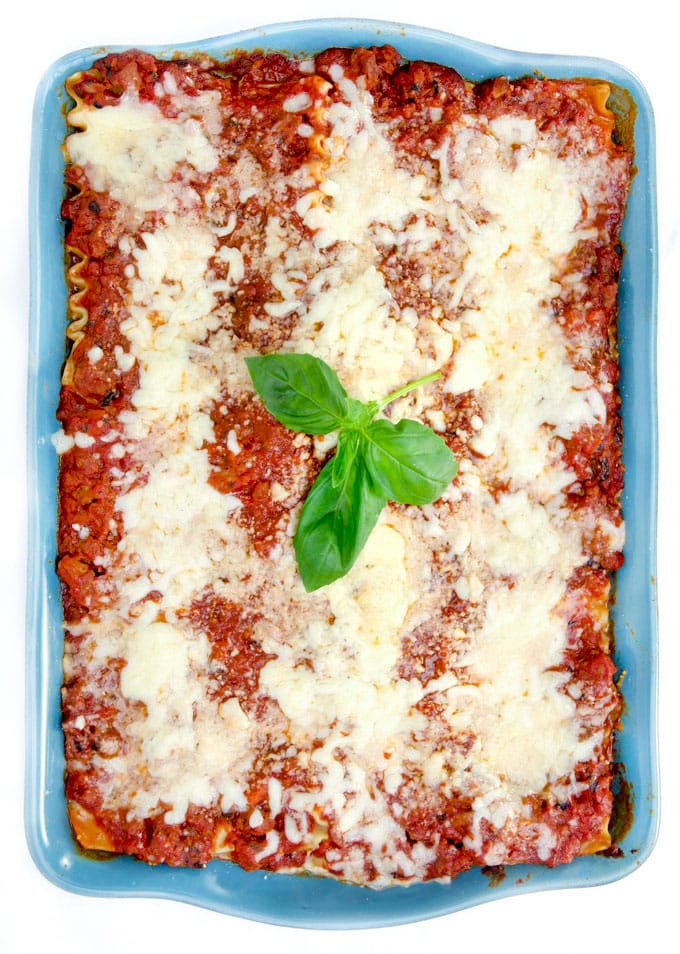 This lasagna has lots of meaty sauce and noticeable blobs of cheese. Some would call it Southern Italian or stuffed lasagna. I call it the best lasagna in the world!
In case you're wondering why I don't use béchamel sauce in my lasagna, it's because there's no need for it. Béchamel is very rich and creamy, made with milk and butter and flour. This lasagna recipe is plenty rich with all the meats and wonderful cheeses. It looks rustic, with blobs of cheese rather than a uniform creamy sauce, and I love it that way.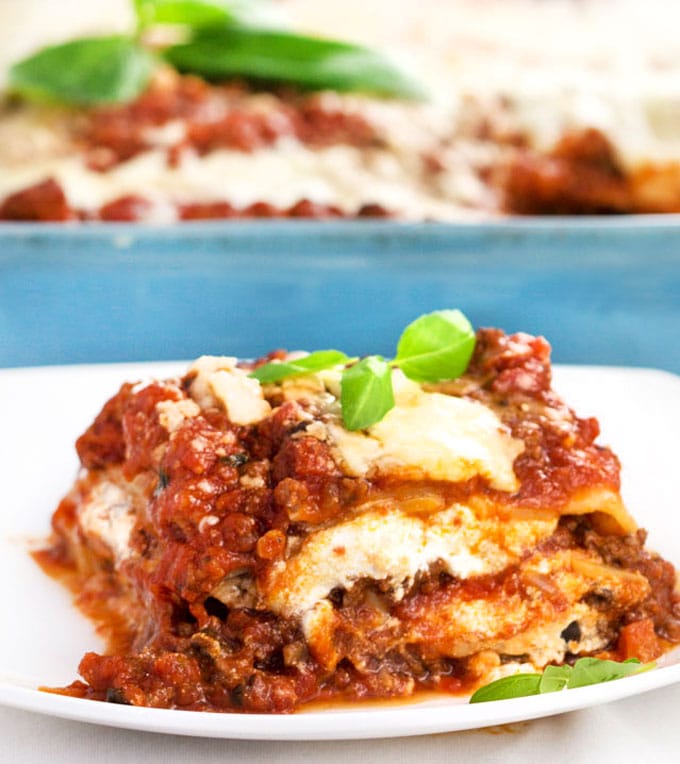 By the way, lasagna freezes well, which is important to know, especially if you're like me. I have absolutely no discipline around lasagna. When there are leftovers in my house that aren't frozen, I'm over at the fridge every hour or so, slicing off "just a little taste."
If you're a fan of Lasagna, you'll love these recipe too:
No-Noodle Eggplant Lasagna uses thin slices of baked eggplant as the "noodles". It's a delicious healthy vegetarian casserole with lots of added vegetables and no gluten.
No-Fry Eggplant Parmesan is another variation on the theme. The eggplant is dipped in milk, coated with bread crumbs, baked, and then layered with a rich thick tomato sauce, two cheeses, and topped with spinach. It's extremely delicious and way lighter and healthier than traditional eggplant parmesan.
Roasted Vegetable Lasagne is a fantastic healthy vegetarian version, packed with carrots, peppers, onions and broccoli.
Italian tri-colore salad is the perfect salad to serve with lasagna or any Italian meal.
Here's my favorite lasagna recipe. If you try this, I hope you'll come back to leave a star rating and a comment. I'd love to know what you think!
Print
My Favorite Lasagna Recipe
---
Author:

Lisa

Total Time:

2 hours 5 mins

Yield:

10

-

1

2

1

x
Description
A great lasagna recipe with excellent meat sauce and three cheeses.
---
Equipment: You'll need a deep dish 9 x 13 casserole.
1

box of lasagna noodles (

1

pound)
Kosher salt

⅓

cup

plus

2

tablespoon

good quality extra virgin olive oil, divided

2

large garlic cloves, finely chopped (

1 tablespoon

)

¼ teaspoon

crushed red pepper flakes
2

28

-

ounce

cans Italian whole plum tomatoes (see note), I use San Marzano or Organic

2 teaspoons

dried basil

½

cup

dry red wine (I like Cabernet Sauvignon or Pinot Noir)

1

pound

lean ground beef

1

pound

Italian sausages, casings removed (½ hot, ½ sweet)
Freshly ground black pepper

3

carrots, finely chopped (

¾ cup

)

8

ounces

white mushrooms, stemmed and finely chopped
1

16

-

ounce

container of ricotta cheese (I prefer whole milk but part skim is fine too)

1

pound

of mozzarella cheese, shredded

1

cup

finely grated parmigiana cheese (I use Parmigiana Reggiano)

¼

cup

fresh slivered basil leaves, optional garnish
---
Instructions
Cook the Noodles: Bring a large pot of water to a boil. Add 1 tablespoon olive oil and 1 teaspoon of salt to the water. Lower the lasagna noodles into the pot one at a time so they're less likely to stick together. Cook until al dente, per package instructions, stirring often with a wooden spoon to separate noodles. Drain noodles, run cool water over them, and lay them out, one at a time, on a sheet pan. Cover with a damp dish towel.
Make the Meat Sauce: Add ⅓ cup olive oil, chopped garlic (1 tablespoon), and crushed red pepper (¼ teaspoon) to a large heavy pot or Dutch oven. Set the heat to medium. Cook until the garlic gets fragrant and sizzles a bit, 30 seconds to a minute. Pour in the tomatoes carefully because they might sputter (see note about tomatoes). Add dried basil (2 teaspoons) and wine (½ cup). Bring the sauce to a boil. Lower to a simmer and cook for 15 minutes. Use an immersion blender to crush the tomatoes in the pot. Simmer the sauce for another 30 minutes or so, adding the sautéed meat and veggies to the pureed sauce, as they are ready.
Sauté Meat and Vegetables: While the sauce is simmering, heat 1 teaspoon oil in a large skillet over medium-high heat. Cook beef and sausages until they lose all their pink color and start to brown, breaking up the large pieces with a wooden spoon or metal spatula. Sprinkle with a few pinches of salt and a few grinds of black pepper. With a slotted spoon, transfer meat to the sauce (once the sauce has been pureed).
Caramelize the Vegetables: In the same skillet, pour out all the fat and add 2 tablespoon of olive oil and the carrots and mushrooms. Cook, over medium heat, for 12-15 minutes, stirring frequently and pressing them down into the pan with the back of a spatula, until they're lightly browned and caramelized. Sprinkle with a little salt and pepper and add them to the sauce.
Layer and Cook the Lasagna: Preheat the oven to 375ºF and set the oven rack in the center position. Spread 1 cup of sauce over the bottom of the casserole. Arrange a layer of 4 noodles on top, slightly overlapping. Cover with ⅓ of the sauce. Sprinkle on ⅓ of the mozzarella. Spoon ½ of the ricotta around evenly, in little blobs. Sprinkle on ⅓ of the parmigiana cheese. Repeat with a second layer of noodles, half the remaining sauce, half the remaining mozzarella, half of the remaining parmigiana and the rest of the ricotta. Add the final layer of noodles, the rest of the sauce, the rest of the mozzarella and parmigiana. Cover the casserole tightly with a double layer of foil but try to tent it a bit so the foil doesn't touch the top layer of cheese. Cook for 40 minutes. Remove the foil and cook for 10-15 minutes more, until the sauce is bubbly and the cheese is melted. Let the lasagna rest for 15-20 minutes. Slice and serve. Sprinkle with fresh basil, if you like.
Notes
A Note about Canned tomatoes: I always buy canned whole tomatoes even if a recipe calls for crushed or pureed tomatoes. The quality of whole tomatoes is consistently better than the ones that are chopped or pureed. If you use canned whole tomatoes for this recipe and you don't have an immersion blender, you'll need to puree the tomatoes in a blender or break them up by hand before adding them to the sauce.
Prep Time:

20 mins

Cook Time:

1 hour 45 mins

Category:

Main dish

Method:

Bake

Cuisine:

Italian
Keywords: classic meat lasagna recipe with 3 cheeses, lasagna with meat sauce