These eggplant parmesan stacks are a festive, architectural redesign of classic comforting eggplant parmesan, only a healthier recipe because the eggplant is baked.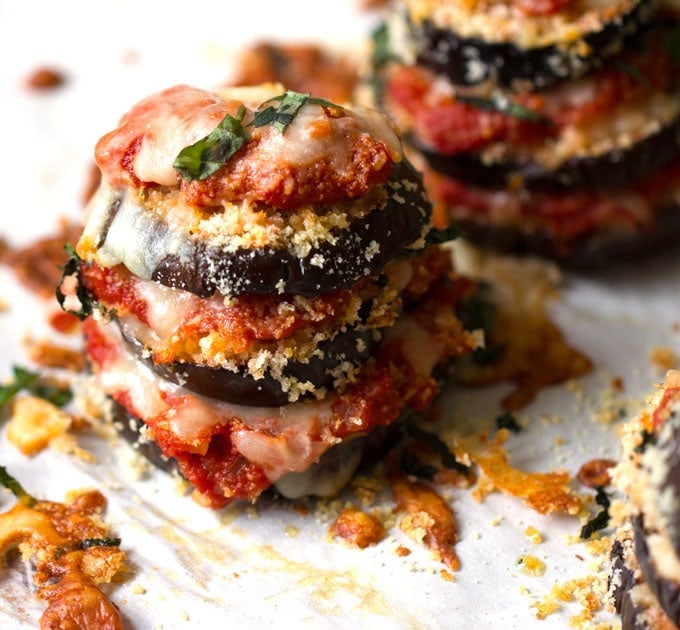 The cooking theme on Fridays at my house is usually about what I can make that goes well with a cocktail. It's the end of the week and we're ready to give ourselves over to celebratory exhaustion. Dinner is casual to the point of not even sitting at the dinner table. It's platters of appetizers and small bites out on the coffee table, so we can plop down on the couch and stay there. I concocted these eggplant parmesan stacks a couple of weeks ago for a Friday night, casual, on-the-couch dinner with friends. I wasn't even planning to blog about them, but they were a "wow!" As soon as they came out of the oven, I took one look at these towers of breaded eggplant rounds, held together with layers of thick rich tomato sauce and melted cheese, and I decided I had to share the recipe with you.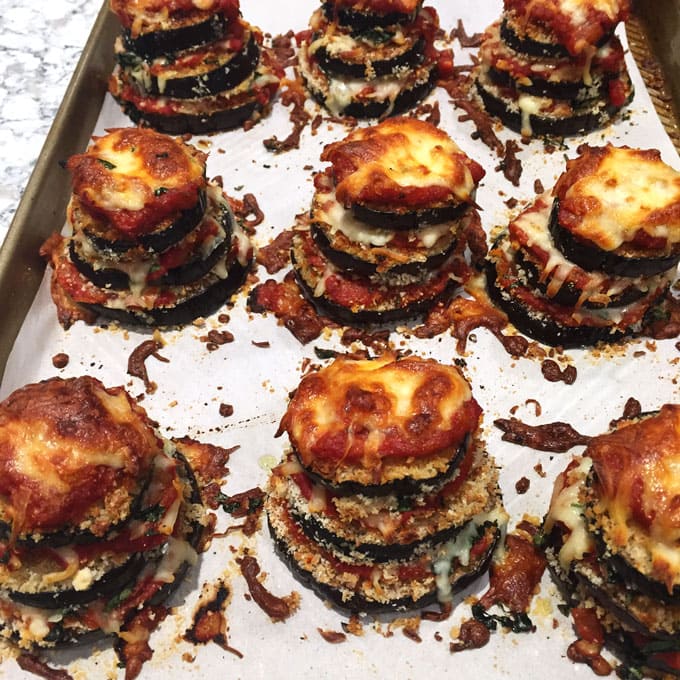 All I really did was change the architecture of one of my favorite comfort foods casseroles, keeping the flavors essentially the same. Vertical eggplant parmesan has a very different vibe from a casserole. They're both delicious but the towers are very fun and festive – perfect for a celebratory occasion or any occasion.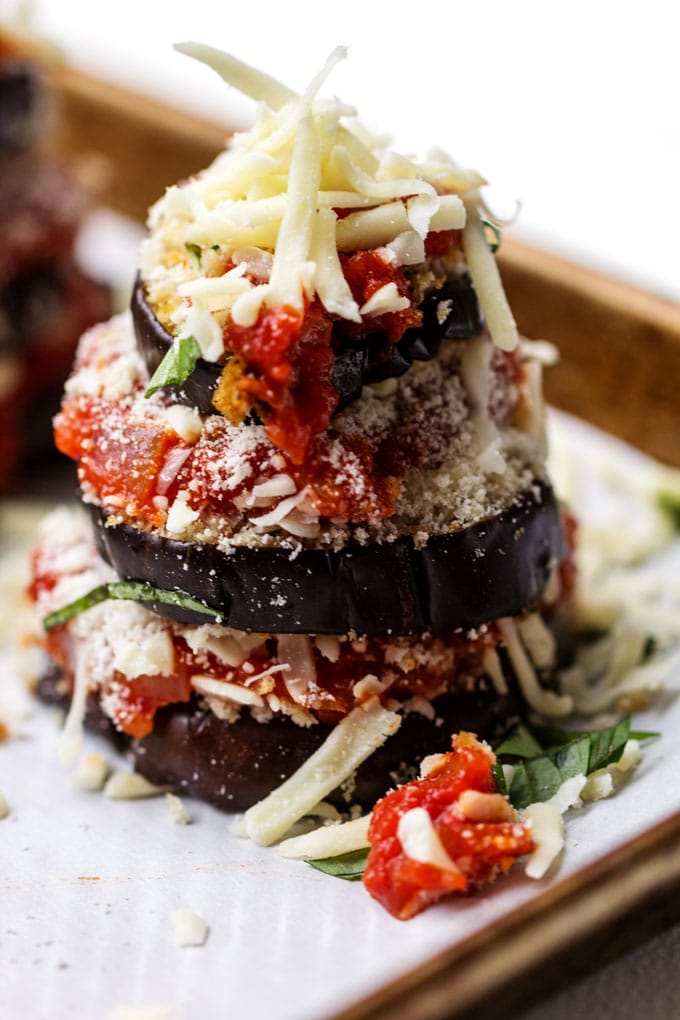 Here's how the recipe goes:
HOW TO MAKE EGGPLANT PARMESAN STACKS:
Bread the eggplant and get it into the oven to bake. While it's baking, make the sauce. The sauce and the eggplant should be ready at about the same time. Assemble the stacks by layering eggplant slices with sauce, cheese and fresh basil. 20 minutes before dinner, put the stacks in the oven and bake. One stack per person is great for a starter or for dinner if there's salad and bread on the side. Serve two stacks per person for a more filling dinner.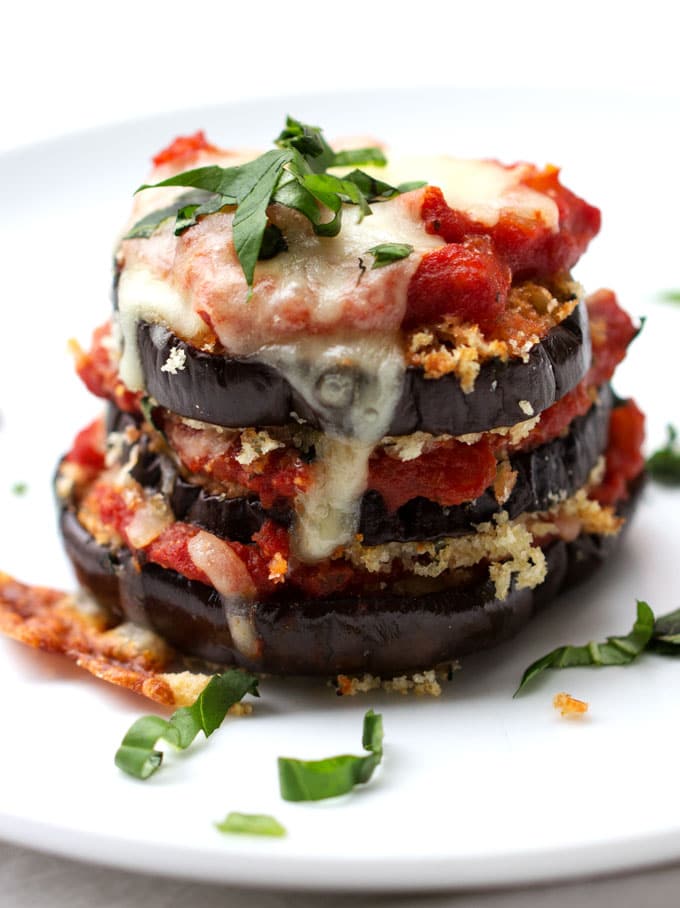 If you're a fellow fan of eggplant parmigiana, check out these recipes: no-noodle eggplant lasagna and no-fry-eggplant parmesan
Want a great cocktail to go with your eggplant stacks? Try Eddie's Perfect Manhattan 
MORE DELICIOUS 'STACKED UP' RECIPES
As always I love to hear from you. If you give this eggplant parmesan stacks recipe a try, I hope you'll come back to leave a comment and a rating. I'd love to know how you like it.
Print
Eggplant Parmesan Stacks
Baked eggplant, stacked up with tomato sauce and cheese. A tower of eggplant parmigiana that make a festive appetizer or a light lunch or dinner.
Author:
Prep Time:

30 mins

Cook Time:

1 hour

Total Time:

1 hour 30 mins

Yield:

8-10 stacks

Category:

Dinner

Cuisine:

Italian
Ingredients
2 medium eggplants (1 1/4 lbs each) cut into 1/3-inch rounds (12-14 slices per eggplant)
2 cups panko bread crumbs
1 teaspoon dried basil
1 cup milk (I used 2% but whole is fine too)
salt and pepper
Canola oil or cooking spray (for the baking pan)
Parchment paper to line the baking pan
Tomato Sauce:
2 tablespoons olive oil
1 large onion, diced (2 cups)
2 tablespoons dried basil
1 teaspoon salt
1 28 ounce can crushed tomatoes (I use San Marzano or Organic whole plum tomatoes and crush them in my blender)
1 6-ounce can tomato paste
1 tablespoon honey
1 tablespoon minced garlic (optional)
Cheese:
1 pound shredded mozzarella cheese (3 1/2- 4 cups)
1/2 cup plus 1 tablespoon finely ground parmesan cheese (I use Parmigiano Reggiano)
1/2 cup fresh basil leaves, slivered
Garnish: A sprinkling of slivered basil
Instructions
Bread and Bake the Eggplant: Preheat oven to 375ºF. Lightly oil a baking sheet or jellyroll pan. Mix Panko with basil and 1/2 teaspoon salt and spread onto a plate. Pour milk into a shallow bowl. Dip each eggplant slice into milk and turn to coat. Shake off excess. Press an eggplant slice down into the breadcrumbs. Flip and press the other side in to help the crumbs adhere. Arrange breaded eggplant on lightly oiled baking sheet. Repeat with the rest of the slices. Sprinkle eggplant slices with a little salt (1 teaspoon or so) and a few grinds of fresh pepper. Bake in the oven for 25 minutes. Flip slices and bake for another 15 minutes until the eggplant is softened and lightly browned in spots. Remove tray from oven and let eggplant cool for a few minutes so you can handle it. (leave oven set at 375ºF)
Make the Tomato Sauce: While the eggplant is baking, make the sauce: heat olive oil in a large cooking pot or dutch oven oven medium heat. Add chopped onion and cook for about 8 minutes until very soft and starting to brown. Stir in dried basil, salt, crushed tomatoes, tomato paste and honey. Cook sauce at a simmer, partially covered, for 20 minutes. Add minced garlic (if using) and simmer 10 minutes longer. Remove from heat. The sauce will be thick. TIP: If you're short on time, use a 32-ounce jar of your favorite tomato sauce for this recipe, and add a can of tomato paste to thicken it. A thick sauce is great glue for holding the stacks together.
Assemble the Stacks: Line a jellyroll pan with parchment paper. Divide the total number of eggplant slices by 3 and that's how many stacks you'll have. You should have enough for 8-9 stacks. Arrange the 8 (or 9) largest eggplant rounds on the prepared parchment-line pan. Top each round with two tablespoon of tomato sauce, a teaspoon of parmesan, 2 tablespoons of mozzarella, and a sprinkle of slivered basil (don't add basil to the top of the stacks) Repeat with two more layers, using the larger slices for the middle layer and the smaller ones for the top. Bake for 20 minutes. Serve hot.
Garnish each stack with a sprinkle of slivered basil.