This Eggplant Parmesan has all the deliciousness of classic eggplant parmesan but it's way lighter and healthier - made with baked (not fried) eggplant, sweet tomato sauce, cheese (you've gotta have cheese!), and a generous topping of spinach. When you're craving comfort food, it's great to have such delicious healthy eggplant parmesan recipe in your repertoire.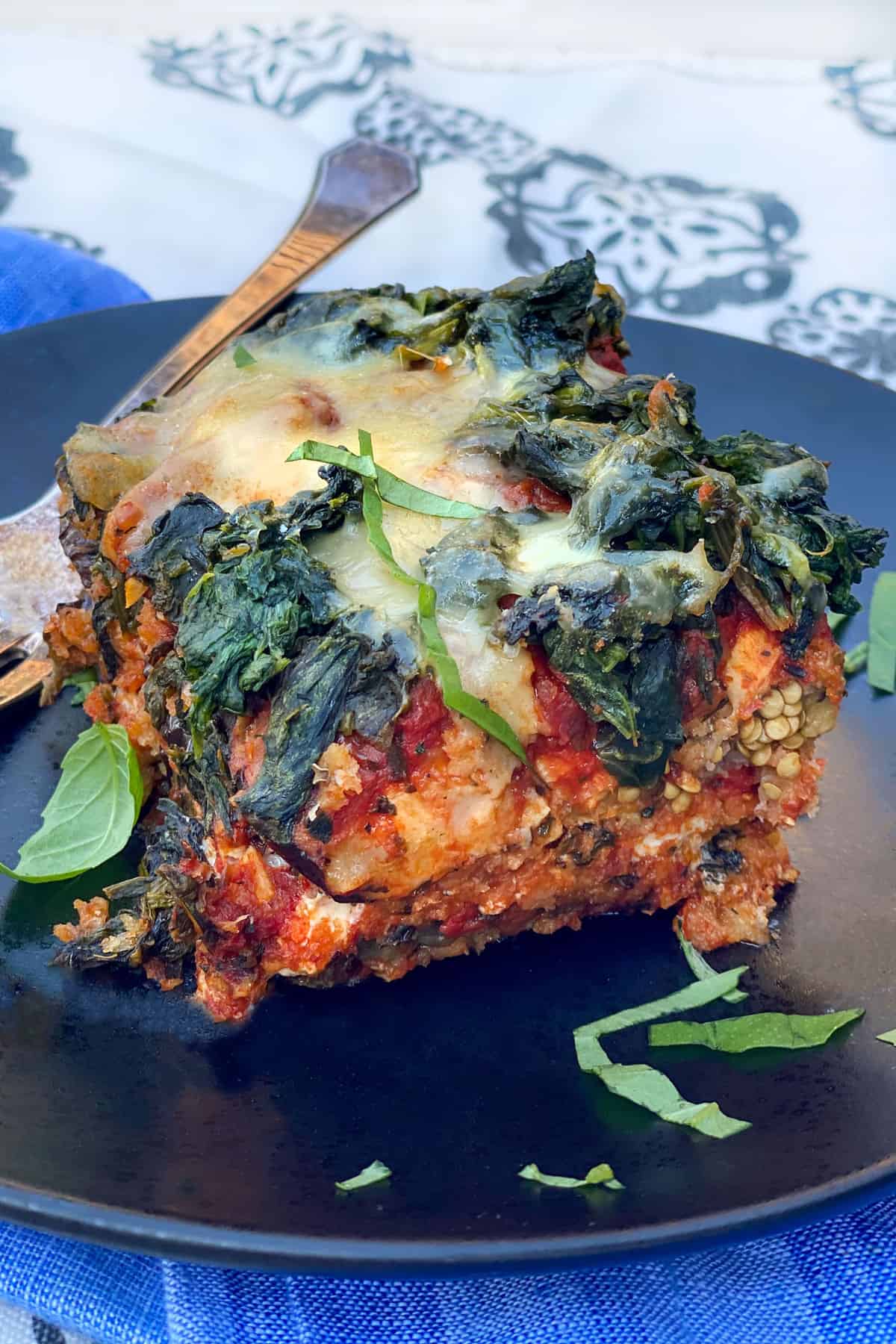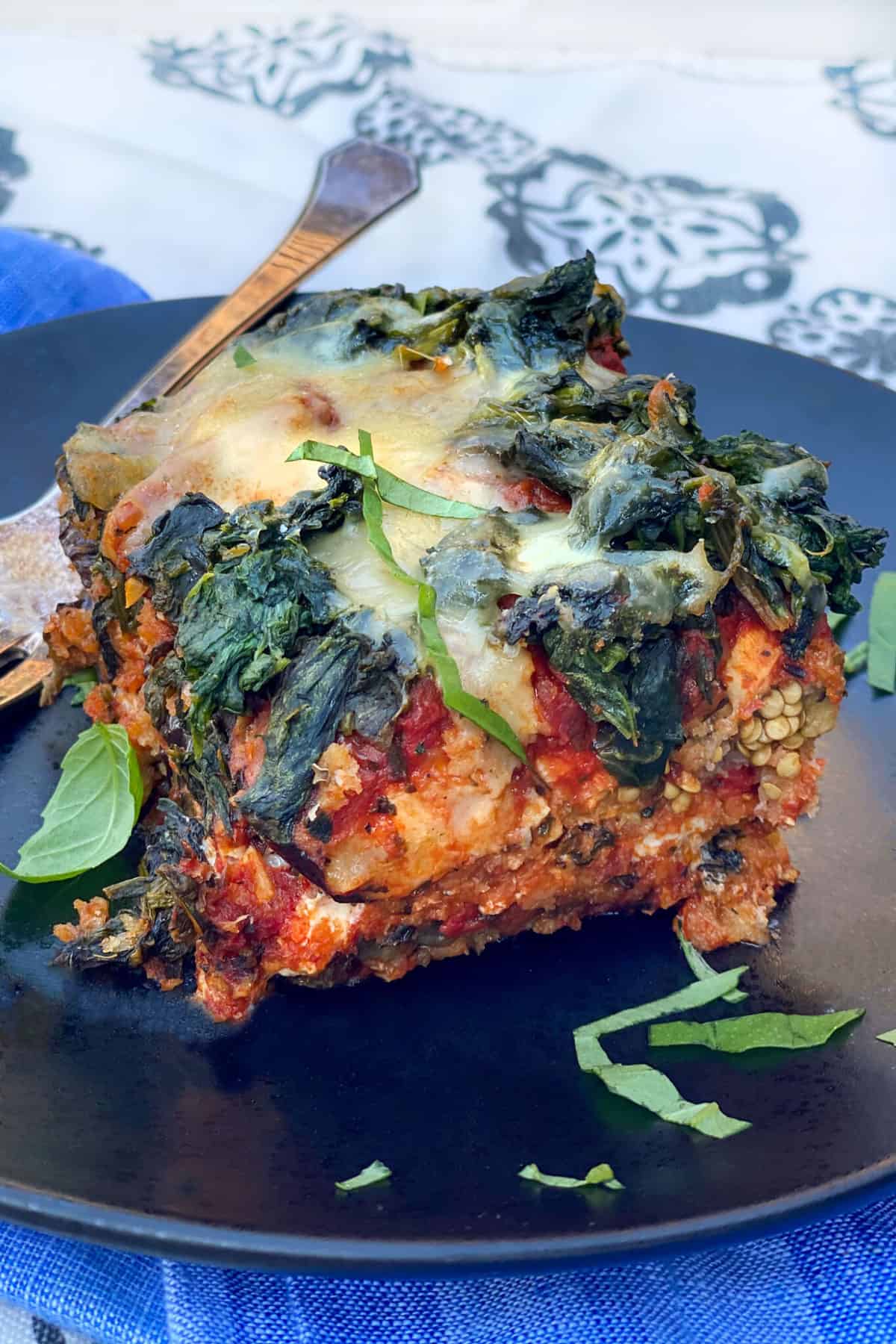 If you're thinking this healthy eggplant parmesan might be a compromise on flavor for the sake of nutrition, well you'll just have to try making it so you can see how amazing it is. Light yet comforting, deeply flavorful, loaded with veggies and just enough cheese to make it irresistible.
Healthy Comfort Food
As much as I love traditional eggplant parmesan, when I order it at a restaurant even the most delicious eggplant parmesan is often heavy and greasy, leaving me feeling heavy and greasy. That's because it's made with fried eggplant, and eggplant, when fried, soaks up oil like a sponge.
Still, I was skeptical when I first discovered this "no-fry" eggplant parmesan recipe in The Moosewood Cookbook. I thought the baked eggplant would be dry and that frying the eggplant might be an essential step for making the dish delicious. I was wrong!
The baked eggplant in this dish SO GOOD. Dipped in milk and then lightly coated with seasoned breadcrumbs and baked, the eggplant comes out of the oven unbelievably light and tender inside, with a golden brown crisp coating. Then it's stacked between layers of richly spiced tomato sauce and melted cheese, and topped with chopped spinach and more melted cheese - that's what I call comfort food!
There's nothing heavy or greasy about this dish. It's everything I want my eggplant parmesan to be and more. I can have a huge delicious portion and feel great.
Here's why you will love this eggplant parmesan recipe:
You don't have to stand over a bubbling pan of hot oil. Baking the eggplant is SO much easier than frying it.
Though there are several steps to follow, this recipe comes together easily because while the eggplant is baking in the oven, you can do the rest of the prep: defrost the spinach and make the sauce. Then layer everything together and bake it.
The tomato sauce in this recipe is amazing. When it comes to Italian food, a great tomato sauce makes the dish. This sauce is full of flavor, with three different dried Italian spices, honey, onions and garlic. A whole can of tomato paste is used, which makes this sauce thicker than average and works beautifully to hold everything together deliciously.
How To Make This Healthy Eggplant Parmesan
Start by breading the eggplant and getting it into the oven to bake. While it's in the oven you can get everything else ready.
Set up a breading station with a bowl of low-fat milk and a bowl of seasoned breadcrumbs. Dip the eggplant slices into the milk and then press them into the breadcrumbs, on both sides, and set them on a baking sheet as you go. Bake them for 25 minutes.

Make the sauce in pot with a cover: sauté a chopped onion until it's tender and then add all of the other ingredients except the garlic: dried basil, oregano, thyme, salt, crushed tomatoes, tomato paste and honey. Simmer the sauce for 20 minutes, add chopped garlic and simmer 10 minutes more.
Assemble the Eggplant Parmesan in a casserole pan, layering the sauce with the egg eggplant and cheese, and finishing with a layer of spinach and more cheese.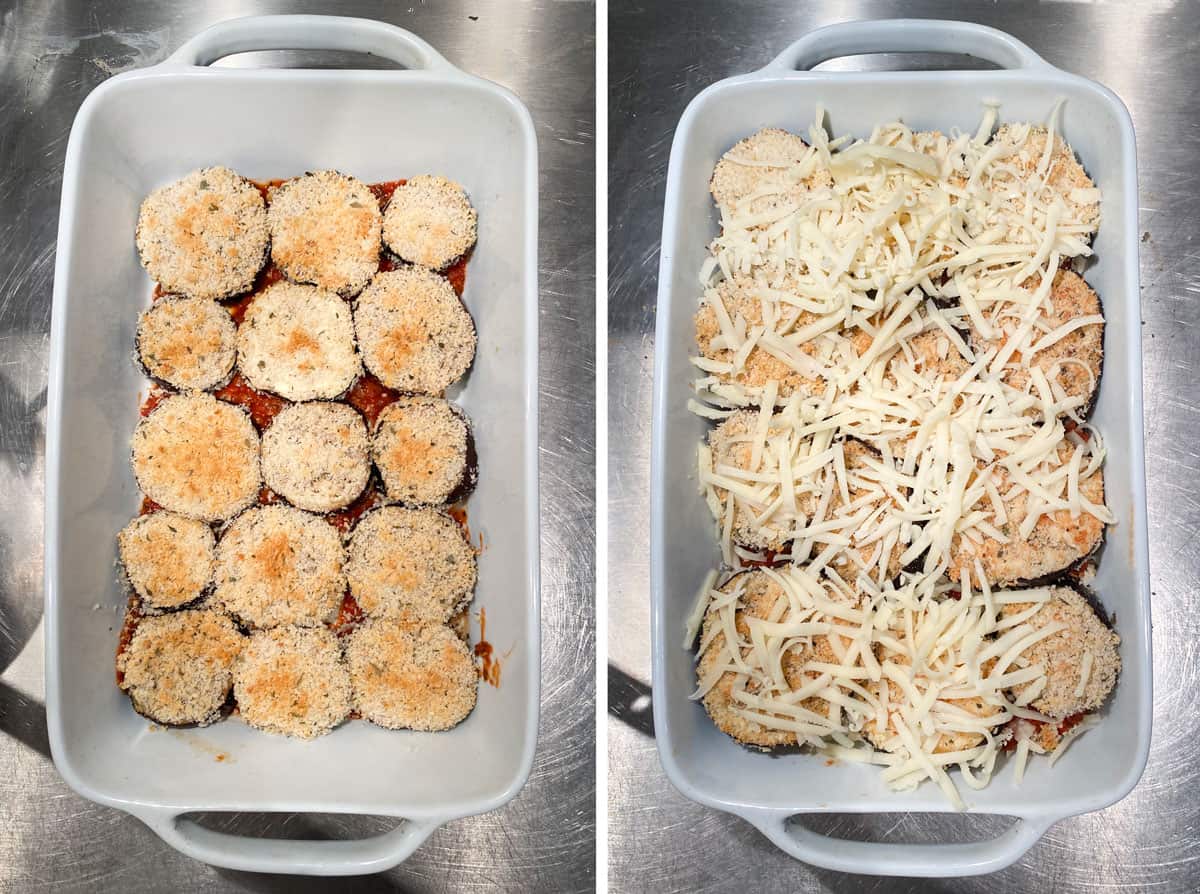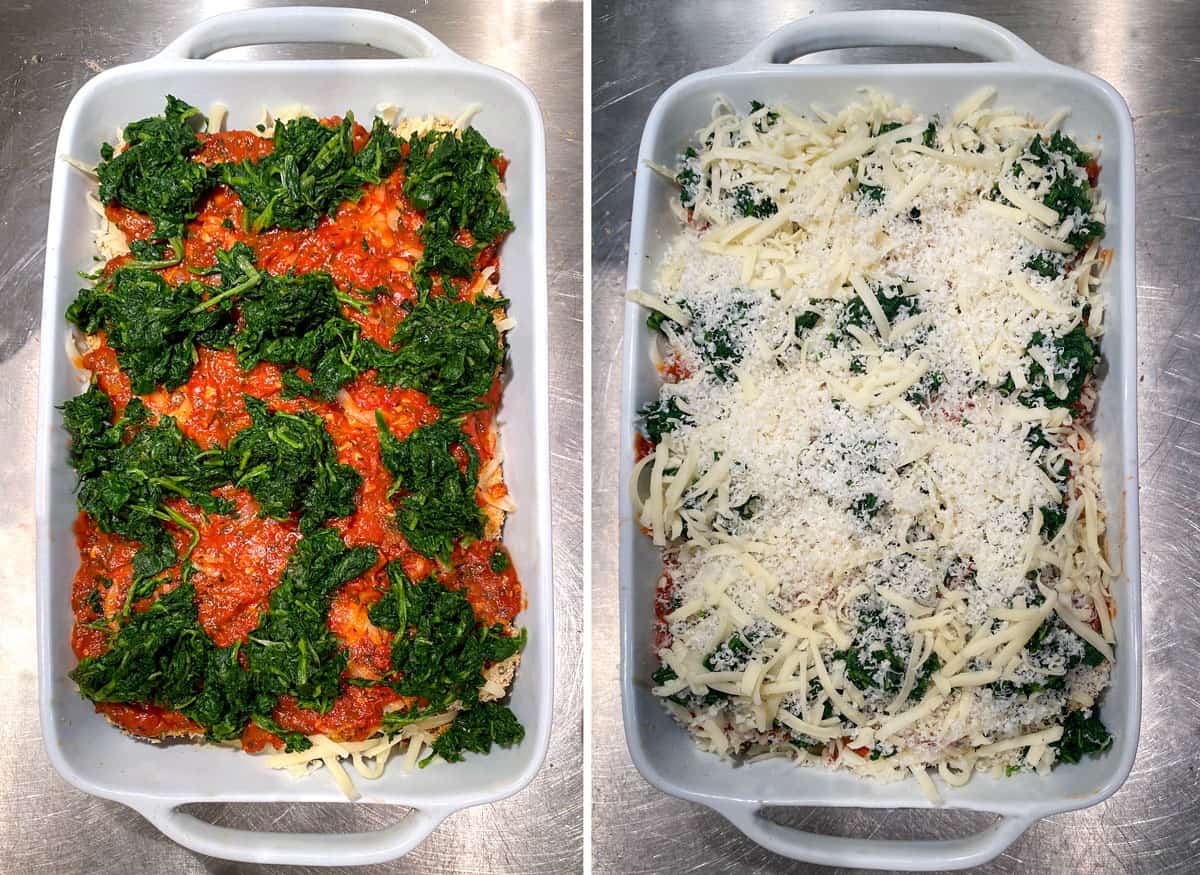 Bake the eggplant parmesan for 40 minutes at 375ºF. Let it sit for 10 minutes before slicing. By the way, have you ever wondered why it's good to let a casserole sit for a bit before slicing? It's because when a piping hot casserole first comes out of the oven, sometimes there are bubbling liquids in the pan. If you let the casserole sit, those liquids are reabsorbed.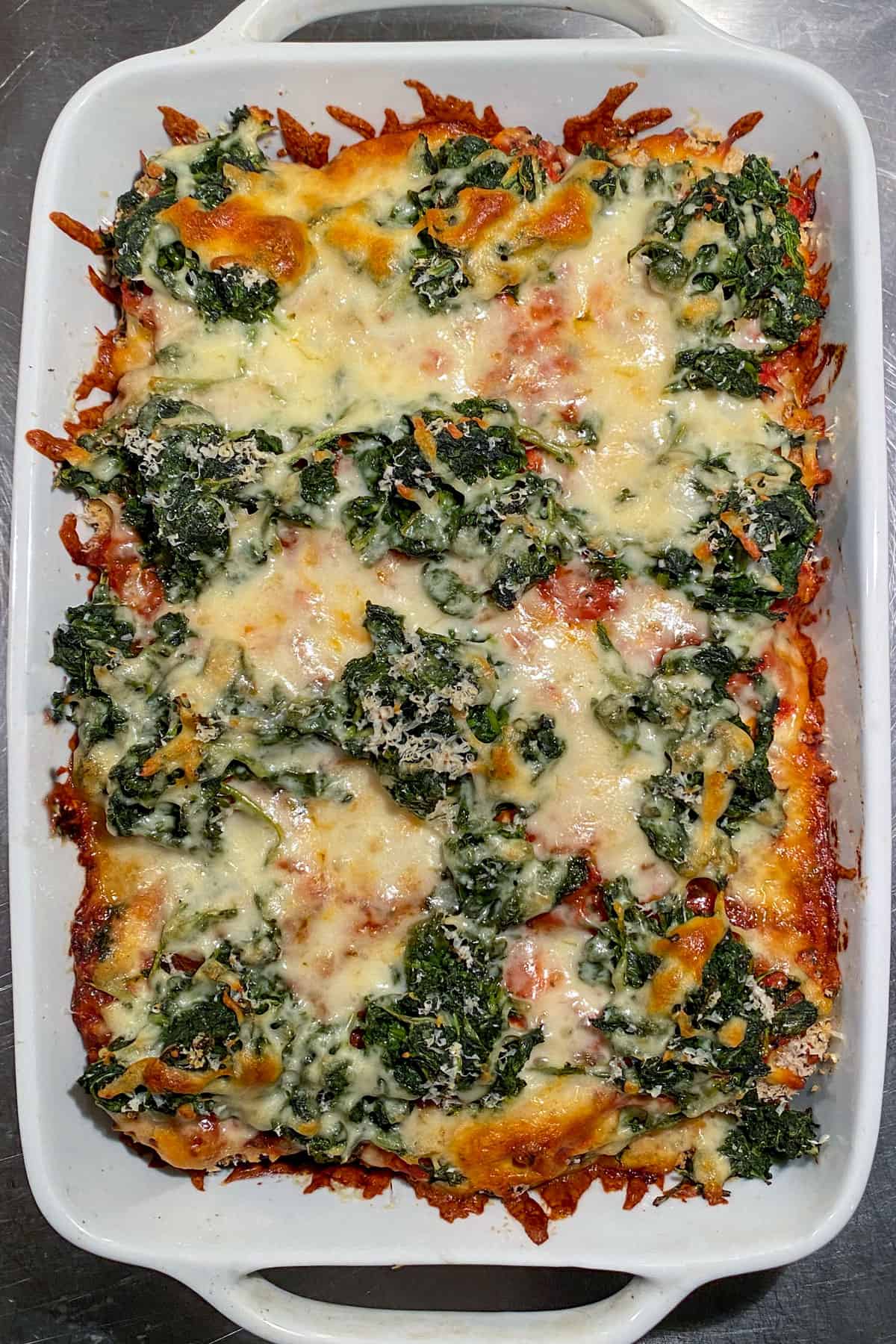 More Eggplant Recipes To Enjoy
It is worth noting where this recipe originated. I adapted it from a recipe in the famous vegetarian cookbook: The Moosewood cookbook by Mollie Katzen, that was first published in 1977. The book is an American Classic, listed by the New York Times as one of the top ten best-selling cookbooks of all time. I'm usually so busy exploring new cookbooks that I don't think to revisit the old ones. This one is going back front and center into my kitchen bookcase.
I made very few tweaks to Katzen's recipe. The only major change I made was the addition of spinach.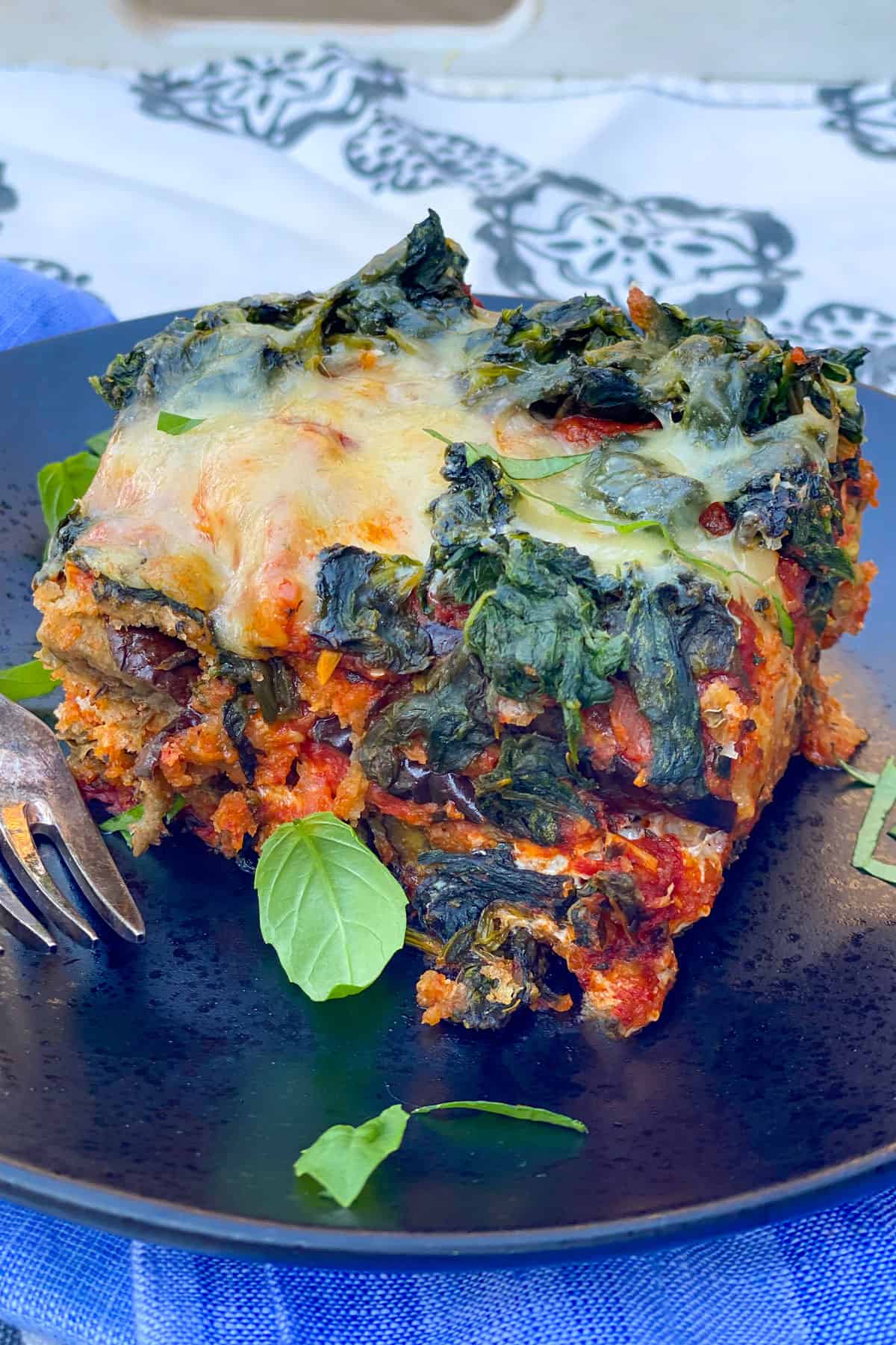 Here's this delicious Healthy Eggplant Parmesan Recipe. If you cook this, I hope you'll come back to leave a star rating and a comment. I'd love to know what you think!
Print
The Best Healthy Eggplant Parmesan Recipe
---
Author:

Lisa

Total Time:

1 hour 10 mins

Yield:

8

1

x
Description
Light and delicious healthy eggplant parmesan with baked eggplant, homemade sweet tomato sauce, spinach, and cheese.
Adapted from a recipe in The Moosewood Cookbook
---
Equipment: 2 rimmed baking sheets, a 9 x 14 x 2 inch casserole
For The Eggplant
2

medium eggplants, cut crosswise into

½

-inch thick slices

2 ½ cups

Panko bread crumbs

1 teaspoon

dried basil

½ teaspoon

dried oregano

½ teaspoon

dried thyme

¾ cup

low-fat milk
Vegetable oil for lightly coating the baking sheets
For The Tomato Sauce
2 tablespoons

olive oil

1

large onion, diced

2 tablespoons

dried basil

1 tablespoon

dried oregano

1 tablespoon

dried thyme

1 teaspoon

salt

1

28-ounce can crushed tomatoes (San Marzano is my favorite brand. see notes)

1

6-ounce can tomato paste

1 tablespoon

honey

6

garlic cloves, minced
Other Ingredients:
1

16-ounce package of frozen chopped spinach, thawed and water squeezed out
Salt and pepper, to taste

16 ounces

shredded mozzarella cheese

2 ounces

grated Parmesan cheese (I recommend Parmigiana Reggiano)
---
Instructions
Preheat oven to 375º F.  Lightly oil baking sheets. In a medium sized bowl combine bread crumbs  (2½ cups) and spices: basil (1 teaspoon), oregano (½ teaspoon), and thyme (½ teaspoon). Pour milk (¾ cup) into a small bowl. Create an assembly line where you first dip an eggplant slice into the milk, then press it into the crumbs on both sides, then set it on a baking sheet. Repeat with all the eggplant slices. Bake for 25-30 minutes, until lightly browned. Remove and set aside. (keep the oven hot)
While the eggplant is baking, make the sauce. heat oil (2 tablespoons) in a large cooking pot or dutch oven oven medium heat. Add chopped onion and cook for about 8 minutes until very soft and starting to brown. Stir in dried spices: basil (2 tablespoons), oregano (1 tablespoon), thyme (1 tablespoon), and salt (1 teaspoon). Stir in crushed tomatoes, tomato paste and honey (1 tablespoon). Cook sauce at a simmer, partially covered, for 20 minutes. Add chopped garlic and simmer 10 minutes longer. Remove from heat. The sauce will be thick.
To assemble the casserole, ladle a thin layer of sauce into the bottom of the casserole. Arrange half the eggplant slices on top. Sprinkle on one third of the shredded mozzarella. Add half of the remaining sauce (because the sauce it thick, you might have to gently spread it with a knife, as if you are frosting a cake, to avoid smearing the cheese and crumbs around). Add the rest of the eggplant, then half of remaining mozzarella cheese, then the rest of the sauce. Place little piles of spinach, evenly spaced, on top. Season with a little salt and pepper. Sprinkle on the rest of the mozzarella and all of the Parmesan cheese. Bake for 40 minutes, uncovered, until the cheese is melted and starting to brown. Slice, serve and enjoy!
Leftovers keep well, covered and refrigerated, for about 4 days. Reheat in a 350ºF for 30 minutes or so, until heated through.
Notes
Which Canned Tomatoes are Best? San Marzano tomatoes are my favorite. They're grown in a region of southern Italy that has rich volcanic soil and produces, in my opinion, the absolute best tomatoes for sauce. When I can't find them, I use Muir Glenn organic or another brand of organic tomatoes.
Prep Time:

30 mins

Cook Time:

40 mins

Category:

Casserole

Method:

Bake

Cuisine:

Italian
Keywords: baked eggplant parmesan, eggplant parmesan with spinach, no-fry eggplant parmesan
Originally published November 1, 2012. Updated September 17, 2021 with new photos and a new recipe title. The original title was "No-Fry Eggplant Parmigiana." The same delicious recipe!
I saved this original photo for posterity: