This version of Eggplant Pasta alla Norma has penne pasta tossed in rich tomato eggplant sauce enhanced with onions, mushrooms and white wine. It's a comforting and satisfying vegetarian pasta dish that's easy to prepare and the flavors are amazing.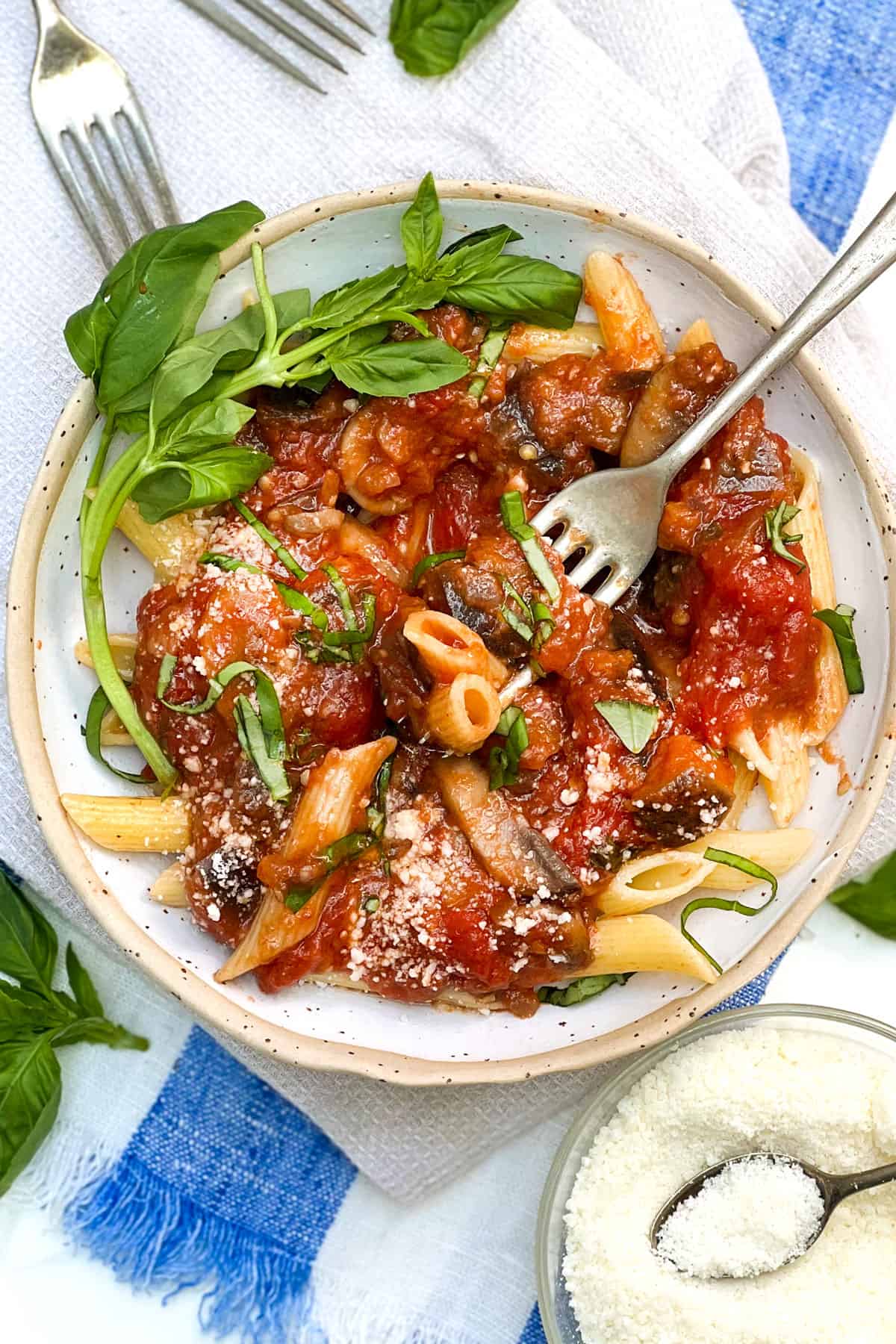 Sicilian Eggplant Pasta
I love the cuisine of southern Italy, known for using fresh simple ingredients and lots of vegetables, tomatoes and herbs, to make incredibly delicious dishes like this Sicilian eggplant pasta.
Sicily, by the way, is the birthplace of many other beloved classic Italian dishes that feature eggplant, including eggplant caponata and eggplant parmigiana.
Why is it called Pasta Alla Norma?
Who or what is "norma"? I wanted to know so I did the research and discovered two completely different stories.
Most online articles will tell you pasta alla norma is named for the famous opera "Norma" by Sicilian composer Vincenzo Bellini. But Giuliano Bugialli disagrees with this explantation, and Bugialli is one of the foremost authorities on the history of Italian food so his explanation is worth a listen.
In Bugialli's cookbook Foods of Sicily and Sardinia, in the headnotes of his pasta alla norma recipe, he explains that "eggplant is Sicily's favorite vegetable, so much so that the name of a group of favorite pastas is pasta alla norma which means 'pasta in the normal way' (it is not named after Bellini's opera)."
Although I prefer Bugialli's version of the story, for me this dish goes well beyond 'normal.' It's extraordinary!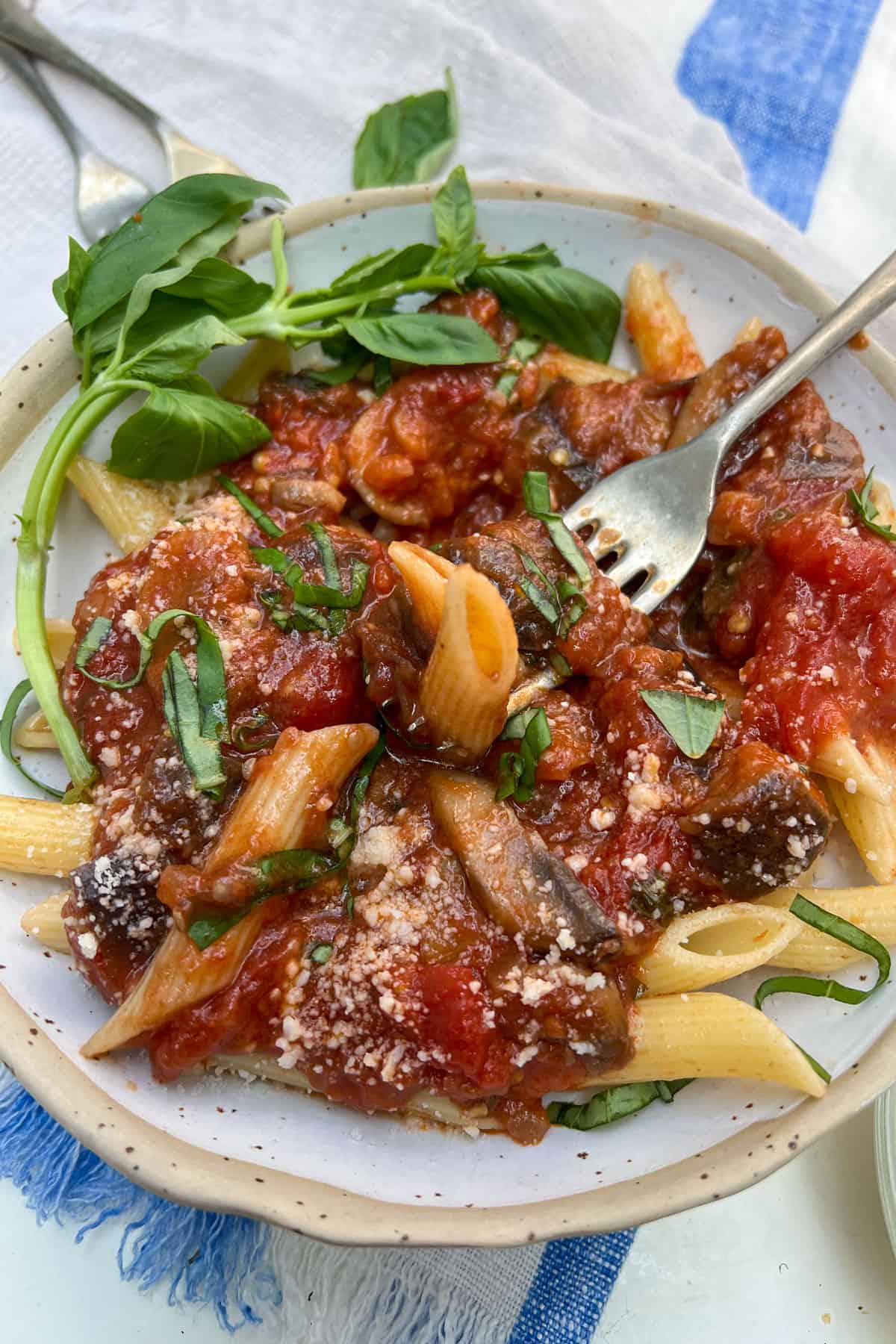 At the heart of pasta alla Norma there are five simple ingredients: pasta, eggplant, tomato sauce, fresh basil, and grated cheese. Where the recipe varies from cook to cook is in the way the tomato sauce is made, how the eggplant is cooked and the type of cheese used to finish the dish.
While many pasta alla Norma recipes call for roasting or frying the eggplant separately from the sauce, in this recipe, everything is cooked together in one pot, making for a simple cooking process with less cleanup.
Here's what you'll need to make this delicious eggplant pasta.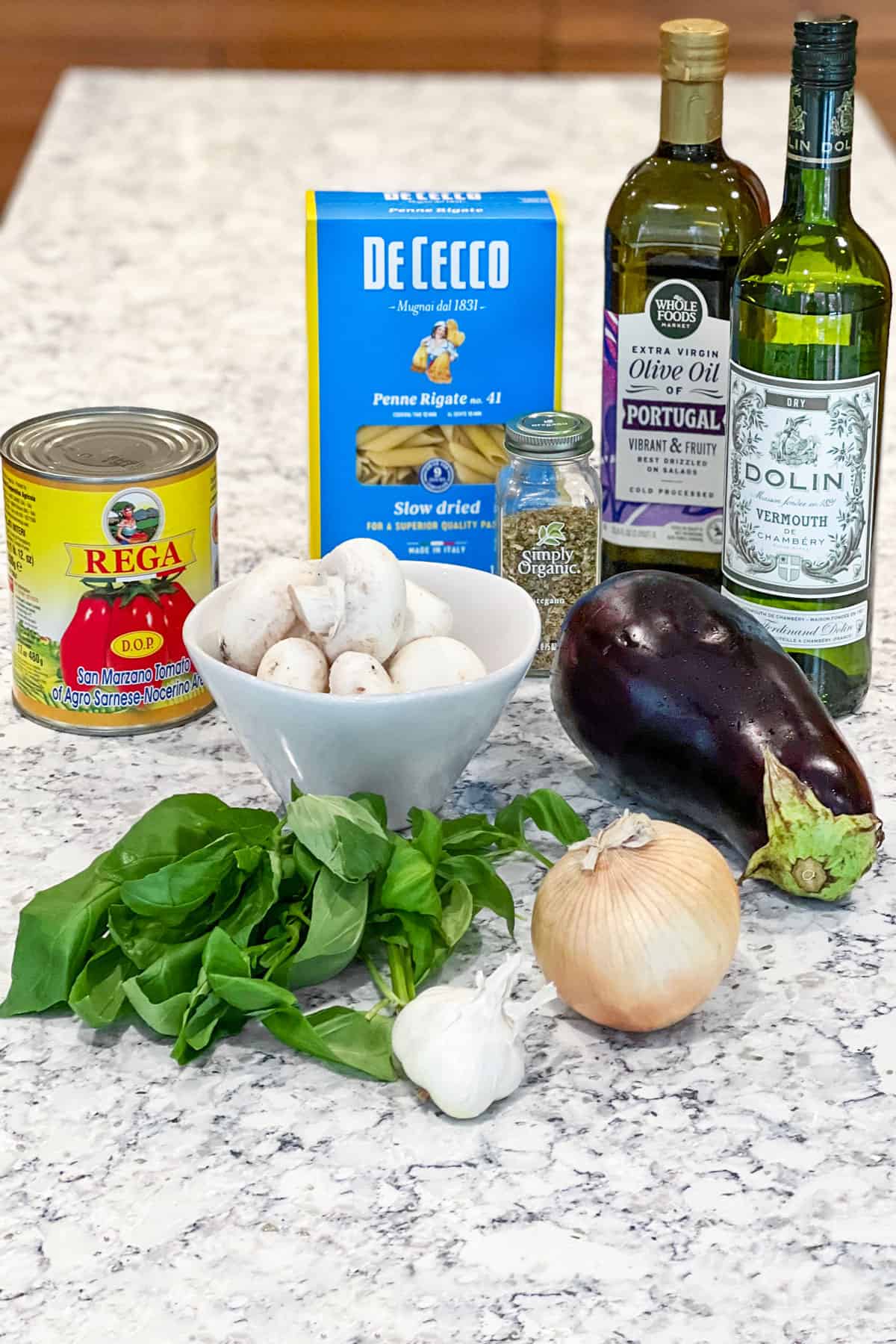 Ingredients
OLIVE OIL
Pasta alla norma calls for quite a bit of olive oil. The oil is absorbed by the eggplant and it flavors and adds body to the sauce, so be sure to choose a good-tasting olive oil.
GARLIC
Fresh garlic is used to flavor the olive oil which is then used to sauté the vegetables.
ONIONS AND MUSHROOMS
Sautéed onions and mushrooms create a delicious flavor base for this sauce.
EGGPLANT
The heart and soul of this dish is eggplant. Be sure to choose a fresh firm eggplant with shiny skin and no bruises.
CANNED TOMATOES (CRUSHED)
The better the tomatoes, the better this sauce will be. San Marzano D.O.P are an excellent choice if you can find them. Canned whole plum tomatoes are generally higher quality than canned crushed so, unless you're really pressed for time, I suggest you buy canned whole tomatoes and crush them by hand (just squeeze them in your hand over the pot).
DRY WHITE WINE
Dry vermouth is my go-to white cooking wine but any dry white wine will do.
DRIED OREGANO
For that distinctive Italian flavor
FRESH BASIL
Don't skip the fresh basil. It's used in this recipe to flavor the sauce and also to sprinkle on top when you serve the pasta - it's so fresh-tasting and delicious!
PASTA
Traditional pasta alla norma uses penne rigate or other tubular pasta shapes with ridges. Ridged pasta is great for absorbing the rich sauce, plus the sauce seeps into the hollows of the tubes so you get plenty of sauce in every bite - yum!
CHEESE
Hard grated cheese is sprinkled over this pasta for the final layer of flavor. Ricotta salata, a sweet, nutty, aged Italian sheep's milk cheese, is more traditional but it's not always easy to find and the quality is inconsistent. I prefer sharp, salty Pecorino Romano cheese, which is easy to source and always delicious.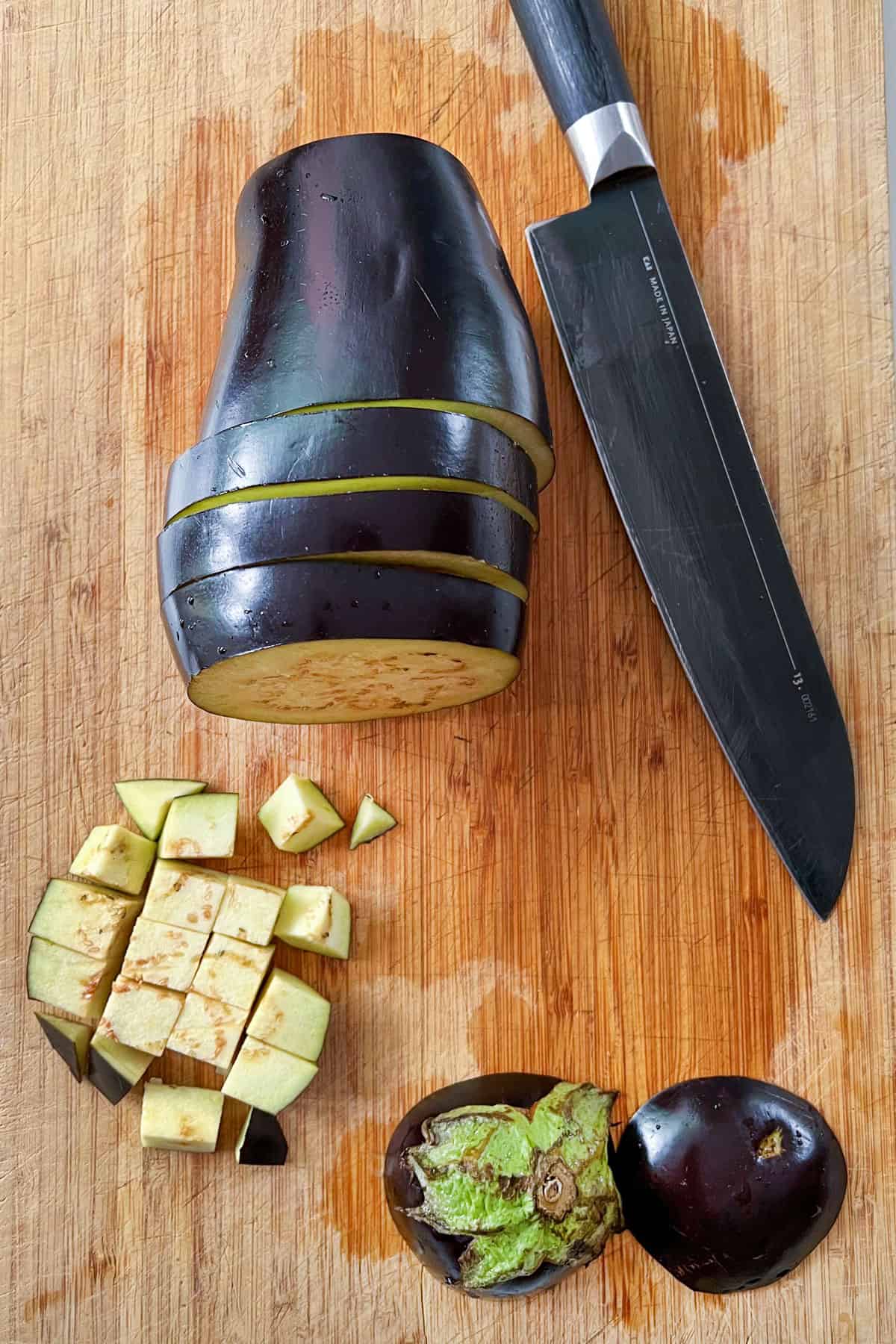 How to make it
Fresh diced eggplant, onions and mushrooms are sautéed in garlicky olive oil, simmered in rich well-spiced tomato sauce, tossed with penne pasta, and finished with a sprinkling of fresh basil and grated sharp cheese.
Start by prepping all of your ingredients. Peel the garlic, chop the onions, slice the mushrooms, sliver the basil and cut the eggplant into cubes. Gather everything together near the stove so you can access them easily as you cook.
Step one: Cook peeled garlic cloves in olive oil until they turn golden. Remove the garlic from the oil and discard it or save it for another use.
This step creates a garlic-infused olive oil which will flavor the sauce.
Step two: Sauté the onions, mushrooms and eggplant in the garlicky olive oil.
Cook the veggies until they are very soft and just starting to brown.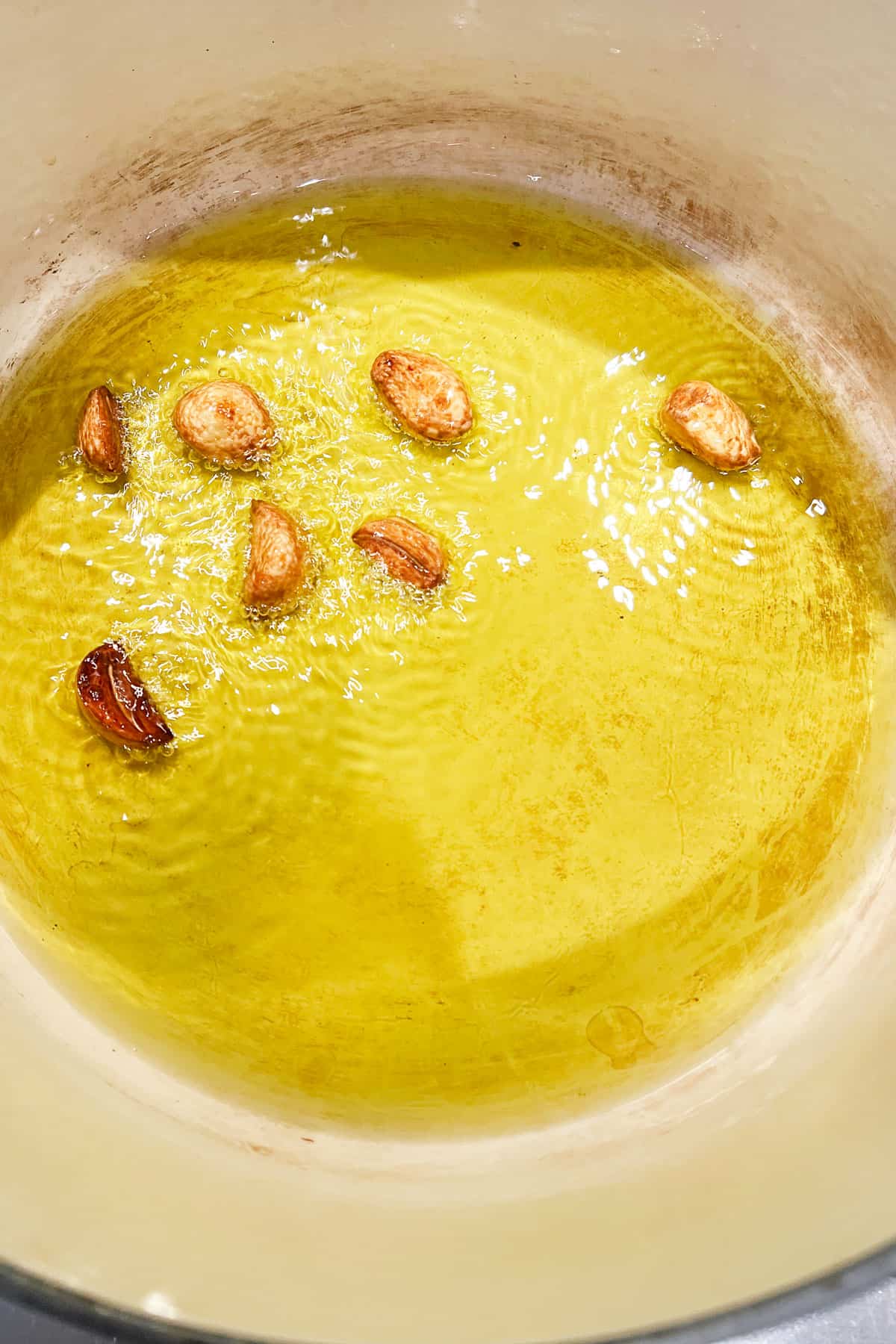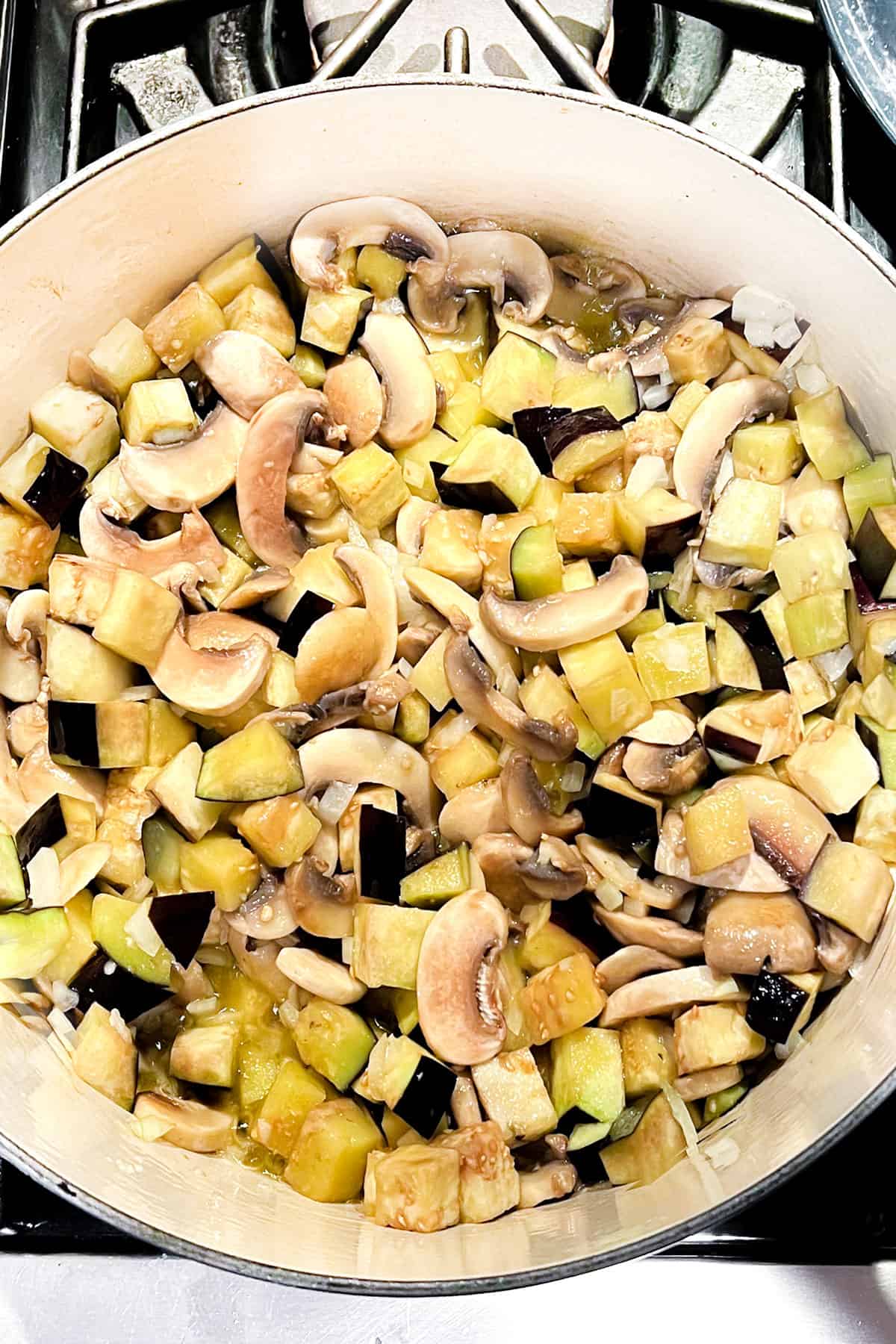 Step three: add the wine, tomatoes and spices to the pot and simmer the sauce for 15 minutes. Stir in half the basil and remove the sauce from the heat.
Step four: While the sauce is simmering, cook the pasta in salted boiling water, until al dente.
Step five: Drain the pasta, return it to its cooking pot, and toss it with a half cup of the sauce.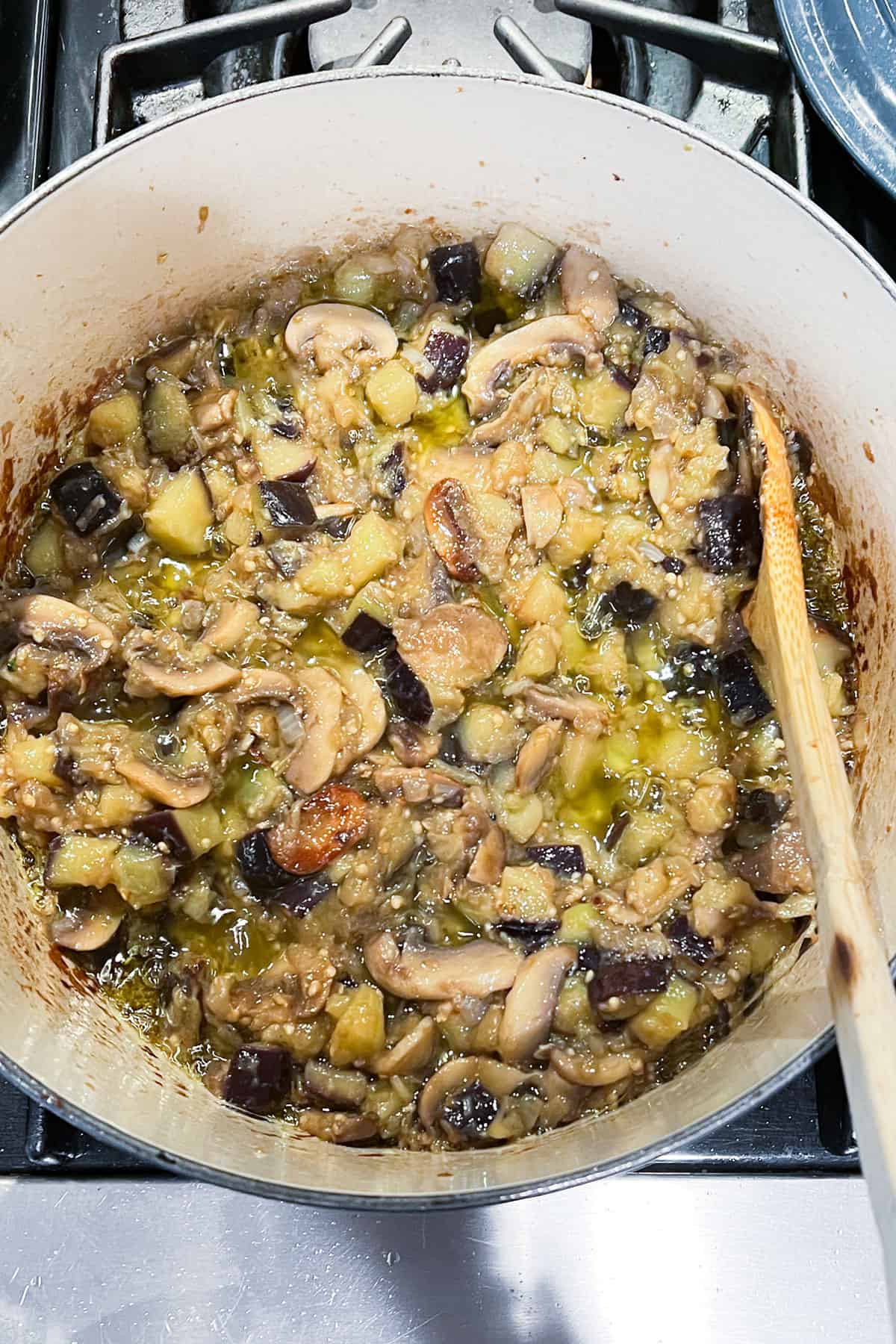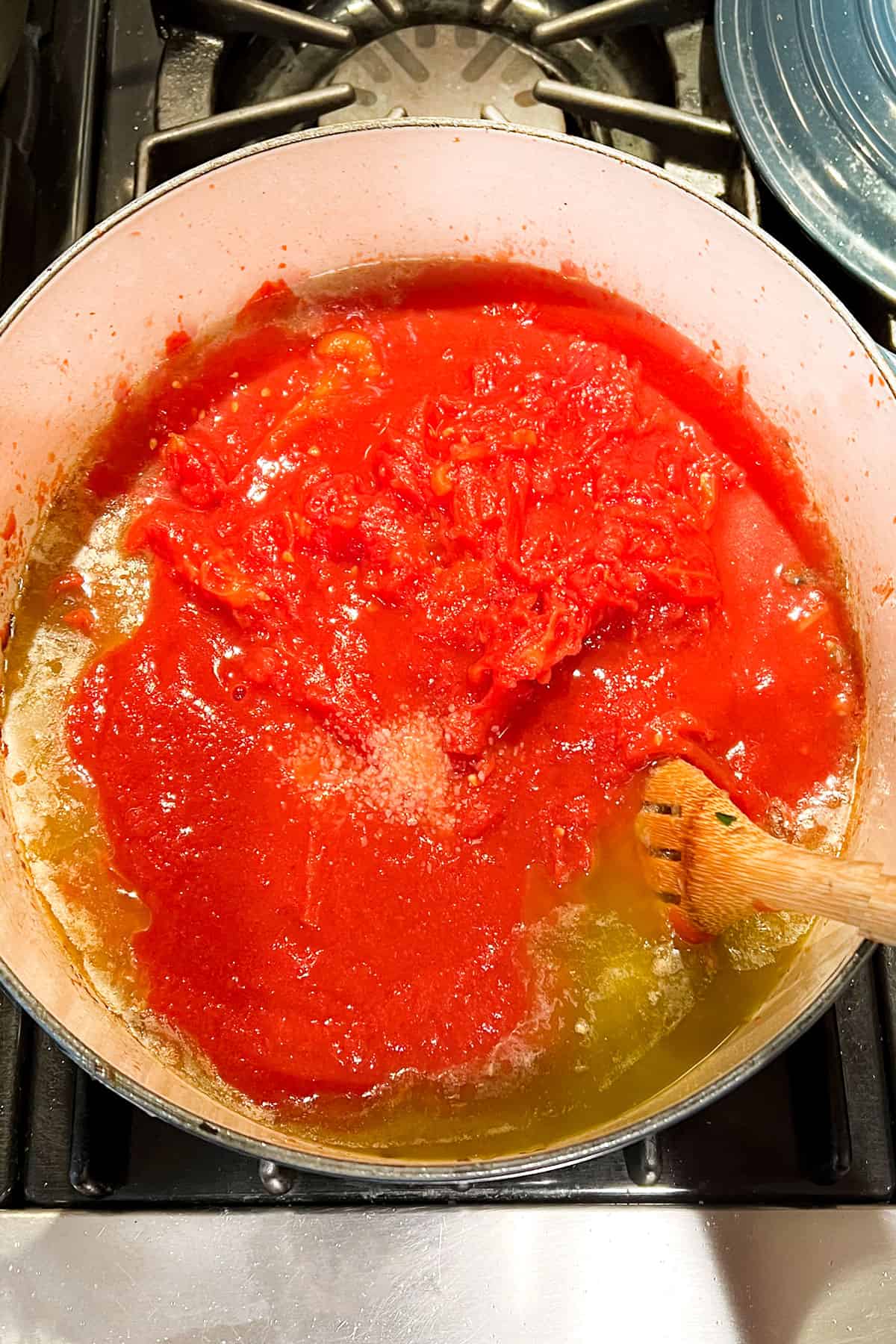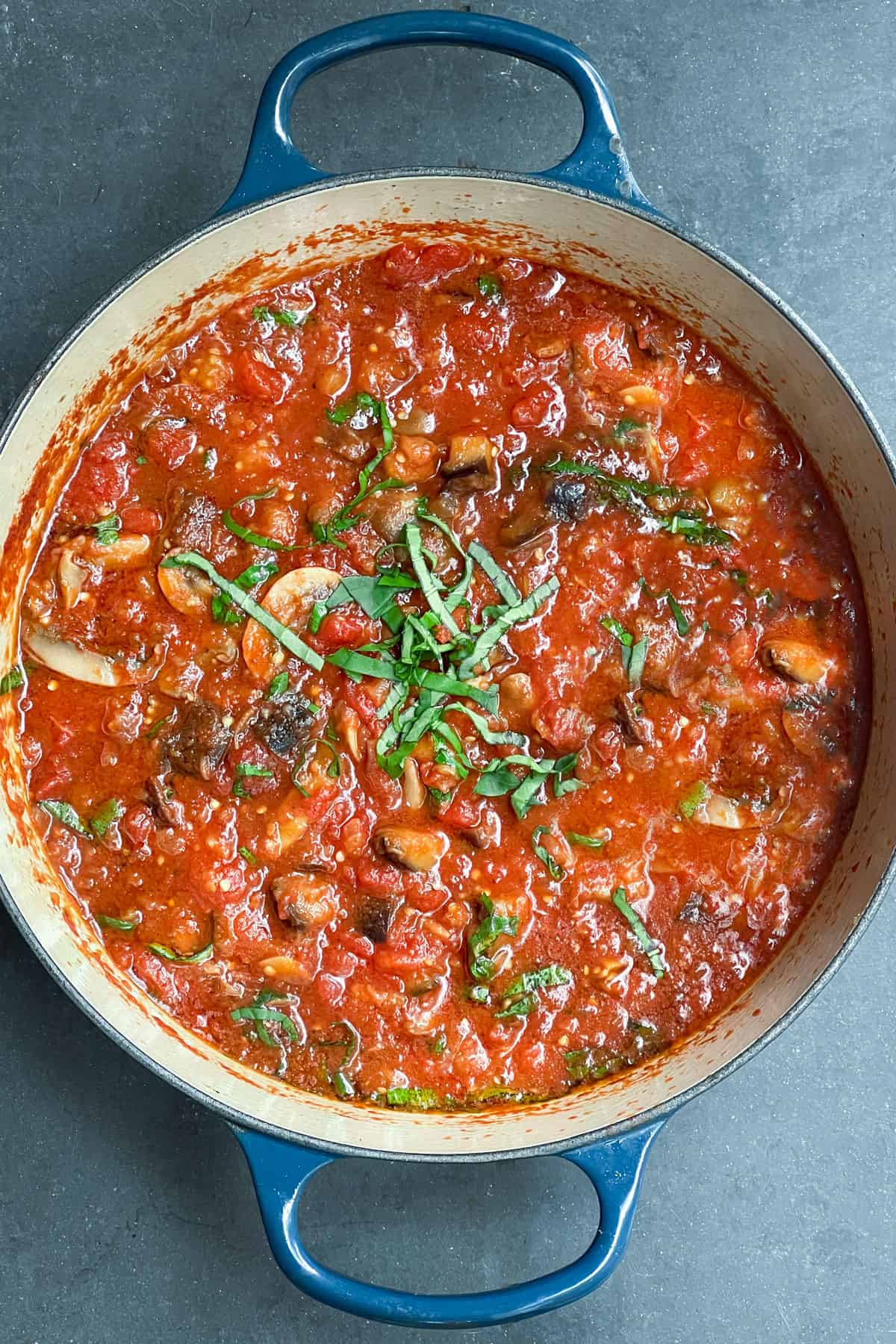 Serving Suggestions
Transfer the pasta to a serving platter and top with the remaining sauce or divide it among individual plates or pasta bowls, adding additional sauce to each one. Sprinkle with slivered fresh basil and pass around the grated cheese.
This eggplant pasta is a great dish for a big family meal or a casual get-together with friends. The sauce can be prepared well in advance, even the day before. Reheat it on low while you cook the pasta, and you'll have a delicious meal on the table in no time!
Serve pasta alla norma with a crisp leafy green salad on the side and some good bread if you like.
This Italian tricolore salad is my favorite salad to accompany any Italian main dish. I also love this green salad, made with curly kale, arugula and endive.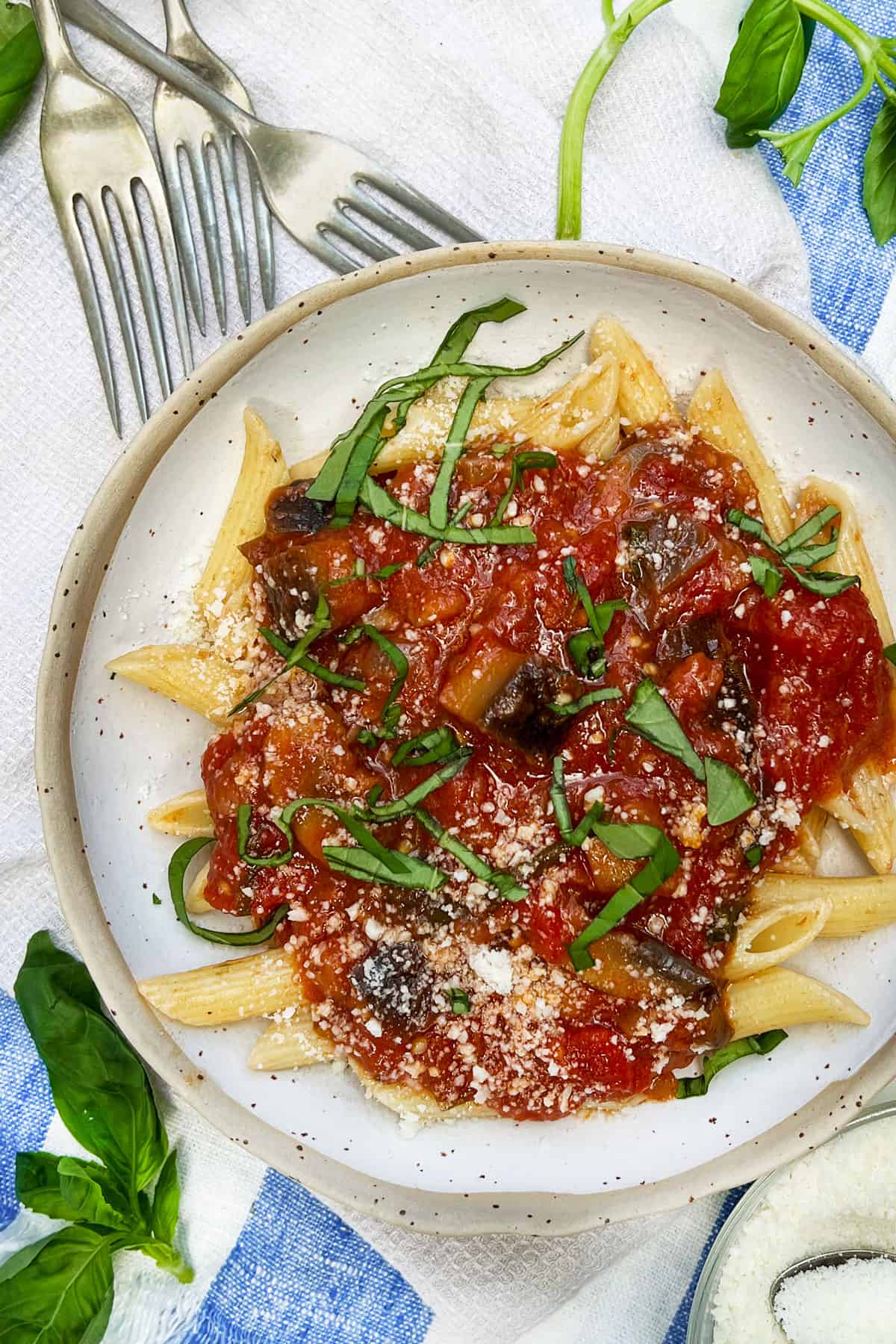 Here's the eggplant pasta alla Norma recipe. If you make this, I hope you'll come back to leave a star rating and a comment. I'd love to hear what you think!
Print
Eggplant Pasta (Pasta alla Norma)
---
Author:

Lisa Goldfinger

Total Time:

55 minutes

Yield:

5

Main dish servings

1

x
Description
Penne pasta is tossed in rich, well-spiced eggplant and tomato sauce with fresh basil and grated sharp cheese. This is a super satisfying vegetarian pasta dish that's easy to prepare and the flavors are amazing.
---
½

cup

extra virgin olive oil

3

large cloves garlic, peeled and sliced in half

1

medium eggplant (

1

½-pound), cut into ½-inch cubes

8

large white mushrooms, cut into

¼

-inch slices

½

cup

chopped yellow onion (1 small onion)
Kosher salt

½

cup

dry white wine or vermouth

28

-ounce can imported Italian plum tomatoes, crushed by hand

¼ teaspoon

dried oregano
Freshly ground black pepper, to taste

12

-

15

fresh basil leaves, slivered

1

pound

dried penne pasta
Freshly grated Pecorino Romano cheese, to taste
---
Instructions
Put the oil in a large heavy pot or Dutch oven, over medium heat. Sauté the garlic, stirring occasionally, until golden, about 4 minutes. Remove garlic (you will not need it for this dish).
Add the eggplant, mushrooms, onion and ½ teaspoon salt to the pot and sauté, stirring occasionally, until vegetables are very soft and just starting to brown, about 12 minutes.
Add wine and bring to a boil. Add tomatoes, oregano, remaining half teaspoon salt and a few grinds of black pepper, and return to a boil. Immediately lower to a simmer and cook, partially covered (to reduce splattering), for 15 minutes. Stir in half the basil and remove from heat. Taste and add more salt and pepper, if desired. 
While the sauce is simmering, cook the penne in a large pot of boiling salted water until al dente. 
Drain the pasta and return it to its cooking pot. Add ½ cup of the eggplant sauce and toss the pasta with the sauce, over medium heat, for a minute or so, until hot and fully combined. Pour the pasta into a serving bowl or divide it among individual serving plates, and spoon the rest of the sauce on top. Sprinkle with the remaining fresh basil and pass around the grated cheese.
Notes
Make-ahead strategy: This eggplant pasta sauce can be made up to a day ahead. If making it more than two hours ahead, refrigerate it in an airtight container. Reheat it gently on the stove while you cook the pasta.
Which canned tomatoes are best? Whole canned tomatoes tend to be better quality than canned chopped or pureed tomatoes, and can be easily pureed in a blender or crushed by hand. Some of the most delicious canned tomatoes in the world are grown in the San Marzano region of Italy. San Marzano tomatoes have fewer seeds than Roma tomatoes and they have a more intense flavor and are sweeter and less acidic. Look for  San Marzano D.O.P tomatoes.
Cheese: My favorite cheese for this dish is Pecorino Romano. It's a sharp salty cheese that's easy to find at most grocery stores and it's perfect for grating over pasta. It's also easy to find at most grocery stores. Many recipes for pasta alla norma call for ricotta salata cheese, which has a sweet nutty flavor and is also delicious, however it's harder to find and I've found it to be inconsistent in quality, depending on the brand. Here's an good resource to learn more about the unique characteristics of popular Italian cheeses.
This recipe is adapted from a recipe in Rao's Cookbook. (The same Rao's that makes the amazing marinara sauce!).
Nutrition Information: The information shown is an estimate provided by an online nutrition calculator and is not a substitute for the advice of a professional nutritionist. 
Prep Time:

15 minutes

Cook Time:

40 minutes

Category:

Dinner

Method:

Simmer

Cuisine:

Italian
Keywords: Penne pasta with tomato eggplant sauce