Huevos Rancheros is hearty fare. The recipe was designed to satisfy hungry Vaqueros (Mexican ranch hands) who are ready for a second breakfast by 11am. Understandable, considering their rigorous work day starts well before sunrise.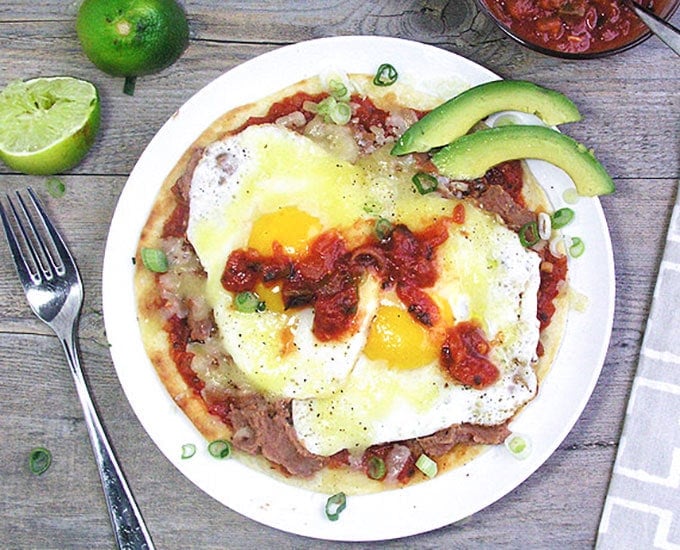 When I was reading about life on Mexican ranches and how hungry these ranch hands get, it immediately reminded me of my teenage sons. As they've gotten older and bigger, their appetites have grown exponentially. I remember when they first started asking for more food after dinner. I thought they were kidding, and I'd politely say "The kitchen is closed for the day."  But I soon realized it was not a joke.
Maybe you can relate, if you have teenage sons. It's almost comical:  their idea of an after school snack is a giant burrito or a big sandwich. Then 2 hours later, dinner. A couple of hours after dinner, they're back staring into the fridge, looking for food again!  And they're skinny. Enviable!  I decided to try out Huevos Rancheros on my own hungry Vaqueros…for dinner.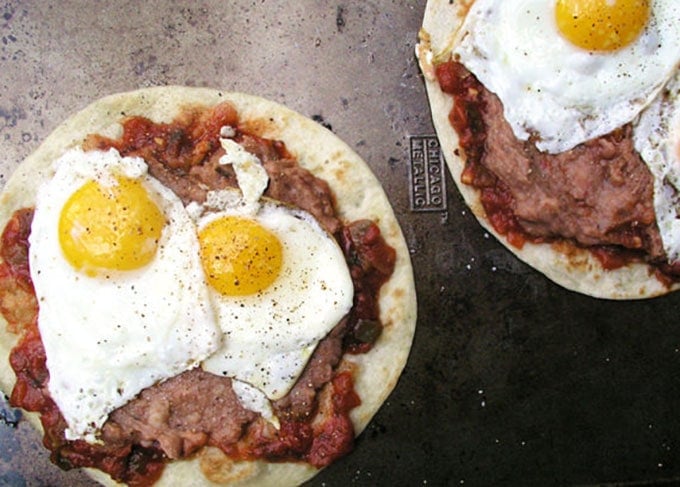 Ranching originated in Spain and Portugal about 1000 years ago. Spanish explorers brought their cattle-driving expertise with them to the Americas. The model for ranching in North America began in Mexico and gradually migrated into Texas and beyond. Huevos Rancheros became a popular mid-morning meal on the Mexican ranches, hence the name "huevos rancheros," or "rancher's eggs."
Huevos Rancheros are extremely versatile. They can be made with corn or flour tortillas. The eggs can be scrambled or fried. The combination of tortillas, beans, eggs and salsa is so good no matter what – even when you make it easy and use jarred salsa and canned beans. This quick and easy huevos rancheros recipe is designed with weeknight family dinners in mind. The dish is finished in the oven so all portions are hot and ready at the same time and the whole family can eat together.
How to Make Huevos Rancheros
Lightly brown tortillas in a skillet and set them on baking sheets.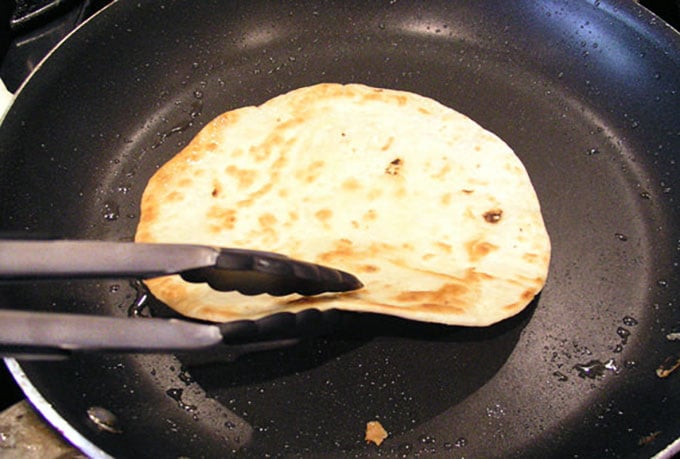 Spread salsa and refried beans over each tortilla. Set tortillas aside while you fry the eggs.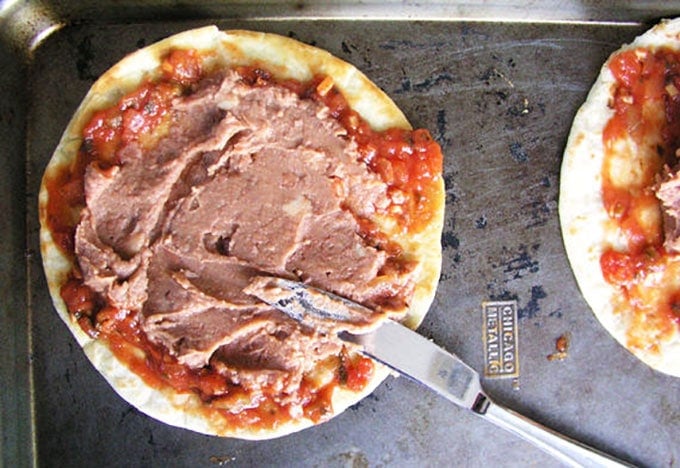 Fry up your eggs, or scramble them if you prefer. Cook them a little less than you normally would because they'll cook a bit more in the oven.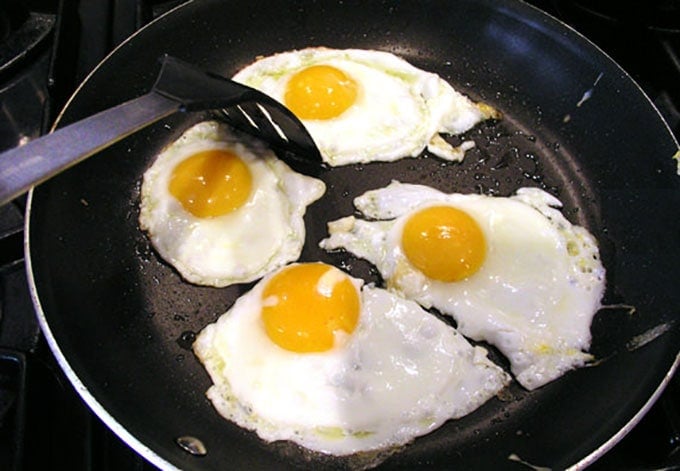 slide two eggs onto each tortilla, sprinkle grated cheese on top, and pop the baking trays into a preheated oven for 4-5 minutes, until heated through.
Serve huevos rancheros with assorted toppings such as sliced avocado, chopped scallions, extra salsa, sour cream or sliced jalapenos.
As for my Vaqueros and their appetites, they loved the Huevos Rancheros. It was a fun meal with lots of garnishes. (I'm a big fan of garnishes). I was still full the next morning. But, guess what?  The boys were back staring into the fridge a few hours after dinner.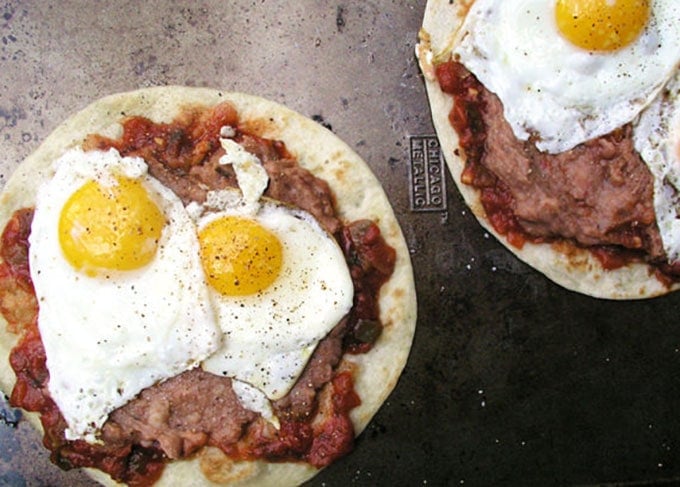 If you like this type of recipe, here are two more delicious quick and easy Mexican recipes that are fantastic for family dinners – Tex Mex Tortilla Casserole and Mexican Chicken Tostadas.
Here's the recipe for Huevos Rancheros. If you try this recipe I hope you'll come back to leave a comment and rating. I'd love to know what you think.
Print
Huevos Rancheros
An easy, fun Mexican-style meal: Flour tortillas heaped with salsa, refried beans, eggs and cheese.
Author: Panning The Globe
Prep Time:

15 mins

Cook Time:

15 mins

Total Time:

30 mins

Yield:

4

1

x
Category:

breakfast, lunch or dinner

Cuisine:

Mexican
Scale
Ingredients
4

taco-sized (7-inch) flour tortillas (substitute corn tortillas for gluten-free)
vegetable oil for sautéing

1

jar tomato salsa (your favorite)

1

can refried beans

8

eggs

4 ounce

s shredded cheddar or monterey Jack cheese (

1 cup

)
Salt and fresh ground pepper, to taste
Suggested garnishes (pick your favorites)
Salsa
Sliced scallions
Sliced avocado, spritzed with lime (to keep from turning brown)
Sliced jalapeños
Sour cream
Instructions
Preheat the oven to 450ºF. Set 2 baking sheets or jellyroll pans near the stove top.
Heat 1 teaspoon of oil in a large non-stick skillet. Using tongs, slide a tortilla around in the hot oil and let it brown for about 45 seconds per side. Transfer the tortilla to a jellyroll pan. Repeat the process with the other 3 tortillas, placing 2 tortillas on each pan. Put a heaping tablespoon of salsa on each tortilla and spread it around with the back of the spoon. Put 1/4 of the refried beans in the center of each tortilla Use a butter knife to spread the beans around evenly over the salsa. Set tortillas aside while you fry the eggs.
Heat 2 tablespoons of oil over medium heat in a large non-stick skillet until hot but not smoking. Crack 4 eggs into the skillet, spacing them carefully so they don't overlap. Cook the eggs for a couple of minutes until just a little less done than you like them, as they will cook a bit more in the oven. Using a spatula, carefully slide two eggs onto each tortilla. Repeat the process with the remaining 4 eggs. Sprinke the grated cheese evenly over each tortilla.
Put the pans in the oven and bake for 4-5 minutes, until the cheese melts and everything is heated through. Remove trays from the oven. Put one tortilla on each of 4 plates. Season with salt and pepper. Sprinkle with chopped scallions. Serve with Salsa, sour cream and any other fun garnishes. Enjoy!