This corned beef hash recipe has carrots, zucchini, bell peppers and onions, in addition to corned beef and potatoes. The extra veggies add so much great flavor to this DELICIOUS hash. It's perfect for St. Patrick's Day or any time you want corned beef hash for breakfast, lunch or dinner.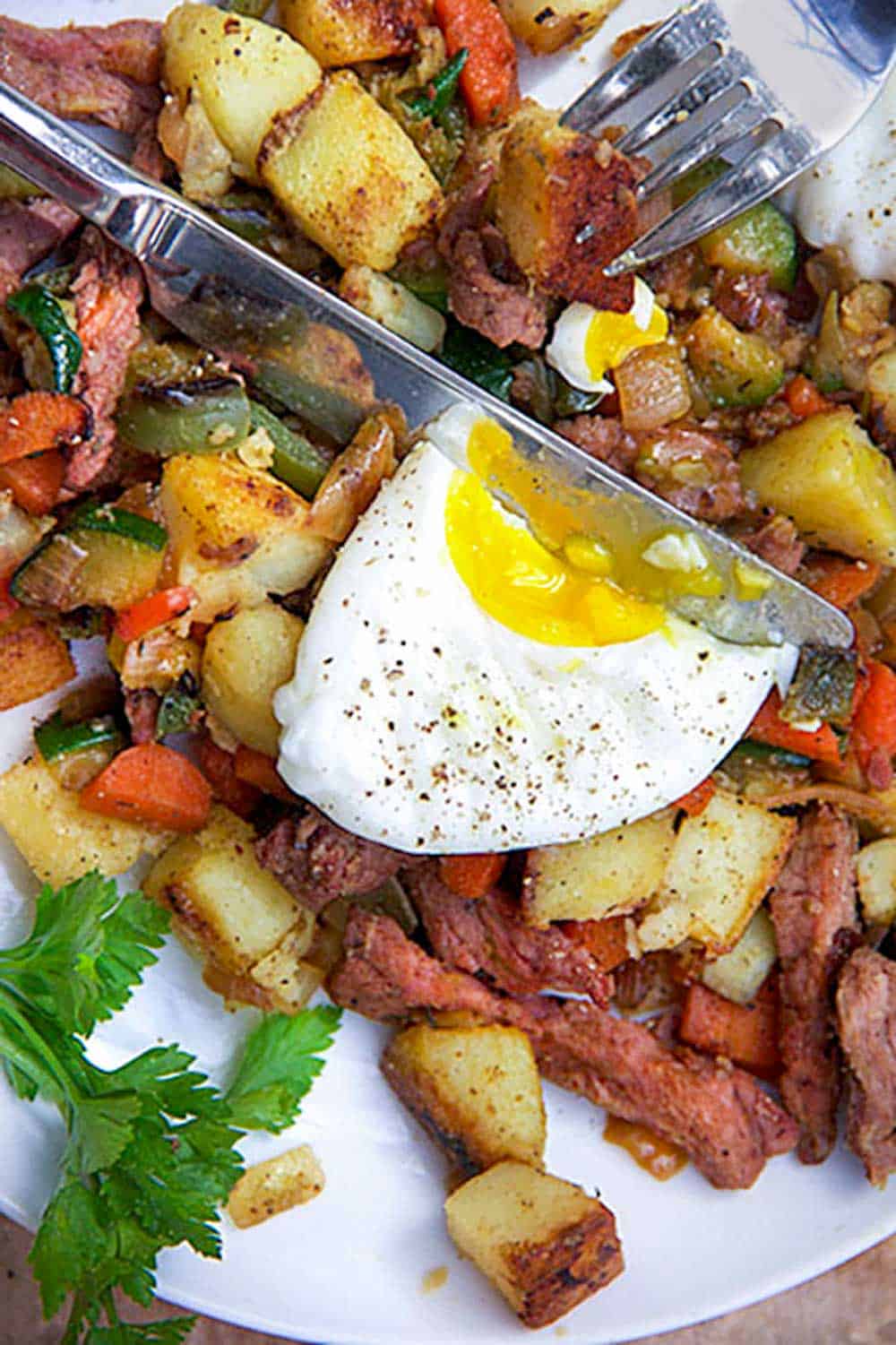 I love the concept of hash: a big messy delicious jumble - heavy on the potatoes - bits of tasty onion & bell pepper strewn around, shreds of salty meat in every bite, the yolk of a soft cooked egg dripping down over a crispy brown hunk of potato.... mmmm.
Leftover corned beef is my inspiration for this dish but there is no need to limit yourself to St. Patrick's Day. Make this any time of year. Use ham or bacon instead of corned beef for an equally delicious hash!
With so many veggies in the mix, this corned beef hash recipe makes a full balanced meal. Shredded Brussels sprouts would also be great in this dish, don't you think?
How to Make Healthy Corned Beef Hash:
This hash is cooked in two stages.
First sauté the vegetables to get them softened and starting to brown. Toss in shredded corned beef and brown it in the pan for a couple of minutes.
Transfer the hash to an ovenproof dish and keep it warm in the oven while you brown the potatoes. Stir potatoes in with the rest of the ingredients. Done!
Keep the corned beef hash warm in the oven until you're ready to serve.
How to Serve Corned Beef Hash:
Now that you have delicious corned beef hash, the crowning touch, in my opinion, is a poached egg.
There's a lot of debate about how to poach the perfect egg.
Some swear by adding vinegar to the poaching water.
Others say it gives the eggs a bad taste.
I scoured the internet and my cookbooks to learn the best method. I thought Julia Child's method might be good - it usually is - but her recipe requires too many specialized gadgets: an egg-pricker to prep the egg for a 10-second boil in the shell, followed by poaching it in a specially-designed egg-poaching cup.
Finally I landed on a very interesting video on "How to Poach Eggs" from Serious Eats. I used their method and poached a bunch of eggs their way. Every single egg was perfect!
How to make perfect poached eggs:
Use very fresh eggs.
Before cooking the egg, crack it into a mesh strainer and jiggle it around over the sink to let the liquid part of the white drain out. Turns out it's that liquid that causes cloudy, messy poached eggs.
keep the water just under a boil during the cooking process. Lower the strainer into the hot water and tip the egg out into the water. Cook the egg for 3 ½ to 4 minutes, swirling the water gently from time to time to keep the egg cooking evenly. Remove the poached egg from the water with a slotted spoon.
Eggs can be poached in advance, kept in the fridge and reheated in hot water just before serving. That's the overview but I still highly recommend watching the video on how to poach eggs

!
Of course corned beef hash is great for breakfast or brunch. But I think it's also the perfect "breakfast for dinner" recipe - especially this corned beef has recipe, with loads of veggies.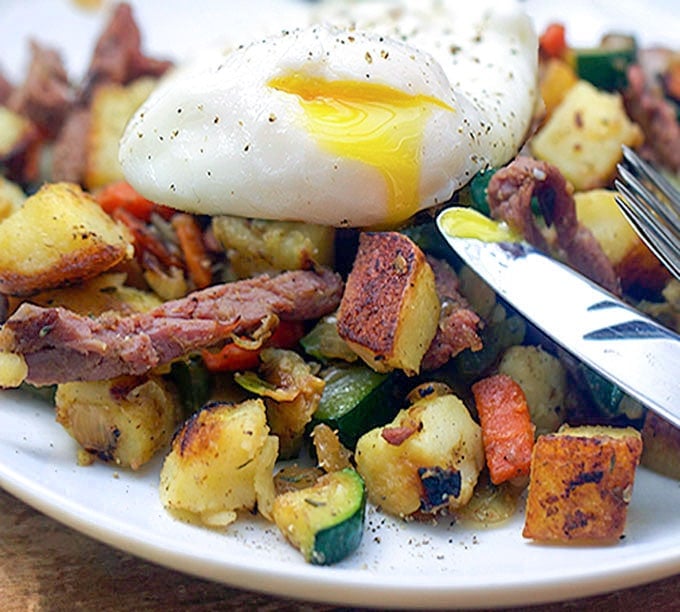 Here's the Healthy Corned Beef Hash recipe. If you try this recipe I hope you'll come back to leave a star rating and a comment. I'd love to know what you think!
Print
Healthy Corned Beef Hash
---
Author:

Lisa

Total Time:

1 hour 5 mins

Yield:

4

-5

1

x
Description
Corned beef hash with lots of vegetables the mix makes a full healthy meal. Even better with a poached egg on top.
---
4

-

5

boiling potatoes (

2

pounds), such as Yukon golds or red-skinned new potatoes, scrubbed or peeled, cut in half, crosswise.

4 tablespoons

olive oil, divided

1

large yellow Onion, diced (

1 ½ cups

)

2

carrots, peeled, sliced in half lengthwise, thinly sliced crosswise

1

medium zucchini, sliced in quarters lengthwise, thinly sliced crosswise

1

green or yellow pepper, seeded and diced

10 ounces

cooked corned beef or cooked bacon or ham, cubed or shredded

¼ teaspoon

dried thyme
Salt and pepper to taste

4

-

5

fresh eggs, if you're serving the hash with eggs on top
---
Instructions
Preheat oven to 225ºF. Bring a large pot of salted water to a boil. Add potatoes. Cook for 20-25 minutes, until potatoes are just cooked through. Drain potatoes in a colander. Let them cool. Cut them into ½-inch dice, set aside.
Heat 2 tablespoons oil in a large cast iron skillet over medium heat. (You can also use a non-stick skillet, but keep a close eye on the heat to ensure the veggies and potatoes don't burn) Add onions, peppers, zucchini and carrots. Push them down into the pan in a single layer and leave them undisturbed for 3 minutes to brown. Flip them and leave them for another 2-3 minutes. Add corned beef and cook, tossing everything in the skillet for another minute or two. Sprinkle with thyme and a few grinds of black pepper. Transfer the mixture to a casserole or heatproof bowl and set aside.
Add 2 tablespoons oil to the skillet. Add potatoes. Press potatoes down into the pan into a single layer. Cook, undisturbed, for 7-8 minutes, until a golden crust is formed on the bottom. Sprinkle potatoes with ½ teaspoon salt and several grinds of black pepper and toss. Transfer potatoes to the casserole or bowl with rest of the mix. Put it in the oven to keep warm until you're ready to serve.
Poach eggs, if using. Divide hash among 4-5 plates and serve with poached eggs on top, if you like. Pass around extra salt and pepper.
Prep Time:

20 mins

Cook Time:

45 mins

Category:

Side Dish

Method:

Sauté

Cuisine:

Out of this World
Keywords: corned beef hash recipe, corned beef and veggie hash