Gallo Pinto is a popular breakfast in Costa Rica, a flavor-packed dish of black beans, rice, peppers, onions and herbs. If you want to follow tradition, serve it with a fried egg on top and caramelized plantains on the side.
My niece Eva recently returned from a 6-week trip to Costa Rica. She was on a gap year work/study program with an organization called Global Vision International. For the first part of the trip Eva lived deep in the jungle, where she helped collect data for biodiversity research about rainforest species.
For the second part of her trip, she worked in an after school program for young children in Quepos, Costa Rica. Over the course of her trip Eva had many amazing and unforgettable experiences, including the scariest night of her life when, during a jungle night survey, the group was followed for 15 minutes by a large adult male jaguar.
One of the many things Eva was excited to tell me about was the scrumptious traditional Costa Rican breakfast that she learned to cook when she was over there: gallo pinto - big pile of well-spiced rice, beans and vegetables with a fried egg on top and caramelized cinnamon-sugar sautéd plantains on the side. I couldn't wait to try it, so I invited Eva over for a cooking date and we made gallo pinto together.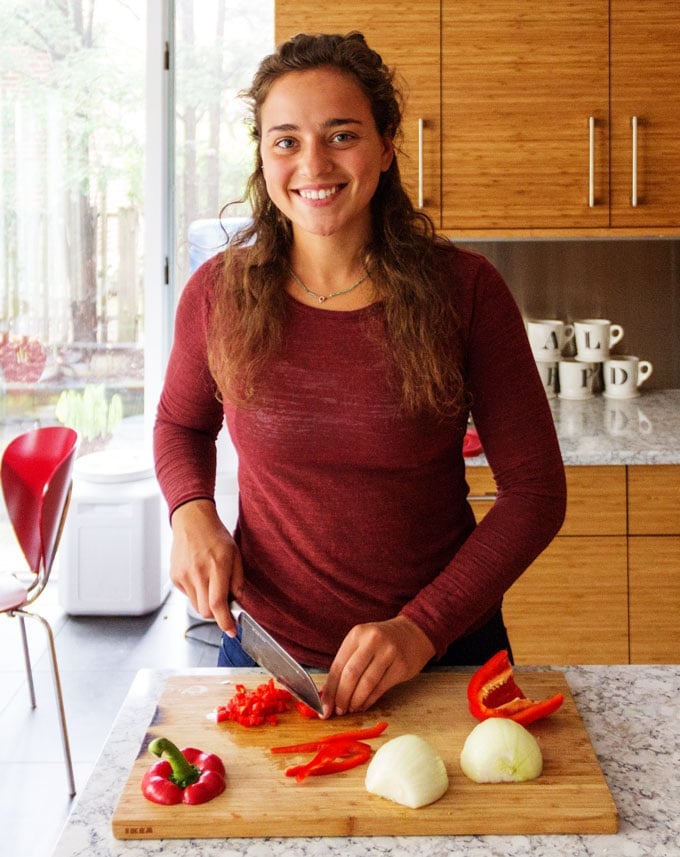 Eva returned from her trip with some seriously awesome chopping skills. Her onions, peppers and garlic were minced to perfection!
Gallo Pinto is the National Dish of Costa Rica
The literal translation of gallo pinto is "spotted rooster." The name refers to the appearance of the rice - spotted with black beans and bits of red pepper. Rice and beans are very popular in Latin American cooking. They're served at breakfast, lunch and dinner. Gallo pinto uses the leftover rice and beans from the night before, jazzes them up with onions, peppers, cilantro and spices, and adds eggs and fried plantains, for a very hearty delicious meal.
Eva explained another reason that gallo pinto is so widely popular in Costa Rica. In addition to being delicious, the combo of rice and beans is considered the perfect protein and it's cheap. Add some vegetables and eggs to that and you get an extremely hearty, nutritious, and protein-packed meal at a very affordable price.
Here's a photo Eva took with her iPhone while she was cooking up some gallo pinto in Costa Rica.
I'm so grateful to Eva for introducing me to this amazing dish. I haven't been to Costa Rica (yet) and I love that I got to have a little "taste" of Costa Rica through the food - one of my favorite ways to appreciate other cultures.
Before we get to the recipe, here are some of Eva's favorite rainforest photos that she wanted to share:
Here's the recipe for gallo pinto. If you try this recipe I hope you'll come back and leave a star rating and a comment to let Eva and me know what you think.
Print
Gallo Pinto: Costa Rican Rice and Beans Breakfast
Traditional breakfast of Costa Rica. A delicious hearty meal that will satisfy for breakfast, lunch or dinner.
Author: Lisa
Prep Time:

30 mins

Cook Time:

30 mins

Total Time:

1 hour

Yield:

6

1

x
Category:

Breakfast, lunch or dinner

Method:

stove top

Cuisine:

Costa Rican
*Note: this dish is traditionally made with leftover beans and rice. If you need to cook the rice or beans in advance, it will add to the cooking time.

3 tablespoons

olive oil, divided

2 tablespoons

minced garlic (

2

-

3

large cloves)

1

red bell pepper, seeds and veins removed, finely chopped

1

yellow onion, finely chopped

6 cups

cooked white rice

2

15-ounce cans black beans, drained and rinsed, or 3 cups cooked black beans (here's how to cook black beans)

1

bunch scallions (

6

scallions) trimmed and chopped or thinly sliced

¾ cup

packed cilantro leaves, chopped, divided (

8 tablespoons

chopped cilantro)

2 teaspoons

kosher salt

½ teaspoon

black pepper
Plantains:

2

ripe plantains (skins yellow with some black) peeled and cut on the diagonal into ⅓-inch slices

2

-

4

tablespoons coconut oil (or substitute olive oil)

2 tablespoons

white or light brown sugar

½ teaspoon

cinnamon

¼ teaspoon

salt plus more for sprinkling on at the end

2

limes, each cut into

6

wedges, divided
For the Eggs:
Butter or oil to cook the eggs

6

eggs (or

1

egg per person)
Garnish:
lime wedges

3 tablespoons

chopped cilantro leaves
Your favorite hot sauce
Instructions
Cook the Gallo Pinto: Heat 2 tablespoons of olive oil over medium heat in a large skillet. Sauté garlic, red pepper and onion, stirring occasionally, until softened, about 5 minutes. Add the remaining tablespoon of olive oil and the cooked rice and lower the heat to medium-low. Cook, tossing, until everything is combined and hot, 3-4 minutes. Add beans and gently fold them into the rice mixture. Continue cooking and gently folding until everything is hot and thoroughly combined, 2 minutes or so. Stir in scallions, 6 tablespoons chopped cilantro, 2 teaspoons salt, and ¼ teaspoon pepper. Remove from heat and cover partially to keep warm.
Cook the Plantains: In a medium bowl, toss sliced plantains with sugar, cinnamon and salt. Heat 2 tablespoons coconut oil in a large, preferably cast iron, skillet over medium-high heat. Add the plantain slices in a single layer. ( If they don't all fit, cook them in two batches) Cook for 2-3 minutes per side or until brown and caramelized and soft. Transfer to a plate. Squeeze some lime juice over them - about ¼ of a juicy lime. Sprinkle a few pinches of course salt over them, to taste. Tent with foil.
Fry the Eggs: Fry or scramble the eggs - however you like them.
To Serve: Divide pinto gallo between 6 plates. Place a cooked egg on top of each. Garnish with a sprinkle of cilantro and some salt and pepper, to taste. Arrange a few plantain slices alongside. Garnish with a lime wedge. Pass around the hot sauce.
Keywords: rice and beans, Costa Rican rice and beans breakfast