Gallo Pinto is Costa Rica's famously delicious national dish, built around rice and beans and flavored with onions, peppers, herbs, spices and special sauce. Though it's traditionally served for breakfast, gallo pinto also makes an excellent side dish for dinner.
I adore gallo pinto for breakfast and I also love serving it on the side with Chicken Enchiladas verdes, Chimichurri steak and Cuban Ropa Vieja or any other Hispanic dish.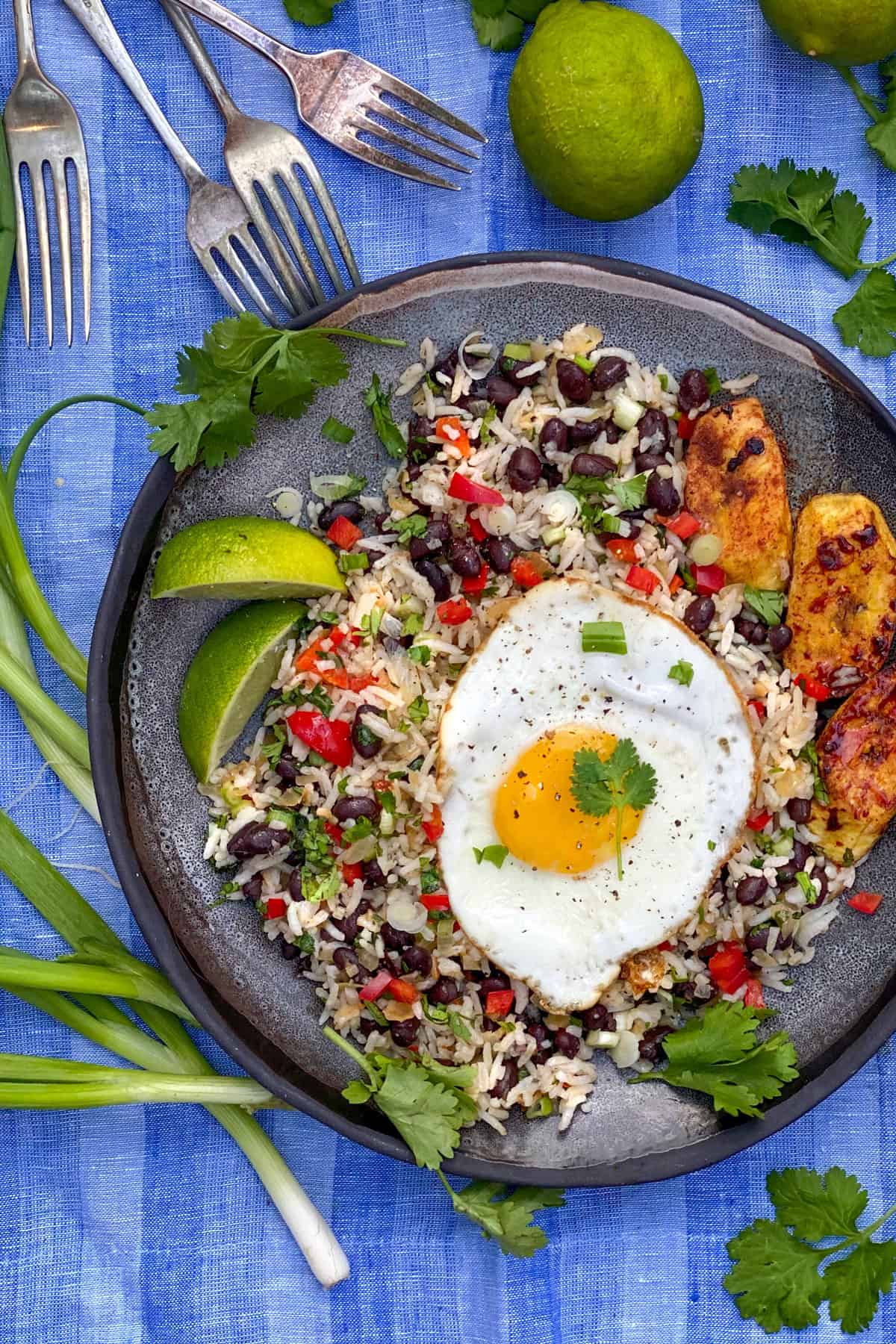 Gallo Pinto
The name "Gallo Pinto" means "spotted rooster," in Spanish, which describes the speckled appearance of the dish, white rice dotted with black beans and red peppers. This dish is so popular and beloved in Costa Rica, it's become a defining attribute of Costa Rican culture. In fact there's a Costa Rican saying 'mas tico que el gallo pinto' which literally translates as "even more Costa Rican than spotted rooster," - this dish is part of the heart and soul of Costa Rica!
Who invented Gallo Pinto?
This is a hotly debated topic. Costa Ricans will tell you that they invented the dish but Nicaraguans will insist it was their creation. There's a long history of debate but no way to prove who's right, which has caused years of friction. It's been called "the gallo pinto wars," a long-standing battle between the two neighboring countries as to who invented gallo pinto and who rightfully owns it, and the competition is fierce.
In 2007, in an attempt to gain the advantage, Nicaragua made enough gallo pinto to feed 22,000 people, earning the Guinness World Record for the largest dish of gallo pinto ever created. But two years later, Costa Rica retaliated by cooking 3,300 pounds of rice and 2,640 pounds of beans - enough to feed 50,000 people, and they stole the spotlight.
My takeaway from all of this - gallo pinto is a great dish to cook for a crowd!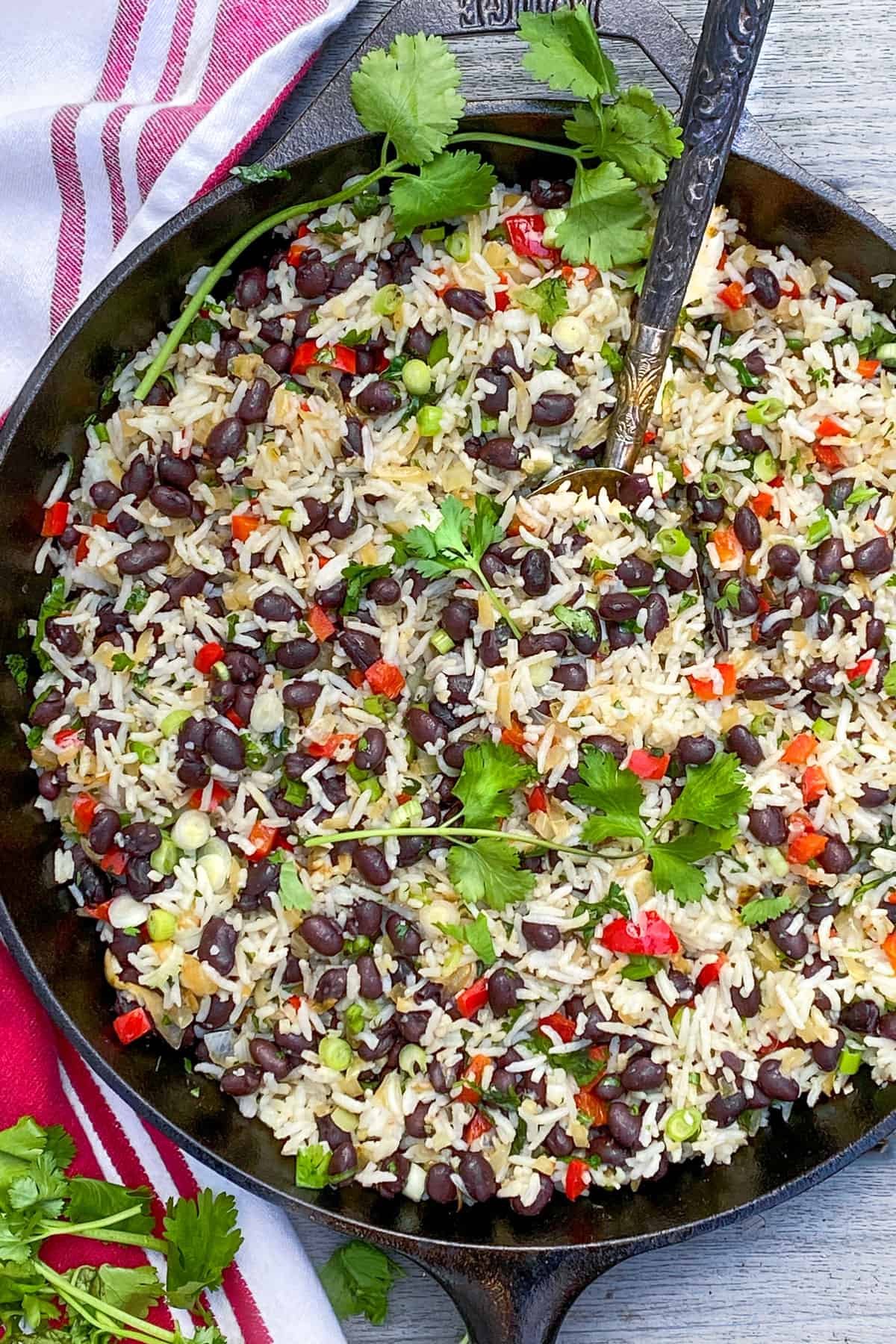 A big thank you to my niece Eva, who told me about gallo pinto and taught me how to cook it. Eva spent 6 weeks in Costa Rica on a work/study program with an organization called Global Vision International, and in addition to her studies and exploring the rain forest (cute frog she photographed below), Eva got a taste of the local cuisine and some hands-on cooking lessons from folks she met along the way.
Of all the Costa Rican dishes she tried, Eva was most excited about the "amazing breakfast" called Gallo Pinto - "a big pile of well-spiced rice, beans and vegetables with a fried egg on top and caramelized cinnamon-sugar sautéd plantains on the side." When she described it to me, I couldn't wait to try it, so I invited Eva over for a cooking date and we made gallo pinto together.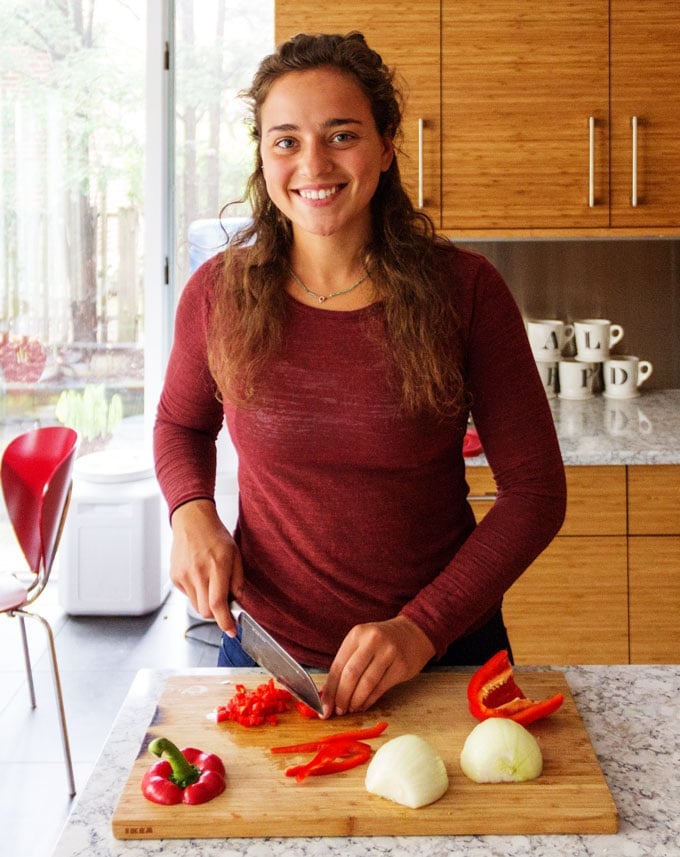 How To Make Gallo Pinto
Here's what you need:
6 cups cooked white or brown rice - white is more traditional
2 cans of black beans, drained - some folks prefer to use some the bean liquid in the dish - I like a drier texture - your choice.
1 red bell pepper
1 yellow onion
3 large garlic cloves
1 bunch of scallions - The white and light green parts for the rice, the dark green tops reserved as a garnish
Cilantro - both to flavor the rice and to sprinkle on as a topping
Lizano Sauce - This popular Costa Rican condiment has been compared to Worcestershire Sauce. Savory and a little sweet, Lizano is an essential component of gallo pinto. Some cooks insist on adding a couple of tablespoons to the rice as it cooks. Others leave it out of the cooking process and suggest having a bottle on the table to use as a final topping. Either way, it will add a wonderful depth of flavor to the dish.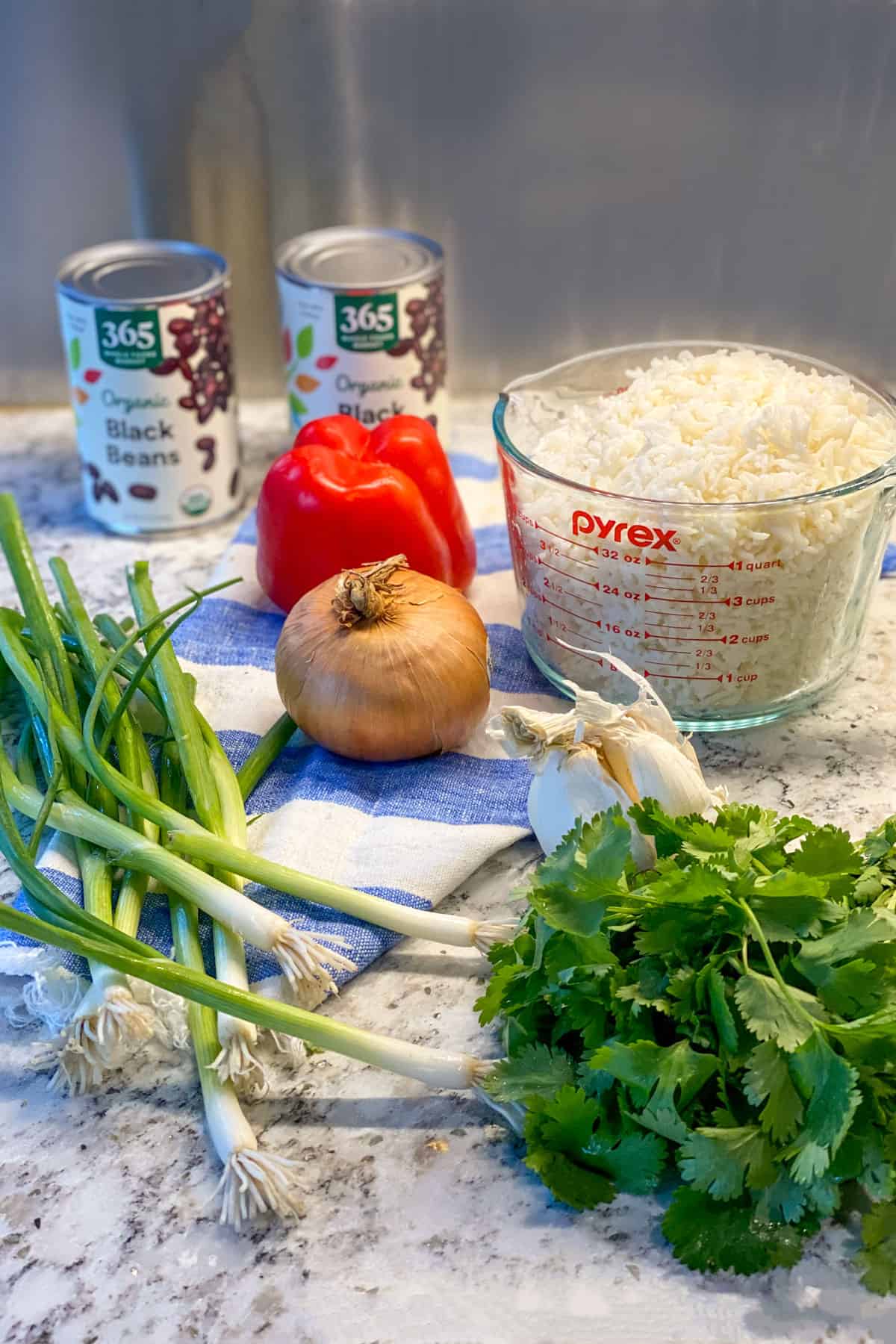 This dish takes less than 15 minutes to cook, so it's best If you have all of your ingredients chopped and at the ready when you heat up your skillet.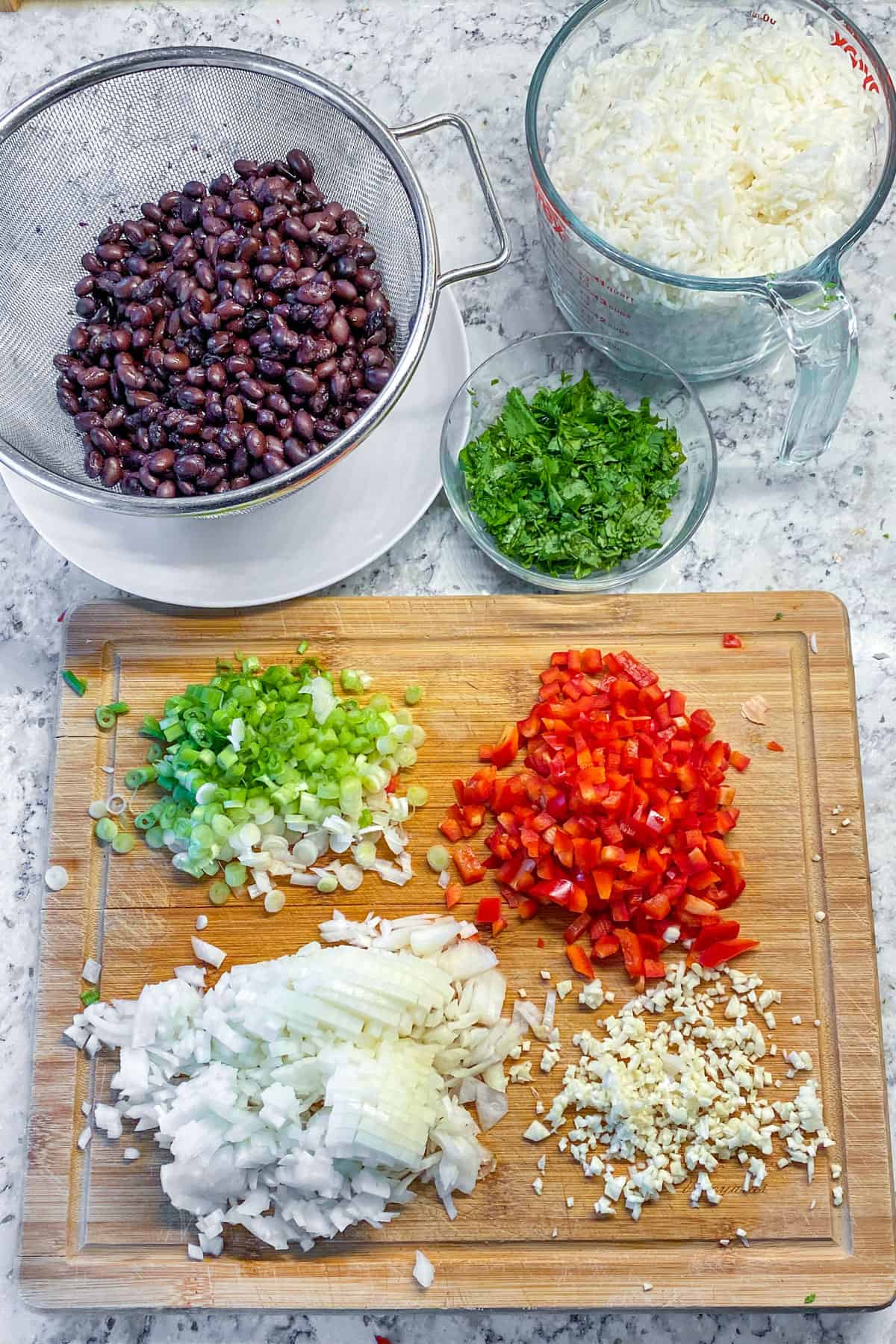 Start by sautéing the onions, peppers and garlic until they soften.
Next add the cooked rice and stir gently to combine.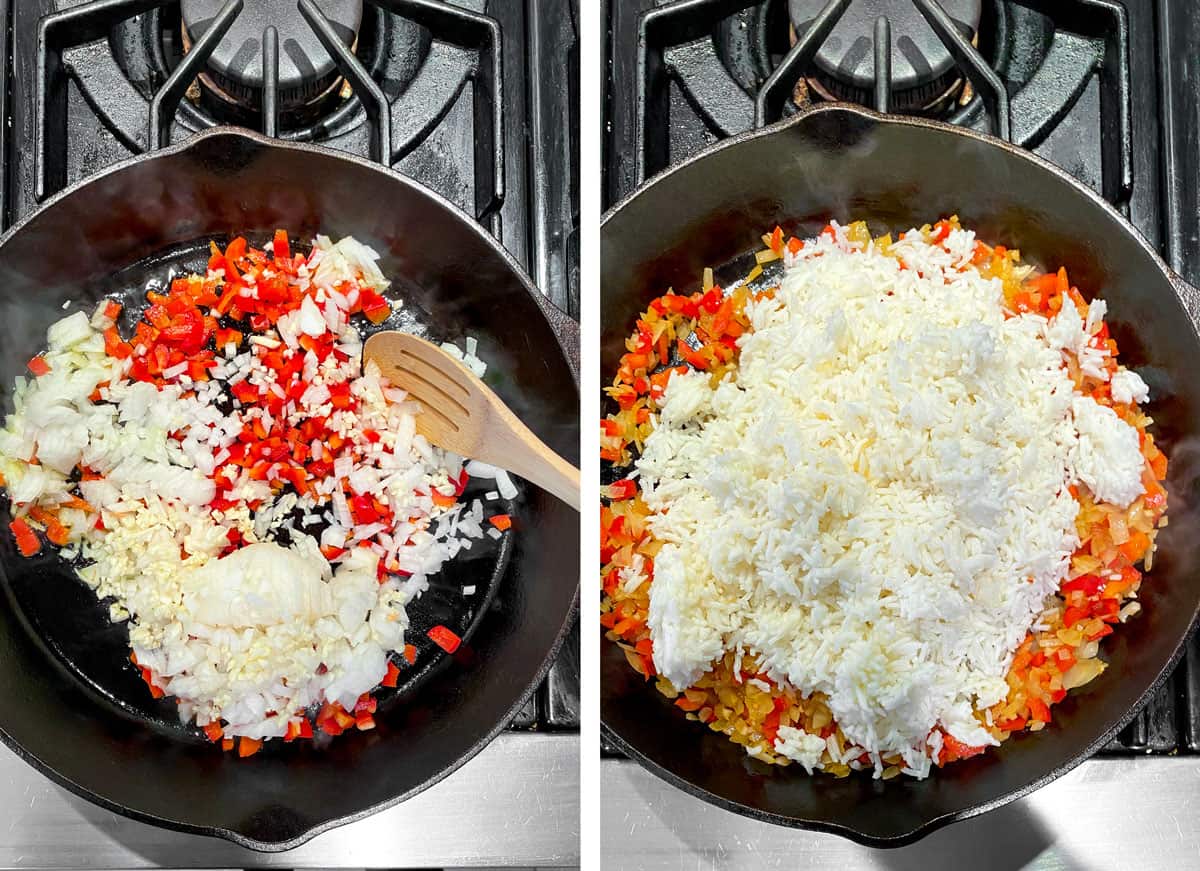 Then add the beans and gently stir them into the rice mixture.
Lastly, stir in the scallions, chopped cilantro, salt, pepper and Lizano sauce, if using.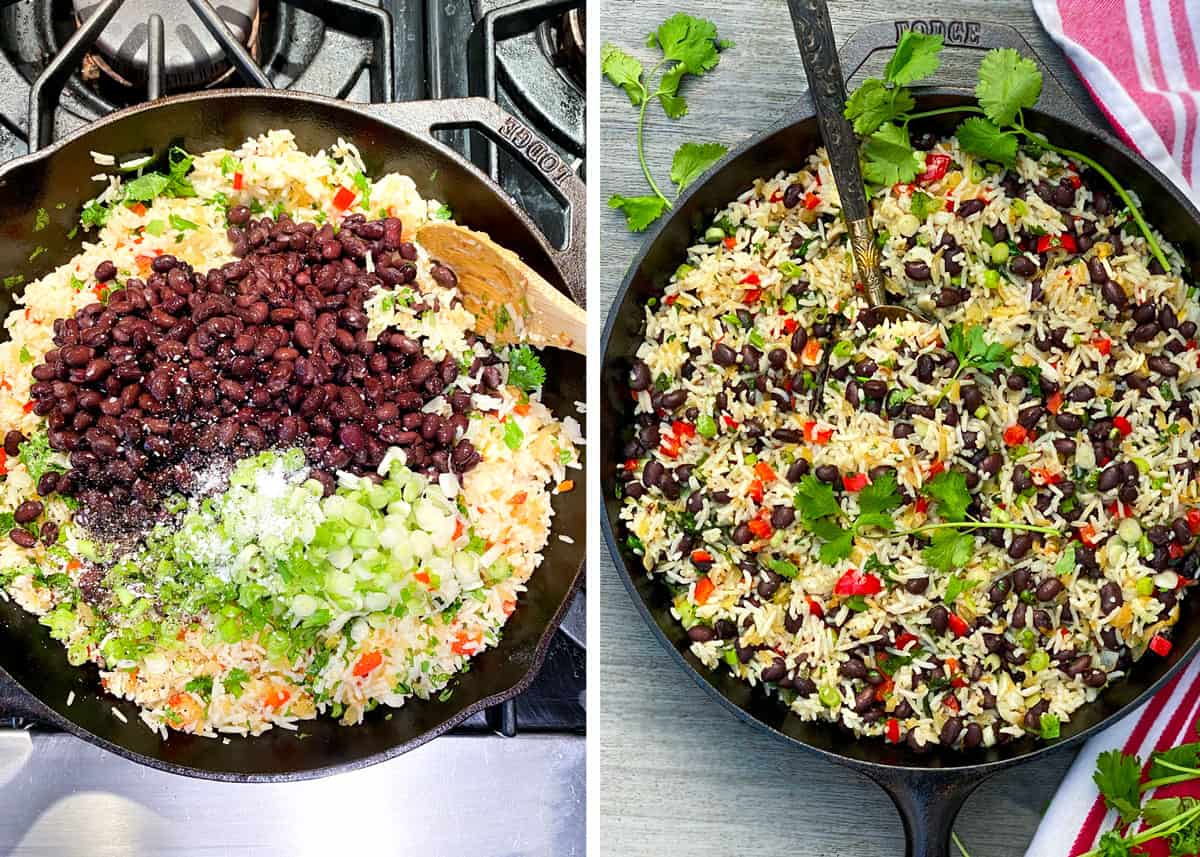 If you're serving this for breakfast, cover the pot with foil or put it in a 200ºF oven, to keep it warm while you cook the eggs and fry the plantains.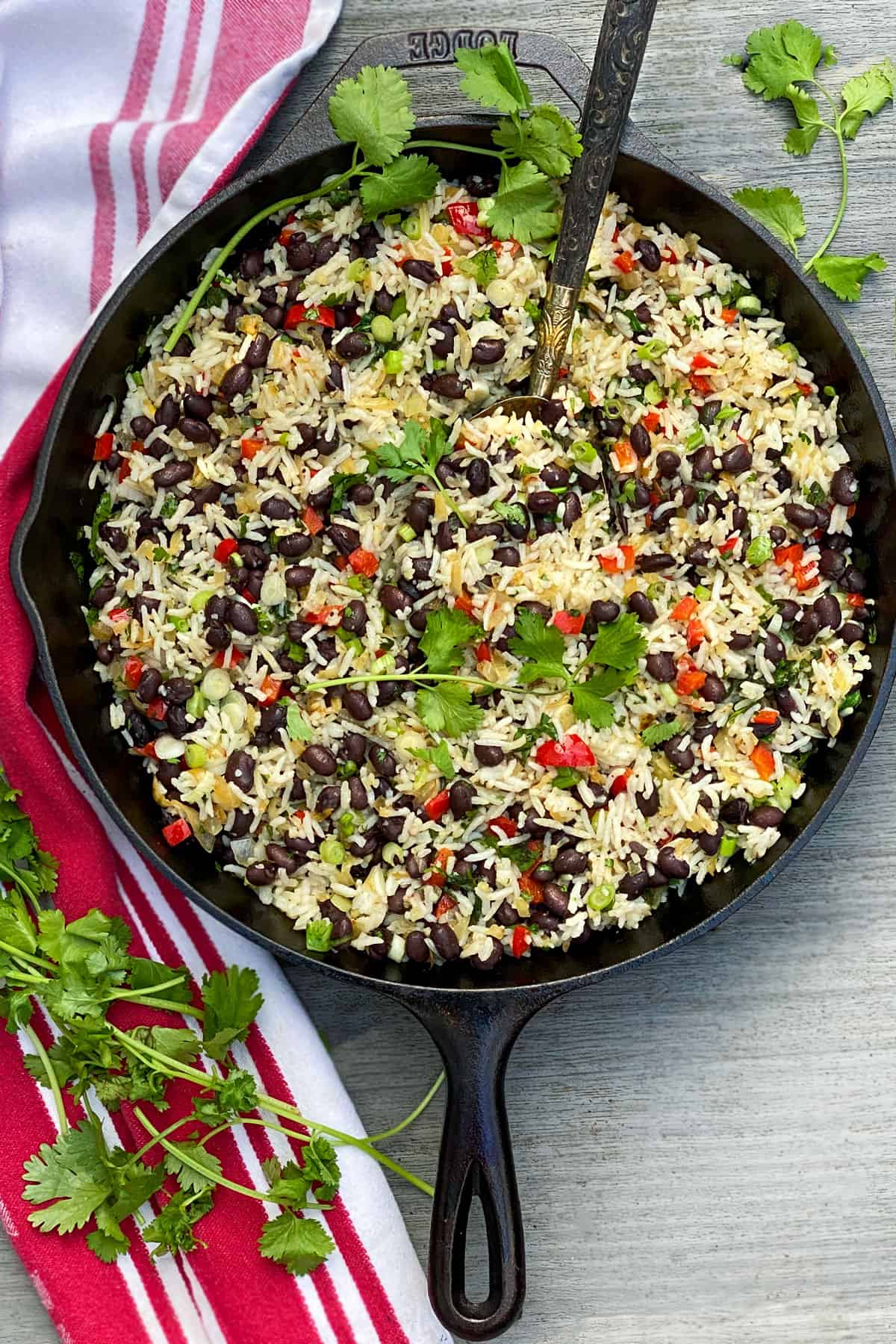 Here are two more things to love about this dish:
Gallo pinto is healthy: The combo of rice and beans is considered the perfect protein. Complete proteins contain full doses of all nine essential amino acids, which are required to help the body build muscle and fuel organs. Most plant-based proteins don't contain all nine essential amino acids but when you put beans and rice together, you get them all.
Gallo pinto is inexpensive - It's great to have such a delicious healthy, hearty, nutritious vegetarian recipe at a very affordable price.
I'm so grateful to Eva for giving me a taste of Costa Rica by introducing me to this amazing dish.
For another delicious taste of Costa Rica, try our patacones recipe.
If you try this gallo pinto recipe I hope you'll come back and leave a star rating and a comment. Eva and I would love to know what you think!
Print
Gallo Pinto: Costa Rican Rice and Beans Breakfast
---
Author:

Lisa

Total Time:

45 mins

Yield:

8

1

x
Description
This delicious traditional rice and beans breakfast of Costa Rica is an ultra easy recipe that also makes a great side dish for dinner.
---
3 tablespoons

olive oil, divided

2 tablespoons

minced garlic (

2

-

3

large cloves)

1

red bell pepper, seeds and veins removed, finely chopped

1

yellow onion, finely chopped

6

cups

cooked white rice (see notes below)
2

15

-

ounce

cans black beans, drained and rinsed, or 3 cups cooked black beans (here's how to cook black beans)

1

bunch scallions (

6

scallions) trimmed and chopped or thinly sliced

¾

cup

packed cilantro leaves, chopped, divided

2 teaspoons

kosher salt

½ teaspoon

black pepper
Lizano Sauce, to serve (see notes)
For The Plantains:
2

ripe plantains (skins yellow with some black) peeled and cut on the diagonal into ⅓-inch slices

2

-

4

tablespoons coconut oil (or substitute olive oil)

2 tablespoons

white or light brown sugar

½ teaspoon

cinnamon

¼ teaspoon

salt plus more for sprinkling on at the end

2

limes, each cut into

6

wedges, divided
For the Eggs:
Butter or oil to cook the eggs

8

eggs (or

1

egg per person)
To Serve, Optional toppings
Lizano sauce - strongly recommended!
Lime wedges
Sliced avocados
Sour Cream
Chopped cilantro leaves
Chopped green onions
Your favorite hot sauce
---
Instructions
Heat 2 tablespoons of olive oil over medium heat in a large skillet. Sauté garlic, red pepper and onion, stirring occasionally, until softened, about 5 minutes. Add the remaining tablespoon of olive oil and the cooked rice and lower the heat to medium-low. Cook, tossing, until everything is combined and hot, 3-4 minutes. Add beans and gently fold them into the rice mixture. Continue cooking and gently folding until everything is hot and thoroughly combined, 2 minutes or so. Stir in scallions, ½ cup of the chopped cilantro, 2 teaspoons salt, and ¼ teaspoon pepper. If you're serving this for breakfast, cover with foil or place in a 200ºF oven, to keep warm while you cook the eggs and plantains.
In a medium bowl, toss plantains with sugar, cinnamon and salt. Heat 2 tablespoons coconut oil in a large, preferably cast iron, skillet over medium-high heat. Add the plantain slices in a single layer. (cook in batches, if necessary) Cook for 2-3 minutes per side or until brown, caramelized and soft. Transfer to a plate. Squeeze some lime juice over them - about ¼ of a juicy lime. Sprinkle a few pinches of course salt over them, to taste. Tent with foil.
Fry or scramble the eggs - however you like them.
Divide the gallo pinto among plates. Top each with a cooked egg and one or more toppings. Arrange a few plantain slices alongside. Serve with Lizano Sauce on the side.
Notes
Cooking Time for This Recipe: This quick and easy dish is traditionally made with leftover rice and beans (in this case canned beans). If you plan to cook the rice or beans from scratch, the cooking time will increase.
Lizano Sauce is a popular condiment in Costa Rica that has been compared to Worcestershire Sauce. It's considered an essential element of gallo pinto, for authentic flavor. Lizano sauce is sometimes added to the gallo pinto during the cooking process and sometimes not, however it's always served on the side, as a salsa. If you can't find it at your grocery store, you can order it online. Worcestershire Sauce is also a great substitute.
Prep Time:

30 mins

plus time to cook eggs and plantains if serving for breakfast:

15 mins

Cook Time:

15 mins

Category:

Breakfast, side dish

Method:

Stir fry

Cuisine:

Costa Rican
Keywords: rice and beans, Costa Rican rice and beans breakfast
[First published May 13, 2016. Refreshed and updated on Dec 9, 2021 with new photos; added nutritional information; added details about the "gallo pinto wars," and an added link for purchasing Lizano sauce. The same delicious recipe!]