I'm always in search of the tastiest and most nutritious granola. This healthy granola is tops in both categories, packed with heart-healthy grains, nuts and seeds. Pure maple syrup adds just a touch of sweetness. Unrefined coconut oil gives it a golden crispy crunchy texture.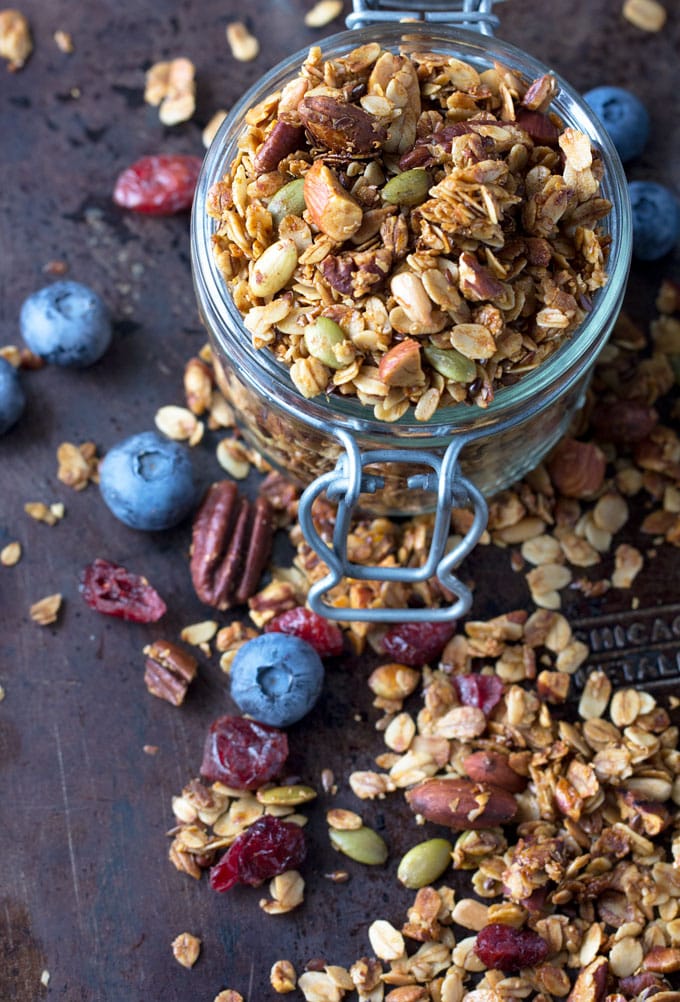 There's a saying that breakfast is the most important meal of the day. On the days that I eat a healthy breakfast, I can feel how true that is. In addition to feeling satisfied and energized, it also sets the tone for a productive day.
I developed this granola recipe with the goal of maximizing healthy ingredients. And it had to taste great! I'm so happy with the result. It's the best granola in every way: packed with heart-healthy oats, nuts and seeds, not too sweet, but just sweet enough, and great crunch factor.
HEALTHY GRANOLA INGREDIENTS:
OLD FASHIONED OATS AND OAT BRAN: Oats are the foundation of this granola. Old fashioned rolled oats hold their shape when baked and they have a slightly chewy, slightly crunchy texture that's ideal for granola. Oat bran has an even higher concentration of fiber than whole oats. Both oat and oat bran are rich in beta-glucan, a soluble fiber, which has been show to lower total cholesterol and LDL (bad) cholesterol.
NUTS: There's a cup and a half of nuts in this granola. Nuts are extra delicious when they're toasted in the oven. They add a lot of great flavor and crunch to this granola and they're super healthy, packed with fiber, protein, vitamins, monounsaturated (good) fats, and minerals. Protein helps you feel full and satisfied for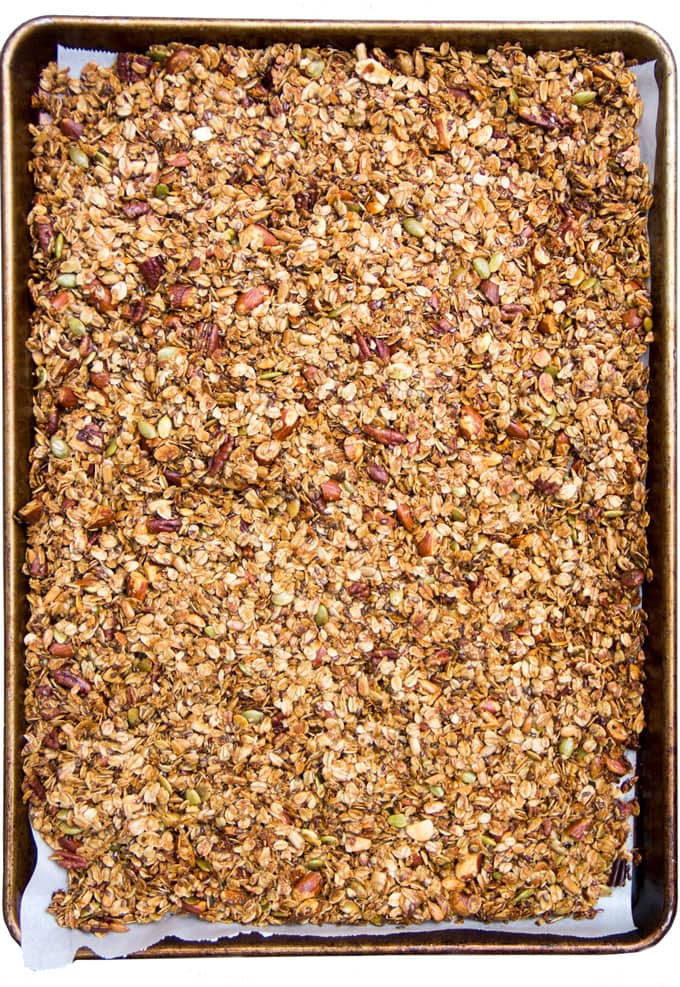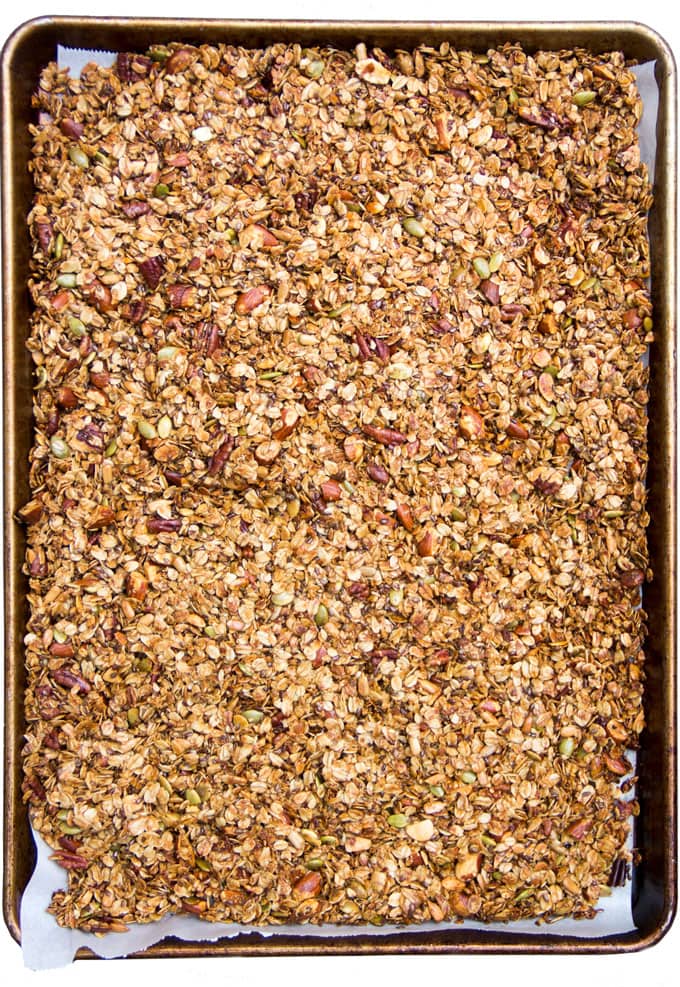 SUPER SEEDS: Three kinds of vitamin and mineral-rich seeds in this healthy granola: sunflower seeds, flaxseed, and pumpkin seeds. Feel free to substitute your favorite seeds or whatever you have in your pantry.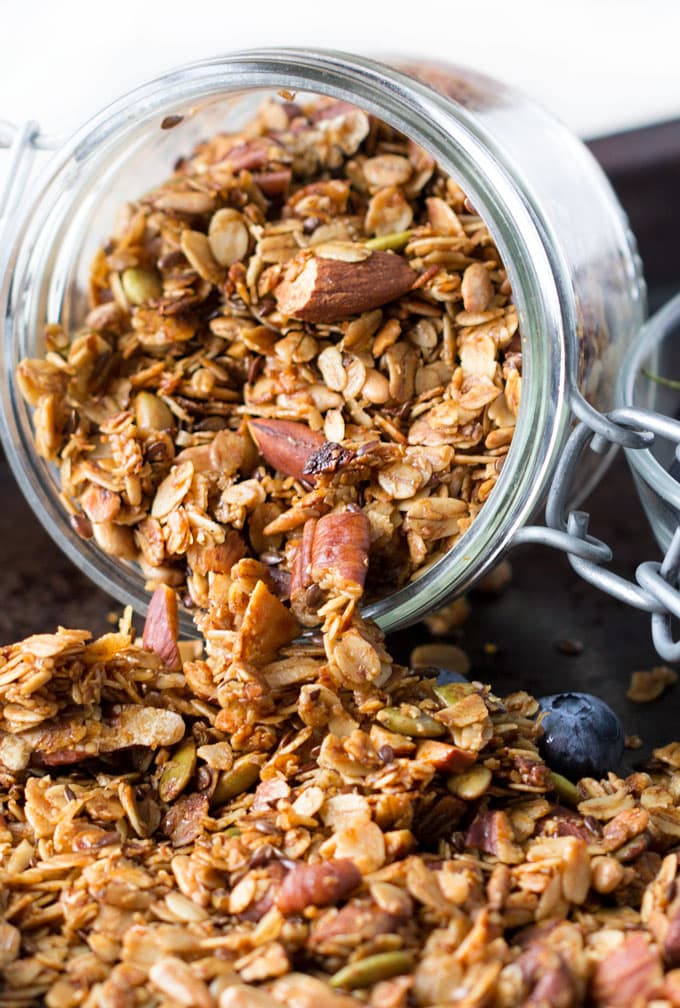 CINNAMON, SALT, MAPLE SYRUP: A little salt goes a long way to brighten up the flavors in this granola. I always put cinnamon in my granola. I love the rich warm taste of cinnamon and how well it complements the nutty flavors. Maple syrup is my favorite natural sweetener but honey would work really well too, if you prefer it, or if that's what you have on hand.
COCONUT OIL: I love using unrefined coconut oil for granola. The granola develops a rich golden brown color and crispness. Plus it has a delicious hint of coconut flavor.
GRANOLA ADD-INS: How do you eat granola? I love mine with yogurt. Eddie has his with almond milk. We sometimes add dried or fresh fruit – whatever we have in house. I especially love it with fresh blueberries or apple juice infused dried cranberries or cherries. Here are some other delicious add-ins that come to mind: toasted coconut, chocolate chips, raisins, dried apricots, sliced bananas, wheat germ, a drizzle of honey or maple syrup…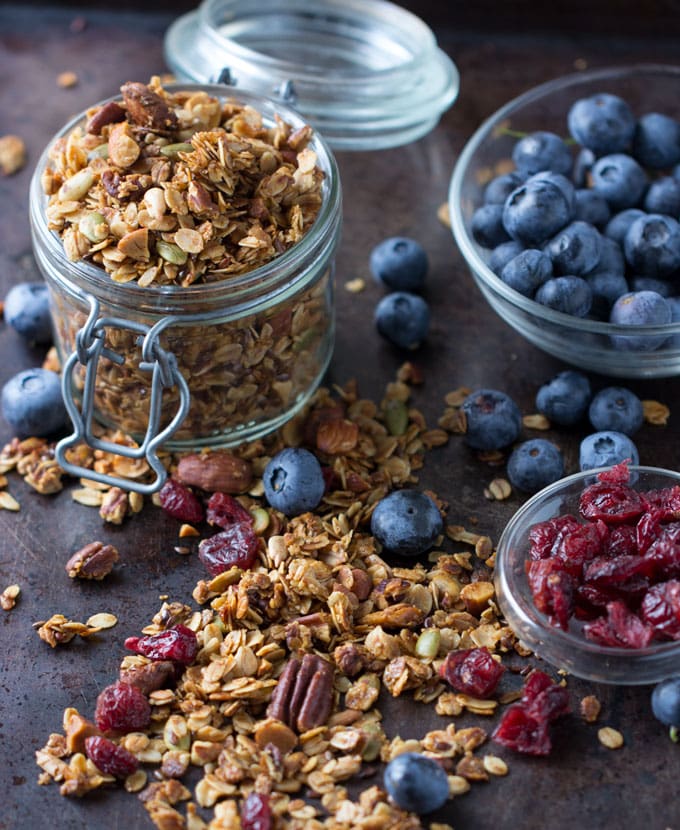 It's really easy to make homemade granola, and I've never found a store bought granola that can compete with homemade. That's why I have a growing collection of granola recipes on the blog:
I store my homemade granola in an airtight container on the kitchen counter. It keeps fresh for two weeks, though it rarely lasts that long.
Here's my favorite healthy granola recipe. I hope you enjoy. If you make it, please come back to leave a comment and a review and let me know how it turned out!
Print
My Favorite Healthy Granola Recipe
This delicious healthy granola recipe is made with oats, nuts and seeds. It's naturally sweetened with maple syrup and flavored with cinnamon. Add milk, yogurt or your favorite fresh or dried fruits for a tasty, nutritious breakfast.
Author: Panning The Globe
Prep Time:

10 mins

Cook Time:

40 mins

Total Time:

50 mins

Yield:

7 cup

s/14 servings

1

x
Category:

Breakfast

Method:

baking

Cuisine:

American
Scale
Ingredients
For The Dry Ingredients:

3 1/2 cup

s organic old fashioned rolled oats (not instant or quick cooking)

1 1/2 cup

s roughly chopped nuts (I like using a mix of half pecans, half almonds)

1/2 cup

oat bran

1/2 cup

coarsely ground toasted flaxseeds (you can find toasted flaxseeds at Trader Joes or online. Or you can toast raw flaxseeds for a few minutes in a dry hot skillet. Grind them in a coffee grinder, blender or with a mortar and pestle)

2 tablespoon

s whole toasted flaxseed (optional)

1/3 cup

raw unsalted pepitas (pumpkin seeds)

1/3 cup

raw unsalted sunflower seeds

1/2 teaspoon

cinnamon

3/4 teaspoon

kosher salt
For The Wet Ingredients:

1/2 cup

unrefined coconut oil

1/2 cup

real maple syrup

2 tablespoon

s coconut sugar, optional (or substitute brown sugar)
Equipment:
Rimmed baking sheet
Parchment paper
Instructions
Preheat oven to 350ºF. Line a rimmed baking sheet with parchment paper.
Mix the dry ingredients In a large bowl combine oats, nuts, oat bran, seeds, cinnamon, and salt. Mix thoroughly.
Heat The Wet Ingredients: In a small saucepan heat the coconut oil, maple syrup and sugar (if using), until the coconut oil is liquified and the sugar is melted. Pour the wet ingredients over the dry ingredients and toss to combine.
Spread granola mixture evenly onto prepared baking sheet. Cook in the middle of the oven for 20 minutes. Toss with a spatula and cook 15-20 minutes longer, until golden. Remove from oven. Toss once more and leave out to cool completely. Store in an airtight container for up to two weeks.
Keywords: healthy granola, granola with nuts and seeds, best granola, best healthy granola