In this yogurt parfait, toasted quinoa with coconut & almonds is a high protein, gluten-free alternative to granola. It's crunchy and nutty and the best thing ever to layer with creamy yogurt, fresh berries and gingery maple syrup.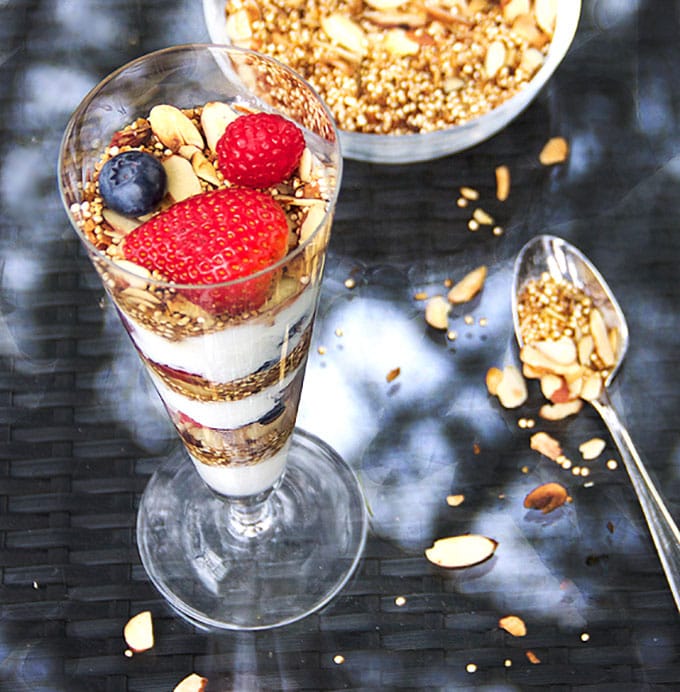 Did you know you can toast quinoa? I never thought of doing it until recently, when I noticed quinoa topping on pasta I had at a restaurant. It was crunchy and great and I decided I had to try toasting some myself. For this yogurt parfait I toast raw quinoa with sliced almonds and shredded coconut in a dry skillet. The quinoa is golden brown and has a delicious nutty flavor.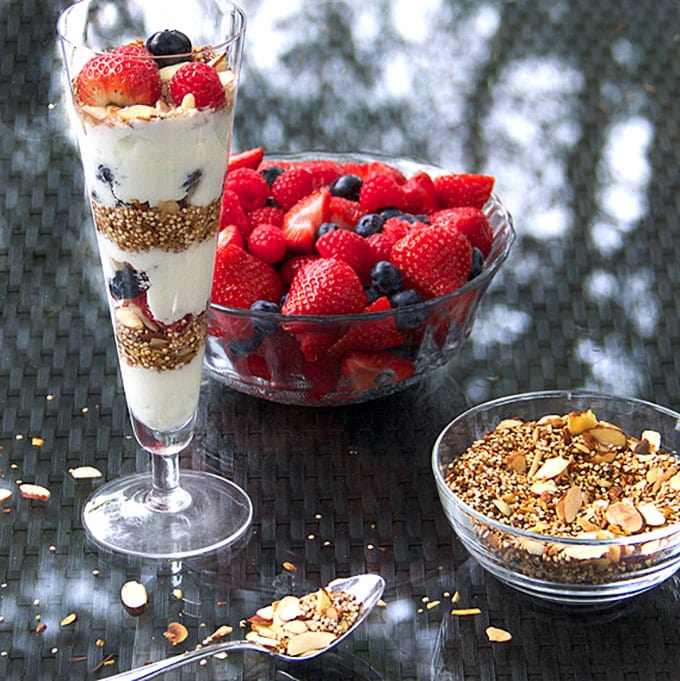 Granola has always been my go-to for a yogurt parfait. But not any more. I prefer this toasted quinoa mix. It has great crunch and it's packed with protein; it's gluten free; and it's toasted in a dry skillet with no added fat or sugar.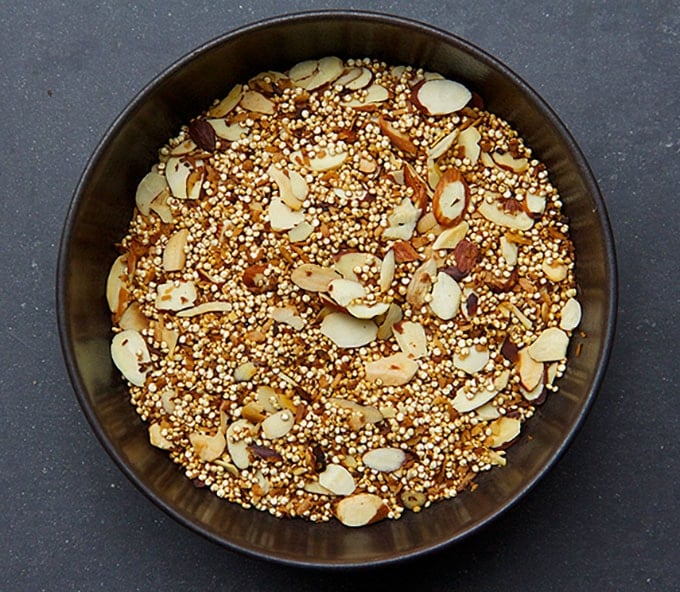 You can prepare all of the components for this yogurt parfait in advance. The coconut quinoa mixture can keep in an airtight container for about 5 days.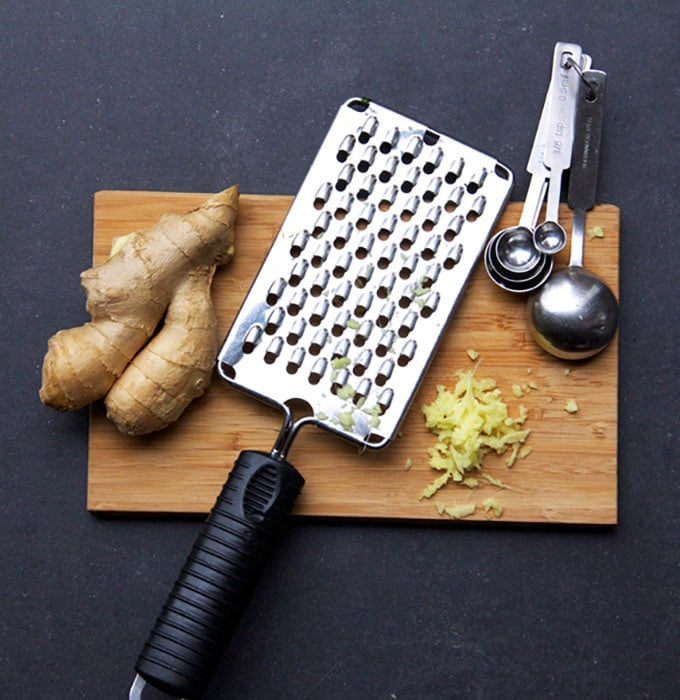 The gingered maple syrup can also be made ahead and stored in the fridge for a few days. Fruit can be washed and cut up in advance.  If everything is ready ahead, you can assemble the parfait in just a couple of minutes.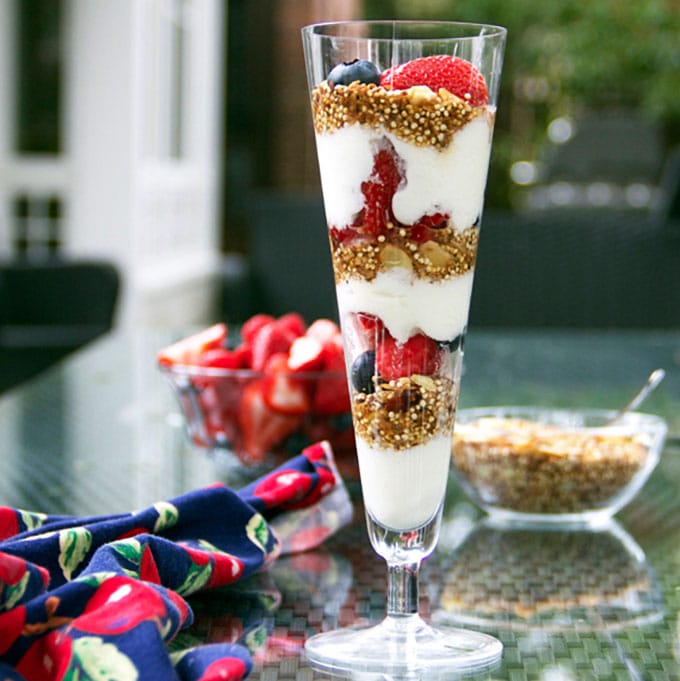 I have to thank my sister in law Jen for inspiring this recipe. She and I talk about food a lot! Jen has mentioned, many times, an amazing yogurt & granola parfait with gingery simple syrup that she had on one of her family vacations. She got me craving it, so here's my version!
Here's the recipe for Toasted Coconut Quinoa Yogurt Parfait. If you try this recipe I hope you'll come back to leave a comment. I'd love to know what you think!
Print
Toasted Coconut Quinoa Yogurt Parfait with Gingered Maple Syrup
---
Description
Toasted quinoa with coconut & almonds is a high protein alternative to granola. Layer it with fresh fruit, tangy yogurt gingered maple syrup. (in a pinch you can substitute fruit preserves for the syrup)
---
Gingered Maple Syrup

½ cup

pure maple syrup

1 teaspoon

peeled, grated ginger root (from a 2-inch piece)
Toasted Coconut Quinoa

½ cup

uncooked quinoa, rinsed in a fine mesh strainer, drained

½ cup

sliced almonds

6 tablespoons

unsweetened shredded coconut

¼ teaspoon

kosher salt
Parfait

24 ounces

plain yogurt (your favorite)

2

-

3

cups mixed berries or your favorite fruits, washed and cut into bite-sized pieces
Toasted coconut quinoa (see recipe below)
Gingered maple syrup (see recipe below)
---
Instructions
Make the syrup: In a small saucepan bring maple syrup and ginger to a boil. Remove from heat and stir. Set aside to cool. (can be kept in an air-tight container in the fridge for up to 3 days)
Make the toasted coconut quinoa: Heat a large skillet over medium heat. Add the rinsed quinoa (don't worry if it's damp. The water will evaporate) and cook, stirring and tossing with a spatula, for a minute or so, to evaporate the excess water. Add nuts and coconut. Cook, stirring constantly, for 5-7 minutes more, or until quinoa is a making frequent popping sounds and becomes toasted and golden brown. (lower the heat a bit, if need be, to avoid burning) Spread toasted quinoa mixture out on a plate to cool, sprinkle with salt and toss to mix.
Assemble the Parfaits: When the syrup & toasted quinoa have cooled, about 15 minutes, assemble the parfaits: Using bowls or parfait glasses, make alternate layers of yogurt, quinoa, fruit, syrup. Repeat. Top with a light sprinkling of quinoa.
Prep Time:

15 mins

Cook Time:

10 mins

Category:

Breakfast

Cuisine:

Out of this World