Nutritious, heart healthy Vanilla Toasted Almond Granola. An easy recipe for homemade granola that is sweet-salty-crunchy and out of this world delicious!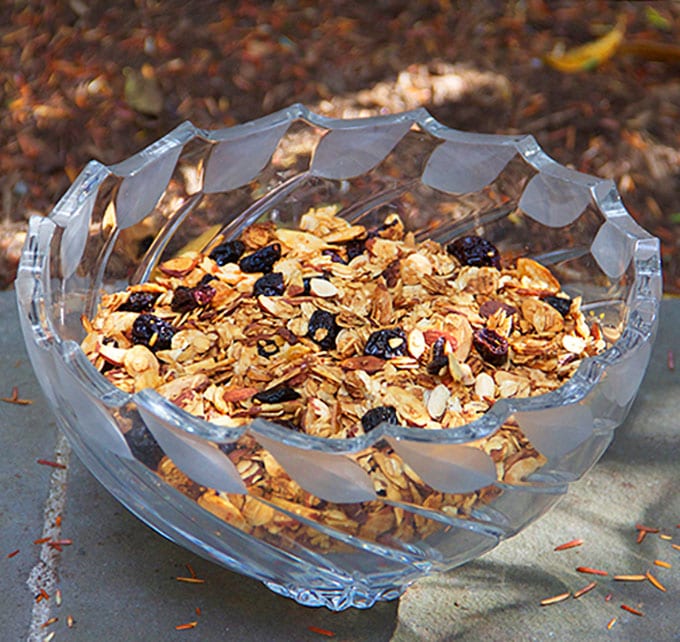 Vanilla Toasted Almond Granola is from Out of This World. Let me explain. If you follow Panning The Globe, you probably know that my goal is to share great recipes from every country in the world. Did you know that you can track my progress around the globe and also search for recipes by continent and by country?
Check out the continent menu at the top of the page. Hover over a continent and some countries will appear in a drop down menu. Those are the countries that I've "been to" so far. Click on any country and you'll see what recipe(s) I've shared from that country. You'll also notice - next to the continents - is a category called "Out of This World." Sometimes I can't resist sharing a recipe that has nothing to do with exploring world cuisine. You'll find those recipes in the "Out Of This World" menu. So now you know what I mean when I say that this Vanilla Toasted Almond Granola is from "Out of this World".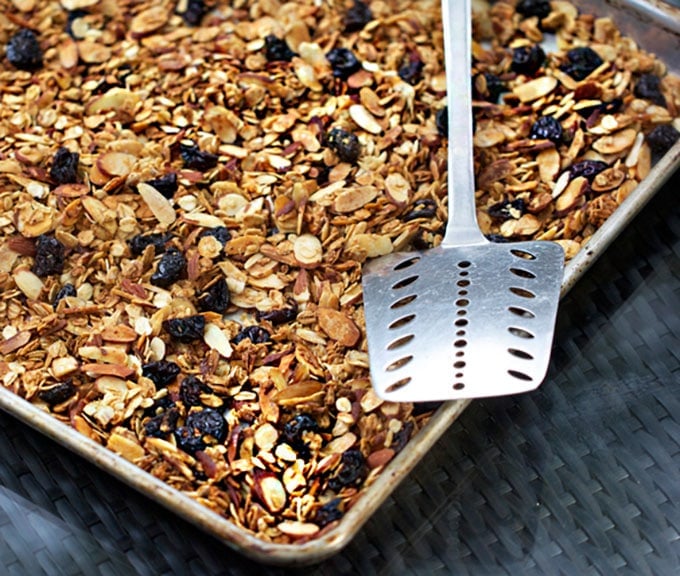 Now about this toasted almond granola! Flavors of vanilla and coconut are front and center. Toasting the oats and almonds adds a wonderful depth of flavor and lots of crunch. This granola has that irresistible sweet/salty/crunchy thing going on. The chewy, intensely-flavored, sweet and tart dried cherries are the perfect counterpoint for the toasted crunchiness of everything else.
By the way. If you've never cooked with cardamom, it's a wonderful spice that adds a lovely aromatic note to baked goods.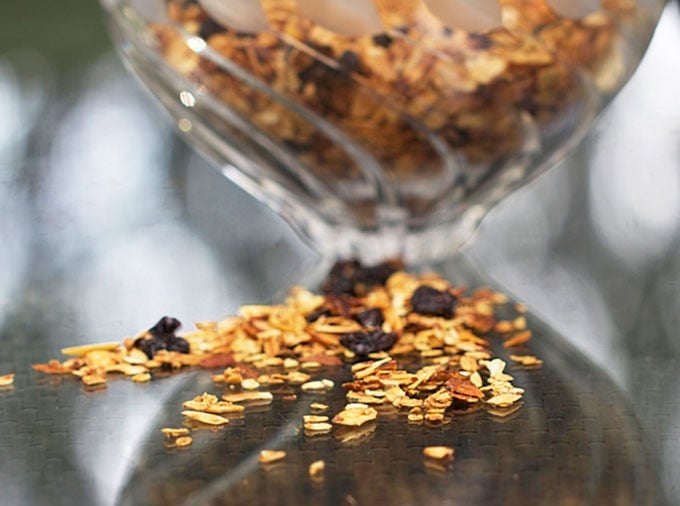 HOW TO EAT THIS TOASTED ALMOND GRANOLA
Have a bowl with milk or yogurt for a delicious nutritious breakfast.
For a healthy, energizing afternoon snack have a small bowl of vanilla toasted almond granola with your tea or coffee
This granola is great for dessert too. If you want to dress up a bowl of ice cream, heap some vanilla toasted almond granola on top. Yum!
If you like making homemade granola, I have a couple of other granola recipes to tell you about. If you're looking for a nutrition-packed granola with nuts and seeds, check out My Favorite Healthy Granola Recipe. If you like dried apricots and cranberries, give this delicious Almond Maple Granola a try.
Here's the recipe for Vanilla Toasted Almond Granola. If you try this recipe I hope you'll come back to leave a rating and a comment. I'd love to know what you think!
Print
VANILLA TOASTED ALMOND GRANOLA
Delicious, heart healthy granola that's easy to make at home
Author: Panning The Globe
Prep Time:

10 mins

Cook Time:

35 mins

Total Time:

45 mins

Yield:

8

-

1

0

1

x
Category:

Granola

Method:

oven

Cuisine:

Out of this World
Dry Ingredients

3 cups

old-fashioned rolled oats

2 cups

raw sliced almonds

3 tablespoons

flaked unsweetened coconut

1 ½ teaspoons

salt

¼ teaspoon

ground cinnamon

¼ teaspoon

ground cardamom

1 cup

dried cherries
Liquid Ingredients

½ cup

maple syrup

3 tablespoons

coconut oil (Solid until it's heated)

1 tablespoon

vanilla extract
Instructions
preheat oven to 350º F.
Dry Ingredients In a large bowl mix all dry ingredients except the cherries: Oats, almonds, coconut, salt, cinnamon, and cardamom.
Liquid Ingredients In a small saucepan combine maple syrup, coconut oil and vanilla. Bring to a simmer over medium heat. Remove from heat and pour over dry ingredients. Mix to combine.
Spread mixture evenly into a jellyroll pan and cook in the center of the preheated oven for 25 minutes. Remove tray from oven. Toss granola. Add cherries and return granola to the oven for an additional 10 minutes, until is nicely browned. Cool completely. Granola will not be crunchy until it cools. Store in an airtight container for up to a week.