A recipe for authentic Jamaican Coco Bread - the most delicious sandwich bread ever - and a delicious recipe for a snapper sandwich on coco bread with jerk mayonnaise
Whoever invented coco bread must have been trying to come up with the perfect sandwich roll - firm on the outside, tender on the inside.
And best of all - it's constructed with buttery layers that can be opened and then folded perfectly around the sandwich filling, making a neat and delicious package.
Have you ever been on a week-long vacation and ordered the exact same thing for lunch, day after day? I have. A grilled snapper sandwich on freshly made coco bread with lettuce, tomato and jerk mayonnaise. Our family has a favorite destination in Jamaica - a small hotel called Rockhouse. We've gone there several times during the kids' February vacation.
It's set on a cliff by the ocean, and we basically sit and read and take in the view all day, with an occasional break for snorkeling. Lunch is cooked nearby, in a little open prep kitchen with picnic tables set up in front and a barbecue grill off to the side.
Once the grilling begins, it's hard to concentrate on reading as the delicious scents of charred jerk spices start wafting over.
Year after year we all concur on how delicious the sandwiches are and say we should really get the recipe for coco bread. Well finally I did! Chef Warren at Rockhouse generously shared his recipe for coco bread and also explained how to make the grilled snapper sandwich. Now I can make it at home and so can you!
HOW TO MAKE JAMAICAN COCO BREAD
Coco bread is quick and easy. All the dry ingredients go into the mixer. The wet ingredients are added. After five minutes of kneading the dough ball is formed.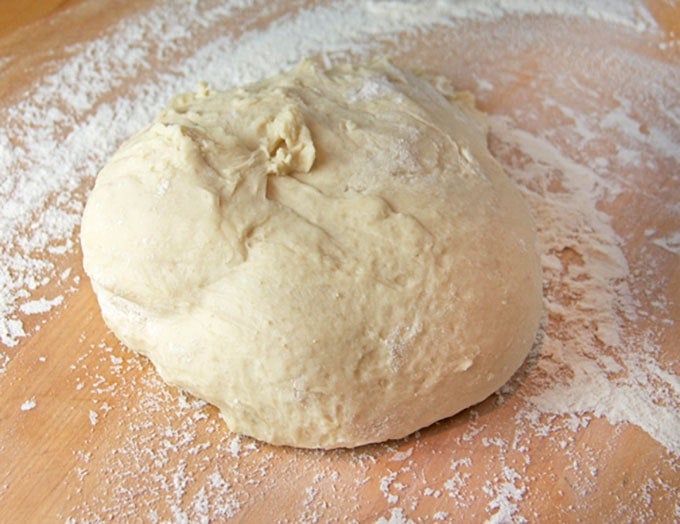 Cut the dough into ten pieces.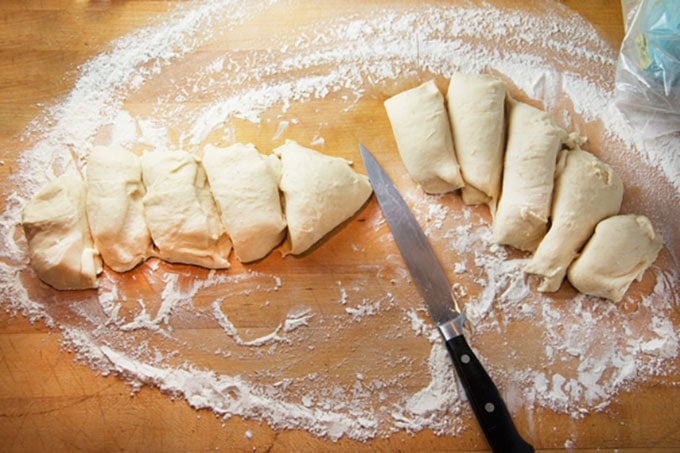 Roll each piece into a ball and leave the balls to rise for five minutes.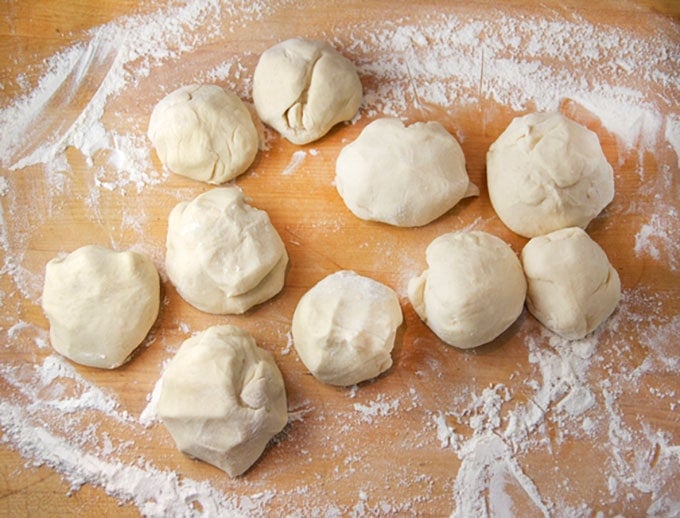 Now comes the part that makes Jamaican coco bread so special and so perfect for sandwiches:
Roll each ball into a thing pancake, brush with butter, and fold in half.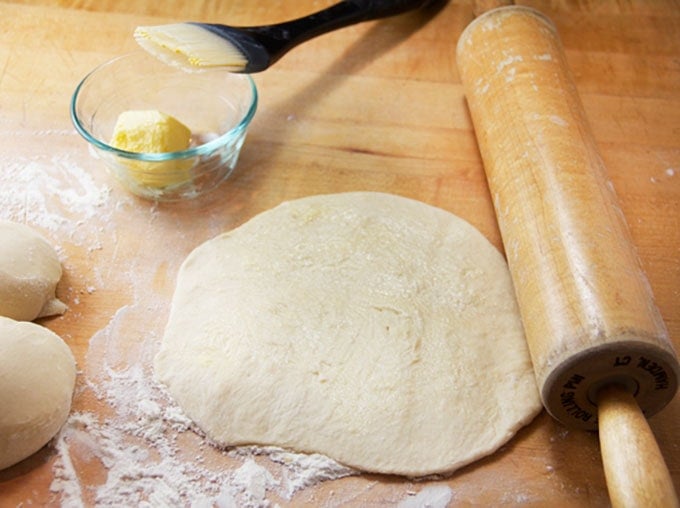 Brush with more butter and fold in half again.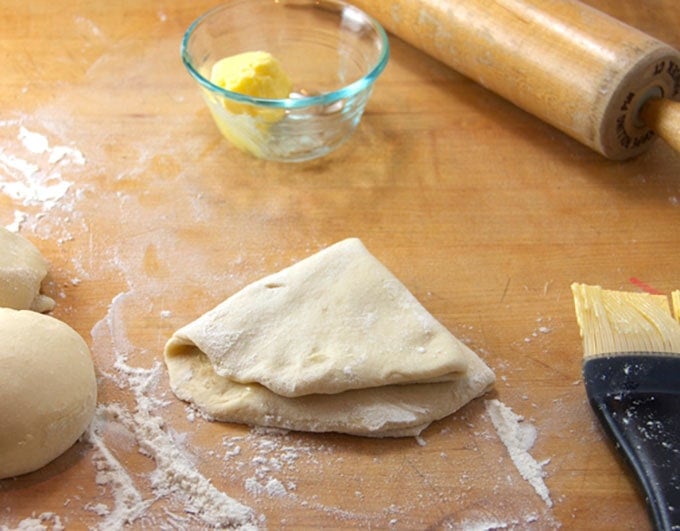 Place the little triangles of dough on a greased baking tray.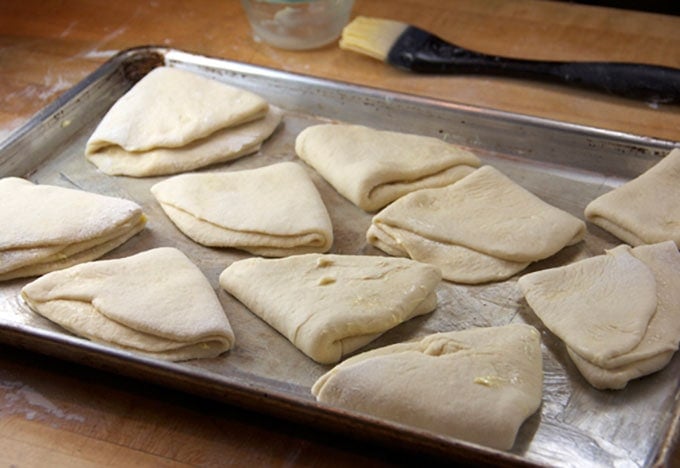 After a ten minute rise, use the tips of your fingers to make four light impressions in each triangle of bread.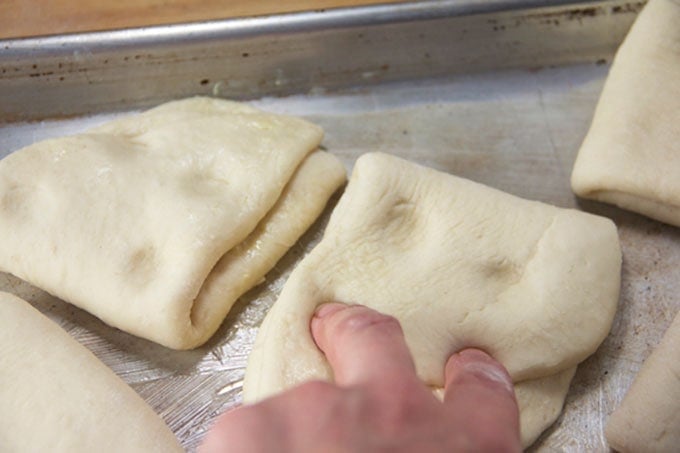 This step is essential for keeping the bread from puffing up too much in the oven.
After 20 minutes in a 350 degree oven, you have coco bread!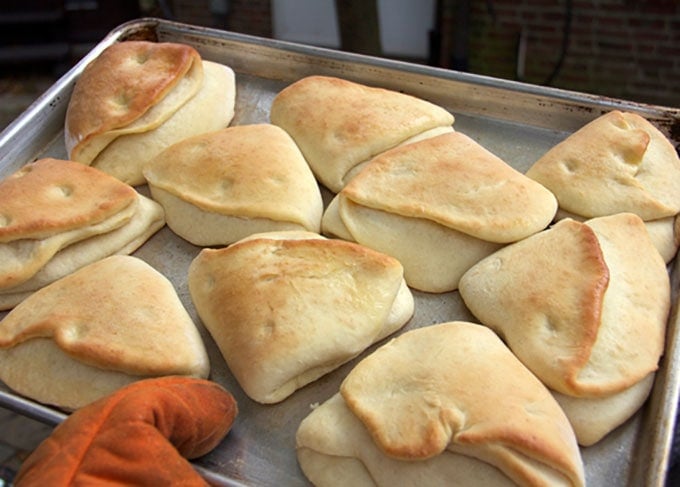 I've also included chef Warren's recipe for the delicious grilled snapper sandwich that I just can't seem to get enough of. He uses gray snapper, a tender, flaky fish that's more abundant than over-fished red snapper.
If you can't find gray snapper, you can substitute red snapper, mahi mahi or tilapia.
And if you're not in the mood for fish, try making your favorite sandwich using delicious homemade coco bread.
While we're on the topic of bread, at some point you also might want to check out this delicious recipe for no-knead olive bread.
Now here's the recipe for Jamaican Coco Bread. If you try this recipe I hope you'll come back to leave a star rating and comment. I'd love to know what you think!
Print
Jamaican Coco Bread
---
Description
Jamaican Coco Bread is perfect for sandwiches and especially good with a simple piece of grilled fish and some spicy mayo.
Recipe adapted from Rockhouse Hotel  chef Warren Rowe's recipe.
---
Dry Ingredients
3 ½ cups

all-purpose flour

¼ cup

sugar

2

packs active dry yeast or

4 ½ teaspoons

1 ½ teaspoons

kosher salt
Wet Ingredients

1 ½ cups

milk, warmed (not more than 120º F)

¼ cup

water, warmed (not more than 120ºF)

2

tbs softened butter (at room temp) plus more for brushing

2

tbs coconut oil
---
Instructions
Preheat oven to 350ºF. Mix all dry ingredients in the bowl of a stand mixer with the hook attachment. Add butter, coconut oil, milk and water. Mix at low speed for 5 minutes. Dough should be a ball that can be removed from the bowl.
Transfer dough to a lightly floured surface. Cut into 10 equal pieces and roll each piece into a ball. Allow balls to sit for 10 minutes.
Place a small bowl of softened butter (about 3 tablespoons) and a pastry brush on your work surface. Using a rolling pin, roll each ball flat (about 7 inches diameter and ¼-1/8 inch thick). Rub a thin layer of softened butter over the surface of each piece of dough, using a brush or your fingers. Fold dough in half. Rub a layer of butter over the top surface. Fold again. Place onto a lightly greased jellyroll pan. Repeat with remaining pieces.
When all the balls are rolled, buttered, shaped and on the pan, let them sit for 10 minutes. After a ten minute rise, use the tips of your fingers to make four light impressions in each triangle of bread. It keeps the bread from puffing up too much in the oven.
Bake them in the center of the preheated oven for 15-20 mins, until they are lightly browned. Remove from the oven and brush the rolls with a bit more butter. Serve warm or allow to cool and store in an airtight container for a day or two. (They are best served fresh)
See notes below for Jerk fish sandwich recipe.
Notes
Make Jerk Fish Sandwiches on Coco Bread (serves 5)  Mix ½ cup mayonnaise with 1 teaspoon store-bought jerk spice. Brush grill grates or cast iron grill pan with oil and preheat to medium-high. Brush 5 6-oz snapper, Mahi-mahi or tilapia fillets on both sides with olive oil and sprinkle generously with salt and pepper. Grill fish 3-4 minutes per side, until cooked through. Open the coco bread and spread jerk mayo on the inside bottom and top, add a lettuce leave, a tomato slice and the fish. Enjoy!
Prep Time:

40 mins

Cook Time:

20 mins

Category:

Bread

Method:

Oven

Cuisine:

jamaican
Keywords: homemade coco bread, authentic coco bread