You don't need a rotating spit to make great chicken shawarma. It's easy to make amazing chicken shawarma at home! A simple marinade of lemon, yogurt and spices infuses the chicken with incredible Middle Eastern flavor. Serve chicken shawarma on a salad or packed in a pita. Any way you serve it you are in for a big treat!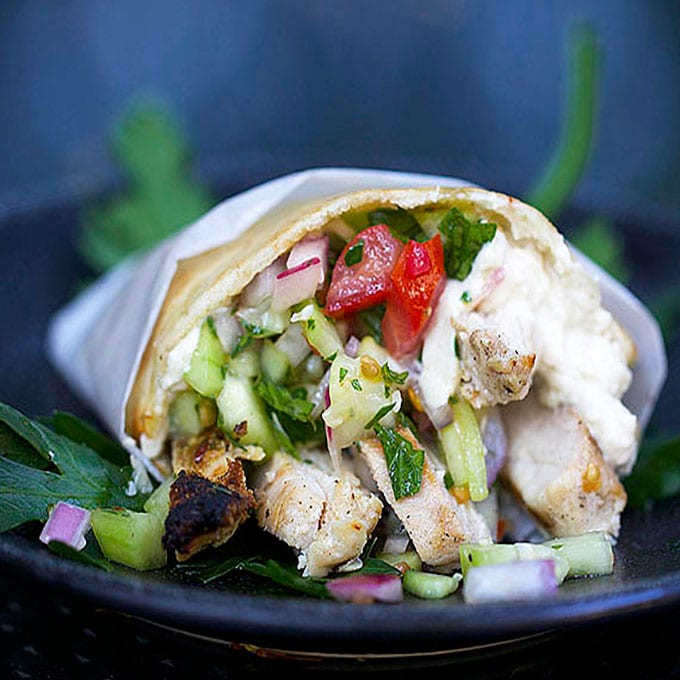 Shawarma is famous throughout the Middle East. It's typically eaten on the go - street food. It's quite similar to the Turkish Doner Kebab, and the Greek Gyro. The common denominator of all three is seasoned meat that's pressed onto a rotating spit and flame-cooked as it turns. The meat is then sliced, wrapped in pita and topped with assorted sauces and salads.
I was encourage to make shawarma by my 16 year old son Paul, after he spent a month touring Israel with friends from summer camp. He had the time of his life, despite the fact that his itinerary had to be revised regularly in order to stay clear of rocket-fire. The week after Paul landed in Tel Aviv, three missing Israeli youths were found murdered, which ignited a spark between Hamas and Israel. More than 2,000 enemy rockets were fired into Israel during Paul's visit.
Over the course of the month I tried to remain calm but I occasionally lapsed into a state of anxiety about the situation, which was escalating by the day. I couldn't wait for him to get home.
From Paul's point of view, he felt totally safe. The few times I Face-Timed with him, he reassured me that he was fine. He wanted tell me all about the amazing stuff he was learning, seeing, and eating.
It turns out he was eating a lot of chicken shawarma. In fact when I asked him if he bought anything good with his spending money, he said that he'd spent most of it on shawarma. When Paul returned from Israel late Monday night, (after I gave him an enormous hug), we decided we would make shawarma together.
HOW TO MAKE CHICKEN SHAWARMA
Most of us don't have a rotating spit at home. But luckily most of the magic of shawarma is in the marinade.
I love boneless skinless chicken thighs on the grill so that's what I chose for this shawarma. Leave the thighs whole and marinate them for at least 2 hours.
After soaking in a mixture of olive oil, yogurt, lemon juice, garlic and spices, the chicken is tenderized and infused with amazing flavor!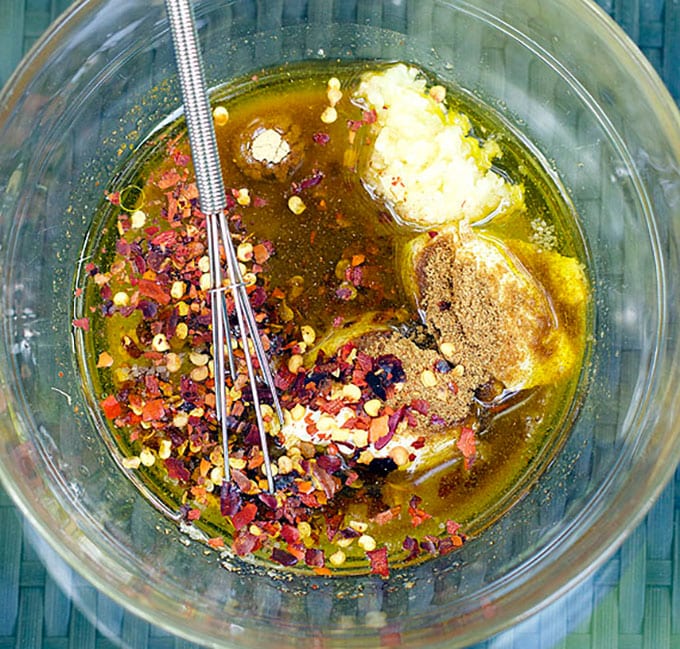 While the chicken is marinating, you'll have plenty of time to make the tahini sauce and chop up cucumbers, onions and tomatoes for the chopped salad.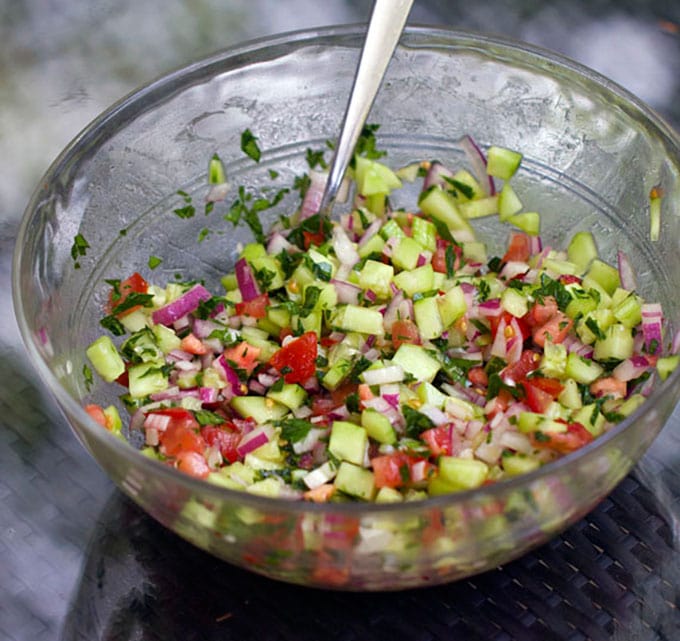 Grill the chicken and slice it into bite-sized strips.
Heat up some pita.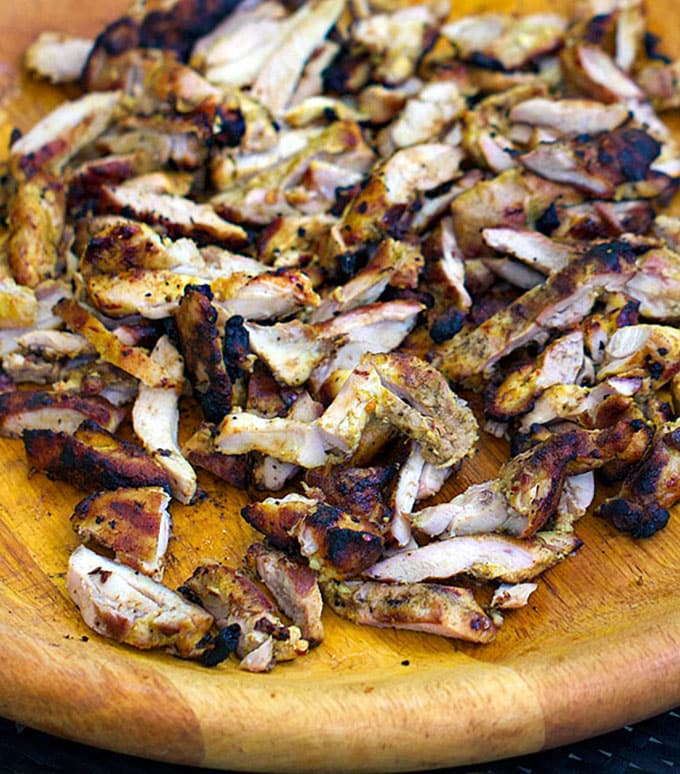 Enjoy!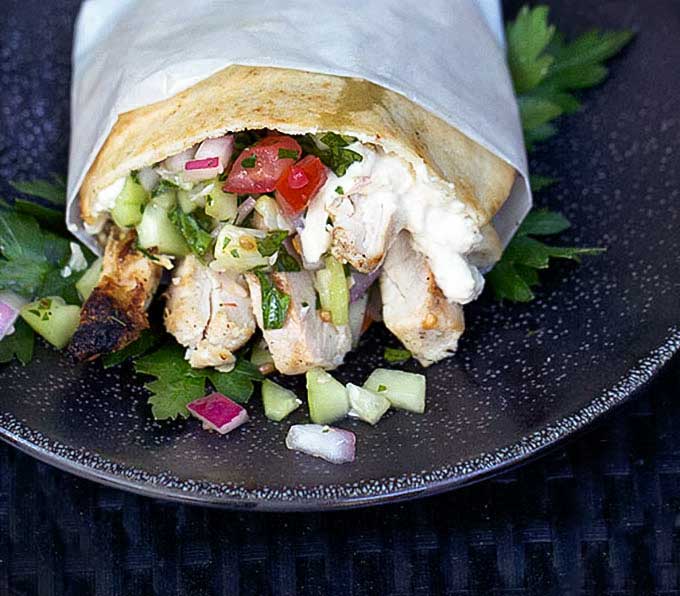 Paul really liked the chicken shawarma I made. When I asked him what he thought, he said "Is-raeli good."
The only problem for Paul was that I didn't include french fries in my version. Paul said that he always had his shawarma with french fries stuffed into the pita, along with everything else. If you want to stuff some french fries in, I'm sure it will be delicious!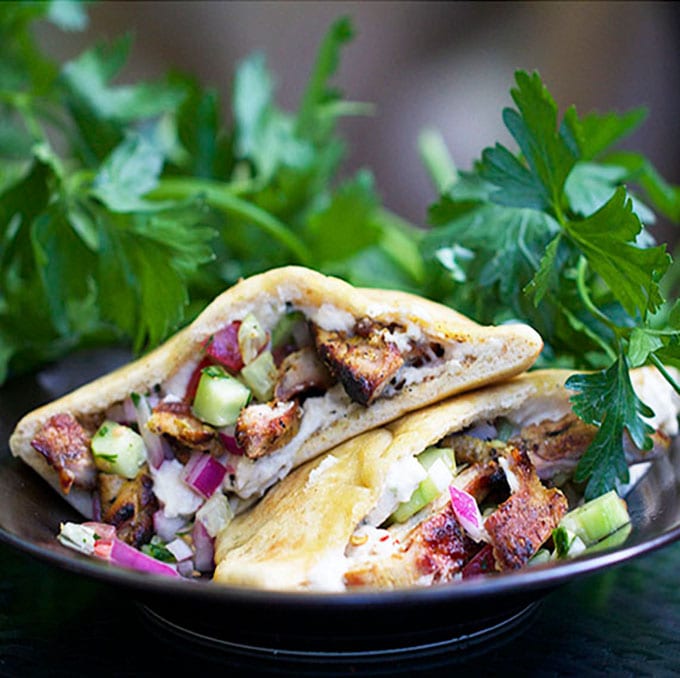 But it's also great without! (And way lighter!)
HOW TO SERVE CHICKEN SHAWARMA
Chicken shawarma doesn't necessarily need a side dish. If you have chopped salad and pita, you've already got a whole healthy balanced meal.
But in case you're interested in a more bountiful spread, here are a few dishes that I recommend serving alongside chicken shawarma.
Here's the recipe for spicy chicken shawarma. If you make this, please come back to leave a review and let me know what you think!
Print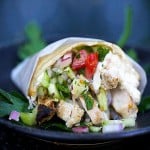 Spicy Chicken Shawarma
---
Description
An easy home-cooking recipe for the delectable Middle Eastern street food: Chicken Shawarma
---
2

pounds boneless, skinless chicken thighs
Marinade

¼ cup

olive oil

2 ½ tablespoons

fresh lemon juice

2 tablespoons

plain yogurt

3

small garlic cloves, crushed (

2 teaspoons

)

1 ½ teaspoons

cumin

1 ½ teaspoon

crushed red pepper flakes

1 teaspoon

salt

½ teaspoon

ground ginger

¼ teaspoon

turmeric
Chopped Salad

1

hothouse cucumber, peeled and diced (

1 ½ cups

)

1

small red onion peeled and diced (

½ cup

)

1

ripe tomato, diced (

½ cup

)

2 tablespoons

chopped parsley

2 tablespoons

olive oil

1 tablespoon

white wine vinegar
a pinch of salt
a few grinds of black pepper
Tahini Sauce

7 tablespoons

tahini

2 ½ tablespoons

fresh lemon juice

1

garlic clove, crushed

⅓ cup

water

6

pitas
Olive oil for warming the pitas
Optional Garnish
Sriracha Chili Sauce
---
Instructions
Marinate the Chicken Combine the marinade ingredients in a large bowl. Add chicken; toss to coat. Cover bowl with plastic wrap and let the chicken marinate in the fridge for 2 hours or overnight.
Make the Tahini Sauce Whisk all of the tahini ingredients in a medium-sized bowl. Set aside.
Make the Cucumber and Tomao Salad Mix all of the salad ingredients together in a medium sized bowl. Set aside.
Grill The Chicken Heat your grill to medium-high. Cook the chicken for 6 minutes per side or until cooked through. Let it rest for 5-10 minutes and then slice into strips.
Heat the Pita Bread Just before serving, coat a large cast iron or nonstick skillet with a thin film of oil. Heat over medium-high heat. One by one, lay each pita in the pan and press down on it with a spatula for about 30 seconds per side, adding more oil, if needed. Set warm pitas on a paper-towel-lined plate. Tent with foil. This heats the pita and gives it a great texture for stuffing, so it won't be dry or crumbly.
Assemble the Shawarma Slice the pitas in half. Open each half and spread some tahini sauce around. Fill with chicken and cucumber salad. Add Sriracha, if you like. Enjoy!
Prep Time:

30 mins

Cook Time:

12 mins

Category:

Main Course

Method:

Grill, Barbecue

Cuisine:

Israeli
Keywords: chicken shawarma, grilled chicken shawarma