This Indian Chicken Biryani is a fusion of aromatic chicken curry and fragrant basmati rice. Boneless chicken cubes are marinated in tenderizing yogurt and spices. All the cooking happens in one pan. This dish is packed with deep and exciting flavors and a good amount of heat.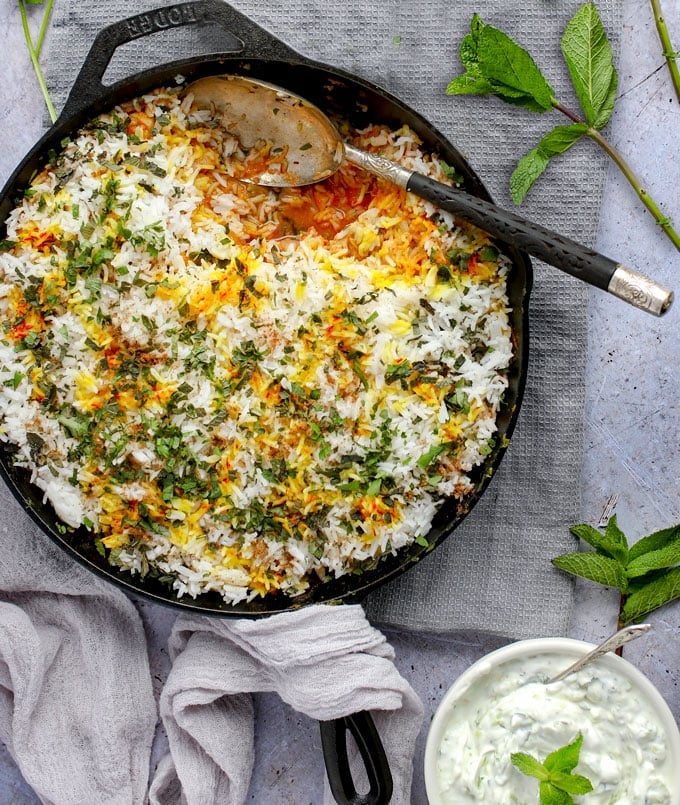 Biryani is a beautiful mix of rice, meat and fragrant spices, a beloved dish throughout India and beyond. There are many wonderful varieties of Biryani, each with its own special panache. Ingredients and cooking styles vary by region. Many well-known Biryanis are named after the region where the recipe originated and the type of meat used or the cooking vessel. If you're interested you can get an overview of Biryanis in Saveur's Beginner's Guide to Biryani.
I'm somewhat obsessed with Biryani and I I also have a thing for chicken and rice combos. For a long time I've been wanting to develop a biryani recipe with chicken. I already have one with lamb. In fact, my Indian Lamb Biryani recipe is one of the most popular recipes on this blog (and in my house). After much research and recipe testing I'm excited to share this delicious chicken biryani recipe with you.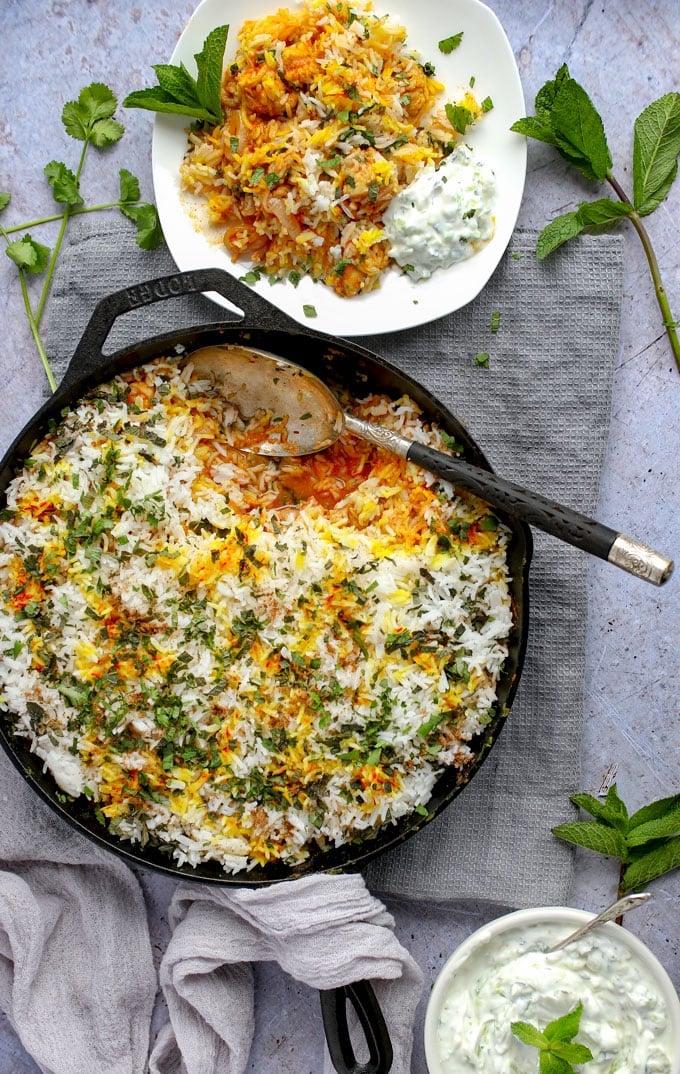 I developed this recipe after lots of research, scouring my cookbooks and the internet to get a grasp of the best way to cook chicken biryani. My recipe is adapted from the inspiration of so many wonderful recipes but mostly from this recipe by Swasthi's Recipes and this one by Maunika Gowardhan.
One of my goals was to make the recipe simple and accessible because I want everyone to experience the deliciousness of Indian Biryani. Hopefully this one-pan chicken biryani recipe will help make this happen. There's a fair bit of prep but once you have the chicken marinating and the rice pre-cooked and the herbs chopped, you can cook the biryani in about 30 minutes.
HOW TO MAKE INDIAN CHICKEN BIRYANI
Ginger Garlic Paste:
You'll need two tablespoons of ginger-garlic paste for this recipe so I'll start out by sharing with you my favorite way to make a quick ginger-garlic paste.
Ginger garlic paste is basically a 50/50 blend of pureed ginger and pureed garlic. Sometimes other ingredients are added for texture or as a preservative.
Many Asian recipes call for ginger-garlic paste and they often recommend using a blender or food processor for the task. This can work well for large amounts but it's a big production and when you're done you have an appliance to clean. Also, you may not want to make a large amount because there are dangers to storing ginger-garlic paste in the fridge.
Here's what I do to make just enough ginger-garlic for a recipe, using gadgets that I can throw in the dishwasher. I like to crush the garlic in a garlic press and grate the ginger root on a microplane zester/grater. It's easy and I can keep crushing and grating until I get the exact amount I need for the recipe.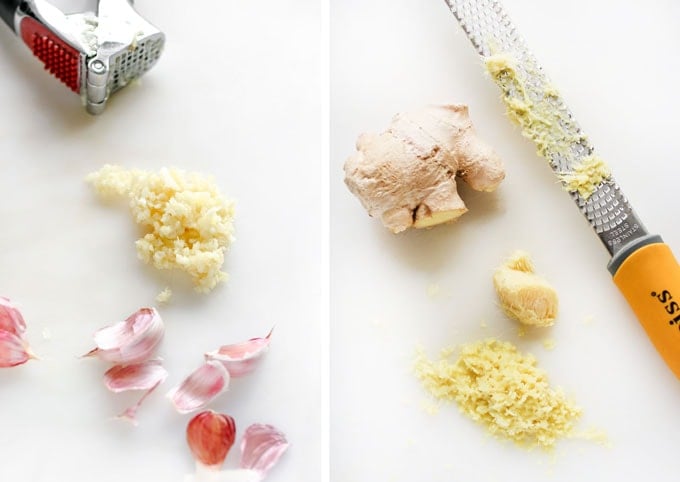 The Marinade:
Once you have the ginger garlic-paste you can make the marinade for the chicken. Combine ginger-garlic paste, yogurt, sliced green chilies, turmeric, garam masala, chili powder and salt.
Many Biryani recipes use yogurt (sometimes called "curd") as the base of the marinade. Yogurt has magical tenderizing powers and combined with the spices you get a marinade that infuses the chicken with the first layer of aromatic flavors.
The Rice:
While the chicken is marinating, rinse and precook the rice. The rice should be slightly undercooked. It will finish cooking after it's layered with the chicken curry.
Chicken Curry Sauce:
While the chicken is marinating and the rice is simmering, you can start the curry sauce. This begins with a sauté of spices and onions. Add the marinated chicken pieces and sear them for a few minutes to seal in the juices. Then add chopped tomatoes and tomato paste. Cover and simmer for ten minutes.
Layer It Up:
Now comes the fun part: layering on the rice, herbs and spices. Have all of your ingredients ready and accessible: the partially-cooked rice, chopped mint, chopped cilantro, salt, garam masala and saffron threads soaked in hot milk.
Spread half the rice out evenly over the chicken. Sprinkle on half the herbs, salt and garam masala. Drizzle on half the saffron milk. Repeat with the rest of the rice, herbs, spices and saffron milk.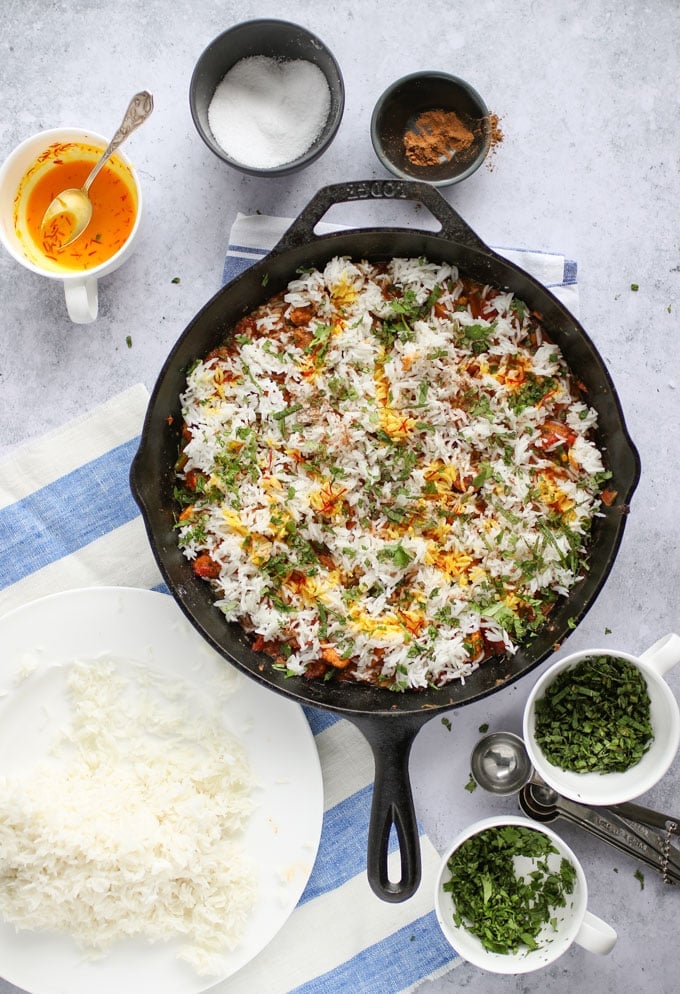 Cover tightly and simmer gently for 10 minutes and your delicious Chicken Biryani is ready.
When you uncover your biryani it's a site to behold, with herbs and saffron milk dotting the rice with color.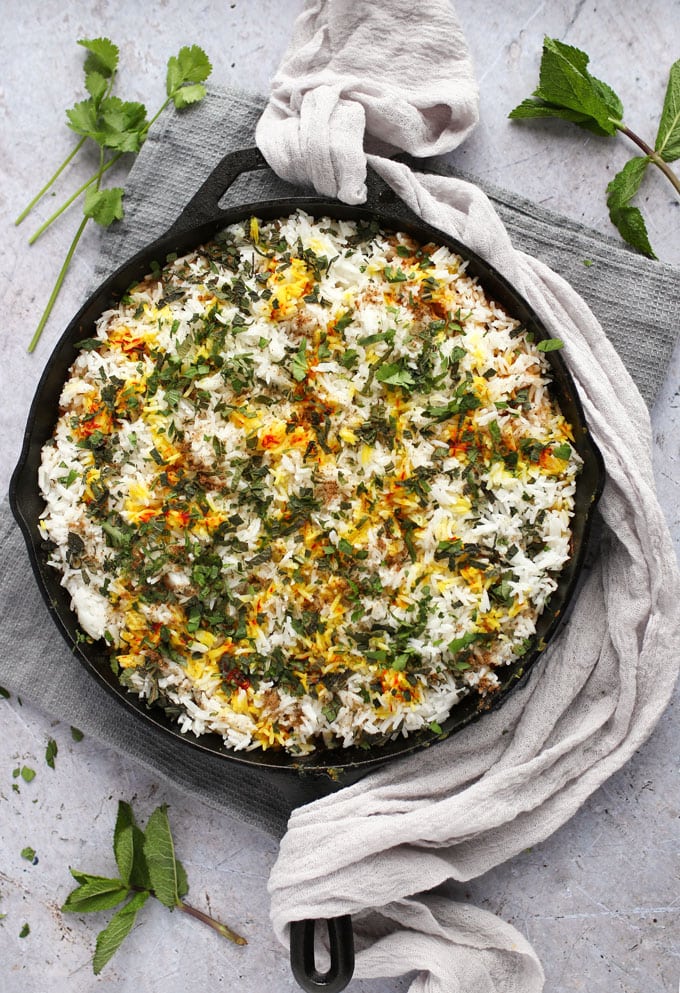 Pile the luscious chicken and rice onto plates and don't forget the cucumber raita, an essential side dish with biryani.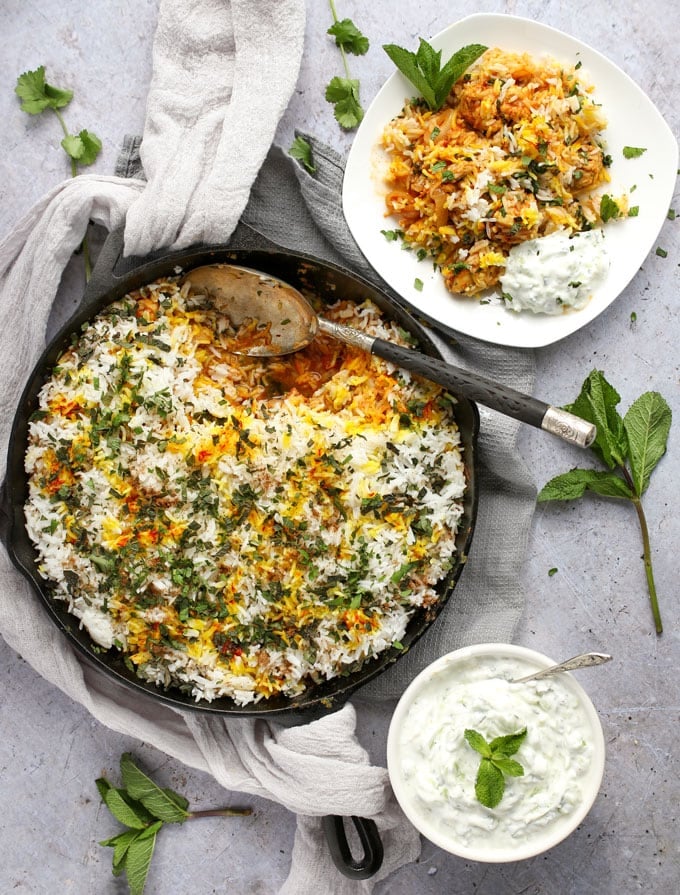 You may also enjoy serving a store-bought chutney on the side - always tasty with biryani.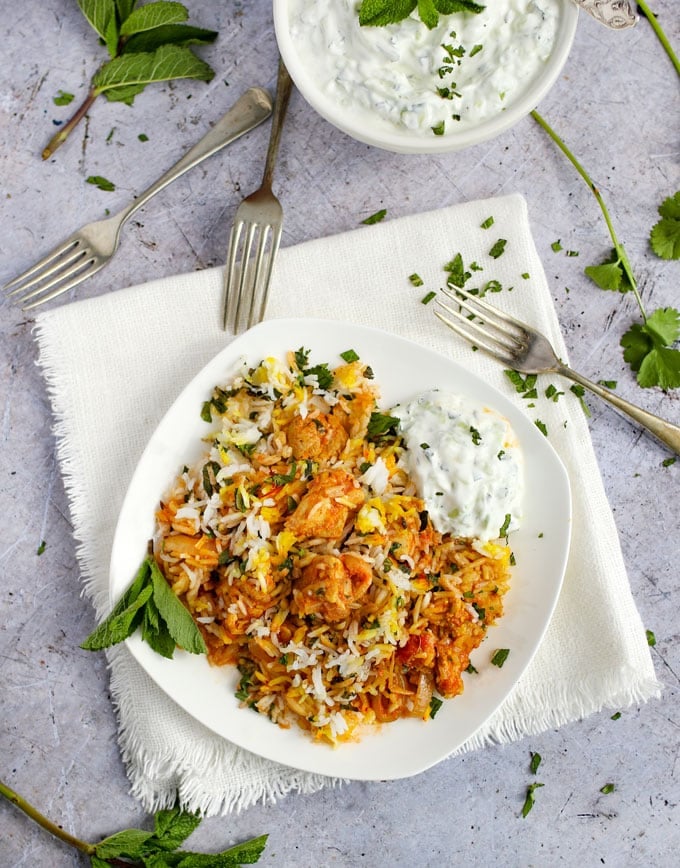 I suspect there will be more Biryani recipes on this site sometime in the near future because there are just so many tempting variations. But for now, here's the recipe for Indian Chicken Biryani. If you try this recipe I hope you'll come back to leave a star rating and comment. I'd love to know what you think!