My culinary tour of Istanbul was a dream come true. Istanbul is a magical city with some of the best food in the world. At the end of this post you'll find links to my Turkish recipes that were inspired by this trip.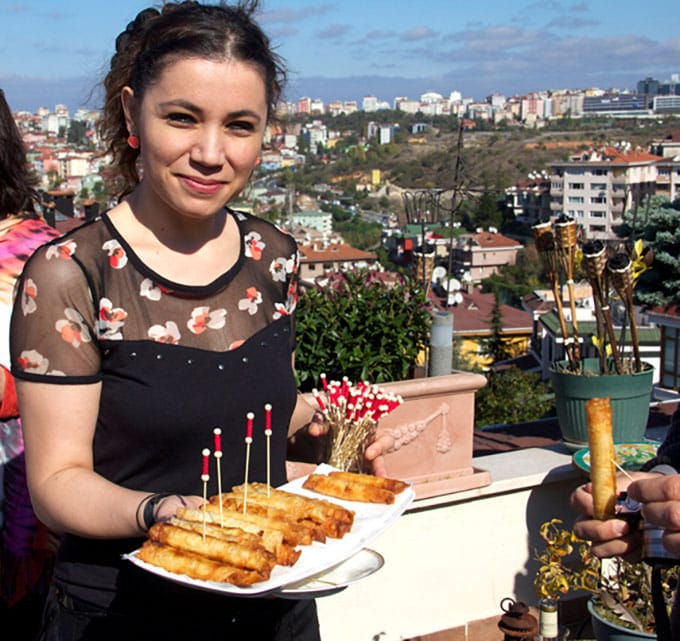 After five amazing days drinking in all the excitement of the vibrant city of Istanbul and enjoying some of the best food I've ever tasted, I thought "it can't get any better than this," and then we went to Ihsan's mother's house for lunch.
Eating crispy cheese-filed borek on the rooftop was just the start of an unforgettable afternoon and a fitting climax for a week that was truly a dream come true.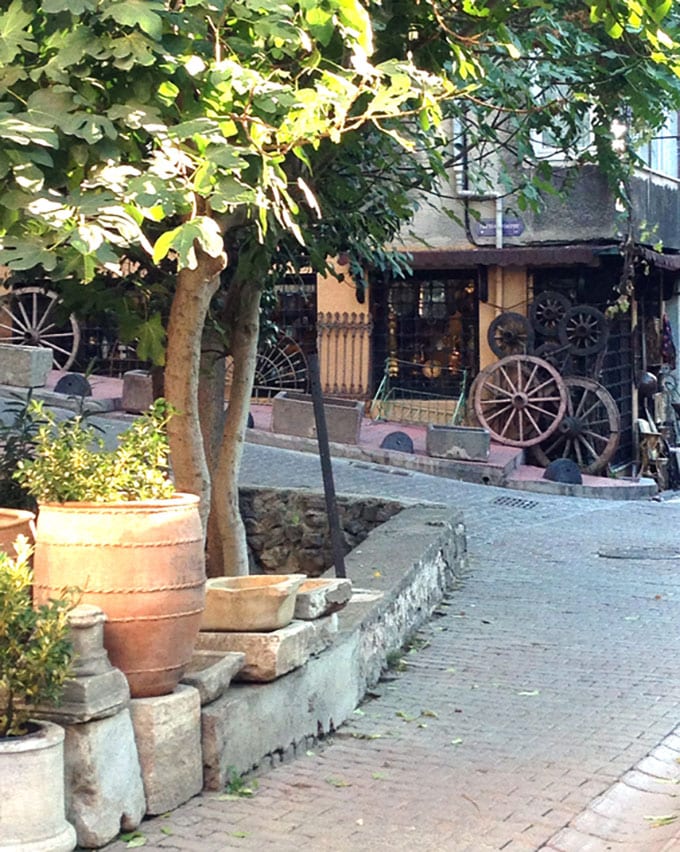 Istanbul is an amazing city - exciting in so many ways. The visuals are breathtaking, whether on a peaceful cobblestone street; visiting the grand palaces and other sites that take you back thousands of years...
...or in the colorful excitement of the bazaars, where you can find the best shopping imaginable. Luckily we didn't have too much time at the market or I would have needed an extra suitcase!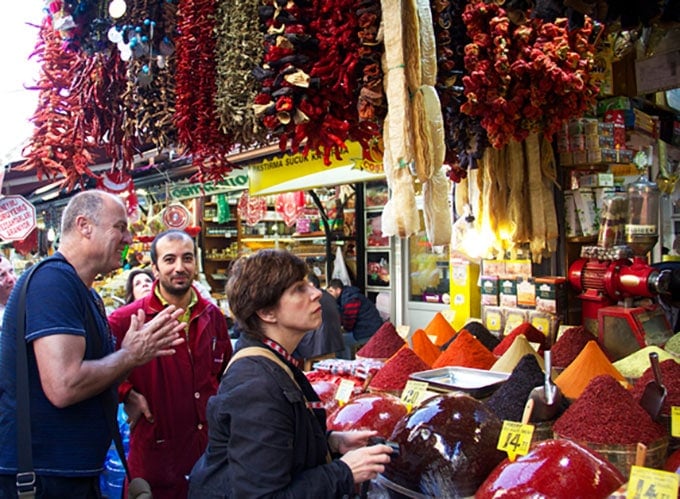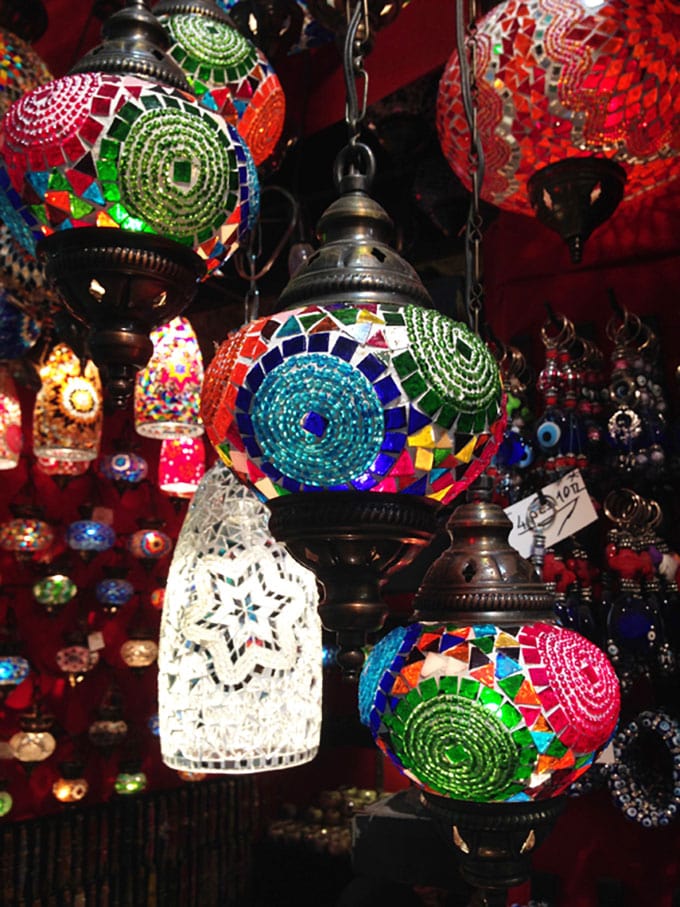 The natural scenery is gorgeous. Istanbul is the only city in the world that spans two continents - Europe and Asia - and the Bosphorus strait divides the two.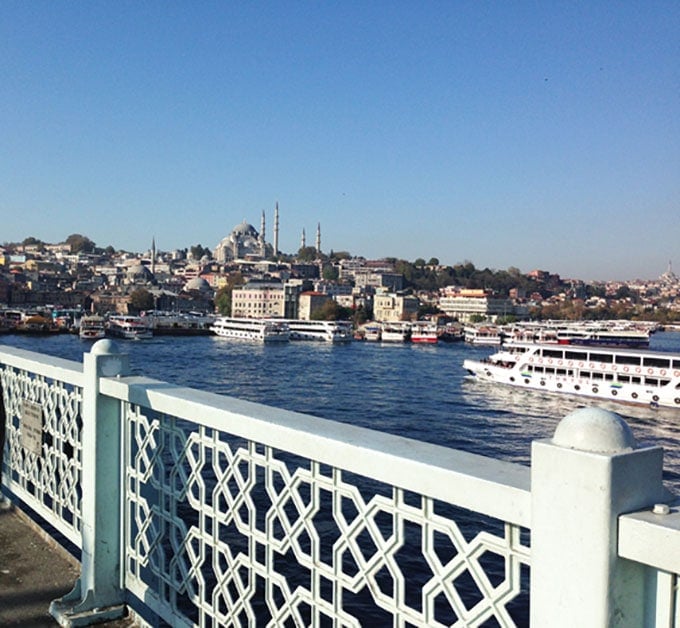 Traveling and exploring a wonderful new place with close friends and family is one of my favorite things to do, but this trip to Turkey had an added layer of excitement - it was designed to be a "once-in-a-lifetime experience" - a private culinary tour of Istanbul with three of Boston's culinary icons - Chef Barbara Lynch, Chef Ana Sortun, and Ihsan Gurdal of Formaggio Kitchen.
This 6-day tour for eight was an auction item that my friend Sara bid on and won at an event to raise money for The Barbara Lynch Foundation. (More about the foundation to come). There's too much to share in one sitting, so here's some highlights with a bit about the city, the food, and our iconic traveling companions.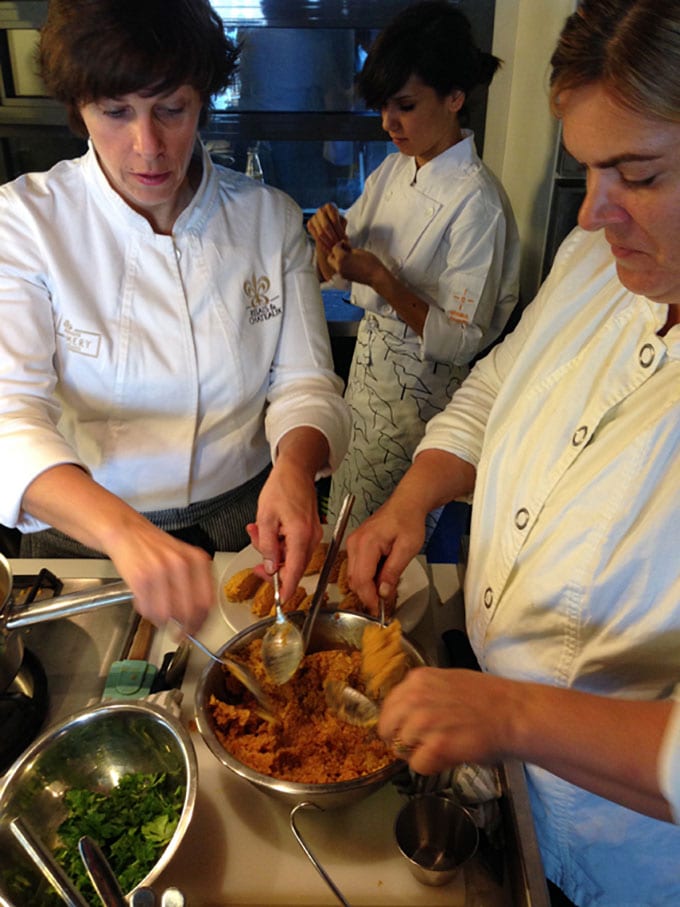 Chef Barbara and Chef Ana gave us some hands on cooking lessons at the Istanbul Culinary Institute. We made red lentil kofte - the dough is a mixture of bulgar wheat and lentils, cooked and then shaped into quenelles and topped with pomegranate seeds and herbs - so good!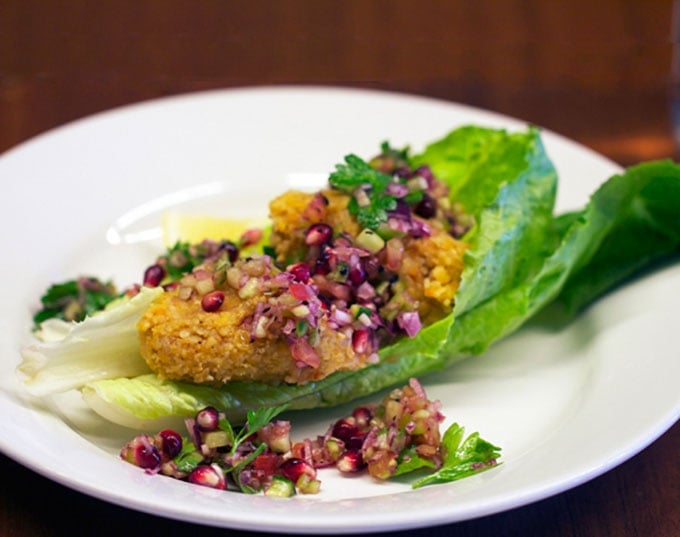 We also learned a recipe for lamb-stuffed Turkish dumplings, called manti. The little dumplings are toasted, then boiled, then served floating in butter, tomato, and yogurt - and sprinkled with the quintessential turkish trio of spices - dried spearmint, maras pepper, and sumac. You can bet I will be making these again!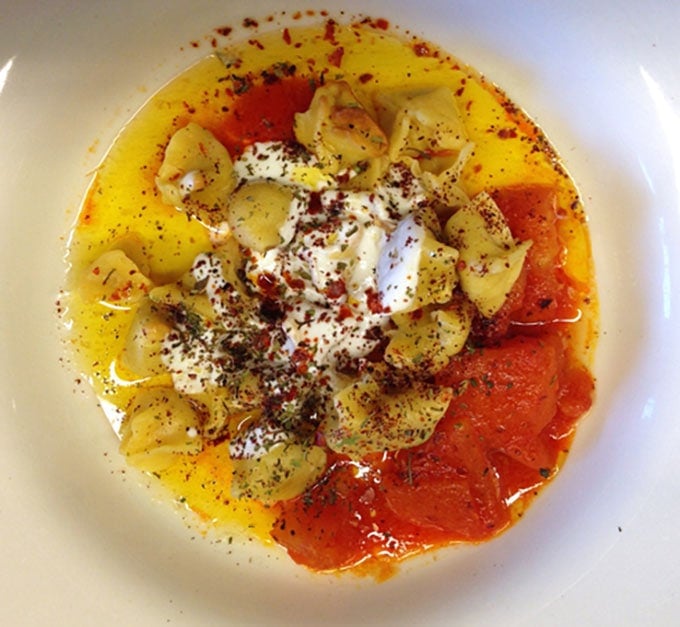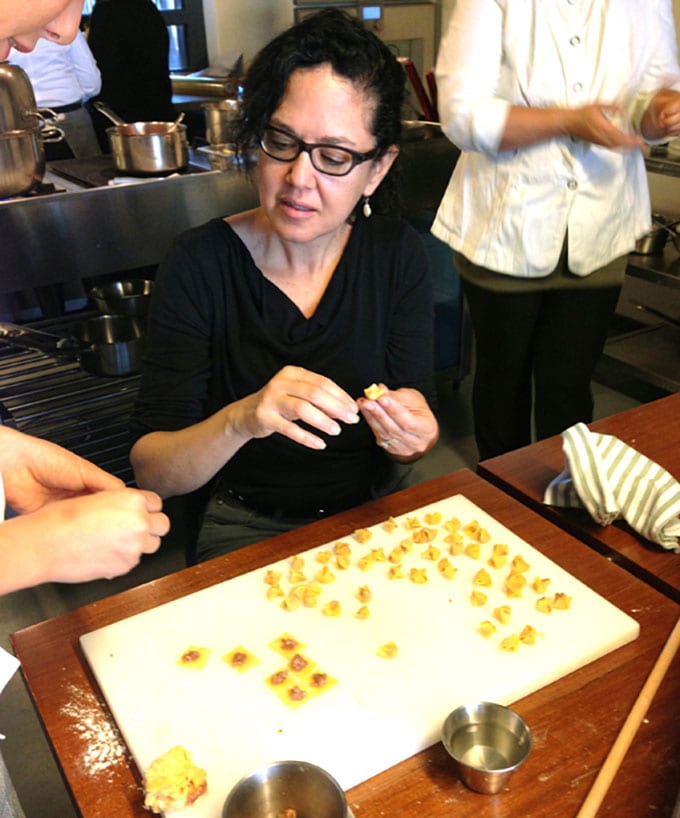 A bit about the remarkable people we travelled with - Barbara Lynch is a legend in the culinary world - a James Beard award-winning chef and a Relais & Châteaux Grand Chef who owns and runs eight successful restaurants in Boston, including No.9 Park, Menton, and The Butcher Shop. Her success is self-made and her story is even more inspirational when you learn of the hardship and poverty she suffered growing up in South Boston. It's not surprising that her foundation is dedicated to helping Boston's youth by providing education and support to build life skills. On a personal note, Barbara has a disarming wit - she kept us all laughing all week long.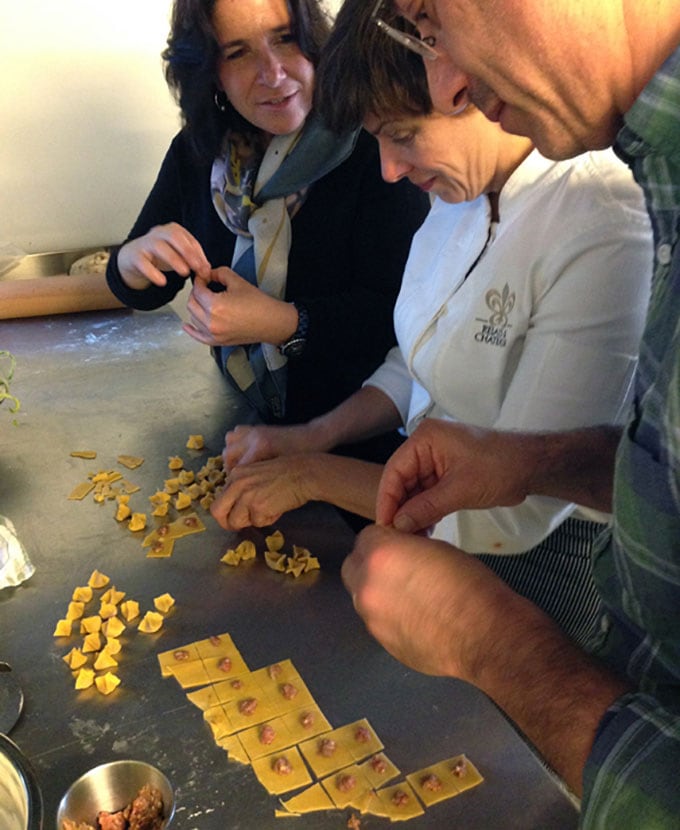 Chef Ana Sortun is also a James Beard award-winning chef. She owns and runs celebrated Cambridge, MA restaurants Oleana and Sofra, and she has a brand new meze restauarant in Somerville, MA called Sarma. All of her restaurants are inspired by her love of the food of the eastern Mediterranean region - especially Turkish food. She's incredibly knowledgable and passionate about the subject. She returns to Turkey several times a year to dig deeper into the culture and the cuisine of the region.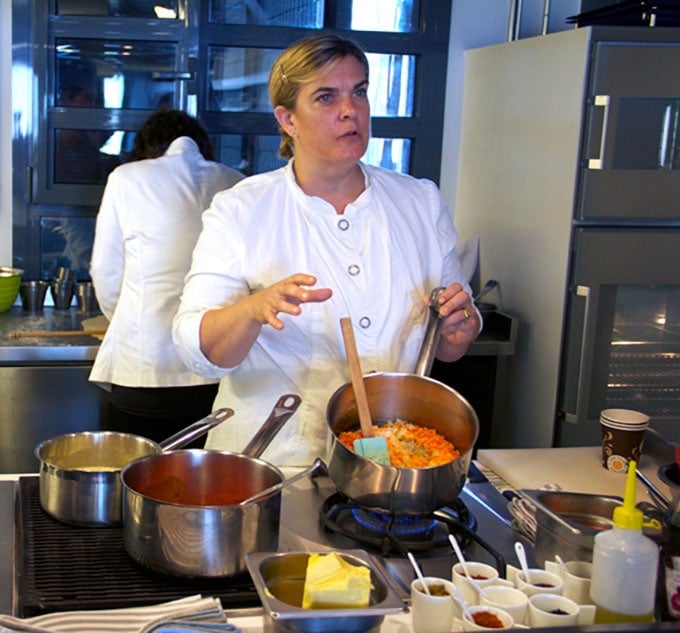 On our first day of the tour, Ana's friend Musa Dagdeviren served us an unforgettable 35-course lunch at his restaurant Ciya Kebap.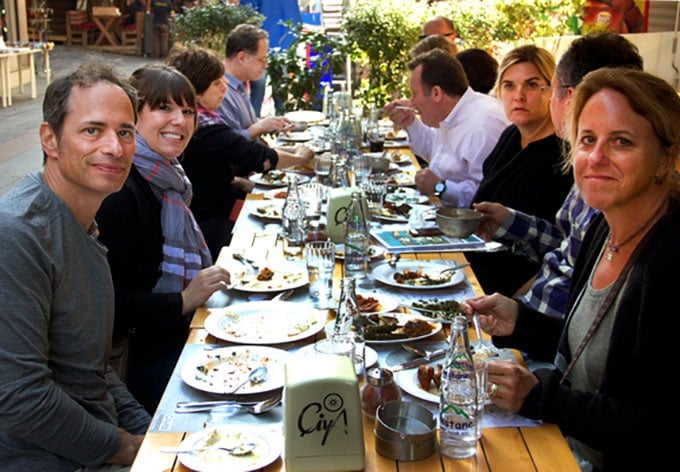 Ana describes Musa as a culinary anthropologist. His mission is to discover and rescue old authentic Turkish recipes from obscurity.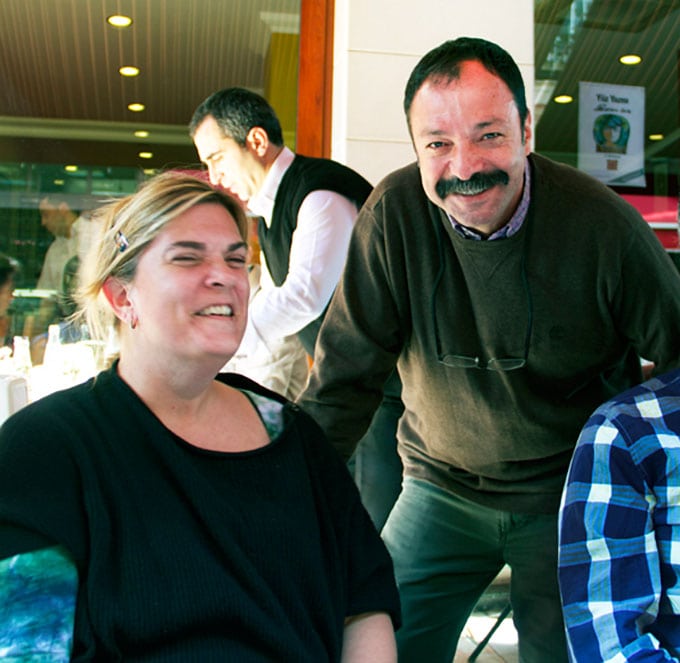 When I peered over the counter at his restaurant, I saw some of the most delicious-looking foods I've ever laid eyes on - pot after simmering pot of wholesome, rustic comfort food - the kind of dishes that your grandmother and great grandmother from the old country would have waiting for you when you arrive for a visit, like these stuffed grape leaves stewed with onions and yogurt.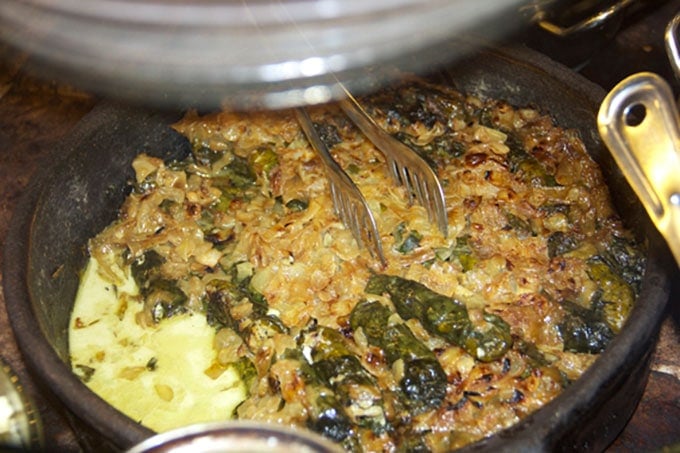 ...these stuffed quince with lamb, onions, and raisins.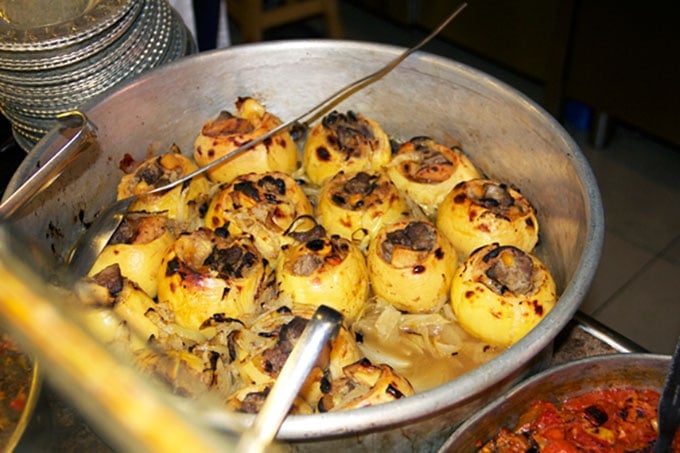 Here's how scrumptious it looked on my plate, smothered with onions and sprinkled with nigella and sesame seeds.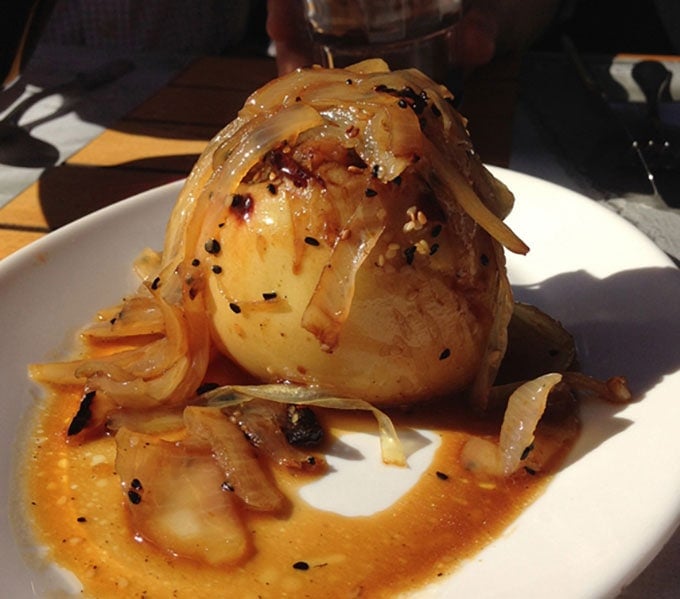 I couldn't get enough of this very simple and incredibly delicious dish of grated radish with egg.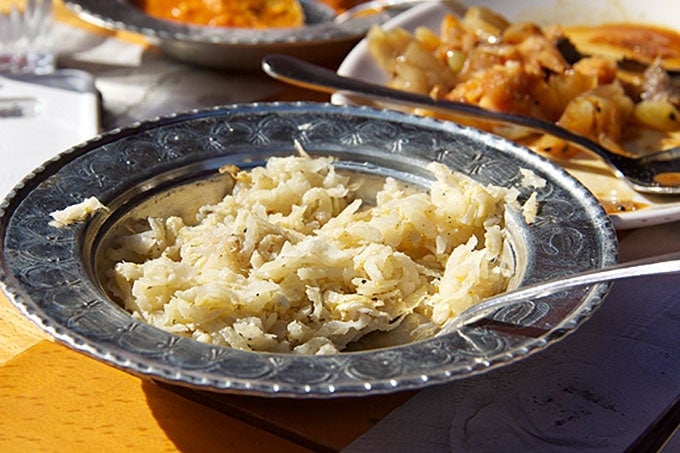 ..and these lamb-stuffed kofte, which Ana says are nearly impossible to make - a true art form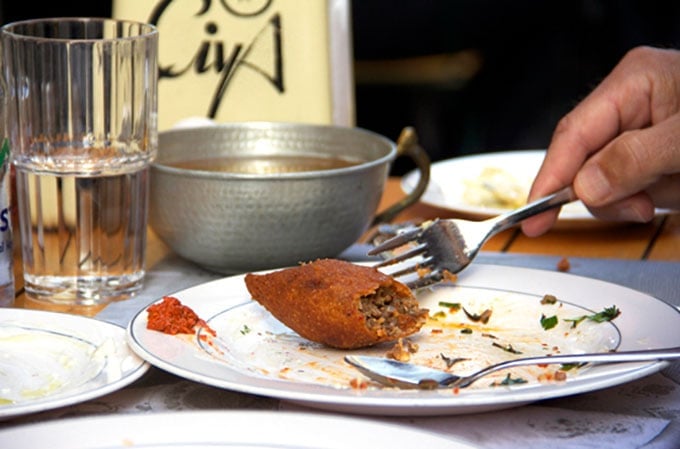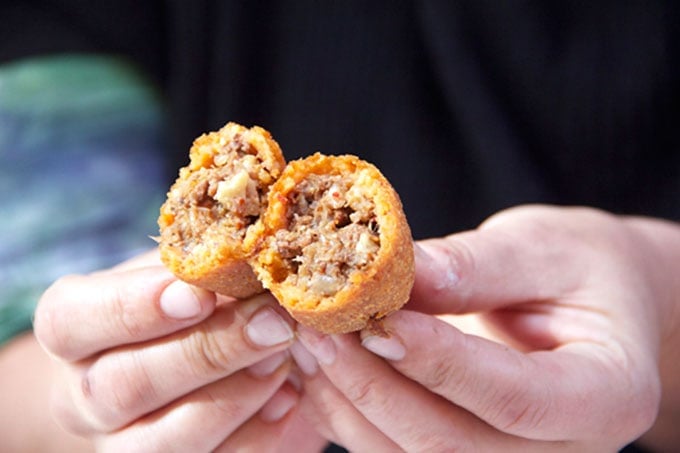 I started out telling you about lunch at Ihsan's mom's house. Now here's some background about Ihsan. Ihsan Gurdal was born and raised in Istanbul. Tall and charismatic are the first two adjectives that I would use to describe him. His fascinating life story includes playing volleyball for the Turkish team at the 1976 Olympics, which eventually led him to Cambridge to coach the Harvard Volleyball team.
After retiring from Harvard he pursued another longtime interest - food - and took ownership of the Cambridge specialty food store called Formaggio Kitchen that features handcrafted cheeses, artisan meats and specialty foods, and which he has grown to be one of the leading retailers of gourmet foods in the country. Ihsan and his wife Valerie have since opened two other Formaggio Kitchen stores - one in Boston and a smaller one in New York.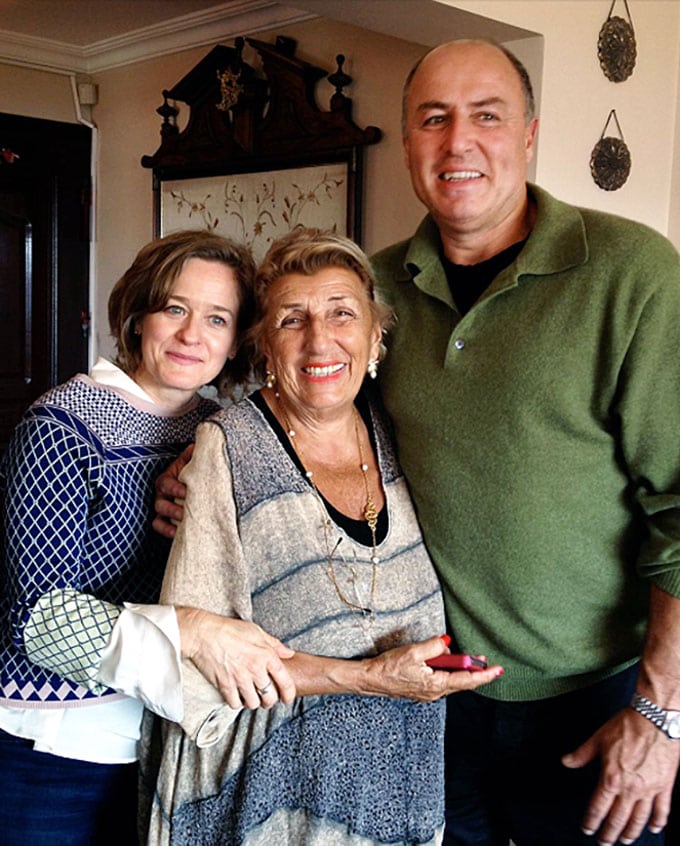 Ihsan was our guide for the Grand Bazaar and the spice market. To give some perspective, the Grand Bazaar has more than 3,000 shops with more than 250,000 visitors a day, so we were incredibly lucky that Ihsan knew the best places to find the most wonderful items - such as freshly roasted turkish coffee, turkish delight, and fabulous spices, many of which he imports for his shops.
A highlight of our trip was a home-cooked lunch with Ihsan's mother and sister.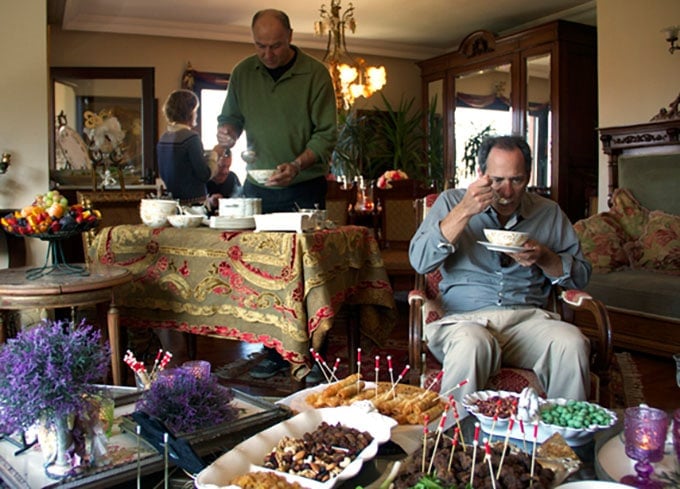 After assorted hors d'oeuvres, including the heavenly borek we enjoyed on the roof, the first course was a rich, meaty, slow-cooked veal-neck soup. Simple, savory and delicious.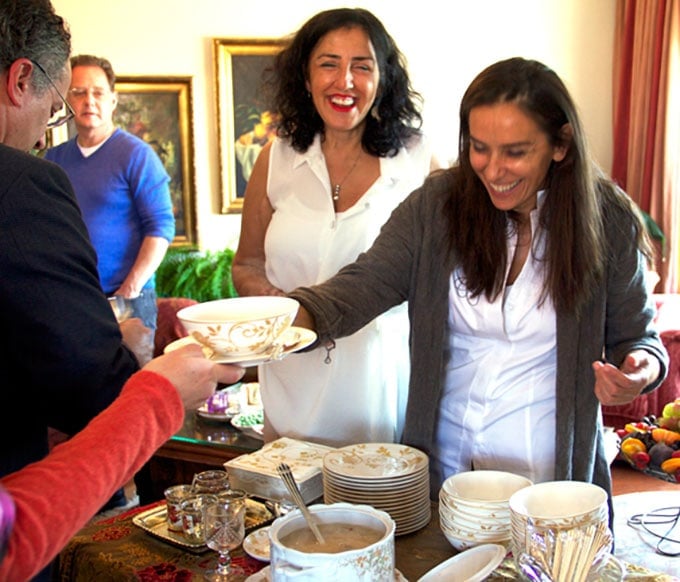 What took it to an even high level were the assortment of spices for sprinkling on top - salt, pepper, oregano, and maras pepper.
After the soup, Ihsan's mother and sister Zeynep starting bringing out the hot food. Two of my favorites were the Sultan's Delight and the Lady's Thighs. Turkish cuisine is know for it's many delicious varieties of meatballs or kofte and Lady's thighs fall into this category. What makes them unique is the mix of rice with the beef. The result is a very tender meatball. They are then seasoned, coated with flour and fried, so they are have a crisp coating on the outside and are nice and tender inside.
Sultan's Delight is a legendary Ottoman dish of tender stewed lamb served over creamy eggplant puree. It is said to have been a favorite of the sultans when trying to impress their most important dinner guests. The dish we enjoyed had a beautiful smokiness, which was achieved by flame broiling the eggplants to the point of burning the skin before pureeing.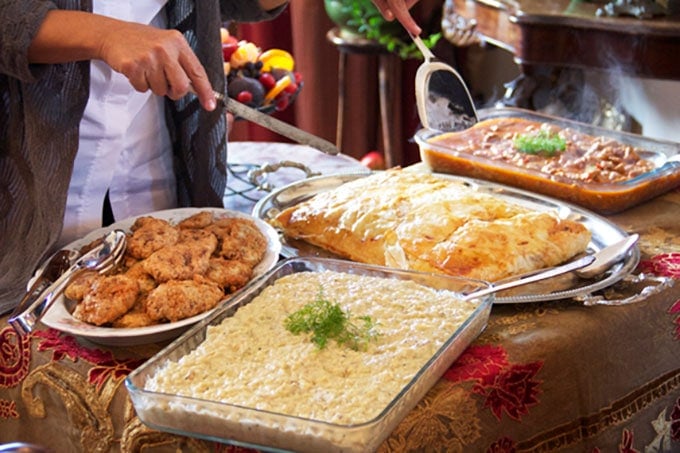 The dish that surprised me the most and the one I can't wait to make at home was a fresh simple salad of soft delicate purslane leaves with a creamy yogurt dressing. The Turks know to use yogurt in the most wonderful ways. Simple and perfect!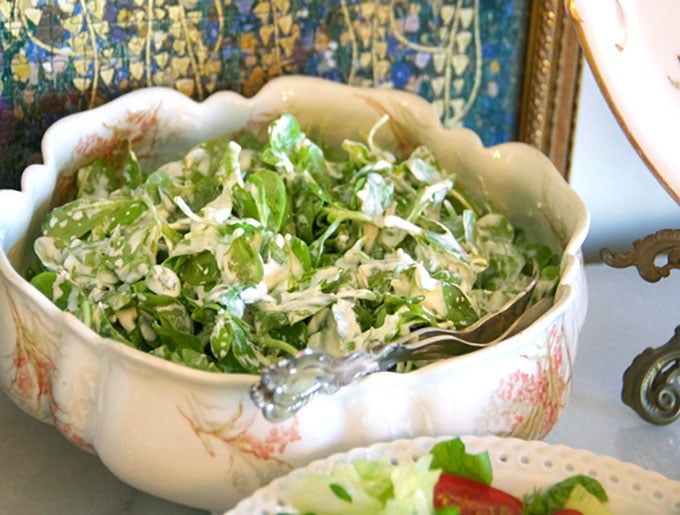 Ihsan's mother totally charmed us with her warmth and hospitality - she fed us like we were sultans, entertained us with her colorful stories. And when it was time to say goodbye, she offered us the keys to her home next time we come to Istanbul.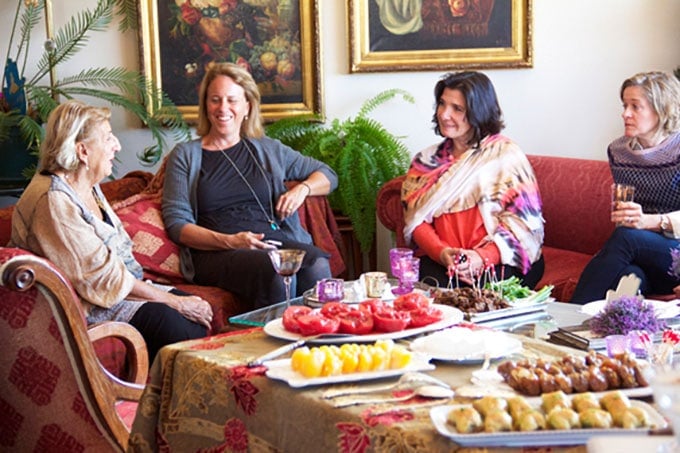 I will definitely be back - can't wait!
DON'T MISS OUT ON TRYING SOME OF THESE DELICIOUS RECIPES, INSPIRED BY THIS TRIP:
Below are some helpful links:
The Barbara Lynch Foundation
Chef Barbara Lynch Gruppo - all of her restaurants
Chef Ana Sortun - about Ana and links to all of her restaurants
Formaggio Kitchen - Ihsan and Valerie Gurdal and their specialty shops
South End Formaggio Kitchen
RECOMMENDED RESTAURANTS IN ISTANBUL
Ciya Kebap - email: info@ciya.com.tr - where we had an unforgettable 35-course lunch
Asmali Cavit
Istanbul Culinary Institute - they have a lovely restaurant, too
Mikla Restaurant - also has a stunning view across the Bosphorus
These restaurants are no longer in business:
Munferit - CLOSED
LoKanta Maya - CLOSED
Kantin - CLOSED