Here's a delicious Mexican chicken tostada recipe that's quick and healthy – perfect for weeknight dinner. Oven-toasted tortillas are topped with spicy sautéed chicken, corn, and zucchini; crumbled feta; and tangy avocado-lime salsa. Dinner in 25 minutes.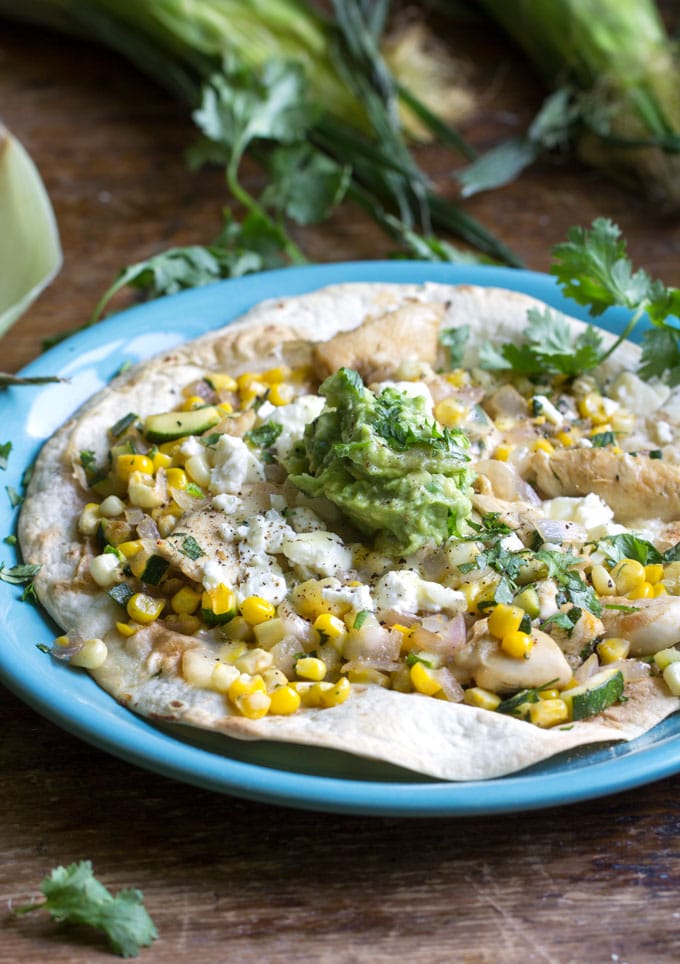 There's one concept I can always rely on for making a quick dinner that everyone loves: heap a bunch of stuff onto a tortilla, top with cheese, broil until the cheese is melted and gooey….  Even better when the "stuff" includes lots of fresh veggies.
Recipes like this are why I love summer eating, because in 25 minutes or less you can have a healthy dinner, starring fresh seasonal vegetables, that the whole family loves. 
Tostadas are often fried and heavy. Not so here. This recipe, adapted from Cooking Light,  is made with flour tortillas that are toasted in the oven. The toasted tortillas, "tostadas," are topped with a quick sauté of chicken, corn, zucchini, onions, cilantro and cheese. Once they're loaded up, the tostadas go back under the broiler for a couple of minutes until everything is hot and the cheese is melted.
A generous dollop of tangy avocado salsa adds a scrumptious final layer of flavor and excitement.
If you make this recipe from scratch (using raw chicken, fresh corn on the cob, and making your own avocado salsa) you can have dinner on the table in under 30 minutes. If you start with cooked chicken, frozen corn and store-bought guacamole, you can pull off dinner in about 15 minutes. I've given you instructions for both the quick and the super quick versions.
If you're thinking that I sound like Rachel Ray, focusing so much on time-saving tips, I have to admit that lately I've been somewhat obsessed with developing quick and easy recipes that are as delicious as can be.
Cheers to quick delicious dinners!
Here's the recipe for summer chicken tostadas with corn, zucchini and avocado-lime salsa. If you make this I hope you'll come back and leave a comment to let me know what you think

Mexican Chicken Tostada with Corn Zucchini and Avocado Lime Salsa
Enjoy the fresh flavors of summer in this light tostada, topped with chicken, corn, zucchini and feta. Dinner in 25 minutes or less!
Recipe type:
Lunch or Dinner
Ingredients
1 ripe avocado (or substitute a small container of store-bought guacamole)
½ cup plus 1 tablespoon store bought salsa verde
2 teaspoons fresh lime juice (omit if using store-bought guacamole)
1 teaspoon cumin
½ teaspoon salt
¼ teaspoon chipotle chili powder
2 tablespoons cooking oil (such as canola), divided
1 pound of boneless, skinless chicken breast, sliced thinly (1/3-inch) crosswise (*or substitute 2½ cups cubed or shredded cooked chicken. See note in instructions)
1 medium zucchini, cut into ¼-inch dice (2 cups diced zucchini)
1 medium red onion, peeled and diced
2 fresh ears of corn, kernels cut off the cob (or 1½ cups frozen corn, defrosted)
½ cup chopped cilantro
4 ounces crumbled feta cheese
4 8-inch flour tortillas
Cooking spray or additional oil to brush over tortillas
4 ounces shredded Monterey Jack cheese
Fresh ground black pepper
Instructions
Preheat the broiler
Make The Avocado Salsa: (or substitute store-bought guacamole) In a small bowl, mash avocado with lime juice, 1 tablespoon of salsa verde and a pinch of salt. Set aside.
Cook The Chicken and Vegetables: Mix cumin, salt and chili powder in a small bowl. Heat 1 tablespoon of oil in a large skillet over high heat. Add the chicken to the pan, spreading it out as much as possible. (If using cooked chicken, see *note below) Sprinkle spice mix evenly over chicken. Cook, tossing frequently for 2 minutes, until almost cooked through. Add corn, zucchini and onion to the pan. Cook for 2 minutes, tossing frequently so everything cooks evenly. Add ½ cup of salsa verde and simmer for a minute or so, until most of the liquid evaporates. Remove pan from heat. Add feta and 4 tablespoons of cilantro. Toss to combine and set pan aside.
Crisp The Tortillas in the Broiler: Work with two tortillas at a time. Spray or brush tortillas lightly with oil on both sides. Lay on a cookie sheet or baking pan. Broil in the center of the oven for two minutes, or until they get some brown spots. (Keep watch to prevent burning). Repeat with two remaining tortillas.
Assemble and Broil the Tostadas: Set two of the toasted tortillas on a baking sheet. Scoop ¼ of the chicken mixture onto each tortilla. Sprinkle 2 tablespoons of Monterey jack over each. Broil in the middle of the oven for 2 - 2½ minutes, until the cheese has melted. (check often to prevent burning) Repeat with remaining two tortillas.
To Serve: Carefully transfer tostadas to 4 plates, using a spatula or even two spatulas. Sprinkle on remaining cilantro. Add a generous dollop of avocado salsa to each. Season with salt and fresh ground pepper, to taste. Serve immediately.
*Note: If using cooked chicken, add vegetables to the pan first. Sprinkle spices over the veggies. Cook for 2 minutes. Add the chicken and cook for 30 seconds, tossing, to heat. Add salsa and continue with the recipe as written.