This carnitas recipe uses only two ingredients – pork and chicken broth (ok, plus a little salt and pepper) – to make the most juicy and flavorful pork carnitas you will ever taste. Slow cooked in the oven until meltingly tender and then pan fried in a skillet until browned and crispy, this irresistible Mexican pulled pork is the perfect filling for tacos, enchiladas, burritos and tostadas.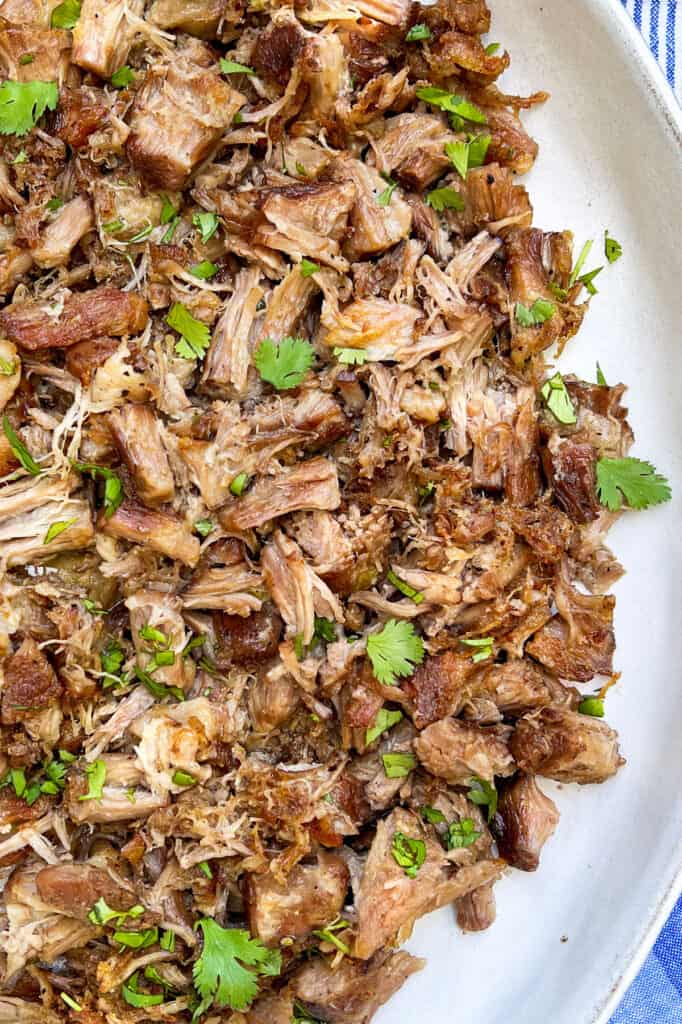 Carnitas
Carnitas is Mexico's version of pulled pork. Authentic Mexican carnitas are traditionally made by slow cooking pork in lard until the meat is tender enough to shred into bite-sized pieces. Then the "carnitas," Spanish for "little meats," are fried just long enough to crisp them up on the outside while keeping them juicy and tender inside - in other words "incredible!"
The braising liquid for carnitas ranges from lard (most traditional) to chicken broth or water. Many carnitas recipes include a long list of ingredients and multiple steps such as brines, rubs, and flavorings for the braising liquid. But some of the best and most legendary carnitas in Mexico are made with a surprisingly simple recipe of just pork, lard, salt and water.
If you are hesitant to make carnitas because you think it's a complicated time-consuming endeavor, give this recipe a try. With just two ingredients, this is the easiest carnitas recipe you'll find, and these carnitas are totally delicious. I've made them for guests multiple times - everyone loves them and can't believe how simple the recipe is.
The only carnitas recipe you need
I have tried many different versions of carnitas over the years; this one is the simplest and best - and here's why.
Ingredients are pure and simple - no need for a shopping list, it's just pork and broth
Quick and easy to throw together - less than 10 minutes of prep
Set it and forget it - pop it in the oven for 2½ hours of slow cooking magic
Perfect for any Mexican dish - pure, tender, juicy slow cooked pulled pork with no added spices or flavors, so it goes with everything
Great for feeding a crowd - double the recipe and you've got the centerpiece for a Mexican fiesta!
Freezer friendly - can be frozen for up to three months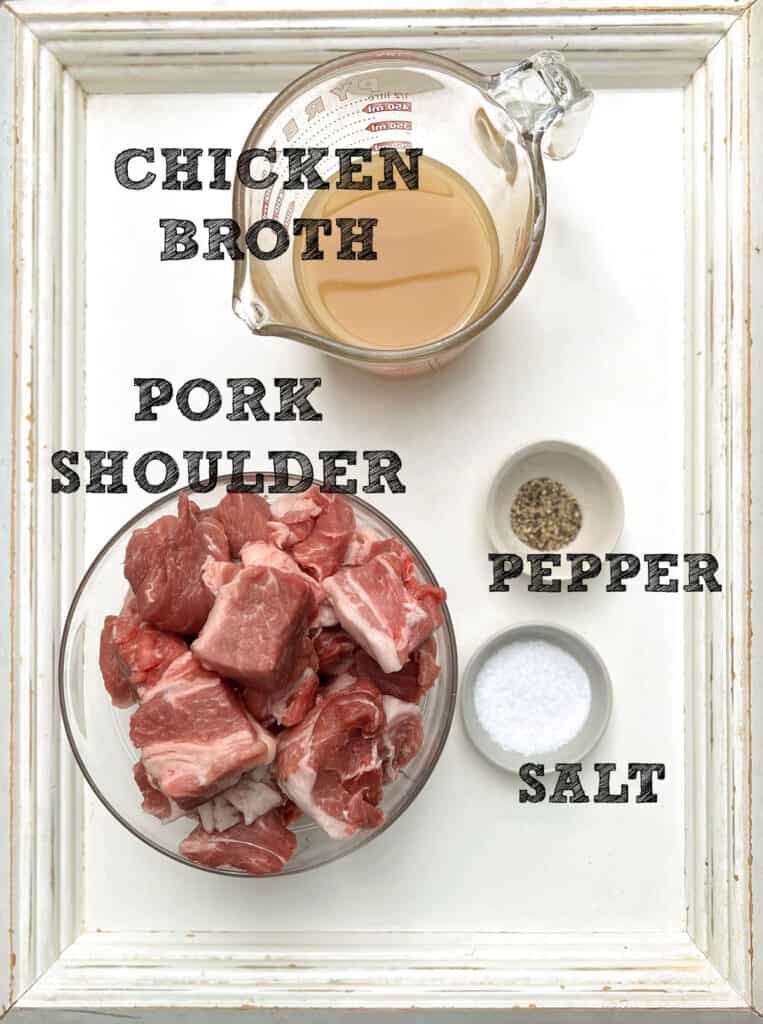 I was initially skeptical about such a simple recipe with no aromatics in the pot, but I'm now completely won over - these are SO good. The truth is, pork shoulder is inherently very flavorful. All it needs a long slow braise to tenderize it, salt and pepper to enhance its natural deliciousness, and a final step of frying it, to create the crisp golden brown bits that make carnitas utterly irresistible.
Additional exciting layers of flavor can be introduced later, by adding salsa, spices, cilantro, cheese, onions, lime juice, hot sauce or anything else you choose to pile onto your carnitas tacos or your other delicious Mexican dishes.
What type of pork is carnitas?
The most common type of pork used for making carnitas is pork shoulder, which has nice marbling throughout and gets very tender and juicy when braised.
Pork shoulder (also called pork butt or Boston butt) is generally sold as a boneless roast at the grocery store.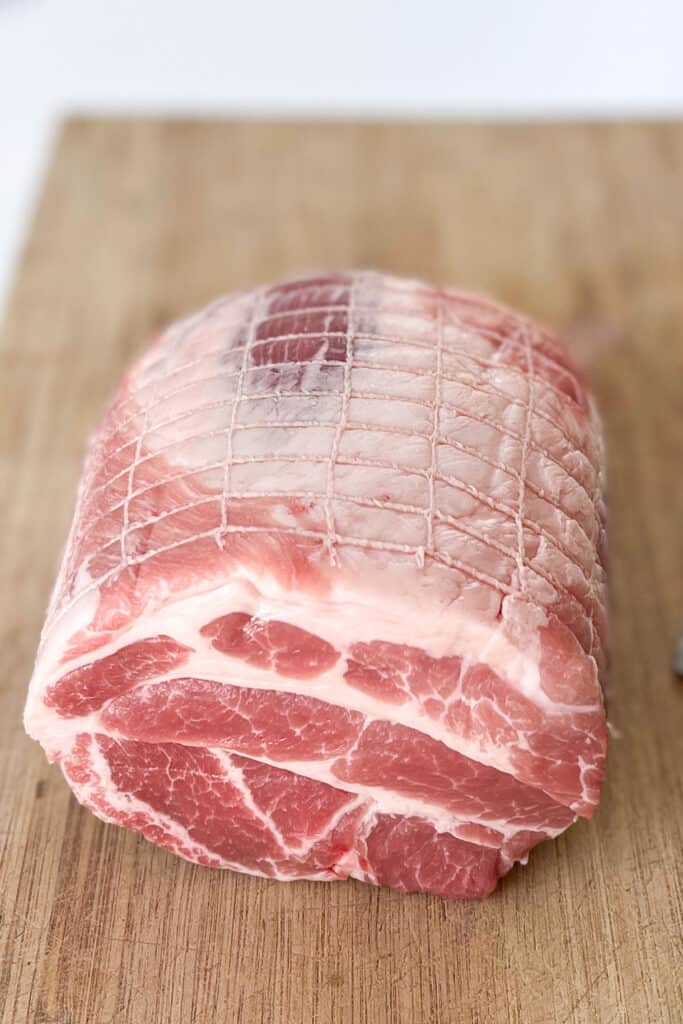 How to make Carnitas
Here is an overview of how to make these. For exact amounts and instructions, see the printable recipe card, below.
Cut the pork shoulder into 1½-inch pieces and add it to a heavy lidded pot or Dutch oven, along with chicken broth, salt and pepper. Bring the pot to a boil.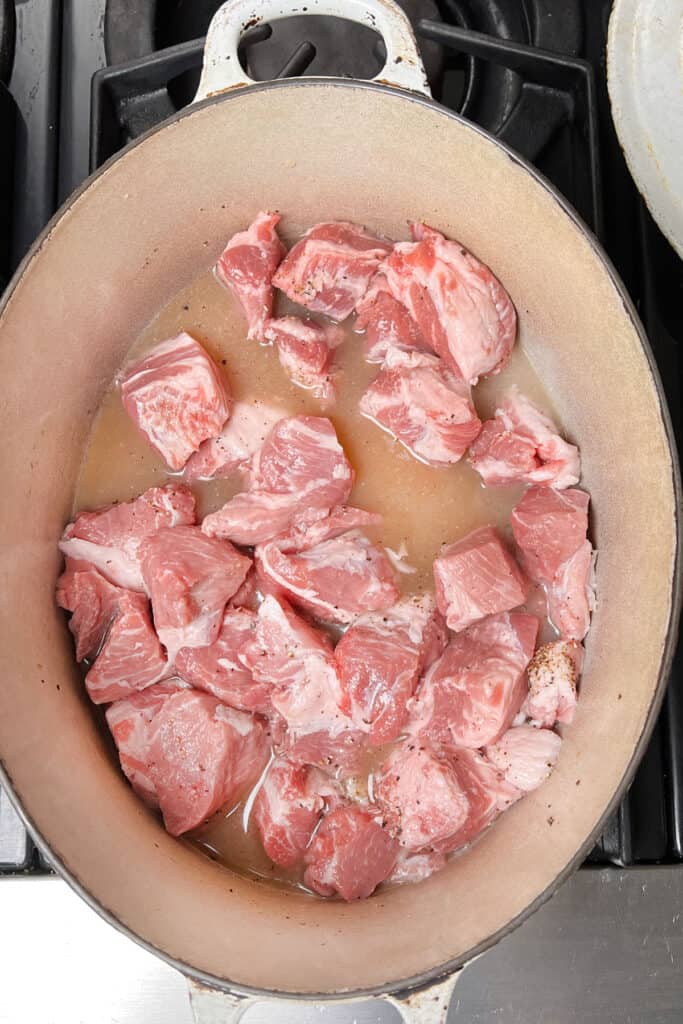 Cover the pot and slow cook the pork in a 300ºF oven for 2½ hours.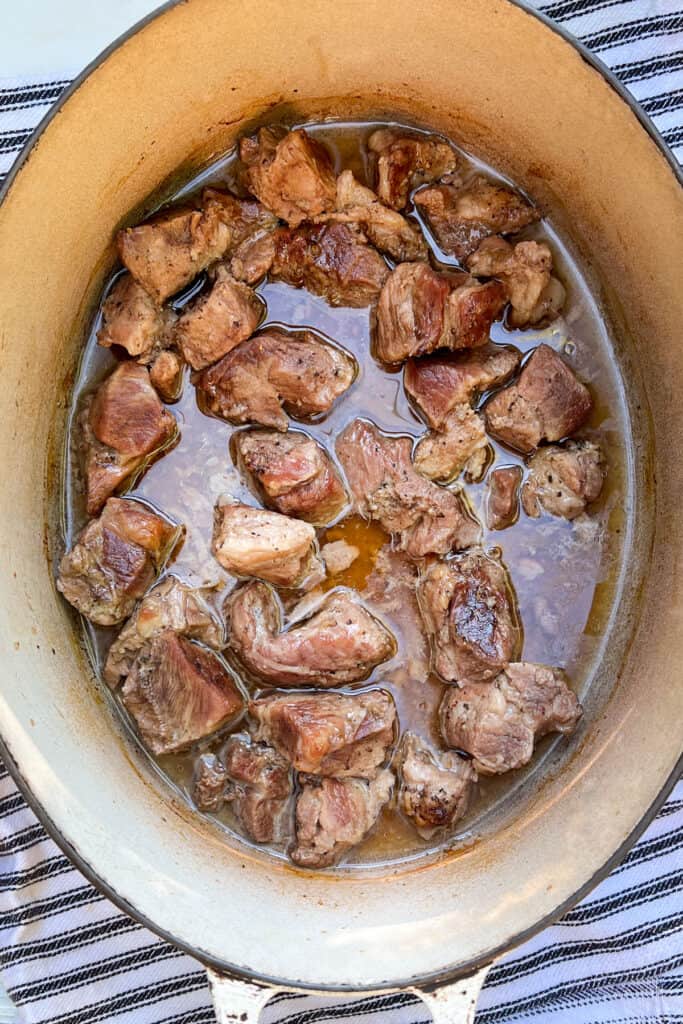 Shred the pork into bite-sized pieces using two forks to pull it apart. The meat will be so meltingly tender, it will practically fall apart when you touch it.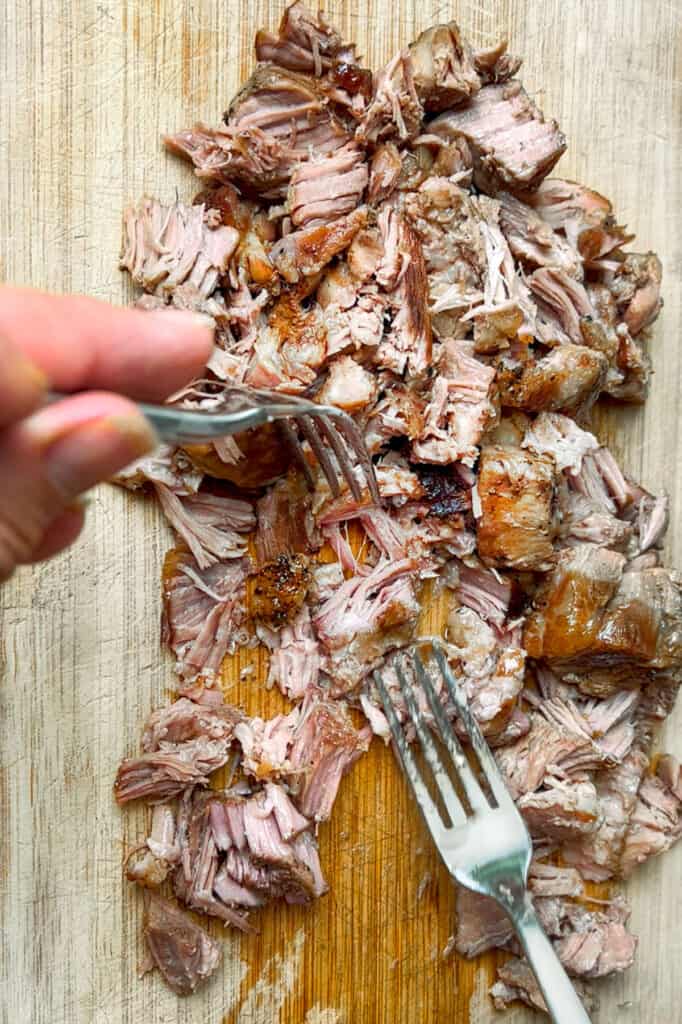 Pour the juices from the cooking pot into a gravy separator or a clear glass. The fat will quickly rise to the top and separate from the juices. Use a couple tablespoons of that fat to fry the carnitas. Or use vegetable oil, if you prefer.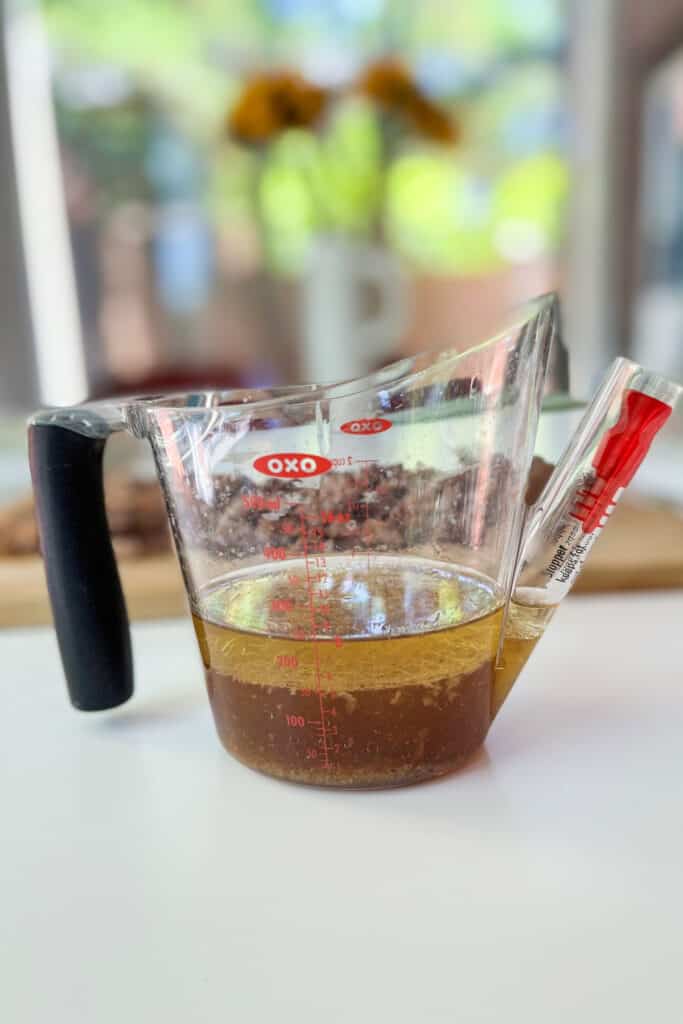 The BEST carnitas have an irresistible mix of
tender and crispy pork
You may be tempted to skip this final step because you'll wonder how anything can better than the slow cooked shredded pork you've just made. I get that. I've been there! I used to serve un-crisped carnitas.... but not any more.
All you need to do is fry the shredded pork in a hot skillet for a few minutes until it gets a golden brown crispy crust on the bottom. Then flip and crisp it up on the other side - and you have tender and crispy pork perfection!
Pour the pan juices over the carnitas to keep them flavorful and moist.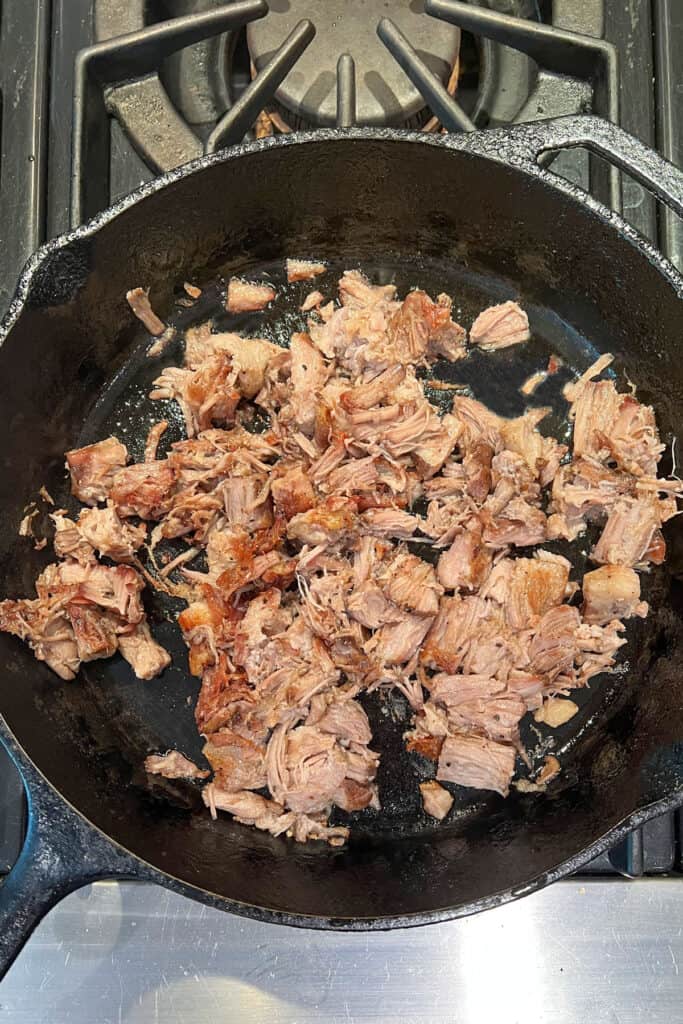 Carnitas are ready! Who's hungry?
I am! Carnitas are SO tempting and delicious. I always order them when I go out to eat at a Mexican restaurant or when I order in from a taqueria. It's a thrill to be able to make these incredible carnitas at home.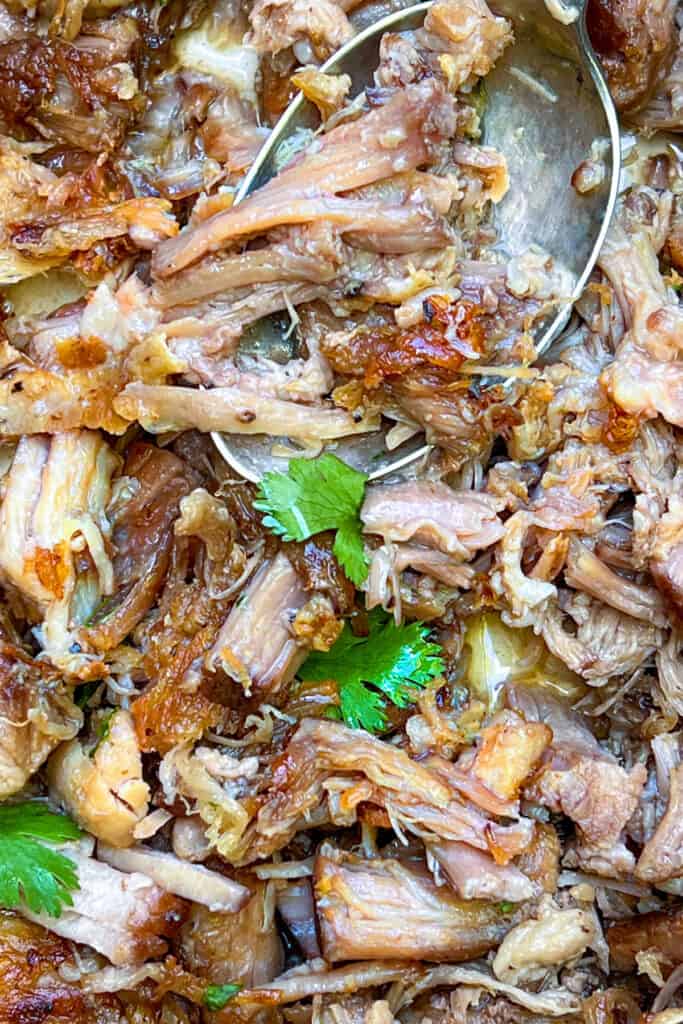 The centerpiece of any Mexican meal
Carnitas is a fantastic party dish and always a crowd pleaser. Once you've made this dish, you can easily build a festive Mexican dinner around it, using tortillas and any variety of toppings and side dishes.
Here's how I love to serve carnitas
Set out a platter of this delicious pork carnitas next to a pile of tostada shells or warm tortillas. Surround it with your favorite accompaniments such as pico de gallo, guacamole, pickled red onions, chipotle coleslaw, Mexican red rice, chopped cilantro, chopped white onions, queso fresco, and black beans, and invite everyone to dig in!
Here's the carnitas recipe. If you cook this, I hope you'll come back to leave a star rating and a comment. I'd love to know what you think!
Print
Two Ingredient Carnitas (Mexican Slow Cooked Pulled Pork)
---
Author:

Lisa Goldfinger

Total Time:

2 hours, 45 minutes

Yield:

6

servings

1

x
Description
This two-ingredient carnitas recipe is easy enough for a weeknight dinner, or serve these delicious carnitas as the centerpiece of a festive Mexican feast, with tortillas and your favorite toppings and side dishes.
---
2

pounds

boneless, skinless pork shoulder (Boston Butt), cut into 1 ½-inch pieces (to double this recipe, see the notes, below)

1

cup

low sodium chicken broth (store bought or homemade)

2 teaspoons

Kosher salt

1 teaspoon

freshly ground black pepper
---
Instructions
Place a rack in the lower third of the oven and preheat to 300ºF/150ºC
In a large heavy oven-ready pot or Dutch oven with a lid, add the pork, broth, salt and pepper. Bring to a boil over high heat, then transfer the pot to the oven and cook for 2-½ hours, until the pork is fall-apart tender.
Remove the pot from the oven and transfer the pork to a cutting board, a handful at a time, and shred it into bite-sized pieces using two forks. Add the shredded pork to a bowl.
Pour the braising liquid from the pot into a gravy separator or glass measuring cup or small heat-proof glass bowl and wait for a minute or so, until the fat rises to the top. Spoon two tablespoons of the fat into a large heavy skillet over high heat. (or use vegetable oil, if you prefer) When the fat is hot, add half the pork in a single layer and leave it for a minute or so, undisturbed, until it gets crisp on the bottom. Flip it over with a spatula and crisp it up on the other side for a minute or so. Transfer the carnitas to a bowl and repeat with remaining pork. Ideally you want a combination of tender pork with crispy bits over about a quarter of it.
If using a gravy separator, pour the pork juices over the carnitas, leaving the fat behind. If using a cup or bowl, spoon off as much fat as possible and pour the remaining juices over the carnitas.
Serve carnitas as the centerpiece of a Mexican meal, with tortillas and any variety of toppings and side dishes.
Notes
How to double this recipe: To double this recipe, use 4 pounds of pork shoulder but keep the chicken broth to 1 cup. Add an additional half teaspoon of salt and an additional half teaspoon of pepper. 
How to make these ahead: These can be made up to two days ahead. Store them with their juices in an airtight container in the fridge and reheat them gently. They will be slightly less crisp than if they'd been served fresh, but still delicious.
Prep Time:

10 minutes

Cook Time:

2 hours, 35 minutes

Category:

dinner

Method:

slow cook, braise

Cuisine:

Mexican
Keywords: easy pork carnitas recipe, how to make carnitas with two ingredients