Guacamole is an appetizer that makes everyone happy, a rich and creamy dip with notes of fresh lemon or lime juice, onions, garlic and cilantro. Nothing is more inviting and satisfying to dip a crunchy, salty tortilla chip into than guacamole. Homemade guacamole is infinitely better than store bought. Here's my favorite way to make it.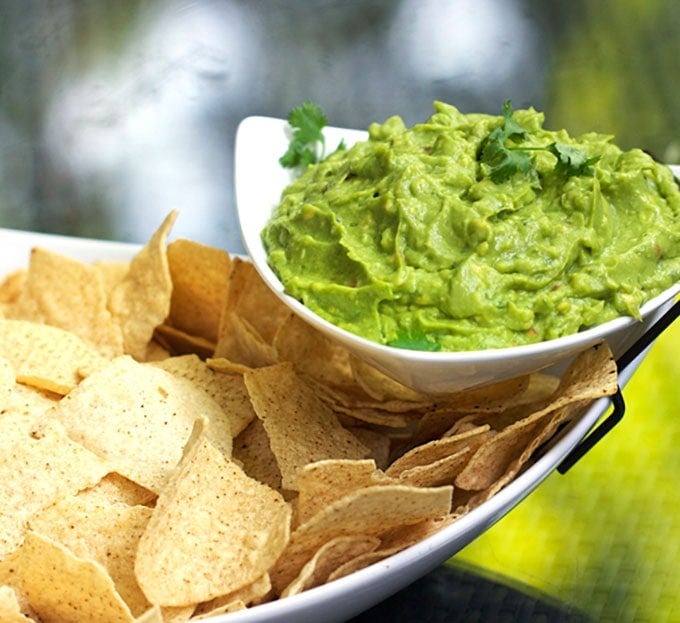 Avocados are one of the only foods I can think of that taste rich and buttery and are highly nutritious. They're packed with lots of vitamins and fiber, and are high in healthy monounsaturated fat, which is know to help prevent heart disease. No wonder Avocados are insanely popular.
AVOCADO FUN FACTS
Avocados don't look or taste like the typical fruit, but they are fruit and they grow on trees.
The avocado tree originated in southern Mexico, where the invention of guacamole, by the Aztecs, has been traced to the early 16th century. (Though I'm not sure they could have enjoyed it as much as we do now, since they didn't have tortilla chips or Margaritas back then)
Mexico is where it all started and Mexico is still, by far, the world leader in avocado production, yielding more than 1 million metric tons of the fruit per year according to the Food and Drug Agriculture Association.
The USA is among the top ten avocado producing countries with a yield of about 200,000 metric tons per year.
HOW TO STORE AVOCADOS
Due to the fact that avocados ripen after they're harvested, you'll often find rock hard avocados at the store that have a ways to go before they're ready to be eaten. Store underripe avocados out of the fridge and they will ripen over time.
I prefer to buy perfectly ripe avocados. I shop for them a day or two ahead of when I'm planning to use them. If you store ripe avocados in the fridge, they will keep for several days without getting overripe.
An avocado is perfectly ripe when it's pretty firm but has a little give when you press on it with your thumb.
Don't buy avocados if they're mushy or have any indents because they're probably past their prime.
HOW TO CUT AVOCADOS FOR GUACAMOLE
Start by slicing the avocado in half lengthwise. Hold it in both hand, twisting until you can pull it apart. You'll notice the pit will be stuck to one of the halves.
To remove the avocado pit, gently hack your knife into the pit so it sticks. Twist the knife gently until the pit is loosened and you can pull it out, still attached to the knife.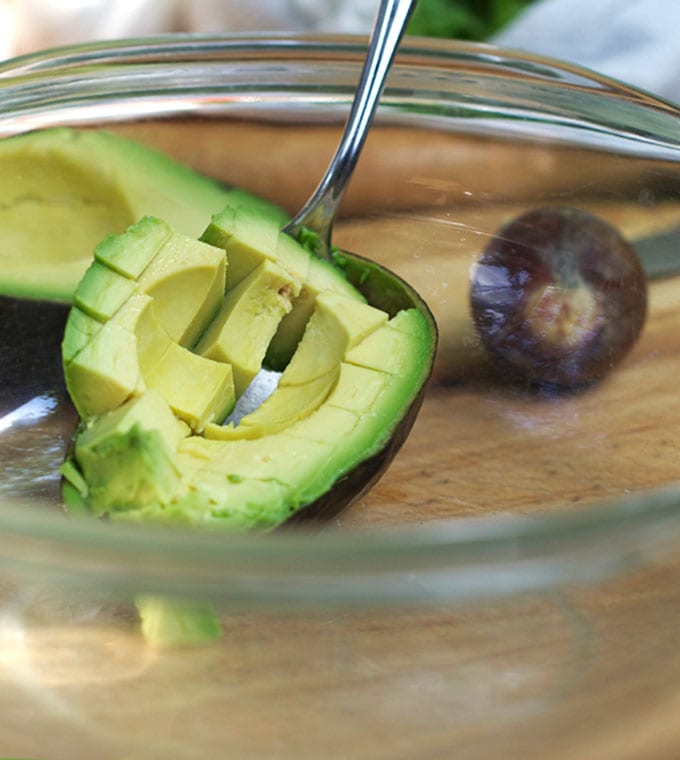 Score the flesh of each avocado half with a knife. That makes it easy to scoop out all the flesh with a large spoon. Plus the flesh is already cubed, making it easier to mash.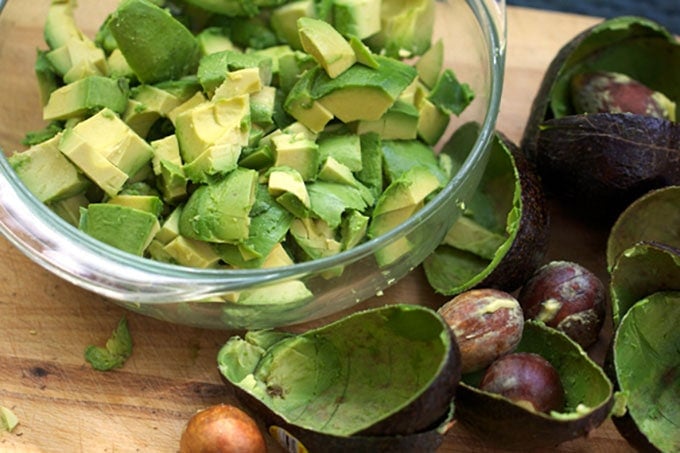 HOW TO MAKE THE BEST GUACAMOLE
This is my all time favorite guacamole recipe. It has just 5 ingredients:
haas avocados
tomatoes
white onions
garlic
cilantro
Texture is key: I love my guacamole fairly creamy but with some texture. Perhaps you like your guacamole super creamy or very chunky? It's all a matter of taste. Start with cubes of avocado in a bowl and mash them to your desired consistency using a fork or a potato masher.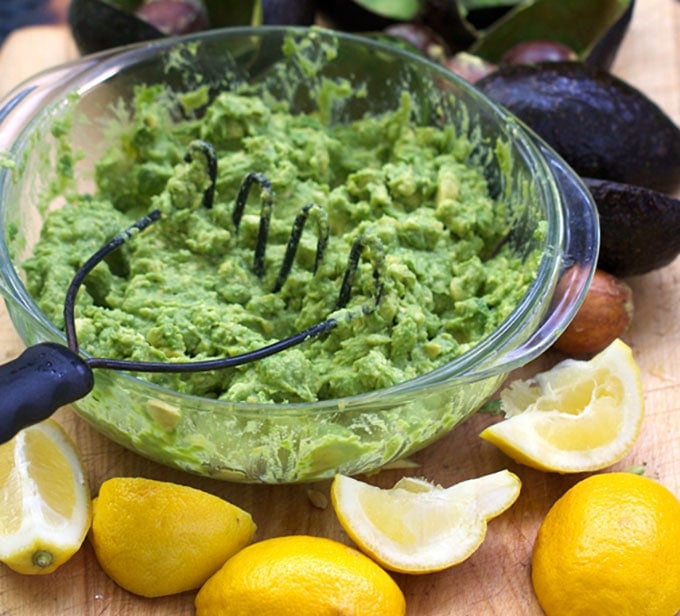 Citrus: Adding lemon or lime juice to guacamole has two purposes. The bright citrus flavors are a wonderful counterpart to the rich creaminess of the avocados. Also, citrus juice helps prevent the avocados from turning brown and preserves their beautiful green color.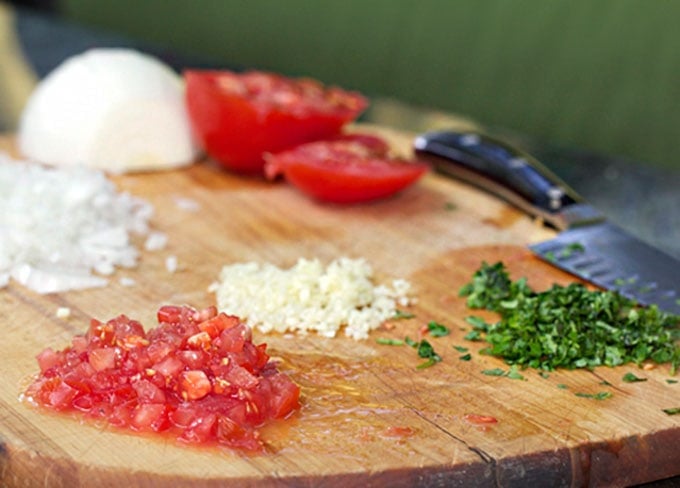 Add-ins: I adore fresh chopped tomatoes, white onions, garlic and cilantro in my guacamole. It's like adding a few spoonfuls of fresh salsa right in with the mashed avocados. So flavorful and delicious!
If tomatoes aren't in season or if you want a shortcut that works really well, substitute a few spoonfuls of your favorite store-bought salsa in place of the fresh ingredients.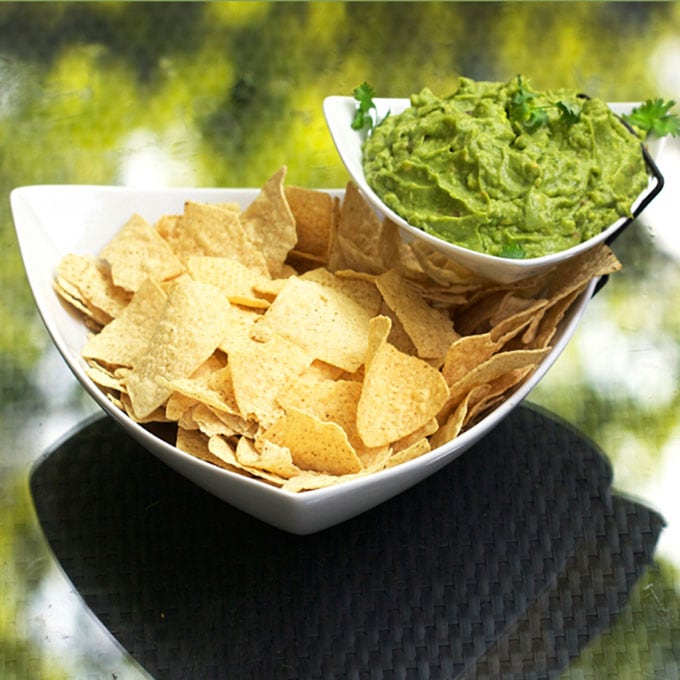 Craving some delicious dishes to pair with this homemade guacamole? I recommend:
If you're wondering where I got the fun tiered chip and dip server, it was a hostess gift from my friend Sheryl who tipped me off that she found it at Bed, Bath and Beyond.
Here's my favorite Guacamole recipe. If you try this recipe I hope you'll come back to leave a star rating and a comment. I'd love to know what you think.
Print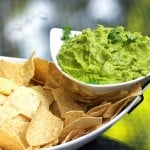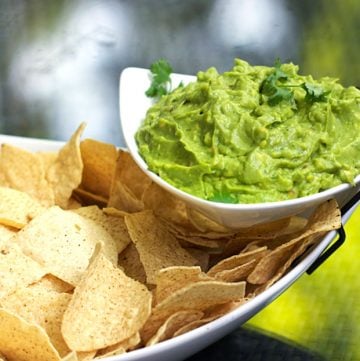 Guacamole
---
Description
A great Guacamole recipe, perfect for dipping tortilla chips or for serving with chili, fajitas and many other Mexican foods.
---
5

perfectly ripe Haas Avocados

3 tablespoons

fresh lemon or lime juice

2

medium garlic cloves, peeled and pressed or finely diced and mashed with a pinch of salt, using the curved part of a fork.

¾ teaspoon

kosher salt (or to taste)
*Fresh salsa add-ins

1

small ripe tomato chopped fine

½

medium white onion, chopped fine

½

bunch or finely chopped cilantro (or to taste)
---
Instructions
Cut the avocados in half. Remove the pit and score the flesh and scoop it into a bowl. Mix the lemon or lime juice in right away to prevent browning. Mash with a fork or a masher to your desired consistency. Add the rest of the ingredients and stir to combine. Serve immediately.
Notes
Good quality store-bought salsa is a great substitute for the fresh chopped ingredients. Use 2-3 tablespoons of salsa or to taste. This works extremely well and is especially helpful when good fresh tomatoes aren't available. You can still add extra onion garlic and cilantro, if you like.
Nutrition Information: The information shown is an estimate provided by an online nutrition calculator and is not a substitute for a the advice of a professional nutritionist.
Prep Time:

35 mins

Category:

Appetizer

Method:

no cook

Cuisine:

Mexican
[This post first appeared on Panning The Globe in July 2013. It was updated in May 2019 with added nutritional information, fun facts about avocados, and tips]