Quick Turkey Ragu: an easy recipe for rich tomatoey Italian meat sauce, made with ground turkey.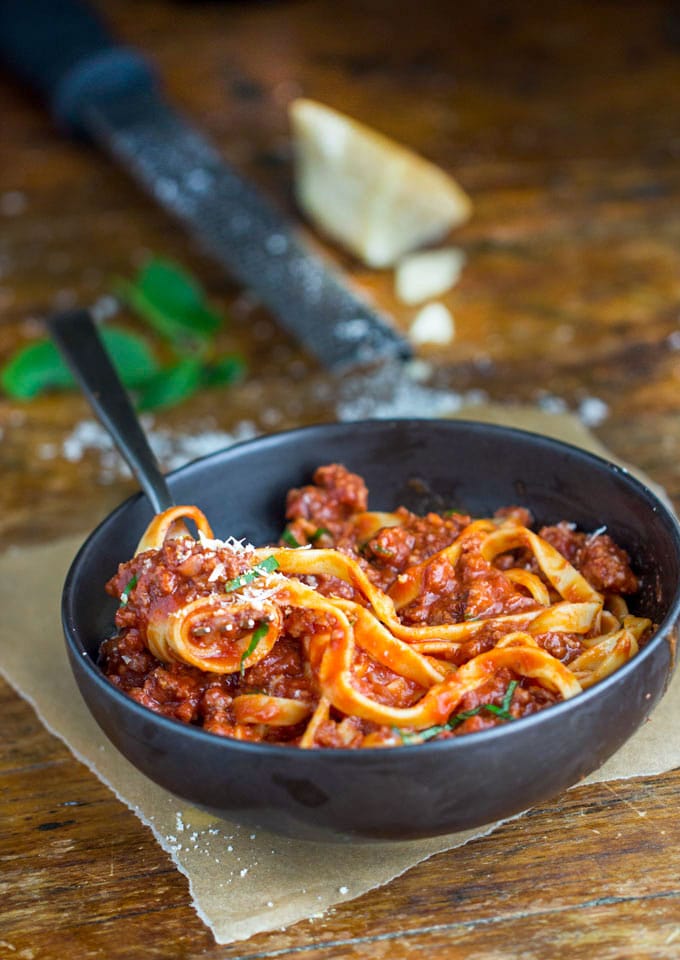 Does anyone else eat meat sauce with a spoon? (standing in front of the fridge, cold, out of the pot…?) A good Italian meat sauce is totally irresistible to me. Nothing excites the dinner table quite like rich, silky ragu alla bolognese over pasta. It's the star of Italian meat sauces and, in my opinion, one of the world's most delicious dishes. But have you ever tried cooking it from scratch? It requires several stages of preparation and 3 or more hours of simmering. It also packs a good amount of fat and calories. Don't get me wrong. I think it's totally worth the the time and effort (and calories) to cook authentic ragu alla bolognese for a special occasion. But for those of us who crave delicious ragu often and always, there has to be another way. So here you go – a quick turkey ragu recipe, healthy enough and easy enough for weeknight dinner, delicious enough for any occasion.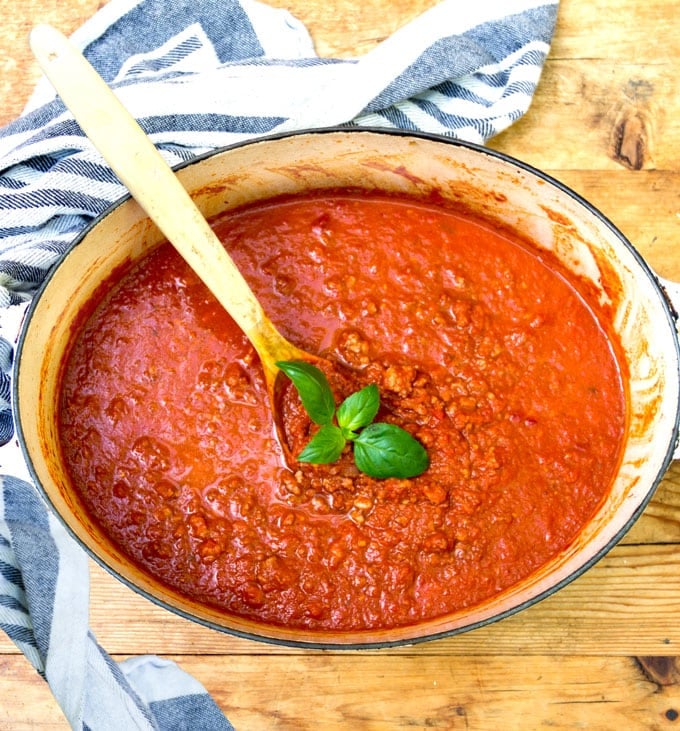 This recipe starts with a simple, 4-ingredient tomato sauce. It then gets a big flavor boost from a cup of dry red wine. Ground turkey doesn't have a ton of flavor on its own. But after it simmers in garlicky, wine-scented tomato sauce, it's so rich and tasty, you might even forget it's turkey and think you're eating 'beefy' meat sauce.
How To Make Quick Turkey Ragu
First you make a simple tomato sauce from scratch: sauté garlic, onions, red pepper flakes and canned tomatoes. It only takes about 15 minutes. By the way, if you're pressed for time, you can skip this step and substitute 4 cups of your favorite store-bought marinara. (I recommend Rao's Marinara)
While the tomato sauce is simmering, sauté the ground turkey with shallots and more garlic in a skillet. Add the wine and cook for 5 minutes to reduce the wine and intensify the flavors. Combine the turkey-wine mixture with the tomato sauce. Cook for another 10 minutes and voila!

There are many options for how to serve turkey ragu, depending on your mood or dietary preferences. Go traditional and serve it over your favorite pasta. If you prefer to dine gluten-free, turkey ragu is delicious with spaghetti squash or zoodles.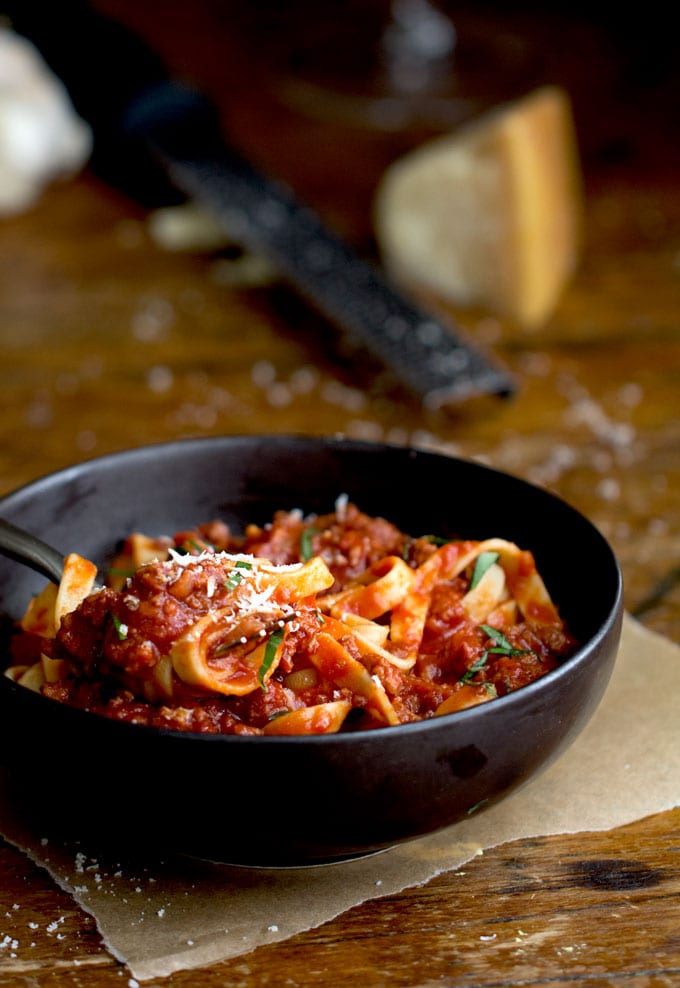 One night I had a non-turkey eater and a non-gluten eater at my house for dinner. I made two pots of ragu, one beef – one turkey. I offered a choice of spaghetti squash or wagon wheels (my son Paul's favorite pasta). Gotta please everyone! (iPhone photo below)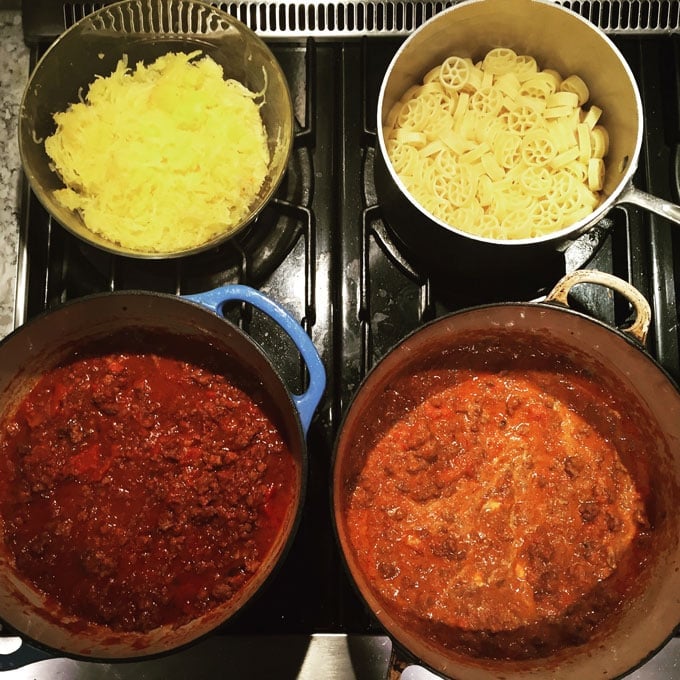 More Delicious Recipes with Ground Turkey
Italian Style Turkey Meatballs (secret ingredient is grated sweet potato)
Sicilian Turkey Meatloaf with Potatoes Capers and Wine
Turkey Zucchini Meatballs with Lemony Yogurt Sauce (from Ottolenghi)
Turkey Falafel Meatballs with Lemon Yogurt Sauce 
Here's the recipe for quick turkey ragu. As always, I'm hoping that if you cook this, you'll come back to leave a comment and let me know what you think.
Print
Quick Turkey Ragu
A quick, healthy, delicious turkey meat sauce to serve over pasta, spaghetti squash or zoodles.
Author:
Prep Time:

10 mins

Cook Time:

30 mins

Total Time:

40 mins

Yield:

5

Category:

Pasta Sauce

Cuisine:

Italian
Ingredients
For The Basic Tomato Sauce: (Note: Or you can use 4 cups of your favorite pre made tomato sauce, in which case skip these ingredients and go to ingredients for "Finishing the sauce…" See note below)
1/4 cup plus 2 tablespoons good quality extra virgin olive oil, divided
1/2 yellow onion, peeled and finely chopped (1/2 cup)
1/8 teaspoon crushed red pepper flakes
2 large garlic cloves, finely minced
1 28-ounce can of good quality tomato puree (I use Muir Glen Organic or San Marzano)
4 tablespoons good quality tomato paste (half of a 6-ounce can)
1/2 cup water
1 1/2 teaspoons kosher salt, divided
Finishing the Sauce with Shallots, Turkey and Wine:
Olive oil
2-3 shallots, peeled and finely chopped (1/4 cup)
2 garlic cloves, finely chopped (1 tablespoon)
1 1/2 pounds ground turkey. I have a slight preference for dark meat, but light works too. (ground beef or lamb are great too!)
1 cup of good dry red wine. Good choices are: Cabernet Sauvignon, Merlot, Pinot Noir, Shiraz, or Zinfandel.
Optional Garnishes:
1/2 cup ricotta cheese
Freshly grated parmesan cheese (I recommend Parmigiana Reggiano)
Fresh basil leaves, slivered or chopped
Instructions
Make The Tomato Sauce: Heat 1/4 cup oil over medium heat, in a heavy pot or Dutch oven, with a lid. Add onions and red pepper. Cook for 2 minutes, to soften the onions. Add 1 tablespoon garlic and cook, stirring, for 1 minute, until fragrant (don't let it brown). Add tomato puree, tomato paste, water and 1/2 teaspoon of salt. Stir to combine. Bring to a boil and immediately lower to a gentle simmer. Partially cover the pot to prevent sputtering. Simmer sauce for 10 minutes. Remove from heat.
Finish The Sauce with Shallots, Garlic, Turkey and Wine: Heat 2 tablespoons olive oil in a large cast iron or non-stick skillet over medium heat. Add chopped shallots. Sauté, stirring often, for 3 minutes. Add the remaining 1 tablespoon of garlic and sauté, stirring, for 30 seconds, until fragrant. Add the turkey and 1 teaspoon of salt. Cook, stirring and breaking up the meat with a wooden spoon, until the turkey has lost all of it's pink color. If there's lots of liquid in the pot, cook for an additional minute to evaporate some of the liquid. Pour in the wine and simmer on medium-low for 5 minutes, until the wine is reduced by about half. Transfer the meat-wine mixture to the sauce pot and stir through. Bring to a boil. Lower to a simmer. Cook the meat sauce, partially covered, for 10 minutes to combine flavors.
To Serve: Serve sauce over pasta, spaghetti squash, or zoodles. For a richer, creamier consistency, stir 1/2 cup of ricotta cheese into the sauce before serving. Garnish with freshly grated parmesan cheese and slivered basil.
Notes
*note: To save time, you can skip making the tomato sauce and substitute 4 cups of your favorite store-bought marinara sauce, such as Rao's Marinara
Heat the sauce in a large pot and follow instructions starting with step #2 "Finish The Sauce…"
One of my inspirations for this recipe is Giada's delicious recipe for lamb ragu with mint.
If you're a fan of ragu, here's another light and delicious ragu recipe from Cooking Light that you can make it your slow cooker.