These turkey meatballs are extra tender and flavorful because of a few surprising ingredients, tomato paste, sweet potatoes and garbanzo bean flour. I made a video to show you how easy it is to make these scrumptious healthy meatballs which have become a weekly staple at my house. We love them!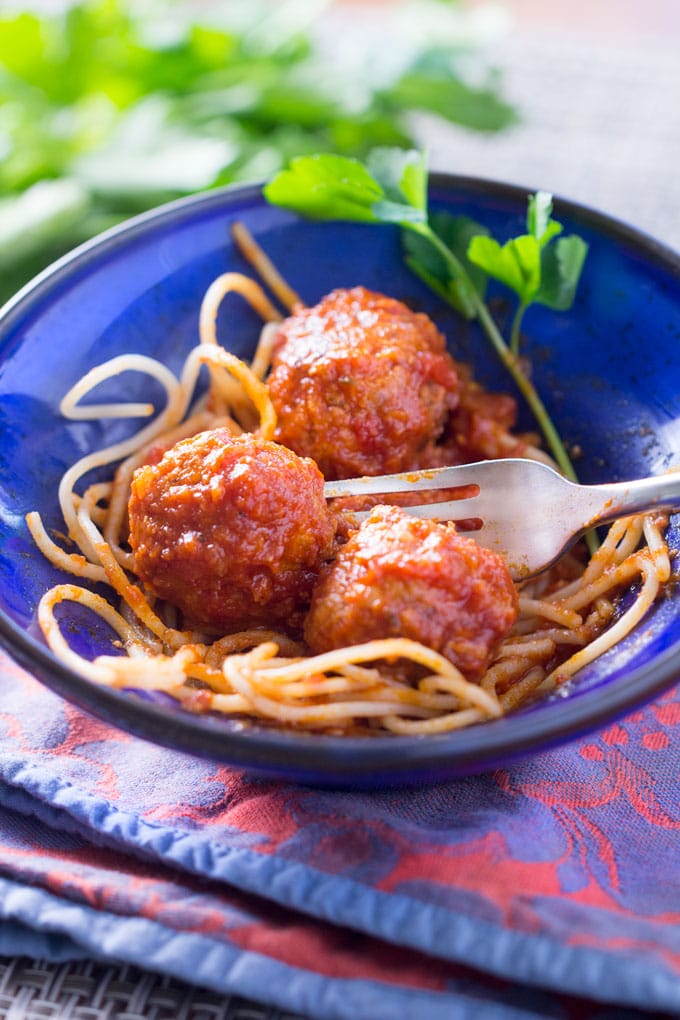 These are the meatballs we can't stop eating. Luckily everyone in my family is crazy for them because it's taken me some time to develop the recipe and so far nobody has complained that I keep cranking out batch after batch. The meatballs keep getting devoured. One of my favorite quick and easy dinners is to simmer these homemade turkey meatballs in Rao's (store-bought) marinara sauce and serve them over angel hair pasta. I also love them over spaghetti squash, for a healthy low-carb dinner. Sometimes I'll make a quick homemade marinara to go with them (scroll down for the marinara recipe).
What sets these turkey meatballs apart from typical Italian-style meatballs is of course turkey instead of beef and pork. But also a few ingredients that you don't generally see in meatball recipes: grated sweet potato, tomato paste, and gluten-free flour. Unlike other Italian style meatballs, there's no cheese, bread or milk in this recipe. These turkey meatballs get plenty of flavor and texture from vegetables. Onions and garlic are the aromatic components. Grated sweet potato gives the meatballs a wonderful texture and an earthy sweetness. Tomato paste adds a rich umami taste. The flour makes the mixture just dry enough to roll, but leaves it with a super tender consistency.
I'm about to show you how easy it is to make these turkey meatballs, and I have something new for you today – a recipe video. I've been hard at work learning the ropes of making food videos and this one is my directorial debut. I'd love your feedback. Do you like recipe videos? Do you like this one? Any suggestions? Comments? Advice?  Here it is:

And now for the non-video explanation:
HOW TO MAKE ITALIAN STYLE TURKEY MEATBALLS:
Combine ground turkey (I like to use half dark meat and half light meat) with chopped onion, minced garlic, an egg, tomato paste, grated sweet potato, salt and pepper. I grated the sweet potato on a box grater. I used the largest holes and then chopped up the shreds a bit more on a cutting board.
Then add 3 tablespoons of gluten free flour. I used a mix from Bob's Red Mill, of garbanzo bean and fava bean flour. Refrigerate the mixture for at least a half hour to firm it up and making rolling easier. Roll up the meatballs ……
Brown them in two batches.
Simmer the meatballs in your favorite marinara sauce for 25 minutes. My favorite is Rao's.
If you want to make your own Homemade Marinara Sauce, here's a quick and delicious recipe:
Heat 6 tablespoons of olive oil in a heavy saucepan
Add 1 teaspoon of minced garlic and 1/2 teaspoon of crushed red pepper flakes
Simmer for just a few seconds, until fragrant. Don't the garlic brown
Add two 28-ounce cans good quality Italian imported plum tomatoes and their juice – San Marzano is best. (*chopped or torn with your hands)
Simmer, partially covered, for 20 minutes.
Fresh basil is optional but so good! If you can get some, sliver 10-12 leaves and stir them into the sauce before serving.
*Another option is to add the canned tomatoes whole and puree the sauce at the end with my immersion blender. My kids like their tomato sauce extra smooth, so I usually use this technique.
By the way, if you don't mind gluten in your meatballs you can substitute bread crumbs for garbanzo flour. My oldest son tested this recipe with bread crumbs and loved it. He's a bit of a meatball expert. He makes meatballs every Monday night for "Meatball Monday," and invites friends over. He texted me on Monday night when he made these: "These meatballs are so amazing…my friends are going nuts for them…they're the softest meatballs I've made so far." I was very happy to get that text. 🙂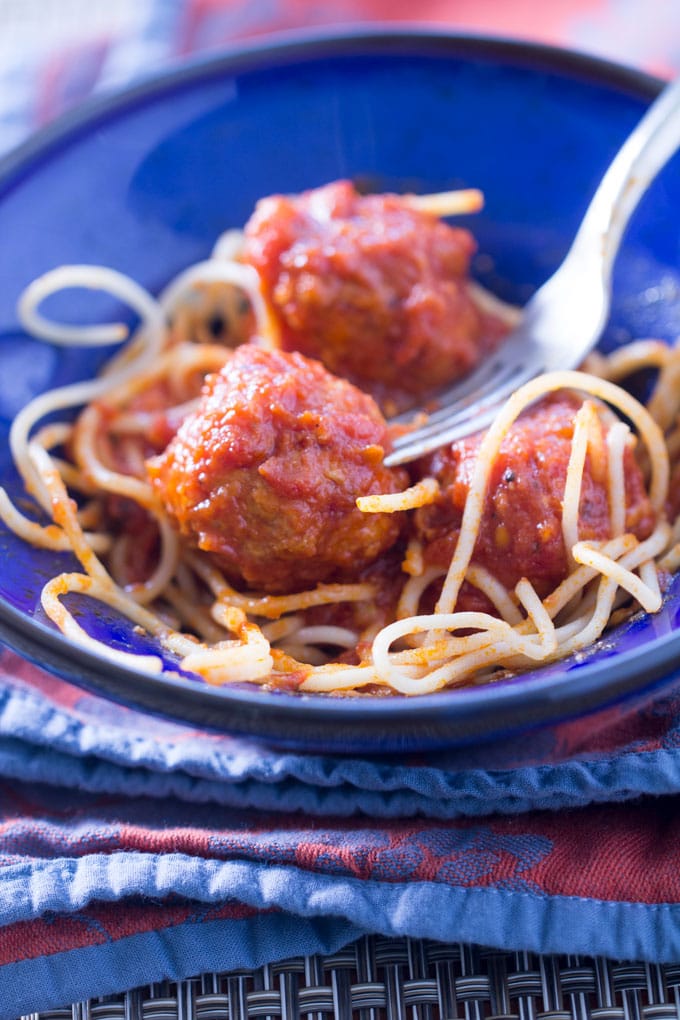 There's nothing that says comfort like Italian-style meatballs with tomato sauce. These little polpette (Italian for "meatballs") are super tender and flavorful, gluten free, dairy free and low fat. So feel free to come back for seconds or even thirds!
I want to give a shout out to my friend Nina who gave me the idea of putting sweet potatoes in meatballs. Such a genius idea. Thank you Nina!
If you like turkey meatballs, I have two other delicious turkey meatball recipes on Panning The Globe. Both are naturally gluten free, if that's important to you: Ottolenghi's Turkey-Zucchini Meatballs and Turkey Falafel Meatballs (my own invention.)
More Delicious Recipes with Ground Turkey
Sicilian Turkey Meatloaf with Potatoes Capers and Wine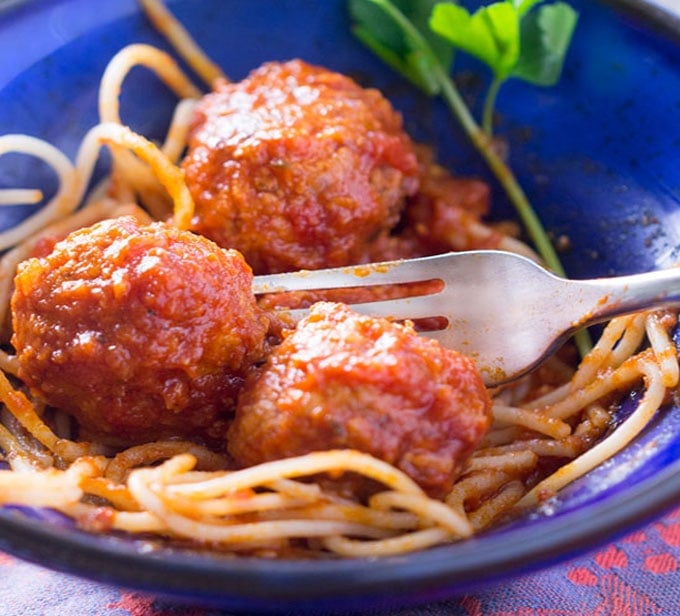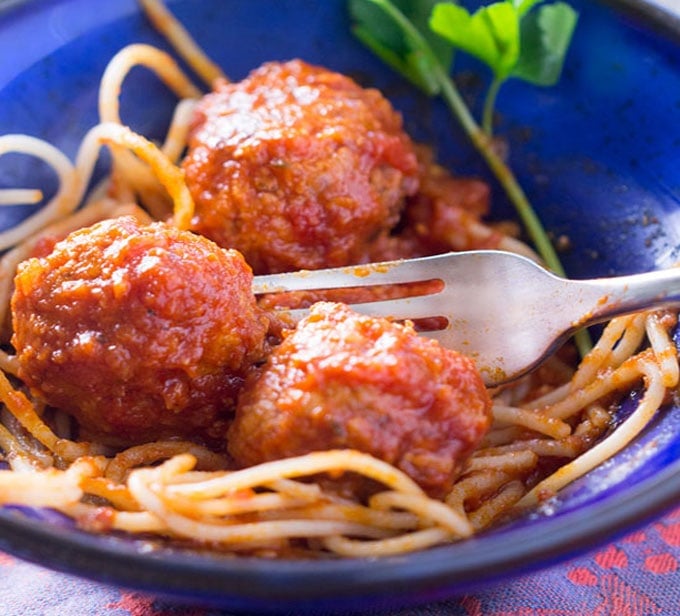 This Italian-style turkey meatball recipe is a great one to have in your repertoire. It's light on fat and carbs and heavy on lean protein and veggies. Eating these tender turkey meatballs in tomato sauce feels like a big delicious, comforting splurge, but without the guilt.
Here's the recipe for Italian Style Turkey Meatballs. If you make these, I hope you'll come back and leave a comment to let me know how you liked them.
Print
Italian Style Turkey Meatballs
These turkey meatballs are extra tender and flavorful and naturally gluten free, made with lean ground turkey, grated sweet potatoes, chickpea flour and tomato paste.
Author: Panning The Globe
Prep Time:

40 mins

Cook Time:

45 mins

Total Time:

1 hour 25 mins

Yield:

4

-

5

1

x
Category:

Dinner

Cuisine:

Italian-American
Scale
Ingredients
1

pound ground turkey ( I use half white meat, half dark meat)

1/2

medium onion, peeled and finely chopped (

1/2 cup

finely chopped onion)

2

medium garlic cloves, peeled and finely minced (

2 teaspoon

s finely minced garlic)

1

large egg

1

6 ounce can tomato paste

1/2

sweet potato, peeled and grated on a box grater. I use the largest holes and then chop up the shreds a bit more on a cutting board. (

1/2 cup

grated sweet potato)

1/2 teaspoon

kosher salt

1/4 teaspoon

pepper or double the amount for more of a kick (I recommend Aleppo pepper or Maras pepper, if you can find it. Otherwise, use black pepper)

3 tablespoon

s garbanzo bean flour or garbanzo bean & fava bean flour Or substitute bread crumbs if you like.

2

–

4

tablespoons of vegetable oil for sautéing the meatballs (I use olive oil or canola)
Instructions
In a large bowl, combine ground turkey, onion, garlic, egg, tomato paste, sweet potato, salt and pepper. Stir with a fork until everything is well mixed. Sprinkle in flour and stir until just combined. Cover the bowl with plastic wrap and chill in the fridge for at least 1/2 hour or up to 4 hours. You can omit this step, but the mixture will be mushy and harder to shape into balls. The longer you chill the mixture, the easier it will be to roll the meatballs.
Set a large plate on your work surface. Roll all the meat into balls – a heaping tablespoon at a time. Set the meatballs on the plate as you go. If your hands are getting sticky, fill a small bowl with ice water and dip your hands in periodically. If your hands are cold and wet, the meat is less likely to stick to them.
Once all the meatballs are rolled, heat 2 tablespoons of oil over medium heat, in a large heavy skillet, preferably cast iron or non-stick. Once the oil is nice and hot, add half the meatballs. Sauté the meatballs for 5 minutes or so, turning them gently with a spatula every minute or so, to brown them on all sides. Transfer the browned meatballs to another plate. Cook the rest of the meatballs, adding more oil if the pan is dry.
Return all the meatballs to the skillet and add 4 cups of your favorite marinara sauce and 1/2 cup of water. Simmer the meatballs in the sauce for 25 minutes, until they're cooked through.
Panning The Globe has affiliate links that help support this site. When you click on a link to an Amazon product and make a purchase, a small percentage is payed to Panning The Globe, at no cost to you. Your support is greatly appreciated.