Turkey meatballs and falafel unite in this Turkey Falafel Meatballs recipe. They make an awesome combination, with healthy lean protein, nutritious vegetables, and delicious Mediterranean spices, resulting in wonderfully flavorful, tender, healthy meatballs.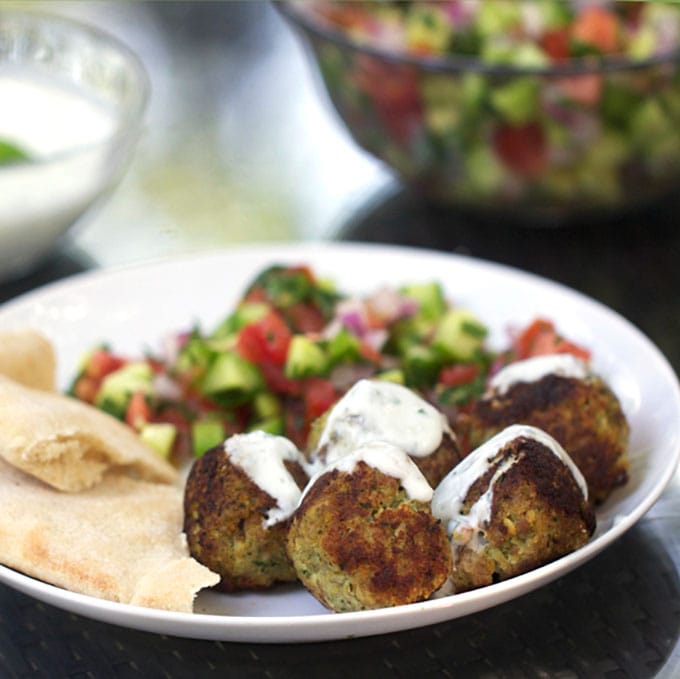 Is there such a thing as summer comfort food? In my mind, most (all?) comfort foods are in the winter category: stew, roasts, meatballs, mashed potatoes…and they are all stick-to-your-ribs kind of foods. I'm bringing this up because I had a strong meatball craving the other day and I immediately thought "I really shouldn't make them"….I should make something more summery – like grilled fish or a salad."
But I didn't give in to my conscience and I somehow arrived at the idea of turkey falafel meatballs. They seemed summery and also felt like the comfort food I was so desiring. So, after lots of falafel research and experimentation in the kitchen, here is my recipe for comforting and summery turkey falafel meatballs.
Falafel is made of ground chickpeas or fava beans, mixed with herbs and spices, shaped into a ball or patty, and deep fried. The balls are usually served wrapped in pita with assorted salad ingredients and tahini sauce on top.
Falafel is extremely popular throughout the Middle East. But like many things in that region, falafel is the subject of a contentious debate about which country is its rightful owner or originator.
Honestly, after a good deal of research, I'm reluctant to connect these fried chickpea balls to any single country for fear of inciting a war. And I can truthfully (and safely) say that my recipe for turkey falafel meatballs was inspired equally by the falafel of Israel, Syria, Egypt and Lebanon.
I nixed the deep-frying technique, though I'm sure it would be delicious. I decided to pan sauté the meatballs. You can also pop them into the oven on a lightly-oiled baking tray for 20 minutes at 400 and get good results.
For a sauce, I went with a light sauce of yogurt and lemon juice versus tahini. Hummus is another delicious choice for serving with these meatballs.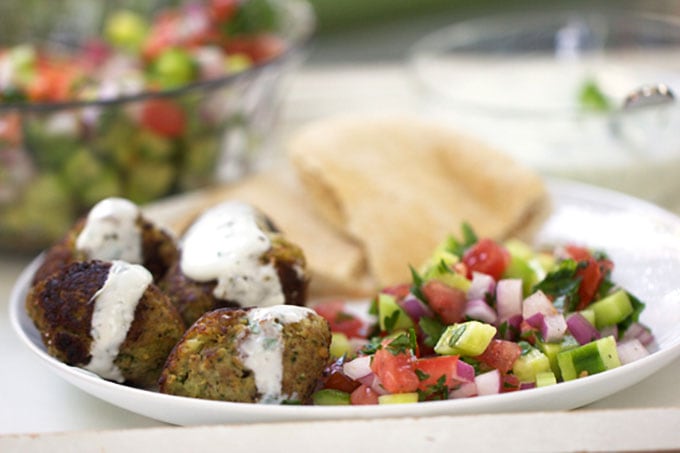 Serve warm or room temperature, with a salad of diced tomato, cucumber, red onion, and parsley. Dress the salad with a drizzle of olive oil, some fresh lemon juice, salt and pepper. Or you might enjoy these stuffed into a pita with some chopped veggies and lemon yogurt sauce.
Or This Mediterranean chickpea salad would make a perfect accompaniment.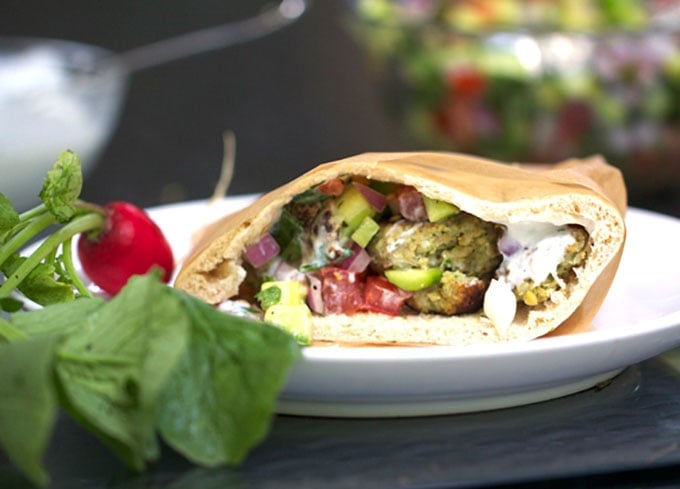 So are turkey falafel meatballs a summer comfort food? Is there is such a thing as summer comfort food? If so, what are your summer comfort foods?
Here's the recipe for Turkey Falafel Meatballs with Lemon Yogurt Sauce. If you try this recipe I hope you'll come back to leave a rating and comment. I'd love to know what you think.
Print
TURKEY FALAFEL MEATBALLS with Lemon Yogurt Sauce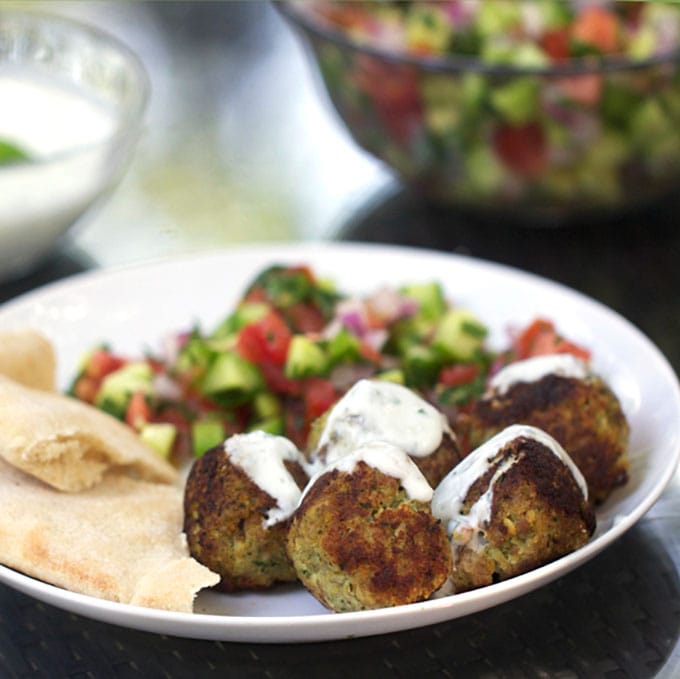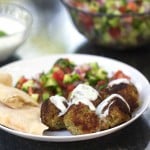 Light, flavorful meatballs with tangy yogurt sauce. Serve with a side salad for dinner or pack the meatballs and salad into a pita and drizzle with sauce for lunch.
Author: Panning The Globe
Prep Time:

30 mins

Cook Time:

20 mins

Total Time:

50 mins

Yield:

5

-

6

1

x
Category:

Lunch, brunch or dinner

Cuisine:

Middle Eastern
Scale
Ingredients
Yogurt lemon sauce

1 cup

plain whole milk or low-fat yogurt

1

garlic cloves, pressed

1 tablespoon

s fresh lemon juice

1/4 teaspoon

salt

1 teaspoon

dried crumbled mint or basil to sprinkle on top (optional)
Meatballs

4 tablespoon

s cooking oil

1

pound ground turkey, light or dark meat

1

15-ounce can chickpeas, drained and rinsed

1/2

white onion, peeled and roughly chopped

3

large garlic cloves, peeled and roughly chopped

1/4 cup

cilantro leaves, packed

1/4 cup

parsley leaves, packed

1

large egg

2 teaspoon

s ground cumin

1 teaspoon

ground coriander

1 teaspoon

kosher salt

1/2 cup

plain Panko bread crumbs or (for gluten-free) 1 cup cooked, cooled quinoa
Salt and pepper to taste
Instructions
Yogurt lemon sauce Combine all ingredients. Cover and store in the fridge for up to 3 days.
Meatballs In the bowl of a food processor add chickpeas, onion, garlic, cilantro, parsley, egg, cumin, coriander and salt. Process until everything is chopped finely and the mixture has a grainy consistency. Scrape mixture into a medium bowl and add the ground turkey. Add bread crumbs or (for gluten-free) quinoa. Mix everything until just combined. Roll into 1 1/2 inch balls (should make about 25) Note: If using quinoa, the meatball mixture will be a bit looser – use a light touch when rolling into balls, tossing the meat from palm to palm and pressing, to shape.
Heat 2 tablespoons oil in a large skillet over medium heat. Add half the meatballs and sauté for 8 minutes or so, turning frequently, until browned on all sides and cooked through. Transfer to a paper towel-lined plate to drain. Repeat with the rest of the meatballs.
Serve warm or at room temperature with lemon yogurt sauce and a salad or slice in half and stuff into a pita with salad and lemon yogurt sauce. Add salt and pepper to taste. Enjoy!