Rustic, savory, crispy Patacones are a popular appetizer and side dish in many Latin American and Caribbean countries, and for good reason - they taste amazing. These delicious discs of flattened twice-fried plantains are easy to make at home. All you need is a green plantain, oil, salt and the cooking technique I'm about to share with you that I learned from a chef in Costa Rica.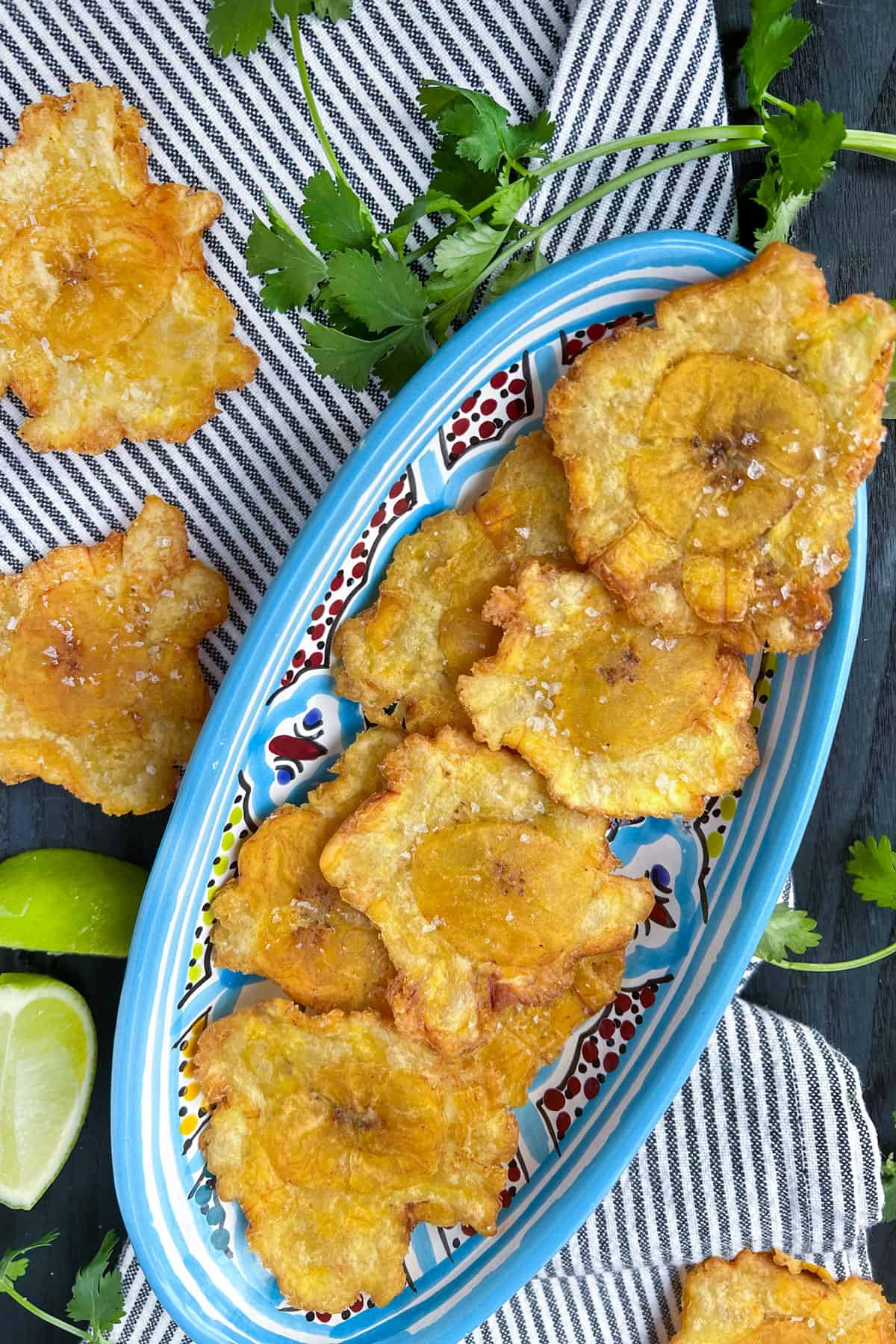 What are Patacones?
Patacones are made from unripe, green plantains that are peeled, sliced, fried, flattened into discs and then fried again.
The end result is a thick, jagged-edged chip that's crisp and golden brown on the outside and tender inside.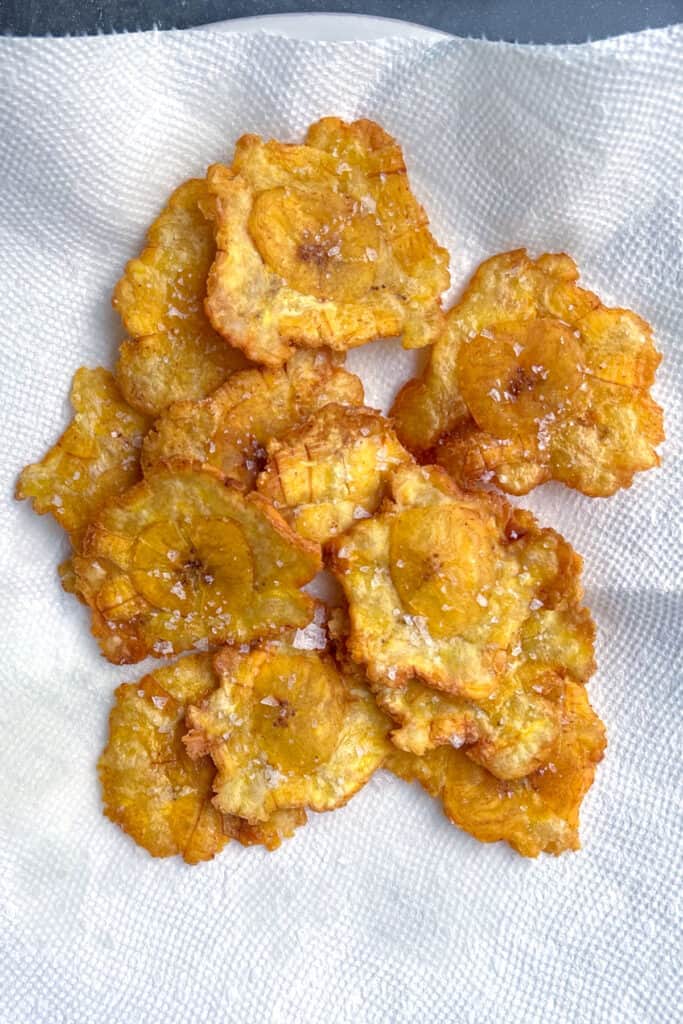 I discovered patacones while traveling in Costa Rica. A local chef prepared dinner for us at our airbnb and when we sat down to enjoy appetizers, I grabbed what I thought was a thick tortilla chip, dipped it into guacamole, took a bite and fell in love.
Everyone at the table had the same reaction at their first taste of a patacone - taking in the flavor and texture of this warm, crunchy, salted morsel is a unique pleasure. It is definitely the best thing I've ever dipped into guacamole.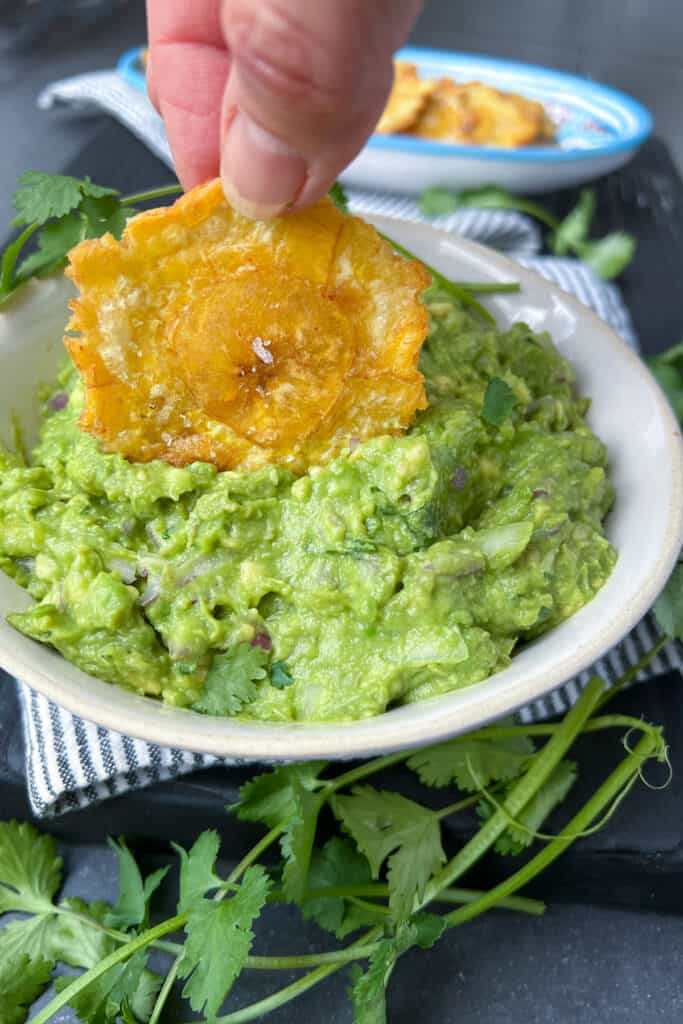 Our chef Desiree was kind enough to teach me how to make patacones and I could not wait to make them again and to share the recipe here on the blog.
What do Patacones taste like?
They taste like a cross between potato chips and french fries, crispy on the outside, tender inside, savory, salty and super satisfying.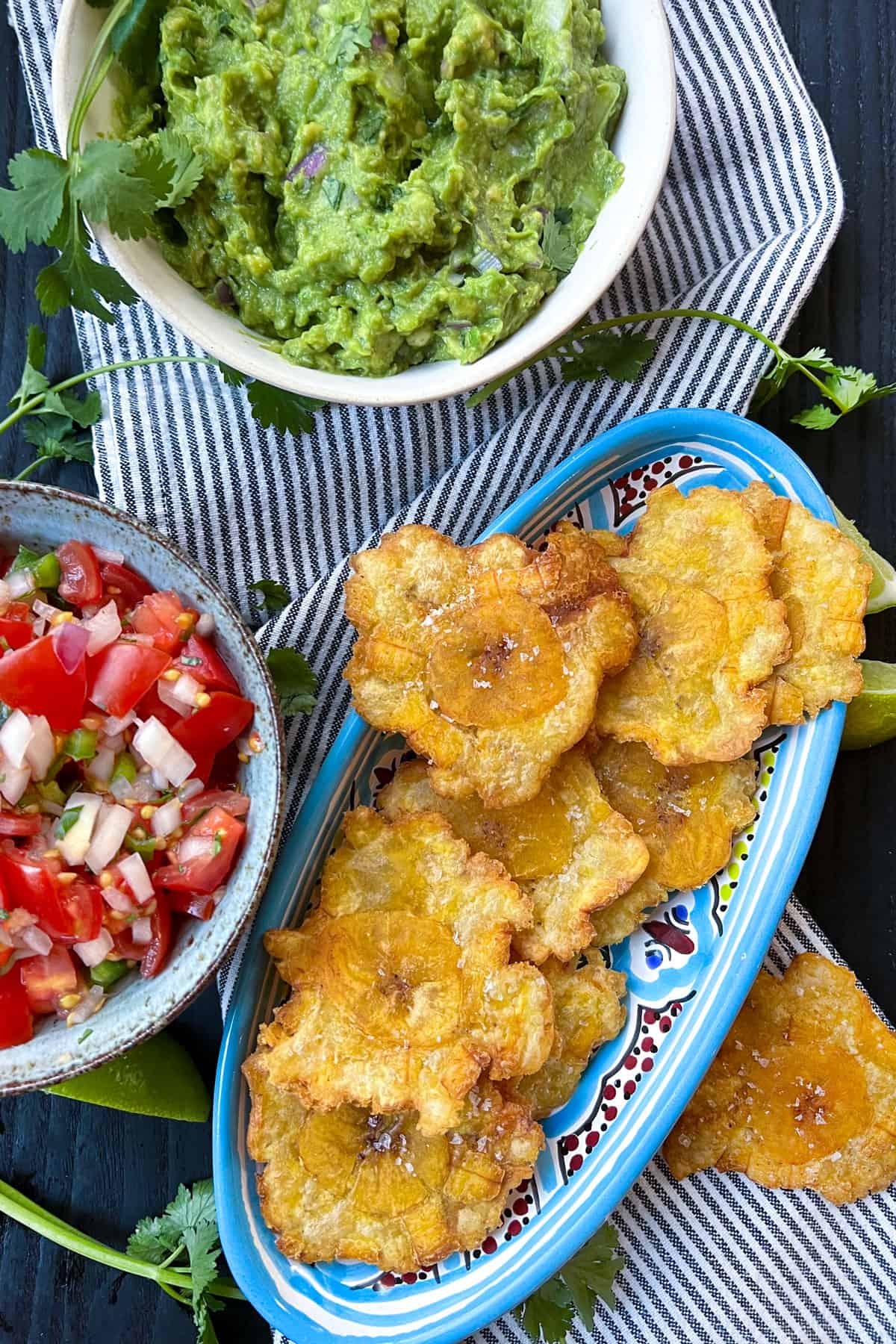 Patacones Ingredients
All you need to make patacones are green plantains, oil and salt.
What are green plantains?
Green plantains are unripe plantains. Despite being unripe, green plantains are perfect for cooking certain dishes, such as patacones. When the skin of the plantain is green, the unripe fruit within is high in starch and low in sugar making them ideal for frying up crisp and golden brown.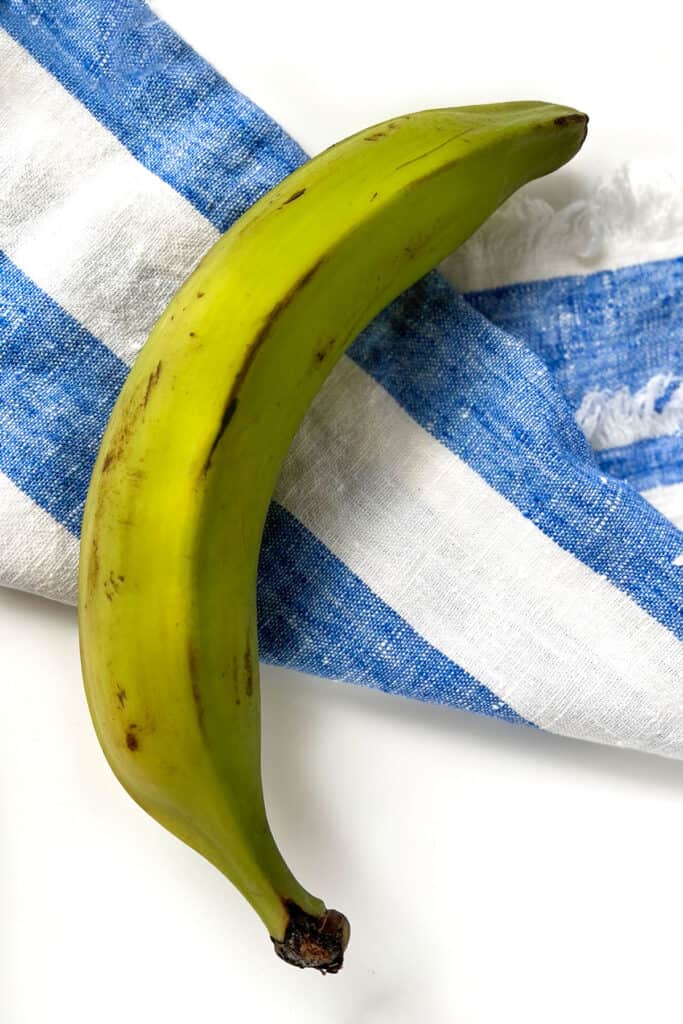 How to Peel Green Plantains
Green plantains have a thick tough skin, but follow these easy peeling tips and you should have no trouble.
Cut off the stem and the tip of the plantain
Make a slit in the skin, from end to end, keeping the slit shallow to avoid cutting into into the flesh of the plantain
Use your fingers to pry open the skin and peel it off
If you can't get under the skin with your fingers, insert the tip of your knife to gently loosen the first bit of skin.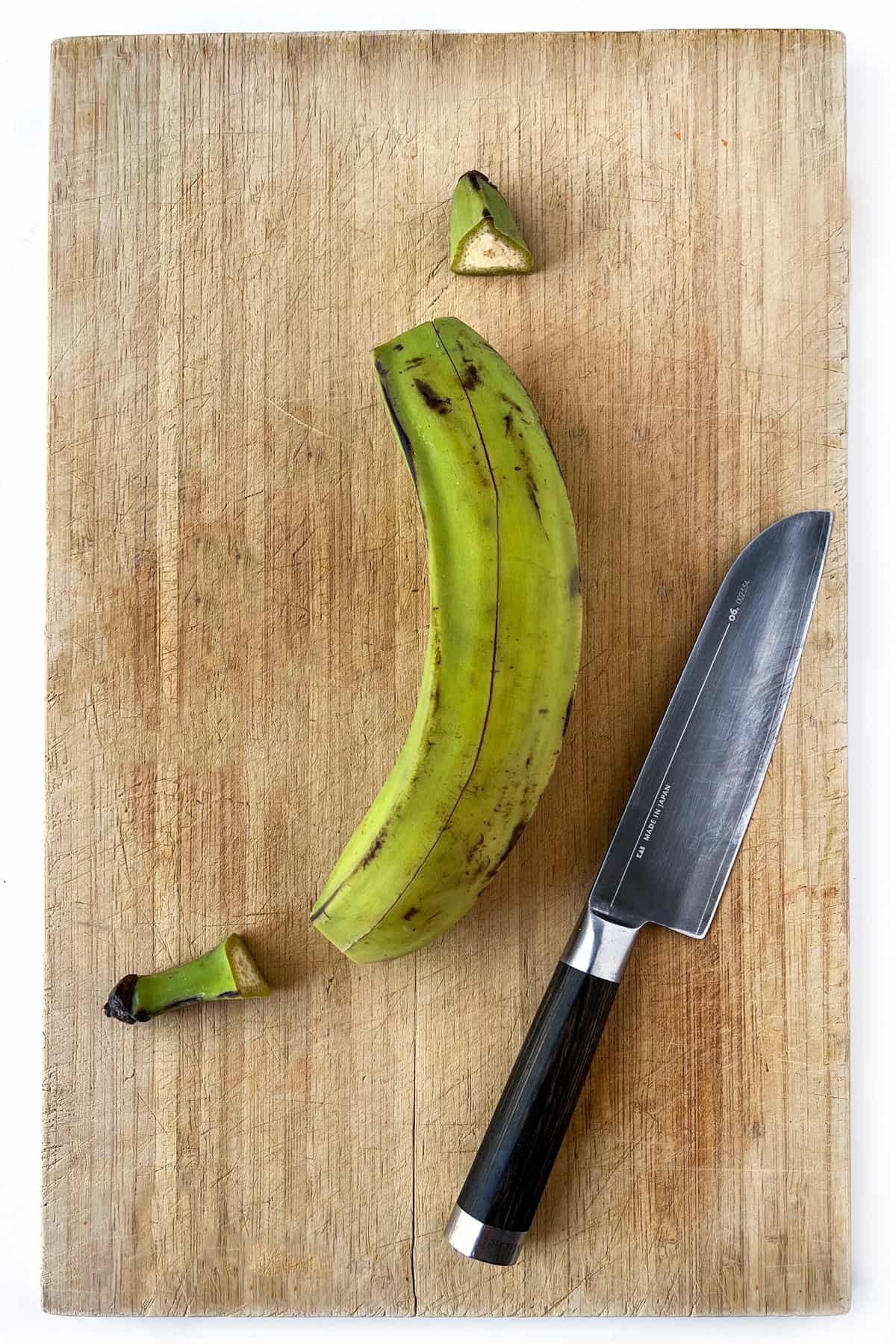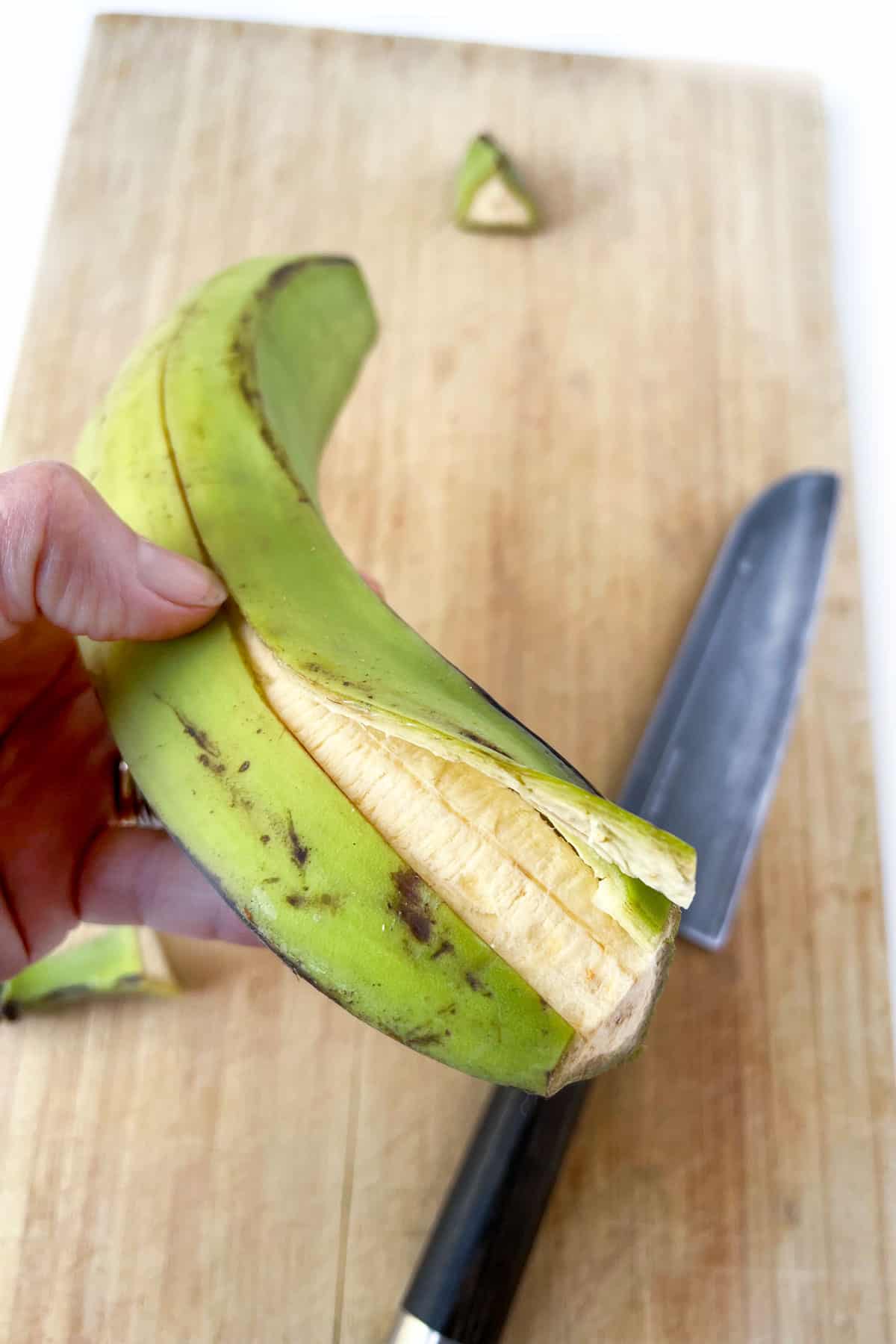 You may not be able to get the skin off in one piece - I got lucky here. But with a little poking and prying, you should have no problem getting the peel off.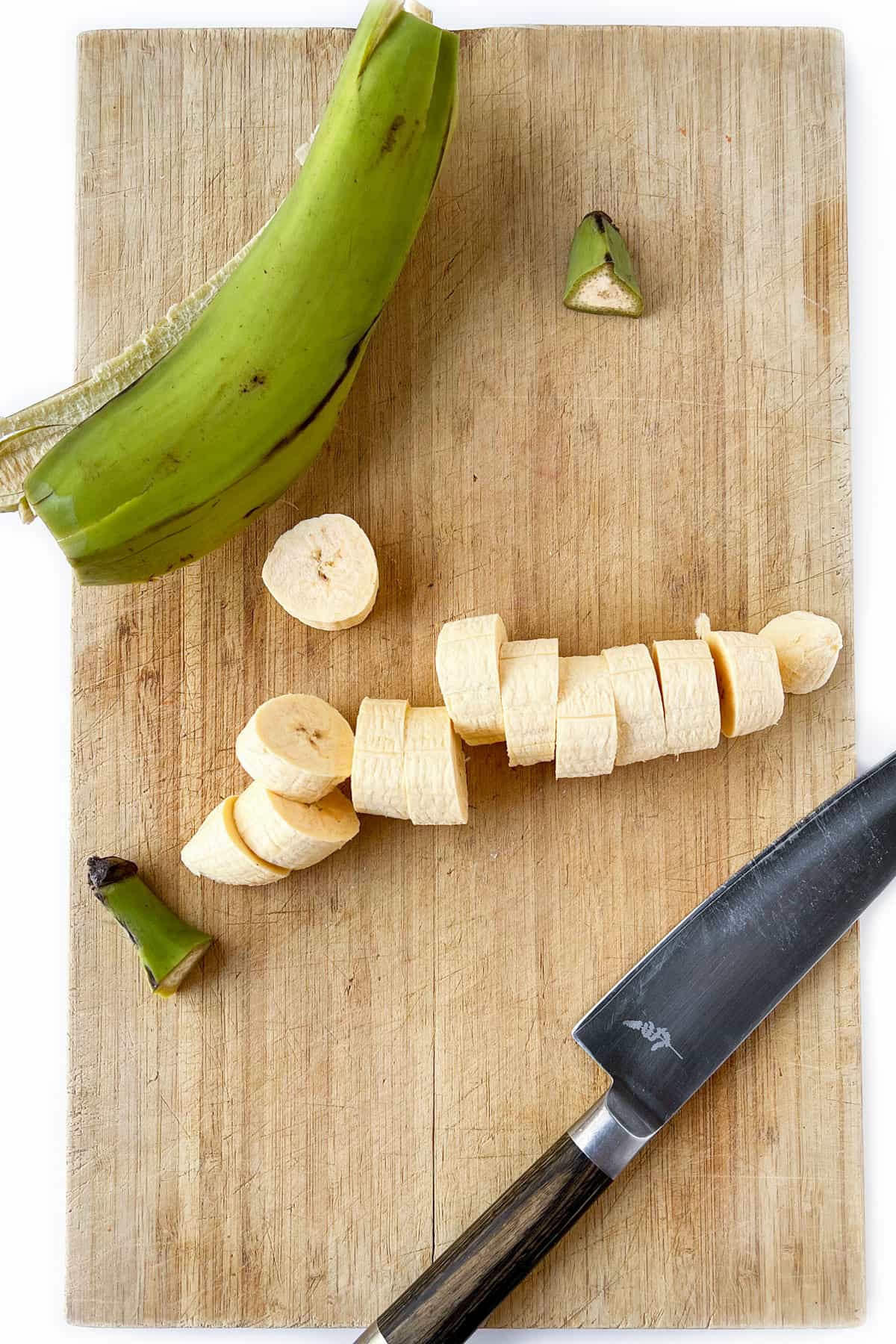 How To Make Patacones
There are four simple steps to make patacones
Peel a green plantain and cut it crosswise into half-inch discs
Fry the discs in oil for just a few minutes, to soften them
Flatten the fried discs under a cutting board or in a tortilla press
Fry the flattened discs for a few minutes, until golden brown.
The First Fry
Use a small skillet for frying. This allows you to use less oil and keep the plantain pieces submerged. When the oil is hot, fry the plantains for 3 minutes and then transfer them to paper towels.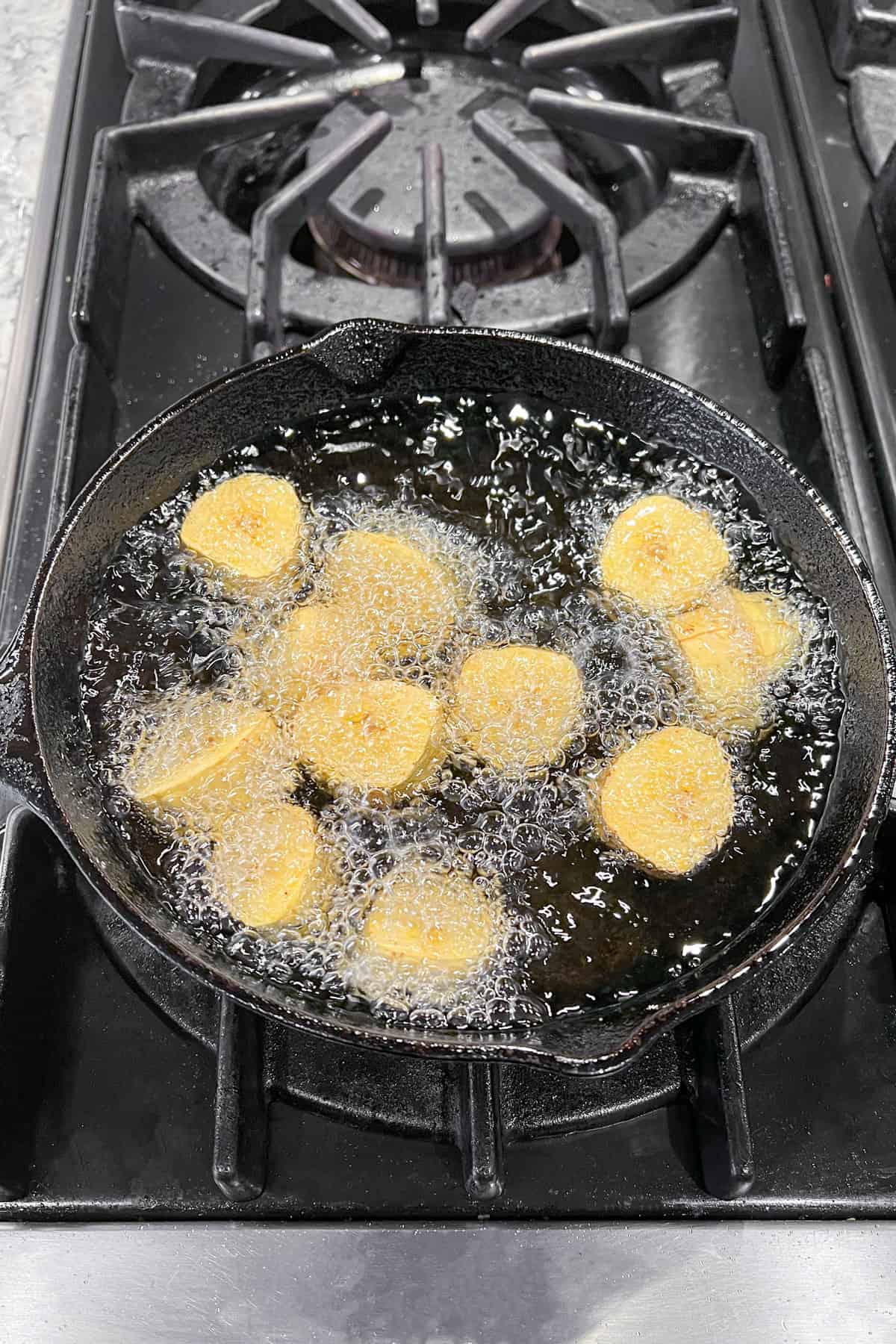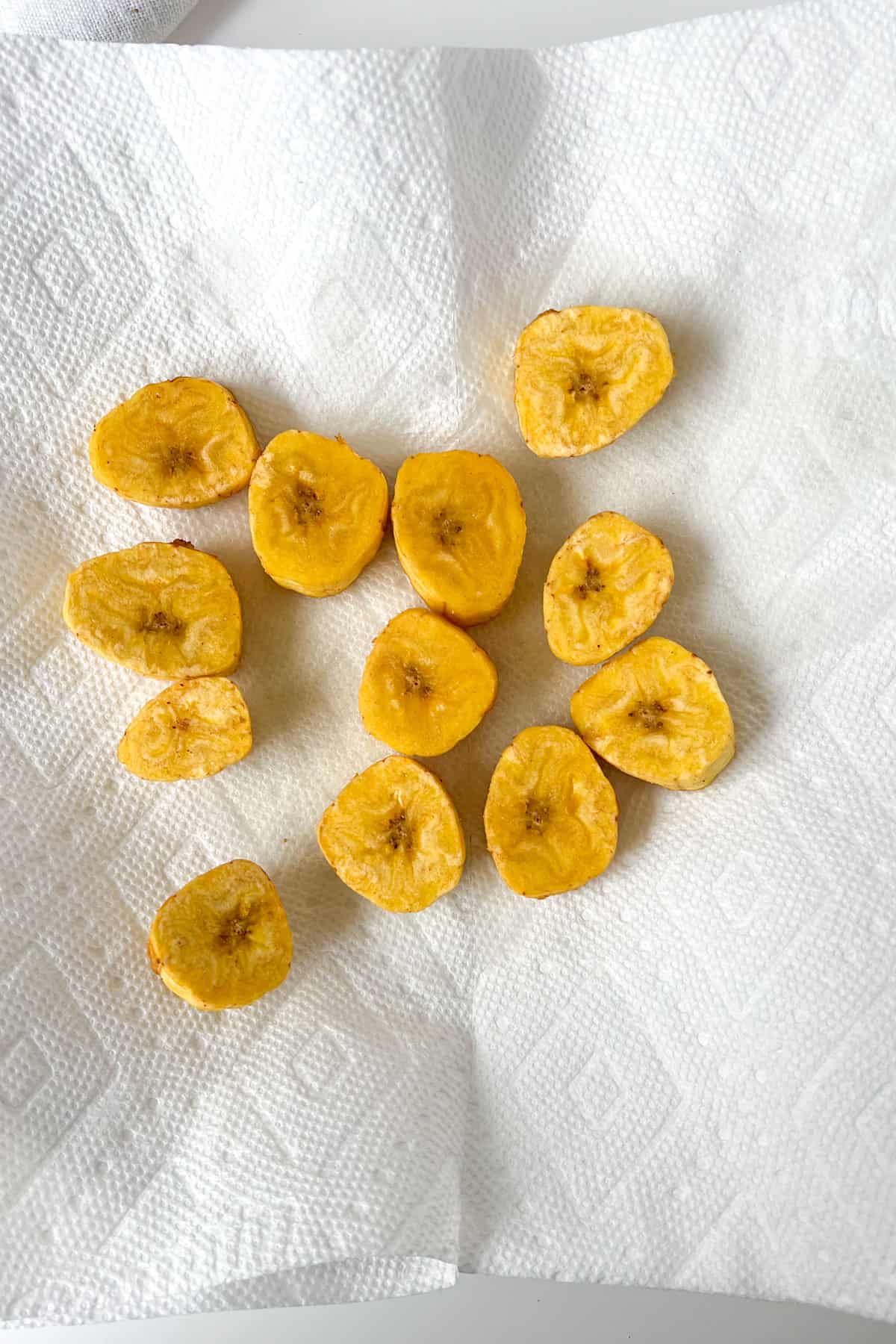 To Flatten
There are many different ways to flatten plantains including using a Tostonera (plantain masher) specifically designed for this task. Here's a simple technique using plastic wrap and a cutting board. It works like a charm.
Place two layers of plastic wrap - one on top of the other - on your countertop or on a large cutting board.
Lift up the top layer, position one piece of fried plantain on the bottom layer and re-cover.
Place a cutting board over the plantain and press down hard with both hands.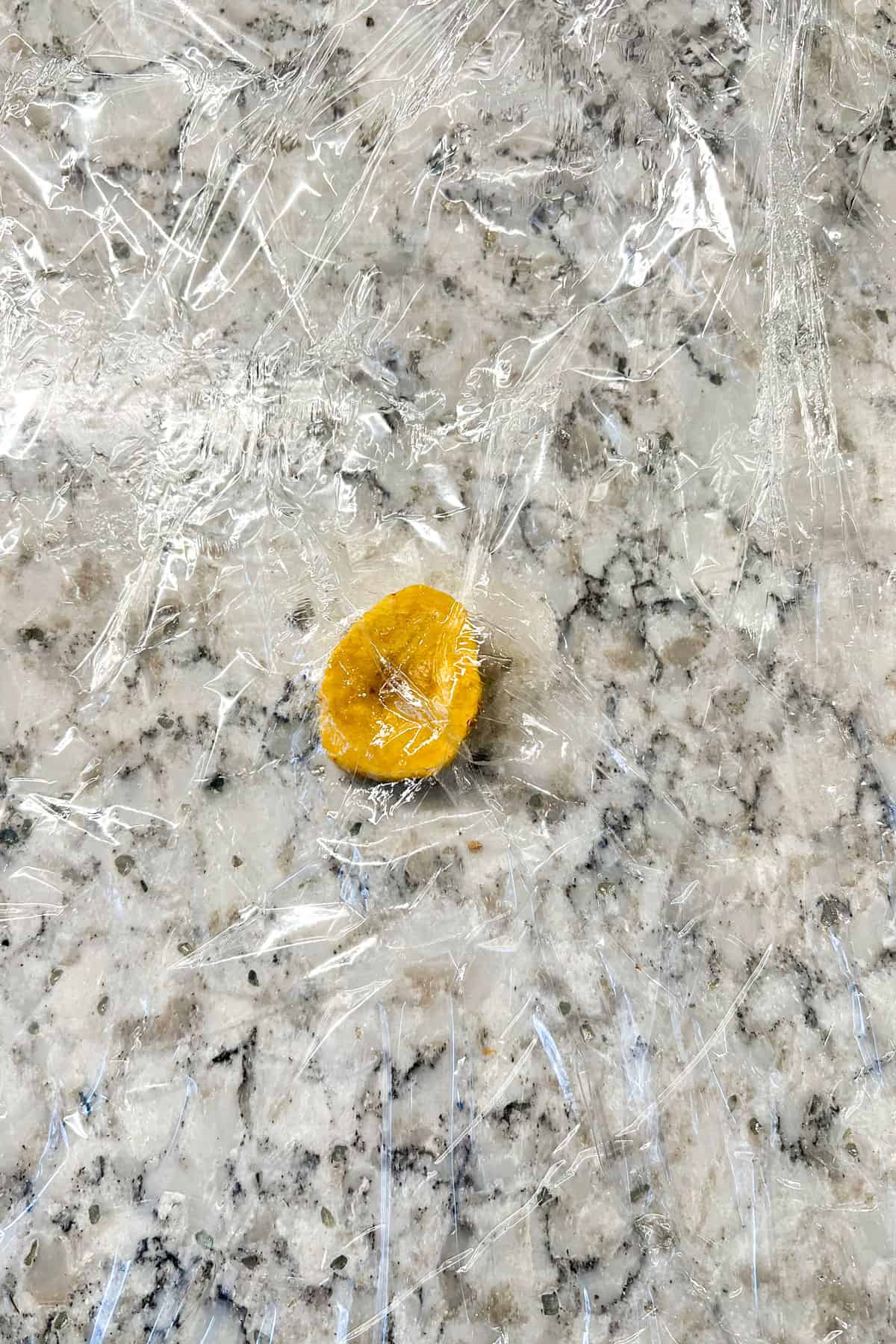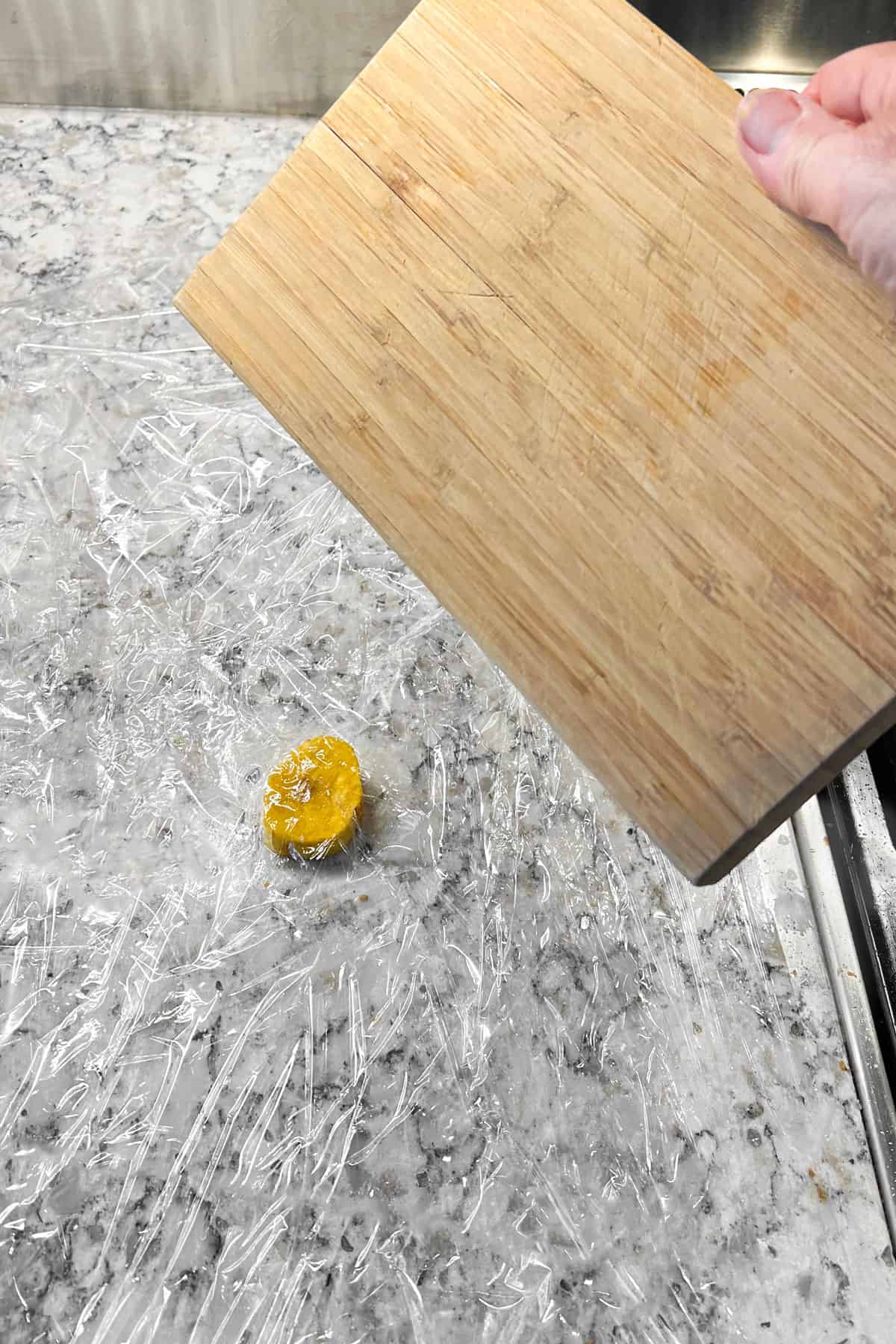 Fold back the top layer of plastic wrap and put one hand under the bottom layer to lift the flattened plantain and set it aside.
Repeat with the remaining plantains.
These frying and flattening steps can be done ahead of time.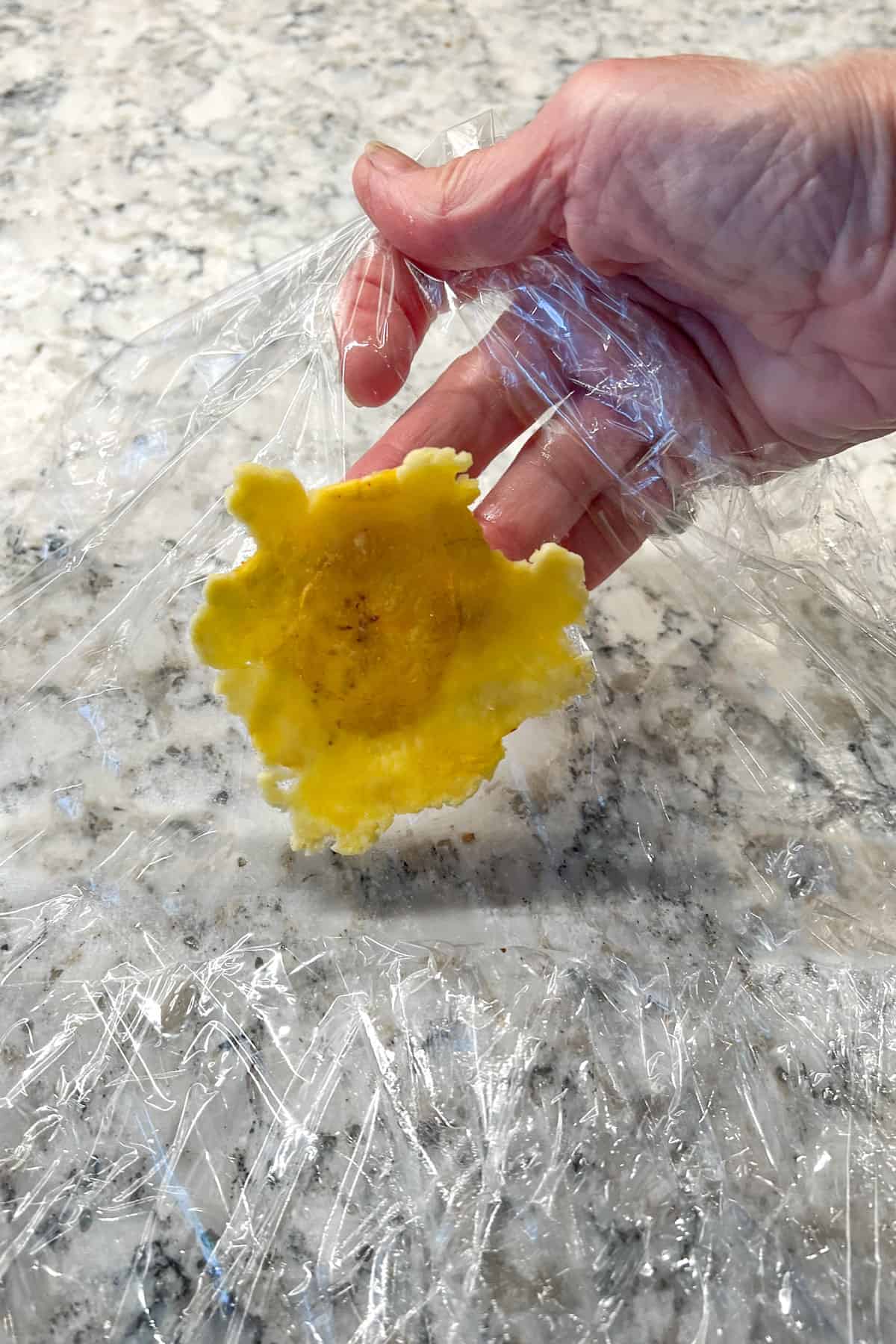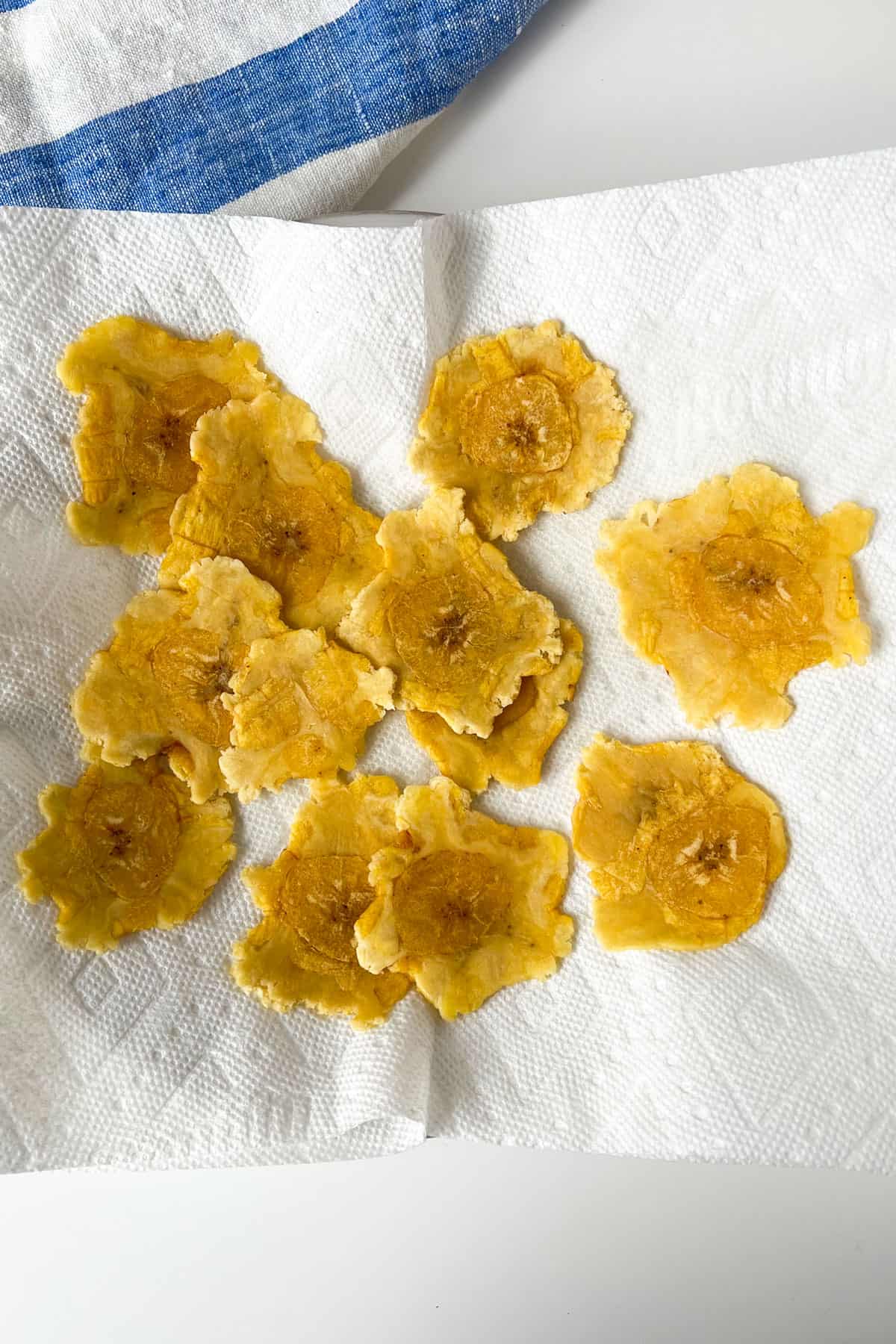 The Second Fry
Because patacones are best served hot right from the pan, the second and final fry should be done right before serving.
Fry the patacones for three minutes, flipping them over half way through so they brown evenly.
Remove them from the oil with slotted spoon and transfer them to a plate lined with paper towels.
Sprinkle them with salt while they're still oily.
Transfer them to a small bowl or platter and serve hot with guacamole or salsa.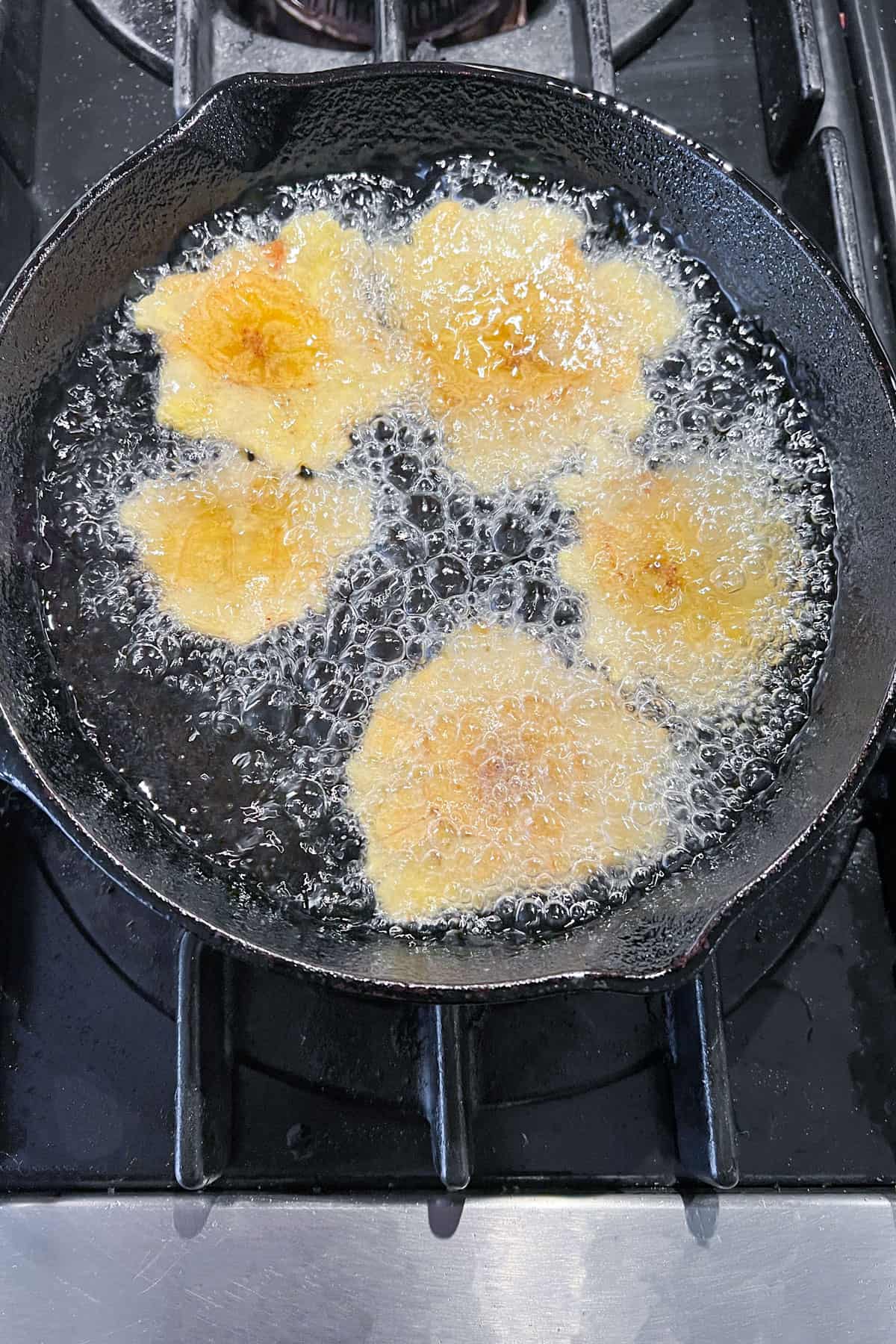 Here are are couple of questions you might have about this recipe
What's the difference between patacones and tostones?
There is no difference other than the name. Some Latin American countries - such as Colombia, Ecuador, Costa Rica and Peru, call this dish patacones. Other countries, such as Puerto Rico, the Dominican Republic and Cuba, call them tostones.
Do I have to use green plantains to make patacones?
Yes. For patacones (or tostones), you need to use unripe plantains - the greener the better. The high starch level in unripe plantains will give you the desired crunchy texture. As plantains ripen their starch turns to sugar. If you fry ripe plantains you will get soft sweet caramelized maduros - still very delicious, but a whole different thing.
How to Eat Patacones
Patacones can be served as an appetizer or side dish. There are so many delicious ways to enjoy them. Here are just a few:
My favorite way to serve patacones is to pile them into a small bowl or serving platter and surround them with delicious dips and toppings such as guacomole, salsa or ceviche.
If you try this patacones recipe, I hope you'll come back to leave a star rating and a comment. I'd love to know what you think!
Print
Patacones: Fried Green Plantains
---
Description
Crisp, savory patacones (fried green plantain chips) are easy to prepare and make a great appetizer to serve alongside guacamole and salsa for dipping.
---
Equipment: A small skillet (8-inches or so),  cutting board or Tostonera (to smash the plantains)
1

green plantain, peeled and cut crosswise into ½-inch slices (discs)

2

cups

cooking oil such as canola or avocado oil
Sea salt (such as Maldon) or kosher salt
---
Instructions
Line a plate with a double layer of paper towels.
Heat oil in the skillet over medium heat. When the oil shimmers, carefully add the sliced plantains, let them fry for 3 minutes and transfer them to the paper-towel-lined plate. Leave the oil in the pan for the final step.
Lay two 12-15-inch pieces of plastic wrap - one on top of the other - on your kitchen counter. Place one fried plantain between the layers, centered. Holding a cutting board with both hands, place it over the plantain - centered - and press down firmly, to flatten the plantain to a thinness of about ⅛-inch. Open the top layer of plastic and then reach under the bottom layer of plastic to lift the plantain so you can gently remove it and transfer it to a plate. Repeat the process, one plantain at a time. This step can be done several hours ahead. 
Just before serving, heat the oil over medium heat until shimmering. Fry the flattened plantains - a few at a time - for 3 minutes, flipping them over halfway through. Transfer to paper towels. Season with salt as soon as they come out of the pan. Serve immediately with dips or topping such as guacamole, salsa or ceviche.
Notes
To learn how to peel a green plantain, please refer to the step-by-step photos and instructions in the post.
Nutrition Information: The information shown is an estimate provided by an online nutrition calculator and is not a substitute for the advice of a professional nutritionist. This calculation assumes 10% of the oil used for frying is absorbed. 
Prep Time:

20 minutes

Cook Time:

6 minutes

Category:

snack or side dish

Method:

Pan fry

Cuisine:

Costa Rican
Keywords: fried green plantain chips