These irresistible Chicken enchiladas verdes are filled with tender shredded chicken and vibrant green salsa, and smothered in melted cheese. The homemade roasted tomatillo salsa verde is what sets these chicken enchiladas apart from the rest. Mexican food doesn't get any better than this!
These enchiladas go really well with black beans and rice and this leafy green salad or this one. Don't forget to serve the extra salsa verde on the side!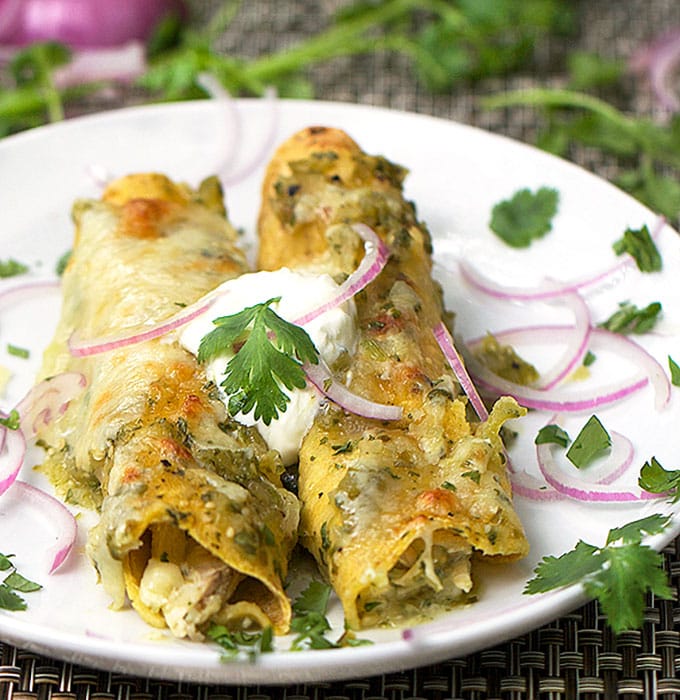 I can always count on Mexican food to make everyone happy at the table. From simple fish tacos to hearty chili con carne, the Mexican recipes on this site have what it takes to wow the crowd.
These chicken enchiladas verdes are one of my all time Mexican favorites. They are everything you love about chicken enchiladas, with the addition of an incredibly flavorsome homemade roasted tomatillo salsa verde that takes this dish from delicious to extraordinary.
Chicken Enchiladas Verdes Ingredients
Here's an overview of the basic ingredients you need to make these chicken enchiladas verdes. See the recipe card below for precise ingredients and amounts.
Homemade Roasted Tomatillo Salsa Verde (more details below)
Sour cream
Cotija cheese, shredded
Mild cheddar or Monterey Jack cheese, shredded
Corn tortillas
Homemade Roasted Tomatillo Salsa Verde
As I said before, the homemade salsa verde is what makes these chicken enchiladas extra special. And the good news is, it's not hard to make. You'll need a rimmed baking sheet to roast the veggies and a blender or food processor to puree them. For ingredients, you'll need fresh tomatillos, a white onion, a couple of jalapeños, garlic, and cilantro.
The main ingredient in this salsa verde, and other Mexican green sauces, is tomatillos. Tomatillos, sometimes called husk tomatoes or Mexican tomatoes, are bright green shiny fruits encased in papery husks. They have a wonderful tart, fruity and tangy flavor. Look for them in the produce section of the grocery store.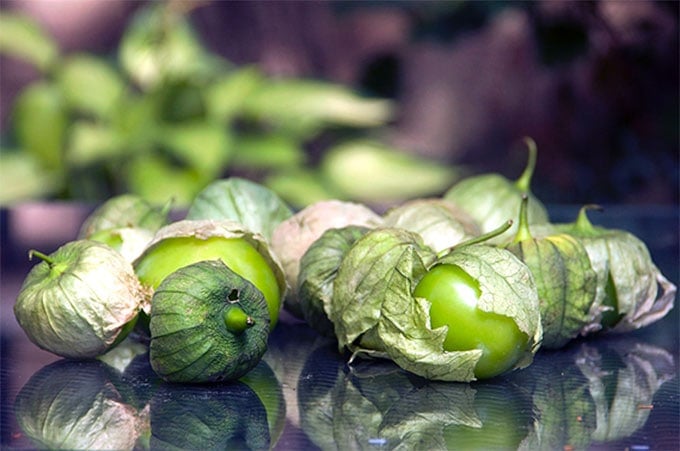 Tomatillos have to be cooked in order to make tomatillo salsa, or salsa verde. Cooking tomatillos softens them and mellows their sour flavor to the perfect tanginess.
To cook the tomatillos, you can either boil them, cook them on the stovetop, or roast them in the oven. Although most salsa verde recipes call for boiling the tomatillos, I prefer to toss them with a little olive oil and roast them, along with onions and jalapeños. Roasting adds a delicious charred flavor to the salsa!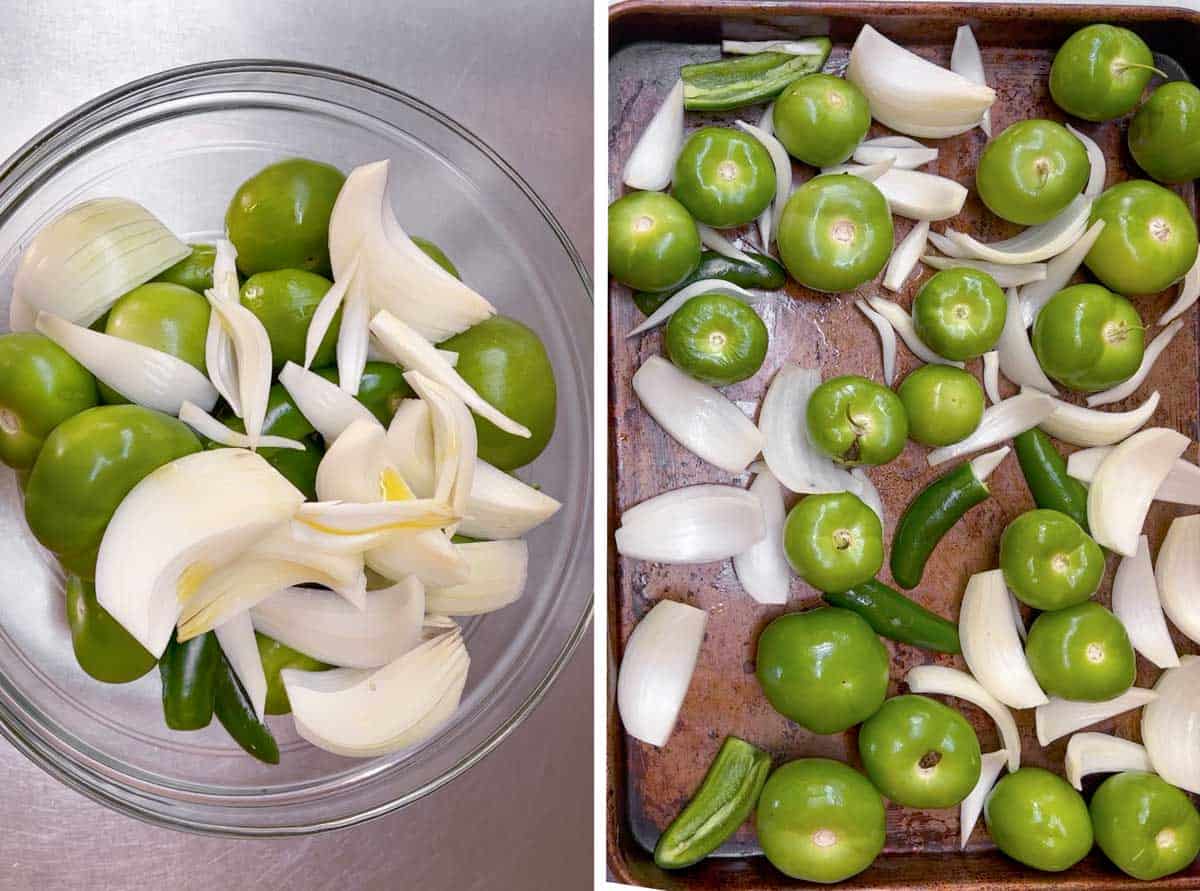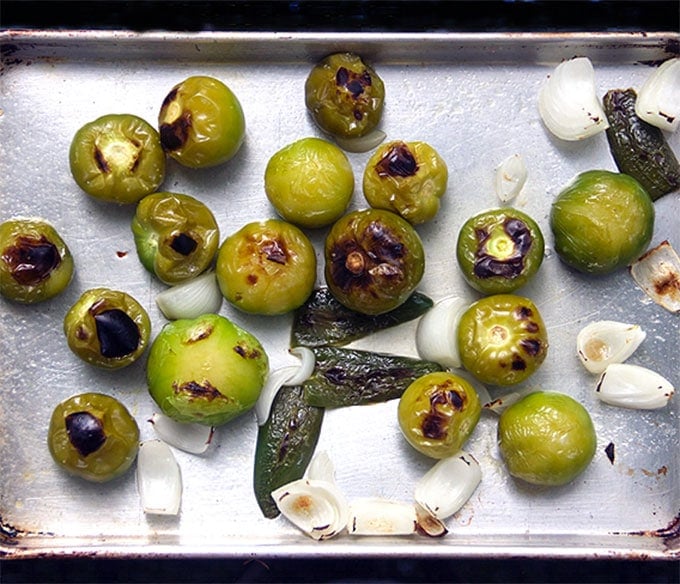 Once you've roasted the tomatillos, onions and jalapeños, add them to a food processor along with raw garlic and fresh cilantro, and puree. The combo of the charred roasted veggies along with the fresh herbs and garlic makes for an outstanding salsa verde.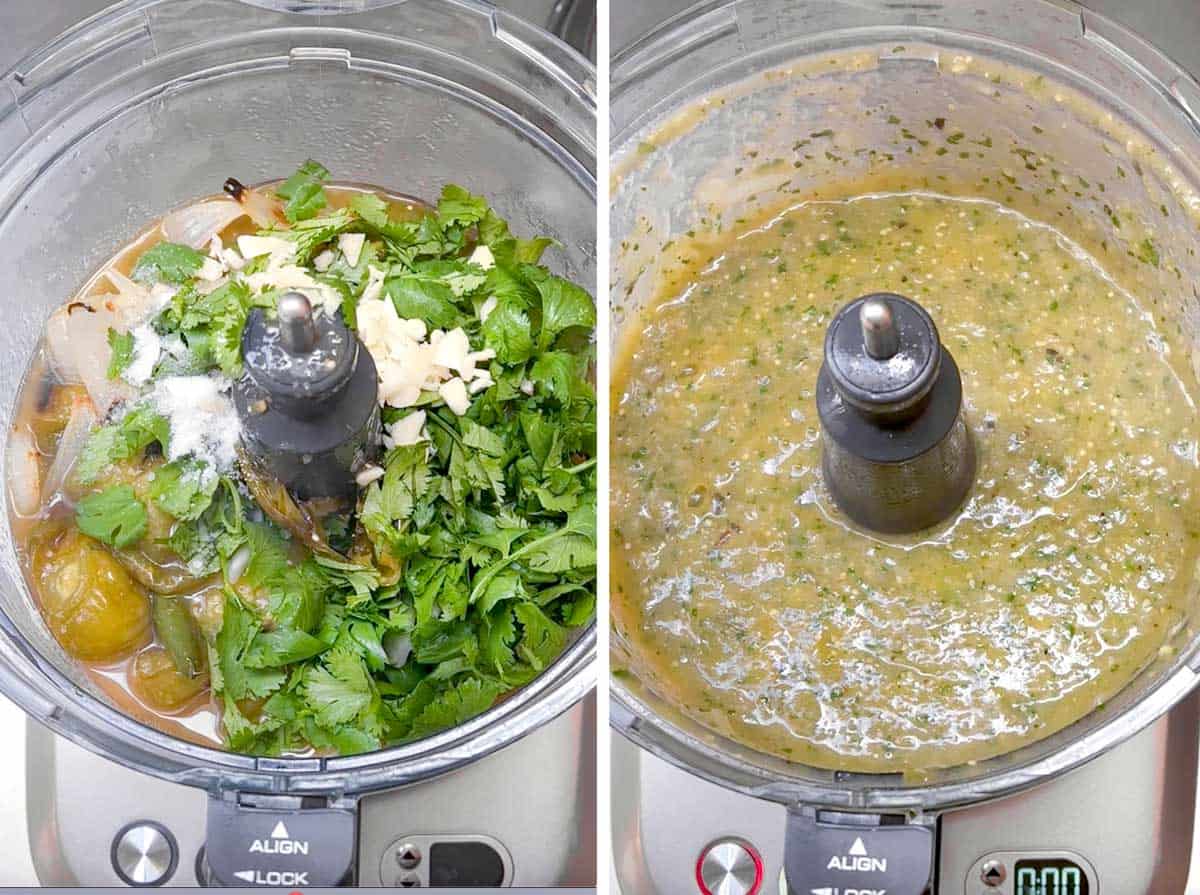 How to make Chicken Enchiladas Verdes
Start by making the filling - mix the shredded chicken with a cup of the salsa verde, the shredded cotija cheese and a couple tablespoons of sour cream.
Next spread about a cup of the salsa verde in the bottom of a roasting pan.
Place about ¼ cup of the filling on a corn tortilla, roll it up and place in the roasting pan, seam side down. Repeat with the rest of the tortillas.


Top the filled enchiladas with more salsa verde and the shredded cheddar or jack cheese.
Bake the chicken enchiladas in a 350ºF oven for 20 minutes, until they are hot and the cheese is melted.

FREQUENTLY ASKED QUESTIONS ABOUT THIS RECIPE
What if I can't find fresh tomatillos? If you can't find fresh tomatillos...don't worry. You can make a delicious homemade salsa verde with canned tomatillos. But don't roast the canned ones. Roast the other vegetables - the onions and jalapeños - and pop them into the food processor with the canned tomatillos and the rest of the salsa verde ingredients.
Can I skip the homemade salsa and make these with store bought salsa verde? Yes, you can make chicken enchiladas using store-bought salsa verde. They won't have quite the depth of flavor as they would if you made them with homemade salsa verde, but they will still be delicious.
How do I roll the enchiladas if my corn tortillas are stiff? Corn tortillas are often stiff and they break when you try to roll them. There are many methods for softening them. The one I like best is to heat up a skillet and press each tortilla onto the hot surface, one at a time, for about 10 seconds per side. Then stack the warmed tortillas and wrap them in a clean dish towel. They'll be nice and pliable and perfect for rolling up.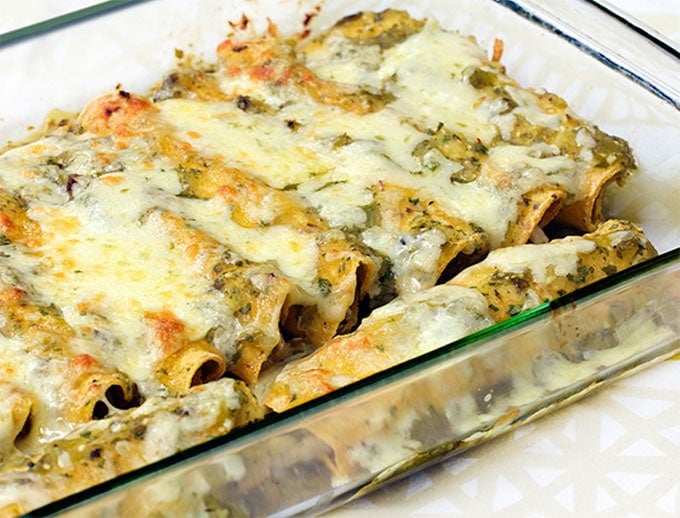 Serve these chicken enchiladas with festive topping. My favorites are thinly sliced red onions, sour cream, chopped cilantro and extra salsa verde. You might also consider guacamole as a garnish and, for those who like extra heat, sliced jalapeños.
If you have extra time, try making this recipe with homemade corn tortillas.
If you like enchiladas verdes, be sure to give these vegetarian enchiladas verdes a try.
Here's the Chicken Enchiladas Verdes Recipe. If you make this, I hope you'll come back to leave a star rating and a comment. I'd love to know what you think!
Print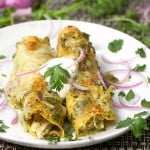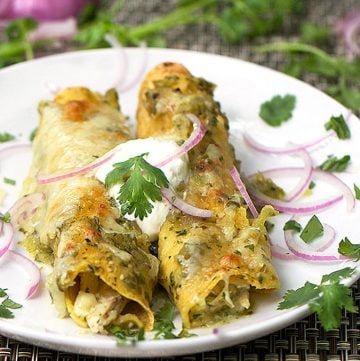 Chicken Enchiladas Verdes
---
Author:

Lisa

Total Time:

1 hour 10 mins

Yield:

6

1

x
Description
Chicken Enchiladas Verdes with homemade roasted tomatillo salsa. An extra special version of a Mexican classic!
---
For The Salsa Verde 
2

pounds

tomatillos, husked and rinsed, 10-14 tomatillos, depending on the size

1

medium white onion, peeled and cut into

8

wedges

2

-

3

jalapeño peppers, stem end cut off. If you don't like a lot of heat, slice them in half lengthwise, and remove the seeds and white pith

1 tablespoon

olive oil

1

cup

roughly chopped cilantro leaves and tender stems (remove thick stems), plus more cilantro leaves for garnishing
I tablespoon finely chopped garlic (2-3 large cloves)

½ teaspoon

kosher salt
For The Enchiladas
12

6-inch soft corn tortillas (or make your own corn tortillas)

3 ½

cups

shredded cooked chicken, about 1 ¾ pounds. (Here's how to make homemade poached chicken )

2 tablespoon

sour cream, plus more for garnishing

4

ounces

Cotija cheese, grated

6

ounces

grated cheddar or jack cheese
Toppings
½

small red onion, very thinly sliced
Chopped cilantro
Sour cream
---
Instructions
To make the salsa verde, preheat oven/griller on high. Place oven rack 6"/15cm from the heat source. In a large bowl toss tomatillos, onion and jalapeños with 1 tablespoon olive oil. Lay them out on a rimmed baking sheet and broil/grill for 7 minutes or until there are some brown, charred spots on the tomatillos. Lower temp to 400F/200C. Turn the tomatillos over with tongs. Cook for another 7 minutes, to soften. Cool on the baking sheet for 10 minutes or so, then put roasted vegetables and any accumulated juices into the bowl of a food processor. Add cilantro, garlic and salt. Pulse several times until you get your preferred consistency. I like my salsa a bit chunky. You should have about 4 cups of salsa.
Set oven to 350F/180C. Spread 1 cup of salsa verde into the bottom of a large rectangular casserole or baking dish. In a large bowl combine shredded chicken with 1 cup of salsa verde, 2 tablespoons of sour cream, and 4 ounces Cotija cheese.
Roll the Enchiladas: Put ¼ cup of the chicken mixture on one end of a tortilla, roll it up tight and place it seam-side down in the baking dish. Repeat with all of the tortillas. Spoon a cup of salsa over the tops of the enchiladas, using the back of a spoon to spread the salsa over all exposed surfaces. Sprinkle grated cheddar cheese on top. Bake for 15 to 20 minutes, until cheese is melted and enchiladas are heated through.
Serve with sour cream, red onion, cilantro leaves and remaining salsa
Notes
What kind of chicken to use for enchiladas - Any cooked shredded chicken will work well in this recipe - white meat or dark: homemade poached chicken, rotisserie chicken, roasted chicken, or pan-seared chicken.
How To Soften Stiff Corn Tortillas -  If you can't find soft corn tortillas, you might find that your tortillas are stiff and hard to roll. Here's my favorite method for softening them. Heat a skillet (preferably cast iron) over medium high heat. Place a tortilla in the skillet, pressing it against the pan with a spatula, for about 10 seconds per side. Repeat with remaining tortillas, stacking them and draping them in a clean dish towel, as you go.
Make this recipe with store-bought salsa verde -  For a quicker version of this recipe, you can skip the homemade salsa and use 4-cups of store-bought salsa verde. The enchiladas will not have quite the same depth of flavor as they have with the homemade salsa verde, but they will still be very delicious.
This post was first published on August 22, 2014. It was updated and refreshed on May 12, 2022 with a few additional details and photos added to the post and an instructional video added to the recipe card. The same delicious recipe!
Prep Time:

40 mins

Cook Time:

30 mins

Category:

Main dish

Method:

bake

Cuisine:

Mexican
Keywords: chicken enchiladas verdes, Mexican chicken enchiladas verdes, Chicken enchiladas with roasted tomatillo salsa