Chicken enchiladas verdes are a favorite in my house. Shredded chicken and vibrant green salsa, smothered in melted cheese, pretty much defines irresistible.
The thing that makes this enchilada recipe extra special is the roasted tomatillo salsa. Flavor-packed salsa verde is a puree of tomatillos, onions, garlic, jalapeños and cilantro. When you roast all those veggies before pureeing them, you get the most incredible salsa verde and the absolute BEST chicken enchiladas verdes.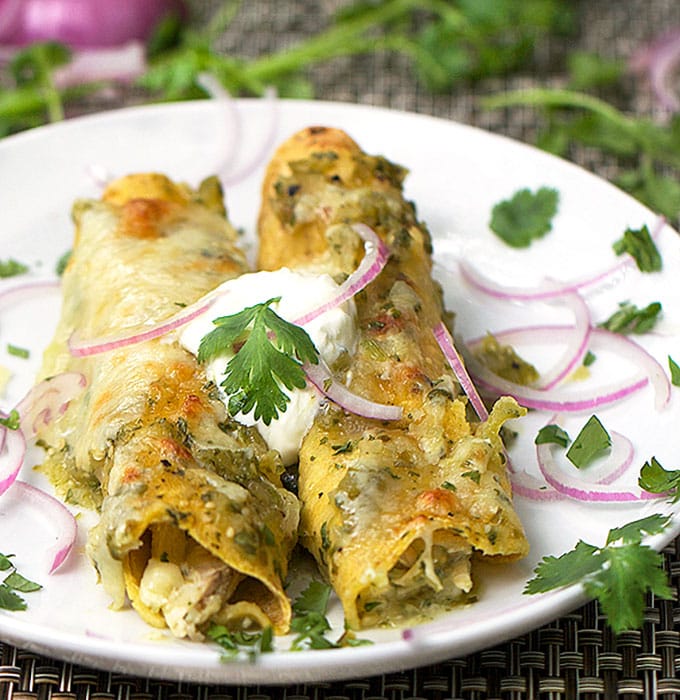 I'm bracing myself for the back-to-school appetite explosion! Chicken enchiladas verdes are my first line of defense. During the summer, there aren't a lot of structured meals in our house, other than dinner. We do a lot of grazing – a handful of almonds, a yogurt, some hummus with crackers. Our appetites are lazy and relaxed, just like we are. That will soon change.
In my experience, the combination of cool weather, long school days and after-school sports sends teenage appetites skyrocketing. When their stomachs start rumbling halfway through the day and they text me from school, asking "what's for dinner?" 'Chicken enchiladas verdes' is exactly the response they're hoping for.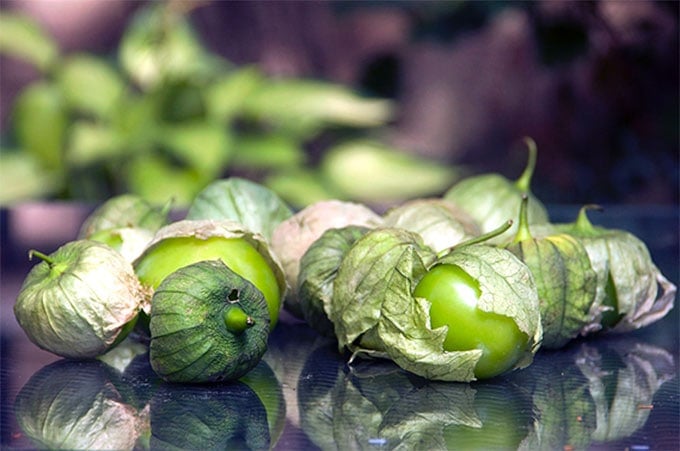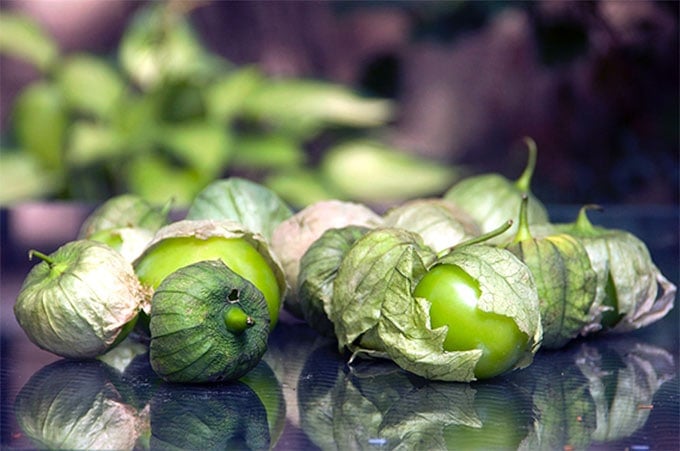 Tomatillos are a thing of beauty. I loved photographing them with their bright green shiny fruits peeking through papery husks. They are sometimes called husk tomatoes or Mexican tomatoes.
Tomatillos are the key ingredient in Mexican green sauces – they possess a delicious, bright tanginess. I've often boiled and pureed them, but this time I decided to toss them with a little olive oil and roast them. I'm a big fan of roasting vegetables. It's very easy to do and it brings out a wonderful depth of flavor.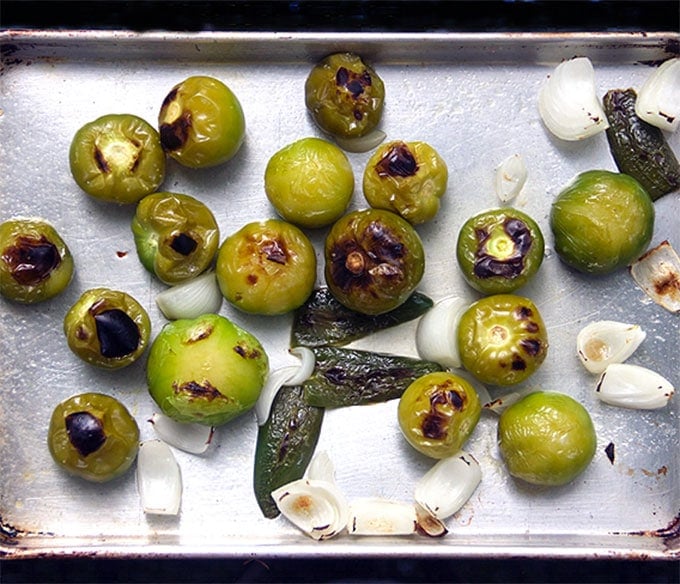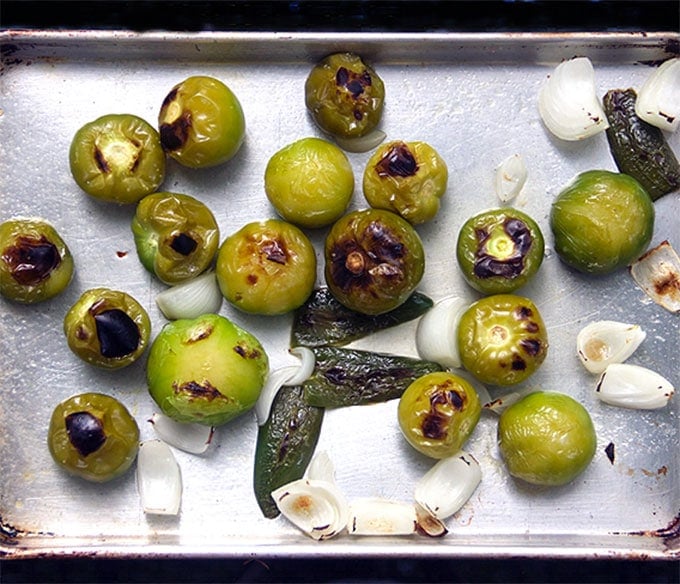 If you can't find fresh tomatillos…dont worry!
You can use canned tomatillos. But don't roast the canned ones. Roast the other vegetables and pop them in the food processor with the canned tomatillos and the rest of the salsa verde ingredients.
The salsa will still be delicious!
And if you're really pressed for time and you want to make this recipe very quick and easy, buy pre-made salsa verde and assemble the whole dish with that.
HOW TO SOFTEN CORN TORTILLAS
Corn tortillas are often stiff and they break when you try to roll them. There are many methods for softening them. The one I like best is to heat up a skillet and press each tortilla onto the hot surface for about 10 seconds per side. Then stack the warmed tortillas inside a clean dish towel. They'll be nice and pliable when you roll them up.
The flavors in this dish are amazing – everything I love about Mexican food: The delicious corn flavor of the tortilla, wrapped around tender, shredded chicken in a tangy, spicy sauce, all covered with more sauce and melted cheese.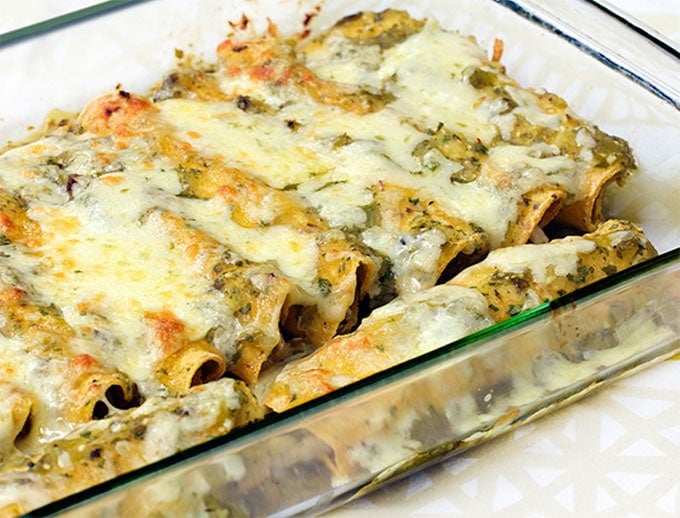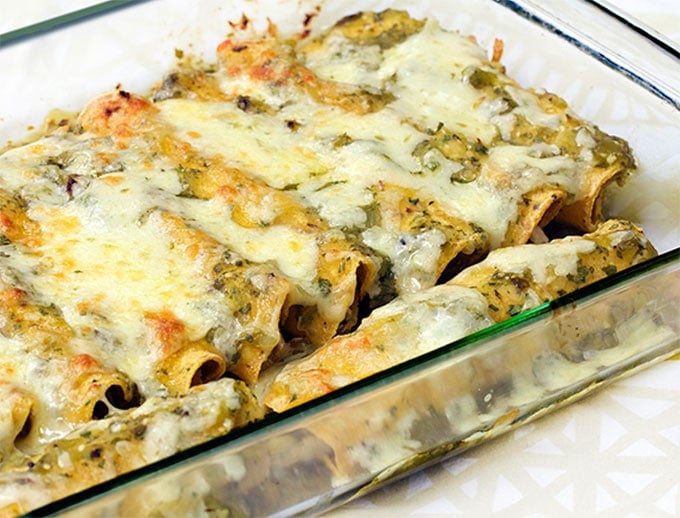 HOW TO GARNISH CHICKEN ENCHILADAS VERDES
I like to garnish my chicken enchiladas verdes with sour cream, thinly sliced red onion, and a sprinkling of cilantro. You might also consider a sprinkling of chopped scallions, a dollop of plain yogurt, some guacamole or, for those who like extra heat, sliced jalapeños.
WHAT TO SERVE WITH CHICKEN ENCHILADAS VERDES
They go really well with black beans and rice and a leafy green salad. Don't forget to serve the extra salsa verde on the side!
Here's the recipe for Chicken Enchiladas Verdes with Roasted Tomatillo Salsa. If you make this, I hope you'll come back to leave a review and let me know how it turned out!
Print
Chicken Enchiladas Verdes with Roasted Tomatillo Salsa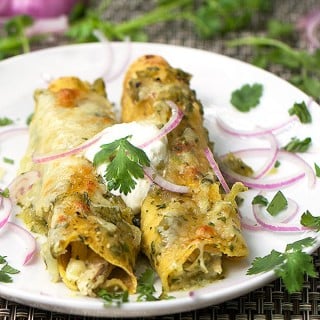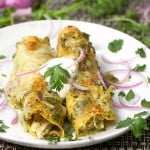 Shredded chicken, cheese, sour cream and roasted tomatillo salsa, all wrapped in corn tortillas and baked. An extra delicious version of a Mexican classic!
Author: Panning The Globe
Prep Time:

40 mins

Cook Time:

30 mins

Total Time:

1 hour 10 mins

Yield:

6

1

x
Category:

Main

Method:

oven

Cuisine:

Mexican
Scale
Ingredients
Salsa Verde

2

pounds tomatillos, husked and rinsed (10-14, depending on the size) or 3 cups purchased tomatillo salsa or salsa verde

1

medium white onion, peeled and cut into

8

wedges

2

–

3

jalapeño peppers, stem end cut off. If you don't like a lot of heat, slice them in half lengthwise, and remove the seeds and white pith

1 tablespoon

olive oil

1 cup

roughly chopped cilantro leaves and tender stems (remove thick stems), plus more cilantro leaves for garnishing
I tablespoon finely chopped garlic (2-3 large cloves)

1/2 teaspoon

kosher salt
Enchiladas

12

6-inch soft corn tortillas

3 1/2 cup

s shredded cooked chicken: You can use rotisserie chicken or If you want to cook your own chicken for this, here's a good oven-roasted method. Or you can pan-sear 2 pounds of chicken breasts in a heavy skillet, over medium heat, with a little oil, for about

7

minutes per side, until they are cooked through. Then shred.

2 tablespoon

sour cream, plus more for garnishing

4 ounce

s Cotija cheese, grated

6 ounce

s grated cheddar cheese
Garnish

1/2

small red onion, peeled, cut in half through the root and cut crosswise into very thin slices.
Cilantro leaves
Sour cream
Instructions
Make the salsa verde: Preheat oven to Broil. In a large bowl toss tomatillos, onion and jalapeños with 1 tablespoon olive oil. Lay them out on a baking tray with low sides. Roast them in the hot oven for 7 minutes, until there are some brown spots on the tomatillos. Lower the oven temp to 400F. Turn the tomatillos over with tongs. Cook for another 5-7 minutes, until the tomatillos are softened. Transfer the roasted vegetables to the bowl of a food processor. Add cilantro, garlic and salt. Pulse several times until you get your preferred consistency. I like my salsa a bit chunky. You should have about 4 cups of salsa.
Make the Enchiladas Set oven heat to 350F. Spread 1 cup of salsa into the bottom of a large baking dish. In a medium bowl mix shredded chicken with 1 cup of salsa, 2 tablespoons of sour cream, and 4 ounces Cotija cheese. Set aside while you soften the tortillas.
Soften the tortillas: heat a skillet to medium high (preferably cast iron). Place a tortilla in the skillet, pressing it against the heat with a spatula, for about 10 seconds per side. Transfer warm tortilla to a clean dish towel and fold towel over it to keep it warm. Repeat with all of the tortillas, continuing to stack them inside the dish towel.
Using tongs, put about 1/4 cup of the chicken mixture on one end of a tortilla, roll it up tight and place it seam-side down in the baking dish. Repeat with all of the tortillas. Spoon a cup of salsa over the tops of the enchiladas, using the back of a spoon to spread the salsa over all exposed surfaces. Sprinkle grated cheddar cheese on top. Bake in the hot oven for 15 to 20 minutes, until cheese is melted and enchiladas are heated through.
Serve with sour cream, red onion, cilantro leaves and remaining salsa on the side.
Notes
This recipe was first published on August 22, 2014. Updated on August 20, 2018. It's the same delicious recipe with added nutritional information and a few tweaks to the written post. 
Keywords: chicken enchiladas verdes, Mexican chicken enchiladas verdes, Chicken enchiladas with roasted tomatillo salsa