Gallo Pinto: Costa Rican Rice and Beans Breakfast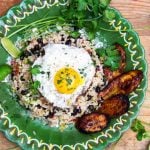 Scale
Ingredients
*Note: this dish is traditionally made with leftover beans and rice. If you need to cook the rice or beans in advance, it will add to the cooking time.

3 tablespoon

s olive oil, divided

2 tablespoon

s minced garlic (

2

–

3

large cloves)

1

red bell pepper, seeds and veins removed, finely chopped

1

yellow onion, finely chopped

6 cup

s cooked white rice

2

15-ounce cans black beans, drained and rinsed, or 3 cups cooked black beans (here's how to cook black beans)

1

bunch scallions (

6

scallions) trimmed and chopped or thinly sliced

3/4 cup

packed cilantro leaves, chopped, divided (

8 tablespoon

s chopped cilantro)

2 teaspoon

s kosher salt

1/2 teaspoon

black pepper
Plantains:

2

ripe plantains (skins yellow with some black) peeled and cut on the diagonal into 1/3-inch slices

2

–

4

tablespoons coconut oil (or substitute olive oil)

2 tablespoon

s white or light brown sugar

1/2 teaspoon

cinnamon

1/4 teaspoon

salt plus more for sprinkling on at the end

2

limes, each cut into

6

wedges, divided
For the Eggs:
Butter or oil to cook the eggs

6

eggs (or

1

egg per person)
Garnish:
lime wedges

3 tablespoon

s chopped cilantro leaves
Your favorite hot sauce
Instructions
Cook the Gallo Pinto: Heat 2 tablespoons of olive oil over medium heat in a large skillet. Sauté garlic, red pepper and onion, stirring occasionally, until softened, about 5 minutes. Add the remaining tablespoon of olive oil and the cooked rice and lower the heat to medium-low. Cook, tossing, until everything is combined and hot, 3-4 minutes. Add beans and gently fold them into the rice mixture. Continue cooking and gently folding until everything is hot and thoroughly combined, 2 minutes or so. Stir in scallions, 6 tablespoons chopped cilantro, 2 teaspoons salt, and 1/4 teaspoon pepper. Remove from heat and cover partially to keep warm.
Cook the Plantains: In a medium bowl, toss sliced plantains with sugar, cinnamon and salt. Heat 2 tablespoons coconut oil in a large, preferably cast iron, skillet over medium-high heat. Add the plantain slices in a single layer. ( If they don't all fit, cook them in two batches) Cook for 2-3 minutes per side or until brown and caramelized and soft. Transfer to a plate. Squeeze some lime juice over them – about 1/4 of a juicy lime. Sprinkle a few pinches of course salt over them, to taste. Tent with foil.
Fry the Eggs: Fry or scramble the eggs – however you like them.
To Serve: Divide pinto gallo between 6 plates. Place a cooked egg on top of each. Garnish with a sprinkle of cilantro and some salt and pepper, to taste. Arrange a few plantain slices alongside. Garnish with a lime wedge. Pass around the hot sauce.